Sephora has captured the hearts of millions of beauty shoppers and is aggressively expanding across the globe. We dive into how Sephora has succeeded in today's merciless retail climate, highlighting key lessons for retailers.
Imagine walking into a cosmetics store with racks of makeup, shelves of perfumes, aisles of every beauty product imaginable — but you can't touch any of it.
Thanks to Sephora, beauty shoppers no longer have to face this scenario. Founded in 1970 by Frenchman Dominique Mandonnaud, Sephora pioneered the concept of try-before-you-buy for cosmetics, which has been widely replicated across beauty retail.
And during a time where the retail sector is struggling — with almost 7,000 stores closing in the US in 2017 — Sephora is flourishing. In terms of beauty sales, Sephora is the No. 1 specialty beauty retailer in the world.
How is this happening and what's behind Sephora's successful business model?
Sephora's story offers a number of key takeaways for retailers:
Make digital an executive priority.

 Below, we'll unpack Sephora's digital ambitions and how the company has worked to achieve them.

Enhance the physical store. 

Today, retail is all about the "offline experience." Sephora drives value from physical retail 

beyond sales per square foot

. 

Integrate in-store technologies to engage clients. Sephora helps clients solve for specific consumer pain points, leveraging augmented reality, facial scanning, and more.
Personalize product or service recommendations based on customer data. Localizing data is key for reaching global markets. Sephora uses personalization to attract and maintain loyal customers.
Build partnerships. Sephora leverages partnerships to support and cultivate smaller brands that could serve as future distribution partners or acquisition targets.
Cultivate robust loyalty & rewards programs. Sephora aligns itself with customers' values through benefits and rewards programs.
Below, we dive into these factors and others driving Sephora's growth, the company's new digital initiatives, the competition and challenges it faces, and where Sephora could go in the future.
TABLE OF CONTENTS
Sephora & LVMH: How Sephora boosts its parent company's selective retailing strategy
It's impossible to predict where Sephora is headed next without first looking at the relationship between Sephora and its parent company LVMH, a Paris-based luxury conglomerate.
LVMH originally acquired Sephora in 1997 to enhance its distributorship of perfumes and beauty products. Sephora had 54 retail stores with nearly 1,500 employees at the time of its acquisition, according to Business Wire.
Today, LVMH claims that the beauty giant has grown to approximately 2,300 retail stores with 30,000 employees, operating across 33 countries.
Sephora sits in LVMH's Selective Retailing division, which aims to "transform shopping into a unique experience" across beauty retail (Sephora), travel retail (DFS and Starboard Cruise Services), and department stores and food concepts (Le Bon Marché Rive Gauche and La Grande Epicerie de Paris). These segments focus on luxury products, in-store services, digitization, and personalization.
Sephora is a strong revenue driver and a standout within the division. According to a Q2'16 earnings call, Sephora represented about 45% of LVMH's business in the United States. The conglomerate noted in its 2017 results that Sephora has continued to gain market share, with particularly strong growth in North America and Asia (partially enabled by LVMH's acquisition of Singapore-based beauty e-commerce platform Luxola in 2015).
Click to enlarge.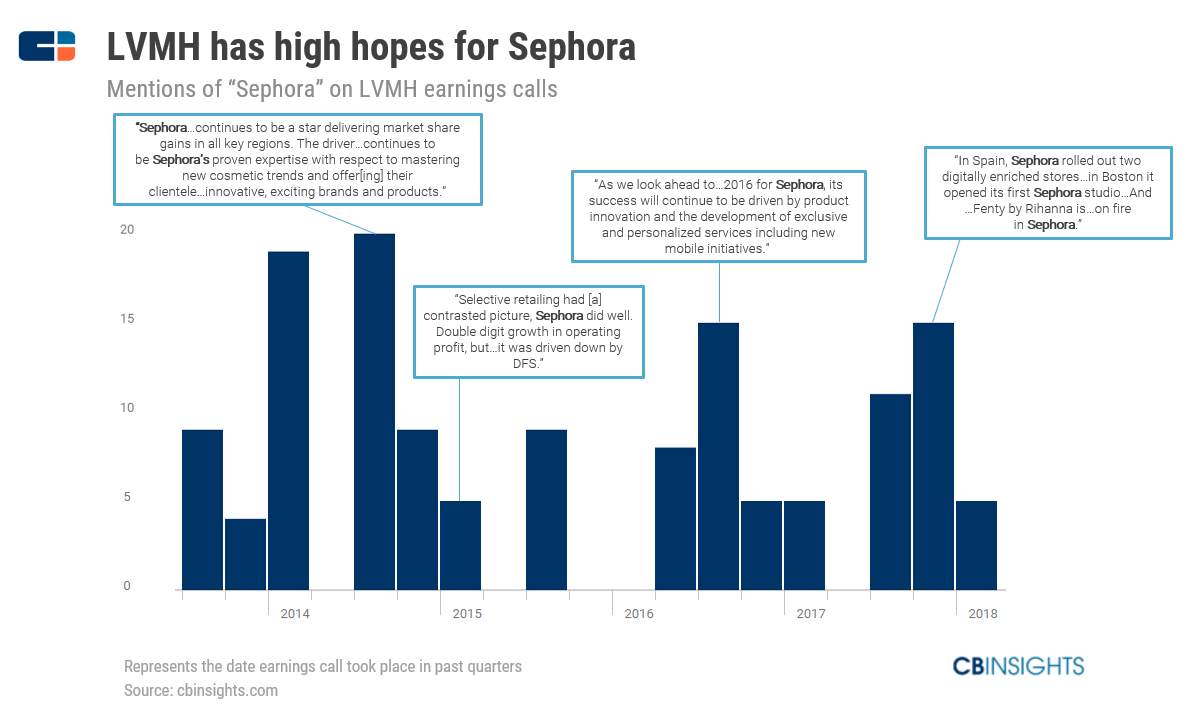 Additionally, Sephora is pursuing expansion of its online presence in Scandinavia, Mexico, and the Middle East.
In terms of physical stores, it launched its first Germany-based store in 2017. The company also began expansion in India at the beginning of 2018, with plans to open 8 — 10 more stores in the country over the next 3 — 4 years. Sephora has also expressed interest in building out a location in New Zealand.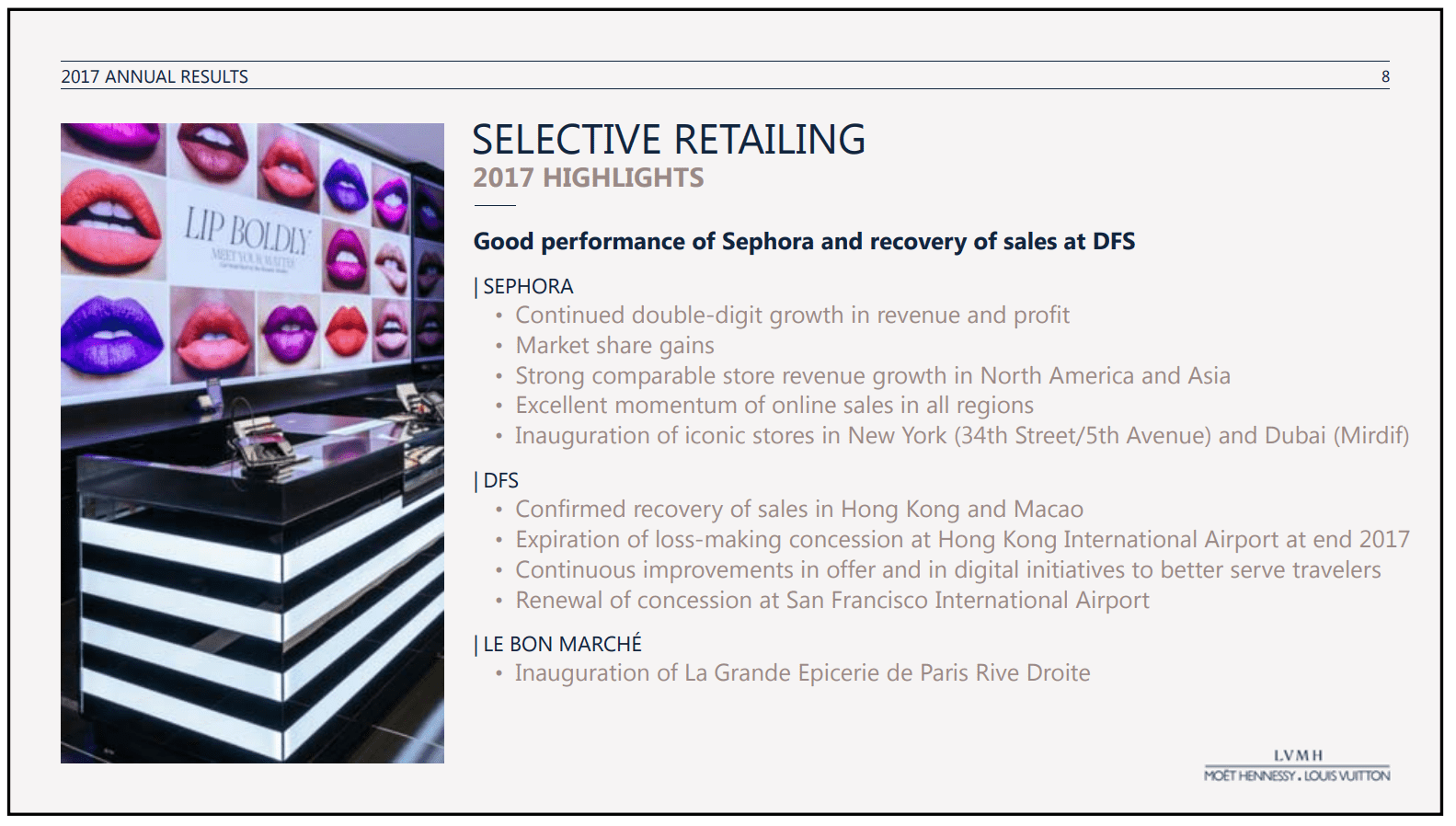 Source: LVMH 2017 Annual Results
Today, Sephora offers a distribution funnel for LVMH perfumes and cosmetics brands such as Givenchy, Yves Saint Laurent, Fresh, and Benefit Cosmetics, as well as for brands incubated in its beauty brand incubator Kendo (which we discuss further below).
In fact, Sephora has been critiqued for dedicating the majority of its store spaces to LVMH-owned brands over those of other beauty conglomerates like Estée Lauder and L'Oréal.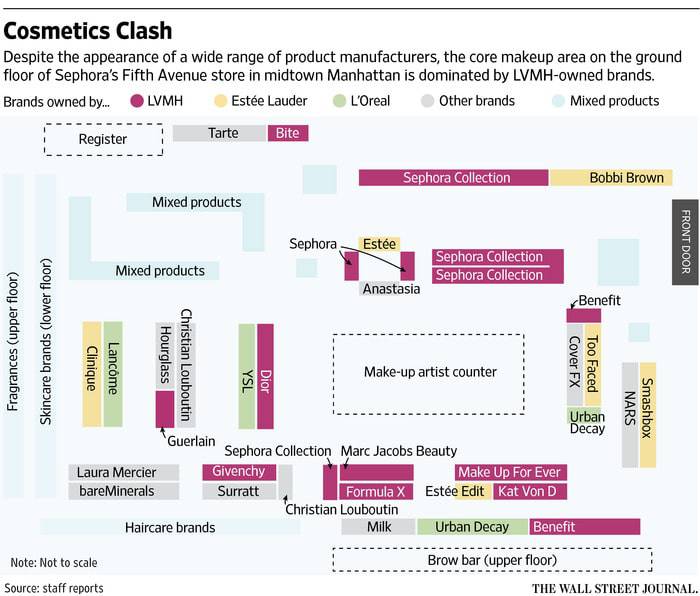 Source: Wall Street Journal
Though Sephora serves as a distribution channel for brands in LVMH's Perfumes & Cosmetics division, it remains largely separate from its other sectors, including Fashion & Leather Goods and Wines & Spirits.
This could begin to shift with the advent of luxury e-commerce as well as the need to ward off Amazon.
Despite LVMH's high profile misstep with its eLuxury platform back in 2009, the conglomerate could explore new ways to build off Sephora's technological capabilities in other LVMH sectors — especially as luxury companies look to upgrade the in-store experience.
On the tech front, LVMH has been particularly active over the past year, building a multi-brand online shop, launching a $50M+ venture fund dedicated to emerging luxury brands, and starting a Luxury & High-Tech program with Paris-based incubator Station F.
With increased technology investments and activity, LVMH could leverage Sephora's success to provide a model for how LVMH couldbridge offline and online retail for other LVMH-owned luxury goods, such as watches, jewelry, wines & spirits, and more.
However, LVMH may not be quick to rush into such digitization, given that Sephora's brand is premium, but not explicitly luxury.
Sephora's digital transformation 
Sephora was an early e-commerce player when it launched its first website in 1998. 
According to a 2014 HBR interview with Sephora's Former CMO & Chief Digital Officer Julie Bornstein, the company's original website was mostly outsourced, and establishing in-house web development was crucial to catapulting the company into a digital future. The revamped website aimed to offer better visuals, product information, and communication mechanisms for clients.

Source: Connoir and Wayback Machine
With its in-house team, Sephora has become more agile, easily adapting its web and mobile platforms to meet customer needs.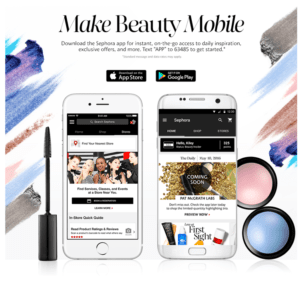 While Sephora was a relatively late mobile adopter, only rolling out its platform in 2010, mobile is crucial to helping Sephora clients get the most out of their beauty shopping experience.
Sephora Virtual Artist (discussed further below) is one way the company uses technology to solve the pain point of wanting to try on makeup easily, without the mess.
Mobile ultimately serves as an aide for beauty inspiration and personalized experiences, bridging the gap between online and in-store shopping.
However, Sephora would never have successfully executed its early digital initiatives had it not made digital an executive priority.
Digital is embedded in Sephora's company structure
Sephora combined its traditional marketing and digital marketing divisions in 2013. CMO and Chief Digital Officer Julie Bornstein led the team, thus ensuring digital was concentrated in company leadership.
"I believe that if you're going to be a successful retailer — or business in general — digital must be enmeshed at the highest level."

— Julie Bornstein, Former Chief Marketing Officer & Chief Digital Officer, Sephora
Last October, Sephora took an even bigger step towards digital retail by merging its in-store and digital retail teams to create one omni-retail department.
According to Sephora EVP of Omni Retail Mary Beth Laughton, customers seek entertainment and aren't consciously thinking about channels. It's up to retailers to make it as easy as possible for customers to switch back and forth between mediums.
According to Glossy, this shift has allowed Sephora to rethink its omni-channel strategy and execute a number of improvements, including:
Revamped customer profiles 

with both in-store and online data (e.g. online and in-store purchases, interactions with beauty associates, etc.)

Redefined metrics based on consumer behavior leading up to a sale (e.g. number of customers who browsed online and purchased in-store, etc.)
Blended benefits

 that integrate online and in-store loyalty perks (e.g. personalized product recommendations based on what a customer browsed online and in-store)
In addition, the newly formed team has a subgroup that focuses on linking physical and digital retail experiences.
For example, after in-store makeovers, makeup artists now download beauty products to a customer's profile, which customers can use to shop online or in-store. Additionally, Sephora Virtual Artist users who try makeup on in the app can purchase products online or locate them in stores.
Sephora Innovation Lab scouts retail tech opportunities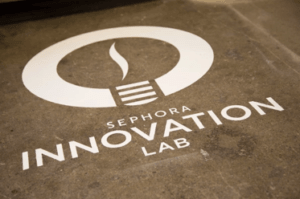 The company's US headquarters in San Francisco — an unusual choice for a retailer — offers proximity to Silicon Valley and a quick turnaround time for digital initiatives.
San Francisco also houses the Sephora Innovation Lab, launched in 2015 to help the company explore technologies that could be leveraged across web, mobile, and in-store to create a more integrated shopping experience. 
The lab is a testament to Sephora's culture of experimentation.
Using a cross-functional team, the lab primarily scouts technologies that help educate clients about products and application techniques. According to Fast Company, the lab's launch coincided with the launch of several other digital initiatives, including beacon technologies (enabling personalized alerts) across Sephora stores, mobile Pocket Contour tutorials based on user selfies, and Sephora Flash for free two-day shipping. More recently, the Sephora Virtual Artist mobile app came out of the Innovation Lab.
The lab also showcases the importance of timing when it comes to integrating technology in retail.
According to senior director of Sephora's Innovation Lab Johnna Marcus, when Sephora decides to pass on certain technology, it's usually because the timing isn't right (reported by L2). For example, the Sephora To Go app initially launched in 2010, but app features such as video and product scanning didn't gain traction until a few years later due Wi-Fi limitations.
Other digital initiatives
From its early adoption of Apple Pay to beacon testing, Sephora has long partnered with big tech to serve its clientele. The company has focused on a number of different digital initiatives to stay ahead of the competition.
Targeted advertising for product discovery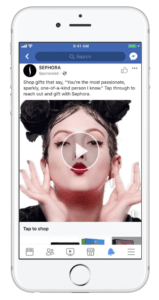 Sephora has increased its big tech partnerships to boost targeted advertising and personalized shopping experiences.
The company recently launched a campaign with Facebook's Collection ads in lieu of its normal holiday print catalog, in order to enhance product discovery. Based on user preferences, Facebook's Collection ads serve variations of 70+ beauty products underneath a sponsored video.
Digital investments are also helping Sephora expand to new markets and localize consumers' shopping experiences.
In March 2018, Sephora launched a Europe-focused partnership with Salesforce to help personalize the shopping experience based on consumer preferences, using data on geographic regions, customers' previous purchases, cosmetic preferences, and more. The partnership has also allowed Sephora to customize its site experience with different languages and currencies to enable a deeper level of personalization. 
Voice as the next frontier for beauty brands
With the increased traction of Alexa and Google Home, beauty companies must master voice-based shopping to ensure their brands remain top of mind for consumers.
In November 2017, Sephora launched its app on Google Assistant with features to book beauty services, take quizzes, and listen to influencer-curated beauty podcasts. 
Beyond client entertainment and engagement, this also helps Sephora gather data on consumer preferences.
"The use of voice assistants … has turned out to be more than just a fad. It's paving the way to a minor digital revolution, of which Sephora wants to be a pioneer."

— Anne-Véronique Baylac, Chief Digital Officer, Sephora Europe and Middle East
Sephora will continue to expand Google Assistant functionalities in 2018, especially as voice becomes a key channel for consumers.
The offline experience: Sephora's in-store retail tech
Sephora's management team has made it clear that while digital is a crucial part of the company's strategy, it must serve Sephora's core purpose of unlocking its clients' beauty potential.
"Consumers are looking for retail stores to be creative spaces. They are looking for experiences. Digital is a critical element in retail — however, it is not just for the sake of adding new, cool technology. Our intention is to help our clients."

— Bridget Dolan, SVP Omni Experience & Innovation, Sephora
Current in-store technologies
With that in mind, Sephora has pioneered a variety of in-store technologies for beauty enthusiasts.
Beacon technology offers location-based content
While not a new offering, beacon technology allows Sephora's app to recognize when a user is in a store and then serve up an in-store map, daily promotions, and the customer's online shopping cart and wish list. This allows for a more personalized and engaging shopping experience.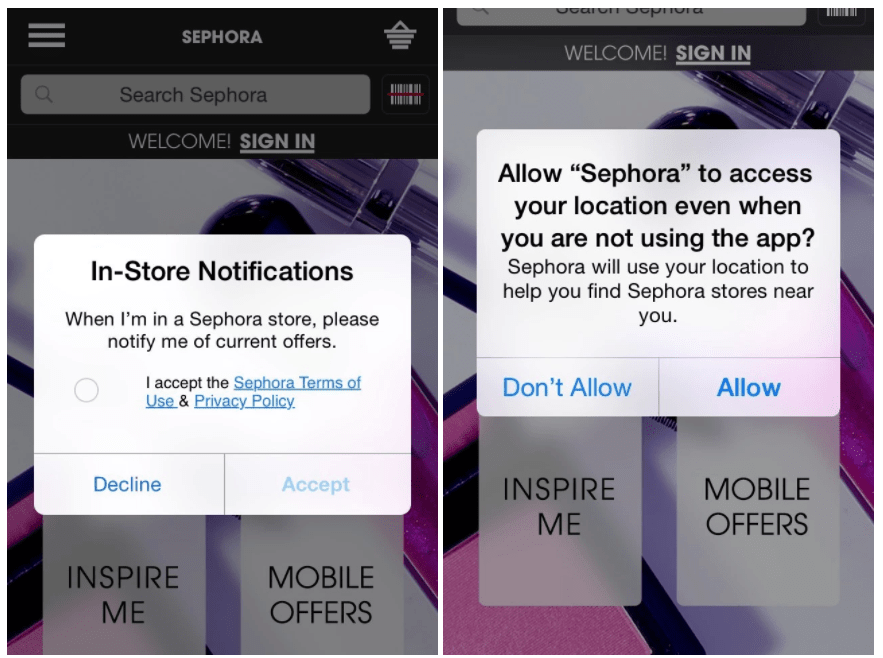 Source: BuzzFeed News
For example, Sephora could send tailored offers to shoppers spending time in a particular cosmetics section. This method, however, is only possible if customers enable beacon notifications on their phones.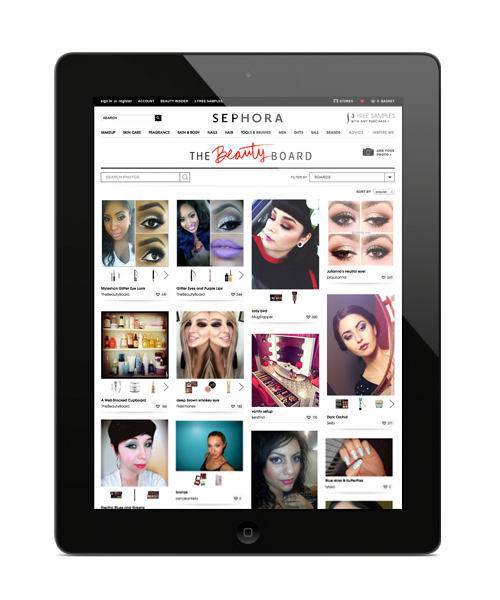 Social shopping platform facilitates collaborative beauty browsing
Launched in 2014, Sephora's Beauty Board offers a Pinterest-like social media platform where users can post, like, and tag different looks and share them with Sephora's beauty community.
Users can post photos and filter through trends and keywords to find specific looks. The platform can also be seen in stores on digital screens featuring shoppable content. 
Chatbot & in-app voice control enables conversational commerce 
Sephora was the first beauty brand — and one of the first retailers — to adopt chatbots for conversational commerce to spark more natural-feeling communication between the store and its clients.
"At Sephora, our goal with digital tools and innovation is always to meet the client where she already spends her time, which is why the Messenger platform capabilities appealed to us. We were excited about combining ease and utility for Sephora reservations — enabling our clients to book a makeover with us in seconds, just by messaging Sephora."

— Mary Beth Laughton, EVP Omni Retail, Sephora
In partnership with Facebook, Sephora launched Sephora Assistant, a bot for Messenger, in November 2016 to help clients easily book makeovers. According to Facebook, Sephora Assistant achieved an 11% higher booking rate and cut 5 steps in the traditional makeover booking process.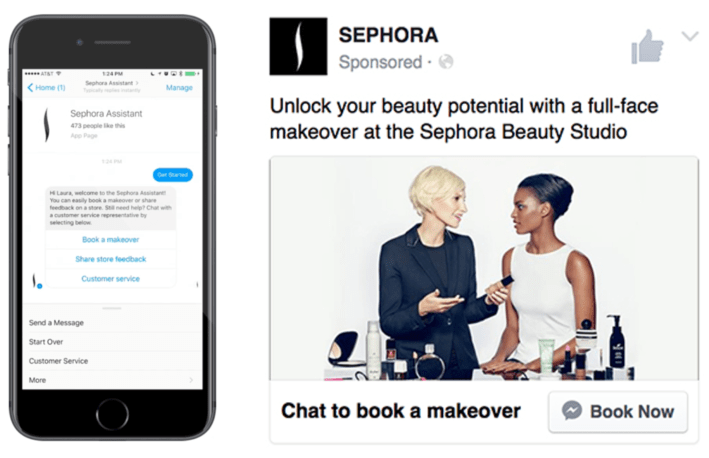 Sephora Assistant chatbot and targeted advertisement for makeover booking. Source: Facebook
Beyond Sephora Assistant, the company partnered with teen-focused messaging app Kik in 2016 to build a branded chatbot to reach a younger demographic.
Sephora even experimented with a digital rewards program using Kik Points, where users earned points by performing tasks such as watching video ads. Users could then bid points for deluxe samples of Benefit Cosmetics, which helped the company glean insights on consumer behavior.
Augmented reality allows virtual makeup try-on
Sephora leverages augmented reality for both in-store and in-app makeup trials.
Sephora's Innovation Lab tracked the augmented and virtual reality space for a few years before launching its Virtual Artist app in 2016.
The mobile app allows users to virtually try on makeup. The app added augmented reality features — such as the ability to try on lip colors and lashes — in 2017.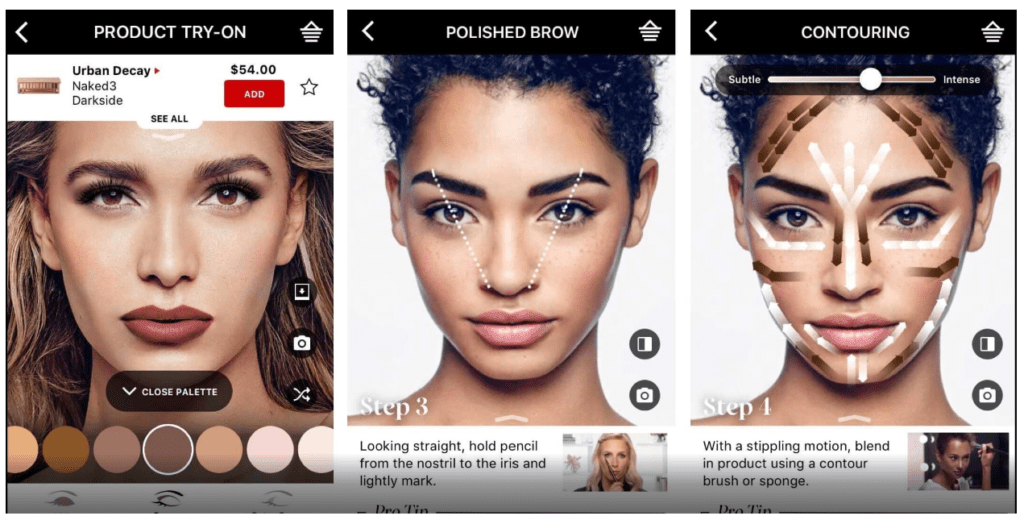 Sephora Virtual Artist app
Notably, Sephora partnered with AI and AR app provider ModiFace (recently acquired by L'Oréal) to launch both its mobile app and in-store 3D augmented reality mirror.
In May 2018, Retail Dive reported that Sephora, along with Nike and other retailers, would be beta testing virtual makeup try-on with AR effects for Messenger.
Facial scanning helps beauty shoppers find the perfect color match
Finding the right foundation shade is a major pain point for beauty shoppers.
Sephora knew this back in 2012, and aimed to improve customer experience through the launch of Color IQ in partnership with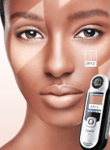 the Pantone Color Institute.
Color IQ helps shoppers identify foundation and concealers that match precisely match their skin tones. The beauty service scans a customer's skin and assigns it a Color IQ number. The number can then be used in stores or applied to customers' Beauty Insider accounts in-app and online to personalize product assortment.
Color IQ is also being leveraged as a loyalty tool. Customers who have had an in-store skin scan receive a follow-up email that lists matching products based on the user's foundation match and color key.
By locking a customer's perfect color match to Sephora's in-store and online platforms, customers are more incentivized to exclusively purchase foundation at Sephora.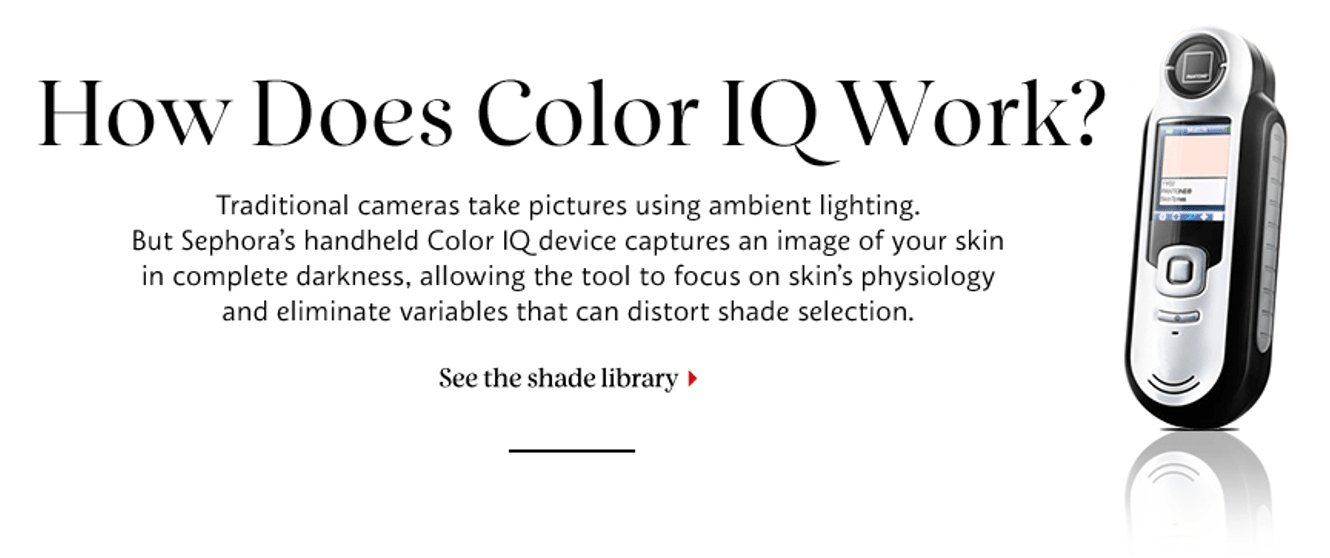 Skincare IQ personalizes skincare recommendations  
Skincare has been a major revenue driver for Sephora, thanks to high-momentum brands such as Drunk Elephant (Sephora's top-growing skincare brand in 2016).
This trend shows no sign of letting down, with skincare sales surging higher than makeup sales, according to The NPD Group.
Sephora was ahead of the curve on skincare when it launched its Skincare IQ platform in 2012.
Skincare IQ features a quiz that searches Sephora's vast array of ingredients and formulations to recommend matches for clients' specific skincare concerns.
Down the road, Sephora could apply scanning technology similar to ColorIQ to enhance its skincare analysis and further personalize the service for clients.
A patent filed by LVMH titled "Method to measure skin elasticity and firmness," granted in 2017, details a device that measures skin elasticity and firmness before, during, and after a cosmetic treatment.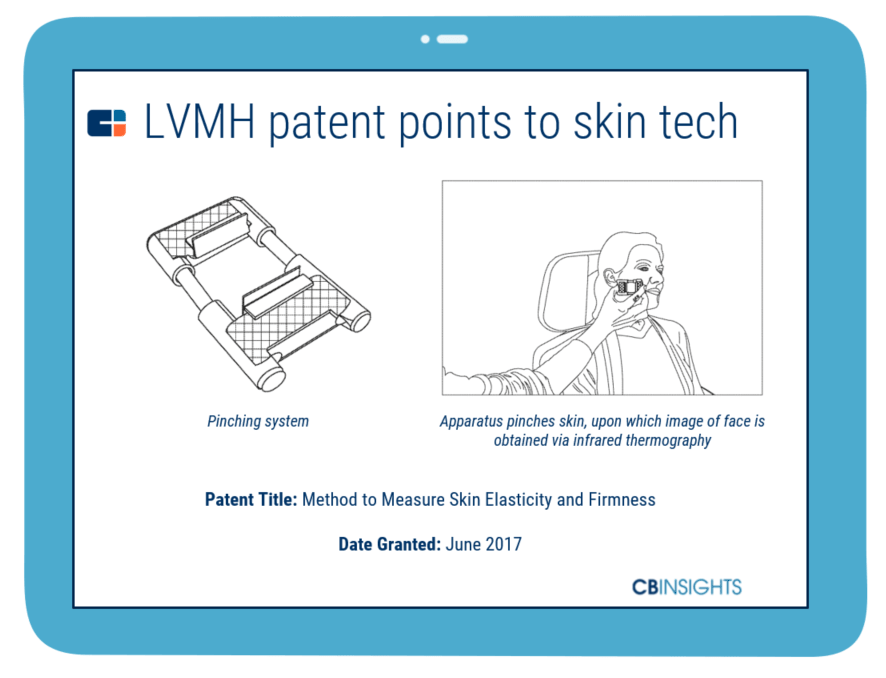 Fragrance IQ & InstaScent create in-store sensory experiences 
In 2014, Sephora launched its Fragrance IQ system, where shoppers answer a questionnaire on an in-store digital screen to find a fragrance match based on perfume preferences and lifestyle.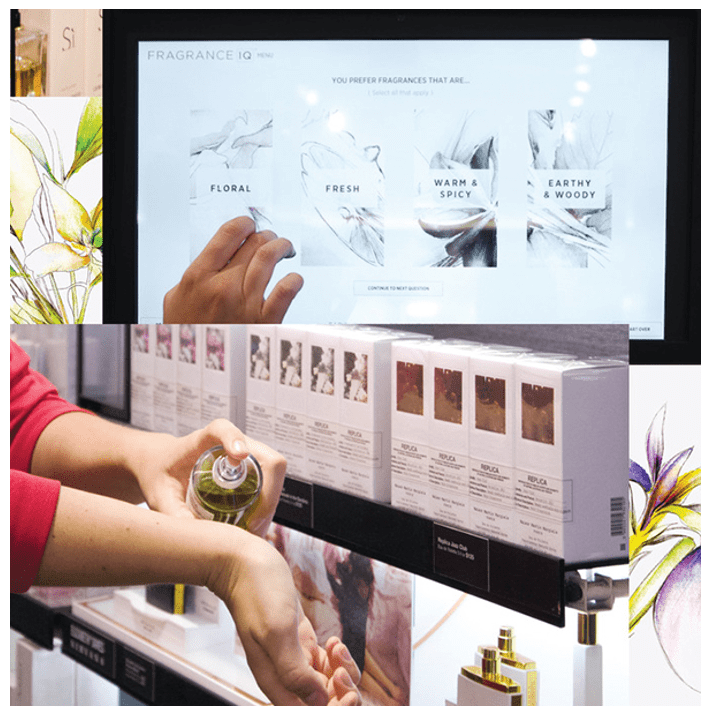 Sephora's Fragrance IQ
In 2015, Sephora furthered its fragrance technology by partnering with cloud-based scent system Inhalió to develop InstaScent. The sensory technology uses a dry air delivery system that lets users explore fragrances emitted from a nozzle.
Users can now smell up to 18 scent families without needing to try them on.
Next iterations of Sephora's in-store tech
If there's one thing to know about Sephora, it's that the company doesn't get complacent.
"It hasn't been easy, but Sephora has moved to make digital as important as the physical product in our stores. We also try to think like customers — how would I want to shop, what would make my experience better, how do my kids' interactions with technology predict the future?"

— Julie Bornstein, former CMO & Chief Digital Officer, Sephora
Sephora will likely continue expanding its in-store technologies for experiential retail through its Innovation Lab. Based on current beauty trends, we could see Sephora explore some of the following opportunities.
Beauty devices
Sephora has been capitalizing on the trend through its various beauty device offerings, targeting hair removal, facial cleansing and steaming, light therapy for anti-aging, and more.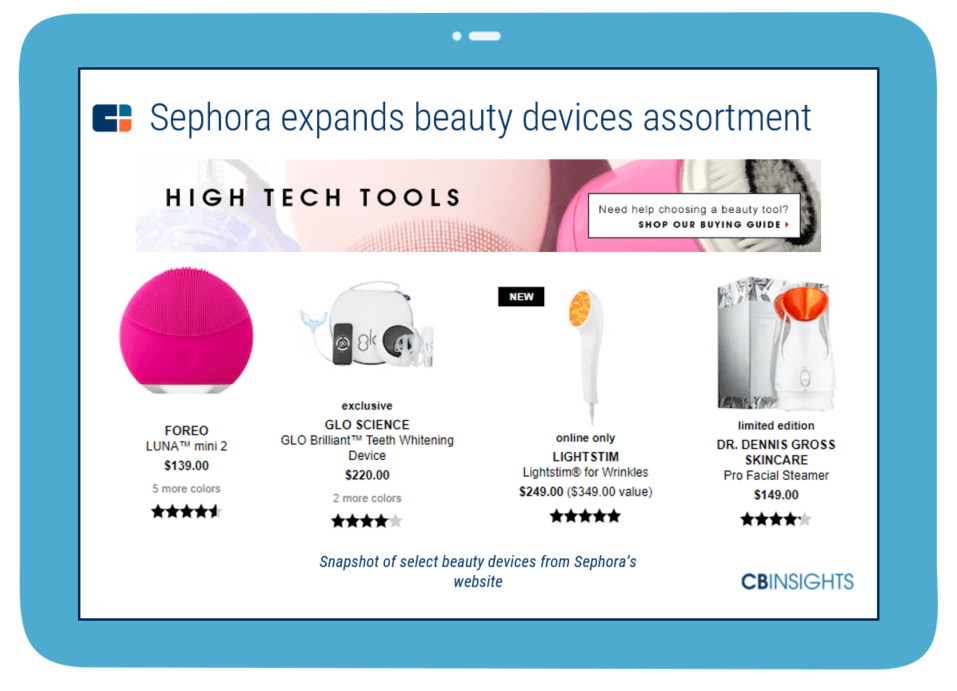 As at-home beauty devices become more popular, we can expect Sephora to continue expanding its selection of beauty devices to enable consumers' connected beauty routines.
New use cases for AR and AI
"[Digital] is woven into the service model and all of our beauty advisors are trained to feel equally comfortable working with our digital tools as they are with brushes and cotton swabs."

— Deborah Yeh, SVP Marketing & Brand, Sephora
As companies increasingly leverage AR/VR for employee training (as seen with Estée Lauder's partnership with Perfect Corp to launch an AR training program), Sephora could consider expanding its AR technology to help train beauty associates on new products, technologies, and makeup application tips.
While there was some question of whether Sephora would cease working with ModiFace after its recent acquisition by L'Oréal, according to WWD, Sephora still plans to use ModiFace's technology to power the Sephora Virtual Artist program in its app. The company has even claimed that due to increased awareness of AI and AR technologies from the ModiFace acquisition, Sephora's app has seen greater engagement.
With potential concerns over a competitor having access to customer data, Sephora could eventually find a different partner or even acquire a bigger AR/VR company to enhance its virtual try-on capabilities.
Further in-store personalization 
As beauty devices and personalized cosmetics have gained traction, as seen with L'Oréal's foray into made-to-measure cosmetics with LTP and Custom D.O.S.E., Sephora could also take advantage of the trend.
Rather than suggest existing products, the company could look to build cosmetics tailored to shoppers and their unique concerns, from skincare to lip care and more.
Though Sephora hasn't announced plans to pursue such an initiative, this could be an area for the company to capitalize on, thanks to increased consumer desire for personalized cosmetics.
Bringing the Sephora experience to the department store
Sephora has expanded its in-store beauty retail experience beyond its proprietary stores.
JCPenney's partnership with Sephora has been an anchor for JCPenney's physical retail experience. Though the department store plans to downsize its retail footprint, it still plans to open approximately 30 more Sephora shops inside JCPenney stores this year.
Frequently cited in JCPenney earnings transcripts, the Sephora partnership has been a huge driver of in-store visits and sales for the department store. According to Fortune, 2016 annual sales per square foot in Sephora shops in JCPenney were between $500 and $600 — more than 3x the JCPenney average.
According to CB Insights' Earnings Transcripts tool, JCPenney has mentioned Sephora on its earnings calls 234 times since 2008. Notably, this is significantly more mentions than the 139 times LVMH mentioned Sephora over the same period.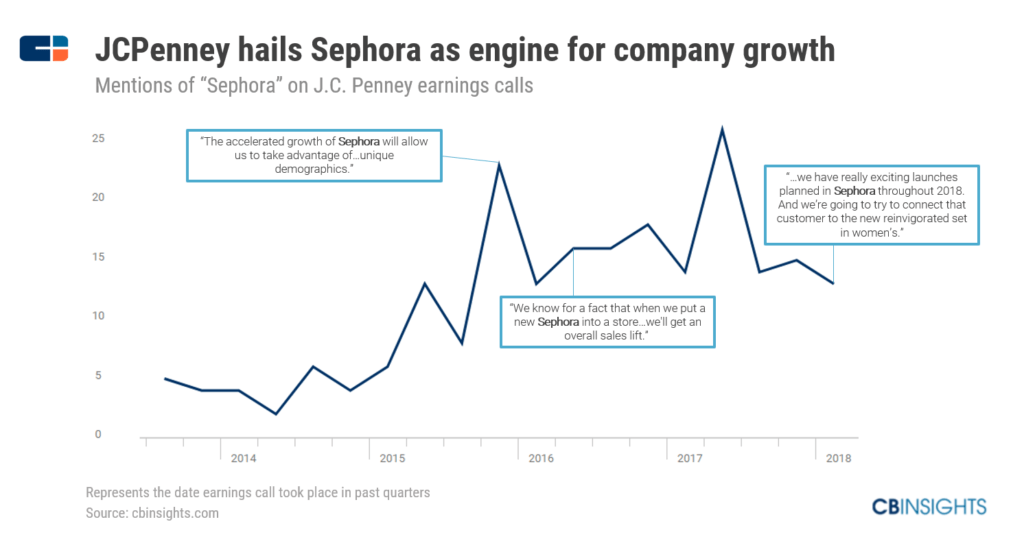 With plans to open 30 more Sephora shops in 2018, JCPenney is leveraging Sephora's beauty retail model for in-store customer engagement during a time when department stores are struggling to remain relevant.

Sephora in JCPenney. Source: JCPenney Newsroom
Brand support & incubation
Nabbing shelf space in Sephora, amidst its vast product assortment of 300+ brands, equates to hitting the jackpot for up-and-coming beauty brands. A quick Google search shows hundreds of articles and forums full of beauty brand executives and cosmetic formulators seeking tips for selling into Sephora.
Sephora's beauty retail model relies on both partnering with and incubating beauty brands. The company has a few engines to support its ever-expanding product assortment, including:
Sephora Accelerate, which supports smaller beauty brands that could potentially be sold in Sephora stores
Kendo, which incubates proprietary brands to distribute in Sephora
Sephora Collection, Sephora's private label line
We dive into all three initiatives below.
Sephora Accelerate supports female entrepreneurs, scouts up-and-coming brands
Sephora Accelerate — which is part of the company's larger social impact initiative, Sephora Stands — launched its first cohort in 2016 to help empower female beauty entrepreneurs, who are still largely underrepresented in the industry.
The company offers nominal funding for 8 –10 selected startups, which then participate in a week-long beauty boot camp featuring workshops, events, and mentorship opportunities, culminating in a final Demo Day.
Not only does this allow Sephora to support female entrepreneurs; it also helps the company scout out high-momentum brands that Sephora could distribute.
Though not all brands make it onto Sephora's shelves (to date, only organic skincare brand LXMI, essential oils company Vitruvi, and ethical fragrance brand The 7 Virtues have done so), the company offers participants ongoing mentorship and networking opportunities.
Participating companies can also receive funding from Sephora to help their brands grow. For example, Sephora Accelerate loaned castor oil-based beauty brand Kreyol Essence $50K in 2017 to help it prepare for distribution at Whole Foods. 
Sephora recently announced its 2018 cohort, which taps into many current beauty trends, including: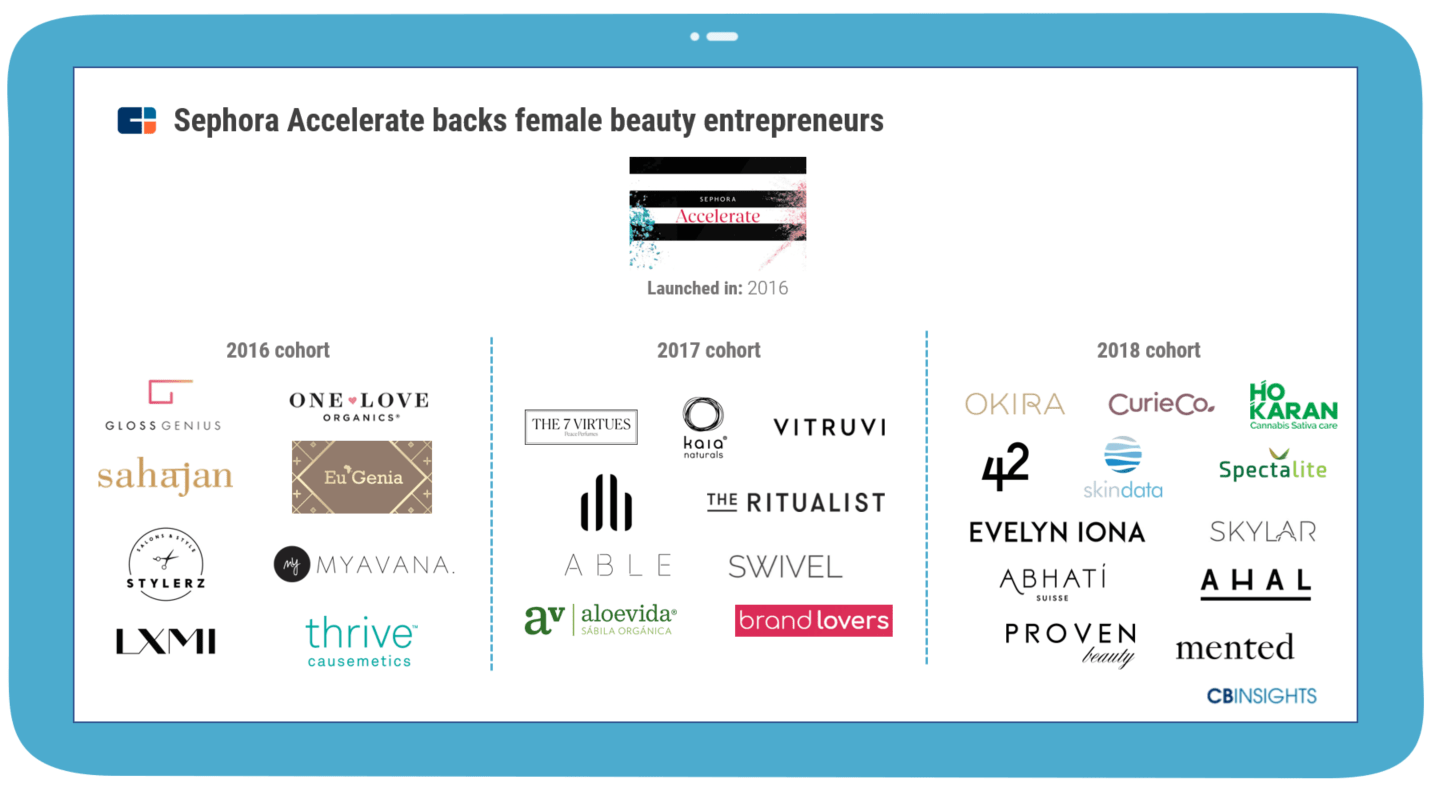 Kendo incubates global beauty brands
Sephora doesn't only support indie beauty brands: it also incubates a number of well-known brands through its beauty brand incubator Kendo.
Kendo was started by former Sephora Americas CEO David Suliteanu in 2010 and is now part of LVMH's Perfumes & Cosmetics groups. Kendo incubates brands such as Fenty Beauty, Kat Von D, Marc Jacobs, and Bite Beauty, which are sold in Sephora and other outposts.
Kendo aims to turn these brands into global beauty powerhouses. Notably, the launch of Fenty Beauty by Rihanna in September 2017 triggered an industry-wide shift towards inclusive beauty products for a diverse array of skin tones.
Further areas of exploration for Kendo could include expanding its assortment of inclusive beauty brands or even men's grooming, given the momentum in these areas.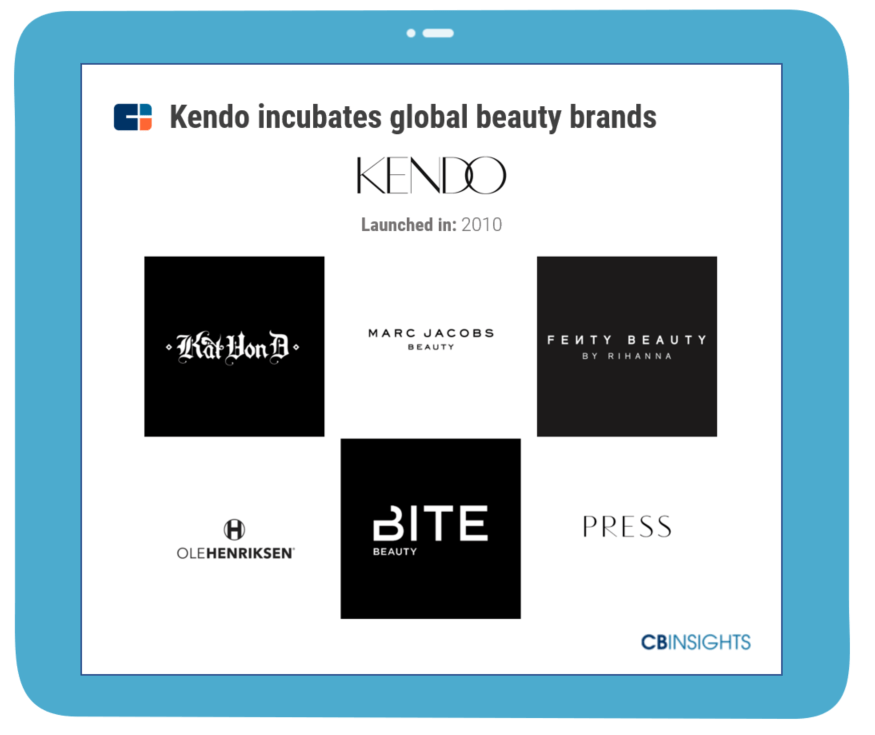 Sephora's private label aims to simplify beauty shoppers' experiences
Sephora's private label (launched circa 2002) plays a key role in attracting shoppers and controlling pricing and inventory.
Sephora Collection is Sephora's most affordable line, with a range of nearly 500 products including makeup, skincare, fragrance, beauty tools, and more.
The company rebranded Sephora Collection in 2016, reviving the private label to become more millennial-friendly and have a better-defined scope.
Now, Sephora positions the brand as a sort of a gateway drug to introduce novice beauty shoppers to its collection, with the idea that they could eventually graduate to premium brands.
With the slogan "Beauty Uncomplicated," Sephora Collection aims to simplify the potentially overwhelming beauty shopping experience, making it more affordable and approachable.

"The lady at the counter has been replaced by hundreds of people on YouTube. There are more voices. And we are trying to cut through the confusion."

— Deborah Yeh, SVP Marketing & Brand, Sephora
Sephora's product discovery features invite clients to let Sephora guide them through the shopping experience. Shoppers can easily customize product recommendations by very specific criteria, such as product type, finish, and longevity.
The feature's use of natural, straightforward language makes decision-making very easy for makeup novices. After all, it seems more effective to ask shoppers what results they want, rather than trying to gauge specific products or ingredients they're looking for.
Sephora Collection also caters to customers who want to curate recommendations by more specific criteria. Upon searching "Sephora Collection" within the mobile app, users can filter by criteria including age range, beauty benefits, concerns, formulation, price, and more.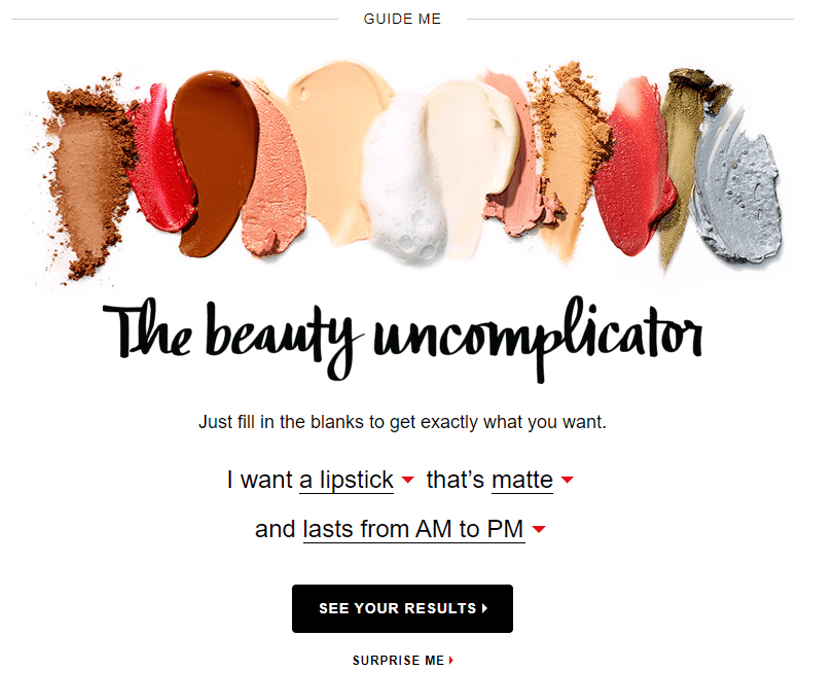 Sephora has also promoted Sephora Collection in millennial-friendly environments like Coachella, where it was the music festival's official beauty sponsor this year. Sephora offered free hair and makeup touch-ups and festival-inspired looks for Coachella-goers in a Wi-Fi-enabled, air-conditioned tent.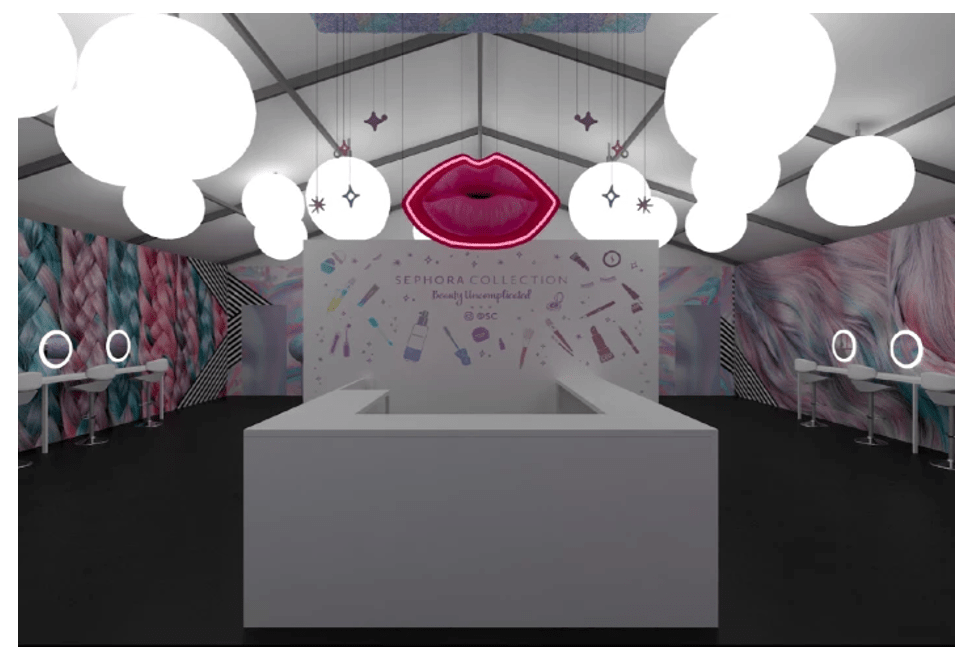 Sephora tent at Coachella 2018. Source: Clevver
Content, online communities, & influencer marketing
Beauty aficionados, especially those who download Sephora's app, are some of the most loyal customers.
In an industry where trends change faster than the blink of an eye, fresh content is crucial to keeping customers engaged and up to date on the latest beauty trends.
Daily content and location-based messages promote limited edition products, deals, and educational materials for shoppers, with the aim of enticing users into Sephora stores.
According to SVP of marketing & brand Deborah Yeh, it's all about fostering a two-way conversation between Sephora and clients. This could take the form of promoting social media events with brand founders online, or other live social media events.
In Los Angeles in December 2016, Sephora launched an in-house content studio that offers services for photo shoots, video production, and more. According to Glossy, this allowed Sephora to produce nearly 400 videos in 2017 — 90% more social media videos than the year before.
"Increasingly consumers want pictures over words … if you look at our site, we lean far further toward visually-led merchandising than the more editorial skew of our competitors."

— Ian Rogers, Chief Digital Officer, LVMH
Yeh also notes that Sephora's social strategy consists of three pillars:
Teaching: Guiding clients through their beauty questions
Humor: Employing a humorous, relatable voice on social channels
Community: Fostering community to help clients engage with Sephora and each other
When it comes to beauty content, Sephora often lets products speak for themselves. Beauty being a sensory-driven experience, mobile and online content highlights visuals whenever possible.
Sephora's influencer marketing strategy focuses on authenticity
Influencers have become essential to distributing beauty content to a wide audience.
At the same time, influencer engagement has become an increasingly tricky space for brands to navigate.
According to Nandini Joshi, VP of e-commerce, marketing, and customer innovation at Sephora SEA/AU, Sephora must balance nurturing influencers' creative talent to cultivate authentic voices while also recognizing that influencers aren't employees and can't be treated as such.
Sephora's influencer marketing strategy goes beyond just tracking influencer-generated traffic, considering factors like influencer brand equity and social sentiment for a more holistic view.
Additionally, Sephora has revamped its influencer marketing strategy to focus on long-term influencer relationships instead of working with influencers on an ad-hoc basis.
According to Glossy, Sephora's influencer marketing program consists of brand ambassadors complemented by "micro-influencers."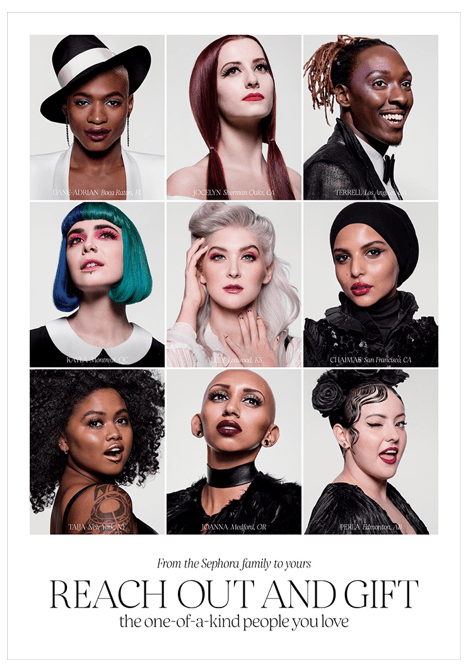 For 2018, influencers are focusing on promoting Sephora Collection's latest lipstick launch #LIPSTORIES with monthly themed digital content, including a six-part podcast co-created with Girlboss Media to advertise the line.
Beyond paid influencers, Sephora has harnessed the power of using its own employees as influencer marketers, similar to efforts by companies like L'Oréal and Glossier, among others. For example, Sephora's Holiday 2017 campaign featured its own employees instead of professional models.
Exclusive product launches create hype
Building anticipation — whether through influencers, Beauty Insider sales, or distributing new beauty brands — is something Sephora does extremely well.
The limited-edition mentality allows Sephora to commission exclusive product launches from popular beauty brands.
In March 2018, Sephora partnered with 6 of its best-selling brands, including Urban Decay, Tarte, and Pat McGrath, for "First at Sephora," which exclusively launched these new products in Sephora's stores.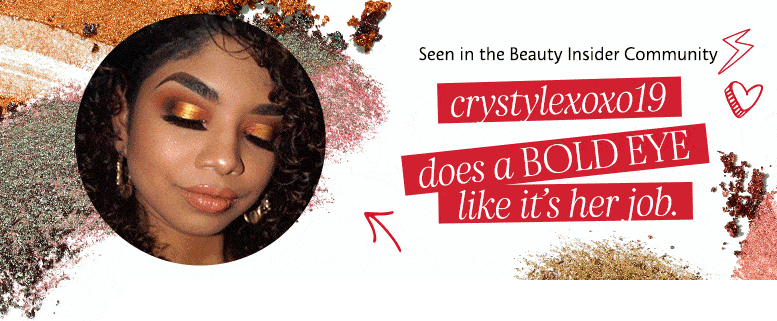 For initiatives like these, digital content is crucial to creating buzz.
Custom educational content across multiple social media channels accompanied the release of these products to make them even more of a must-have for Sephora shoppers.
Sephora reported high engagement rates with videos around these exclusive products, with a seven-day organic performance that was 224% above Sephora's average views, according to Glossy.
Not only can exclusive product launches build hype; they can also serve as a tool to ward off against competition like Amazon.
Beauty insider program cultivates deep loyalty
Influencers and exclusive cosmetics contribute to a "beauty FOMO culture" where consumers just have to get their hands on the latest beauty products as soon as possible.
For these ultra-dedicated beauty shoppers, loyalty programs reward such purchasing behavior.
Sephora's Beauty Insider program is one of the most well-known rewards marketing programs across retail and e-commerce. Unlike Ulta Beauty's rewards program, where points can immediately be applied towards purchases to entice budget shoppers, Sephora's loyalty program isn't as focused on helping clients save money.
Instead, being a Sephora Beauty Insider is more about being part of an elite beauty community, with access to exclusive launches and deals.
Feeding into this elite community mindset, multiple tiers have proven to be a successful strategy for Sephora's Beauty Insider Program. Tiers include: 
Insider (free)

VIB (shoppers who spend $350+ in a calendar year)

Rouge (reserved for shoppers who rack up $1,000+ in purchases within a year)
Other Beauty Insider features include personalized product recommendations and beauty services.
Beauty services such as free skincare classes or makeover services align with Sephora's ethos of luxury and prestige beauty.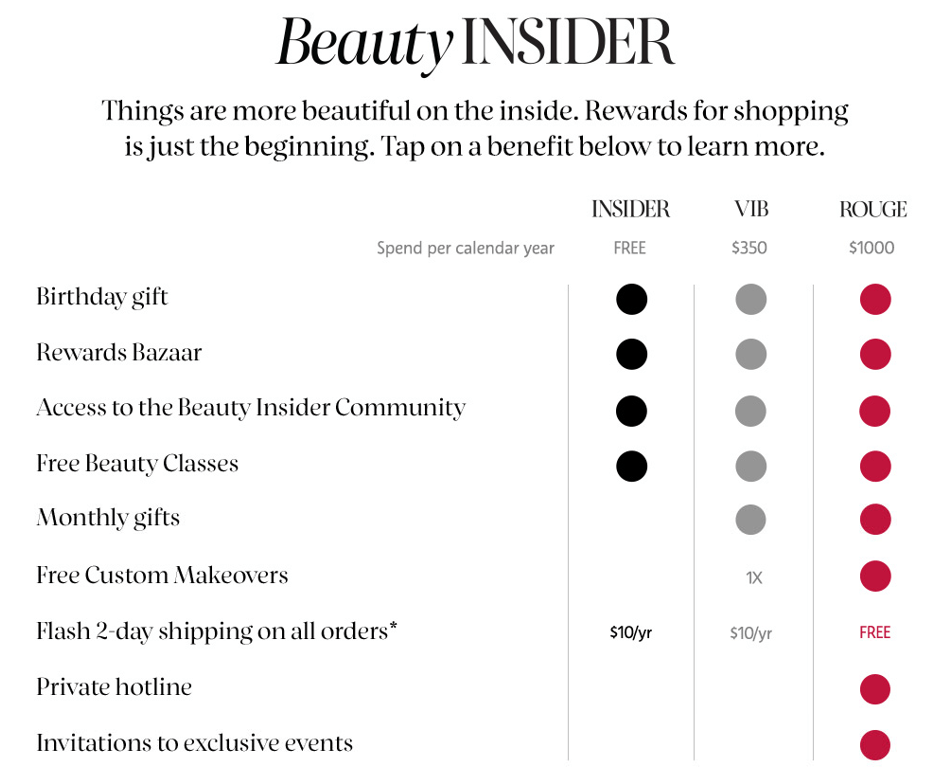 Additionally, the platform offers tons of community features to help shoppers forge personal connections with like-minded beauty enthusiasts and build loyalty to Sephora.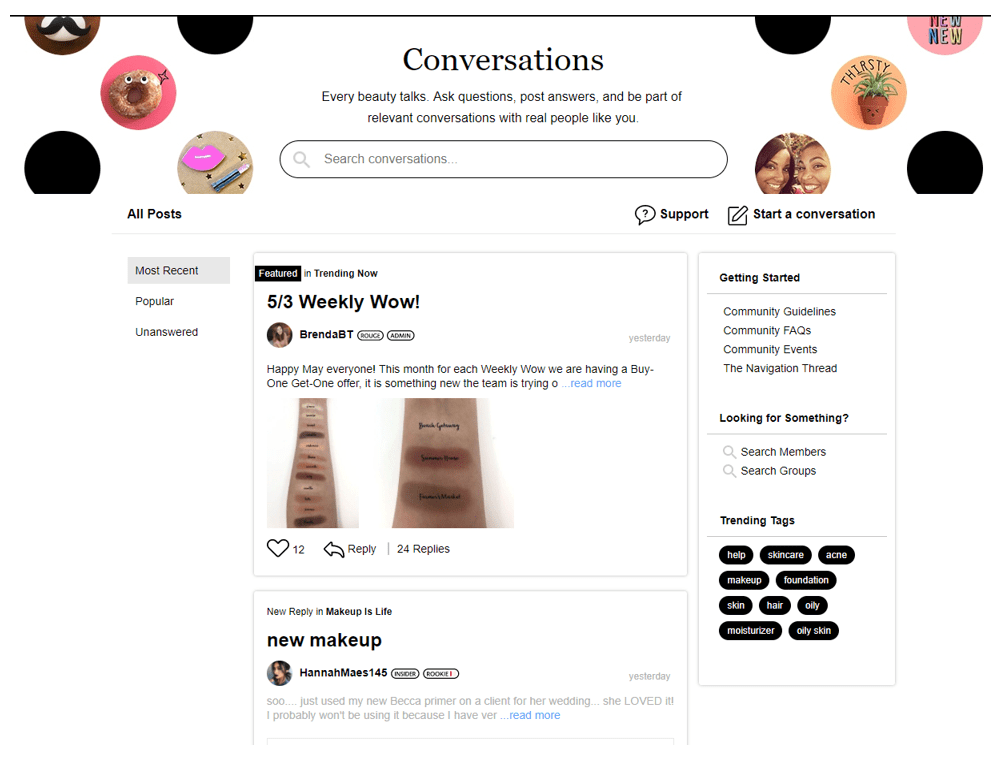 With Sephora's newly combined in-store and digital teams, merged in-store and online perks are all about inspiring greater customer loyalty and keeping Sephora shoppers coming back for more.
"The power of using … data to better appeal to her at every touchpoint and understand her in a deeper way enables us to create these experiences that she cares about across our channels. Loyalty is a data-driven ecosystem, so that's hugely powerful."

— Mary Beth Laughton, EVP Omni Retail, Sephora
Risks & competitors
The beauty industry is having a big moment right now, thanks to the better-for-you-movement and the rise of clean beauty, among other factors.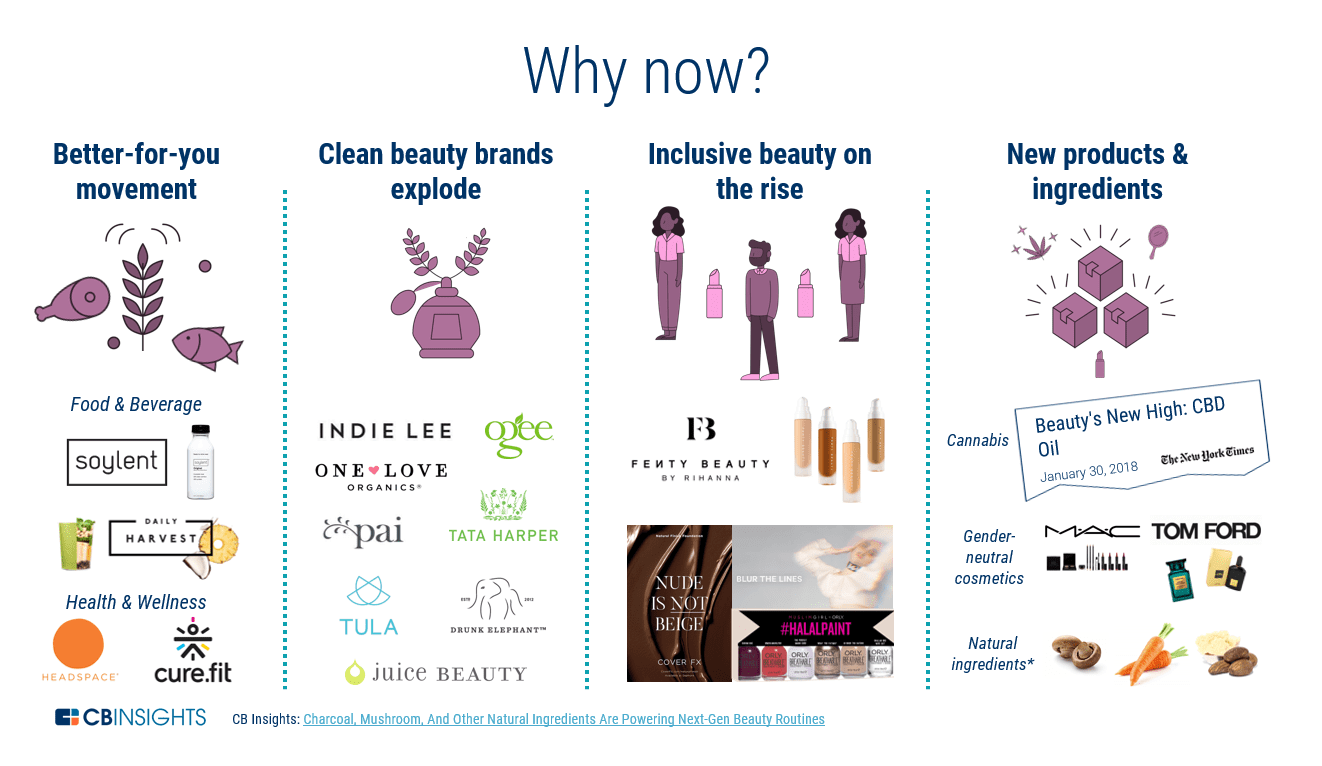 This signals increased competition for Sephora.
Below we outline some of Sephora's main competitors, from established incumbents to smaller up-and-coming players.
Ulta & other beauty retailers bridge prestige beauty with mass appeal
Ulta Beauty is Sephora's most obvious — and arguable, fiercest — competitor.
Though often compared to Sephora, Ulta has historically offered a different value proposition, focusing on a wider assortment of beauty brands that combines both drugstore and prestige products. The retailer relies on salon services to bring in customers and increase loyalty.
And Ulta is growing. The company's e-commerce grew more than 60% in 2017, and it increased its share in the prestige beauty category from less than 8% in 2013 to over 13% in 2016. According to Euromonitor, Ulta is now the biggest specialty beauty retailer in the United States.
And it's starting to threaten Sephora's dominance in prestige beauty.
Recently, Ulta brought in Chanel Beauty, signaling the Chanel's desire to connect with a younger demographic. Additionally, Deciem's cult skincare brand The Ordinary is reportedly leaving Sephora for Ulta, due to payment issues.
Other competing beauty retailers include Macy's-owned Bluemercury and Manzanita Capital-owned Space NK, which focus more on the neighborhood beauty store segment. While they also make luxury beauty offerings, these players have a much smaller physical and digital footprint than Sephora.
Clean beauty retailers target consumer demand for better-for-you beauty products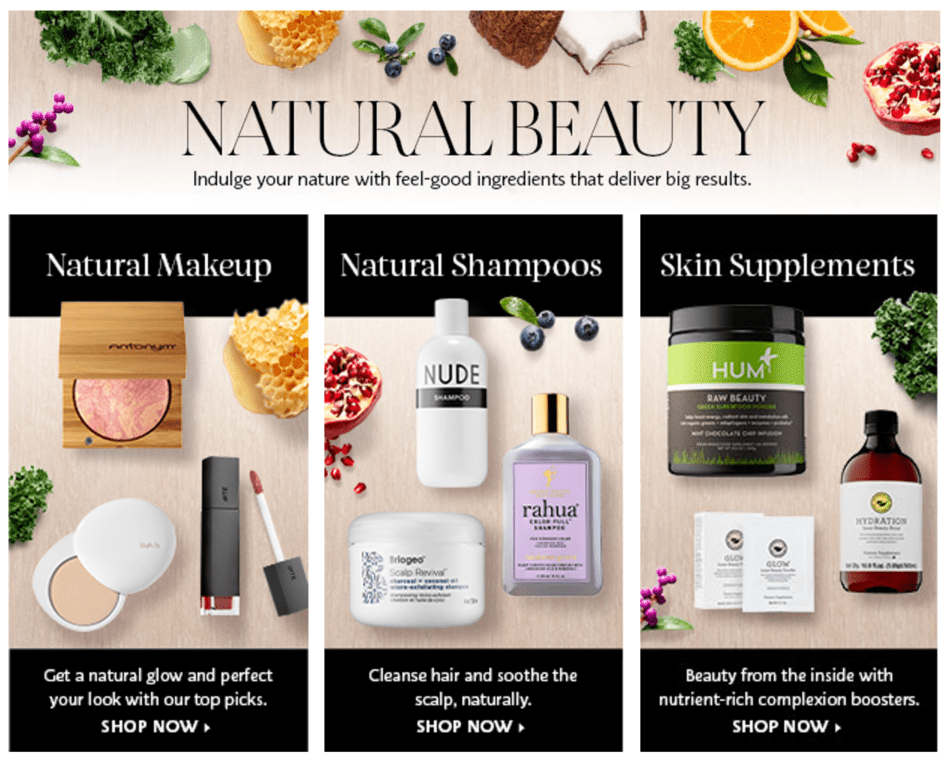 Clean and green is all the rage in beauty today.
Niche retailers focusing on the natural and organic beauty segment have exploded in recent years. CAP Beauty, the Detox Market, Credo Beauty, Cos Bar, and others are targeting consumers that want more transparency on their products, ingredient sourcing practices, and more.
These niche retailers are expanding their physical retail footprint and could eventually gain market share over Sephora as consumer preferences veer towards natural and organic beauty.
Sephora was an early recognizer of consumer demand for natural brands and today has an expansive natural beauty assortment featuring on-trend brands such as RMS, Tata Harper, Herbivore Botanicals, and others.
While Sephora offers many natural products, its stores are by no means devoted only to clean beauty brands. Going forward, Sephora may continue placing a greater emphasis on its clean beauty assortment as this trend continues to grow.
As digestion and gut health also rise as a beauty and wellness trend, Sephora has launched an inner beauty category featuring probiotics, collagen, and other supplements by brands such as HUM Nutrition, The Beauty Chef, and others.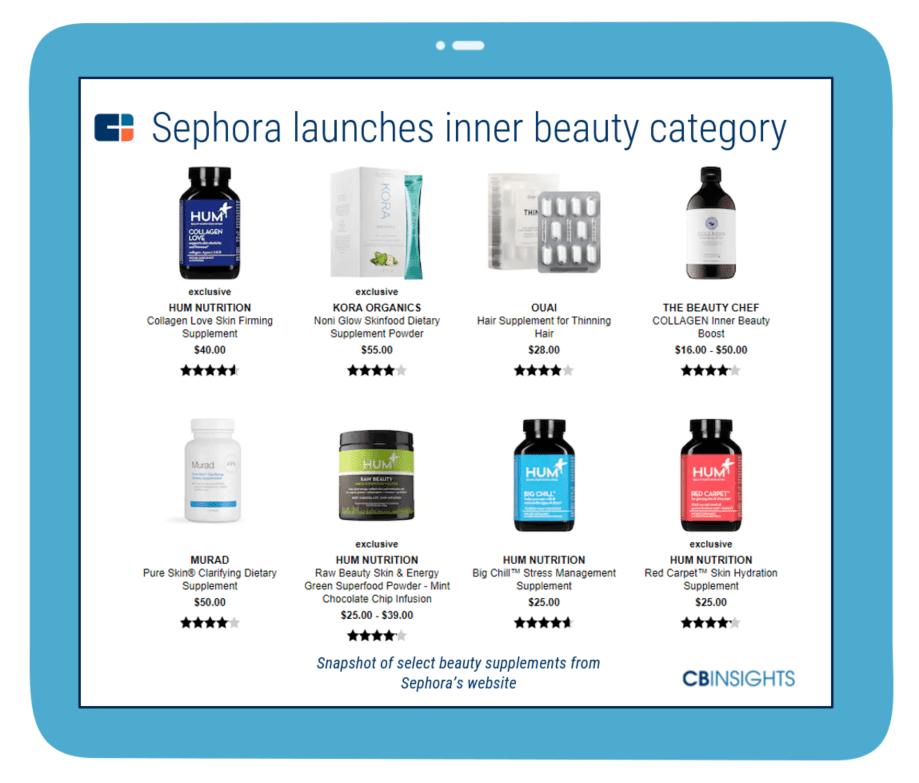 E-commerce players try to eat Sephora's lunch
Sephora has been able to "Amazon-proof" its stores through a combination of its prestige beauty emphasis, tech-enabled offline experiences, beauty services, loyalty programs, and more.
But it's no secret that Amazon's been attempting to make strides into luxury beauty.
LVMH hasn't historically considered Amazon a competitor to Sephora (at least according to a Q2'17 earnings call, when LVMH noted that Sephora is ahead of peers such as Macy's and Amazon in both online and in-store perfumes and cosmetics distribution in the US).
But this will likely change as Amazon more aggressively pursues luxury beauty shoppers.
Compared to Sephora's fierce competition for shelf space, Amazon's low barrier to entry is incentivizing up-and-coming luxury beauty brands to distribute on Amazon.
In fact, Amazon just announced that it will launch an Indie Beauty Shop within its Marketplace this June.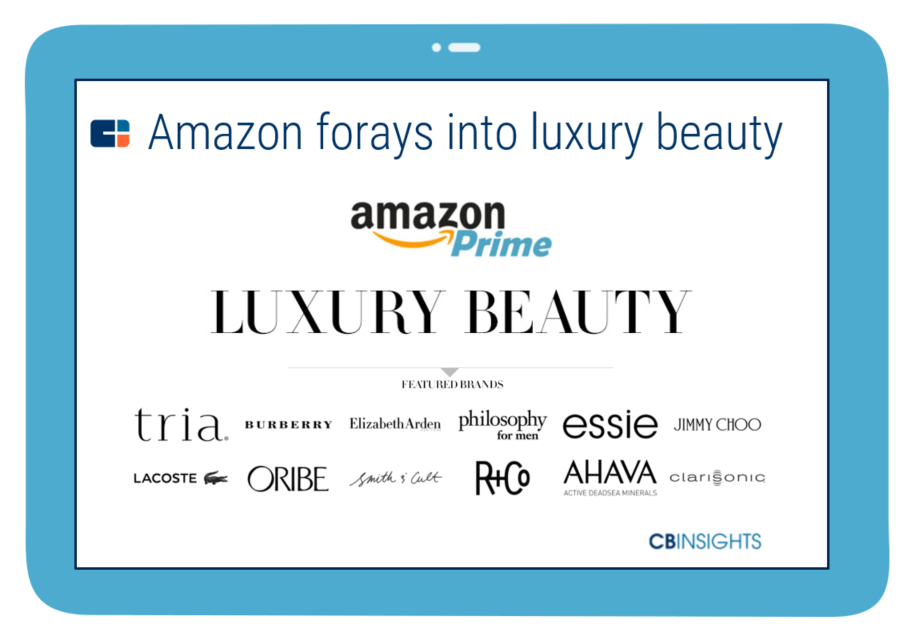 And with free two-day shipping on Prime, Amazon encourages replenishment shopping.
Sephora responded to this threat early on in 2015 with the launch of its own Prime-like shipping service. A Sephora Flash membership allows Sephora shoppers to pay $10 for free, unlimited two-day shipping service for a year's worth of beauty products.
In addition to offering competing products and distribution channels, Amazon, with its recent foray in AR technology, could also offer a service similar to Sephora Virtual Artist, where Amazon shoppers could use an AR app to try on makeup.
Beyond Amazon, luxury retailers like Net-a-Porter could also threaten Sephora's dominance in the prestige beauty category.
Net-a-Porter's beauty sales have grown 10x since its 2013 launch, with beauty becoming an increasingly important category and revenue driver for the company.
In fact, Net-a-Porter's beauty section looks remarkably similar to Sephora's website.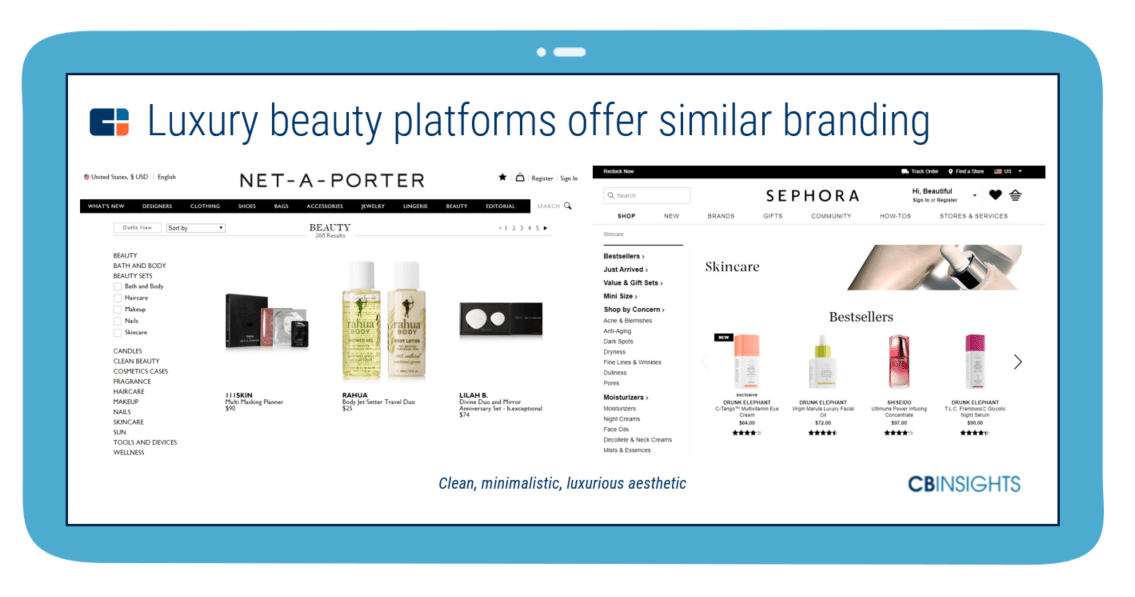 Beyond its beauty traction, Yoox Net-a-Porter's recent launch of an online high-end jewelry platform could propel LVMH to use Sephora's model as inspiration for e-commerce initiatives across its other luxury goods divisions.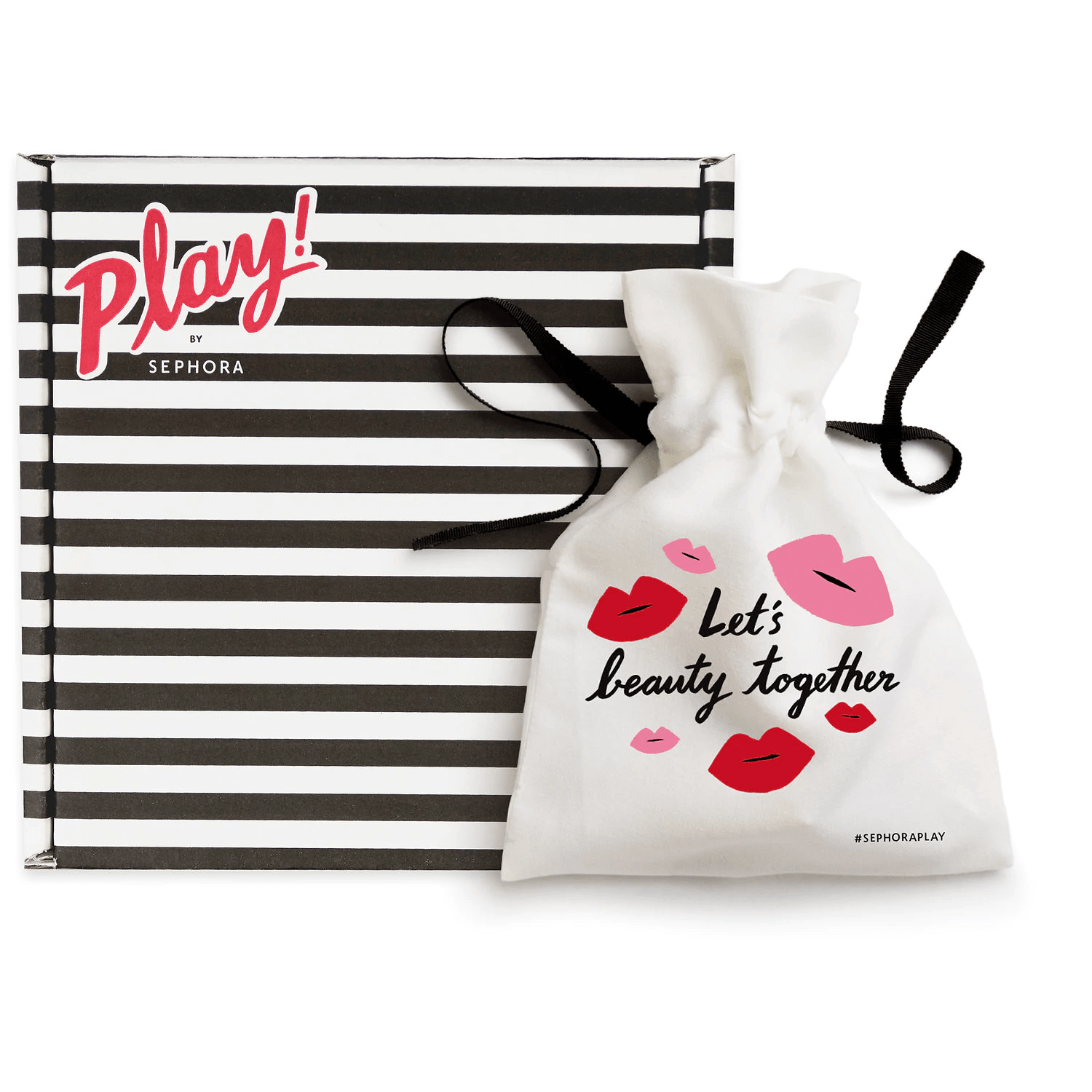 Retailers experiment with beauty subscription models
Beauty subscription box competitors like Birchbox and Ipsy are also worth noting.
However, hedge fund investor Viking Global Investors just bought majority ownership of struggling Birchbox, sparking concerns over the efficacy of the beauty subscription box model.
Ipsy has been more successful in monetizing certain aspects of its business. According to Fast Company, Ipsy not only makes money from its subscription boxes, but also from influencer-generated advertising revenue and from brands whose products are featured in Ipsy's monthly boxes.
Retailers such as Walmart, Macy's, and others have also launched their own beauty boxes in efforts to engage customers.
Sephora released its own subscription box in 2015, but with a twist. For $10 a month, Play! By Sephora (only available in the US) aims to embed an experience within a monthly subscription box by combining products, beauty guides, video content, and passes to visit Sephora stores for tutorials and events.
The box aims to engage customers via online and offline content and drive them to Sephora stores, which differentiates the product from traditional e-commerce subscription boxes. Despite some mixed reviews, feedback on Play! has been generally positive on Sephora's Beauty Insider forums.
Fashion retailers foray into beauty
Apparel retailers are capitalizing on beauty to complement their existing offerings and directly compete with beauty retailers like Sephora. Stores such as Anthropologie, Urban Outfitters, Madewell, and others have forayed into beauty offerings to enhance their stores.
For example, Forever 21 launched dedicated beauty store Riley Rose, which pairs beauty products and home goods in a Sephora-like environment, while Free People offers a host of cosmetics and wellness-focused products.
By catering to millennials and Gen Z beauty shoppers, these retailers could begin chipping away at Sephora's market share.
With beauty's high margins and low barriers to entry, we will likely see more retailers enter beauty and aim to compete with Sephora.
Traditional brick-and-mortar retailers pursue beauty shoppers
Brick-and-mortar retailers are also beginning to compete with beauty retailers by offering cosmetics at a more affordable price point than most Sephora-distributed brands.
Target in particular has been making big strides in beauty. Since 2017, Target has boosted its selection of natural beauty products, including a partnership with Glow Recipe to develop a private-label K-Beauty line, in efforts to become a one-stop-shop for affordable cosmetics.
The company also recently brought in eight new cosmetics brands geared towards women of color, and just announced its second cohort of 10 beauty startups in its mini beauty accelerator Target Takeoff.

Source: Target.com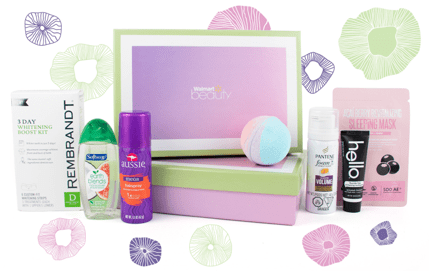 In addition to supporting startups, Target is also redesigning its stores to make its beauty section look more like Sephora, with an open floor plan to encourage beauty browsing with features like brighter lighting and self-service counters.
Walmart is similarly upping its beauty presence to attract a more affluent audience.
The retailer has revamped its beauty offerings with a $5 beauty box, the upcoming launch of its online-only premium beauty brand Co Squared, and increased partnerships with beauty and personal care brands for distribution in Walmart stores.
New store formats to ward off the retail apocalypse
Offering customers engaging retail experiences is crucial if Sephora wants to avoid missteps taken by other retailers.
To do so, Sephora has been experimenting with smaller store formats.
These stores, dubbed "Sephora Studios," are designed to blend into local neighborhoods to complement, not replace, the bigger store formats.
First launched in Boston and with a most recent store opening in Hoboken, New Jersey, these Sephora Studios aim to foster personalized connections between customers and beauty associates. These new formats exclude certain elements such as cash registers, allowing associates to process payments on their phones for a more seamless experience.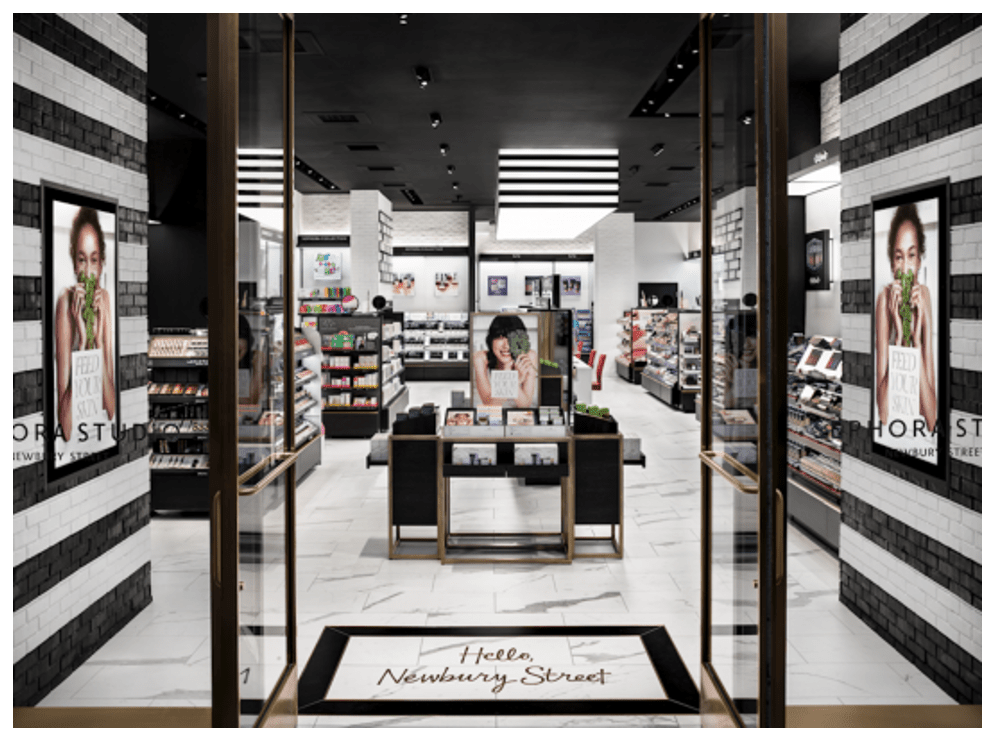 Sephora Studio in Boston
This model could even target replenisher shoppers and combat Amazon's online luxury beauty business, while also catering to consumers seeking a more intimate shopping experience.
Concluding thoughts
Sephora has proven the value of its model not just for beauty retail, but for retail at large.
At the heart of Sephora's strategy, every technology, experience, and product goes beyond simply delighting customers to solve specific consumer pain points, from finding the perfect foundation color match to seamlessly booking beauty services.
While Sephora has pioneered a future of tech-enabled retail, it does face sizable competition with personal care conglomerates, niche clean beauty retailers, big box retailers, apparel retailers, and others capitalizing on beauty's high margins. And of course, retailers always face the looming threat of Amazon.  
If Sephora can keep its laser customer focus, pace of innovation, and guiding principles of testing, iterating, and learning, the beauty trailblazer could stay ahead of the curve and continue to push boundaries across cosmetics retail.
All image credit goes to CB Insights or Sephora.com unless otherwise noted
If you aren't already a client, sign up for a free trial to learn more about our platform.