Visibility platforms have seen dominant market momentum and widespread industry leader activity in the supply chain optimization space — making them a technology worth prioritizing.
Clients can download the full Supply Chain Optimization Tech for Retailers report at the top left sidebar. 
Big box and general merchandise retail leaders are shifting more of their budgets toward tech-enabled solutions that improve communication and visibility along the supply chain — ultimately making the fulfillment process more efficient and less costly across channels.
Using CB Insights data, we examined tech markets across supply chain optimization for retailers and ranked them across two metrics — market momentum and industry leader activity — to help companies decide whether to monitor, vet, or prioritize these technologies.
Visibility platforms earned a recommendation to prioritize based on the market's strong market momentum and industry leader activity.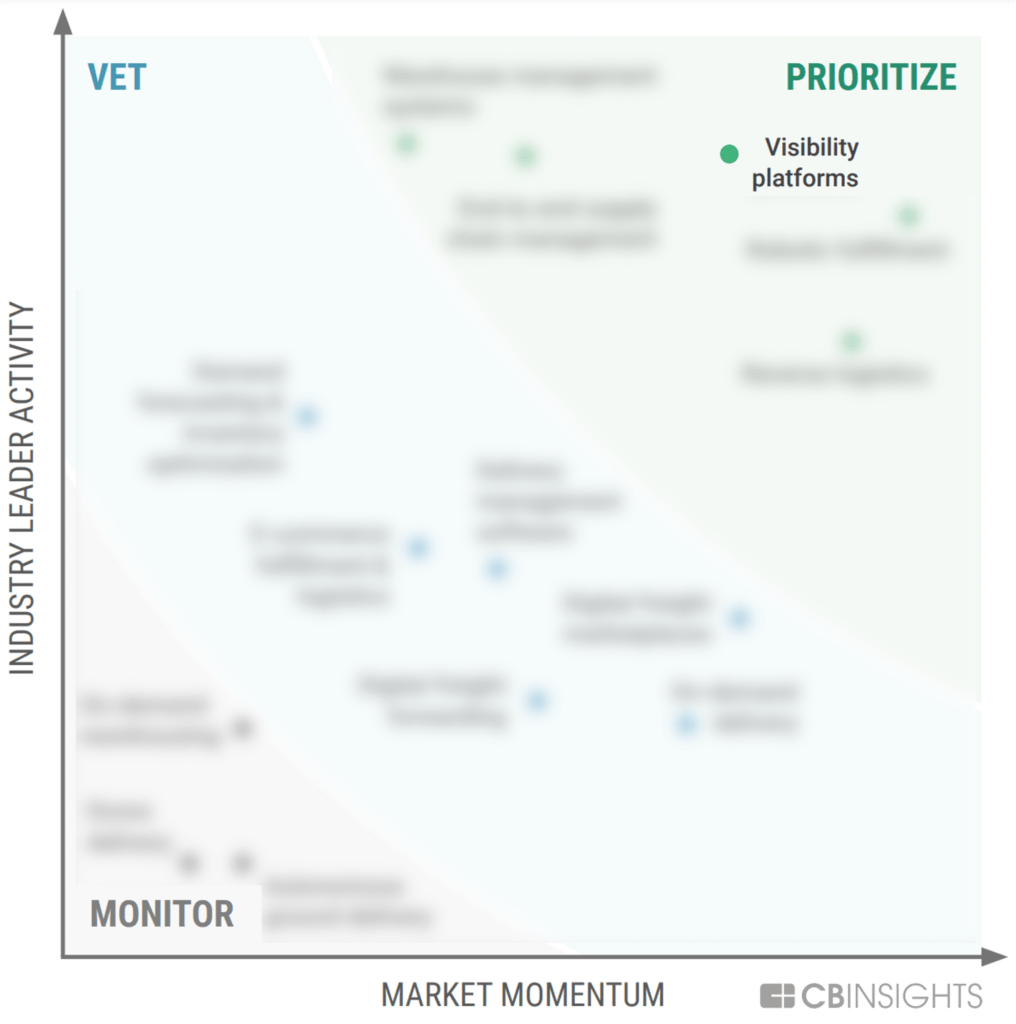 Visibility platforms offer aggregated, real-time data about the movement of freight along the shipping journey, providing end-to-end shipment visibility.
This category includes platforms that connect players across the supply chain to enable inventory tracking and workflow automation, as well as IoT companies developing connectivity solutions that facilitate the tracking and monitoring of goods.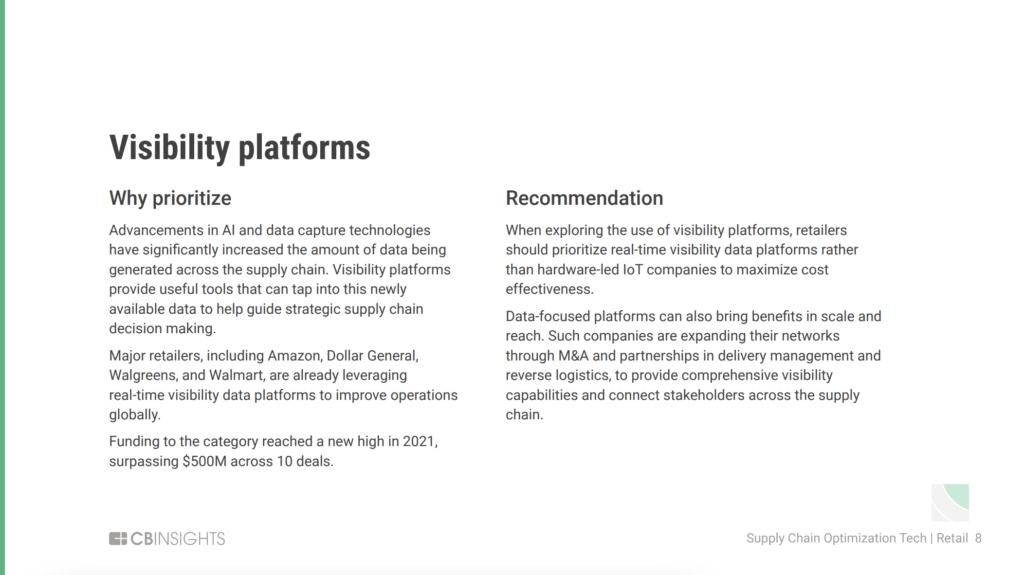 Advancements in AI and data capture technologies have significantly increased the amount of data being generated across the supply chain. Visibility platforms provide useful tools that can tap into this newly available data to help guide strategic supply chain decision making.
When exploring the use of visibility platforms, retailers should prioritize real-time visibility data platforms rather than hardware-led IoT companies to maximize cost effectiveness.
FACTS & FIGURES: Visibility platforms
Funding: Funding to the category reached a new high in 2021, surpassing $500M across 10 deals.
Top-funded companies: Top-funded companies in the space include Cainiao ($1.5B in disclosed equity funding), Project44 ($929M), and FourKites ($203M).
Geography: While the vast majority of deals in this space go to companies based in the US (81%), France (7.3%) and Japan (4.9%) also attract a number of deals.
Earnings transcripts: Recent earnings transcript mentions of supply chain visibility have been made by executives at Volvo, Avery Dennison, Office Depot, and more.
Clients can dive into visibility platforms and more in our complete MVP Technology Framework: Supply Chain Optimization Tech for Retailers report.