Reverse logistics solutions have seen significant market momentum and strong industry leader activity in the supply chain optimization space — making it a technology worth prioritizing.
Clients can download the full Supply Chain Optimization Tech for Retailers report at the top left sidebar. 
Big box and general merchandise retail leaders are shifting more of their budgets toward tech-enabled solutions that improve communication and visibility along the supply chain — ultimately making the fulfillment process more efficient and less costly across channels.
Using CB Insights data, we examined tech markets across supply chain optimization for retailers and ranked them across two metrics — market momentum and industry leader activity — to help companies decide whether to monitor, vet, or prioritize these technologies.
The STATE OF RETAIL q1 2022
Retail tech funding declined 11% QoQ to hit just under $24B in Q1'22. Download our free report to get all the trends.
Reverse logistics earned a recommendation to prioritize based on the market's notable market momentum and industry leader activity.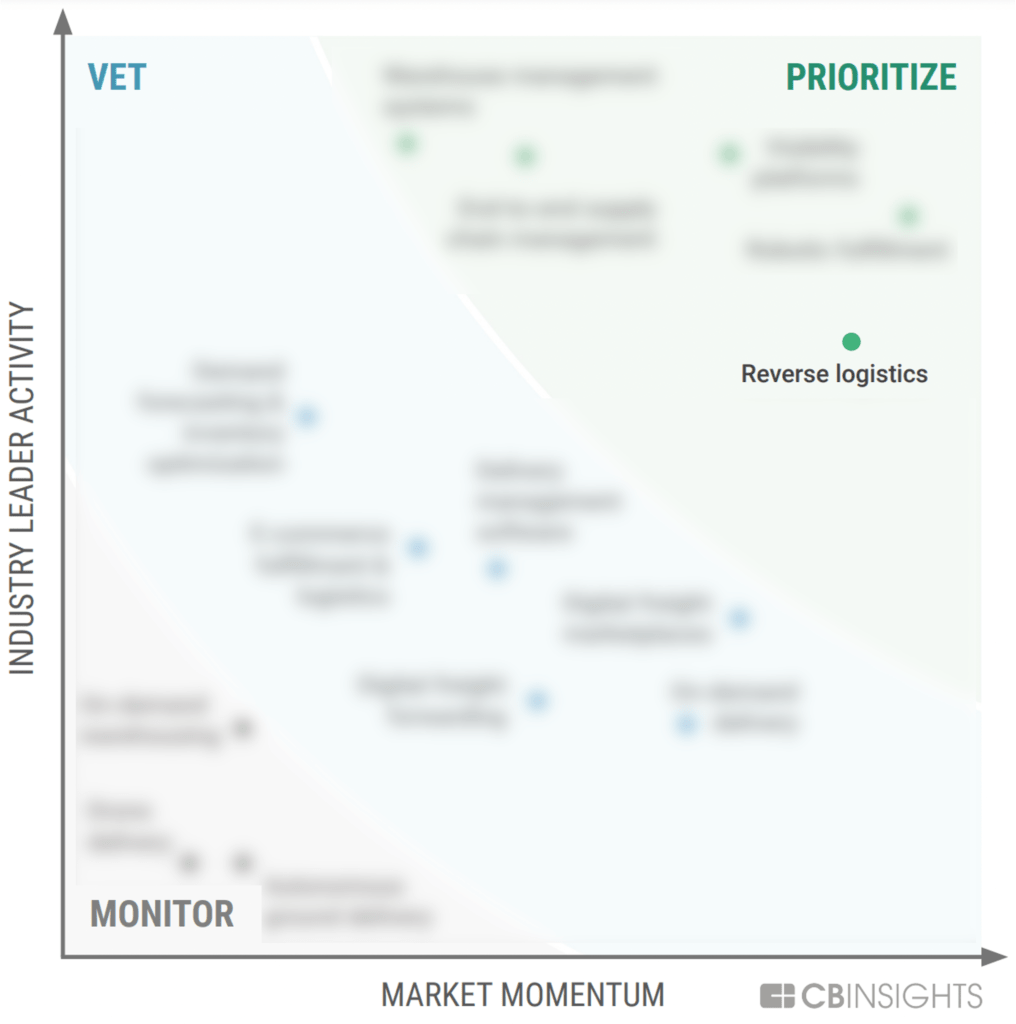 Reverse logistics solutions leverage end-to-end inventory management tools and data analytics to help retailers and brands manage and streamline returns processes more effectively. While some companies offer shopper-facing solutions, others work primarily with retailers on the back end.
Depending on their business model, reverse logistics solutions may offer capabilities including: real-time data and visibility into the returns process; proactive, personalized communication channels with customers; physical drop-off/pick-up locations; liquidation platforms that allow retailers to open up returned inventory to B2B secondary inventory buyers; and markdown solutions that help retailers and brands maximize inventory recovery.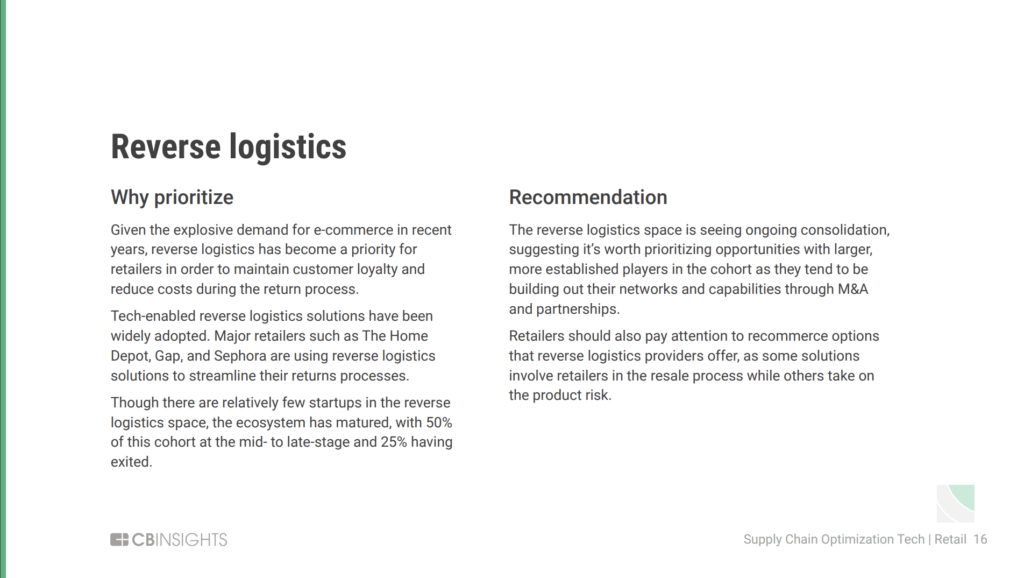 Given the explosive demand for e-commerce in recent years, reverse logistics has become a priority for retailers in order to maintain customer loyalty and reduce costs during the returns process.
The reverse logistics space is seeing ongoing consolidation, suggesting it's worth prioritizing opportunities with larger, more established players in the cohort as they tend to be building out their networks and capabilities through M&A and partnerships.
FACTS & FIGURES: reverse logistics
Stage: Though there are relatively few startups in the reverse logistics space, the ecosystem has matured, with 50% of this cohort at the mid- to late-stage and 25% having exited.
Top-funded companies: Top-funded companies in the space include Optoro ($215M in disclosed equity funding), Trove ($121M), and Loop Returns ($77M).
Earnings transcripts: Recent earnings transcript mentions of reverse logistics have been made by executives at Restoration Hardware, Best Buy, FedEx, and more.
Clients can dive into reverse logistics and more in our complete MVP Technology Framework: Supply Chain Optimization Tech for Retailers report.