Our retail tech report takes a data-driven look at global retail technology investment trends and top deals, highlighting areas of interest across the retail landscape.
The State Of Retail Tech report takes a data-driven look at global retail technology investment trends and top deals, featuring insights from our emerging tech insights platform. 
In a tumultuous year for retail, total financing for retail tech hit $47.7B in 2020, about 3% higher than in 2019. While deals still trailed 2019 totals, urgent needs to make stores more efficient and productive, as well as continued investment in online platforms, drove significant growth in funding across key sectors.
In 2021, investors and retailers will stay focused on the tech that will keep retail ahead of consumers' continuing demands for speed, personalization, and ease. E-commerce infrastructure, tech to understand shoppers better, and faster and more efficient delivery will be top priorities.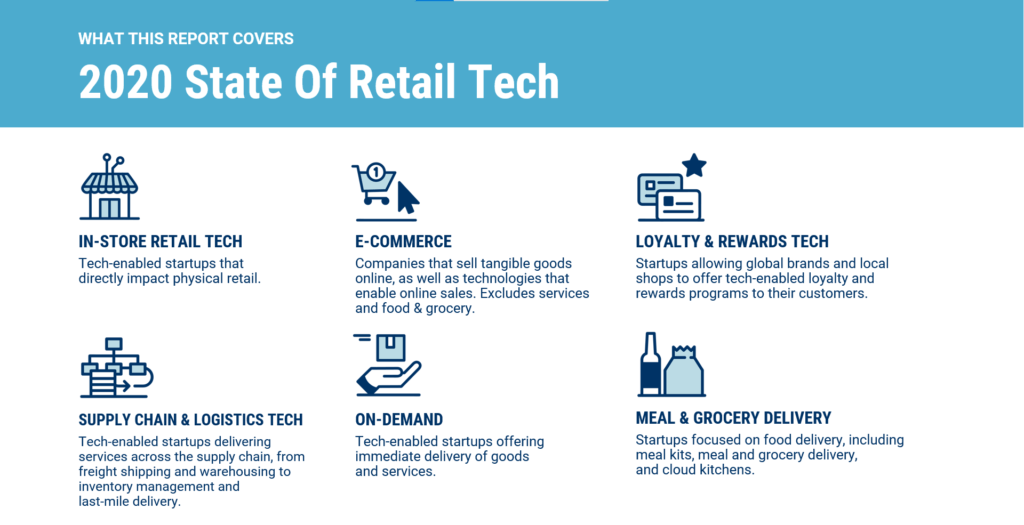 Report highlights
The shift to e-commerce drove investment and valuations for 16 new retail tech unicorns:

E-commerce enablement companies, as well as specialized selling platforms (such as online pharmacies and resale sites), have won investor interest and higher valuations. 

Mega-rounds and M&A zeroed in on online shopping:

In the second half of the year, the top retail tech rounds went to companies that support e-commerce infrastructure, including e-commerce platforms, more efficient logistics, and payments. Meanwhile, some of the most prominent mergers and acquisitions focused on online fulfillment, particularly food and grocery delivery. 

Big tech firms' retail advances aimed to make shopping easier:

Amazon, Facebook, and Google all continued to invest in partnerships, platform expansions, and delivery and fulfillment capabilities that are making it possible for consumers to shop anywhere. 

Europe and Africa have been garnering more interest from retail tech investors:

In 2020, both continents saw their highest share of deals in the last 5 years: Europe accounted for 22% of retail tech deals, while 3% of deals were in Africa. 

Key segments of in-store retail tech, e-commerce, and meal & grocery delivery all saw increased funding in 2020:

Funding to in-store marketing and shopper research tech companies increased 29% for the year; funding to e-commerce enablement companies grew 23%; and meal and grocery delivery funding increased 6%. In 2021, investment will continue to flow in all 3 areas as retailers and their partners rush to boost conversion and support new shopper habits. 
If you aren't already a client, sign up for a free trial to learn more about our platform.