Our State of Retail Tech report takes a data-driven look at deals, financing, and themes in key retail technology sectors in 2019. We share what these retail tech trends mean for 2020, and how retailers and brands need to prepare. 
While retail tech deals and financing slowed in 2019, funding to store technologies is growing as e-commerce platforms mature.
Looking into 2020, funding to artificial intelligence applications in retail and CPG will be increasingly important to bring precision, efficiency, and personalization across physical and digital retail.
Click to enlarge.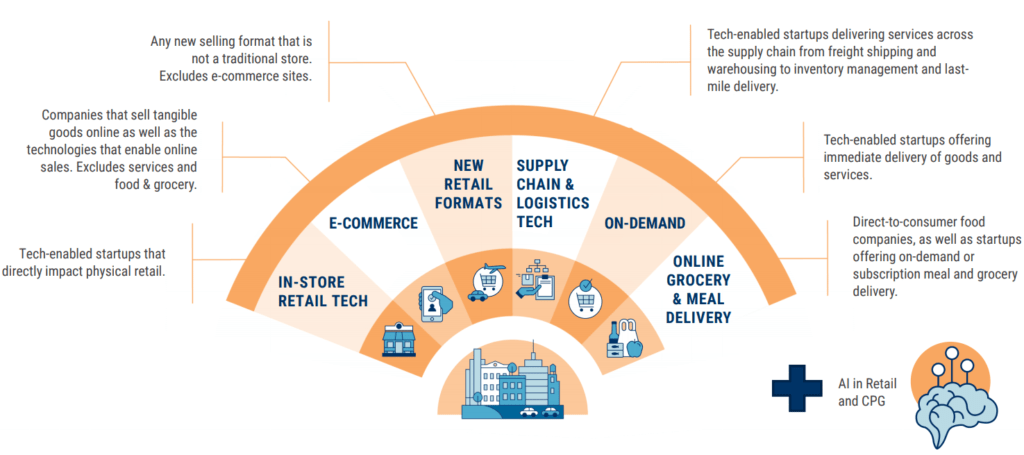 REPORT HIGHLIGHTS
In-store retail tech investment is growing. Financing increased nearly 60% to $3.7B in 2019, as retailers recognize the need to invest in tech that can potentially improve productivity and profitability.
There were 31 retail technology unicorn births in 2019. These new unicorns connect digital and physical retail in shopper marketing, inventory tracking, and online order fulfillment.
In 2020, retail will be more personal, more immersive, and more automated. Retailers and brands will have to understand shoppers better and will continue to turn to new retail tech options. Profitability, and the technology to support it, will remain a top focus.
If you aren't already a client, sign up for a free trial to learn more about our platform.