The Retail Tech 100 is CB Insights' annual list of the 100 most promising private retail tech companies in the world. This year's winners are using technology to help retailers create more connected and personalized experiences and drive efficiency and profitability.
CB Insights has unveiled the winners of the third annual Retail Tech 100 — a list of the 100 most promising private retail tech companies across the globe.
Many of this year's winners focus on boosting the efficiency of retail operations across channels. To this end, AI is being deployed by winners across categories, to automate everything from inventory forecasting and management to counterfeit tracking. Additionally, platforms that integrate tech stacks — whether in stores or for digital selling — are gaining traction in developed as well as emerging markets. 
Other companies in this year's winning cohort help retailers create more engaging shopping experiences, via tools like chat commerce, shoppable video, and NFTs. Sustainable shopping solutions for both consumers and retailers make a notable appearance as well.
Using the CB Insights platform, our research team picked these 100 private market vendors from a pool of over 7K companies, including applicants and nominees. 
The list includes early- and mid-stage startups driving innovation across store tech, e-commerce, loyalty & rewards, supply chain & logistics, and digital engagement. They were chosen based on factors including funding, proprietary Mosaic scores, market potential, business relationships, investor profile, news sentiment analysis, competitive landscape, team strength, and tech novelty. The research team also reviewed hundreds of Analyst Briefings submitted by applicants.
Clients can access the entire Retail Tech 100 list and interactive Collection here. (If you don't have a CB Insights login, create one here.)
Companies are categorized by their primary focus area and client base. Categories in the market map are not mutually exclusive. Please click to enlarge.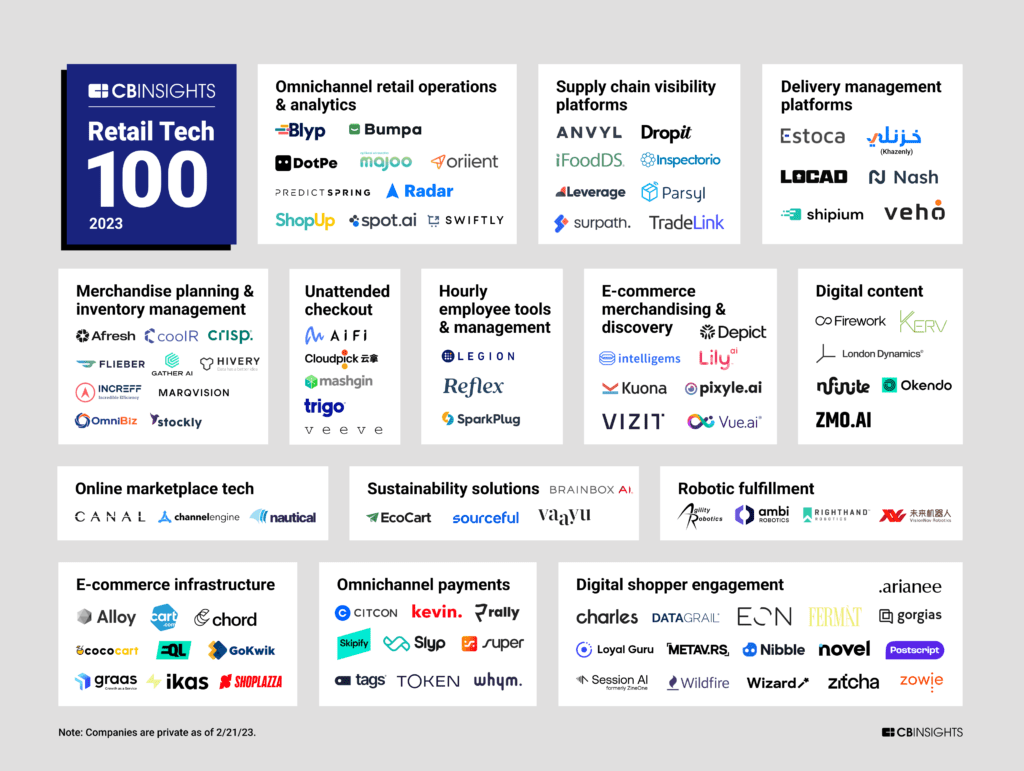 Want to be considered for future rankings? Fill out this initial application form (it'll take no more than a few minutes). If selected, you'll be asked to complete our Analyst Briefing Survey so that our analysts can better understand your products, customers, and market traction.
RETAIL TECH 100 COHORT HIGHLIGHTS
Overall funding & valuation trends: The cohort has raised nearly $5B across more than 250 equity deals since 2019 (as of 3/2/23). In 2022 alone, companies on the list raised more than $3.1B across 106 deals. This year's list features 3 unicorns: self-checkout company Mashgin, delivery management platform Veho, and omnichannel operations and loyalty tool Swiftly. 
Funding leaders: Cart.com, which makes end-to-end e-commerce technology, is the most well-funded company on the list, with $323M in total equity funding. Delivery management unicorn Veho comes in second with $299M in funding. New unicorn Swiftly rounds out the top 3 with $216M in total equity funding.
Global reach: This year's winners come from 20 different countries. Fifty-six of the selected companies (56%) are headquartered in the US. The United Kingdom comes in second with 6 (6%) and China and Australia are tied for third with 5 companies (5%) each. 
Notably, 12 companies on the list (12%) represent emerging market economies. Local companies in these markets are increasingly looking to deploy tech to make fragmented and informal retail processes more efficient and trackable.
Some of the companies in these geographies — like Majoo (Indonesia) and Dot (India) — offer omnichannel retail operations platforms that help retailers digitize operations across in-store and online channels. Other solutions — such as Khazenly (Egypt) — are focused on delivery management.
Top investors: Insight Partners is the top investor in this year's list. It has invested in 8 of this year's winners since 2019, including 3D digital content producer and manager nfinite, food traceability solution iFoodDS, and delivery management platform Shipium. Tiger Global is close behind with 7 companies, followed by Accel with 5.
Digital content and engagement rules: The biggest category for this year's list is digital shopper engagement, which has 16 companies (16%). The companies in this category allow retailers to connect with shoppers across platforms and channels, with a focus on personalization and loyalty. 
For instance, Charles and Postscript both make chat commerce platforms that enable marketing and checkout via text. Meanwhile, Arianee, METAV.RS, and Novel help brands develop NFTs and use Web3 tools to boost loyalty and authenticate their products. 
Automation is driving efficiency: Automation solutions reach across categories on this year's list as retailers and brands look for tools to make their operations faster and smarter. 
Alloy, for instance, makes a platform to connect e-commerce teams' apps and automate tasks. Several other companies build supply chain integration platforms that aggregate tools and use AI to optimize decision-making. Meanwhile, Vue.ai, Lily AI, and Pixyle use AI to automate product tagging and broader catalog management online, which can ultimately boost the accuracy of shoppers' searches and drive more buying. 
Early-stage innovation: More than half of the winners in this year's cohort are early-stage companies (seed/angel or Series A). These companies are developing innovative solutions to promote more specialized and personalized shopping experiences.
For example, EQL's e-commerce platform is specialized for "hype commerce," or limited-time drops for hot products. EON creates digital IDs (or digital twins) to make apparel traceable. And Nibble Technology uses AI and chat commerce to inject negotiation into e-commerce shopping.
What we didn't find: Despite retailers' acute challenges in a few areas — namely loss prevention and employee empowerment — our research turned up fewer-than-expected earlier-stage companies solving these problems in new ways. 
However, a few tools still stood out in these areas. For example, Spot's AI-powered video intelligence system helps retailers track everything from shoplifting to employee issues. Meanwhile, SparkPlug's platform helps retailers reward employees in a tough labor market through the gamification of tasks.
Retail Tech 100 (2023)
Track the 100 most promising retail tech innovators to watch in 2023 and beyond. Look for Retail Tech 100 (2023) in the Collections tab.
Track The 2023 Retail Tech 100 Winners
THE RETAIL TECH 100 CLASS OF 2022: WHERE ARE THEY NOW?
The 2022 Retail Tech 100 winners have accomplished a great deal since March 2022. Together, they have seen:
Over $2.5B in equity funding across 25+ deals (as of 3/2/23)
10 mega-rounds (deals worth $100M+), including a $300M round to cross-border payments company Xendit
2 exits: 1 merger and 1 acquisition
1 new entrant to the $1B+ unicorn club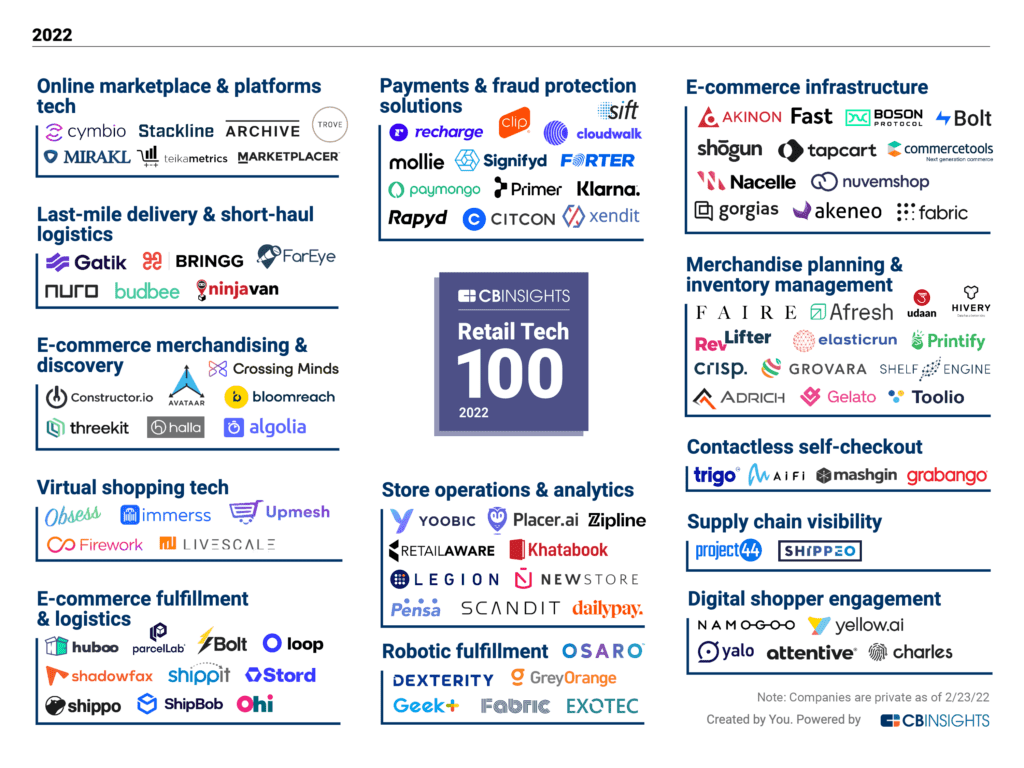 If you want to learn more about the Retail Tech 100 Class of 2022, check out the full list of previous winners.
If you aren't already a client, sign up for a free trial to learn more about our platform.