After a record-setting 2021, retail tech funding has slowed dramatically. Q2'22 funding dropped 43% from its previous quarter to $13.2B, as unicorn births and M&A deals have also plummeted. 
Funding to the global retail tech funding space continued its quarterly decline in Q2'22, down 56% from its all-time high in Q2'21.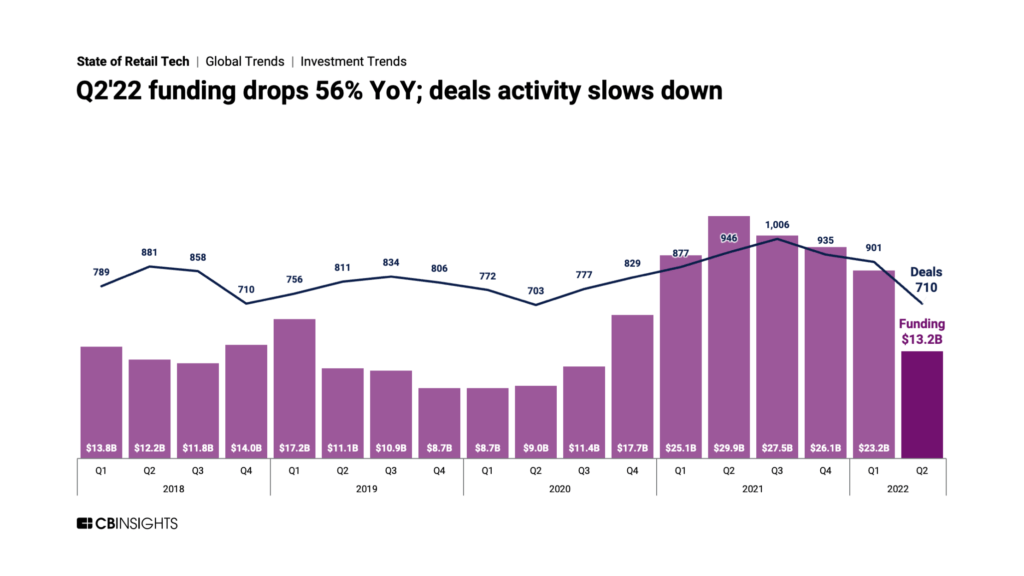 The e-commerce, supply chain & logistics tech, and food & meal delivery tech sectors saw quarterly funding drops of 60%, 52%, and 54%, respectively. Store management tech remained a bright spot, seeing funding increase by 25% from Q1'22.
Other Q2'22 highlights across the retail tech ecosystem include:
Mega-round ($100M+) funding fell to $6.7B, a 69% decrease compared to the same period last year. Compared to Q1'22, mega-round funding was down 58%.

While median deal size held steady YoY at $5M, average deal size fell 26% to $28M.

M&A deals have declined for the last 2 quarters, reaching 160 in Q2'22 — a 23% decrease from a high of 207 in Q4'21.

New unicorns have also fallen the past 2 quarters. Q2'22 saw 13 unicorn births, down 57% from the 30 in Q4'21. The new entrants in Q2'22 include Coda Payments ($2.5B) and e-commerce enabler Salsify ($2B).

Tiger Global Management was the top retail tech investor in Q2'22, with investments in 15 companies. 500 Global came in second place with investments in 10 companies, and Gaingels followed with 9 companies.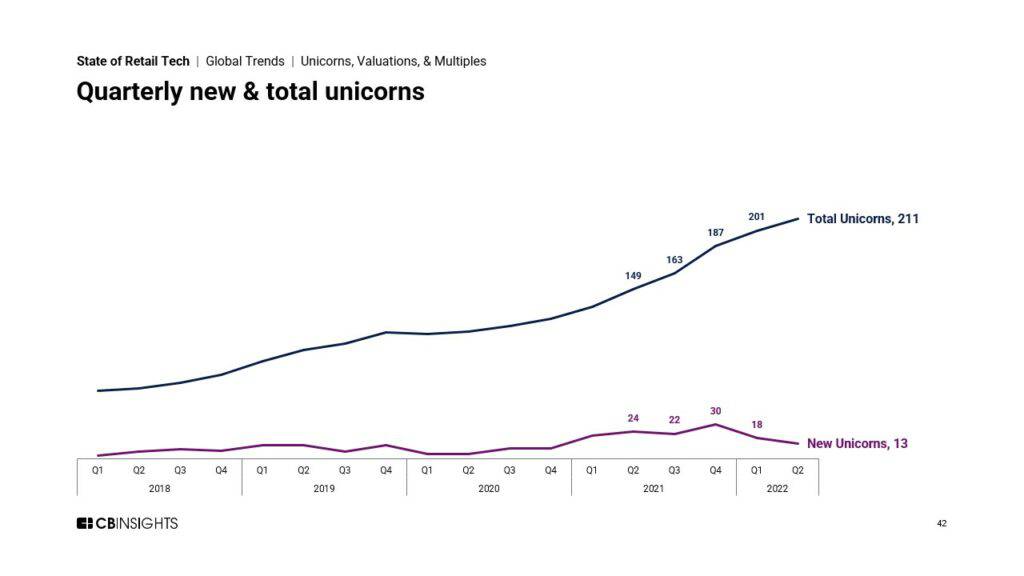 Sign up below to receive our upcoming Q2'22 State of Retail Tech Report where we'll dig into all these trends and more.
If you aren't already a client, sign up for a free trial to learn more about our platform.