Our retail tech report takes a data-driven look at global retail technology investment trends and top deals, highlighting areas of interest across the retail landscape.
Retail tech funding is continuing its surge, hitting another quarterly record in Q2'21. Funding reached $31.5B, an increase of nearly 4% over the previous record in Q1'21. 
Key tech is helping retailers grapple with near-term challenges and long-term innovation needs. Tech enabling omnichannel experiences is essential as consumers release pent-up demand in-person and online. Other immediate issues, like the labor shortage, are intensifying the need for automation, from store shelf tracking to self-driving delivery trucks. Enhanced mobile shopping tech is in the crosshairs for Big Tech (Facebook, Amazon, and Google) and startups alike. And in the longer term, the potential for tech like blockchain to transform the supply chain, customer loyalty, and product development is growing.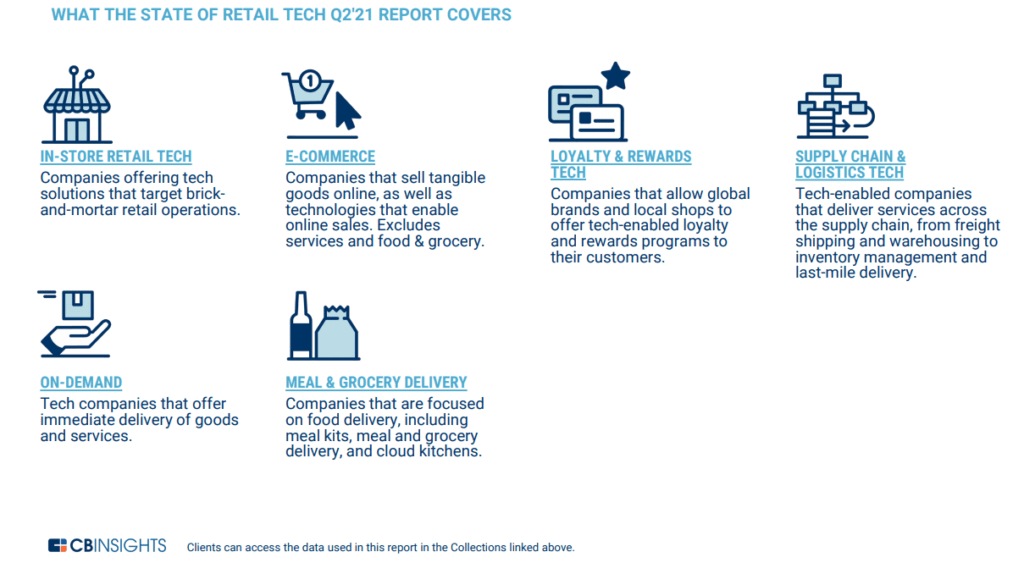 REPORT HIGHLIGHTS:
Retail tech is hot across sectors:

With another record quarter, retail tech funding in 2021 is on track to more than double the annual investment in each of the last 4 years. 

E-commerce's continued growth is driving higher valuations and bigger funding rounds:

In Q2'21, there were 71 mega-rounds (deals worth $100M+), down only slightly from Q1's 73. The top 5 deals all went to e-commerce companies, while the 5 highest-valued new retail unicorns in Q2'21 also span the e-commerce value chain.

Tech that streamlines store operations is in demand as attention returns to stores:

Funding to in-store retail tech reached a record $3.3B in Q2'21, a jump of 46% quarter-over-quarter (QoQ). 

Business is booming for Amazon third-party marketplace brand acquirers:

Funding hit $1.2B for Q2'21 for the companies that acquire, consolidate, and scale third-party Fulfilled by Amazon (FBA) brands. 

Enhanced loyalty and rewards programs will improve personalization:

Loyalty and rewards tech funding increased nearly 60% in Q2'21 to $413M. 

Retailers will zero in on tech that makes the supply chain more efficient:

Tools that can optimize warehouse operations, delivery routes, and more will be a top priority. Funding to supply chain and logistics tech increased by 13% to $9.6B in Q2'21. 
If you aren't already a client, sign up for a free trial to learn more about our platform.