Our retail tech report takes a data-driven look at global retail technology investment trends and top deals, highlighting areas of interest across the retail landscape.
Funding to retail tech has seen strong momentum, hitting $28.9B in Q1'21, its fastest run rate in 5 years. Our State of Retail Tech report for Q1'21 highlights the tech that retailers and brands need to thrive in a post-pandemic world.
As shoppers return to stores and reopen their wallets, investment is flowing to omnichannel retail priorities. Retailers are looking to tech to digitize the store, create more engaging online experiences, and further speed up fulfillment. Sustainability will be top of mind following a year when environmental resilience became even more important. Tech to make operations more efficient across platforms will remain a key focus.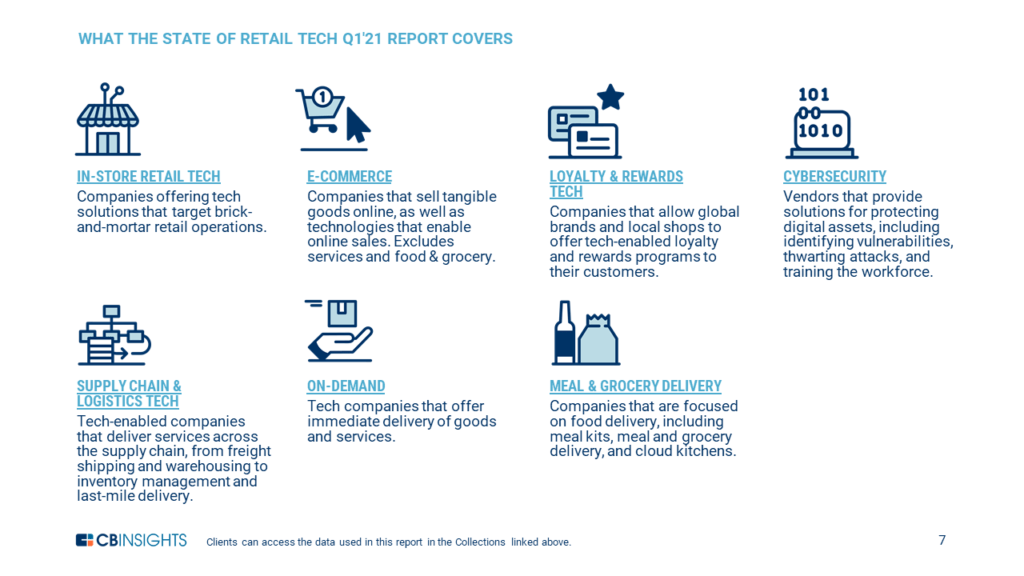 REPORT HIGHLIGHTS:
Funding to retail tech tripled year-over-year (YoY) in Q1'21 and hit its highest quarterly level in 5 years.

Funding to retail tech companies jumped to $28.9B, a 60% increase from the previous quarter.

Online marketplaces and delivery drove mega-rounds and key M&A.

Q1'21 had 73 mega-rounds (deals worth $100M+), up from just 33 in Q4'20. Funding to online grocery platforms continued to accelerate. Amazon third-party brand builders were M&A targets. 

In stores, retailers will prioritize tech to drive efficiencies.

In-store tech funding doubled in Q1'21 from the previous quarter to $2.2B, and nearly quadrupled vs. the same period in 2020.

Look for retailers and brands to invest in more personalized e-commerce experiences.

Funding to e-commerce tech in Q1'21 jumped by 73% from the prior quarter to $11.7B. To keep up with online shoppers' expectations, investment will flow to tech companies that personalize search results, enable virtual try-ons, and support livestream commerce.

Retailers and brands remain focused on tech that will strengthen and streamline their supply chains.

Financing is flowing to supply chain visibility tools, as well as tech to make fulfillment faster and more efficient, like on-demand warehousing and micro-fulfillment. Investment in supply chain & logistics tech, which hit $8.6B in Q1'21, was about flat vs. Q4'20.

The dark convenience store model will propel ultra-fast essentials delivery. Dark c-stores – which promise anywhere from 10- to 30-minute delivery windows – garnered more deals in Q1'21 than all of 2020. Overall, food and beverage delivery tech financing was up nearly 120% in Q1'21 from Q4'20, hitting $8.6B.
If you aren't already a client, sign up for a free trial to learn more about our platform.