The Retail Tech 100 is CB Insights' annual ranking of the 100 most promising B2B retail tech companies in the world. This year's winning companies include startups working on e-commerce infrastructure, supply chain automation, cashierless checkout, and more.
CB Insights' first annual Retail Tech 100 winners include private, active business-to-business (B2B) retail tech companies from 21 countries across 13 overarching categories. These companies are reimagining the traditional retail experience and will help retailers adapt to a post-Covid world.
Using the CB Insights platform, our research team picked these 100 companies out of nearly 15,000 applicants and nominees, based on factors including patent activity, business relations, investor profiles, news sentiment analysis, proprietary Mosaic scores, market potential, competitive landscape, team strength, and tech novelty.
For a look at deals, financing, and themes in key retail tech sectors, download our 2020 State Of Retail Tech report here.
Companies are categorized by their main focus. Categories in the market map below are not mutually exclusive. Please click to enlarge.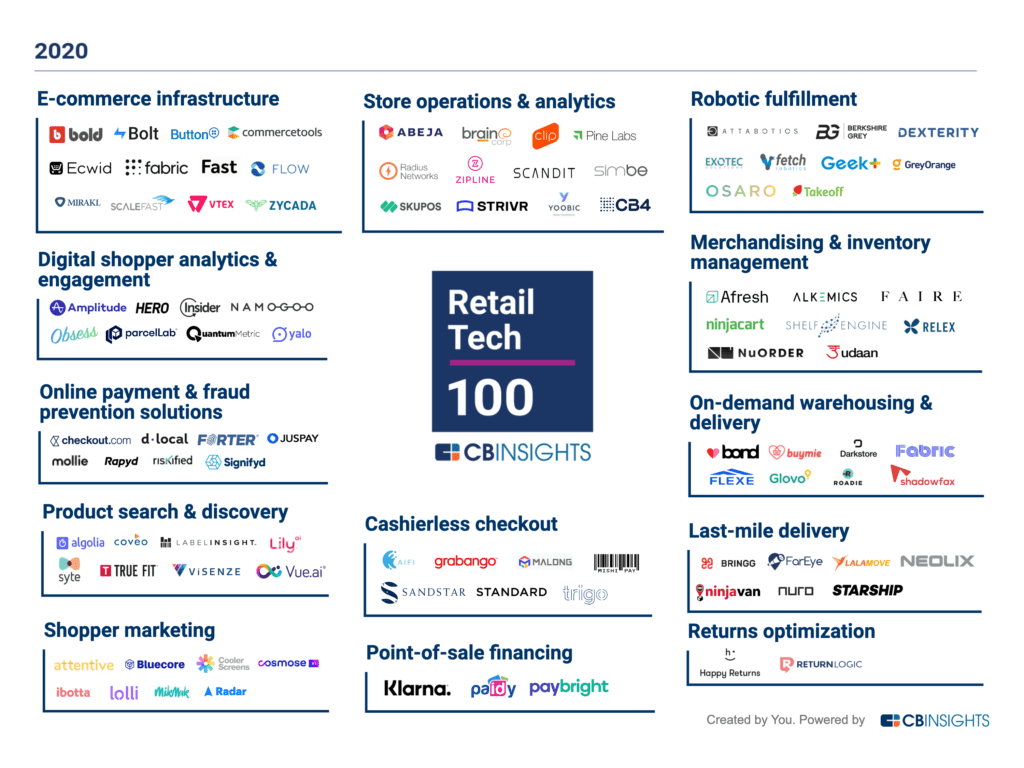 Table of contents
2020 Retail Tech 100 highlights
The 2020 Retail Tech 100 cohort comprises a broad range of private tech companies — from well-funded ones commercializing their products and expanding into new markets, to companies forming business relationships with key industry players, to early-stage startups developing novel solutions.
Here are the highlights:
The 2020 Retail Tech 100 companies have raised over $14.8B

in total equity funding across 400+ deals from 700+ unique investors. 54 of these companies have raised funding rounds in 2020 year-to-date (as of 11/20/20), amounting to $4.7B in total.

The list includes 19 unicorns

(private companies valued at $1B+) focused on a diverse range of retail tech solutions. One unicorn on the list is

Faire

(valued at $2.5B as of October 2020), a wholesale marketplace that brings predictive analytics and customer-centric policies to local shop owners. Another is

Mirakl

($1.5B as of September 2020), which enables retailers to launch and manage their own marketplaces. Meanwhile, unicorn

Nuro

($5B as of November 2020) develops a robotic self-driving vehicle to facilitate last-mile deliveries.

There are 21 early-stage startups

(seed/angel and Series A)

in this year's cohort. These include

Hero

, which helps connect online shoppers with store associates via messages and video chats, and

Lolli

, a shopper rewards platform enabling brands and retailers to offer customers cash back in the form of bitcoin.

We are seeing companies enabling e-commerce platforms from multiple angles

as a dominant theme. This includes solutions that focus on increasing page load speed and enabling single-click checkout, as well as those that open new online channels such as text messages, video chat, voice, and augmented reality.

Store automation is accelerating

as demand for contactless and safe shopping continues to grow. Mobile or computer vision-based cashierless checkout solutions such as

MishiPay

and

Standard Cognition

are helping reduce human interactions while allowing for faster and shorter shopping trips. At the same time, retailers are increasingly using robots and mobile-based AR tools to automate shelf-scanning.

A majority of companies are based in North America

(59%), followed by Asia (21%), Europe (16%), and Latin America (4%). Among countries, the US leads with 55 companies.
Leading categories and trends
Category focus
This year's Retail Tech 100 companies are working on tech and software-enabled solutions across 13 core categories.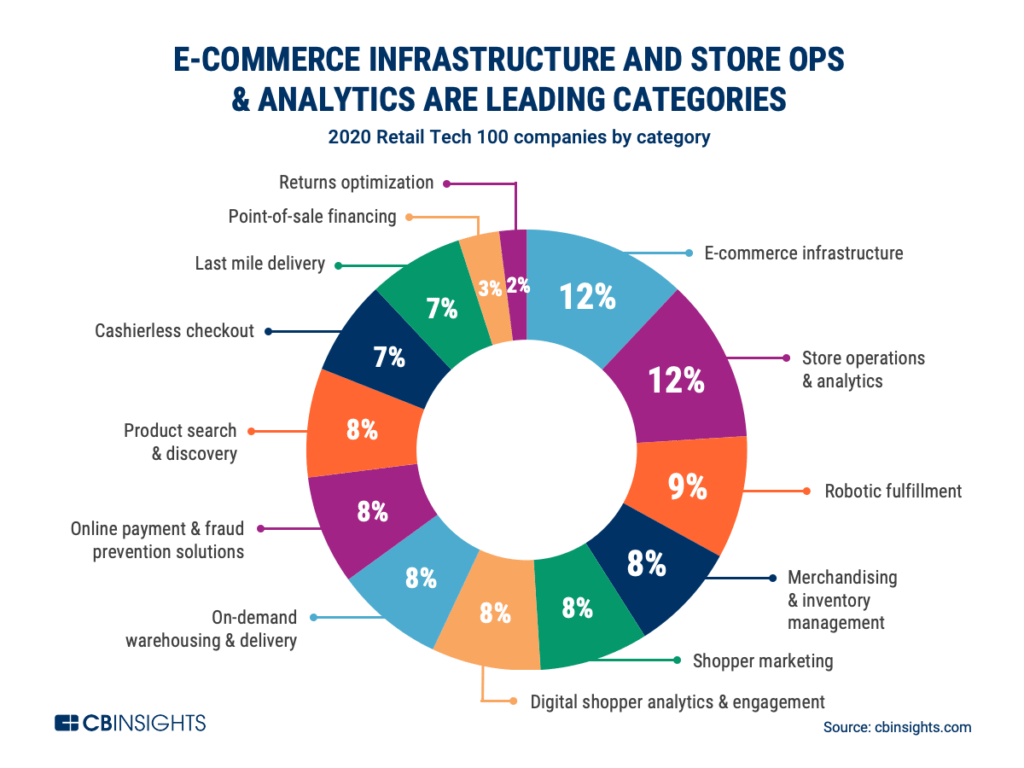 E-commerce infrastructure

is a leading category in the 2020 cohort, with 12 winners. These companies provide retailers with the necessary tools to build and add features to their e-commerce channels, such as by facilitating mobile and social commerce.

E-commerce platforms — including

VTEX

and

Ecwid

— offer solutions to build and power business-to-consumer (B2C) online stores.

Online checkout features such as

Fast

and

Bolt Financial

increase online sales conversions by enabling faster checkout via single-click solutions. 

Store operations & analytics

is another leading category on this year's list, with 12 companies developing a wide array of solutions from robots to AR/VR to automate and improve store operations.

 

Autonomous robot providers such as

Brain Corp

and

Simbe Robotics

help retailers automate in-store operations including scanning shelves, cleaning floors, and moving items from the stockroom to the front store. 

Robotic fulfillment

service providers

use robotic hardware and software to automate the order fulfillment process. They are rapidly gaining market traction and have seen accelerated demand amid the Covid-19 pandemic. This category also comprises 9 companies.
Merchandising & inventory management solutions offer easier access to product data and more accurate demand forecasting. They also simplify wholesale buying for smaller shops. This category accounts for 8 companies in this year's cohort.
Thematics & trends
The 2020 Retail Tech 100 list is representative of many of the key thematics and trends we expect to see across retail in 2021. Below, we highlight some of these along with examples from this year's cohort.
Demand for

e-commerce enablement

solutions has soared among brands and retailers as the Covid-19 crisis forces more retail online. This will likely accelerate in 2021 as competitive pressures intensify in the e-commerce space. On this year's list, a total of 42 startups offer e-commerce enablement solutions.

The most prevalent subcategories in this group are:

E-commerce platforms & features: This subcategory includes headless commerce solutions such as

Commercetools

and

Fabric

that facilitate the addition of new online channels by using APIs. This space is likely to gain momentum as retailers explore new forms of e-commerce such as message- or voice-based shopping.

Payment & checkout solutions: This includes "buy now pay later" solutions such as

Klarna

and

Paidy

, which aim to boost online conversion rates, as well as platforms like

Checkout.com

and

dLocal

, which make it easier to accept international payments.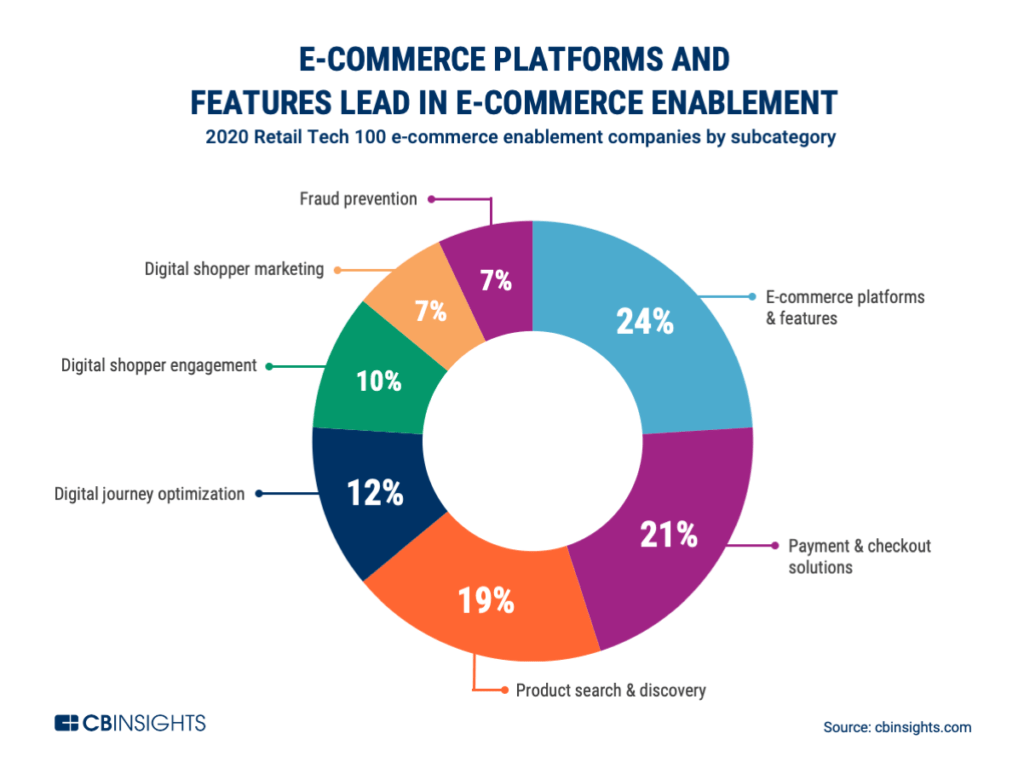 Retailers' ability to personalize discovery and make online buying easier

has become a key differentiator as online sales soar. A total of 20 companies on the list offer services to analyze and optimize the online customer journey for greater sales conversion rates and reduced product returns. Subcategories include:

Store automation

has been a growing priority for retailers in recent years. This will accelerate even more into 2021 as minimizing human contact and fulfilling online orders remain key priorities. This year's Retail Tech 100 includes 19 companies that provide services to reduce or eliminate human intervention at checkout, identify out-of-stock items, ensure planogram compliance, and more.

Robotization of the supply chain

is helping retailers add process efficiencies as they shift toward e-commerce. For this year's list, we selected 13 companies that use robots to fulfill and deliver online orders. These cover areas like:

Grocery retailers

have signed more partnerships with this year's Retail Tech 100 companies than any other type of retailer. Fashion retailers and department stores have also formed numerous partnerships with this cohort.

The majority of the business relationships formed by grocery retailers are with companies offering last-mile delivery (e.g.

Glovo

and Carrefour), cashierless checkout (e.g.

Grabango

and Giant Eagle), and robotic fulfillment services (e.g.

TakeOff Technologies

and Albertsons). 

Walmart has signed the most partnerships with this year's cohort out of all retailers, followed by Albertsons. 
Geographical distribution
The companies in the 2020 Retail Tech 100 cohort represent 21 countries. US-based startups dominate the list, accounting for 55% of the companies here.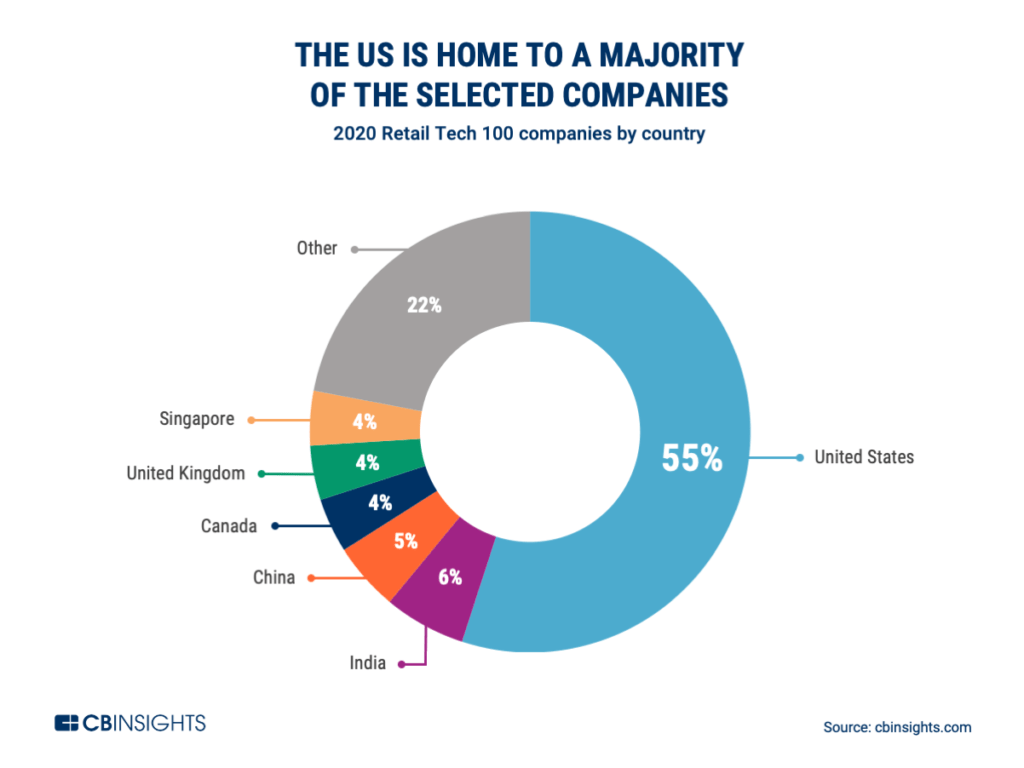 The cohort also reflects a number of emerging retail tech hubs: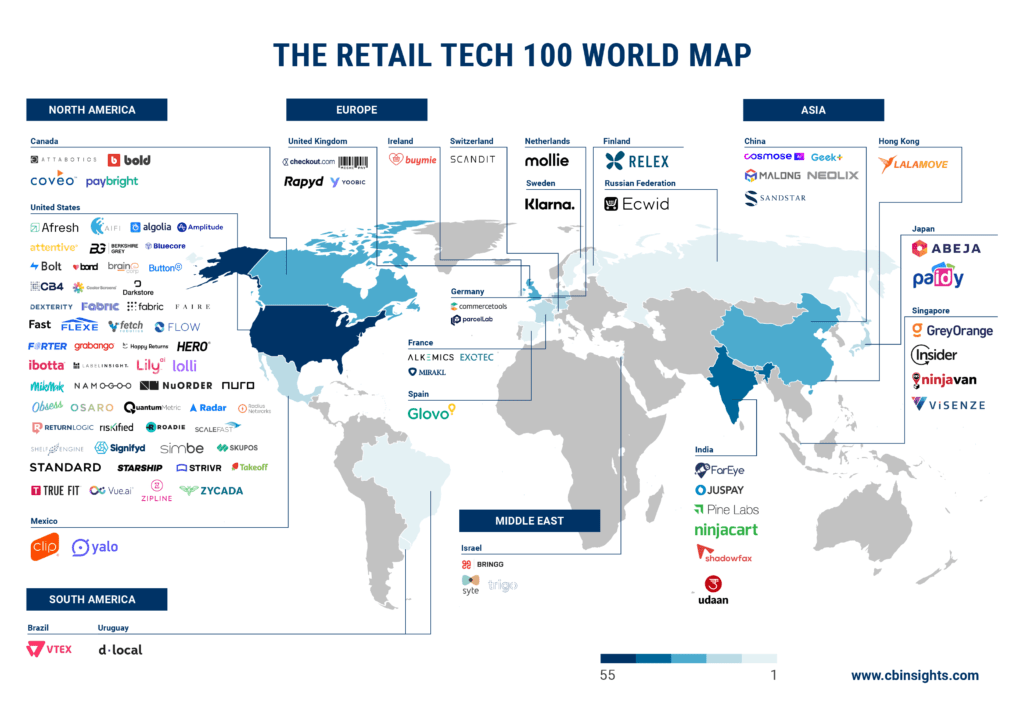 Definition and methodology: CB Insights datasets
We define "retail tech" to include any technology company that supports or enables the selling of consumer products (excluding events, travel, gas) to consumers. This includes enablement of merchandising, shopper marketing, operations, and order fulfillment in stores, online, and across other retail channels, such as:  
In-store retail tech

E-commerce enablement

New retail format enablement 

Supply chain tech for mid- and last-mile fulfillment

Shopper loyalty & rewards tech
Only private, active B2B companies matching our definition of retail tech have been considered. This list excludes auto retail.
The Retail Tech 100 selections are the result of a rigorous, data-informed process, combining CB Insights datasets with our research team's industry expertise.
The datasets and insights from CB Insights' tech market intelligence platform that were leveraged to pick finalists include:
Retail Tech 100 (2020)
Track the 100 most promising retail tech innovators to watch in 2020 and beyond. Look for Retail Tech 100 (2020) in the Collections tab.
Track The 2020 Retail Tech 100 Winners
Licensing and reuse of content: Contact our official partner, Wright's Media, about available usages, license fees, and award seal artwork at cbinsights@wrightsmedia.com. Please note that Wright's Media is the only authorized company that we've partnered with for CB Insights materials.
If you aren't already a client, sign up for a free trial to learn more about our platform.