Contactless self-checkout solutions have garnered strong market momentum and noteworthy industry leader adoption — making it a market worth prioritizing.
Clients can download the full Digitization And Task Automation For Retail Stores Report at the top left sidebar. 
As shoppers continue to shift spending online, fulfillment and other e-commerce costs are slicing into retailers' profits. To get the most out of their stores — which remain significant sources of profitability and sales — retailers are investing in tech that helps them run stores more efficiently and drive sales productivity.
Using CB Insights data, we examined tech markets across digitization and task automation for retail stores and ranked them across two metrics — market momentum and industry leader activity — to help companies decide whether to monitor, vet, or prioritize these technologies.
Contactless self-checkout earned a recommendation to prioritize, based on the market's robust market momentum and active industry leader activity.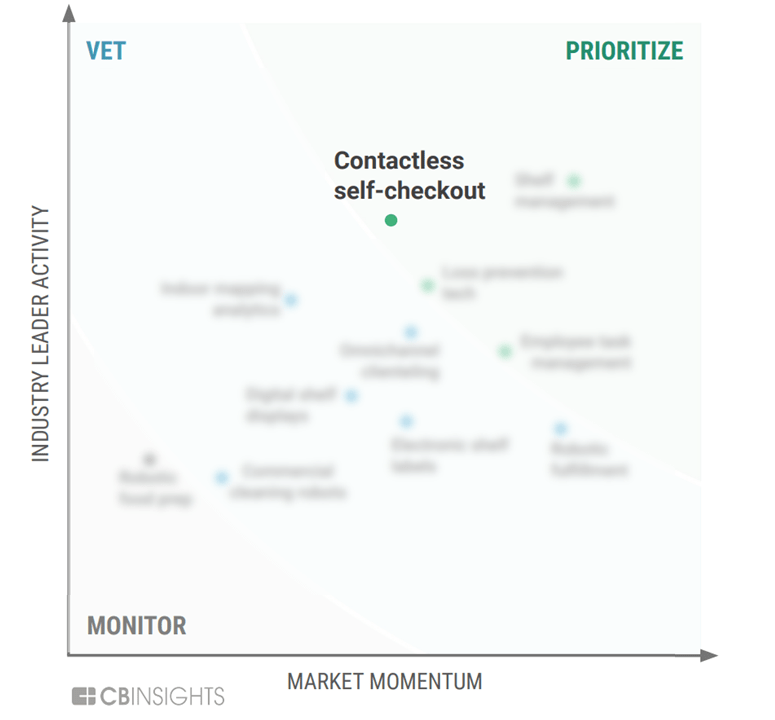 Contactless self-checkout tech enables faster and touch-free checkout by minimizing interactions between shoppers and employees and preventing lines from forming.
These platforms often integrate computer vision systems and shelf sensors, but other tools are also helping the concept gain more traction with retailers, including mobile self-scanning apps and smart self-scan shopping carts.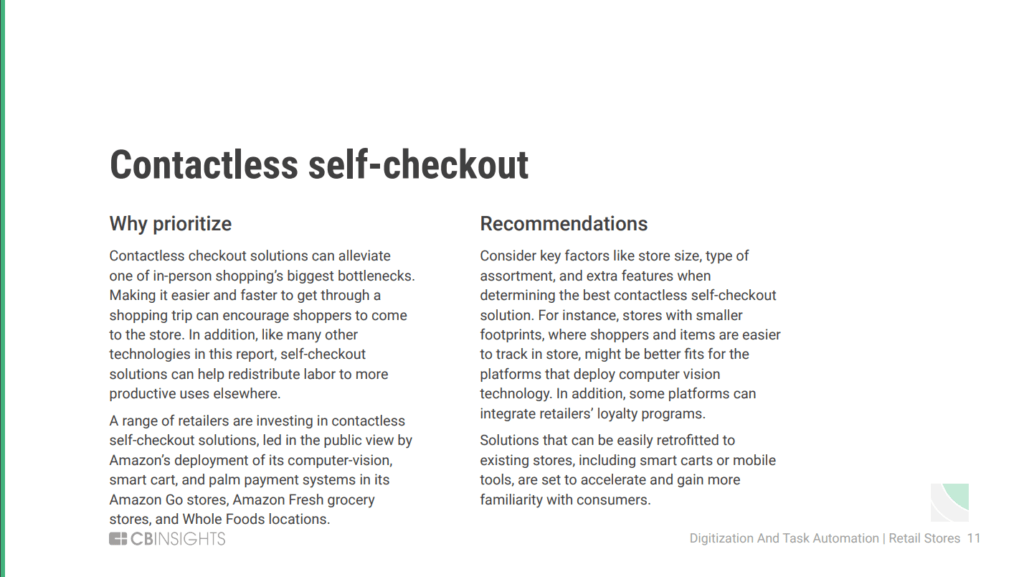 Contactless checkout solutions can alleviate one of in-person shopping's biggest bottlenecks, making it easier and faster to get through a shopping trip. In addition, these solutions can help redistribute labor to more productive uses elsewhere.
Retailers should consider key factors like store size, type of assortment, and extra features when determining the best contactless self-checkout solution.
Facts & figures: contactless self-checkout
Funding: Contactless self-checkout solutions analyzed for this report raised a record $260M in 2021.
Maturity: Mid-stage deals (Series B & C) to companies in this space accounted for a larger share of deals than early-stage deals (seed/angel and Series A) for the first time in 2021.
Top-funded companies: Top-funded companies analyzed for this report include Standard ($236M in total disclosed equity funding), Scandit ($123M), and Trigo ($105M).
Clients can dive into contactless self-checkout and more in our complete MVP Technology Framework — Digitization And Task Automation For Retail Stores.