This report analyzes emerging trends across retail banking using the CB Insights NExTT framework. 
CB Insights analyzed 13 emerging trends across retail banking, ranging from rent-a-charter banking to paycheck advance.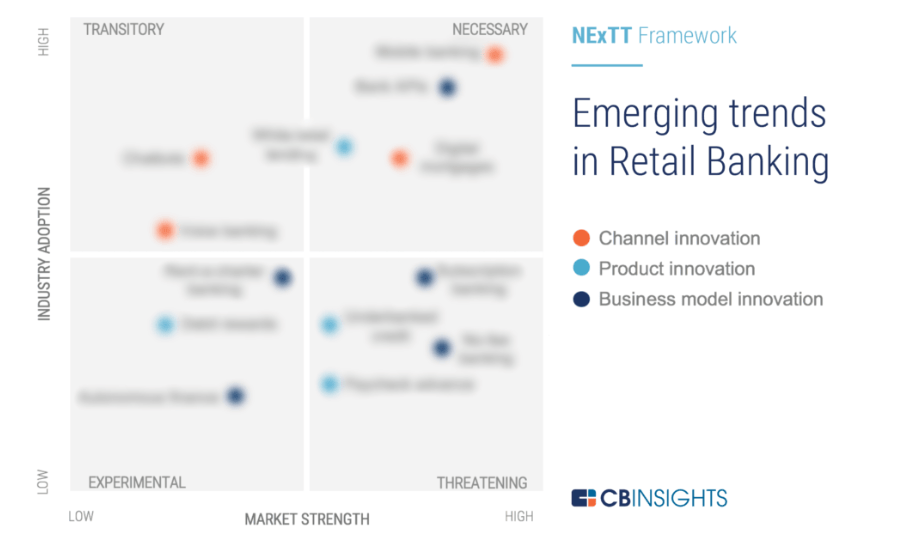 As branches temporarily close and access to credit washes up in the wake of Covid-19, retail banks and fintechs will need to find new ways to operate as efficiently and safely as possible while accommodating heightened customer service volumes. 
Using the NExTT framework, we looked at the industry adoption and market strength of these retail banking trends, categorizing them as necessary, experimental, transitory, or threatening (NExTT). The framework educates businesses about emerging trends and helps guide their decisions.
Report highlights include:
Different forms of analytics and artificial intelligence are helping banks and fintechs innovate on distribution and customer experience.

Automation is on the rise in retail banking, coupled with digitization of sales, lending, and underwriting.

Retailers are evolving their pricing and revenue models to better serve customers.

Banks are leveraging APIs to partner with fintechs for product development.
Download the report to see how all 13 trends will shape the industry in 2020.