AI vs. super fakes. The future of shoplifting. Robots in your supermarket. We look at the top artificial intelligence trends reshaping the retail industry.
Many of the AI trends emerging in retail are the result of a wake up call from Amazon, as the tech giant forces retailers to reconsider their e-commerce strategies and innovate in the brick-and-motor space to stay competitive.
In our second industry deep dive, we use the CB Insights database to unearth the top AI trends transforming the retail industry.
Check out our first report in the AI Industry Series: Top Healthcare AI Trends To Watch.
Why now for AI in retail?
Amazon has driven many of the leading trends in retail AI.
The company's expansion into grocery and promises of 1-hour grocery delivery have pushed supermarkets to experiment with AI-run "micro-fulfillment" solutions to stay profitable.
Amazon's introduction of grab-and-go cashierless stores has spurred an unmanned store frenzy in China, and smaller startups are emerging in the US to service other retailers who want in on the cashierless trend.
Other emerging applications of AI have been driven by a desire for more visibility and transparency — such as computer vision for in-store inventory monitoring, or neural networks for tracking goods through the supply chain.
But retailers hoping to capitalize on these technologies to keep up with tech giants like Amazon still have a ways to go.
In an analysis of 1,600+ earnings calls from more than 50 publicly traded US retailers, only 9 retailers had begun discussing AI-related strategies for their websites or physical stores as of January this year.
However, we are seeing increased investment in retail AI. Retail AI startups raised $1.8B across 374 deals from Q1'13 — Q3'18. (This excludes sales, marketing, and advertising startups providing AI solutions for clients across different industries.)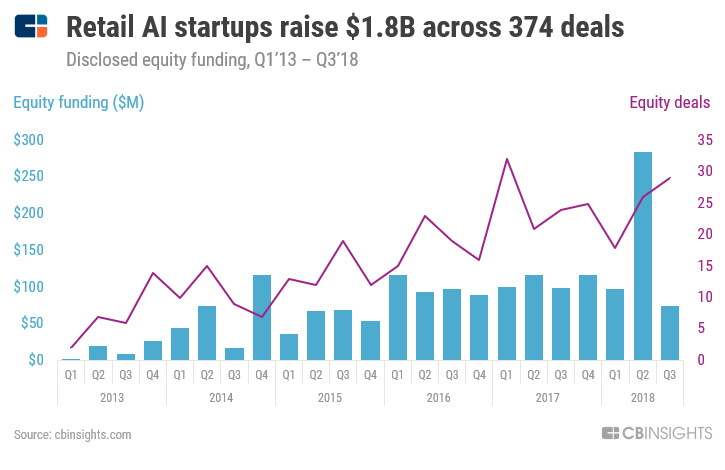 Competition from Amazon, demands for transparency, and increasing investment are all transforming the retail AI landscape.
Download the full report for the top retail AI trends to watch.
---
This report was created with data from CB Insights' emerging technology insights platform, which offers clarity into emerging tech and new business strategies through tools like:
If you aren't already a client, sign up for a free trial to learn more about our platform.