The predictive analytics market has seen notable market momentum and substantial industry leader activity within the P&C underwriting space — making it an area worth prioritizing.
Clients can download the full Underwriting For P&C Insurers Report at the top left sidebar.
P&C insurance leaders are shifting more of their R&D budgets toward transformational innovation, focusing on novel technologies that can improve the efficiency and efficacy of underwriting processes.
Using CB Insights data, we examined tech markets across underwriting for P&C insurers and ranked them across two metrics — market momentum and industry leader activity — to help companies decide whether to monitor, vet, or prioritize these technologies.
The predictive analytics market earned a recommendation to prioritize, given its high market momentum and industry leader activity.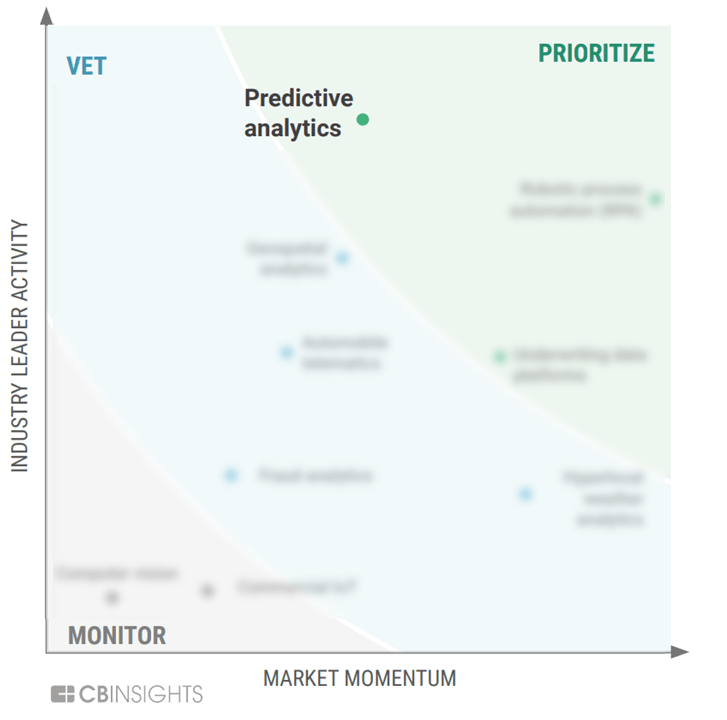 Predictive analytics uses statistical modeling and artificial intelligence methods to complement the actuarial approach, offering a more forward-looking view. This technology analyzes internal and external data sources to identify patterns and connections that are not discoverable by human cognition alone.
P&C insurers can use predictive analytics to augment existing actuarial models and provide more personalized underwriting decisions.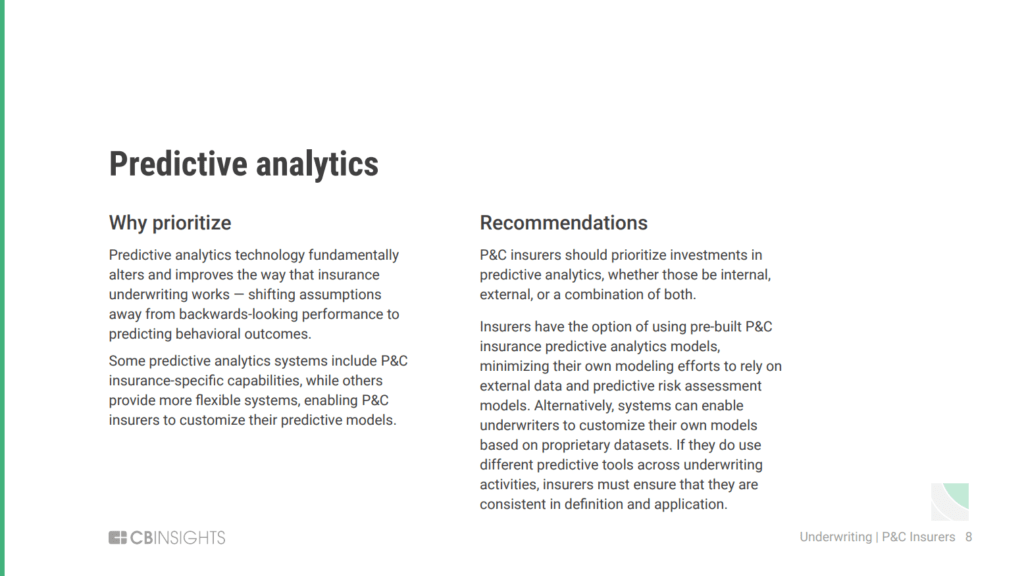 Predictive analytics technology fundamentally alters and improves the way that insurance underwriting works — shifting assumptions away from backward-looking performance to predicting behavioral outcomes.
P&C insurers should prioritize investments in predictive analytics, whether those be internal, external, or a combination of both. Insurers have the option of using pre-built P&C insurance predictive analytics models or customizing their own models based on proprietary datasets.
Facts & figures: predictive analytics solutions
Market size: The predictive analytics industry as a whole represents a $15.5B market opportunity, per CB Insights' Industry Analyst Consensus.
Recent activity: Predictive analytics companies analyzed for this report have recently raised mega-rounds — for example, Fractal Analytics raised a $360M private equity round in January 2022 and H2O.ai raised a $100M Series E in November 2021.
Top-funded companies: Top-funded companies in this space include Fractal Analytics ($688M in disclosed equity funding), H2O.ai ($246M), and Explorium ($125M).
Geography: While most companies analyzed for this report are based in the United States, the United Kingdom, Israel, France, and India are also home to these solutions.
Clients can dive into predictive analytics and more in our complete MVP Technology Framework — Underwriting For P&C Insurers Report.