Auto telematics solutions have seen dominant market momentum and widespread industry leader activity in the underwriting data space — making them a technology worth prioritizing.
Clients can download the full Underwriting Data Solutions for P&C Insurers report at the top left sidebar. 
P&C insurance leaders are shifting more of their R&D budgets toward transformational innovation, focusing on novel technologies that can improve the efficiency and efficacy of underwriting processes.
Using CB Insights data, we examined tech markets across underwriting data solutions for P&C insurers and ranked them across two metrics — market momentum and industry leader activity — to help companies decide whether to monitor, vet, or prioritize these technologies.
Auto telematics earned a recommendation to prioritize based on the market's strong market momentum and industry leader activity.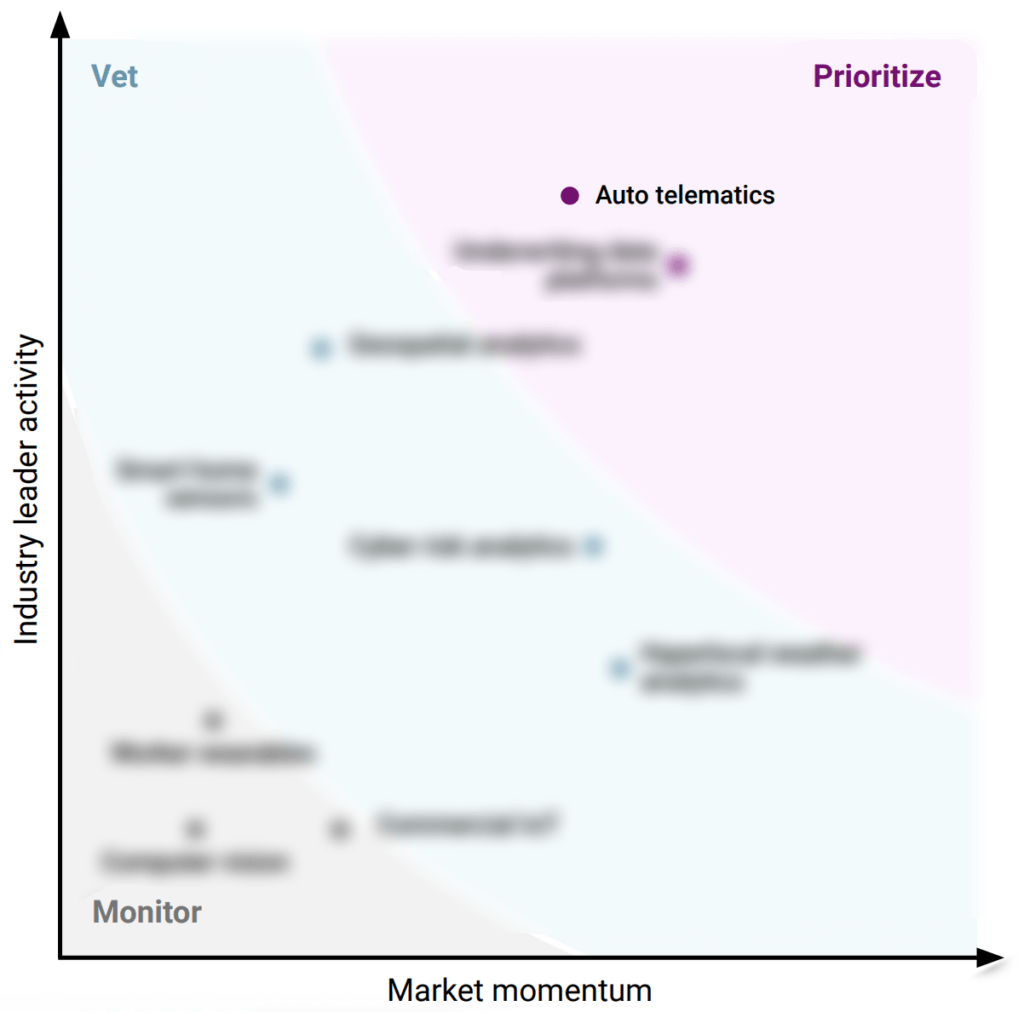 Automobile telematics vendors provide turnkey technology solutions to implement "pay-as-you-drive" or "pay-how-you-drive" auto insurance programs.
Typical features in both personal and commercial line automobile telematics platforms include:
The ability to capture driving duration and behavior information through purpose-built IoT devices or mobile phones
Analysis of driving frequency and behavior
API connectivity with other underwriting and data platforms, particularly pricing platforms
Real-time data synchronization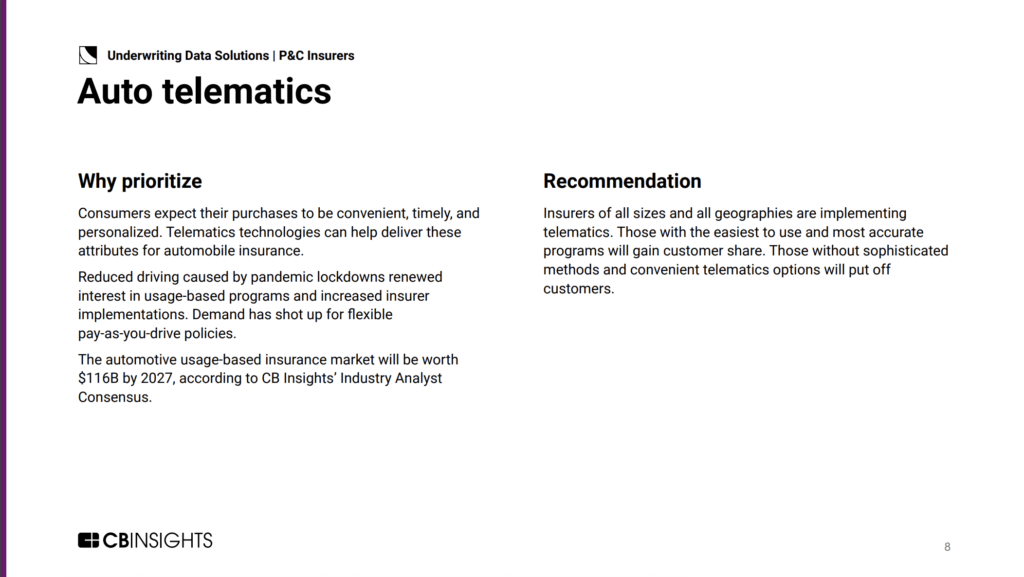 Consumers expect their purchases to be convenient, timely, and personalized. Telematics technologies can help deliver these attributes for automobile insurance.
Reduced driving caused by pandemic lockdowns renewed interest in usage-based programs and increased insurer implementations. Demand has shot up for flexible pay-as-you-drive policies.
Facts & figures: Auto Telematics
Market size: The automotive usage-based insurance market will be worth $116B by 2027.
Funding: Auto telematics companies evaluated in this report have raised $788M since 2017 (as of 5/19/22).
Top-funded companies: Top-funded companies in the space include Cambridge Mobile Telematics ($503M in disclosed equity funding), Nexar ($150M), and Mojio ($57M).
Earnings transcripts: Recent earnings transcripts mentions of auto telematics have been made by executives at Allstate, Travelers, Progressive, and more.
Clients can dive into auto telematics and more in our complete MVP Technology Framework: Underwriting Data Solutions for P&C Insurers report.