Secure payment platforms have garnered high market momentum and widespread industry leader activity in the fraud prevention & compliance space — making it an industry worth prioritizing.
Clients can download the full Fraud Prevention & Compliance for Payments Leaders report at the top left sidebar. 
Payments leaders face compounding challenges of combating fraud and financial crime, securing consumer and payment card data, and complying with regulatory mandates to protect their businesses and customers — all while ensuring a frictionless user experience.
Using CB Insights data, we examined tech markets across fraud prevention & compliance for payments leaders and ranked them across two metrics — market momentum and industry leader activity — to help companies decide whether to monitor, vet, or prioritize these technologies.
free report: The Future Of the wallet
Digital wallets are transforming the way people manage every aspect of their lives. Download the report to learn how.
Secure payment platforms earned a recommendation to prioritize based on the market's strong market momentum and industry leader activity.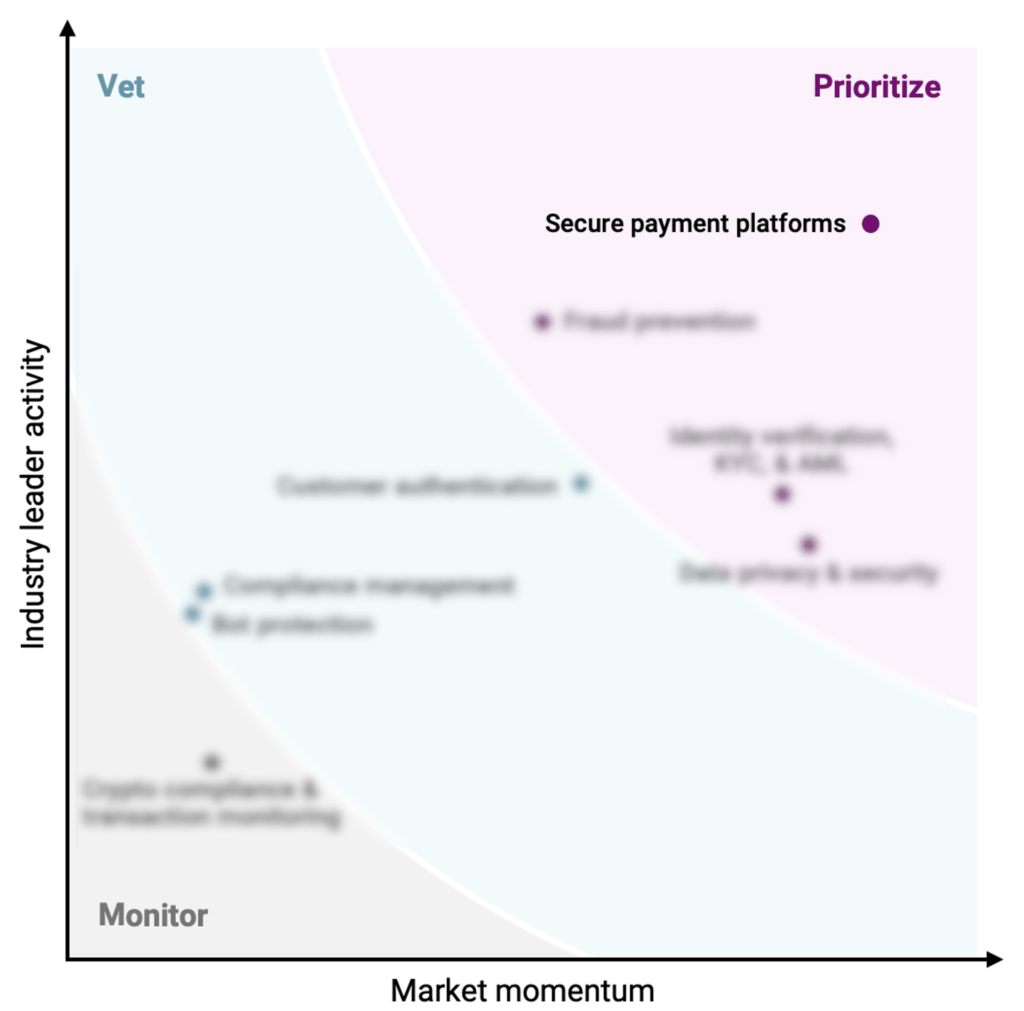 These platforms secure the acceptance of e-commerce and point-of-sale payments through authentication, encryption, and tokenization.
This market includes payment gateways, processors, all-in-one payment acceptance platforms, and token service providers.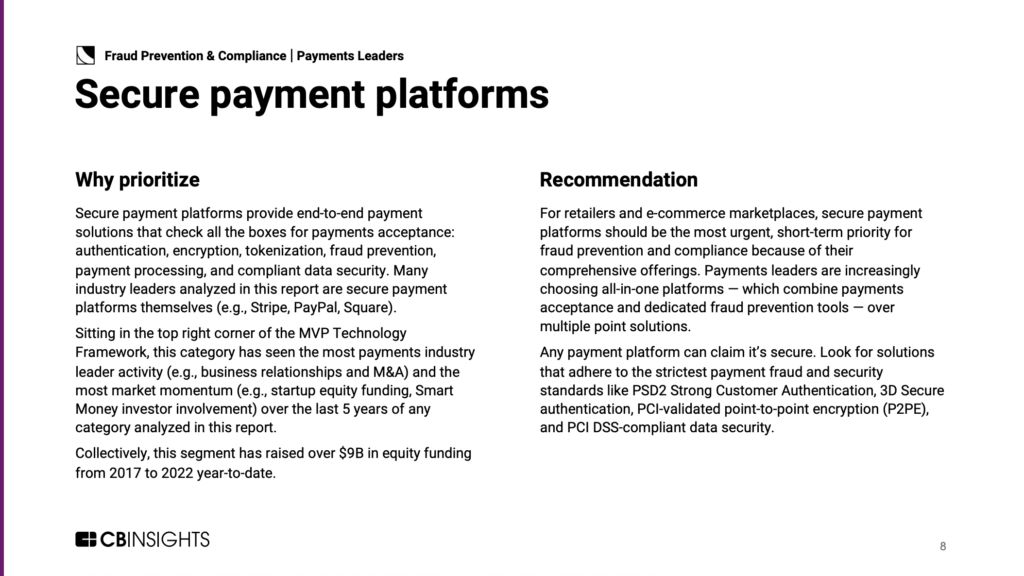 For retailers and e-commerce marketplaces, secure payment platforms should be the most urgent, short-term priority for fraud prevention and compliance because of their comprehensive offerings.
Any payment platform can claim it's secure. Look for solutions that adhere to the strictest payment fraud and security standards like PSD2 Strong Customer Authentication, 3D Secure authentication, PCI-validated point-to-point encryption (P2PE), and PCI DSS-compliant data security.
FACTS & FIGURES: secure payment platforms
Funding: Collectively, companies in this market have raised over $9B in equity funding from 2017 to 2022 YTD (as of 4/5/22).
Top-funded companies: Top-funded companies in the space include Stripe ($2.7B in disclosed equity funding), Checkout.com ($1.8B), and Bolt ($963M).
Deal size: Secure payment platforms' average deal size more than doubled in 2021 to reach $87M.
Geography: While the majority of secure payment platform deals go to companies based in the US (52%), the UK (8%) and India (6%) also attract a number of deals.
Clients can dive into secure payment platforms and more in our complete MVP Technology Framework: Fraud Prevention & Compliance for Payments Leaders report.