Fraud prevention solutions have garnered high market momentum and widespread industry leader activity in the fraud prevention & compliance space — making them a technology worth prioritizing.
Clients can download the full Fraud Prevention & Compliance for Payments Leaders report at the top left sidebar. 
Payments leaders face compounding challenges of combating fraud and financial crime, securing consumer and payment card data, and complying with regulatory mandates to protect their businesses and customers — all while ensuring a frictionless user experience.
Using CB Insights data, we examined tech markets across fraud prevention & compliance for payments leaders and ranked them across two metrics — market momentum and industry leader activity — to help companies decide whether to monitor, vet, or prioritize these technologies.
Fraud prevention earned a recommendation to prioritize based on the market's high market momentum and industry leader activity.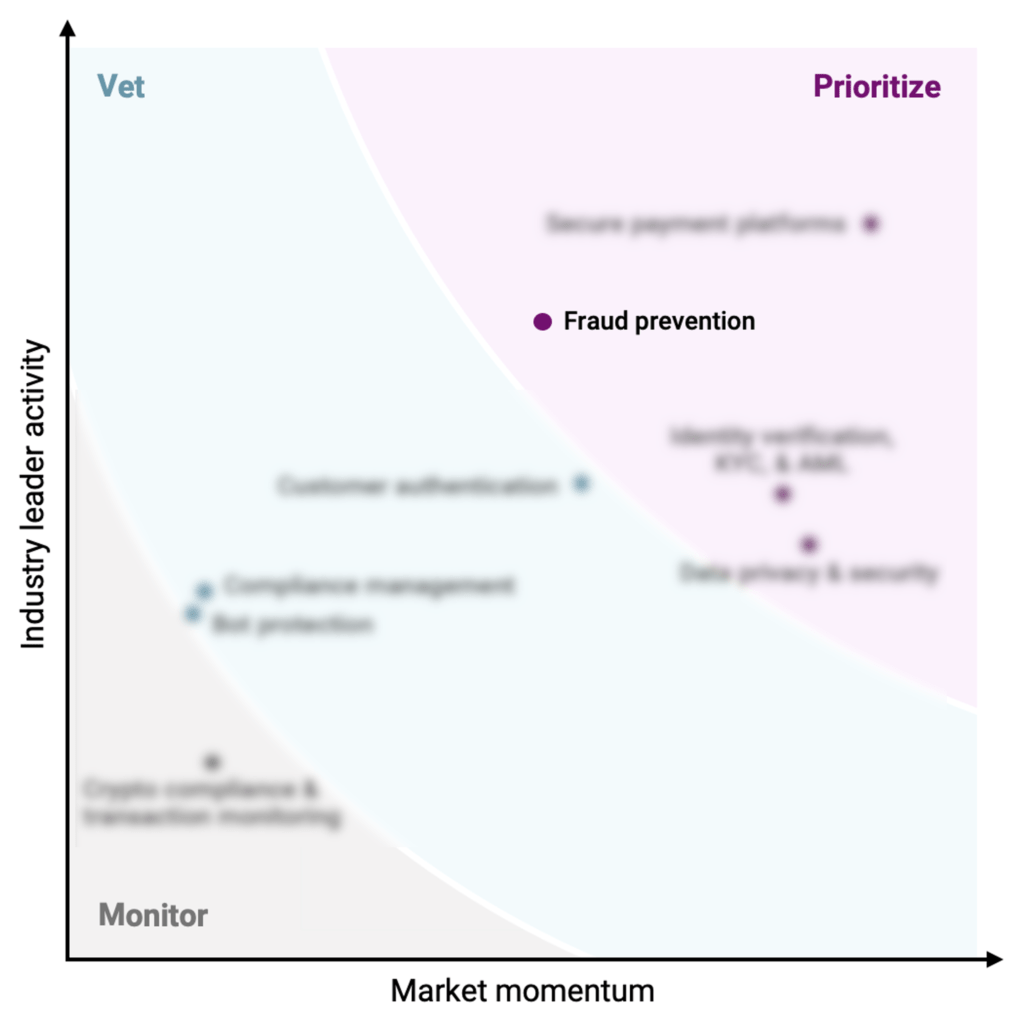 Fraud prevention platforms protect organizations and their customers from a variety of online threats: illegitimate transactions, chargebacks, account hijacking, fake accounts, scams, and counterfeit products.
Typical functions offered by fraud prevention platforms include detecting and blocking anomalous payment activity; transaction, traffic, and merchant monitoring of global commerce networks; and risk classification leveraging AI, machine learning, and behavioral analytics.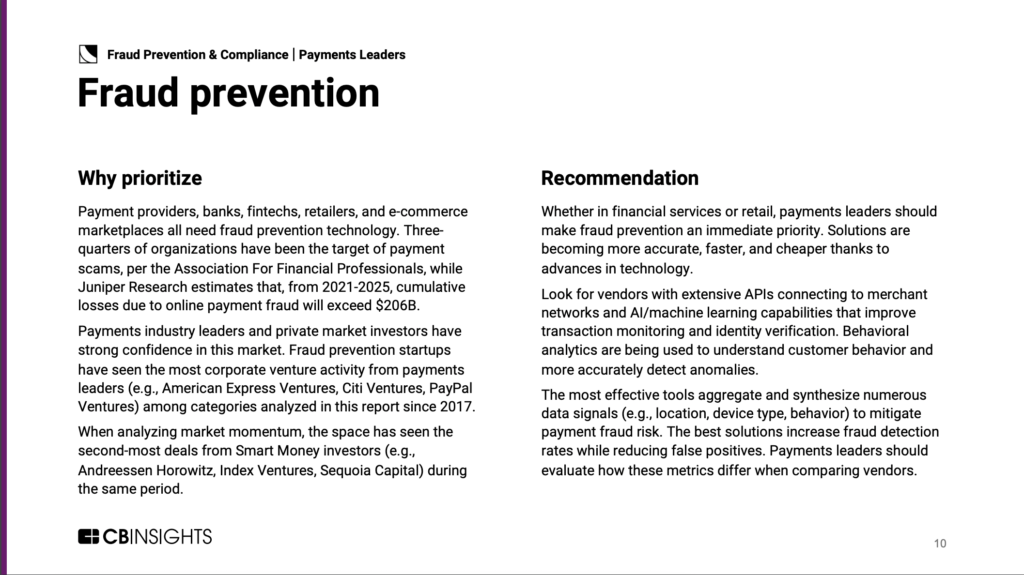 Payment providers, banks, fintechs, retailers, and e-commerce marketplaces all need fraud prevention technology. Three-quarters of organizations have been the target of payment scams, per the Association For Financial Professionals, while Juniper Research estimates that, from 2021-2025, cumulative losses due to online payment fraud will exceed $206B.
Payments leaders should look for vendors with extensive APIs connecting to merchant networks and AI/machine learning capabilities that improve transaction monitoring and identity verification. The most effective tools aggregate and synthesize numerous data signals (e.g., location, device type, behavior) to mitigate payment fraud risk.
FACTS & FIGURES: Fraud Prevention
Funding: Fraud prevention companies evaluated in this report raised a record $2B in 2021, up nearly 3x YoY.
Deal size: In 2021, fraud prevention companies' average deal size jumped to $67M — up 164% YoY — while median deal size doubled to reach $12M.
Top-funded companies: Top-funded companies in the space include 4Paradigm ($930M in disclosed equity funding), Forter ($525M), and Signifyd ($411M).
Geography: While companies based in the US attract the most deals in this space (38%), China (20%) and the UK (9%) also draw a number of deals.
Clients can dive into fraud prevention platforms and more in our complete MVP Technology Framework: Fraud Prevention & Compliance for Payments Leaders report.