Consumers' expectations of the shopping experience are changing — and retailers are expected to be present everywhere their customers are. From headless commerce to virtual try-on, here are the technologies enabling a seamless experience.
Online sales are booming, and digital experiences are shaping people's in-store behaviors and expectations. Consumers, long ago content with shopping only in brick-and-mortar shops, today want to interact with brands through both online and offline channels. 
For retailers, the need to be omnipresent has given rise to omnichannel retail, in which shoppers seamlessly move between different channels but still enjoy a unified experience. Failure to offer this multi-channel experience can cause retailers to lag behind more agile competitors.
In this report, we dive into the technologies pushing the omnichannel revolution forward — and look at how startups and corporations alike are riding this wave of retail innovation.
TABLE OF CONTENTS 
What is omnichannel retail, and why does it matter now? 
Definition
Omnichannel retail is an approach to commerce that focuses on providing shoppers with a unified experience across digital and physical channels, from browsing to order fulfillment. 
Omnichannel retail is based on the premise that integrating multiple touchpoints adds extra value, and, as a whole, it's greater than the sum of its parts.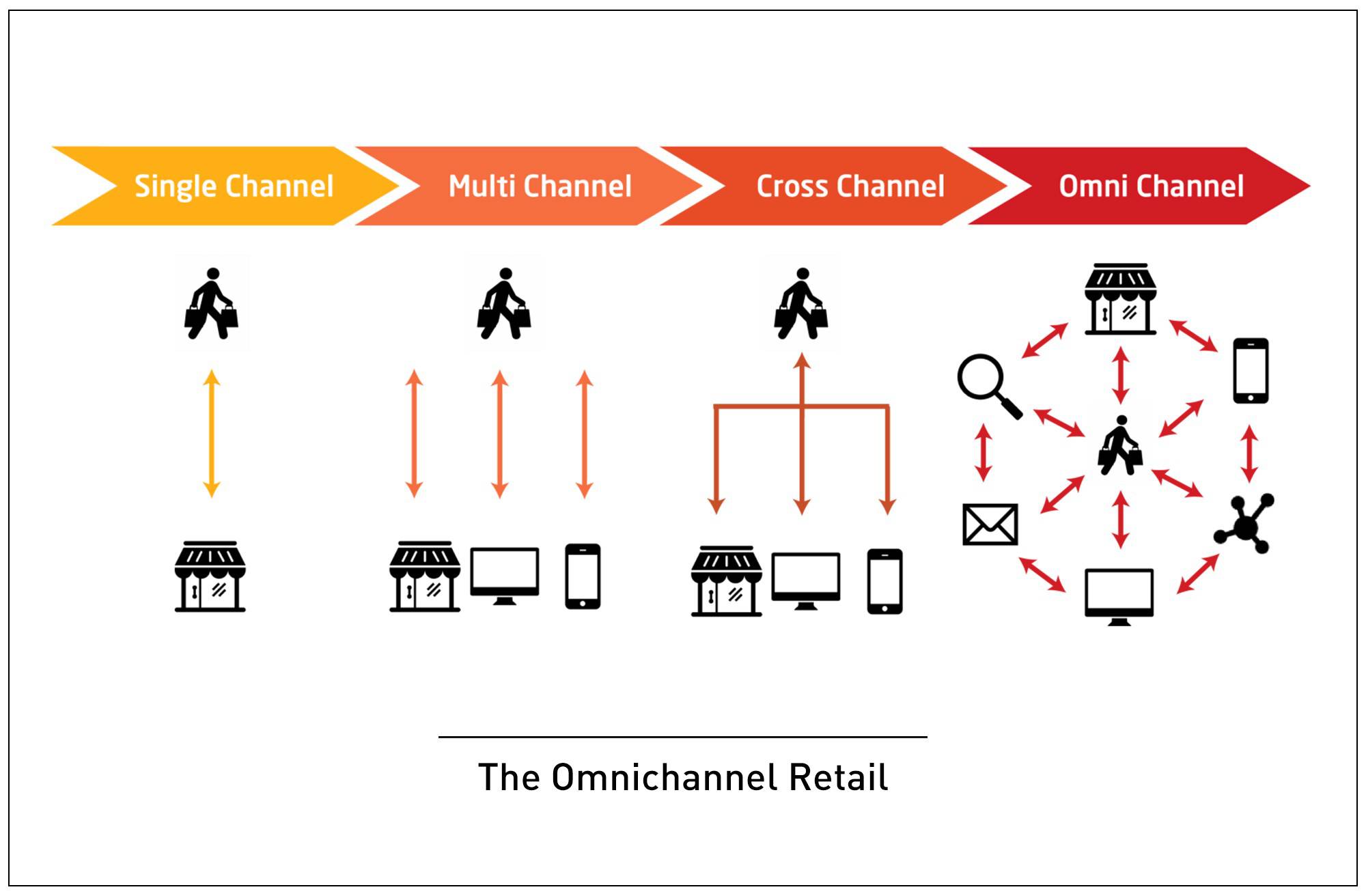 A classic visualization of omnichannel retail. Source: Shopistan
And there's no one-size-fits-all omnichannel strategy. Each company adjusts the strategy to its sector and customers. 
For example, Target has rolled out several omnichannel initiatives, particularly focused on how it fulfills and delivers e-commerce orders. On Target.com, shoppers can choose between delivery to home (same-day delivery, free 2-day shipping) or pickup options at the store (in-store, curbside). Moreover, the retailer connects inventory across channels by sourcing online orders from its stores as well as from its e-commerce fulfillment centers.
Its free loyalty program, called Target Circle, is also enhanced with omnichannel capabilities. Customers can earn benefits and access deals whether they shop online or in-store using the Target app, a mobile number, Target.com account, RedCard, or receipt scans.
Another example is Pura Vida Bracelets, which sells handcrafted jewelry, and uses an omnichannel approach to help customers transition smoothly between different digital and physical channels. Shoppers who join the company's email list receive additional product announcements and extra discounts. Customers that visited Pura Vida's website are also targeted by ads across the internet to visit in-person events, such as pop-up Airstream trailer events. In addition, the company works with social media influencers who earn free jewelry by spreading the message about Pura Vida.
Finally, Nike's omnichannel strategy involves harnessing the insights from data collected by its apps and interactive physical stores. The company's apps boast 250M users. Thanks to real-time customer data, Nike noticed that more people do yoga and quickly designed and manufactured new yoga gear. The new product was then sold both through online and in-store sales channels in a true omnichannel manner. 
No matter which omnichannel tactics companies use, the goal is to ensure customers seamlessly transition from one channel to another. And as they enjoy this experience, customers become more and more connected with the brand.
Why now? 
The rise of e-commerce, changing consumer behaviors, and stiff retail competition has made omnichannel retail increasingly relevant. Since 2020, executives' earnings calls mentions of "omnichannel" in the context of "retail" has seen a major uptick. 

At the same time, companies have more digital tools than ever to grow their sales and implement omnichannel strategies. We dig into some of the reasons why omnichannel retail is more important than ever. 
Digital devices shape in-store sales. The use of digital devices before or during shopping will influence 58% of in-store sales by 2022, according to Statista. Consumers use mobile devices in a myriad of ways, from making payments and managing loyalty cards to communicating with customer service agents and visualizing products. And while in-store remains the biggest retail channel, online sales have skyrocketed as the Covid-19 pandemic forced people to stay at home. In the US, e-commerce accounted for an estimated 21.3% of total retail sales in 2020.
Video has also seen big gains. Around two-thirds of consumers say that the amount of video content they watch increased in 2020. And as more and more cities are covered by 5G networks, digital devices will be able to smoothly run augmented reality (AR) and other video-based apps. The rise of 5G will accelerate innovation in the field of video technologies. 
Consumer attention is dispersed across channels. Consumers are embracing omnichannel services. One study found that almost 75% of shoppers use multiple channels to find discounts, compare prices, or use in-store tablets to browse products online. Omnichannel shoppers also spend more than single-channel shoppers, both online and in stores. So it comes as no surprise that retailers using omnichannel strategies report higher annual revenue, an increase in average transaction size, and better profitability.
Consumers want omnichannel services. One study revealed that over 85% of consumers prefer interacting with brands using both digital and physical channels — a preference that is consistent across all generations.
Retailers have room to grow when it comes to effective omnichannel experiences. More than 90% of leading retailers either have an omnichannel strategy or plan to invest in omnichannel tech; but only 8% think they have mastered omnichannel. Only one in ten consumers thinks that companies deliver a seamless omnichannel experience.

Findings in a study done by Brightpearl and Multichannel Merchant. Source: The State of Omnichannel Retail
Many retailers lack effective omnichannel tech. Almost half of retailers either lack the right omnichannel tech or could use additional tech solutions. Without effective technologies, companies will find it harder to integrate different retail channels.
The tech enabling omnichannel retail 
Delivering superior customer experiences in omnichannel retail is about being everywhere your customers are. But seamlessly serving shoppers across multiple touchpoints can be hard. Fortunately, an array of new technologies makes it easy to set up shops, connect with audiences, improve customer experiences, and deliver products.
Setting up shop: E-commerce & infrastructure
The road to delivering superior omnichannel experiences starts with setting up digital shops. These shops are vital pieces of e-commerce infrastructure, helping companies serve online shoppers and boost sales in physical stores. Depending on their business goals and preferences, businesses can set up shops using self-service platforms or advanced headless commerce solutions.
Self-service enablement platforms
E-commerce platforms are an ecosystem of software tools that allow users to build online shops, digitize brick-and-mortar stores, make sales, process payments, and fulfill orders in a self-service manner. These platforms act as a center of retail operations, making it easy to do business with customers across online and offline channels in a true omnichannel manner.
Shopify is one of the best-known e-commerce platforms, and users can leverage the platform to start an online business or move a business online. 
Shopify builds technologies that make it easy to sell in person or through a website, social media, and online marketplaces. The company's App Store has more than 4,000 apps to help users customize stores, depending on their products and business goals. 
Other well-known e-commerce platforms include BigCommerce and Magento Commerce (acquired by Adobe).
Allbirds, a footwear brand, uses Shopify's point-of-sale (POS) system to provide omnichannel experiences in over 20 stores. Employees in each store have up to 18 mobile Shopify POS systems to check out customers anywhere on the sales floor. The fast checkout process customers enjoy in Allbirds' online stores is now replicated in physical channels as well.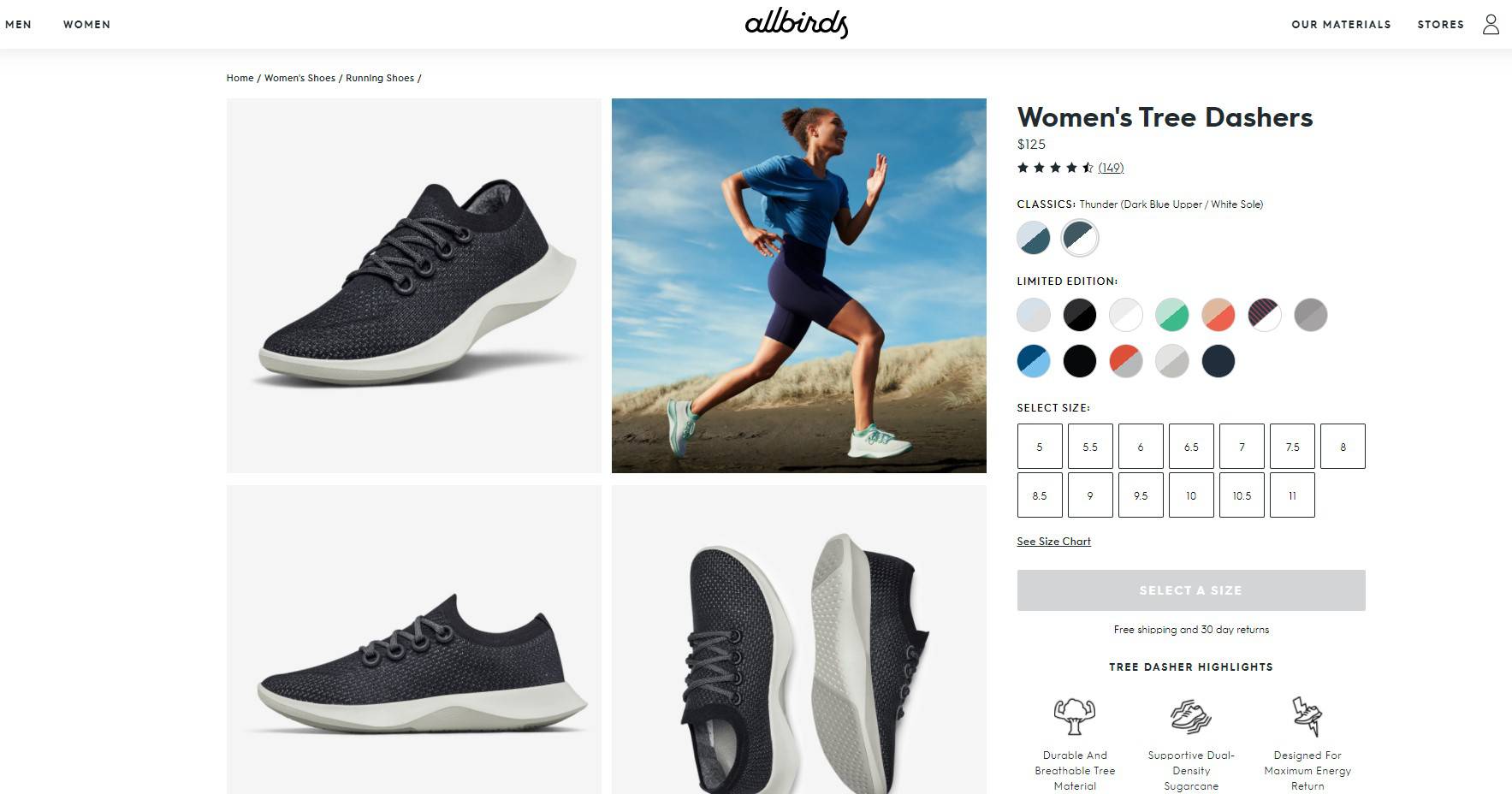 Allbirds initially focused on e-commerce sales before investing in physical stores. Source: Allbirds
Allbirds has also introduced a "buy in store, ship to customer" feature. Previously, for in-store customers who wanted an out-of-stock product, Allbirds associates would use the POS system to send customers an online shopping cart link to check out by themselves. Now, associates can process the transaction and have the warehouse ship items directly to customers.
Allbirds also benefits from being able to collect more data and find insights. Travis Boyce, head of global retail operations at Allbirds, explains, 
"We now have a measurement of the number of customers that are coming in to buy something we didn't carry in the store that we otherwise wouldn't have data on. It helps us better inform inventory decisions." 
Omnichannel technologies have made the shopping process at Allbirds more frictionless, no matter which channels customers use.
Headless commerce: more flexible architecture, enabling social commerce
Headless commerce architecture separates the customer interface (the front-end) from a platform's core commerce functions (the back-end) like processing payments and keeping track of inventory. This makes a headless architecture more flexible than traditional e-commerce platforms, whose front-end layers limit the scope of customization.
Headless commerce allows retailers to provide true omnichannel experiences. Companies can deliver content, payment gateways, and products to various screens and devices, including kiosk screens, smartwatches, mobile apps, progressive web apps (PWAs), and everything in between. Adding new sales channels and upgrading omnichannel capabilities is easier than ever.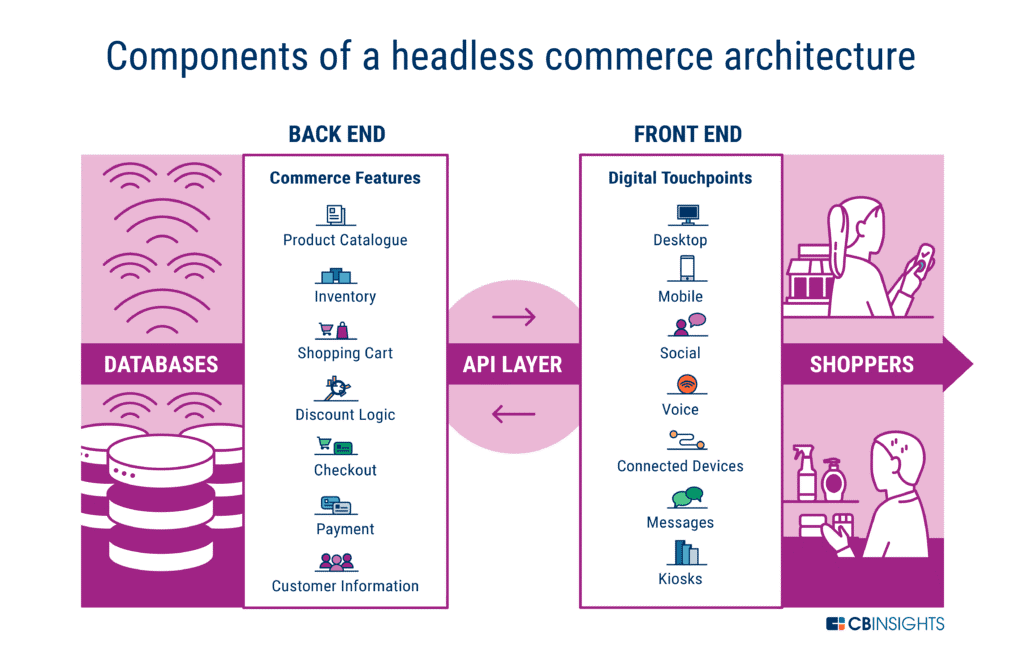 One drawback of the headless approach is that it can be expensive if developers have to spend a lot of time and resources on building user interfaces from scratch — although newer low-code/no-code solutions are reducing that barrier to entry. Marketers also may feel disempowered, relying on other departments to create and publish content or even preview what it will look like on users' devices and screens.
Challenges notwithstanding, many leading brands — including Walmart, Amazon, and Nike — deploy headless commerce today. 
Another example is furniture brand West Elm. The company aims to provide digital shoppers with fast and intuitive experiences to ensure that they either make the purchase online or visit a physical store.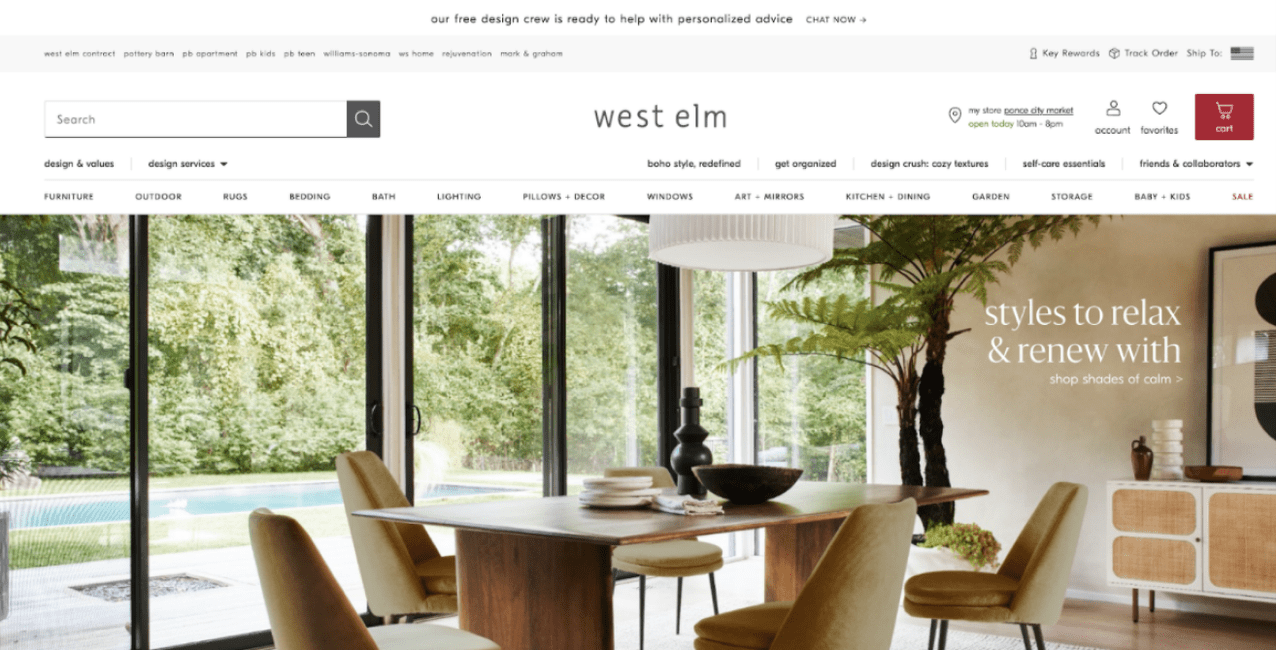 West Elm's website is built using headless commerce tech. Source: West Elm
Headless commerce technology played a vital role in these efforts, with headless tech and PWAs increasing the speed and flow of West Elm's site, boosting revenue by 9% and the average time on site by 15%.
Mobile accessories brand Nomad has also deployed a headless storefront. The brand reported a major increase in load times and a 25% increase in its conversion rate.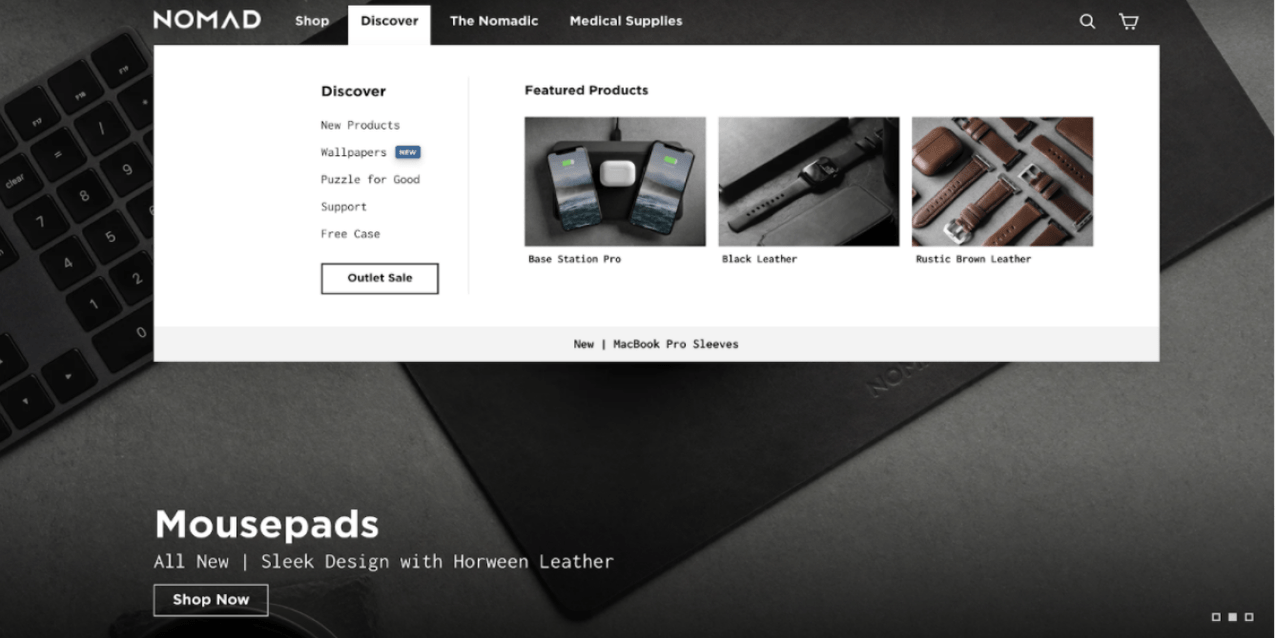 Nomad uses headless tech to increase its conversion rates. Source: Nomad
Marketing: The tech building connections 
Successful marketing in omnichannel retail requires connecting with customers on their terms. Today's shoppers don't want to merely receive static messages; they want messaging (whether ads or loyalty programs) tailored to their needs and delivered across desktop, mobile, and in-store platforms.
Marketing in the age of omnichannel retail certainly has its challenges. Many companies rely on legacy tech infrastructure that doesn't integrate well with modern tools. Data silos are another issue. Failure to incorporate data prevents teams from finding critical insights and new business opportunities. And even when companies use modern analytics tools, privacy concerns limit the amount and types of data that can be collected, shared, and analyzed. 
But a variety of new technologies, including customer data platforms, omnichannel marketing tools, and loyalty tech, can help companies overcome these challenges and connect with existing and potential customers.
Customer data platforms
A customer data platform (CDP) is a software tool that helps companies unify customer data from disparate sources — like social media, emails, websites, and more — to create more holistic customer profiles. With more accurate, detailed information on each customer, companies are able to use this data to orchestrate more seamless experiences across channels.
Most customer data in CDPs is first-party data, collected by a company on its website and social media platforms. Collecting their own data allows companies to fine-tune marketing efforts. They can, for instance, create an advertising audience based on a specific landing page.
Today, companies can choose from various CDPs. Airbnb uses mParticle as its CDP of choice, to control, for example, what data is forwarded to its social media advertising platform. And when Airbnb decided to pause paid marketing amid the Covid-19 outbreak, it took less than a minute to stop all data sharing with the advertisers. 

Airbnb uses mParticle as its CDP of choice. Source: mParticle
mParticle also helps with analytics. Airbnb uses this tool to share data with its analytics provider and better understand customer behaviors. 
Grocery delivery app Instacart is also using CDP tech. The company teamed up with customer data platform Segment to better understand app users and deliver excellent customer experiences. Instacart uses CDP to collect data from various apps (iOS, Android, web) and cloud services (SendGrid, Facebook Ads, Zendesk). Segment also allows data to be pushed to analytics and marketing tools, and can prepare and load data into a data warehouse. Segment is the key source of truth about Instacart customers. 
Using CDP benefits Instacart in many ways. For one, the company can build a comprehensive view of each customer. Also, Instacart managed to better understand the steps customers take during purchase and check out. Armed with these and other insights, the company can better fine-tune its customer service, marketing, and analytics efforts. 
Omnichannel marketing platforms
Omnichannel marketing platforms are software solutions that companies use to deliver to their customers a unified marketing experience across multiple channels, such as email, SMS, search engines, and social media. And the companies are not delivering the same message to every customer. Instead, messaging adapts based on how customers interact with other channels or move through the sales funnel.
Omnichannel marketing can be highly effective. In fact, using 3 or more channels in marketing campaigns leads to a 250% higher purchase rate over single-channel campaigns, per omnichannel marketing platform Omnisend. Omnichannel marketing platforms also boost customer retention rates.
Take, for example, Pizza Hut. The famed restaurant chain turned to omnichannel marketing platform Braze to personalize its existing messaging and expand to mobile channels. The team at Pizza Hut used Braze to get the relevant data into the system and launch hundreds of variants of targeted emails. The machine learning algorithm reviewed results a few times a week and suggested ways to optimize email strategies. Pizza Hut also launched in-app messaging and push notifications. 
Source: Braze
Optimizing email efforts and introducing new channels boosted revenue and profits. The company reported a 30% increase in transactions, a 21% increase in revenue, and a 10% increase in profit compared with its typical email programs.
Loyalty and rewards tech
Loyalty and rewards tech are software tools that companies use to engage customers post-purchase and drive repeat sales. These tools may help with customer engagement, advocacy marketing, loyalty programs, gamification, and other initiatives.
Non-purchase behavior should be rewarded as well. Some customers aren't ready to buy yet, but are happy to engage with a brand. That's when badge icons, special statuses, and other gamification elements offered by modern loyalty and rewards tech can keep people engaged until they're ready to shop.
China-based e-commerce and tech giant Alibaba has deployed an array of loyalty and rewards programs across its products and services ecosystem. In 2018, the company launched 88 VIP, an upgrade to its existing 88 Membership Club. 88 VIP is a paid customer loyalty program that rewards points to customers who shop in Alibaba affiliate stores, leave reviews, and engage with other buyers. Customers get additional benefits, too, such as a 5% discount on Taobao and Tmall shopping platforms, discounts on food deliveries, memberships to Alibaba's music and video streaming services, and more.
In April 2021, Best Buy started testing a new membership program called Best Buy Beta. The program costs $199.99 annually for new members or $179.99 per year for those with Best Buy's credit card. Customers who join the program will get exclusive discounts, unlimited tech support, free installation of various products, and 2-year warranties on many purchases, including iPhones.
Meanwhile, membership programs like Loblaws' PC Insiders and Walgreens Plus have been running for some time. 
As these and other examples show, retailers are increasingly leaning in on exclusive membership programs. Providing rewards and discounts through exclusive programs is convenient for both customers and companies. Shoppers enjoy more pickup and delivery options, frequent discounts, and level up to unlock more rewards. And retailers get loyal customers who are a steady source of revenue and data. 
Customer service: The digital experience from try-on to checkout 
Omnichannel retail is transforming the way companies provide customer service. Customer-facing apps are being upgraded with real-time communication features, while try-ons and clienteling are going digital as well. And waiting in checkout lines might one day be a thing of the past, as cashierless checkout tech becomes ever more sophisticated. 
Communication platform-as-a-service
Communication platform-as-a-service (CPaaS) is a cloud solution that enables companies to add real-time communication features (voice, messaging, and video) to their apps and sales channels without building back-end infrastructure. CPaaS features are delivered using application programming interfaces (APIs), software development kits (SDKs), code snippets, and apps.
Companies benefit by not having to buy entire cloud communication solutions with predefined features but can cherry-pick features and integrate them into their apps — and add or remove channels as shopper behaviors evolve.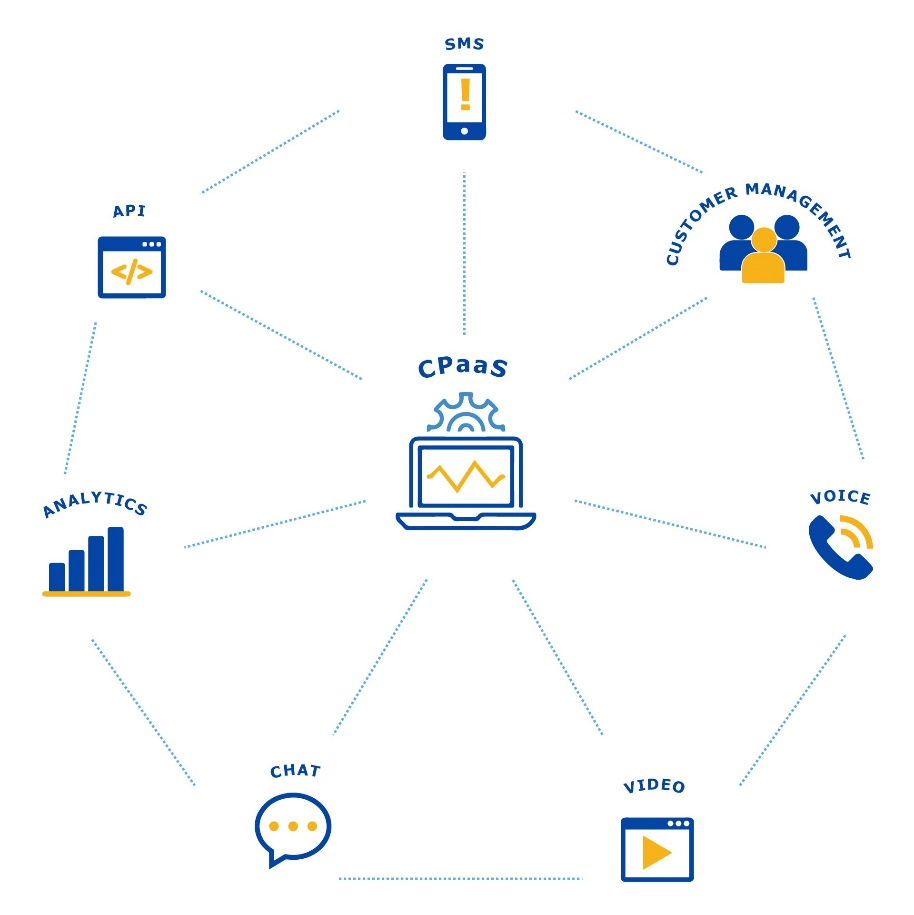 CPaaS allows companies to use various real-time communication features. Source: Nextiva
Companies use CPaaS to provide customers with omnichannel communication experiences. Employees get to talk to customers on various devices and platforms. And the in-store experience is extended online because customers can get information through digital channels as easily as when talking to staff in physical stores. Companies can also use CPaaS to send delivery tracking details, two-factor authentication codes, chatbot interactions, and other types of information. 
CPaaS enables retailers to improve their marketing messaging. Cdiscount, a France-based retailer, used Sinch's CPaaS solutions to replace traditional SMS messages with a Rich Communication Service (RCS) campaign. Instead of dry text, customers received messages with enriched formats, including video, images, and buttons. The company reported a 9% increase in cart value and a 4% increase in revenue compared with previous SMS campaigns.
Other retailers may use CPaaS differently. For instance, they could add asynchronous channels such as messages or chatbots instead of relying solely on emails and calls to solve customer issues. Doing so would allow retailers to improve customer satisfaction. Support agents would become more efficient and could handle more than one conversation at a time. And expanding the number of channels customers can reach may boost conversion rates. 
Mobile, virtual try-on
Mobile AR virtual try-ons are apps that let users visualize how an item will look on them or in a new environment. From clothing and jewelry to home décor and footwear, AR tech is increasingly being used to visualize a range of products.
Virtual try-ons are yet another sales and marketing channel that omnichannel retailers can tap into. Nike, in particular, has taken virtual try-ons to a new level. Nike App users who are about to purchase a pair of shoes can now use a new feature, called Nike Fit, to scan their feet. The app calculates foot dimension and stores data in member profiles. Customers can then order shoes that fit, whether they buy online or in-store.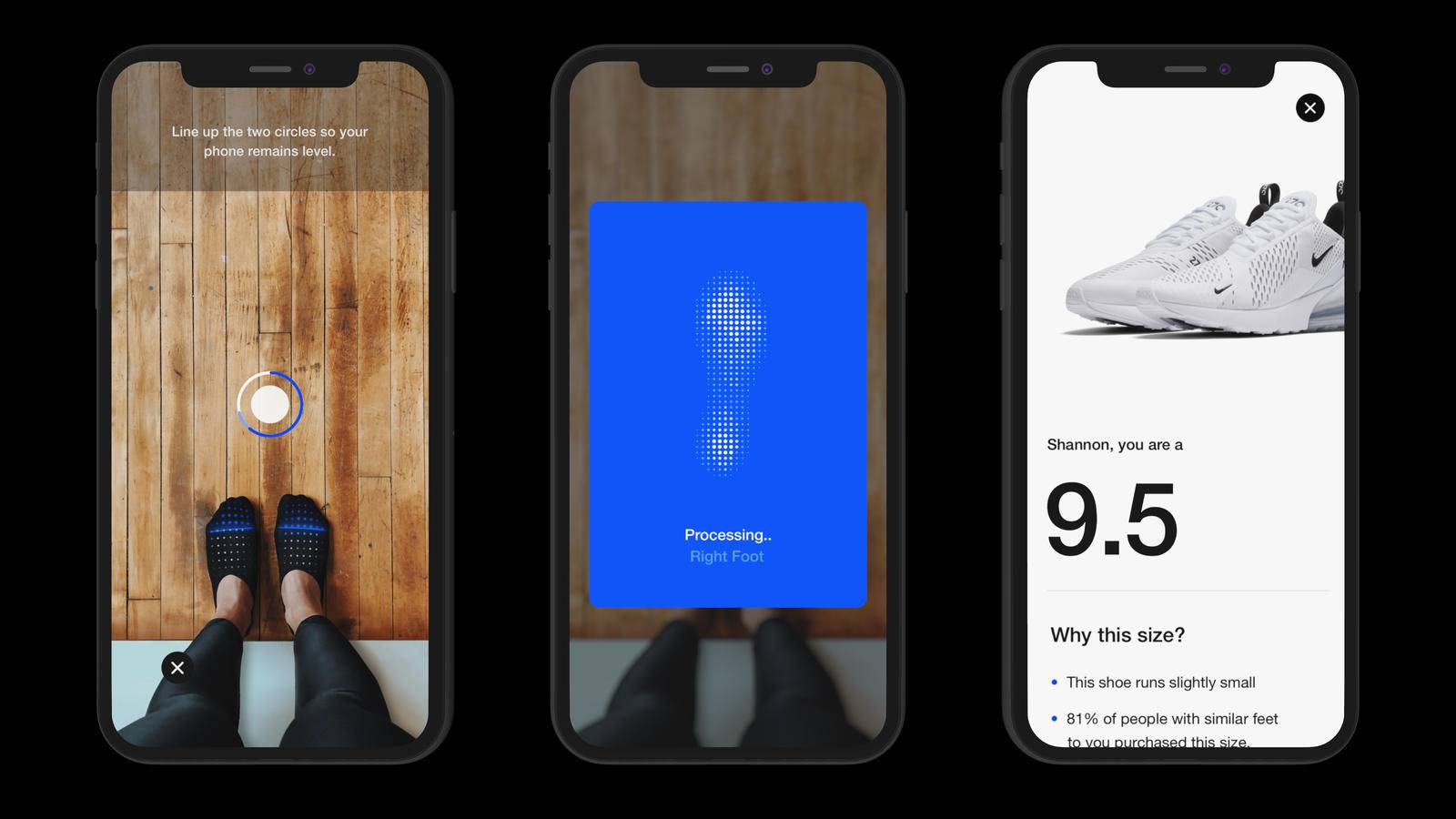 Nike Fit scans user feet to recommend shoe size. Source: Nike
FIT:MATCH, a Florida-based startup, has developed a solution that makes dressing rooms almost unnecessary. The company uses a 3D camera to scan shoppers across 150 data points of measurement. The system also asks shoppers about their preferences, such as loose-fitting clothes or tailored options. FIT:MATCH then provides a list of clothing items from participating brands that fit shoppers' bodies. The entire experience takes 2 minutes. 

3D scanning tech is placed in stores, and customers are then provided with personalized suggestions. Source: FIT:MATCH
The company offers both a SaaS solution that can be integrated into websites and a Retail-as-a-Service (RaaS) solution for stores. FIT:MATCH has deployed its tech in 3 stores in Los Angeles, Dallas, and Chicago.
Beyond fashion, furniture is a well-known use case for AR tech. Major retailers like IKEA and Target are turning to apps like DecorMatters, an AR app that allows users to visualize how new furniture, wall paintings, and home décor items would look like in their apartments.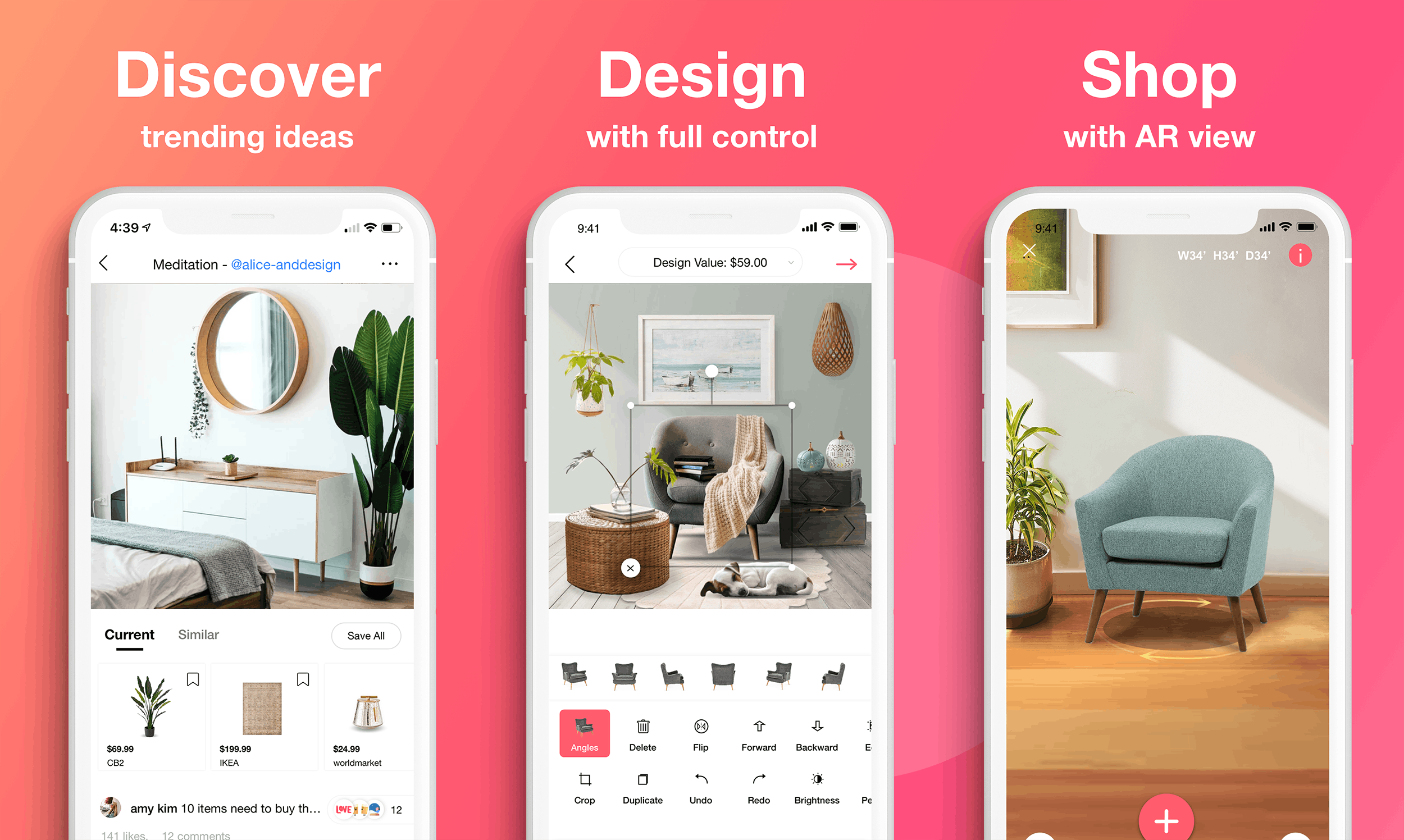 Source: DecorMatters
IKEA has also acquired Geomagical Labs, an artificial intelligence (AI) imaging startup that allows users to visualize their spaces and see how they would look with various pieces of furniture in them. This acquisition enables IKEA to continue developing AR room visualization tech in-house instead of relying on third-party solutions. 
Clothing retailer Gap also offers an AR virtual try-on app, called DressingRoom. Shoppers can choose a piece of clothing and visualize it on different body types. Other companies that offer AR try-on apps include eyeglass maker Warby Parker, cosmetics brand MAC Cosmetics, online jewelry retailer Kollectin, and others.
Virtual clienteling
Virtual clienteling is the process of nurturing relationships with key customers using digital tools. Sales associates rely on customers' past purchases and preferences to better meet customers' needs and build loyalty. Clienteling apps play a vital role in these efforts, allowing retailers to connect with key customers online and in person. This omnichannel approach can drive repeat purchases and boost conversion rates.
For example, video shopping company HERO offers a virtual clienteling app called Contacts. Sales associates can add in-store and online customers to their list and stay in touch with them using SMS, WhatsApp, and email. Associates can reach out when items a customer wants are back in stock, share recommendations, schedule in-store appointments, and set reminders to reach out to customers at specific times.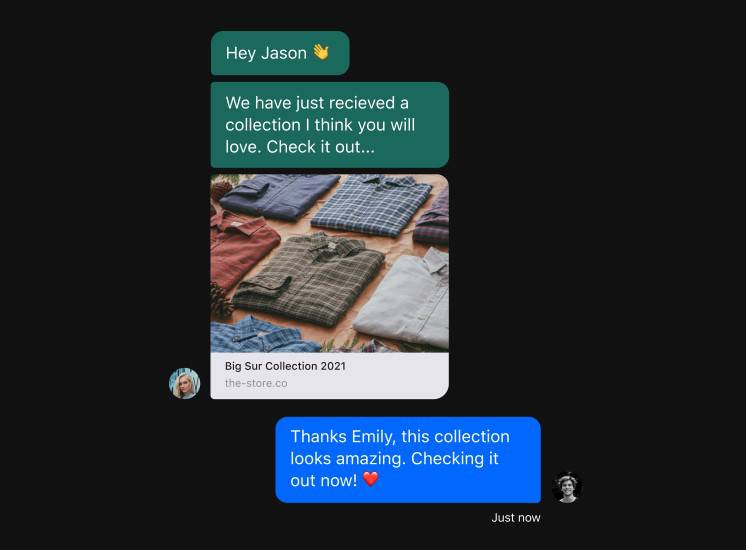 Sales associates can use the HERO app for virtual clienteling. 
Companies can use the Contacts app in different ways depending on their needs and sector. E-commerce firms can reach out to customers to recommend complementary products, sales reps in homeware brands can contact customers who are about to undergo home projects, and apparel companies can message customers when seasonal collections arrive.
Nordstrom has also been developing its virtual clienteling services. Its Reserve Online & Try In Store service allows customers to select items that they want to try on in the store of their choice. The app has location services and alerts in-store employees when a shopper is on their way, giving them enough time to prepare a fitting room and put the customer's name on the door. Merging online and offline channels into a unified shopping experience leads to customers staying longer in Nordstrom stores.
Albertsons, a major US food and drug retailer, has opted for AI-powered virtual clienteling. The company teamed up with conversational AI leader Nuance Communications to deploy virtual assistant and live chat solutions that help grocery shoppers in real time. The app answers various inquiries concerning item availability, delivery methods, order tracking, store locations, and other issues. 
According to Chris Rupp, chief customer and digital officer at Albertsons Companies, "Now we can extend that same Albertsons experience to our digital channels, ensuring our customers' needs are met however they choose to shop." 
Cashierless checkout
Cashierless checkout is a set of software and hardware technologies, like smart cameras, shelf sensors, and AI, that allow in-store shoppers to grab products, walk out, and be charged automatically, without interacting with cashiers. 
There are 3 basic formats for the cashierless checkout:
Shoppers use their own phones to scan and pay for products, like the Scan & Go feature at Sam's Club.

Self-checkout shopping carts, like Amazon Dash Cart.

A combination of smart cameras, shelf sensors, and AI that allow in-store shoppers to grab products, walk out, and be charged automatically. This tech is developed by companies such as Grabango and Standard Cognition. 
Shopping with no lines and no checkout mirrors the convenience of online shopping, and customers get to enjoy a fast sales process whether they buy in digital or physical stores. In other words, they enjoy a superior omnichannel shopping experience.
Tech companies have come up with various approaches to cashierless checkout. A well known example is Amazon's Amazon Go stores, which leverage cameras and shelf sensors to track customers' selected items and automatically charge them upon leaving the store without going through checkout.
2020 was a big year for self-checkout. Global convenience store chain Circle K announced in August 2020 that it will retrofit several of its stores in the Phoenix area with autonomous checkout tech built by San Francisco-based startup Standard Cognition. If all goes well, Canada-based giant Alimentation Couche-Tard, parent company of Circle K, will deploy this tech in other stores.
Standard Cognition equips stores with cameras and uses computer vision to track customers and items they grab. Customers are charged through their Circle K or Standard Cognition app accounts. But this technology speeds up the checkout process even if customers want to pay with cash. The AI tracks products picked up by customers and sends that data to the cashier, which means there's no need to scan individual items.  
Grocery chain Sobeys introduced Smart Cart tech in its stores in October 2019. The high-tech cart lets shoppers scan and buy products as they roam through the aisles. Sobeys hopes that future AI improvements will allow shoppers to throw items in the cart without scanning or weighing them. But Smart Cart adds value even in its current state. Customers can check out without waiting in lines, which is especially important given the dangers of Covid-19 spread in indoor environments.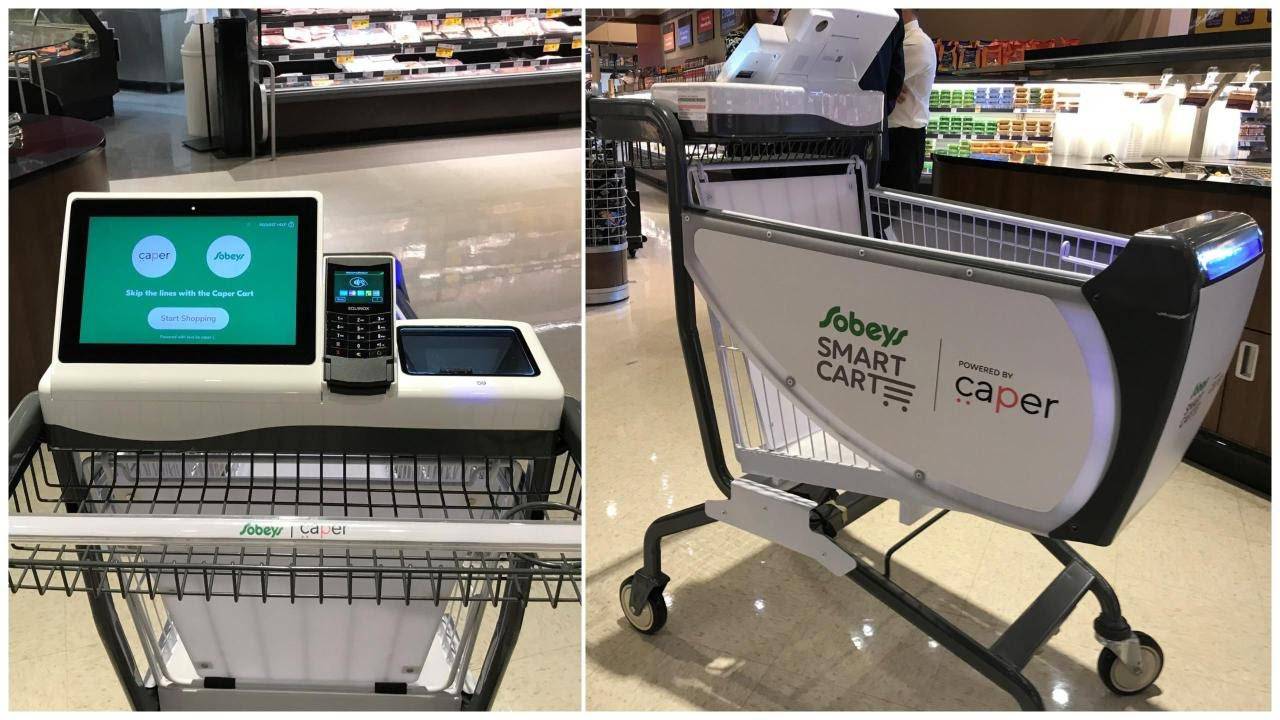 Smart Cart at Sobeys stores. Source: CityNews Toronto
Self-checkout is gaining momentum. Customers spend less time in stores, and the entire self-checkout experience mirrors the speed and convenience of digital shopping. Also, retailers get a better view of their shoppers' behaviors across different channels. And as AI, smart cameras, computer vision, and smart shelf technologies evolve, more and more retailers are likely to jump on the self-checkout bandwagon. 
Purchase to delivery: Inventory management & last-mile execution 
As e-commerce sales volumes continue to rise, companies will have to improve the way they monitor supply chains, manage inventories, and deliver goods. These improvements are critically important. Omnichannel customers look for ever-shorter delivery times, while businesses seek to make back-end processes more efficient and cost-effective.
Delivering on these needs is possible using various technologies, including end-to-end visibility platforms, inventory management tools, and delivery management software.
End-to-end visibility platforms
End-to-end visibility platforms are software solutions that enable companies to track raw materials, products, and components as they move from suppliers to producers to customers. These platforms improve supply chain visibility, allowing users to break down data silos and collect all relevant pieces of information into a single platform. Users can more accurately predict and prevent fulfillment disruptions, as well as find optimal transportation methods.
Having visibility into their supply chains helps companies execute omnichannel initiatives. No matter which sales channels customers use, companies can produce and deliver goods on time, making omnichannel shoppers more likely to return.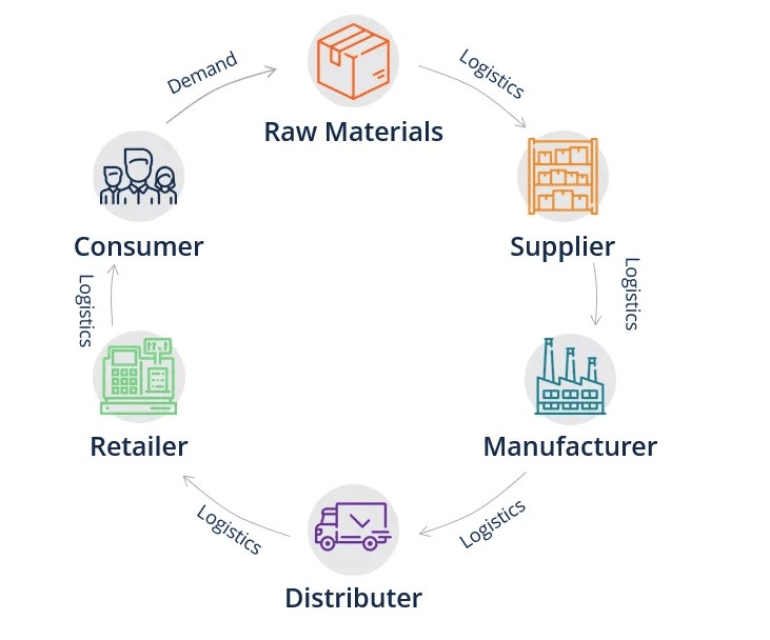 End-to-end visibility platforms help companies track products across their supply chain. Source: Corporate Finance Institute
AI plays a vital role in predictive supply chain visibility. Project44, an advanced visibility platform, relies on AI and other technologies to enable shippers and third-party logistics firms to track inventory across different phases, including ocean, rail, air, truckload, and final mile. The company works with Amazon, Walgreens, JYSK, Overstock.com, and many other retailers. 
Project44's software provides proactive estimated times of arrivals (ETA). Companies are made aware of potential delays and can solve problems before they escalate. Accurate data also enables retailers to improve transit time, reduce excess inventory, and cut costs. And goods can be delivered to customers on time. 
FourKites offers a similar solution. The Chicago-based platform provides predictive ETAs and real-time alerts. Users also get a view of their supply chain across different channels, including truckload, air, ocean, and rail. Accurate data enables retailers to prevent stockouts and boost revenue. 
Inventory management (predictive inventory management)
Inventory management is the practice of acquiring, storing, and using a firm's inventory. Managing inventory of any size is a delicate process. Stockpiles of goods, like raw materials, work-in-progress items, and finished goods, can be neither too large to tie up money nor too small to cause stockouts, while perishables must be moved quickly as to not risk spoilage.
As omnichannel customers purchase from an ever-growing number of sales channels, keeping inventories organized is of vital importance. Goods need to be available and shipped on time. 
Digital platforms can be of great value in inventory planning. Pinduoduo, a major online marketplace for agricultural products in China, is one example. The platform tracks rising search patterns to tell farmers what to grow. Armed with these insights, farmers and other direct-to-consumer (D2C) companies can better plan their production and inventories. Products can be available when customers need them and delivered promptly. 
To make inventory management more efficient, companies are leveraging AI to enable predictive demand planning — forecasting risks that may disrupt inventory availability, and taking into account an array of data points, such as historical data, economic trends, customer demands, and more. The end goal is to maintain an optimal inventory level.
Italy-based online wine shop Tannico has found success with predictive inventory management. The company teamed up with the inventory optimization firm Intuendi to reduce stockouts of its popular products, an acute problem during seasonal peaks, while also not keeping too much extra stock, to avoid hurting cash flow.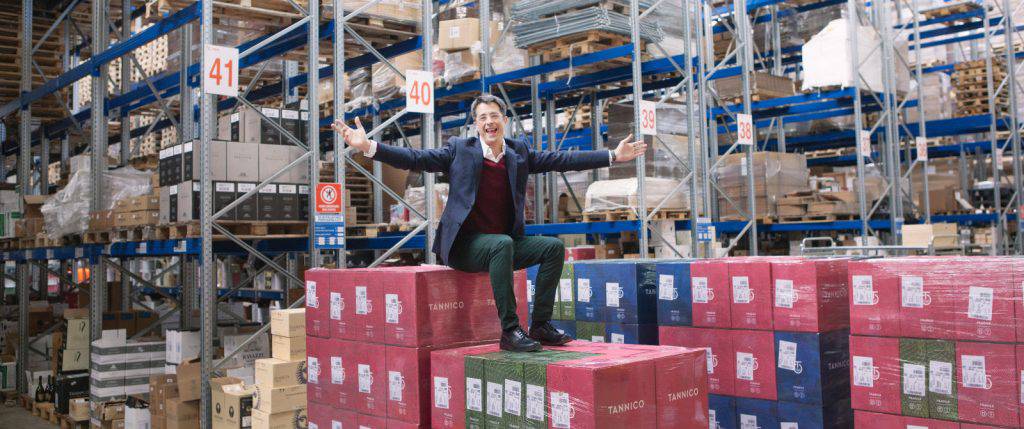 Marco Magnocavallo, CEO and co-founder of Tannico. Source: Intuendi
Intuendi set out to build a predictive model for each wine product. The software identified factors that impact demand across seasons and used smart algorithms to calculate optimal stock quantities. The predictive model has helped Tannico reduce out-of-stock events and better manage its inventory.
Crisp is another startup that has set out to improve demand forecasting for consumer packaged goods (CPG) retailers and suppliers. The company's platform imports data from over 80% of grocery retailers and distributors in the US, including Walmart, Amazon, and Target. Data on sales, inventory levels, pricing, discounts, and other variables is updated in real time. The software also considers how seasonality, price sensitivity, weather, and other factors may impact sales of products and deliveries of ingredients. Platform users can review data in Crisp's dashboards or move it to spreadsheets, customer relationship management (CRM), and business intelligence tools of their choice.
Having a live feed of multiple data points allows producers, distributors, and retailers to match supply and demand. They can also keep inventories at an optimal level. And although Crisp initially focused on food brands, the company now covers additional verticals such as beverages, CPG, meat, poultry, flowers, and bakery products.
RELEX Solutions also offers retailers a range of demand forecasting and inventory planning solutions. RELEX Solutions' platform constantly reviews costs, demand forecasts, lead time, and even page views to decide which items should be in stock. The software also helps with huge demand peaks; it automatically identifies potential space scarcities and adjusts orders accordingly.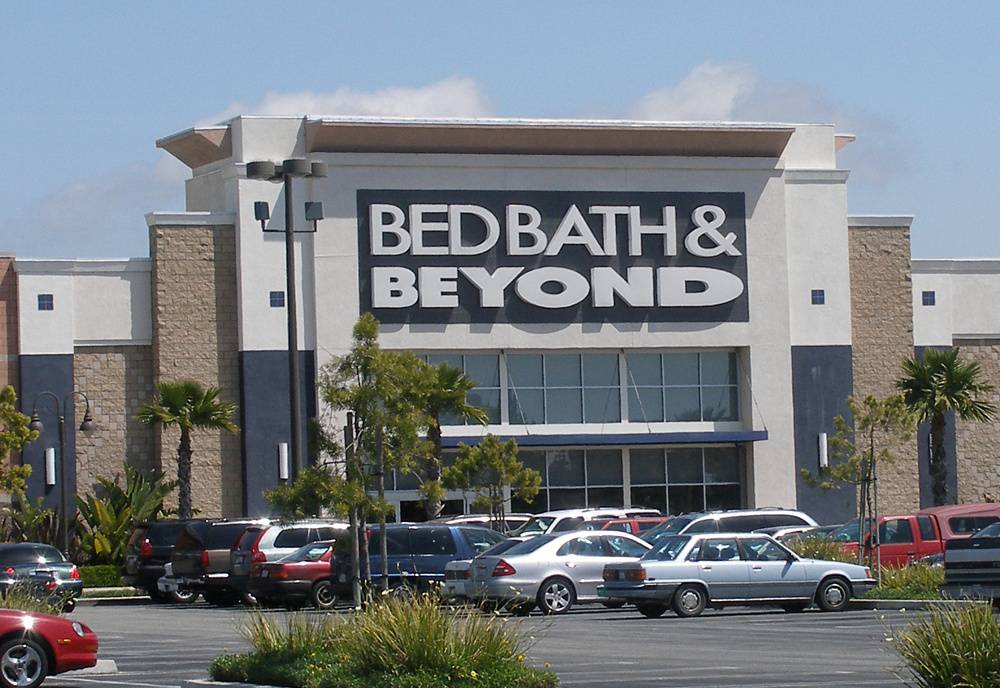 Bed Bath & Beyond relies on demand forecasting to improve inventory management.
In March 2021, Bed Bath & Beyond chose RELEX Solutions as its tech partner for modernizing inventory management processes. The US retailer hopes that RELEX Solutions' tech will lead to reduced inventories, improved customer experience, and more sales. 
Delivery management software
Delivery management software (DMS) is a digital tool that companies use to plan, manage, and execute last-mile delivery activities. The software integrates various features, such as route planning, vehicle tracking, task allocation, dispatching, and more. Companies get to deliver goods on time and improve customer experiences.
Major retailers have been investing heavily to ramp up their delivery ops. Costco acquired last-mile delivery provider Innovel Solutions for $1B in 2020. Costco CEO Craig Jelinek says that "the acquisition will allow us to grow our e-commerce sales of 'big and bulky' items at a faster rate." Target, too, acquired on-demand delivery service Shipt in 2017. The retailer is looking to use Shipt's technology to improve its supply chain and delivery processes. 
DMS is critical for delivering omnichannel experiences. As more and more customers shop online, retailers have to manage an ever-growing number of vehicles and drivers for delivering products. Managing large fleets manually is near impossible. But with DMS automating and optimizing once tedious processes, businesses can ship and deliver goods on time.
Bringg is a major DMS provider. The company helps retailers, such as Walmart and Albertsons, to launch and improve their fulfillment channels. Bringg's cloud-based platform enables businesses to provide curbside, "buy online, pickup in store" (BOPIS), and locker pickups. These capabilities allow retailers to develop an online-to-offline (O2O) model and entice online customers to visit physical stores. 
Retailers can also use Bringg's platform to coordinate deliveries and manage routing, dispatch, and fleet ops. And after partnering with Uber in January 2021, Bringg offers retailers access to over 1M on-demand drivers. 
Looking forward: Omnichannel retail can't be ignored
The line between the digital and physical world is increasingly blurred.
In daily life, conversations started on social media may continue face-to-face or via messaging apps. People expect interactions with brands to be no different. Whether they shop online and then visit stores, or they receive email discounts and reply using SMS, customers want retailers to meet them across multiple channels.
Technology lies at the heart of the omnichannel revolution. Companies use customer data platforms to unify data from disparate sources and learn about shoppers. Loyalty and rewards tech merges with membership programs, while 3D scanning makes virtual try-ons possible. And as cashierless checkout gains traction, waiting in checkout lines may become a thing of the past. 
Physical shopping is also improved by online shopping's best features — it's more flexible, personalized, and seamless. And shoppers move between digital and physical sales channels in a true O2O manner. 
But omnichannel retail isn't without challenges. Companies have to overcome organizational silos and culture to become comfortable with changes. Traditional business practices have to be challenged constantly. And picking technology partners to develop and deploy omnichannel solutions requires careful consideration. Retailers need to ensure that new technologies are cost-effective and fit into existing infrastructure. 
There's also a risk of cyberattacks. As shopping moves ever more online, retailers will have to protect their digital infrastructure and sensitive customer data. Failure to do so may lead to data breaches and reputational hits. Embracing omnichannel also requires significant investments, while profit challenges may be especially painful in lower-margin areas like grocery.
Challenges notwithstanding, omnichannel retail is here to stay. More than a trend, it's a reflection of how customers live, and retailers are well advised to take this into account. Brands that act on this trend and deliver omnichannel experiences may get a head start that competitors will struggle to close. 
If you aren't already a client, sign up for a free trial to learn more about our platform.