An analysis of trends in beauty and self-care using the CB Insights NExTT framework.
Wellness continues to be the greatest underlying theme for the trends taking off in beauty and self-care. Consumers are incorporating wellness into nearly every part of their personal care regimen, from taking supplements to trying alternative medicine approaches like Traditional Chinese Medicine.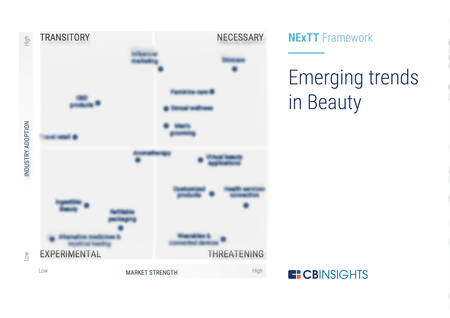 Report highlights:
Skincare will continue its reign in 2020.

As consumers prioritize a longer-term and proactive approach to beauty, look for evidence-based companies to proliferate over "clean" brands.

Watch for ingestible beauty to gain traction outside the APAC region.

Globally, consumers are focused on preventative aging measures as more people view beauty as a reflection of overall health.

Rising wellness ingredients may overtake CBD in popularity.

Large retailers and industry players have tapped into CBD to be "on-trend," but the category faces regulatory uncertainty and potential displacement from wellness ingredients like adaptogens and nootropics.

Partnerships with connected devices and wearables can enable personalization.

As the future of beauty becomes increasingly tech-enabled, we see opportunity for personal care brands to partner with wearables and apps that track metrics such as fitness, nutrition, and sleep to give a more personalized offering.
In this report, we focus on 15 beauty and self-care trends from our data-driven NExTT framework.
If you aren't already a client, sign up for a free trial to learn more about our platform.