We dig into the ways retailers are changing how consumers shop IRL — and how tech will support the transition.
As 2023 begins, brick-and-mortar retail is at a crossroads.
On one hand, physical retail is absolutely necessary: Around 85% of all retail sales in the US happen in stores. 
On the other, despite a slowdown in growth, e-commerce's proportion of retail sales is higher than it was pre-pandemic. Technologies from text commerce to virtual worlds are making digital shopping more immersive and seamless. And many retailers are culling their fleets: CVS, for instance, will close 900 stores by 2024, while Amazon shuttered all of its existing non-grocery stores in March 2022.
Yet store remodels, new formats, and store openings are still a prominent part of retail executives' conversations heading into 2023. In fact, the ongoing challenges that retailers face have made it more important than ever before to invest carefully and purposefully in stores.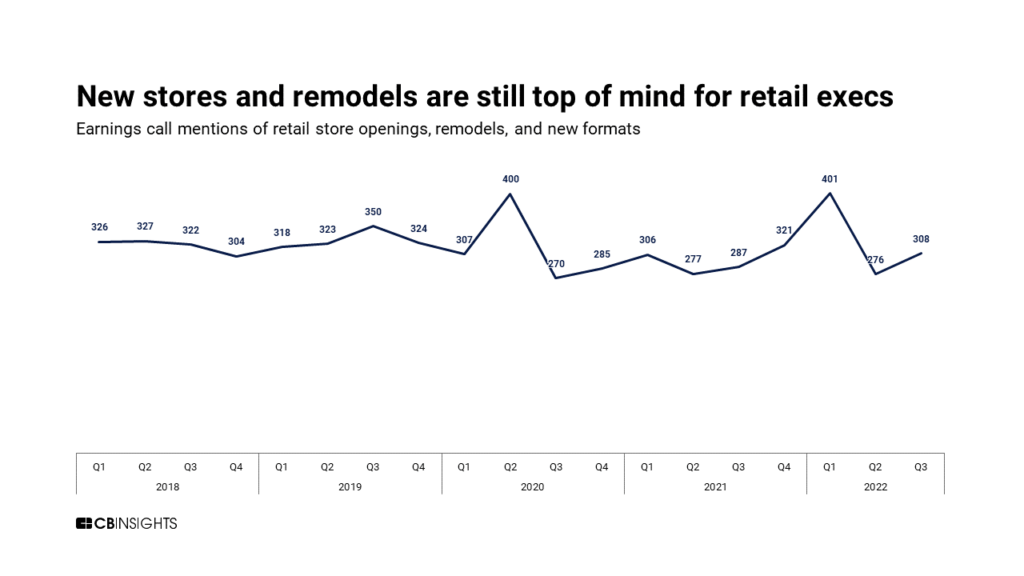 One approach is to remodel stores and find ways to squeeze more out of retailers' existing assets. For instance, Walmart spent $3.3B on store remodels in 2021 — 52% more than it spent in 2018. In 2022, the retailer is on pace to spend nearly 20% more than it did in 2021. Target also plans to remodel another 200 stores in 2023. 
But several retailers are aiming to elevate the in-person shopping experience further by launching entirely new store formats. They're turning to new layouts, services, assortments, and technology to give shoppers a distinctive reason to visit a store — and more importantly, the right experiences to drive them to make purchases.
In this report, we examine 5 new store experiments that will level up brick-and-mortar shopping in the coming year by creating exciting, efficient, and necessary stores:
Expertise-driven experiences
Omnichannel natives
Shop-in-shops
Smaller stores
Specialized spin-offs
The formats emphasize the need for more consistent and in-depth employee training as well as the importance of customer data as a foundation for decision-making.
Tech solutions will be fundamental in advancing these new formats. Each breakdown in the report will also direct you to CB Insights research that can help identify the right tech and vendors to create these IRL experiences. 
If you aren't already a client, sign up for a free trial to learn more about our platform.