Healthcare providers are looking for solutions designed to help them manage the transition from fee-for-service to value-based care (VBC) models. From remote patient monitoring to care management tools, we rank the top value-based care technologies providers should pay attention to.
The adoption of VBC models has accelerated in recent years. In fact, in 2020, 41% of health care payments were tied to alternative payment models such as VBC, up from 23% in 2016, according to the Health Care Payment Learning & Action Network.
As a result, healthcare providers are increasingly shifting more of their budgets toward technologies that can help them fulfill value-based contracts with payers, focusing on those that can help reduce healthcare costs and improve quality and outcomes.
In this report, we evaluate 9 tech markets that healthcare providers should monitor, vet, and prioritize toward this effort, including:
Care coordination & care management
Home health enablement
Patient engagement
Population health analytics
Remote patient monitoring
Risk adjustment technology
Social determinants of health (SDOH) & referral management
Utilization management
Value-based care (VBC) contract management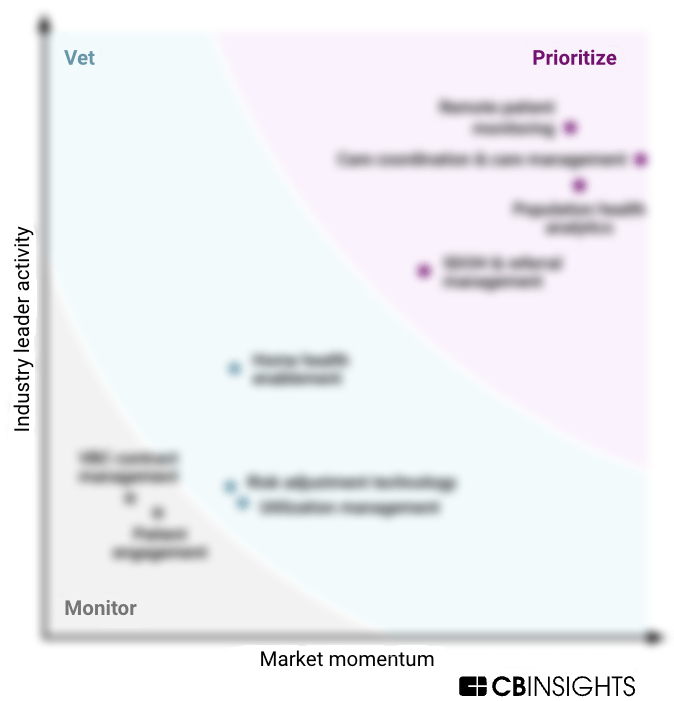 This report examines tech markets across healthcare using the MVP framework. This methodology scores top tech markets across two metrics:
Market momentum — Measures private market activity as a signal of the degree of overall market potential. Signals include the number of startups, the amount of capital invested, and the relative maturity of startups in the space, among others.
Industry leader activity — Assesses the degree of tech market involvement among established industry players. Signals include CVC activity, industry and executive chatter, and patent filings, among others.