Payments leaders are looking for innovative ways to process, digitize, automate, and transfer payments globally. From payment APIs & infrastructure to real-time payments, we evaluate and prioritize technologies for payments leaders to consider in digitization and task automation.
Payments leaders are shifting more of their strategic investments and partnerships toward innovation in payments APIs & infrastructure, cross-border payments, and digital wallets, focusing on novel technologies that can provide faster and more secure payments across the globe.
In this report, we evaluate 7 tech markets that payments leaders should monitor, vet, and prioritize toward this effort, including:
AP automation software
AR automation software
Cross-border payments & money transfer tech
Payment APIs & infrastructure
Real-time payments
Virtual cards & spend management software
White-label digital wallets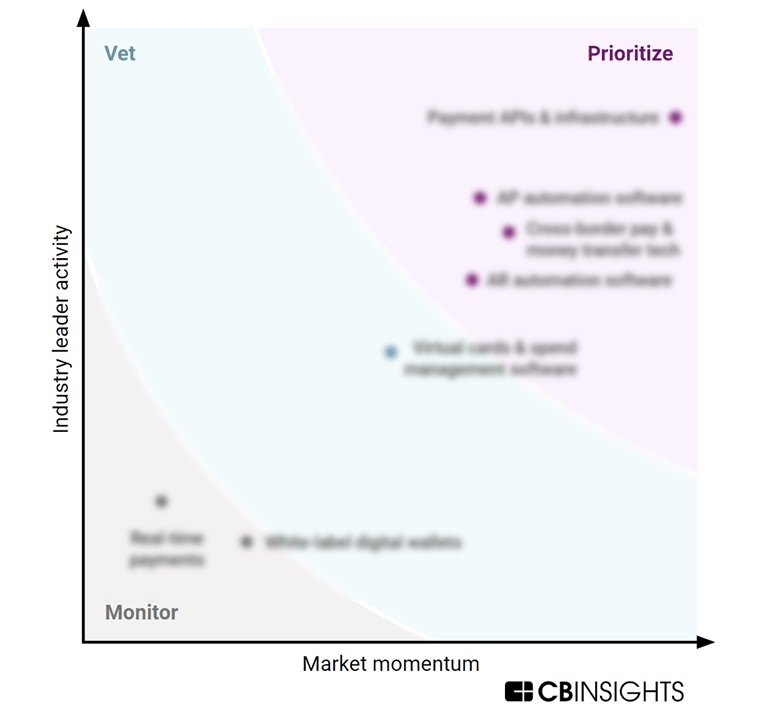 This report examines tech markets across payments using the MVP framework. This methodology scores top tech markets across two metrics: 
Market momentum — Measures private market activity as a signal of the degree of overall market potential. Signals include the number of startups, the amount of capital invested, and the relative maturity of startups in the space, among others.
Industry leader activity — Assesses the degree of tech market involvement among established industry players. Signals include CVC activity, industry and executive chatter, and patent filings, among others.