Healthcare leaders are looking for ways to help patients avoid traditionally costly and physically taxing medication and surgery. From diabetes to ADD & ADHD, we take a look at the digital therapeutic areas that leaders should focus on to address this challenge immediately and down the road.
Healthcare leaders are shifting more of their R&D budgets toward transformational innovation, focusing on novel technologies that can improve the quality and cost of care and address unmet market needs.
In this report, we evaluate 15 tech markets that healthcare leaders should monitor, vet, and prioritize toward this effort, including:
ADD & ADHD
Alcohol & substance use disorder
Anxiety & depression
Chronic pain
Diabetes
Gastroenterology
Migraines
Musculoskeletal & orthopedics
Neurodegenerative
Oncology
Ophthalmology
Post-stroke & physical rehabilitation
Sleep
Smoking cessation
Stress management & mindfulness
Free Download: the State of digital health
Global digital health funding reached $10.4B in Q1'22, a 36% decrease compared to Q4'21. Get our full report to find out all the trends.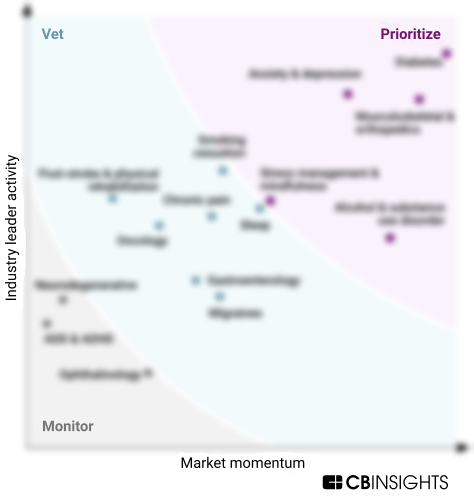 This report examines tech markets across healthcare using the MVP framework. This methodology scores top tech markets across two metrics:
Market momentum — Measures private market activity as a signal of the degree of overall market potential. Signals include the number of startups, the amount of capital invested, and the relative maturity of startups in the space, among others.
Industry leader activity — Assesses the degree of tech market involvement among established industry players. Signals include CVC activity, industry and executive chatter, and patent filings, among others.