This report uses the CB Insights MVP Technology Framework to rank tech market planning decisions and give an adoption playbook for customer service solutions.
CB Insights examined tech markets across customer service using the MVP framework. This methodology scores top tech markets across two metrics:
Market momentum — Measures private market activity as a signal of the degree of overall market potential. Signals include the number of startups, the amount of capital invested, and the relative maturity of startups in the space, among others.
Industry leader activity — Assesses the degree of tech market involvement among established industry players. Signals include CVC activity, industry and executive chatter, and patent filings, among others.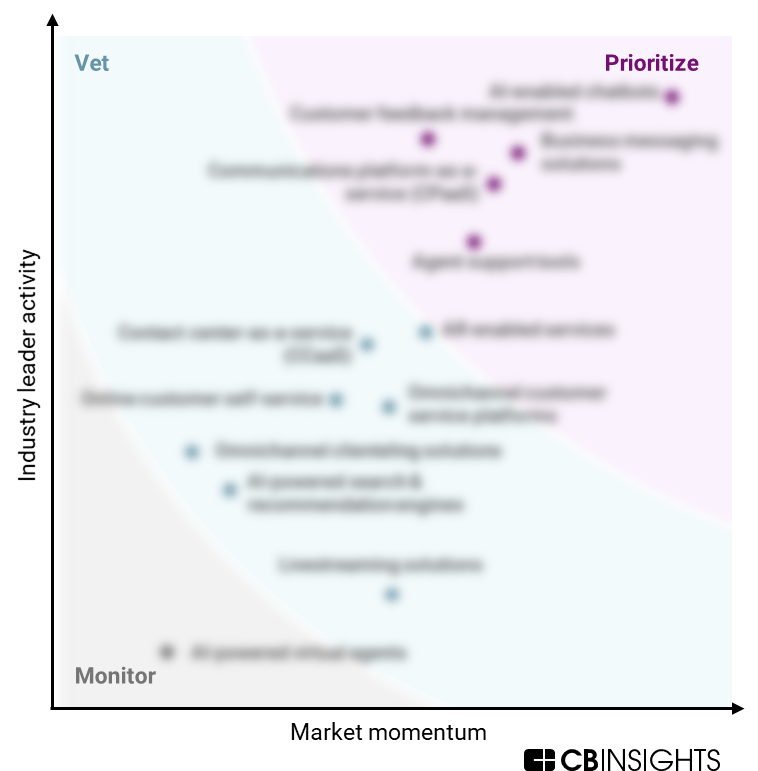 Brands and retailers are increasingly investing in tech-enabled customer service solutions that can help support and convert customers — either online or in stores — in a timely and cost-efficient manner.
In this report, we evaluate 13 tech markets that consumer & retail leaders should monitor, vet, and prioritize toward this effort, including:
AR-enabled services

Communications platform-as-a-service

Omnichannel clienteling solutions

AI-powered search & recommendation engines

Customer feedback management