Healthcare leaders are increasingly looking to adopt digital tools that can be used to prevent clinician burnout and enhance patient outcomes. From electronic health record augmentation to virtual assistants, we explore the clinical workflow technologies that these leaders should focus on now and down the road.
Healthcare delivery has become increasingly complex over the years. The number of related administrative tasks is continuing to grow, which is placing an increasing amount of pressure on physicians, nurses, and other medical professionals as well as pulling them away from time with patients.
To address the situation, healthcare leaders are turning to solutions that streamline and automate the clinical workflow.
In this report, we evaluate 8 tech markets that healthcare leaders should monitor, vet, and prioritize toward this effort, including:
Electronic health record augmentation
Patient flow & command center
Pre-visit patient management
Provider search & scheduling
Provider staffing & human capital management
Referral management
Secure clinical communication
Virtual assistants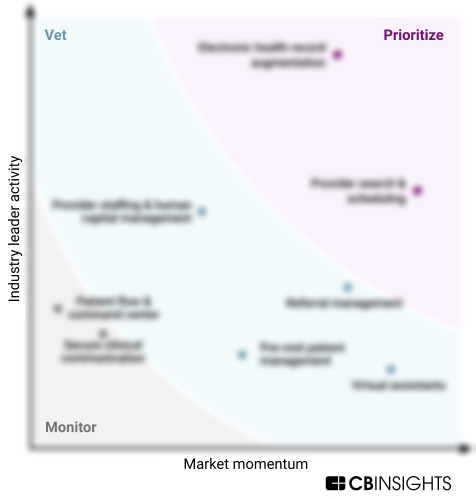 This report examines tech markets across healthcare using the MVP framework. This methodology scores top tech markets across two metrics:
Market momentum — Measures private market activity as a signal of the degree of overall market potential. Signals include the number of startups, the amount of capital invested, and the relative maturity of startups in the space, among others.
Industry leader activity — Assesses the degree of tech market involvement among established industry players. Signals include CVC activity, industry and executive chatter, and patent filings, among others.