With claims growing more complex and customers' digital preferences evolving at a rapid rate, P&C insurers are looking to new data sources to improve the first step of the claims process. From auto telematics to geospatial analytics, we take a look at the claims detection & intake areas that P&C insurance leaders should focus on.
P&C insurance leaders are looking to tap into new data to improve the first step of the claims process — detection and intake. Tech solutions are not only helping insurers react to claims more quickly and accurately but also act more proactively in providing risk management services to their customers. 
In this report, we evaluate 10 tech markets that P&C insurers should monitor, vet, and prioritize toward this effort, including:
Auto telematics
Claims data platforms
Commercial IoT
Computer vision
Customer reporting
Drone inspection
Geospatial analytics
Hyperlocal weather analytics
Smart home devices
Worker wearables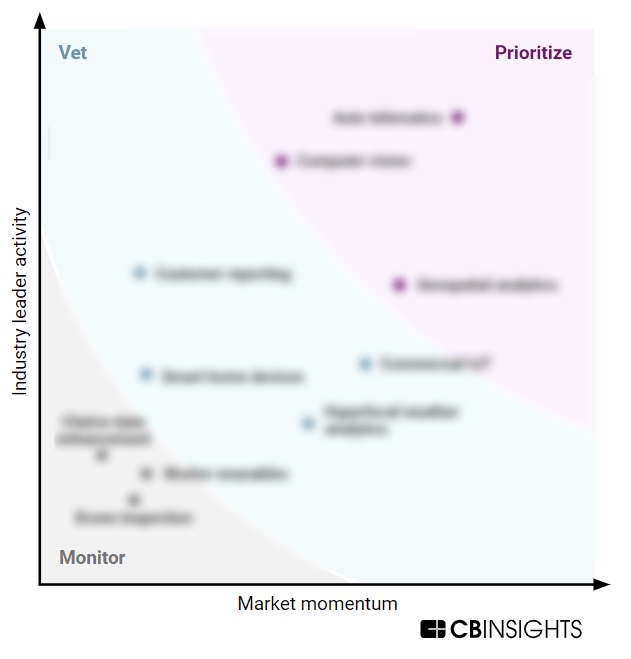 This report examines tech markets across P&C insurance using the MVP framework. This methodology scores top tech markets across two metrics: 
Market momentum — Measures private market activity as a signal of the degree of overall market potential. Signals include the number of startups, the amount of capital invested, and the relative maturity of startups in the space, among others.
Industry leader activity — Assesses the degree of tech market involvement among established industry players. Signals include CVC activity, industry and executive chatter, and patent filings, among others.