While many chatbots didn't live up to the hype, industries like fintech, healthcare, and retail are quietly adopting the technology to free up busy professionals' time and offer guided, personalized experiences to consumers.
In 2016, chatbots were all the rage.
That year, Facebook made the Messenger bot platform the centerpiece of its F8 developer conference. Microsoft's Satya Nadella referred to chat as the "third run-time" — an indispensable piece of operating a platform, second only to the operating system and the web browser.
Mentions of chatbots in earnings calls and press releases skyrocketed, and for many, it seemed that chatbots might be the next big disruptive technology. Thousands of companies commissioned their own chatbots in anticipation.
In the end, though, the expected paradigm shift didn't happen.
There are many reasons why chat didn't take off in 2016. For one, consumers found that many of the tasks the first chatbots were built to perform — like relaying the news or finding a recipe — took more time when a bot was involved.
Another problem was that bots regularly needed human assistance to understand commands. Even Facebook's much-hyped personal assistant, M, closed down shortly after it was revealed that human handlers were responsible for some 70% of the bot's responses.
But while many chatbots didn't meet users' high expectations, they haven't entirely fallen short.
Chatbots are still being used across industries like fintech, healthcare, sales and CRM, retail, education, government, and even law — and they're having important, though quiet, effects. Harnessing advances in natural language processing (NLP) and artificial intelligence (AI), they're making healthcare more navigable, shopping more personalized, and lawyers more efficient.
Today's most impactful bots aren't all-knowing virtual butlers; they're highly targeted applications of conversational technology. While they may seem less flashy, these bots are becoming more advanced and are making a demonstrable impact on their industries. The Covid-19 pandemic has also turned a spotlight onto this technology, with many chatbots proving invaluable for handling a surge of consumer inquiries and concerns.
In this report, we round up the industries where the real "chatbot revolution" is taking place — and highlight the most important lessons for companies hoping to leverage the technology.
Table of Contents
The rise and fall of chatbot hype
What is a chatbot?
The chatbot movement gains early momentum
Initial hype dies out
Chatbots begin to evolve and find successful use cases
Fintech: Contract review & bill negotiation
Personal finance: Chatbots to help manage spending
Commercial banking: JPMorgan chatbot saves the company 360,000 hours annually
Healthcare: Patient engagement & telemedicine
Diagnostics: Chatbots assist with triage and reduce the burden on GPs
Patient engagement: Reducing human intervention without sacrificing patient satisfaction
Mental health: How CBT chatbots help patients reframe negative thoughts
Covid-19 response: Chatbots disseminate information, triage patients, and track outbreaks
Sales & CRM: Qualifying leads & answering questions
Sales: Automatic lead qualification makes reps more efficient
Customer Service: Making complex websites easier to navigate
E-commerce & retail: Optimizing the customer journey
Commerce: Convenient browsing & personalized shopping
Gifts: Increasing conversions by helping customers find gifts faster
Customer journey: Using Messenger to drive people back to brick-and-mortar
Personalized shopping: How an on-page concierge helps Levi's sell more jeans
Law: Automating small claims & powering research
Research: 'Robot lawyer' CARA aims to reduce research time
Small claims: Reducing headaches & improving access
Government: Bolstering Covid-19 response & handling requests
Disseminating information: Chatbots deliver personalized medical information
Triaging patients: Reducing the burden on healthcare institutions
Handling general requests: Serving citizens and businesses across multiple channels
Education: Improving student engagement & enrollment
Helping students: Personalized lessons when users need it most
Helping administrators and teachers: Fast answers delivered to students across multiple channels
Increasing retention: Helping universities engage students and increase revenue
Key takeaways from the 'chatbot revolution'
Tasks: Chatbots are best at repetitive tasks, not novel ones
Complementary approaches: Most chatbots work best alongside GUIs
Data: Chatbots are best at dealing with structured but limited information
The road ahead
The rise and fall of chatbot hype
What is a chatbot?
A chatbot is a text- or voice-based interface that lets users execute certain actions and retrieve information using language.
At the most rudimentary end of the spectrum, there are the bots that banks use to prompt callers through a phone tree, telling them to say "yes," "no," "check my balance," etc. A bot like this merely lays a chat interface on top of a simple service; there is no AI involved.
At the other end of the spectrum are chatbots like Facebook's M, which was billed as a fully capable AI virtual assistant. The bot worked through a combination of artificial intelligence and human workers.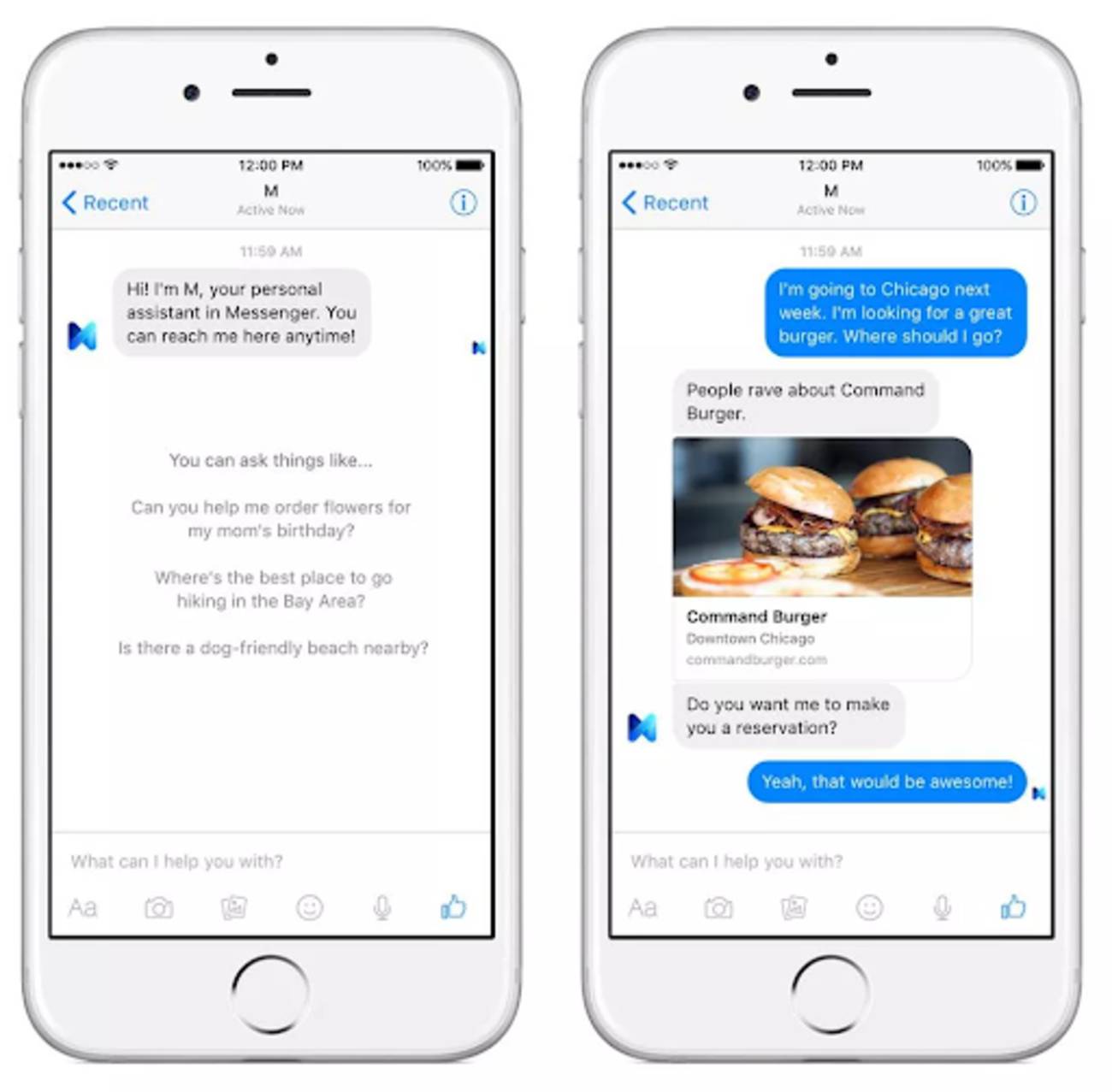 Source: Engadget
Once the chatbot was in the hands of users, however, it became clear that there was a gap between what the service promised and what it actually offered. While M was capable of handling simple questions like "Where can I get a good burger in Chicago next week?" and performing tasks like reserving a table, it couldn't handle more complex requests.
The goal had been to automate virtually all of M's tasks; however, the platform never surpassed 30% automation, according to a post-mortem of the product in Wired. Meanwhile, the resource-intensive, human-supported model was draining Facebook's cash, leading to the project's eventual shuttering.
There is a middle ground between the rote model that can respond "yes" and "no" to a series of pre-programmed questions, and the comprehensive "virtual assistant" ready to respond to any request: chatbots that cannot process and respond to all generalized requests, but do use some degree of artificial intelligence or machine learning to perform tasks.
In the best applications, those tasks are (1) more time-consuming without a bot, and (2) simple and specific.
For example, CRM platform Intercom's Resolution Bot can interpret questions and retrieve appropriate answers from the site's FAQ documentation — something that might take users a long time to search for themselves.
Users can also mark responses as useful or not, allowing the bot to learn (in a very basic form of machine learning) what kinds of answers it should give in the future. The Resolution Bot is able to handle approximately 33% of all customer queries itself, with no humans involved at all.
Specialized chatbots are also gaining traction in healthcare and wellness. Autonomous therapy bot Woebot, for instance, can pick up data about users' specific needs and, over time, use that information to offer a more personalized service. The bot exchanges 4.7M messages with users every week.
At law firms and banks, chat is becoming a powerful medium for conducting research, which can eat up valuable billable hours or necessitate hiring armies of associates. In 2017, JPMorgan Chase announced that its COiN bot was reviewing about 12,000 financial contracts every year — saving about 360,000 hours' worth of labor for lawyers and loan officers.
Rather than try to boil the ocean, companies are picking specific functions that make sense for a chatbot to solve — and they're becoming increasingly useful doing it. But chatbots in general have experienced quite a bit of tumult over the last couple of years.
The chatbot movement gains early momentum
In 2016, virtually all of the world's biggest tech companies were announcing competing chatbot projects.
For example, Microsoft had Tay, an AI bot for Twitter. CEO Satya Nadella proclaimed that "bots are the new apps" in March 2016. Amazon made Polly, its text-to-speech service, and Lex, the behavioral engine that Alexa uses to trigger actions, publicly available for chatbot developers to build on.
Messaging services Kik, Line, and Telegram all launched their own bot platforms. Facebook revealed at its F8 conference in April 2016 that it was opening up Messenger as a chatbot development platform and would work with organizations like 1-800-Flowers and CNN News on early trials.
Facebook promised developers the ability to harness all aspects of the Messenger platform, including "Bot Engine," its new natural language tool that developers could use to train their bots. By mid-2016, 11,000+ Facebook Messenger bots had launched, including trials from Burberry, British Airways, and Starbucks. More than 100,000 chatbots would go on to be built for the Messenger platform over the course of a single year.
At the same time, VC funding to chatbot startups accelerated, with firms investing approximately $85M across 30 deals from 2015 to mid-2016. Slack launched its own $80M chatbot fund, partnering with leading VCs including Spark Capital, Index Ventures, Accel, KPCB, Social Capital, and Andreessen Horowitz.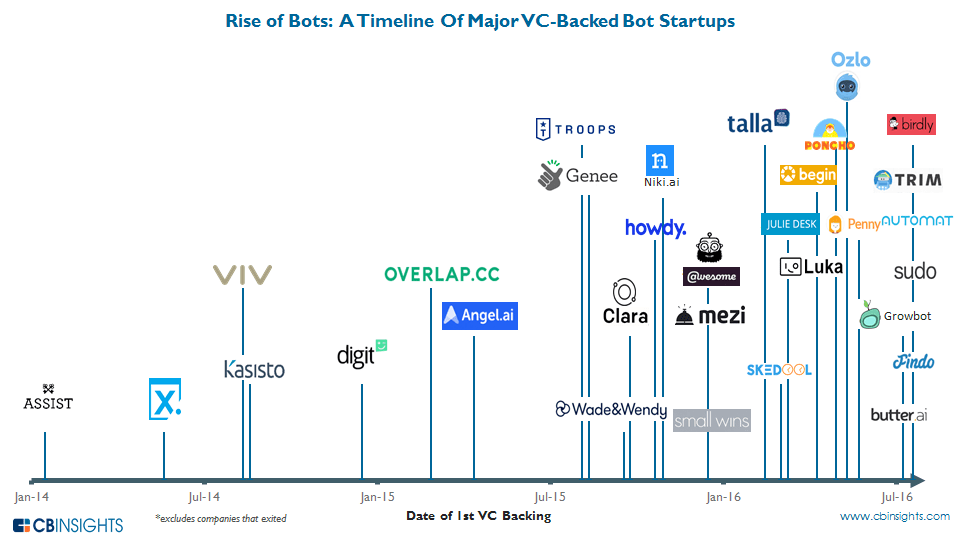 This flurry of activity generated a lot of excitement about the technology's potential. In 2016, Gartner proclaimed that "the average person will have more conversations with bots than with their spouse," while a survey by Oracle showed that 80% of businesses planned to use chatbots by 2020.
Chris Messina, inventor of the Twitter hashtag and a former product designer for Google and Uber, wrote,
"[Y]ou and I will be talking to brands and companies over Facebook Messenger, WhatsApp, Telegram, Slack, and elsewhere before year's end, and will find it normal."
In reality, late 2016 turned out to be the peak of chatbot hype.
Despite a flurry of investment, product launches, and media chatter, chatbots ultimately disappointed both users and the tech companies betting on them to succeed.
Initial hype dies out
Building a virtual assistant capable of understanding context and responding to unclear queries proved to be much more challenging than building a simple bot.
Many chatbots couldn't understand enough human language or process enough data to complete the kinds of complex requests companies promised they could handle.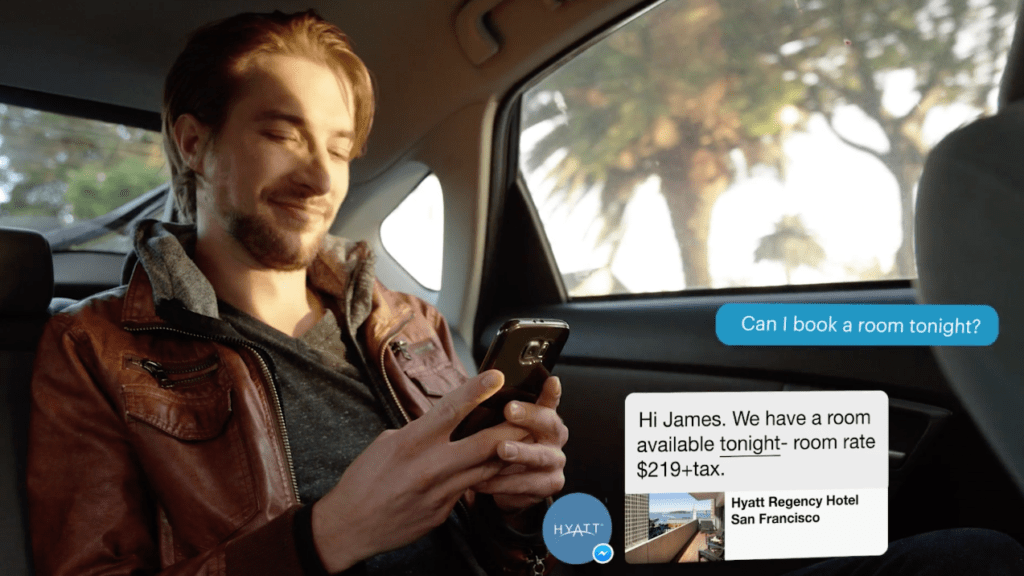 Source: TechCrunch
Facebook scaled back work on its M assistant after it revealed that M had failed in handling 70% of all user requests. Google similarly admitted that it used humans in call centers to make its assistant work.
By 2018, news coverage of chatbots had started to plateau. Mentions of chatbot tech on public company earnings calls peaked in early 2018, but fell to nearly half that by the end of the year, and has since remained uneven.
In January 2018, Facebook closed down M. That same month, Inc Magazine ran an interview with Ethan Bloch, founder of chatbot company Digit, who bemoaned,
"I'm not even sure if we can say 'chatbots are dead', because I don't even know if they were ever alive."
Several other high-profile chatbot discontinuations followed. By August, many of the media companies whose chatbot experiments had been held up as proof that the trend was real — including Washington Post, Business Insider, and HuffPost — had all scaled back or shut down work on their Facebook Messenger bots. Washington Post later experimented with a chatbot on messaging app Viber, but it's unknown how successful this effort was.
Microsoft's Tay shuttered in March 2016 within 24 hours of its launch, after it started expressing troubling political views, while Google's Allo was dead by March 2019.
At that time, most deals in the space occurred at early-stage (seed/angel and Series A) rounds. Given the number of angel and seed rounds that took place between 2014 and 2017, this lack of later-stage fundraising rounds suggests that few of those early chatbot investments were successes.
Chatbots begin to evolve and find successful use cases
The stories from the chatbot boom don't all end in failure.
Emirates Vacation integrated a conversation bot within its display ads, boosting engagement rates by 87% since launching in 2018.
Madison Reed created Madi, a computer vision-enabled chatbot that helps visitors find a hair color shade based on a submitted selfie. Since its launch in 2016, the bot has increased engagement by 400% and achieved a 21% click-through rate.
Amtrak's chatbot has done similarly well, generating 8x ROI and increasing revenue per booking by 30%.
These success stories suggest that, despite the sensationalism, there are legitimate applications for chatbot technology — especially for bots with a more specific focus. Unlike the promise offered by an all-knowing virtual assistant, these bots target niche use cases that can be more easily automated.
To this end, the chatbot industry appears to be moving out of nascent stages. In 2020, for the first time, mid- to late-stage deals accounted for half of all deals in the space, suggesting maturation of the technology and the companies developing it.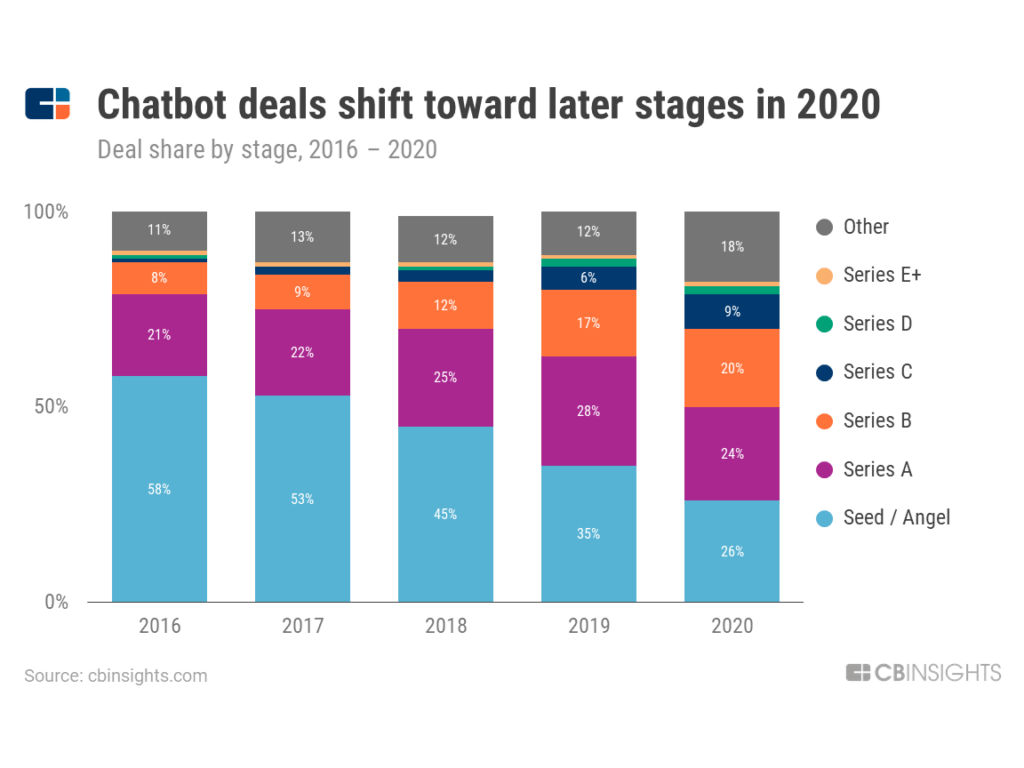 The Covid-19 pandemic has helped accelerate this shift. As organizations face a surge of inquiries while adjusting to remote work, chatbots are being deployed to provide rapid responses, cut down backlogs, and improve efficiencies.
Healthcare providers, for instance, are using chatbots to provide Covid-19 advice and triage patients. Public institutions are deploying chatbots to handle unemployment claims and provide other types of assistance. AI-driven bots are helping improve customer service in various industries, from banking to retail.

The term "chatbot" received renewed media attention amid the pandemic.

According to a survey from Inference Solutions, over 70% of IT decision-makers from multiple sectors say that chatbots have helped their organizations "remain agile during Covid-19." More than a third plan to increase investment in chatbots as a result of the pandemic.
Fintech: Contract review & bill negotiation
From crawling financial documents to simplifying how users manage their money, chatbots are creating more efficient financial technology on both the back and front ends.
Managing money is a complex undertaking. For banks, that complexity is in the form of things like long, dense loan agreements and derivatives; for consumers, it's in budgets, bank accounts, credit card statements, and subscriptions. Chatbots can help users keep track of their debts and liabilities.
On the personal finance side, the most successful implementations of chatbots have focused on fairly routine information retrieval and management tasks — like checking a balance or canceling a subscription — that can be made more efficient through chat.
On the corporate side, chatbots are helping to automate highly time-consuming and expensive processes, saving hundreds of thousands of hours and associated costs.
Personal finance: Chatbots to help manage spending
Crafting a simple UX for a personal finance app is a tall order. There are multiple inputs to juggle — bank accounts, credit cards, bills — and complex data that needs to be communicated in a user-friendly way.
Startups and financial institutions have looked to chatbots to help solve the problem, betting that they can create a more intuitive experience for users.
Manually monitoring bank accounts and credit card statements to identify unnecessary spending can be time-consuming, and it's easy for small recurring expenses to go undetected — especially if transactions go through a service like iTunes or Paypal that may conceal how funds are being spent.
Chatbots, however, can continually monitor users' bank statements for recurring monthly expenses and streamline the management process, using simple yes-or-no questions to determine if users want to pay for something each month.
Fintech startup Trim launched its SMS-based chatbot product in 2015. The bot analyzes users' bank statements, then asks plain-language questions about whether they want to cancel any recurring subscriptions, such as Netflix and Dropbox. Trim can then cancel memberships on a user's behalf.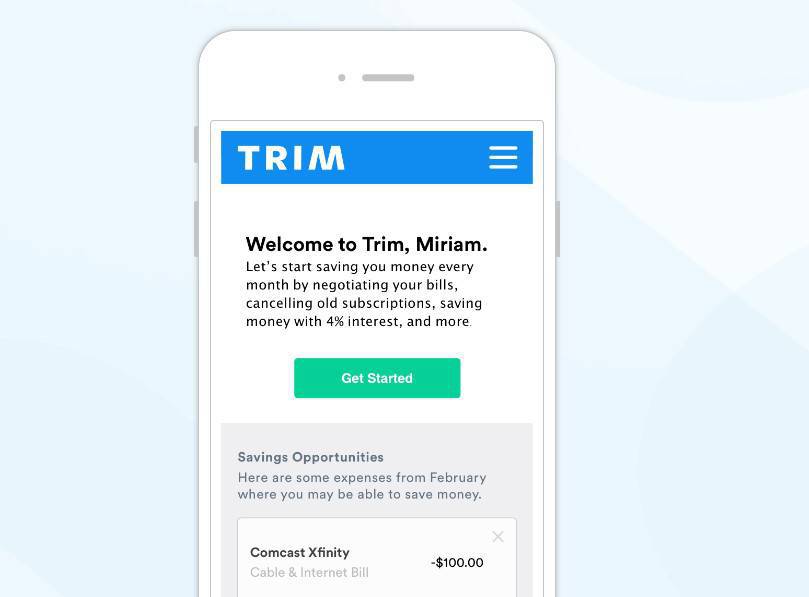 Source: Trim
Bank of America's chatbot, Erica, can help users with tasks like paying down debt and checking account status. Swedbank, Capital One, SEB, and Wells Fargo have all introduced bots for similar purposes. Wells Fargo's iteration can understand and answer questions like "Where is the nearest bank ATM?" and "How much money do I have in my account?"
But not all companies are embracing chatbots for personal finance.
Automated savings app Digit was one of the earliest companies to introduce a chatbot to personal finance. In 2018, however, the company announced that it was redesigning its interface away from the chatbot model, with CEO Ethan Bloch citing the format's inefficiency when helping users find important financial information.
In an article for American Banker, Bloch discussed removing users' bank account balance from the top of the Digit app to encourage users to engage with the chatbot to retrieve that information. The change only added friction for users. Customers quickly pointed out that the change was nonsensical, and Bloch took "full credit for the blunder."
Companies in the personal finance space looking to leverage chatbots in their products should pay close attention to the types of tasks in question. For routine tasks, chatbots can add simplicity and clarity; with any more complexity than that, however, their value can quickly disappear.
Commercial banking: JPMorgan chatbot saves the company 360,000 hours annually
Promising chatbot applications in finance aren't limited to the consumer-facing side. Financial institutions are also exploring how the technology could be used to improve operational efficiency, especially by automating repetitive, routine, and time-intensive tasks.
Interpreting commercial loan agreements is one task that costs banks hundreds of thousands of attorney and loan officer hours. This kind of labor is expensive and, despite requiring high levels of expertise, not invulnerable to errors.
Chatbots allow banks to process loan agreements in a fraction of the time that it would take a human — while eliminating most of the mistakes.
In 2017, JPMorgan launched COiN (short for Contract Intelligence), a bot that uses natural language processing to parse human requests and process commercial loan agreements, reviewing in just a few seconds documents that previously would take a team of human workers hours to interpret.
According to JPMorgan's 2016 annual report, the bot has been trained to "extract 150 relevant attributes" from the commercial credit agreements it analyzes, helping mitigate the 80% of loan servicing errors brought about due to "contract interpretation errors."
The banking giant reported that the software was reviewing about 12,000 contracts per year, saving about 360,000 hours' worth of labor.
"People always talk about this stuff as displacement. I talk about it as freeing people to work on higher-value things, which is why it's such a terrific opportunity for the firm." — Dana Deasy, former CIO at JPMorgan
JPMorgan has said it plans to use similar software to handle even more complex financial filings in the future, including credit-default swaps and custody agreements, as well as to perform more natural language-based tasks like interpreting regulations and analyzing corporate communications.
To make some of these plans a reality, JPMorgan teamed up with Kasisto, a New York-based startup that created conversational AI platform KAI. In June 2018, the bank rolled out its KAI-powered virtual assistant. The chatbot is deployed in a treasury service division and helps JPMorgan's corporate clients navigate the firm's vast online portal. It provides time-saving tips on a range of day-to-day tasks, including determining balances, moving money, and accessing data. The chatbot will eventually be implemented across desktop, mobile, and voice-activated devices.
Companies interested in leveraging chatbots would do well to look beyond consumer-facing applications. Any task that is language-based, highly structured, and time-consuming could benefit from chatbot systematization.
Healthcare: Patient engagement & telemedicine
Healthcare providers today are overburdened and under-resourced, with rural areas especially struggling to provide consistent access to care. At the same time, administration costs account for a third of all US hospital spending — more than $800B in 2017 alone.
Chatbots could help improve healthcare services by streamlining patient engagement and increasing access to care in underserved regions.
For example, chatbots can use natural language processing to process a patient's reported symptoms and return a diagnosis without the patient needing to set foot in a doctor's office. When a patient does come into the doctor's office, a chatbot can collect their basic information at check-in, eliminating the possibility of expensive human error.
They can also follow up with patients after discharge to answer questions, provide aftercare, and even check whether patients are following plans set out by their doctors.
Chatbots leveraging cognitive behavioral therapy (CBT) are even proving useful in providing first-line treatment to people who might not have the time or money to visit a medical professional in person.
All through the medical process, chatbots are helping collect information, educate patients, and emulate the core diagnostic and conversational functions of a regular doctor visit — already bringing better care and accessibility to millions of patients worldwide.
Diagnostics: Chatbots assist with triage and reduce the burden on GPs
One of the biggest bottlenecks in the healthcare industry is physician time. There are only so many doctors, and those doctors can only see so many patients in a day.
However, not all conditions need to be physically assessed by a doctor to be successfully treated. Some healthcare providers are using chatbots as a first line of defense to sort out critical cases from less urgent ones.
Diagnostic chatbots essentially function as a "smart WebMD." Chatbots prompt patients to report their symptoms, and then the bots return potential diagnoses and recommend next steps.
Microsoft has introduced a Healthcare Bot project with the goal of "bringing conversational AI to healthcare." The system uses language recognition and information retrieval, rather than dynamically learning about the patient over time.
Premera Blue Cross and Aurora Health Care are using Microsoft's platform to cut down on calls to medical centers and triage patient symptoms before they have to come into a doctor's office. Quest Diagnostics also uses Microsoft's tech to help patients locate nearby testing centers and connect them with live agents when the bot can't handle an inquiry.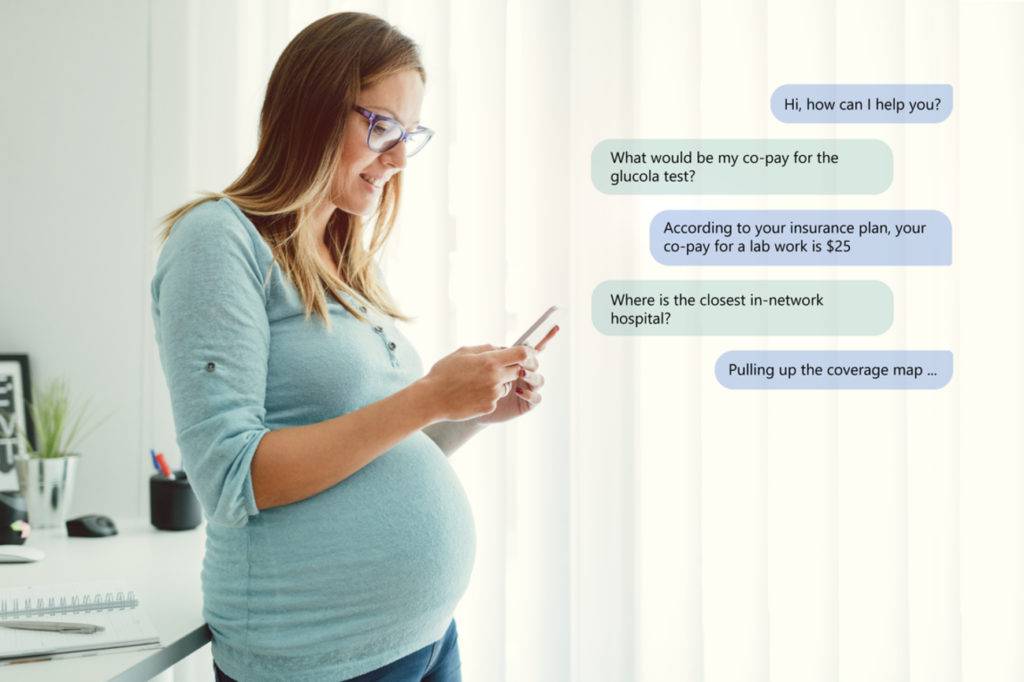 Source: Microsoft
Ada Health, a London- and Berlin-based health startup, raised $47M in 2017 for its NLP-enabled diagnostic chatbot project Ada.
Ada users enter their basic information and symptoms, then answer a few follow-up questions. The bot then provides a few likely diagnoses and, if necessary, instructions to see a doctor in person.
The core process that Ada follows to return a diagnosis is not all that different from visiting a site like WebMD or searching symptoms on Google. But Ada adds value for its roughly 10M users by automatically filtering results by age, gender, medical history, preexisting conditions, and more. Additionally, the bot can use information from previous conversations with patients to inform its diagnoses.
Users can also opt to smoothly transition from their conversation with Ada into a conversation with a doctor for a flat fee of $25. Any medicine prescribed can be delivered to the user's home.
Ada is active in over 130 countries, and the Bill and Melinda Gates Foundation has partnered with the startup to examine how the chatbot could be used to offer care in more remote parts of the world.
Babylon Health, the UK-based health tech company behind the National Health System (NHS) mobile app, released its diagnostic chatbot in 2018. At the time, the company reported that its chatbot AI had scored higher on a clinical exam than the average British GP: the Babylon chatbot correctly diagnosed 81% of patients, compared to an average score of 72% for human doctors.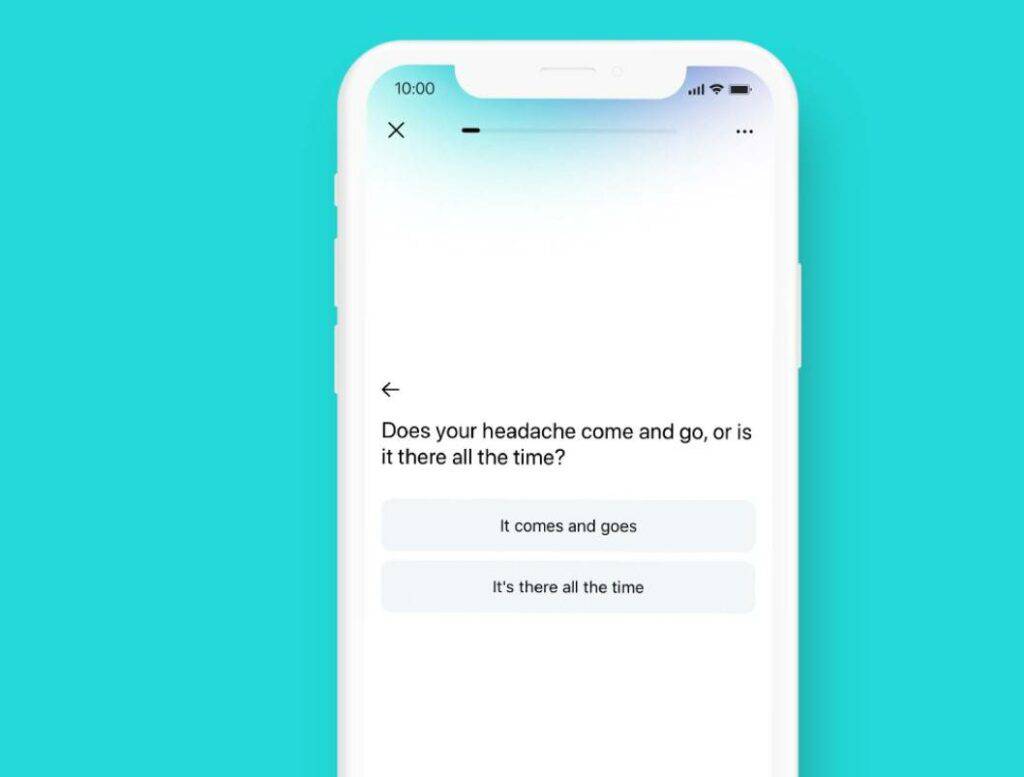 Source: Babylon Health
In addition to its NHS partnership, Babylon has been working with Rwanda's healthcare system since 2016, and counts more than 2M registered users in the country. The goal of this 10-year partnership is to enable every citizen to have an online consultation with a doctor or nurse within minutes. The software will also use an AI-based symptom-checking feature to help medical staff in triaging.
As of August 2019, the Babylon platform covered 4.3M people globally and had completed more than 1.2M digital consultations.
But Babylon chatbot's commercialization has not been entirely smooth. The app has faced criticism for providing potentially inaccurate answers. Additionally, despite its stated purpose of helping people avoid going into the ER, Babylon's chatbot sent 30% of all users to the emergency room — about 10% more than Britain's national health advice line.
Companies looking to optimize care triage and lessen physician workload should be wary of depending too heavily on chatbots to navigate potentially sensitive diagnostic situations. Chatbots are better-suited for handling routine situations where next steps are clear-cut. For serious or more subjective diagnostic situations, referral to a human physician should always be the next step.
Patient engagement: Reducing human intervention without sacrificing patient satisfaction
Data suggests that patient adherence — whether patients successfully follow the treatment plan set out by their doctor — is an ongoing problem in healthcare. As many as 60% of patients with chronic illnesses do not accurately follow their treatment plan, which leads to avoidable hospital readmissions, additional treatment costs, and even preventable death. Studies have placed the annual cost to the US healthcare system of patient non-adherence as high as $300B.
Traditionally, monitoring patient adherence is a labor-intensive process. As a result, healthcare providers are looking to chatbots to reduce the amount of human labor without sacrificing outcomes in the process.
Healthcare chatbot Florence, named after famous nurse Florence Nightingale, operates on Facebook Messenger, Skype, and Kik. The bot can remind patients to take their medication and track basic health information such as body weight, mood, or menstrual cycle to monitor patients' progress toward their goals. Florence can also direct users to the nearest doctor's office or pharmacy.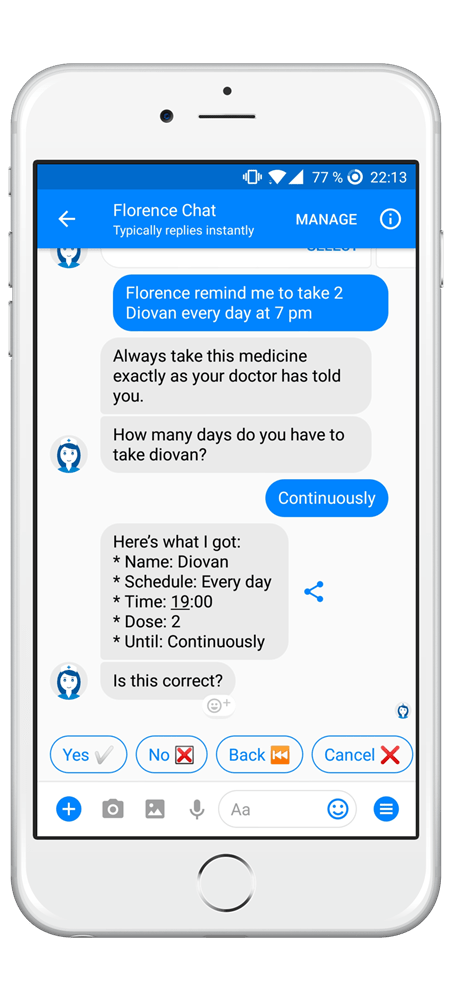 Source: Florence
Nonprofit healthcare provider Northwell Health has also begun implementing chatbots as a means to improve patient engagement and adherence.
Available in English and Spanish, Northwell's bot prompts users with conversations about general discharge issues and specific conditions. For example, someone discharged from the hospital with a heart issue might receive follow-up questions from the bot about their weight.
Northwell is also using the chatbot to reduce no-shows for colonoscopy appointments. The health system hopes that animated videos and other types of educational content will help patients understand why the procedure is important and potentially lifesaving.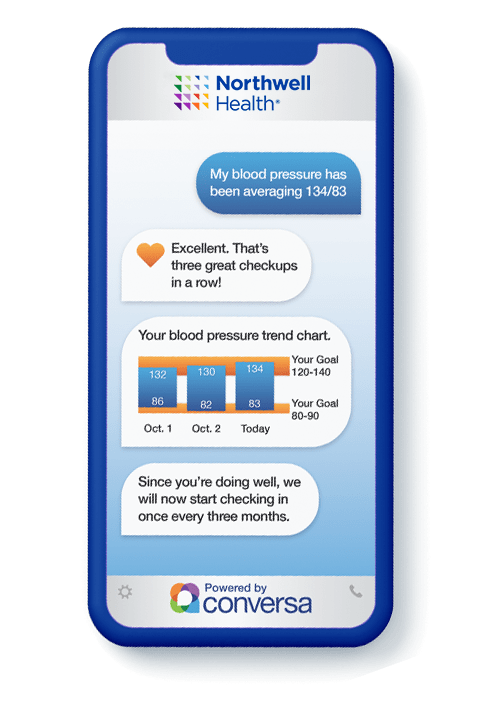 Source: Conversa Health
While skeptics have voiced concern that reduced human interaction could negatively impact the quality of care, reception by patients to date has been positive: 96% of all patients who used a post-discharge care management chatbot after leaving a Northwell Health treatment facility found the conversation useful.
For healthcare providers overwhelmed by logistics and administrative tasks, chatbots can be a valuable tool for freeing up harried professionals' time — and assuring patients that their needs will be addressed, even when a human specialist is not immediately available.
Mental health: How CBT chatbots help patients reframe negative thoughts
Approximately 1 in 5 Americans lives with some form of mental illness, according to the National Institute of Mental Health.
For chatbot creators, the mental health space has proven to be just as amenable as physical health when it comes to expanding access, reducing labor costs, and improving outcomes.
Part of what makes mental healthcare appropriate for chatbot experiments is the fact that therapy is an inherently verbal process — especially cognitive behavioral therapy (CBT), the most popular and extensively researched form of therapy.
CBT's goal is to teach patients to recognize negative thought patterns (aka "cognitive distortions") and then reframe their thoughts in a less harmful, more productive manner. Chatbots can be useful here because they can use natural language processing to recognize certain kinds of distortions and prompt users to rethink them.
One example is Woebot, which launched in 2015. Woebot asks users how they are feeling and analyzes their responses to recognize examples of cognitive distortions. The bot then coaches the user on how to shift their perspective following a pre-designed decision tree that determines the correct response to user input.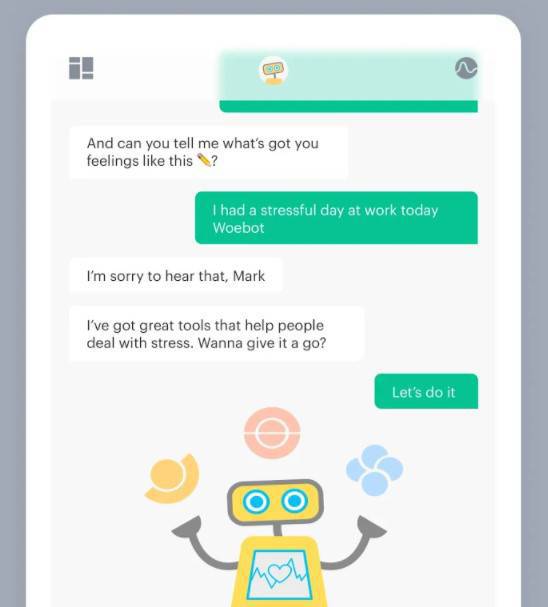 Source: Woebot
Woebot was founded by a team of Stanford researchers. Prior to launching the service, founder Alison Darcy published the results of a study featuring an early iteration of the tool in the Journal of Medical Internet Research, Mental Health. The study, which followed 70 college students with reported symptoms of depression for 2 weeks, found that the participants assigned to chat with Woebot saw a significant reduction in depressive symptoms compared with participants who read an e-book on CBT instead. According to Dr. Darcy,
"[Participants] said Woebot felt much more like a friend rather than an app or a technology."
Another mental health chatbot, Wysa, also incorporates principles of CBT, but with an added focus on mindfulness and meditation. The app provides a "toolkit" of exercises designed for purposes like focusing while overwhelmed, managing conflict, and relaxation.
Wysa "learns" from its interactions with a user to recommend certain tools; however, Wysa's website stresses that the bot is "restricted in the means of response" and that its "intended usage is as an early intervention tool," not as a replacement for in-person therapy.
Early clinical research suggests chatbot technology could have an important role to play in treating mental health issues, although further evidence on the issue is required.
Chatbots can support users on their own schedule, not their provider's. That's a significant value-add in an area where so much of the work happens during the patient's everyday life, outside of the therapist's office.
But mental health chatbots are most effective as an accountability tool, reminding users to apply the mental health strategies they have learned. The primary analysis, diagnosis, and education is still best undertaken by a trained mental health professional.
Covid-19 response: Chatbots disseminate information, triage patients, and track outbreaks
Throughout Covid-19, hospitals have been on the front line of response. They deal with a huge influx of patients and inquiries and need technologies that save time without sacrificing proper patient care. Health-oriented chatbots have proved effective here.
In 2019, Sutter Health, a California-based nonprofit health system, teamed up with Ada Health to develop a symptom-checker chatbot. Using curated medical data that accounts for a patient's risk factors and current symptoms, the bot assesses whether a person needs to visit a hospital.
Use of the chatbot has almost tripled during the Covid-19 pandemic. Dr. Albert Chan, a VP at Sutter, said that the AI-powered bot is "the equivalent of having 60 doctors in your pocket to provide answers — 24 hours a day, seven days a week."
Providence Health & Services, a healthcare provider in Washington state, is also taking advantage of AI technologies. Its bot, called Grace, prompts users to answer a number of questions about any Covid-19 symptoms, recent travel, and contact with people who've tested positive. The app then suggests whether a person needs testing and can schedule a virtual visit with a doctor. Around 200,000 people used the Grace chatbot during March and April 2020 alone, allowing medical practitioners to devote more time to patients with life-threatening symptoms.
The Mayo Clinic has introduced app-based triaging systems into some of its facilities. Visitors will be able to use tablet computers in select hospitals to specify their symptoms and receive instructions on what to do next. However, the software, developed by health tech startup Diagnostic Robotics, isn't intended for automating life-threatening events. Patients with diabetes, for instance, can use the app to arrange urine tests, but those experiencing severe pain will be taken care of by staff.
Chatbots have also been used to track Covid-19 outbreaks. The University of Rochester's Health Lab has built a bot, called Dr. Chatbot, that not only triages patients but asks them to report symptoms regularly. This data is used to pinpoint ZIP codes in Monroe County in which the disease is progressing. Authorities then don't have to close the entire region if infections skyrocket, but can instead focus on specific areas.
Source: ROC Covid-19
Sales & CRM: Qualifying leads and answering questions
In the world of software-as-a-service (SaaS), chat has quickly become one of the primary ways to interface with a company's website. In mid-2020, nearly half of respondents to a Drift and Heinz Marketing survey reported using a site's chat feature in order to communicate with a company in the last 12 months.
As customers grow more comfortable with chatbots, enterprises are investing in chat as a sales and customer management tool to help triage customer problems, move users in and out of the sales funnel, and offer a more personalized experience to select customers.
Going beyond rudimentary chatbot functions, bots at the cutting edge of sales and CRM are starting to perform complex tasks — bringing revenue and productivity gains in the process.
Sales: Automatic lead qualification makes reps more efficient
Businesses that rely on inbound marketing for new customers are likely to have some form of lead qualification effort — it can be costly for sales reps to spend time on calls with people who aren't a good fit for the product they're selling.
Complicating this effort, some SaaS companies find that people end up in their sales funnels who are actually current customers just looking for an answer to a question.
Chatbots in the sales industry today are designed to help solve these challenges by separating real prospects from customers looking for help, as well as helping sales reps deal with potential customers more efficiently.
For example, Intercom's Operator chatbot asks site visitors if they're an existing customer to help direct them to different teams in the company.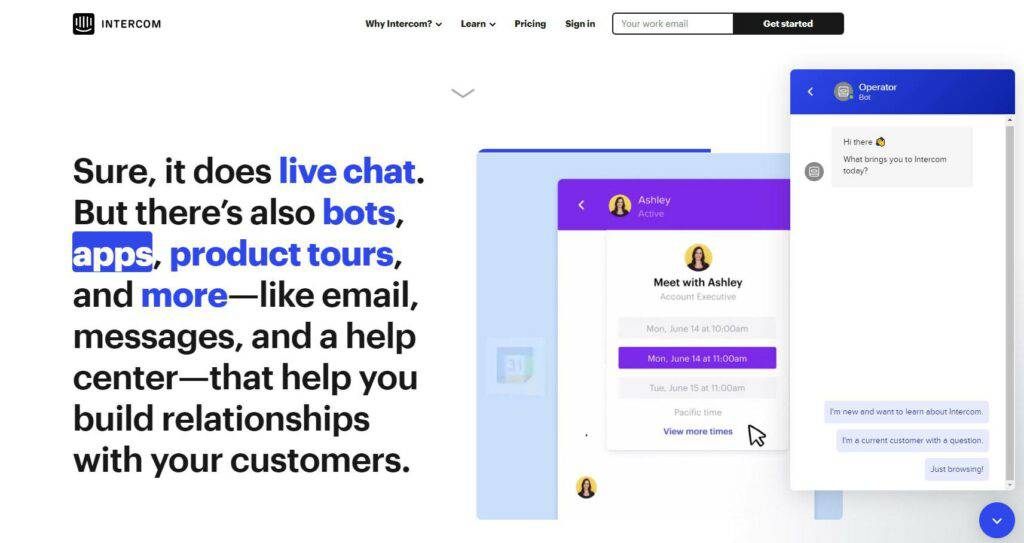 Source: Intercom
Implementing this single question for new visitors to the Intercom site led to "significant time savings" for Intercom's SDRs, according to the company.
"That might seem like a simple little step, but it dramatically changed our sales team inboxes — more than two-thirds of anonymous leads answered the [initial] question, and about half were existing customers. Needless to say, they weren't looking to talk to the sales team, meaning a dramatic drop in the number of conversations we were having to engage in." — Sebastian McKenna Long, account executive at Intercom
In short, chatbots are being used to automate relatively simple but time-consuming tasks like capturing leads' details and asking qualifying questions. This can help free up human workers' time for more complex tasks, such as understanding customer pain points and building relationships.
Customer service: Making complex websites easier to navigate
Websites today are bigger and more organizationally complex than ever.
The median size of a single page on a desktop website is about 2,000 KB, a 4x increase from 2011, according to HTTP Archive.
Source: HTTP Archive
When asked about the most frustrating parts of an online experience, one of the most popular responses from consumers is that it's too difficult to find simple answers.
Ideally, websites should help customers answer questions themselves. In reality, 90% of the calls placed to any given company's contact center reportedly come after a visit to that company's website, according to TechCrunch.
Chatbots could help address this by offering quick and automated customer service.
Globe Telecom, a Philippines-based telecommunications company, says that building a customer service chatbot reduced the overall amount of calls being made into its call center by half, cut call center costs by 10%, and helped enable a 3.5x increase in employee productivity.
In addition to lowering costs and raising productivity, chatbots can improve customer satisfaction. Globe Telecom's chatbot resulted in a customer satisfaction rate that was 22% higher than that of its call center, while Dutch airline KLM found that its service chatbot got a higher Net Promoter Score — an index for gauging customer loyalty — than typical channels.
Companies using chatbots vary in their approaches to supplementing them with humans. KLM reports that its chatbot software is trained to answer 60,000+ different questions, though a human agent still checks each response.
Intercom's Resolution Bot, on the other hand, uses AI to draw from the company's existing FAQ database to answer about 33% of common questions, with no humans involved.
Companies interested in chatbots as a sales and CRM tool will need to evaluate how their available data — such as help center documentation, FAQs, customer feedback on responses, and more — can support a bot as a customer service medium. They will also have to consider to what degree chatbot responses should be monitored by humans.
E-commerce & retail: Optimizing the customer journey
E-commerce sales have surged in recent years, as retailers increasingly digitize operations and as disruptive direct-to-consumer business models change how people shop. Furthermore, amid Covid-19, a significant portion of shopping has moved online, in turn spurring transformation across the retail value chain.
But e-commerce is not without its own unique set of challenges. Barriers to higher sales and happier customers include cumbersome site design and unwieldy product catalogs, not to mention the loss of the fitting room as a way to try something on before buying.
Now, chatbots are emerging across e-commerce and retail to help keep online shoppers engaged and drive them toward brick-and-mortar channels.
Commerce: Convenient browsing & personalized shopping
One issue for many e-commerce retailers is that user experience challenges can make online shopping a frustrating experience. Confusing layouts, intrusive autoplay videos, distracting ad carousels, and a lack of accurate search capabilities can be a turn-off for would-be shoppers.
Chatbots may be able to help. Acting as a virtual store concierge, they can answer customers' questions and direct them toward relevant products. Shopping via chatbots is already becoming a more common occurrence, especially for younger consumers.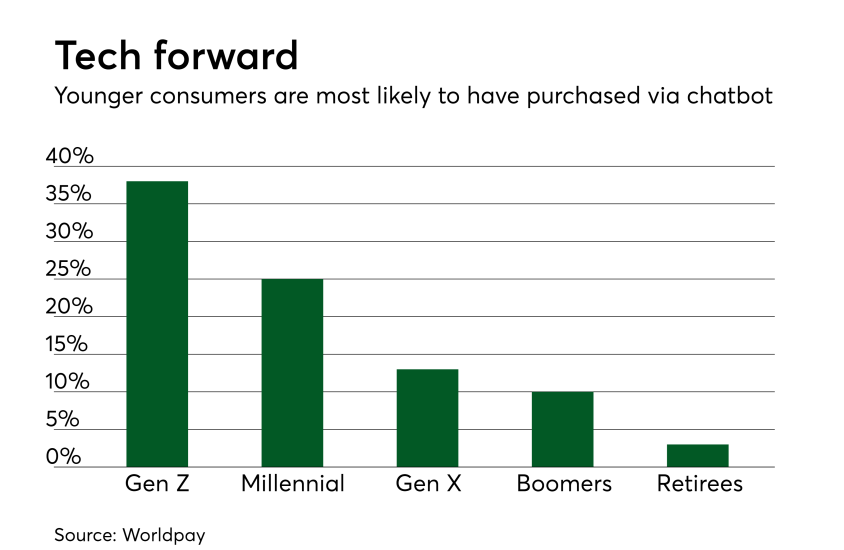 Source: Worldpay via PaymentsSource
Gifts: Increasing conversions by helping customers find gifts faster
Holiday gift-giving is the most stressful financial activity for 3 in 5 Americans, according to a survey from Marcus by Goldman Sachs.
Compounding the difficulty of choosing the right gift is the challenge of navigating the goods available on many e-commerce sites. (Recall that hard-to-navigate sites are a top frustration reported by consumers.)
Retailers often have a huge product catalog to present, and making that information easily searchable is a difficult task. For example, click the "Theme" option on the LEGO site, and you're met with 40 different styles of LEGO products to choose from.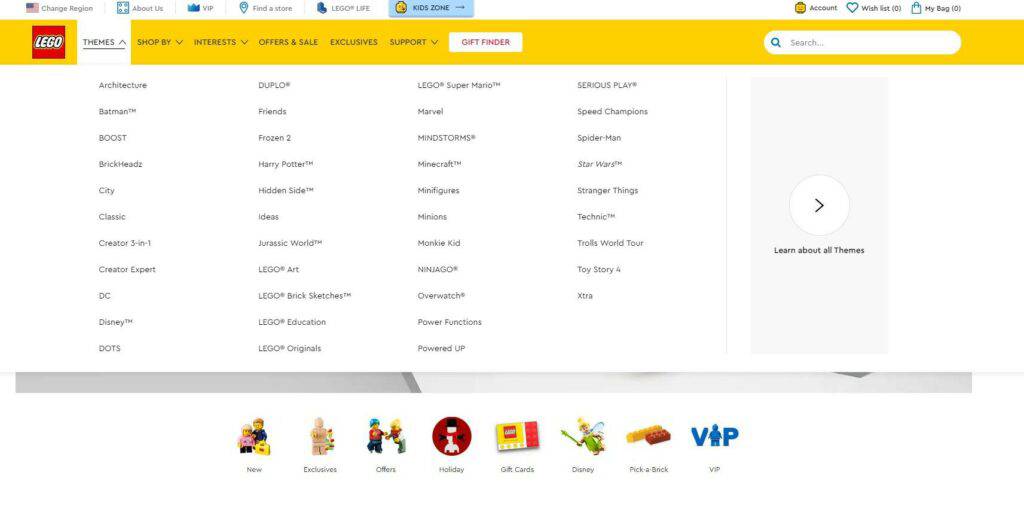 Source: LEGO
Aware of this pain point, LEGO turned to a Messenger chatbot.
The goal of the chatbot was to shepherd shoppers through LEGO's extensive catalog of products — the company says it has produced 3,700 different varieties of LEGO brick — and recommend gifts that fit the recipient's age and personality as well as the buyer's budget.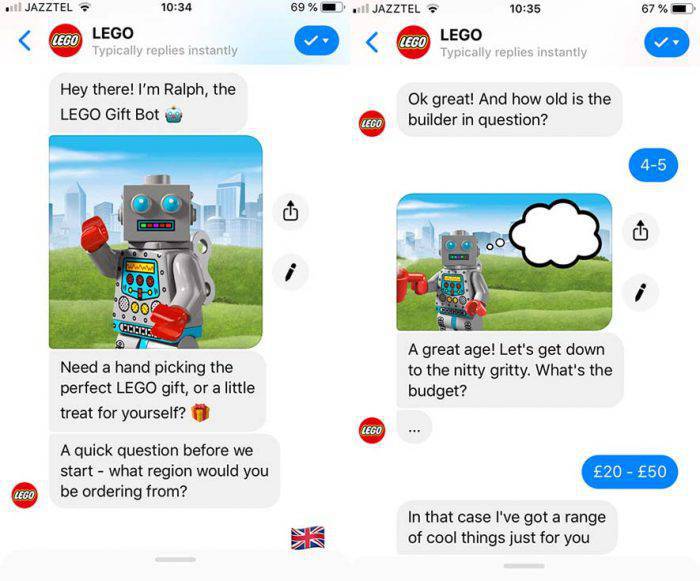 Source: Landbot
Rolled out during the 2017 Christmas season, LEGO's Ralph bot is now available year-round. After asking a series of predetermined questions about personality, age, and budget, Ralph presents users with a link to buy a recommended product.
Ralph is available in several countries, including the US, the UK, and Germany. By using the chatbot and Facebook's click-to-Messenger ads, LEGO reported a 6x return on ad spend and 31% lower cost per conversion.
The Messenger bot didn't just help LEGO sell more products — personalizing the shopping process helped it sell more expensive products and drive more revenue.
In an era where curation and customization are defining features of the shopping experience, and where retailers are carrying more products than ever before, chatbots can be a powerful tool for adding a more personalized touch to the consumer experience — and for converting that customer-centricity into sales.
Customer journey: Using Messenger to drive people back to brick-and-mortar
The "retail apocalypse" of the last several years has continued through 2020, with JCPenney, GNC, Century 21, and others shutting down operations. The problems that store owners around the US are facing — decreased foot traffic, higher debt, inefficient operations — are becoming existential threats for more and more retailers.
Nevertheless, almost 90% of retail sales still happen offline, according to Statista, making brick-and-mortar a key priority for many retailers.
One company that has actually expanded its brick-and-mortar footprint over the last few years is Sephora. A reason for the success is that the company uses online offerings to supplement its in-store experience — including using chatbots to help customers find new products and lure them back into the store.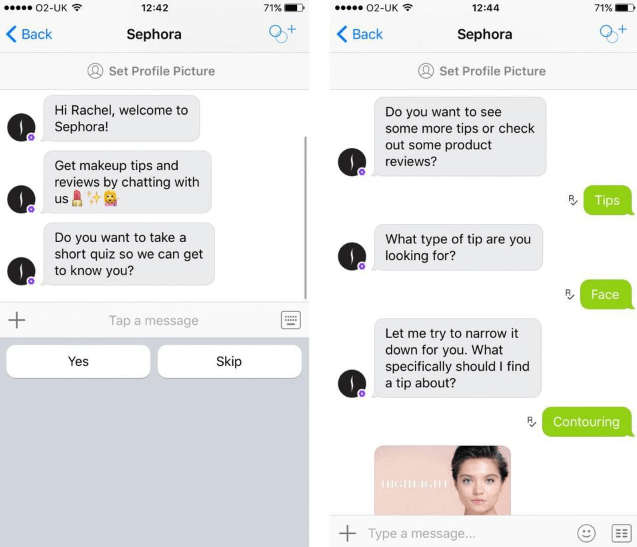 Source: Forbes
Sephora was one of the first retailers to use a chatbot as part of its e-commerce strategy. Sephora Assistant, which launched in November 2016, was built to get more customers into stores by making it easier for them to book a makeover. Through the conversational interface, customers can set up an appointment with their local Sephora store in just 3 steps — five fewer steps than booking through Sephora's app.
Within a year of launching, the company's conversion rate on in-store bookings through the chatbot increased by 11%. Additionally, Sephora saw in-store spend increase, with customers who booked appointments through Sephora Assistant spending over $50 in store on average.
The Sephora Assistant chatbot has since evolved to provide users with personalized product recommendations for their skin tone to look up product reviews.
Ultimately, the Sephora Assistant chatbot aims to be a bridge between product marketing and in-store shopping, helping customers identify the products they want and then encouraging them to make in-store purchases as well. This progression — from in-app curation to in-store purchase — underscores the opportunity for retailers to explore additional use cases for chatbots.
Personalized shopping: How an on-page concierge helps Levi's sell more jeans
Buying a good pair of jeans can be tough. Sizes and fit aren't consistent between brands, and shoppers have a huge variety of jean types to choose from.
For many consumers, the jean shopping experience could be improved by increased personalization — a function well-suited for chatbots.
Levi's was well-positioned to introduce a jeans-buying chatbot, given its coded system for identifying specific details about how a pair fits.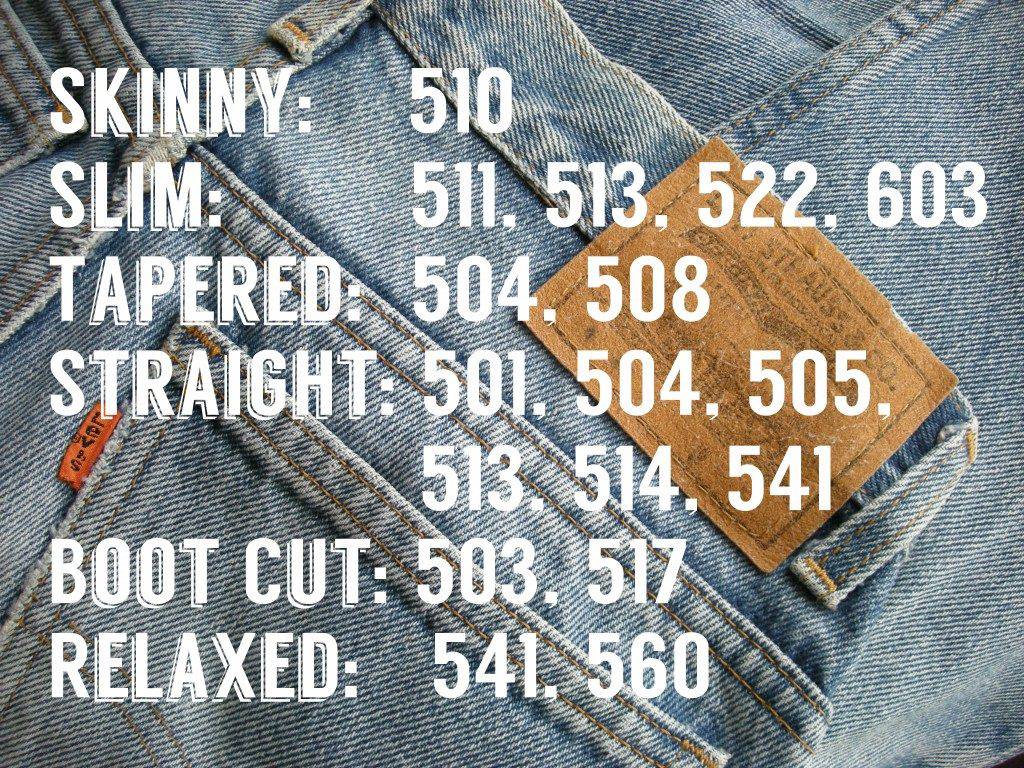 Source: Bellatory
While organizing jeans into numbered codes has helped Levi's build a more extensive catalog that can cater to a range of body types and preferences, it has also made it more difficult for online shoppers to choose what to buy.
Levi's chatbot, Ask Indigo, helps customers sort through its catalog using simple language. Brady Stewart, SVP and managing director of US D2C operations, has said,
"We have over 20,000 denim [SKUs] on our site, so we need to give our consumer some guidance so they don't get lost in that sea of denim."
To help customers find a suitable pair of jeans, Levi's chatbot asks simple questions like "How do you want your jeans to fit through the hip and the thigh?" and then uses shoppers' answers to recommend jeans that match their preferences.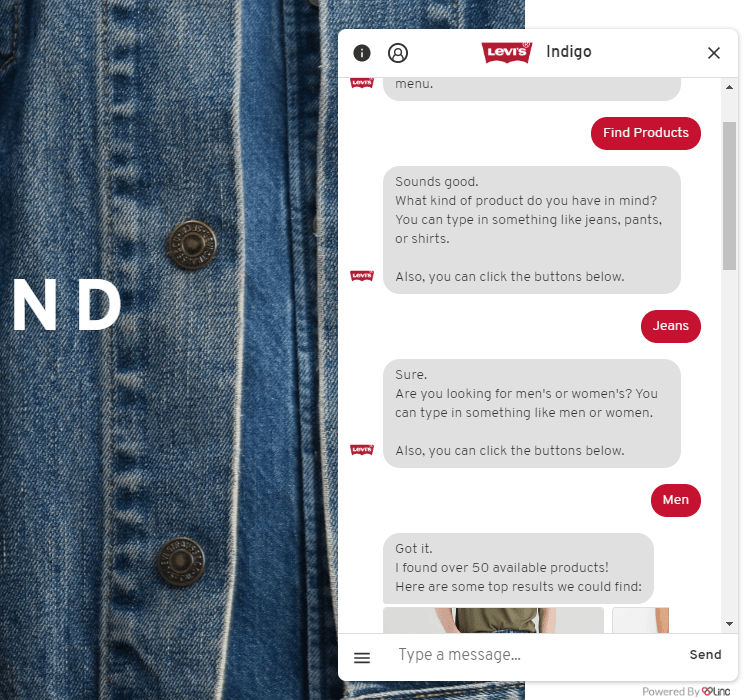 Source: Levi's
Originally developed by Mode.ai for Messenger, Levi's removed the chatbot from Facebook in 2017 and placed it on its own site instead. The chatbot was relaunched on Facebook Messenger in 2019, along with the release of a voice-enabled Levi's Assistant on Google Home and Amazon Alexa.
So far, the results of Levi's on-page chatbot experiment have been positive — in 2018, Brady Stewart said customers who use the chatbot are up to 80% more likely to make a purchase.
Levi's bot is another example of the power of chatbots as a personalization and curation tool. Customers are more likely to buy when they can find exactly what they're looking for, and a chatbot can guide them there directly.
Law: Automating small claims and powering research
Like finance and healthcare, the legal system is complex and difficult for many people to understand — but it is also guided by a set of clear, well-documented rules.
Whether you're a lawyer researching legal precedents for some obscure offense, or a layperson trying to figure out how to contest a traffic ticket, navigating legal documents and procedures can be time-consuming and expensive.
Enter chatbots. The highly structured, routinized nature of legal tasks and documents makes them particularly suited to the chatbot value proposition: chatbots can parse digitized documents, such as court filings and judgments, and extract relevant information in a fraction of the time it would take a human associate or paralegal.
Research: 'Robot lawyer' CARA aims to reduce research time
One example of chatbot technology in the legal sphere is the AI-driven "robot lawyer" CARA, developed by tech startup Casetext. Powered by advanced algorithms, CARA answers queries from human lawyers doing research for cases.
Lawyers spend up to 35% of their time doing legal research. They typically use keyword-driven search to find cases that are relevant to the specific litigation, but doing so tends to prioritize only the most popular or cited cases — not necessarily those most relevant to the case at hand.
CARA allows users to first upload a brief, complaint, or other document using a chatbot. The chatbot then learns about the subject matter of provided files and goes through Casetext's database, providing relevant cases, briefs, statutes, and more. Search results are ranked by their similarity to the jurisdiction, facts, and legal issues mentioned in the uploaded documents.
Lawyers who use Casetext's chatbot conduct research 25% faster than those using keyword-driven research systems. Furthermore, the results are 21% more relevant on average.
Kevin Burke, former president of the American Judges Association, has said,
"In a perfect world, litigants would cite to all relevant case law in their briefs. In the real world, litigants often do not. CARA can help judges and their clerks quickly find important case law that the parties may have overlooked."
Similar to JPMorgan's COiN system in finance, CARA demonstrates how the utility of chatbots extends beyond customer-facing applications.
Small claims: Reducing headaches & improving access
Lawyers are not the only ones who could potentially gain from chatbot adoption in the legal sphere: consumers could also benefit, as the technology could help streamline more routine legal interactions, reducing the time and cost for consumers as well as law professionals.
For example, while contesting a parking ticket may be a relatively routine legal procedure, it is mired in enough bureaucracy to make the process intimidating for many people. The process can require navigating communication with the relevant court, assembling paperwork, and pleading a case to the judge, among other steps.
DoNotPay, a free app for contesting parking tickets, among other legal actions, aims to make this process much simpler. Its chatbot guides a user through a series of pre-programmed human language questions — e.g. "Were you parked illegally because of a medical emergency?" — and uses answers to determine whether the user is eligible to contest their ticket.
The app can offer suggestions and help collect evidence, such as a lack of clarity on the street parking signs or an illegible ticket. It then automatically goes through the process of submitting a ticket contestation.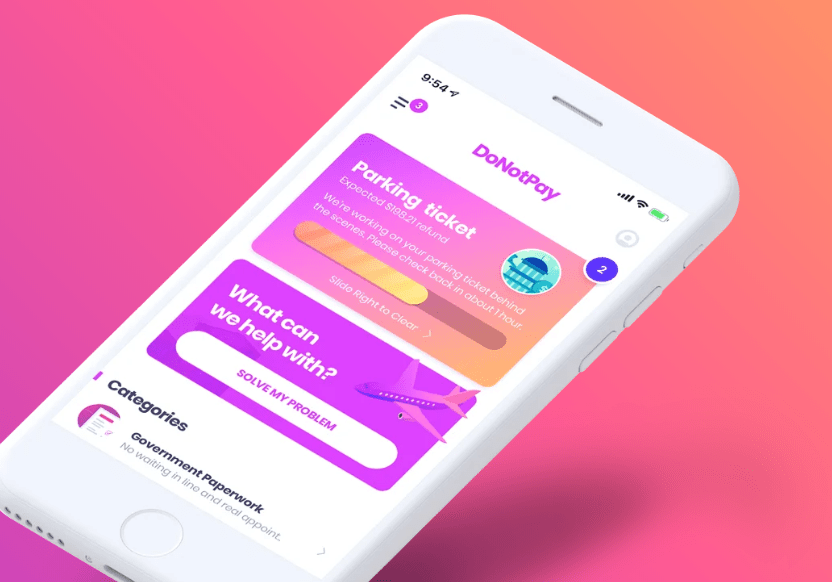 Source: DoNotPay
As of February 2020, DoNotPay claims to have saved over 500,000 people a combined $20M on parking tickets, bank account fees, data breaches, and other instances.
DoNotPay's ambitions extend to various legal actions. The app's website states that the platform can cover small claims, customer service issues, and government paperwork, among other areas. To fuel its growth, the company raised $12M in Series A funding at a $63M valuation in June 2020.
Some proponents believe that legal chatbot technology could help ease the load on the court system, which is frequently overburdened and under-resourced.
According to Roland Vogl, executive director of the Stanford Program in Law, Science, and Technology, "We'll see cases that get navigated through an artificially intelligent computer system… lawyers will only get involved when it's really necessary."
Chatbots' ability to help automate otherwise tedious and time-intensive tasks is one of the technology's key value propositions. Law has more of those types of tasks than most disciplines, providing opportunities to leverage chatbots to increase efficiency. But firms should be cautious about expecting chatbots to do too much, too quickly — in many cases, human perspective and education are still essential.
Government: Bolstering Covid-19 response & handling requests
The Covid-19 pandemic has put government and municipal organizations under huge pressure: citizens need personalized and up-to-date medical information on the spread of the virus and its symptoms, while overwhelmed and understaffed hospitals are desperate for support. Amid these challenges, the public sector must continue providing unemployment support and other types of assistance.
Chatbots have been a logical choice for tackling many of these issues. Governments are using the AI-powered tech to disseminate information in a cost-effective way and enable millions of citizens to check their symptoms by answering pre-programmed questions. By handling simpler inquiries, chatbots are also freeing up time for officials to deal with more complex tasks.
Over 1,000 Covid-19-specific chatbots have been built using Microsoft's chatbot creation program. As these bots handle sensitive problems, however, authorities don't want AI to go off script and provide unauthorized advice. For this reason, many of these bots are relatively simple in design and follow uncomplicated scripts.
Disseminating information: Chatbots deliver personalized medical information
Providing facts and debunking myths surrounding Covid-19 is an ongoing challenge. Chatbots are helping authorities and private companies alike to counter this threat.
Conversational AI platform Amplify.ai, for instance, has partnered with Google to build a chatbot for the Indian government. Hosted in Google Maps and search results pages, the bot provides Covid-19-related medical information and helps people find nearby food and shelter locations. The startup is working with US municipalities on similar projects.
The UK government has also used a chatbot to communicate with citizens. The chatbot is accessed through WhatsApp by sending the message "hi" to a designated number, to which it responds with a number of options for finding verified health information.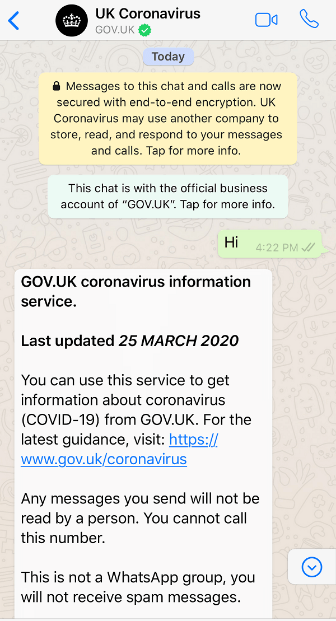 Source: Voicebot.ai
The government regularly updates the chatbot with new information. Citizens can also subscribe to receive updates about the pandemic.
Triaging patients: Reducing the burden on healthcare institutions
Throughout the Covid-19 pandemic, the need to test anyone with cold- or flu-like symptoms has created huge bottlenecks for testing centers. These can be reduced by using chatbots to triage potential coronavirus patients digitally.
The Centers for Disease Control and Prevention (CDC) has turned to Microsoft's AI technology to build a chatbot called Clara. The program asks a series of questions to assess symptoms and provide citizens with information.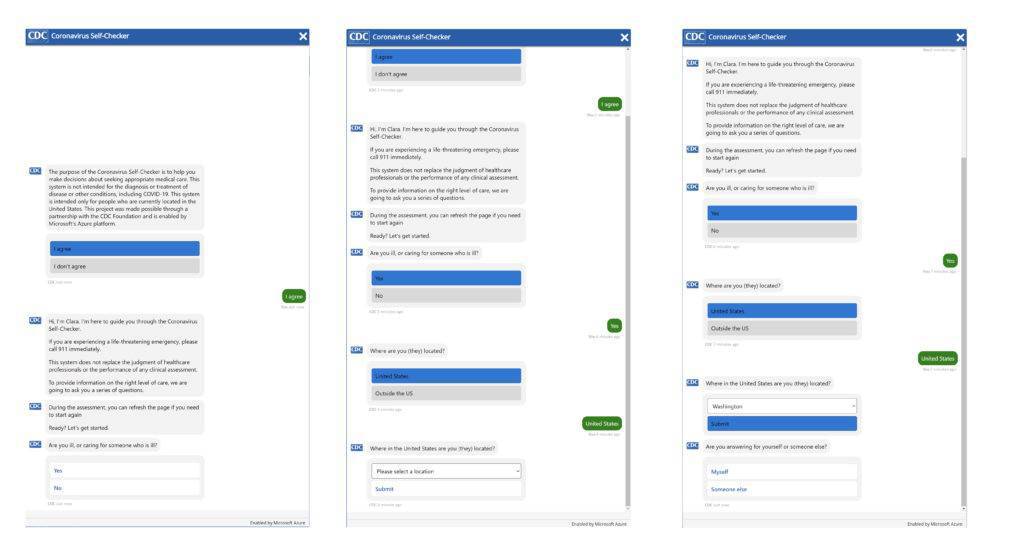 Source: Adweek
Microsoft Azure's Healthcare Bot service, which underlies Clara and many other chatbots, is being used not only by public agencies but also by hospitals across the US. It converses with patients and can be integrated with medical records. Microsoft has said that the idea behind this technology was to "free up doctors, nurses, administrators and other healthcare professionals to provide critical care to those who need it."
To help customers deploy chatbots faster, Microsoft has developed several response templates, including risk assessment, clinical triage, answers to frequently asked questions, and worldwide metrics. The tech giant claims its Healthcare Bot is processing around 1M messages per day.
Handling general requests: Serving citizens and businesses across multiple channels
The pandemic has forced many people to engage with authorities more than usual. Apart from inquiring about testing and other health concerns, citizens may also have questions about unemployment insurance and other types of assistance. In response, many counties in the US have turned to chatbots to deal with the influx of non-Covid-19-related questions.
Citizens in Placer County in California, for instance, can use a chatbot called Ask Placer. The program answers 375+ questions that range from building permits to rental parking. The bot is integrated with Google Assistant and Amazon Alexa, meaning residents can interact with it through smart speakers.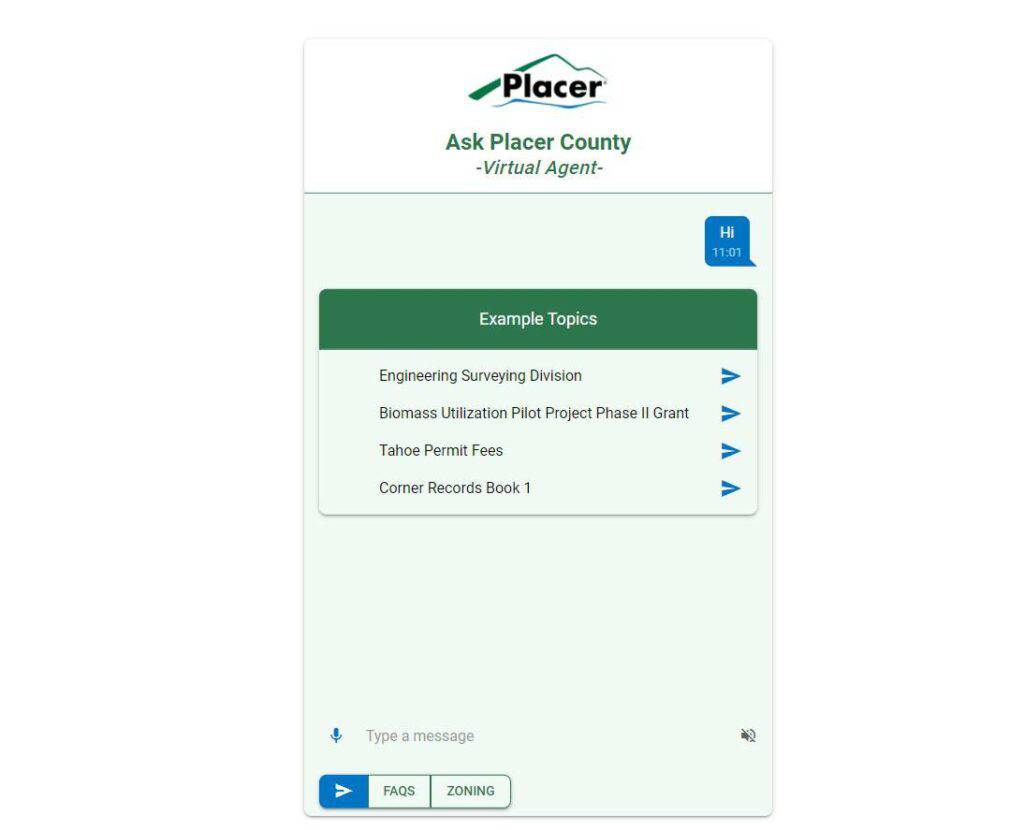 Source: County of Placer
Cabarrus County in North Carolina has implemented a chatbot that uses content management services to pull information from other systems. Washington County in Arkansas is developing a chatbot that works primarily with texting, while San Joaquin County in California is creating a trilingual bot.
Education: Improving student engagement & enrollment
Educational institutions around the world face myriad challenges. For one, students are eager to use digital learning technologies (DLTs), but educators often find it hard to navigate these shifting solutions. Further, when students drop out, institutions lose out on revenue. Around 36M US citizens have course credits but no degree, and the Covid-19 pandemic has only worsened this problem as many people lose sources of income.
The pandemic has also forced many universities to move classes online. New teaching and learning environments mean that students may need 24/7 support and quick answers to various questions. As teachers and administrators deal with these and other challenges, the chatbot is emerging as a valuable tool that is likely to stay relevant even after the pandemic subsides.
Helping students: Personalized lessons when users need it the most
Students are no strangers to tech-enhanced learning. Gallup reports that 89% of US students (from third to twelfth grade) use DLTs several times a week, while most college students believe that DLTs help them get better grades. Fortunately, there's no shortage of DLTs to choose from.
AI-enabled chatbots, in particular, are being employed to increase student engagement, while also doubling as a teacher's virtual assistant.
For example, Botsify is an educational chatbot that students can access through websites, Messenger, WhatsApp, and SMS. It delivers lessons in different formats and uses a conversational style to help students stay engaged. The chatbot  personalizes learning lessons based on student performance and can also give pop quizzes, with results being sent back to teachers.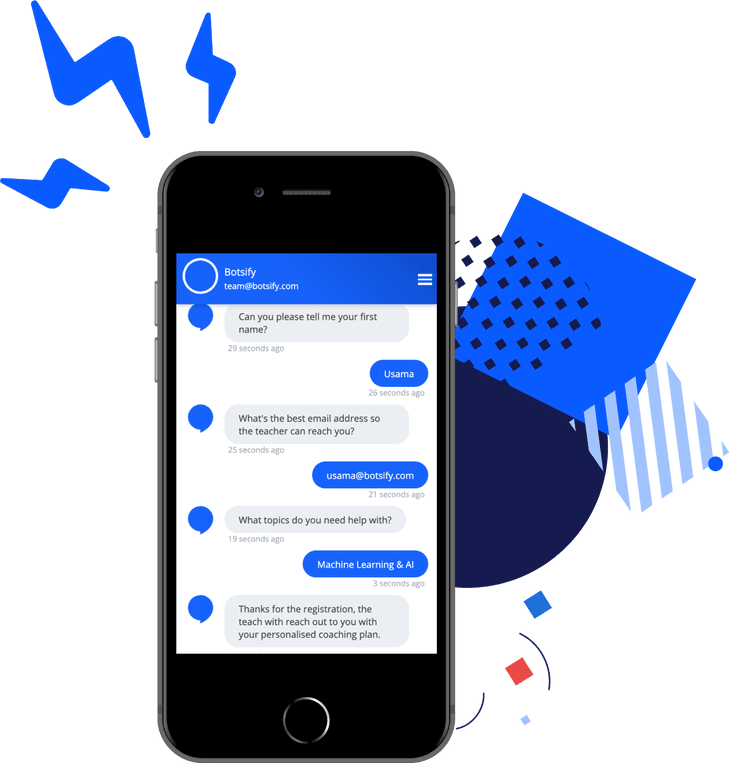 Source: Botsify
Botsify can also be used to create enrollment forms and answer various questions from students. Teachers can track and analyze interactions to gain further insights.
Helping administrators and teachers: Fast answers delivered to students across multiple channels
Chatbots are evolving into virtual assistants that handle a range of student queries. AI-driven bots can provide immediate support, which makes them a helpful addition to often overwhelmed student affairs offices.
Ivy.ai, a higher education chatbot provider, initially focused on building department-specific bots, but the downsides of this approach became obvious. "Around 35 percent to 40 percent of the questions students ask a departmental chatbot are actually the domain of another department," according to CEO and co-founder Mark McNasby.
Ivy.ai is now developing bots that can be used to get answers from multiple departments, such as career services or HR. Students can engage the bot through multiple channels, from email to Messenger to texts.
AI company AdmitHub is also developing similar technology. Its chatbot is trained to cover 6,500 topics, which means universities can use it to remind students to register for class, answer enrollment inquiries, manage alumni relations, and more. Instead of a web interface, AdmitHub primarily communicates with students over text.
Universidad Siglo 21, an Argentina-based university, has seen success with its use of AgentBot, which is built by conversational AI company Aivo. The bot handles hundreds of student inquiries every day, escalating complex ones to university staff.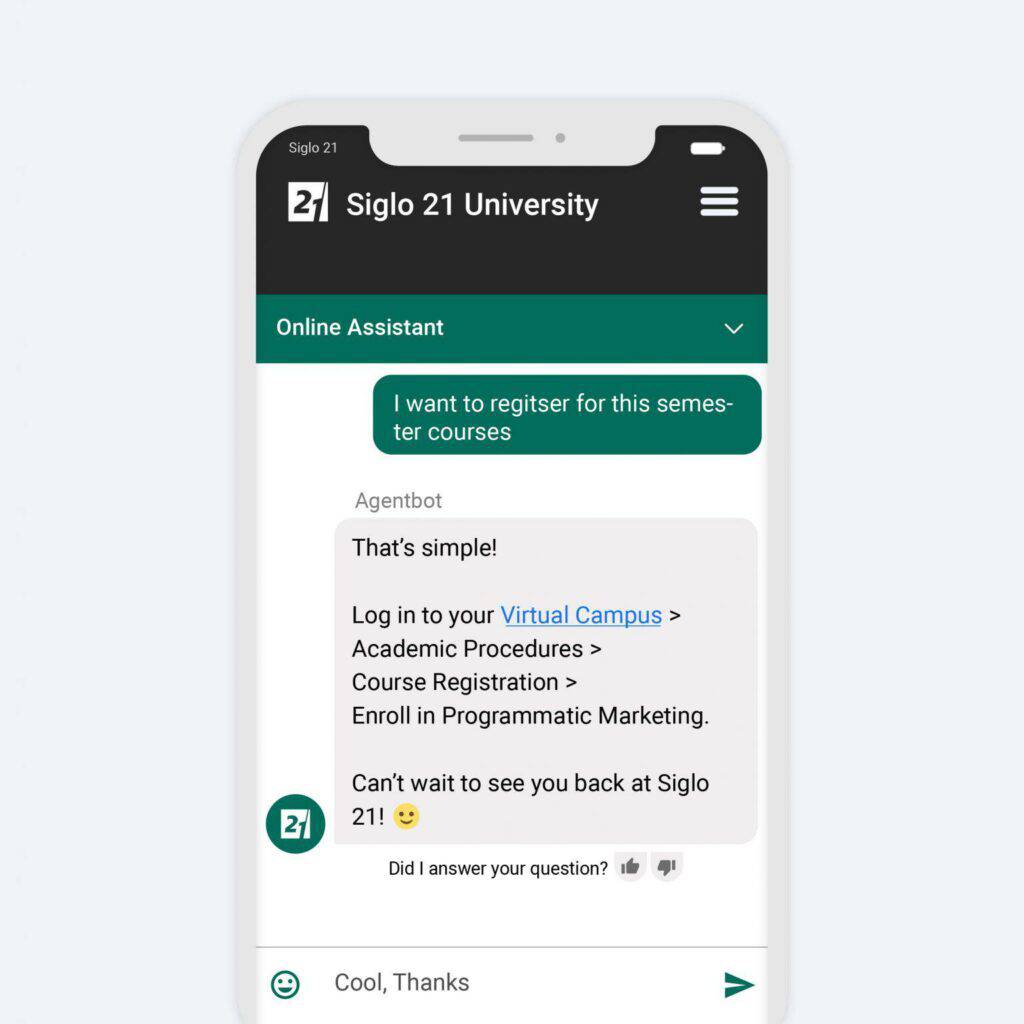 Source: Aivo
A team at the university regularly evaluates how satisfied students are with this service. Users can talk with the chatbot across different channels, including Facebook Messenger.
Teachers could also benefit from the use of virtual assistants. SnatchBot, a bot-building platform, enables teachers to automate repetitive tasks. The bot can answer queries regarding deadlines, course modules, assignments, lesson plans, and other issues. Plus, it can create educator evaluations and help teachers keep up with new assessment models.
SnatchBot can also be programmed to monitor students' learning progress and provide personalized feedback. By providing helpful content and suggestions, the bot helps students master difficult concepts.
Increasing retention: Helping universities engage students and increase revenue
Student retention efforts are vital for the success of universities. High dropout rates translate into lost revenue and force educational institutions to cut costs. Universities are relying on various tactics to improve retention, such as encouraging students to enroll full-time, hiring more advisers, and monitoring risk factors. Chatbots are helping them in these endeavors.
Bots can be effective at communicating with students about issues that bother them, whether it's a lack of friends, financial problems, or mental health issues. And the ability of bots to communicate at scale makes all the difference.
Bethel University, for instance, teamed up with education data company EdSights to introduce a text message bot dubbed Wilhelm. The bot asks students about challenges they face. Depending on their answers, students are then provided with further suggestions and support.
After one semester, the university's retention rate had increased by 4%. Furthermore, Wilhelm helped identified students who were homesick, at risk of failing classes, and lacked close friends. Every student was provided with a suggestion on how to start solving these problems.
Missouri Western State University also reported success with EdSights' bot. The university increased its retention rate by 7%, which translated into 45 retained students and $460,000 in retained revenue.
Key takeaways from the 'chatbot revolution'
Much of the early hype around chatbots didn't pan out. But despite the drop-off in excitement, chatbots today are making an impact across many industries, including some unexpected ones.
Instead of booking our dinner reservations, chatbots are helping lawyers research precedent. Instead of planning our daily schedules, they're helping take care of patients after they leave the hospital.
While chatbots' failure to live up to the hype may have been disappointing for early adopters, it's now clearer than ever where chatbot technology can be useful.
Tasks: Chatbots are best at repetitive tasks, not novel ones
Early on, the most hyped chatbot experiments, like Facebook's M, advertised full-featured AI butlers. These bots had to deal with a constantly changing pattern of requests, which often meant human handlers filled in on a large percentage of queries.
While these bots tended to disappoint users, chatbots that focus on automating relatively simple tasks have performed better.
At JPMorgan, for instance, a bot has taken over the time-consuming and expensive process of document review for commercial loan agreements — a function that used to require a team of highly paid lawyers to finish.
Within a certain range of use cases, chatbots can also make effective use of artificial intelligence and machine learning.
Intercom's Resolution Bot, for example, iteratively learns how to better surface FAQ information for users seeking help. When users indicate that an answer was useful, it flags both the query and the response, so it can learn to more reliably deliver useful answers to people with similar problems.
Finally, chatbots excel in repetitive tasks where humans often don't. Repetition can create boredom, laying the foundation for distractions and mistakes. Some studies have indicated that even veteran manufacturing workers can make errors when performing repetitive, manual tasks.
Chatbots, as long as they're programmed correctly, can't get bored, a trait that could help mitigate issues stemming from human error.
Complementary approaches: Most chatbots work best alongside GUIs
While text is the primary method for communicating with chatbots, many of the most successful chatbots utilize a graphical user interface (GUI) to give users more freedom and power in how they interact with the bot.
Babylon Health's GP at Hand service, for example, doesn't only record patient symptoms via text; it also aims to connect patients for follow-ups with doctors over video. The data collected by the bot can be shown to doctors through the app's visual interface, allowing them to follow along with any diagnoses the chatbot has made while they talk to the patient one-on-one.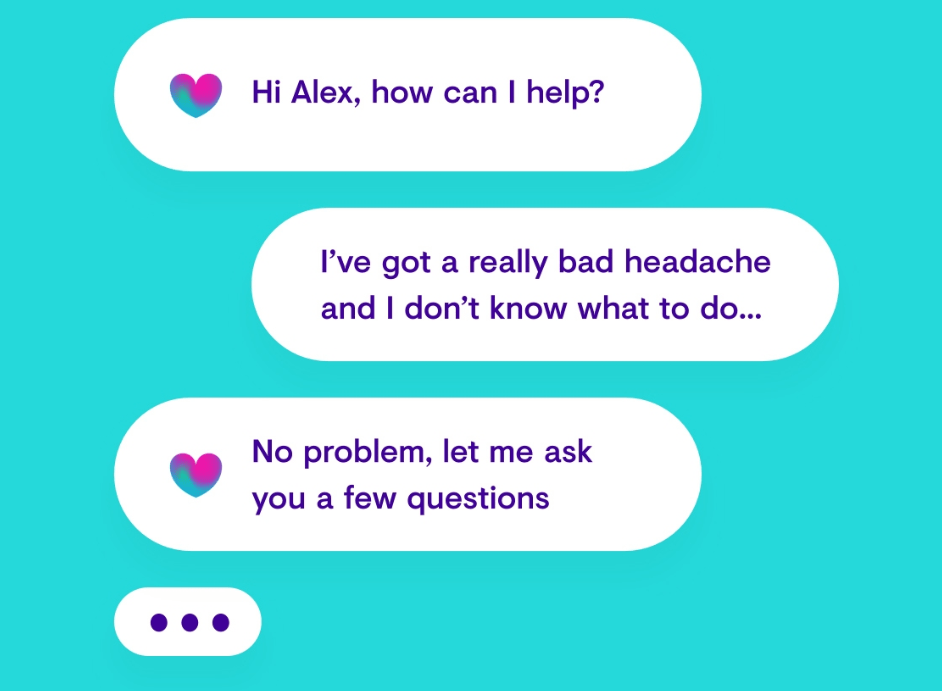 Source: Babylon Health
Retail chatbots like Ask Indigo from Levi's typically incorporate a GUI into the chat window itself. While communication is useful for clarifying how a customer wants their pants to fit, and what their preferred style is, actually choosing a pair of jeans to purchase is not something shoppers can do purely through text.
Using shoppers' answers to its questions, Ask Indigo provides users with inline product photos linked to product pages for recommended items.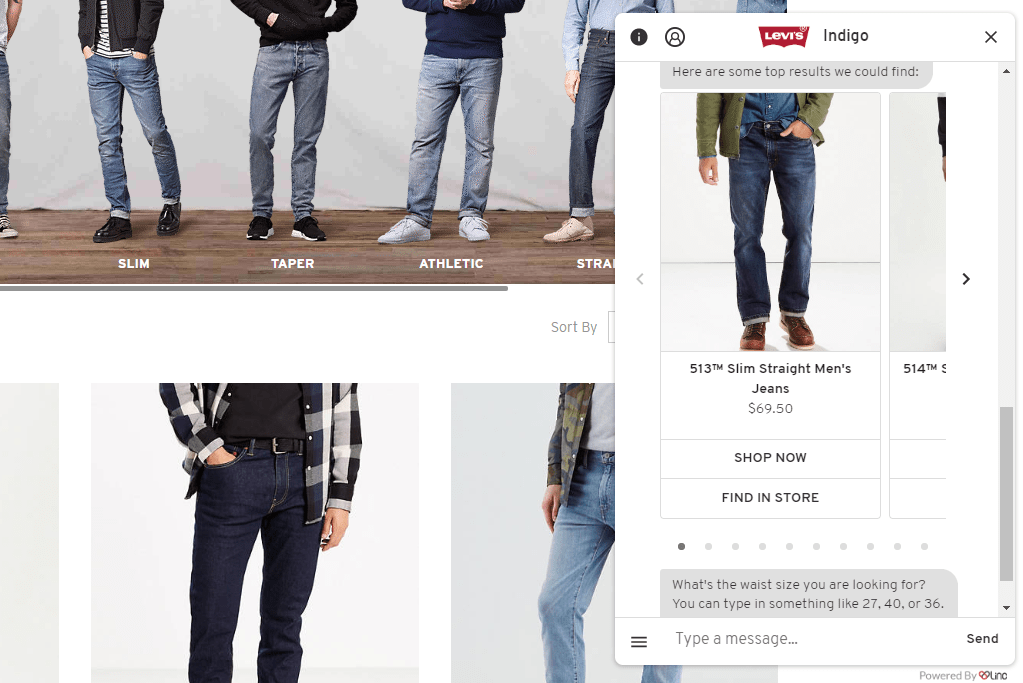 Source: Levi's
Data: Chatbots are best at dealing with structured but limited information
Early chatbots often failed because they couldn't understand user requests. There was an almost endless variety of questions that M could be asked, creating a virtually impossible task for the bot's natural language processing abilities.
Today, the chatbots that are proving most practical are in fields like law, health, and banking — fields that all run on highly specialized, yet constrained, vocabularies and documentation.
Non-experts may have trouble navigating legal or medical language, but chatbots can be programmed to do so because this type of language is so formally structured. For chatbots, technical language is often easier to parse than open-ended human speech, since even arcane terms have settled definitions.
Chatbots are similarly well-positioned in retail. While the LEGO catalog, for instance, may not be highly complex, it is extensive. Sorting through hundreds of items is a challenge that GUIs often try to solve using nested, dropdown menus — not always the most efficient way to help a shopper find what they're looking for. A chatbot, on the other hand, can reduce the burden of finding an item by making the catalog accessible via language.
The road ahead
When Facebook launched M in 2016, its fatal flaw was expecting too much, too soon. An all-purpose chatbot that can handle everything from our schedules to our sanity sounds appealing, but a tech application that does "everything" can end up doing nothing particularly well.
Ultimately, chatbots benefit from the same kind of bodies of knowledge that regular software applications draw from. The difference is that chatbots can make those applications simpler to use and navigate because they can harness the immediacy of human communication.
The renaissance for chatbots has come from trading aspiration for application — moving from what sounded great on paper to what can deliver clear, measurable success for the user. Several years after publications were trumpeting the death of chatbots, businesses from retail to sales to finance to medicine are finding that there's something more to speak about.
If you aren't already a client, sign up for a free trial to learn more about our platform.