Deal volume across the world's most active accelerators has grown steadily since 2020. We look at how their dealmaking has shifted over time and pinpoint which industries and geographies are gaining attention.
Accelerators have been busy. 
In 2022, deal count in the broader venture market declined by 4% year-over-year (YoY). However, that same year, the 50 most active accelerators together backed 7,794 deals, a 14% jump from 2021.
This reflects a broader industry shift toward investing in companies earlier in the startup lifecycle. In 2022, early-stage companies captured two-thirds of all deals, the highest share in years. 
With tech valuations under pressure — especially at later funding stages — accelerators are attracting attention as a way for investors and incumbents to develop high-potential opportunities. 
Exclusive accelerator programs help startups hit the ground running with the resources they need, including initial capital, expert or peer mentorship, office space, networking, publicity, and more. Notable tech names like Dropbox, Rappi, Canva, and PayPal all received accelerator support in their early days.
Using CB Insights data, we analyzed these programs to uncover which accelerators are the most active and where they're focusing their efforts. Below, we highlight 6 key takeaways from our analysis: 
The 50 most active accelerators collectively backed 7,794 accelerator deals in 2022 — up 14% YoY and 34% compared to 2020. 

Top accelerators' median annual deal count jumped 41% YoY to hit 83 in 2022. This count was lifted by a surge of accelerator investments from tech giants such as Amazon, Microsoft, and Google.

Plug & Play, Y Combinator (YC), and Techstars top the list of most active accelerators since 2020. Of the 3, however, only Techstars increased its dealmaking from 2021 to 2022. 

Among top accelerators that disclose funding amounts, most (63%) typically gave $100K or less in each accelerator deal from 2020 to 2022.

The US is the most active region for accelerators, attracting nearly a third (32%) of deals from top accelerators in 2022. However, this share has fallen since 2020, when US startups accounted for 39% of deals. 

Among sectors, digital health captured the most deals (3,380) from top accelerators from 2020 to 2022. However, fintech took the top spot in 2022 with 1,261 deals, while energy & clean tech saw the largest increase in deals YoY (+30%).
Let's dive in. 
How active are the 50 biggest accelerators?
The 50 most active accelerators are getting busier with each passing year.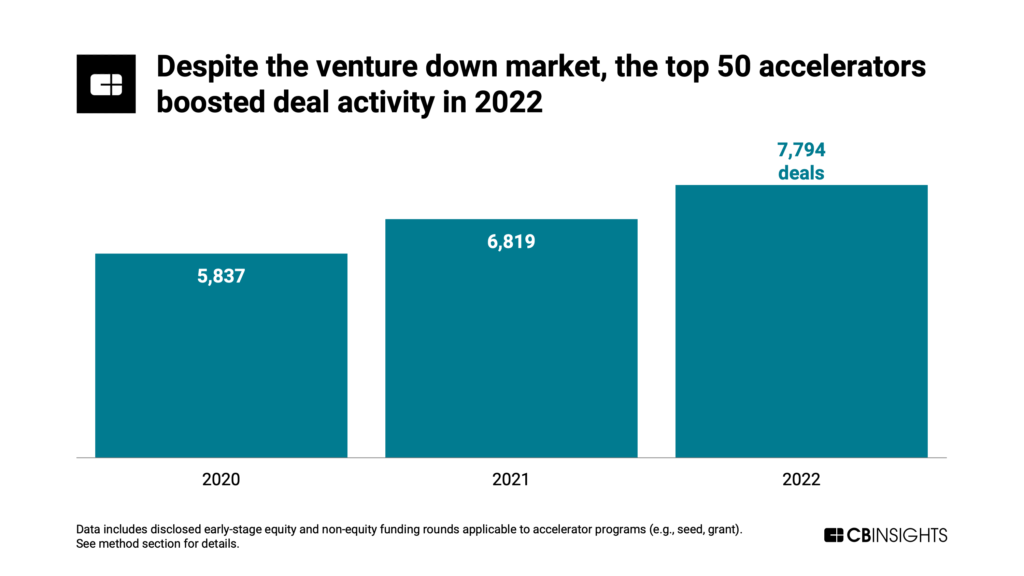 Among these 50 accelerators, deal activity — which includes initial-stage equity (seed/pre-seed and convertible note) and non-equity (e.g., grant) funding rounds — increased 14% YoY to reach 7,794 deals in 2022. 
The growth in 2022 was distributed across a variety of accelerators, with the cohort's median accelerator deal count jumping by 41% YoY to 83 deals.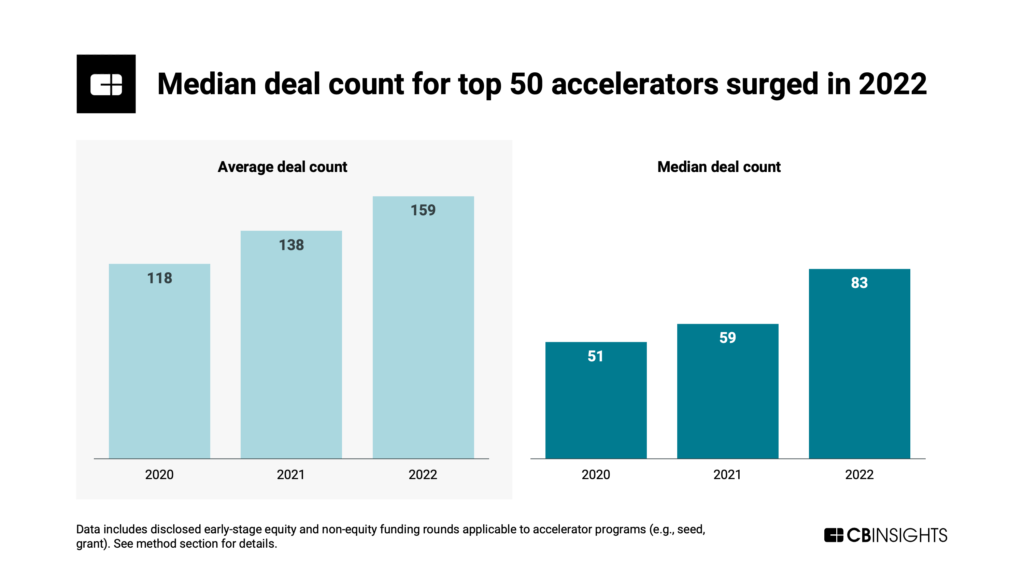 Notably, several leading tech giants ramped up their programs significantly in 2022.
Amazon's accelerator deal count grew 247% YoY last year, lifted by the 2022 launch of its Impact Accelerator to support underrepresented founders. Amazon Web Services (AWS) also expanded other programs, including its Healthcare Accelerator, with a focus on technology to train, retain, and deploy healthcare workers. 
Meanwhile, Microsoft's accelerator activity more than doubled in 2022 (up 118% YoY) after a slowdown in 2021. Google parent Alphabet's accelerator deal count increased 84% over the same period, reflecting mounting activity in its existing programs. Overall, corporate accelerators' share of deals is growing: Among the 50 most active accelerators, corporate programs grabbed 17% of deals in 2022 vs. 13% in 2021. 
Who are the most active accelerators?
Two accelerators lead by a large margin in terms of deal volume: Plug and Play and Y Combinator. Each did over 2,000 accelerator deals from 2020 to 2022. Techstars takes the third spot with over 1,600 deals.
These 3 players are among the oldest accelerators, with YC pioneering the model back in 2005.
Notably, the top 2 are pulling back on their accelerator investment activity. For example, YC cut the size of its 2022 summer cohort by 40% in an effort to concentrate its resources more effectively, leading to a small dip in its deal activity for the year. Plug and Play is also concentrating its activity, evidenced by a 4% slip in accelerator investment count from 2021 to 2022. 
In contrast, Techstars' activity jumped 18% YoY in 2022. It saw a boost from the launch of its Techstars Powered by J.P. Morgan program, an initiative designed to support diverse entrepreneurs across the US.
Six out of the top 10 most active accelerators are US-based. However, accelerator activity is progressively spreading beyond the US investor community to include both global investors and a range of corporations, trade associations, non-profits, and government entities. 
At the same time, accelerator programs are targeting increasingly niche areas and specific objectives. Examples include SAP's "Future of Shopping" program for B2B startups and Startupbootcamp's "Inclusive FinTech & DeFi" program launched last year. 
How much cash do the most active accelerators invest?
Among the various ways accelerators offer value, providing capital tends not to be the main focus.
Almost half (46%) of these top accelerators either did not give any cash or did not disclose funding for at least 8 select deals between 2020 and 2022. 
Among those that did disclose funding information, roughly two-thirds (63%) generally gave $100K or less in each deal from 2020 to 2022. 
This suggests that accelerators provide a significant amount of non-monetary value, which comes in the form of mentorship, networking, validation, and exposure.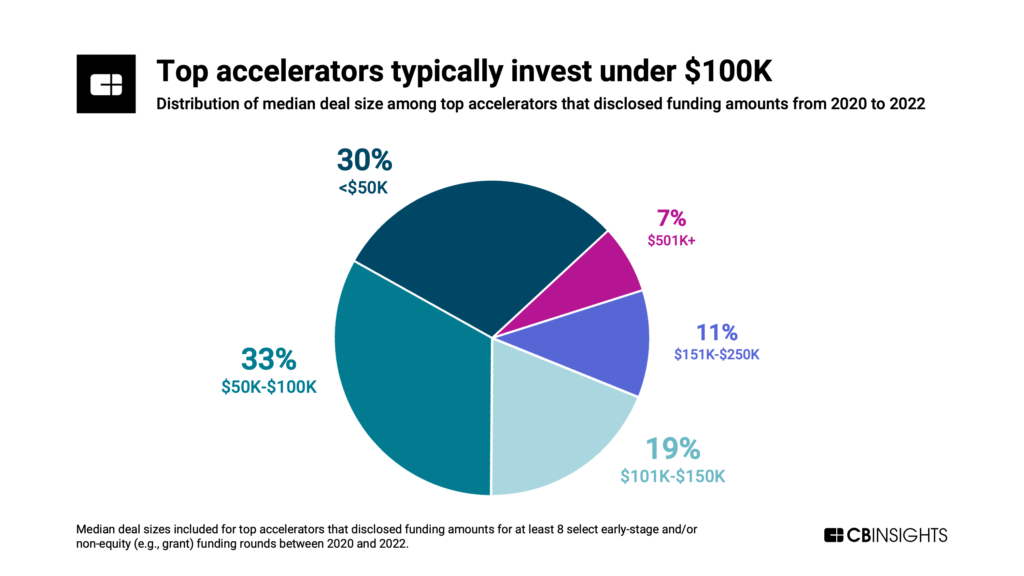 Where do the most active accelerators invest?
An accelerator's headquarters is generally (though not always) a good indication of where it will focus its efforts. 
From 2020 to 2022, roughly 3 in 5 accelerator deals from YC (58%) and Techstars (63%) went to US-based companies vs. 41% for Plug and Play. This was driven in part by Plug and Play's global efforts, including subsidiary activity in Japan and Indonesia.
A similar trend played out among big tech companies. At Amazon, 54% of its accelerator deals went to US-based startups from 2020 to 2022, and 22% went to Asia-based companies. This aligns with Amazon's limited footprint in Asia, relative to North America.
Microsoft's accelerator activity reflects the opposite approach. Sixty-two percent of its deals went to Asia-based startups during that period, while just 11% went to US-based companies. Microsoft offers sizable programs outside of the US, including the Microsoft for Startups Middle East GrowthX Accelerator, launched in partnership with the Abu Dhabi Investment Office.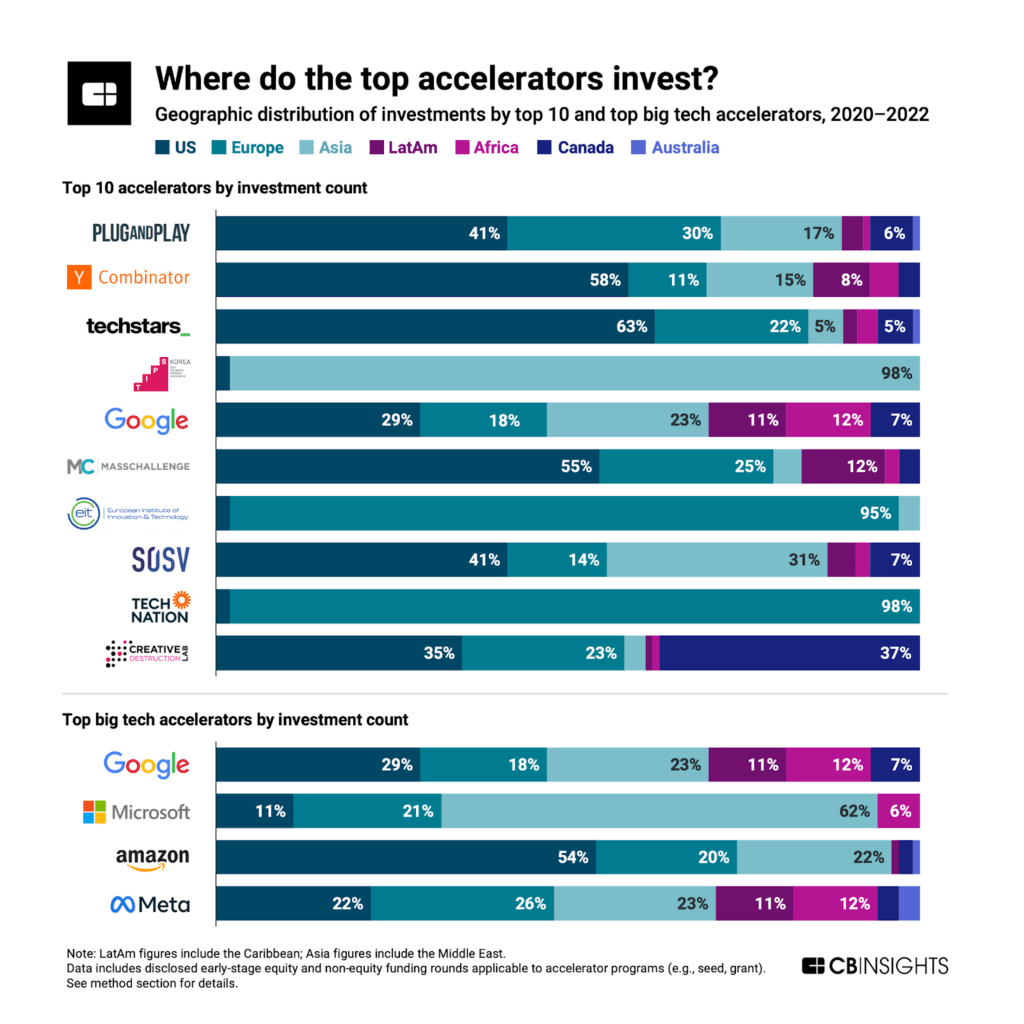 While the US has historically attracted a significant amount of deals from the top 50 accelerator cohort, its dominance is waning. The country's share of deals hit 32% in 2022, down 7 percentage points from 2020.
At the same time, top accelerator deal share has grown in Asia, Africa, Latin America, and Europe. In 2022, Europe followed the US closely with 31% of accelerator deals from these investors.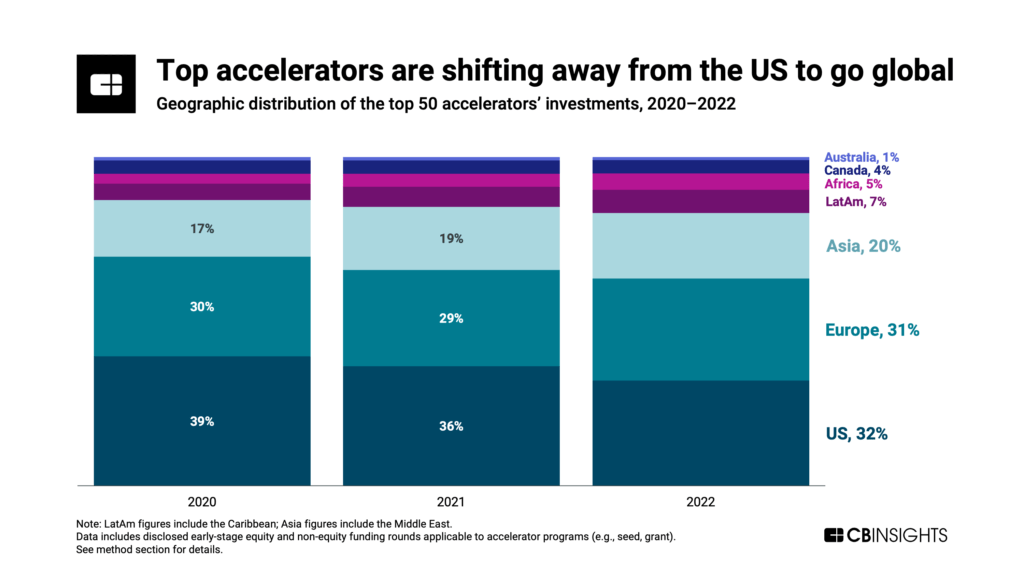 Which industries do the most active accelerators invest in?
Digital health attracted the most deals from 2020 to 2022 when looking at the 50 most active accelerators. This was largely due to the fact that the Covid-19 pandemic steered more of the tech world's efforts toward addressing gaps in healthcare, especially in 2020 and 2021.
In 2022, however, attention to digital health dipped, whereas fintech and consumer & retail saw double-digit percent growth in top accelerator deal volume YoY.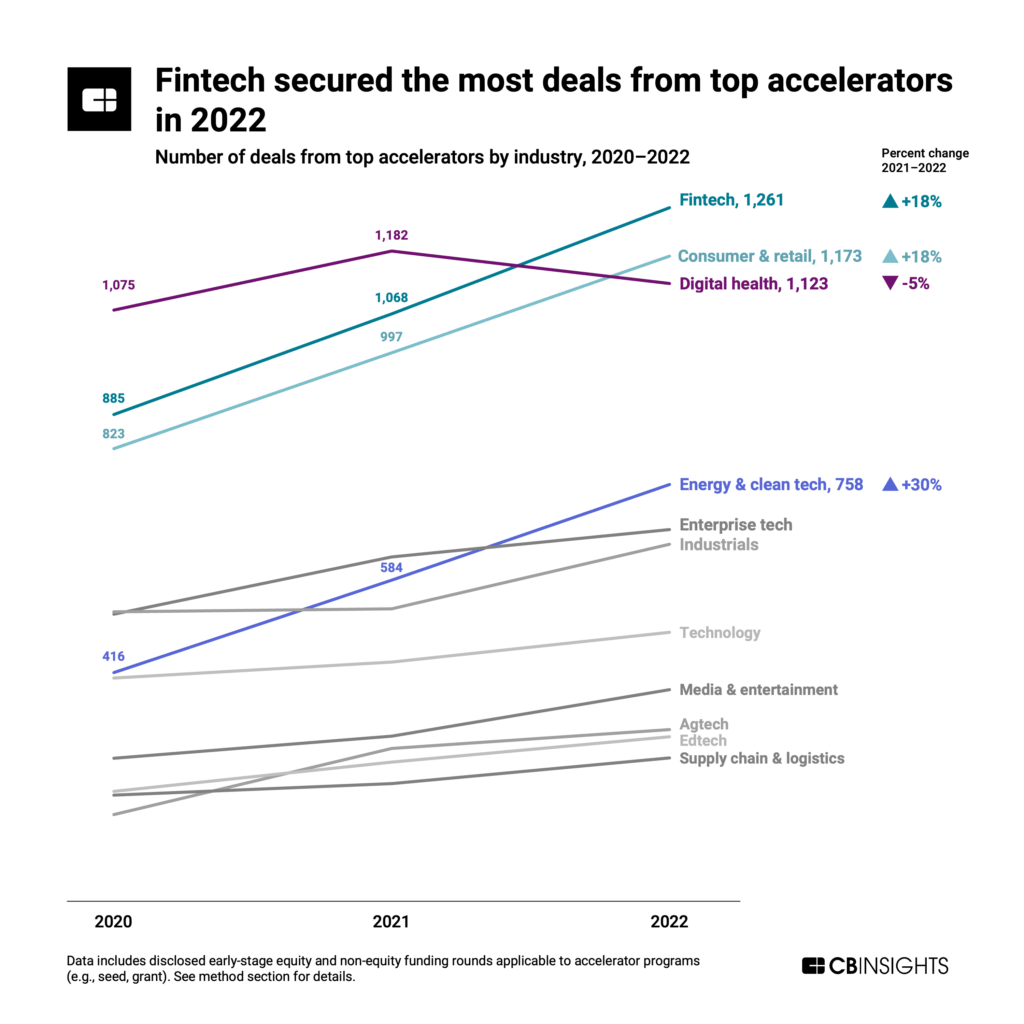 Fintech deal activity grew 18% YoY in 2022. While top accelerator interest in payments tech and crypto companies rose during this time, interest in insurtech and wealth tech solutions flattened. 
Consumer & retail also saw an 18% lift over the same period. This was fueled by rising top accelerator activity in consumer tech, across areas like wellness, pet care, and beauty. Dealmaking to food tech startups, on the other hand, leveled out in 2022. 
Energy & clean tech stands out on this list, as its top accelerator deal volume grew 30% YoY to rank fourth overall in 2022. This industry includes companies focused on energy production, distribution, and management. It also comprises companies focused on carbon monitoring, sustainability, and pollution or waste reduction.
For more accelerator coverage: 
Report method
We define accelerators as offering direct guidance and resources to a startup through either a fixed-schedule cohort or rolling-acceptance program. Typically, startups apply for admission, but some accelerators are invitation-only. 
Accelerators vary in whether they offer funding, take equity, hold challenges as part of the program, or charge fees for participation. Accordingly, the following disclosed early-stage and non-equity rounds are included in the analysis: seed, pre-seed, convertible note, accelerator/incubator, grant, and business plan competition. Given the seasonality of accelerator investments, we limit our analysis to annual comparisons.  
While charts show parent organizations, our analysis only includes a parent organization's subsidiaries that operate accelerators. Joint partnerships and incubators or early-stage investment arms that also operate accelerators are included. 
Does your accelerator deserve to be in our next top investors report? Contact us here to set up a review of CB Insights' coverage of your investments. As always, it's 100% free and will improve our ability to rank your accelerator in upcoming research.
Top 10 most active startup accelerators
If you aren't already a client, sign up for a free trial to learn more about our platform.