Millennials are one of the largest generations in history, and they're hitting their prime spending years. These are the industries that stand to benefit the most.
Popular media coverage of millennials often fixates on the industries the generation is allegedly killing and their supposed fiscal irresponsibility.
But now, Generation Y is entering its prime spending years — and it's set to receive $30T in wealth from baby boomers and Gen X.
This transfer of wealth has already begun transforming a range of industries. Some industries benefiting from millennials' increased spending power, such as travel, reflect well-worn Gen Y tropes like the general preference for "experiences" over objects. Others, like car ownership and camping, show that many of the claims about millennials' different spending habits are overblown, and that significant continuities exist between Gen Y and their parents and grandparents.
However, these industries won't thrive unchanged.
The companies that will come out on top are those that are reorganizing and reprioritizing around Generation Y. This means they're embracing changing preferences to offer more sustainability, affordability, and flexibility in their products and services. They're also embracing new technology and the unprecedented discoverability and customer connections it allows.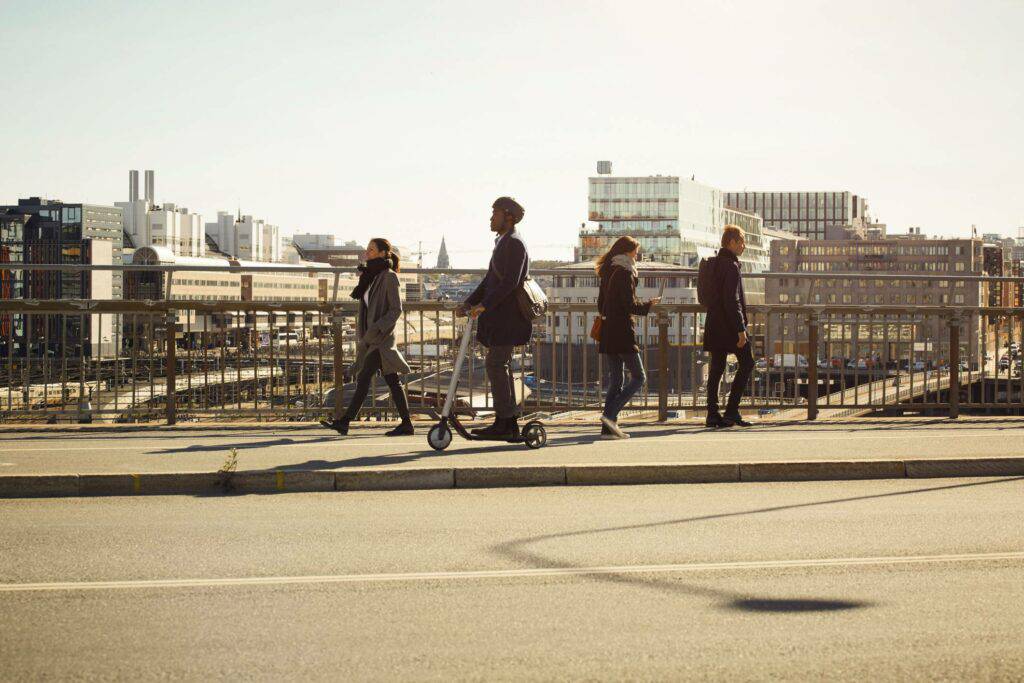 In this report, we dive into some of the industries — from frozen foods and fast casual dining to micromobility and personal finance apps — that could massively benefit from the rise of Generation Y.
TABLE OF CONTENTS
Activities & hobbies
1. Camping industry
2. Fitness industry
3. Travel industry
Consumer goods
4. Fast casual dining industry
5. Coffee industry
6. Frozen foods industry
7. Seltzer industry
8. Houseplant industry
9. Skincare industry
Transportation
10. Automotive industry
11. Micromobility industry
Finance
12 Industries That Will Thrive Thanks To Millennials
Millennials are one of the largest generations in history, and they're hitting their prime spending years. Get the full report to find out about the industries that stand to benefit the most.
Activities & hobbies
1. Camping industry
As more millennials have children, they're embarking on camping adventures in the great outdoors as families
Camping has enjoyed significant revenue growth over the last several years, largely thanks to millennials.
Total wholesale camping equipment sales rose above $3B in 2020, up from less than $2B in 2013. Also in 2020, nearly 94.5M American households went camping — a new high.
Kampgrounds of America, an association of almost 500 North American private campgrounds, says the industry's "aggressive growth" is largely attributable to an influx of younger campers, who are camping in larger numbers and more often. In 2020, 37% of total reported campers were millennials — 6 percentage points higher than millennials' representation in the total US population, according to KOA's North American Camping Report.
More than 10M households went camping for the very first time in 2020, accounting for 21% of all campers — a rate 5x higher than 2019. Millennials are strongly represented in this cohort, with nearly 60% of first-time campers under the age of 40.
In addition, recreational vehicle (RV) ownership has risen significantly among millennial campers. In 2019, 57% of millennial campers surveyed reported owning an RV, a figure that increased to 70% in 2020.
Part of millennials' enthusiasm for camping springs from the fact that many of them are entering their prime spending years and starting families of their own. Over 1M millennial women are becoming mothers every year, meaning Gen Y now makes up the majority of annual births in the US, according to the National Center for Health Statistics.
These shifts are creating a need for budget-friendly family recreational activities. 50% of existing millennial campers say that having children and increased spending power has made them want to camp more often. 64% of families with children intend to take more camping trips in 2021, and similar sentiments are driving interest in RV ownership, suggesting a lasting upward trend in outdoor family recreation.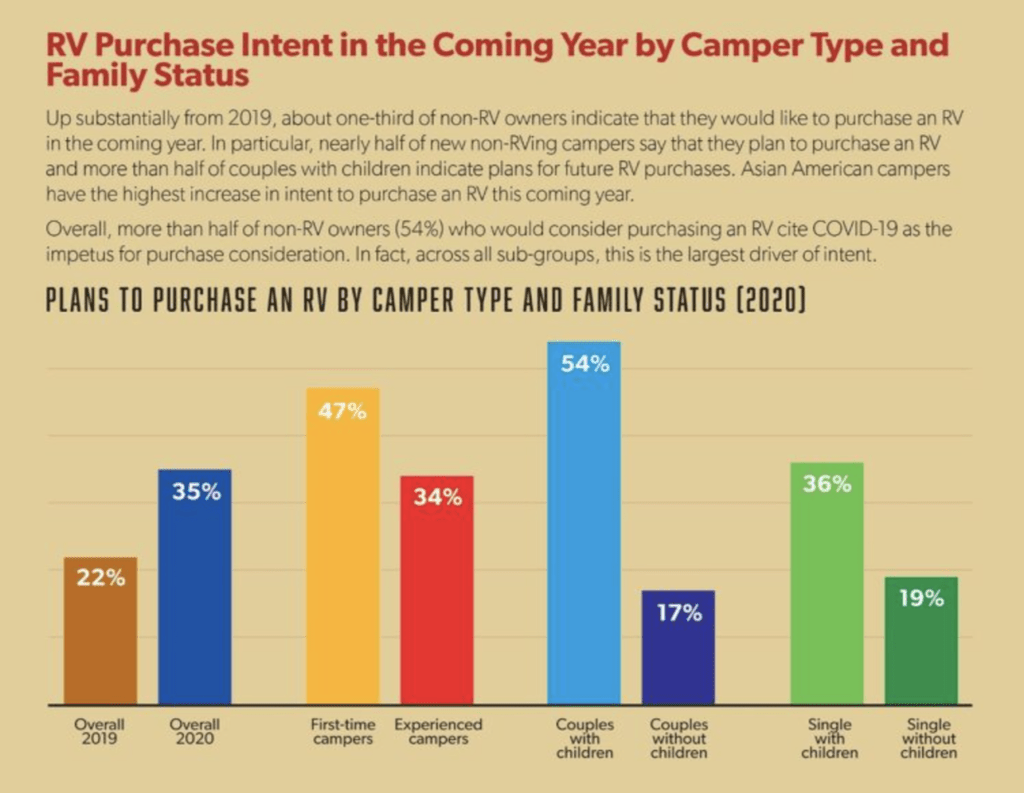 Source: Kampgrounds of America
Another force driving the growth of camping among millennials is the popularization of new accompanying experiences that offer greater comfort and amenities. These can help mitigate challenges like finding a campsite, dealing with bugs, and safety. They can also make a campsite more family-friendly, with additions like basketball courts, themed weekends, satellite TV, and full-featured bathrooms. To this end, "glamping," a term encompassing more upscale elements than the traditional camping trip, is on the rise, particularly with first-time campers who may be hesitant about the traditional camping experience.
Finally, technology is helping millennials learn more about camping and find camping experiences.
Virtually all campers report bringing some kind of tech device with them camping, primarily in case of emergencies or to research safety issues. First-time campers and parents are the most likely to base a camping trip decision on the availability of technology, with parents being especially sensitive to amenities such as Wi-Fi, and the provision of such services has a substantial impact on the length of campers' stays.
Online platforms like Hipcamp and Campsy have emerged to help campers book unique lodging experiences like yurts, treehouses, and caves. Hipcamp, which has been described as "the Airbnb of the outdoors," raised a $57M Series C round in January 2021 at a valuation of $300M, more than double its valuation in 2019.
Social media is also helping campers discover new places to visit, then share their experiences with others: 30% of millennials say that they have picked a camping spot after seeing someone else go there.
New technology, the rise of high-end camping, and millennials' emerging roles as parents and full-fledged earners are changing camping. Once a niche form of relatively inaccessible outdoor recreation, camping now more closely resembles an alternative travel industry, with a range of lodging and experience options. Most importantly, it is an even more kid- and family-friendly activity than it once was — essential for the generation that now makes up the majority of new parents in the US.
---
2. Fitness industry
BOUTIQUE GYMS & CLASSES ARE spreading AS MILLENNIALS SEEK CHOICE AND COMMUNITY
Few industries will benefit as directly from the rise of millennials' economic power as the fitness industry.
Generation Y is already more motivated to stay in shape than previous generations: over three-quarters of millennials (76%) exercise at least once a week, compared to 70% of Gen Xers and 64% of baby boomers.
Millennials are also much bigger spenders when it comes to gym memberships, dropping almost $7B annually — double the amount spent by Gen Xers and boomers.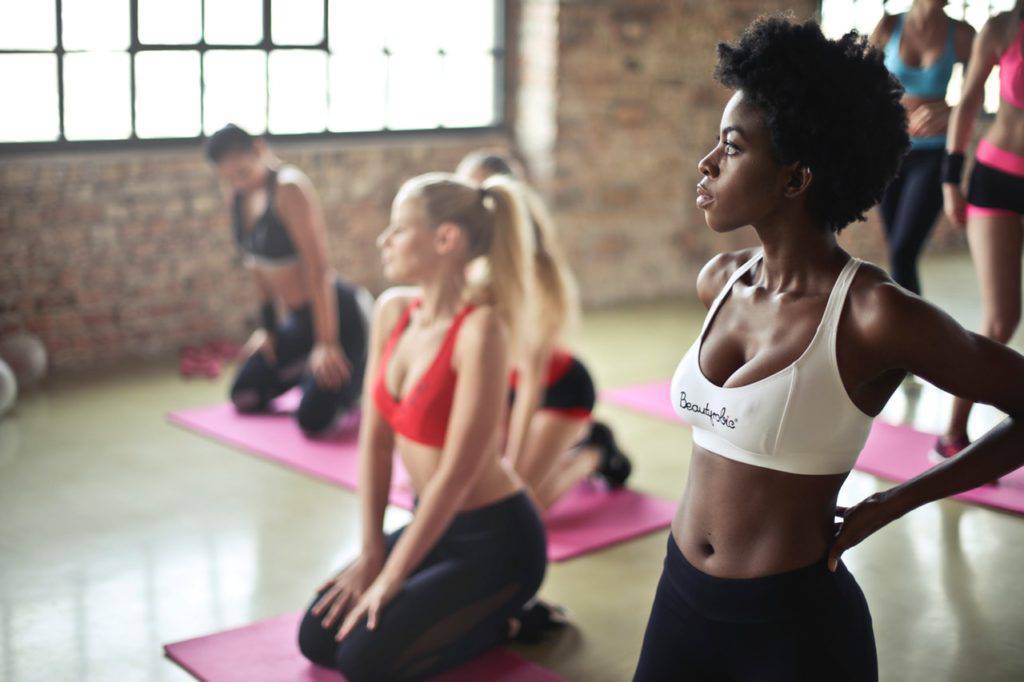 Source: Bruce Mars/Pexels
Millennials represent 35% of all health club memberships in the US, the single largest generational cohort by a significant margin, according to the International Health, Racquet & Sportsclub Association (IHRSA). Millennials are also most likely to subscribe to an online fitness service, with more than one third of millennial consumers subscribing to at least one online workout service or product.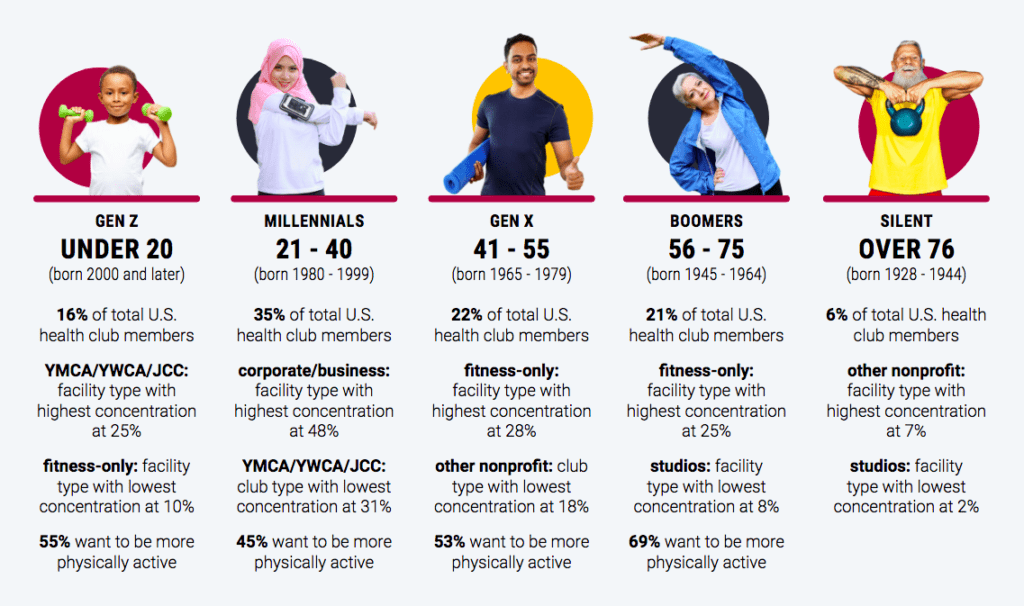 Source: IHRSA
Millennials also differ in terms of how they spend on fitness, tending to steer clear of traditional full-service gyms like Gold's Gym or LA Fitness. In fact, despite Generation Y's enthusiasm for exercise, mid-market fitness clubs have actually seen their memberships stagnate over the years.
Instead, the fitness industry is seeing growth at the ends of the spectrum: budget gyms and boutique studios.
The number of people who joined a budget gym — fitness clubs that charge members $20 per month or less, such as Planet Fitness — increased by almost 70% in 2015 alone, according to IHRSA. The gyms offer a wide variety of amenities, often including classes, at a fraction of the cost of a traditional mid-market gym membership.
At the same time, boutique studio memberships have soared, growing an estimated 121% between 2012 and 2017, according to IHRSA. The customers at these boutique studios — including places like SoulCycle, Rumble, and Pure Barre — are firmly in the millennial camp, with the majority averaging 25 to 44 years old, according to ClubIntel.
Boutique fitness studios typically cost significantly more than traditional gyms, with average monthly membership fees of around $90 compared to the $51 average across other gym facilities. This does not, however, diminish their appeal among millennial consumers, suggesting this cohort is likely to spend higher sums for superior workout experiences.
Millennials' willingness to pay up, despite their unique financial pressures, may be partially driven by their tendency to view exercise as a social group activity rather than an individual one. One 2014 survey found that 63% of people who attended boutique studio gyms did so because of the "community aspect formed by other people attending," with another 47% attributing their attendance to the atmosphere.
Some brands, such as Peloton, have harnessed the community aspects of working out to great effect — a phenomenon Peloton has leveraged into strong sales and sustained growth, even as Covid-19 drove consumers to work out from home, rather than in the studio.
This community aspect could help studio gyms earn the loyalty of millennial customers. Gym-goers who feel connected to a particular club or class are more likely to stick around as members.
To attract millennial clients, some old-school gyms are adapting their models to capitalize on the increasing popularity of the boutique studios. In 2017, Gold's Gym debuted a series of "coach-led, community-driven and individually adapted boutique-style classes" under the Gold's Studio moniker, which went live in 40 of its 700+ locations.
While millennials are more eager to exercise — and more willing to pay for it — than any generation before them, it's unclear which fitness industry players will come out on top as Gen Y enters its spending prime.
US health clubs have already rushed to capitalize on millennials' devotion to self-improvement, with the volume of US health clubs increasing by 20% between 2011 and 2015. But it remains to be seen whether this expansion will ultimately look like a bubble, as the trendy nature of many health clubs may make them just as susceptible to turnover as traditional gyms, if not more.
What does seem certain, given millennials' proclivity for health and working out, is that the fitness industry's growth shows no compelling signs of slowing down.
---
3. Travel industry
MILLENNIALS ARE SEEKING OUT MORE AFFORDABLE, BESPOKE TRAVEL ARRANGEMENTS
With an appetite for meaningful travel experiences and access to new online platforms that make customized travel easy, millennial travelers are looking to cut out middlemen and invest in their own bespoke travel experiences — without paying a higher cost.
This has triggered a reorganization of priorities for an industry that has long focused primarily on appealing to baby boomers, a retired and relatively deep-pocketed demographic with plenty of free time. However, millennial consumers have proven just as keen to see the world as their parents and grandparents.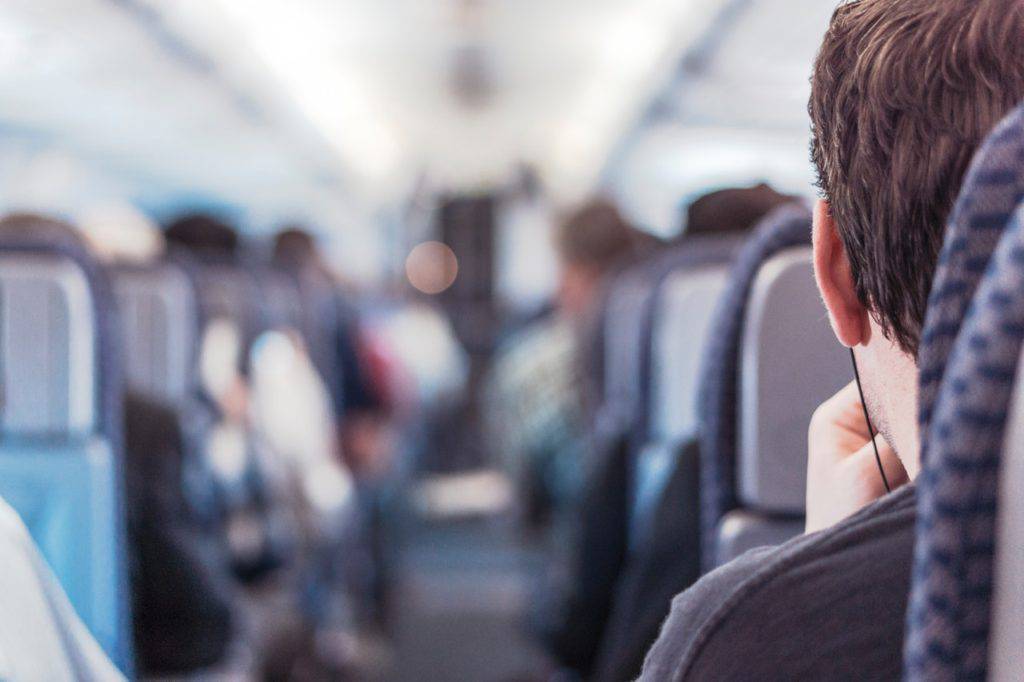 Source: Gratisography/Pexels
An Airbnb study found that many millennials prioritize saving for their next trip over paying off debts or saving to purchase their first home. Another found that 21% of millennials would accept a lower salary if it meant they could travel more frequently. The majority of Generation Y would even be willing to sacrifice their Netflix subscription, coffee, alcohol, carbs, and sex in favor of traveling, according to Forbes.
Many millennials are excited about the prospect of traveling in a post-pandemic world. A majority have either already booked a trip for 2021 or expect to do so in the near future, according to Airbnb. And millennial travelers are already planning to outspend other generational cohorts, with an average of $5,462 saved for their next trip compared to the average of $3,444, according to Expedia.
However, while many millennials are eager to hit the road, the pandemic has prompted many travelers to reassess what they're looking for in their next break. Travel to visit family has become significantly more important to many consumers, and more travelers are prioritizing safety than they were in the past.
But while millennials are just as eager to see the world as older travelers, their tastes are markedly different, and traditional vacation packages are unlikely to meet their high expectations. Many are turning their backs on traditional guided sightseeing tours and bus excursions in favor of more authentic travel experiences.
"Destinations need to improve their experiential offering. Traditional attractions and old buildings and churches do not suffice anymore. Music festivals, cultural and culinary events, multi-day dance parties and artistic happenings all must be on the menu of destinations looking to attract more millennials." — Michel Karam, founder and CEO, müvTravel
Traveling millennials want to find hidden gems and local favorites that capture the true essence of a destination. Services like Airbnb and VRBO directly appeal to this, eschewing traditional hotels to allow tourists to live like locals.
At the same time, millennials are also demanding when it comes to price. The ubiquity of price-comparison apps and the convenience of e-commerce are making it easier than ever for frugal millennial travelers to find great deals, and 85% of millennial travelers check multiple sites before making a commitment.
As with many industries in today's information economy, millennial travel trends are strongly influenced by social media. Research has found that 87% of millennials on Facebook use the site for travel inspiration, making it the most influential social media platform for Generation Y travelers thinking about their next trip, according to Req. In addition, 82% of millennial travelers said they consider user reviews an important factor when planning a trip, and 76% decided upon a destination based on the recommendation of a family member or friend.
While the combination of millennials' high expectations, budget-conscious mindset, and desire for authentic experiences poses unique challenges to traditional travel businesses, it also means greater opportunities for companies ready to cater to Generation Y's discerning tastes.
As fastidious planners and price-conscious consumers, Gen Y travelers are likely to prefer third-party platforms and marketplaces where they can more precisely customize their experience. Chain hotels looking to regain market share lost to emerging accommodation marketplaces will need to either embrace this millennial preference or find another way to attract millennials back to their businesses.
In 2018, Marriott International opened a hotel designed specifically for young travelers in Tampa, while Hilton began building a new iteration of its millennial concept hotel, Tru, in Baltimore. The relatively small, stylized rooms at Tru cost less than $100 a night and feature a smartphone-powered check-in system, designed for affordability and efficiency.
At Hyatt Centric — a Hyatt concept designed for millennials — staffers are encouraged to share recommendations with guests, and guides to local breweries and restaurants are placed in rooms. Meanwhile, Residence Inn Marriott locations host weekly mixers designed to give millennial travelers social get-togethers that bring them closer to the local flavor of their destination.
For the old guard of the travel industry, attracting millennials by building out better technology, service, and affordability is an existential requirement. As Smashotels president and CEO Scott Greenberg put it:
"If we attract young people, old people will show up. But if you build a hotel for old people, young people never show up."

---
Consumer goods
4. Fast casual dining industry
MILLENNIALS opt FOR SPEED, SELECTION, AND VARIETY WHEN THEY EAT OUT

Problems in the casual dining industry came to a head in 2017, as popular chains like TGI Fridays and Applebee's were forced to shutter dozens of locations amid slumping sales and reduced traffic. The primary culprit, according to analysts, was millennials — a generation that allegedly no longer goes out to eat, preferring to cook or order takeout.
The reality is that casual dining chain sales are down among all demographics, not just millennials. Millennials are not avoiding restaurants — in fact, no generation has a higher percentage of frequent restaurant visits. In 2019, millennials spent nearly half their monthly food budget on dining out or takeout, surpassed only by Gen Z. As of early 2020, 72% of millennial consumers frequented eating and drinking establishments on a weekly basis.
What's changing is that millennials are turning away from old-school chain restaurants and embracing new fast casual dining concepts.
Millennials are price-sensitive and eager for healthy, fresh food options, and they crave choice in their restaurant experiences. Almost 40% of millennials eat meals on the go, compared to 26% of Gen Xers and 19% of baby boomers, according to a Technomic research study, and more than 50% want a "good deal for their money."
Fast casual restaurants from Chipotle and Subway to Shake Shack and Five Guys are largely designed with these preferences in mind, with fast ordering and app-powered pickup and delivery as basic pillars of their model. Fast casual dining also has an average check size around $9-$14, compared to less than $9 for fast food and as much as $20-$50 for higher-end casual dining. This gives millennials a dining option that doesn't sacrifice too much quality for affordability.
The fast casual industry has also seen a wide proliferation of varied cuisines and tastes. From the successful vegan outlet By Chloe to the plant-based sandwiches at Next Level Burger to the sushi kiosks of Miso Ko, there's a fast casual option for virtually any set of dietary restrictions and ethical choices.
Traditional dining and fast food chains looking to update their offerings for Generation Y need to consider not just their prices and menus, but also how they can integrate with technology, the degree of personalization they offer in their meals, and their approach to health.
Chipotle pioneered the trend toward the fully customized fast casual meal with its made-to-order burritos and bowls. Chains like Blaze Pizza are following in its footsteps: at Blaze, customers can fully customize their pizza and have it cooked in front of them in just 3 minutes.
As consumer food preferences evolve, Fatburger experimented with offering a plant-based burger in 2018 and found millennial customers were willing to pay more for the higher-quality product. Other chains have also been quick to respond to heightened interest in plant-based meat alternatives. Burger King, Cheesecake Factory, Red Robin, and Qdoba are just some of the nationwide chains that have introduced plant-based meat products from Impossible Foods. Similarly, chains including Carl's Jr., Dunkin', and TGI Fridays have all begun serving meat-free alternatives from Beyond Meat.
Technology also plays an important role in the fast casual industry. 25% of fast casual diners say that technology options are an important factor in their choice of restaurant, according to the National Restaurant Association.
From Starbucks to Panera, chains are embracing mobile ordering and in-store pickup to attract a busier, millennial audience. Meanwhile, Burger King and Chipotle have dedicated drive-thru lanes for online orders. Chipotle's online drive-thru pickup service, named "Chipotlanes," was so popular with consumers that the retailer reported an increase in online orders of more than 65% in a single quarter in 2019, representing almost 13% of the chain's overall sales.
Many restaurants are now offering menus via QR codes, in-app table service, and other technology-centric options for diners. Self-service kiosks, like those at Subway and McDonald's, are beginning to emerge at fast casual locations as well. Ashely Morris, CEO of Capriotti's Sandwich Shop, predicts widescale adoption of such technology in the front- and back-of-house in the long term.
However, more traditional casual dining may get a boost as more millennials have children. Designed for longer sit-down meals rather than grab-and-go cuisine, these kinds of restaurants serve the need for a "third-space" restaurant — a place where parents can go with kids to unwind without being hurried out the door.
A challenge for the fast casual dining restaurants of tomorrow will be building establishments that can be equally family- and kid-friendly without sacrificing the key factors that make them appealing to millennials today.
12 Industries That Will Thrive Thanks To Millennials
Millennials are one of the largest generations in history, and they're hitting their prime spending years. Get the full report to find out about the industries that stand to benefit the most.
---
5. Coffee industry
MILLENNIALS LOVE COFFEE — AND THEY'RE WILLING TO PAY MORE FOR GOURMET PRODUCTS
Like Generation X and the baby boomers before them, millennials drink a lot of coffee. They also started drinking coffee much younger — on average, around 15 years old. After several years of declining sales among most age groups, millennial consumers are the vanguard of a resurgence in the coffee industry. Today they account for approximately 44% of the beverage's demand in the US.
But while millennials' coffee consumption isn't slowing, it is changing.
Instead of store-bought and pre-packaged coffee, millennials are seeking out cold brew and other specially prepared beverages, as well as ethically sourced, sustainable, and gourmet products.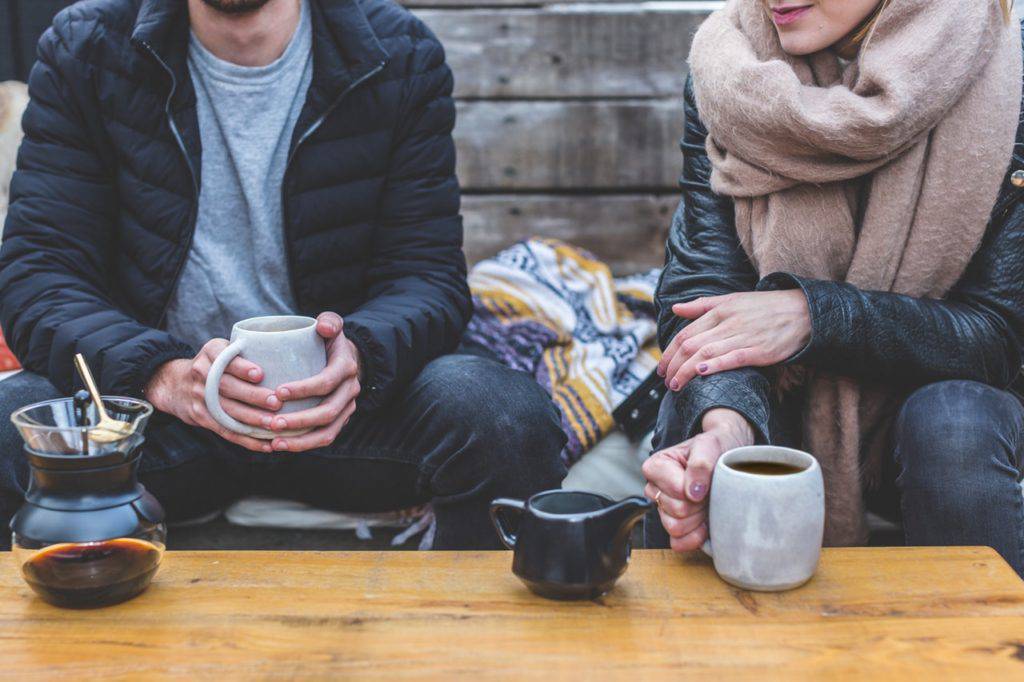 Source: Burst/Pexels
Many millennial consumers are looking beyond older, legacy coffee brands to blends from boutique "third-wave" coffee roasters. Recent data shows that 70% of past-day coffee consumed by millennials is considered "gourmet."
Millennials are also gravitating away from hot coffee toward canned cold brew and nitrogen-infused beverages. The can format is convenient for on-the-go consumers, while different flavors and styles offer a range of options for choosy customers.
Environmentally conscious millennials are also taking a much more active interest in how and where their coffee is grown, and that's influencing their buying decisions. Many Gen Y consumers are at least somewhat knowledgeable about their coffee, favoring brands committed to fair trade and environmentally sustainable growing practices.
Millennial interest in the sustainability of their coffee isn't limited to the beans themselves. Many Gen Y consumers are exploring alternatives to traditional dairy products in their coffee and flocking to retailers catering to this demand.
Oat milk, in particular, has seen strong growth among millennial consumers seeking alternatives to dairy milk. Nicole Ferris, managing director of London-based specialty coffee shop Climpson & Sons, said that in 2020 her store observed a 50-60% increase year-over-year in demand for oat milk in hot and cold coffees, a trend Ferris believes will continue as interest in plant-based diets gains momentum.
Millennials' love of coffee is a positive sign for coffee growers and brewers. Demand for premium coffee is unlikely to diminish in the near future, creating favorable market conditions for incumbents and new entrants alike.
With the ever-increasing amount of choice in the coffee space, manufacturers need to look to differentiate their offerings if they want to attract millennial attention — and they have a wide range of strategies to do so, from adding additional caffeine to promoting ethical or sustainable sourcing to experimenting with new ingredients like protein powder, nootropics, and CBD.
---
6. Frozen foods industry
CONVENIENCE-SEEKING MILLENNIALS ARE DRIVING A RENAISSANCE IN THE FROZEN AISLE
The frozen food sector, which is expected to be worth over $400B by 2027, has long had something of an image problem. Frozen foods might be convenient, but until recently, they were not typically associated with healthy eating or seen as a desirable alternative to freshly prepared meals.
Gen Y may be changing that.
Millennials' changing preferences around food and health are resulting in a renaissance of frozen foods, a resurgence in sales, and the emergence of new startups creating and delivering bespoke frozen meals. In 2017, millennials spent an average of 9% more on frozen foods per trip to the grocery store than households of other demographics. In 2018, the total volume of frozen foods sold in the US increased for the first time in 5 years, driven largely by millennials and consumers with children.
In 2020, with much of the world stuck at home because of the Covid-19 pandemic, sales of frozen food soared. The market experienced retail sales of $65B in 2020, an increase of 21% over the previous year, according to the American Frozen Food Institute (AFFI). Baby boomers, women, and single individuals accounted for significant increases in frozen food sales, but older millennial consumers remain the largest consumer market for frozen foods.
Beyond the impact of the pandemic, several factors are driving millennials' interest in frozen foods. Gen Y has a professed appreciation for convenience and eating on the go, and frozen foods can be a fast and affordable alternative to ordering delivery or going out to eat.
Economic factors may also be contributing to this shift. For millennials burdened with stagnating wages and significant student loan debt, affordable frozen foods have become increasingly appealing.
"Something as simple as buying frozen food is really just symptomatic of the trends we're seeing at large. When you're seeing $400 dollars come out of each paycheck to pay a student loan, that's certainly going to impact your ability to go grocery shopping in a way that people more traditionally used to." — Allie Aguilera, policy and government affairs manager, Young Invincibles
Another factor at play is the surge in the availability of healthy frozen foods. Traditionally, frozen food options have not been highly diverse or healthy in their offerings. There has, however, been a huge increase in the number of Americans identifying as vegan: from 2014 to 2018, this number grew 600%.
Frozen food manufacturers are racing to capitalize on the popularity of plant-based diets among millennials. 52% of millennials prefer organic food, and a massive 40% are eating a plant-based diet.
While plant-based diets have gained in popularity among baby boomer and Gen X consumers, millennials have adopted new dietary habits much more readily. 22% of millennials have experimented with a vegetarian diet, compared to 13% of Gen X consumers and 11% of baby boomers. Similarly, rates of veganism are significantly higher among millennials (16%) than baby boomers and Gen X, at 8% and 7%, respectively.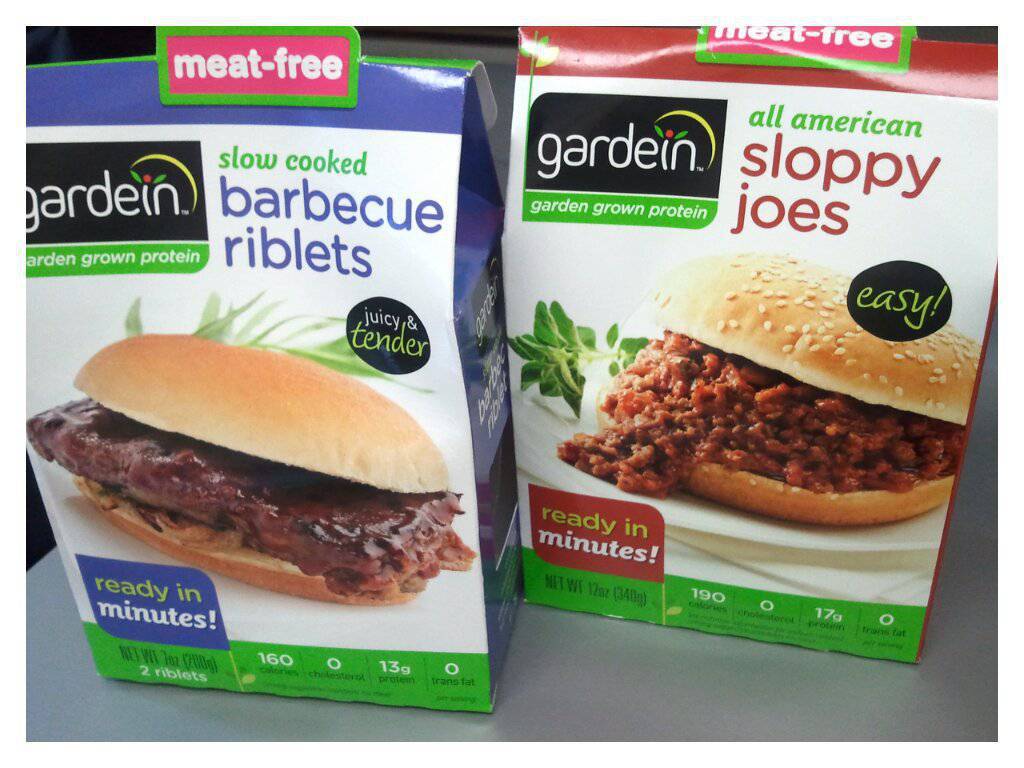 Source: Wikimedia Commons
Plant-based brands such as Gardein (owned by Pinnacle Foods, which also owns the popular Birds Eye frozen food brand), Daiya (acquired by Japanese pharmaceutical company Otsuka Pharmaceutical in 2017), and Sweet Earth (owned by Nestlé) have all made significant gains in the frozen food market in recent years — and the trend shows no signs of stopping.
In addition to launching new products, brands such as Gardein are making further inroads into the freezer aisle by partnering with manufacturers of frozen ready meals to incorporate plant-based meat alternatives into other products, such as Healthy Choice's Power Bowls.
Amy's, which offers a range of vegan options in addition to its core products, saw strong growth in consumption of its frozen entrees in 2020. The market has seen new entrants such as Alpha Foods, which raised a $28M Series A round in December 2019, diversify their product lines into convenience frozen foods such as pot pies and microwaveable burritos.
Millennial consumers also expect frozen foods to be higher-quality than they were in the past. For example, Conagra Brands, which owns the Banquet brand of frozen ready meals, doubled down on product quality following a management shake-up in 2015 to meet heightened consumer expectations.
Other brands have emerged to capitalize on the gourmet frozen food trend, including Frozen Foodies, which offers cryogenically frozen meals prepared by professional chefs using gourmet ingredients. Meanwhile, Buttermilk focuses solely on pre-made Indian meals that can be reheated in the microwave at home and served immediately.
Daily Harvest offers a frozen smoothie and bowl subscription delivery service and advertises heavily to millennials on Instagram. Since launching in 2015, Daily Harvest has achieved annual sales of $125M and has raised $44M in equity funding.
Wider selection, higher quality, and more competitive pricing are all likely to drive frozen food sales in the near future. However, as consumers' expectations increase, so too will manufacturing costs. The biggest challenge legacy frozen food companies face isn't convincing a new generation of consumers of the benefits of frozen food; it's how to manufacture and price higher-quality products competitively without cutting too deeply into profit margins.
---
7. Seltzer industry
DITCHING SODA, MILLENNIALS SEEK A HEALTHIER FIZZ IN THEIR DRINKS
While many millennials have little appetite for sugary sodas, that doesn't mean they aren't looking for other carbonated beverage options — and they're finding them in seltzers and flavored sparkling waters.
Sales of sugary carbonated drinks have been on the decline for years, with many of the largest soda manufacturers going back to the drawing board as consumers turn toward healthier alternatives.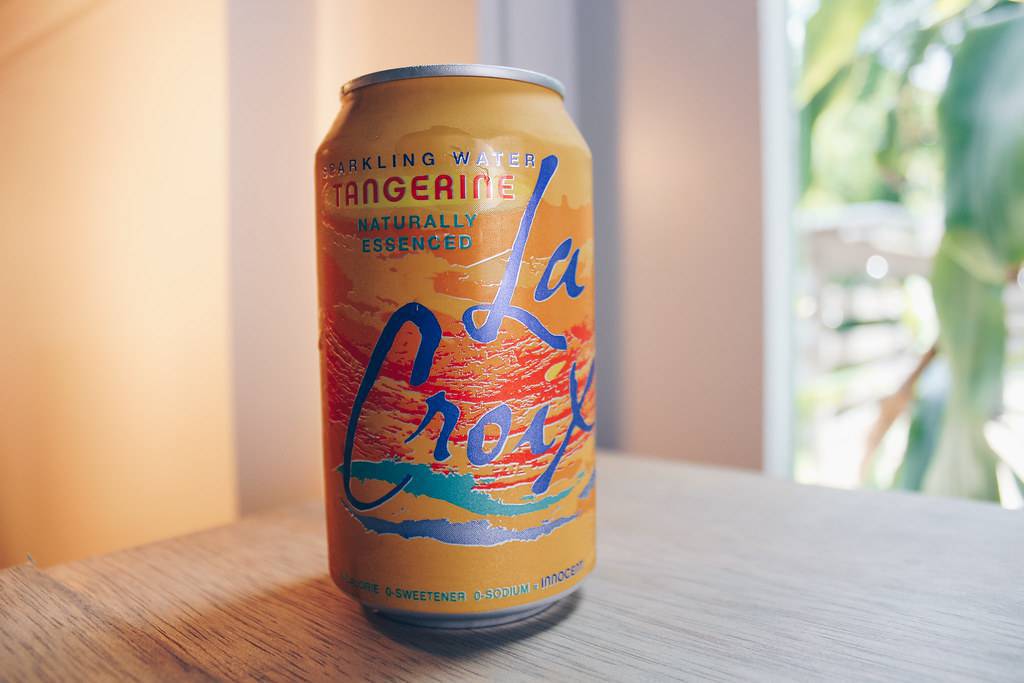 The beverage industry has been quick to respond to these trends. In recent years, the dramatic increase in seltzer's popularity has sparked an arms race among major beverage manufacturers as they seek to shore up their losses on soda with sales of low-calorie carbonated drinks.
Sparkling waters, in particular, have proven remarkably popular with health-conscious consumers. In 2020, the category drew $3.5B in sales, with brands like Sparkling Ice and Perrier reporting strong sales. Newer entrants such as bubly, a PepsiCo brand launched in 2018, have quickly achieved similar sales totals as established legacy brands, suggesting there may yet be room for new sparkling water products to meet heightened consumer demand.
Like PepsiCo, several other major drink manufacturers have diversified their product offerings to include flavored seltzers, often adopting an acquisitive approach. Coca-Cola acquired Mexican seltzer brand Topo Chico, which has long been popular across the American Southwest, for $220M in 2017. Coca-Cola also offers sparkling water beverages through its Dasani and Smartwater brands. PepsiCo owns Izze, a range of juice-seltzer blends, as well as bubly and SodaStream.
LaCroix, long a favorite beverage among millennial consumers, saw strong sales throughout 2020 as more consumers were introduced to the brand. LaCroix's parent company, National Beverage Corp., reported $246M in net sales during the third quarter of fiscal 2021, an increase of 10% year-over-year and one of the company's strongest-ever quarters. Prior to the pandemic, National Beverage experienced a dramatic decrease in sales and an accompanying decrease in its stock price of almost 3% following reports that sales of LaCroix were "in free fall" due to intensifying competition in the space.
In addition to major brands, dozens of smaller independent beverage companies have emerged to quench millennials' thirst for flavored seltzers. Spindrift, which claims to be the first sparkling water in the US to be flavored exclusively using real fruit juice, has grown rapidly since its founding in 2010. The company achieved revenue growth of more than 1,000% over a 36-month period from 2016 to 2018. In 2020, Spindrift raised an additional $33M in equity funding.
Other upstarts are looking to capture the attention of millennials by adding new ingredients into the mix — most notably, CBD and alcohol.
Recess, a CBD-infused seltzer brand, opened an online store to sell its hemp-infused CBD seltzer in early 2019. The product is marketed as a wellness aid, and also contains supplements like L-theanine, an amino acid found in tea leaves.
White Claw Hard Seltzer (owned by Mark Anthony Brands), meanwhile, produces a range of flavored 100-calorie alcoholic seltzers. In 2019, White Claw sales surpassed that of any craft beer except for Blue Moon. That year, it represented 58% of total hard seltzer sales.
Across the board, sales of hard seltzers increased by more than 226% in 2019; by comparison, total sales of beers increased by less than 1% during that period. In May 2020, weekly sales of hard seltzers in the US reached $105M, dwarfing the $28M in sales reported during the same period in 2019.
Since then, the market has attracted several new entrants with similar products. Two Robbers, an independent hard seltzer brand launched in 2017, raised a $6M Series A round in April 2021. Volley, a tequila-based seltzer company, launched in March 2021, the first such product on the market.
In light of the strong growth among independent brands in the space, established brewers such as Anheuser-Busch InBev SA (Budweiser, Michelob), Molson Coors (Blue Moon, Carling, Molson), and Constellation Brands (Corona, Modelo) have made moves into the hard seltzer space, which represents one of the strongest growth opportunities in the alcoholic beverage market. Hard seltzers are expected to reach annual sales of $6.5B by 2024.
For established brands, the biggest challenge may not be catering to changing tastes, but reinventing themselves to capitalize on their strong brand recognition while shifting focus away from product lines that may be stale or perceived as unhealthy, such as sodas.
---
8. Houseplant industry
WELLNESS-FOCUSED URBAN MILLENNIALS BRIGHTEN THEIR SURROUNDINGS with plants
In 2019, Bloomberg declared that plants had become the new children for Generation Y. The Washington Post went further still, saying that millennials were filling their homes — as well as the "void in their hearts" left by not having children or pets — with houseplants.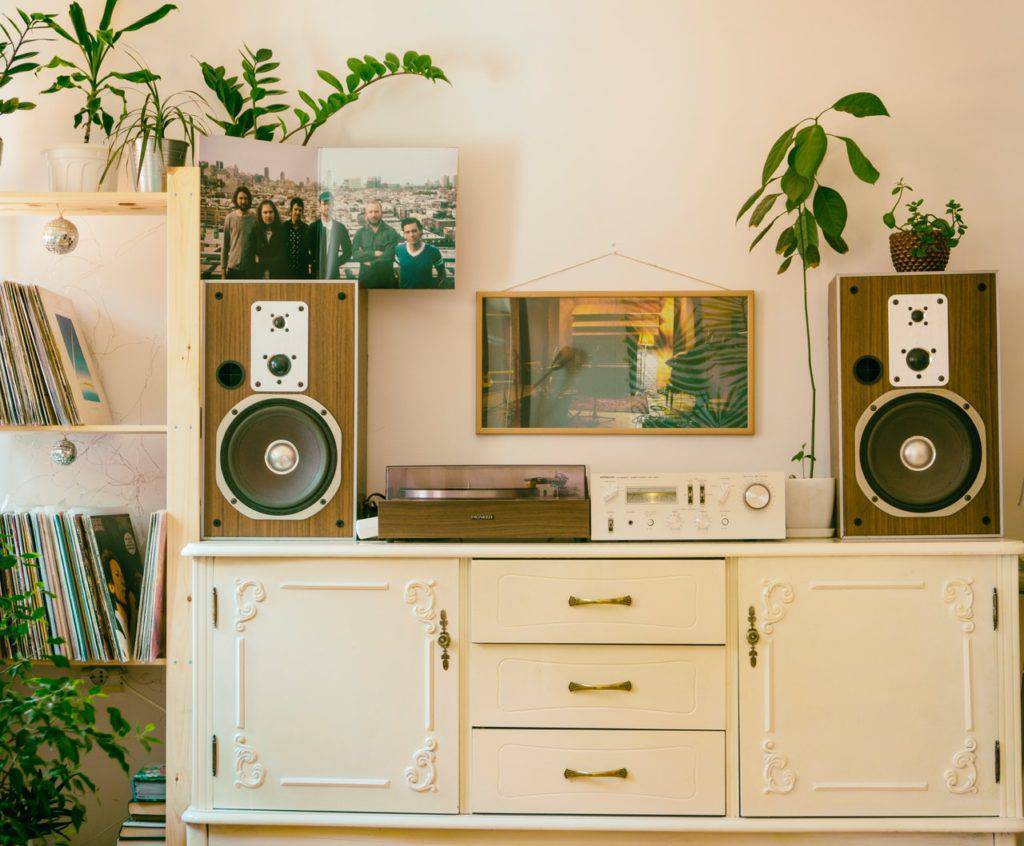 There are a couple of problems with this narrative. For one thing, millennial women account for a majority of births in the US. Meanwhile, roughly a third of all pet owners in the country are millennials, making them the largest pet-owning generation — so, many millennials do have children, pets, or both. Moreover, there's not much evidence that people see houseplants as substitutes for children or pets.
That said, plant sales are on the rise. Between 2016 and 2018, they increased in the US by nearly 50% to reach $1.7B, according to the National Gardening Association. During that period, the average household spend on indoor plants grew from about $30 to nearly $50.
Interest in houseplants has continued to increase steadily in the intervening years, especially as people sought to beautify their living spaces during Covid-19 lockdown measures. Almost two-thirds of independent garden centers polled by Garden Center Magazine saw increases in houseplant sales of more than 15% in 2020. 96% expected to see further increases in sales throughout 2021.
Beyond the pandemic, forces behind the demand include millennials' interest in holistic wellness and proclivity for urban living, where the temporary nature of rentals often doesn't allow more permanent changes to one's housing. On the supply side, a range of new digitally native D2C plant brands have sprung up to offer an easier and more accessible houseplant buying experience.
Houseplants have become an integral part of many Gen Y consumers' wellness and self-care routines. On social media, terms like "jungalow" — a portmanteau of "jungle" and "bungalow" — and "urban wilding" have become popular hashtags for stressed-out millennials hoping to create urban oases in their apartments.
D2C plant brand The Sill's tagline, "Plants Make People Happy," directly contextualizes houseplants as a form of self-care and wellness.
"They call us Generation Stress for a reason. We position plants and our brand as the break in all this. It's the antidote to this unfortunate thing that our entire generation suffers from: anxiety. And plants really can be part of the cure." — Eliza Blank, CEO of The Sill
Advocates regularly cite scientific studies showing houseplants can increase productivity, reduce stress, boost physical health, and improve air quality. While recent research shows that houseplants have a generally negligible effect on indoor air quality, the mood-changing effects of surrounding yourself with plants are real and clear.
Also important in the resurgent growth of the houseplant industry is the "youthification" of America's urban areas. Millennials today have a preference for city living that eclipses that of baby boomers and Generation X at the same age, and they tend to rent more than other generations: 74% of millennials live in rental properties, compared to 61% of early boomers in 1981 and 62% of Gen Xers in 2000.
While renting is more affordable in the short-term and makes city living more possible, it also makes it harder to personalize and customize a living space. Plants offer a low-cost, low-impact way to do this.
And as millennials seek out greenery to enhance their living spaces, retailers aren't waiting passively for customers to come to them; instead, they're adapting their offerings to reflect changing shopping habits among millennial consumers.
D2C houseplant companies like The Sill, Greenery NYC, and Bloomscape offer highly cultivated aesthetics designed to be found and shown off on social media. They also offer meticulous plant care instructions and prioritize online sales.
Several houseplant subscription services have emerged in recent years, including Click and Grow, Horti, and The Sill's Plant Parent Club. Larger e-commerce platforms like Amazon and Etsy have also launched specialized marketplaces for houseplants. These services not only make cultivating and caring for houseplants easier for busy urban consumers, but also strongly align with broader e-commerce trends that are popular with millennials.
Similarly, many apps have launched in recent years to help new houseplant owners tend to their greenery, including Greg, which raised a $5.4M seed round in May 2021. Like other apps in the space, such as Blossom, Florish, and Planta, Greg helps people take better care of their plants by using machine learning to offer personalized watering schedules and assistance with optimal plant positioning based on factors such as the availability of natural light in the home.
While these trends may threaten traditional garden retailers, some independent nurseries have adapted and found success with millennial shoppers. California's Folia Collective, Sanso, and Peacock & Co. have attracted millennial shoppers by embracing the clean, angular aesthetics of companies like The Sill and focusing their sales on houseplants — appropriate for a generation that's more likely to have space for indoor than outdoor plants.
By offering easily available, aesthetically clean, and lower-cost houseplants, plant retailers of all stripes can better appeal to wellness-minded and urban-dwelling millennials.
---
9. Skincare industry
DRIVEN BY CONSCIOUS CONSUMERISM AND ONLINE-FIRST strategies, SMALLER COMPANIES GAIN GROUND ON LEGACY COMPETITION
Over the last several years, the cosmetics industry has seen strong growth, driven largely by millennials' new discovery and purchasing behaviors and the rise of niche brands catering to their preferences.
As of 2017, millennial shoppers were buying 25% more cosmetics than 2 years prior, and significantly more than baby boomers, with self-described "makeup enthusiasts" using 6 or more products each day, according to NPD.
Across beauty, both online and in-store sales have increased since then: per a PowerReviews consumer survey, 49% of respondents indicated they spent more than $50 on beauty products online in 2020, compared to just 16% in 2019. 41% spent more than $50 in store during 2020, compared to 21% in 2019.
However, with salons and retail points of sale closed, the coronavirus pandemic had a significant impact on the cosmetics industry's rate of growth. According to data from L'Oreal, the global cosmetics industry shrank by 8% in 2020.

Source: L'Oreal
However, the skincare category has been a bright spot for cosmetics. L'Oreal notes that skincare "remains the leading contributor to the growth of the beauty market." While interest in categories like makeup waned during the pandemic as consumers had fewer social engagements, skincare became an area of focus as people looked for ways to take care of themselves at home.
The millennial generation is not only flocking to skincare products; it also represents changing preferences around how to find and choose skincare brands.
Millennials are 3x more likely than previous generations to research new brands and products using social media, and 37% more likely to trust a brand after coming across a sponsored post about it. Beauty videos in particular are on the rise: global views of beauty videos on YouTube increased by 60% to a total of 219B between 2016 and 2017. Influencer marketing is especially effective when targeted toward millennial consumers, with 66% of millennials indicating that social media trends affected their cosmetics purchasing decisions in 2020.
This tendency to use social media to find products has spurred the growth of new online-first and D2C beauty brands like Glossier, which has used Instagram as its primary marketing channel and surpassed $100M in sales in 2018.
Meanwhile, brick-and-mortar beauty brands like Ulta Beauty are embracing niche merchandising as a strategy to lure consumers. Ulta has worked with the Kardashians, become the exclusive retail partner of popular skincare brand Peach & Lily in early 2019, and announced that 1,200 Ulta Beauty stores will carry D2C company Madison Reed's products. While some cosmetics and beauty brands struggled to mitigate the impact of the pandemic, Ulta achieved 10% revenue growth in 2020, and the company experienced a record-breaking Q1 fiscal 2021, with a 66% increase in year-over-year comparable sales.
Millennials continue to drive innovation in skincare through their purchasing decisions. While millennials are generally price-conscientious, 73% are willing to pay more for products that are sustainable (compared to 66% of average consumers), with a lack of testing on animals as their highest priority.
They also want to buy natural, high-quality products, with a particular focus on sustainability. Amid the pandemic, 76% of consumers indicated that they are proactively seeking out brands and products that are manufactured sustainably. This is fueling growth of the vegan cosmetics market, which is expected to grow at a CAGR of nearly 6% to reach $25.3B by 2029.
As the skincare market becomes more crowded than ever, it's important for brands to build strong connections with their customers. Glossier, for example, has been working on a social commerce project designed to connect customers with the company and with each other. Building its own platform could help insure Glossier against the possibility of Instagram's influence turning against it, while giving the brand a more direct relationship with customers.
Ultimately, while millennials are more conscientious consumers of skincare products than generations before them, that hasn't slowed down their spending. Armed with the ability to easily research new skincare companies, and faced with a wider range of niche brands than ever, millennials are buying far more skincare products than any other generation.
It's up to the skincare brands to now capture that attention, deliver products that match millennials' preferences (such as sustainable practices and natural ingredients), and nurture that connection over the long term.
---
Transportation
10. Automotive industry
MILLENNIALS STILL WANT TO DRIVE — THEY JUST WANT CHEAPER, MORE EFFICIENT VEHICLES
Despite their concern for the environment and reputation as bicycle riders and public transportation commuters, a large portion of Generation Y is just as keen to get behind the wheel as their parents were. They now represent 45% of first-time car owners, and in terms of vehicle-miles traveled, millennials actually drive more than other generations (controlling for factors like marriage and urban living).
Data published in Experian's Market Trends Review indicates that, of all generational cohorts, millennial and Gen Z consumers were the only 2 demographics that spurred auto industry growth during Q3'20.
The same trend can be seen in vehicle registrations. In 2019, millennial drivers accounted for 26.4% of all new vehicle registrations. In 2020, that figure climbed to 28.6%.
"Millennials had all but been written off as a serious customer group in the auto industry. But data tells a much different story. The demographic is maturing and is now poised to be a driving force in automotive marketing." — Marty Miller, senior automotive industry consultant, Experian Automotive
As a key demographic, millennials' preferences have the power to shape trends in the automotive industry.
While older cohorts may favor luxury vehicles, such as high-end sedans and SUVs, millennial motorists appear more open to sedans, which are generally smaller, more efficient, and more affordable. In a 2019 survey, 86% of younger millennials and Gen Zers who don't own a sedan said they would consider buying one now or in the future — 8 percentage points higher than the average across generations.
Today, SUVs are outpacing sedans. In 2019, SUVs outsold sedans by a ratio of 2:1, a trend that showed no signs of reversal by 2020 when sedans accounted for just 7-9% of total sales among auto giants Ford, GM, and Stellantis. However, if millennials continue to flood into the personal automobile market — a trend that accelerated even further in the pandemic — sedans could see a rebound.
While American automotive manufacturers have shifted their focus to the SUV and crossover markets, many foreign automakers remain committed to sedans, wagons, and other models, with the expectation that sedans will continue to command interest.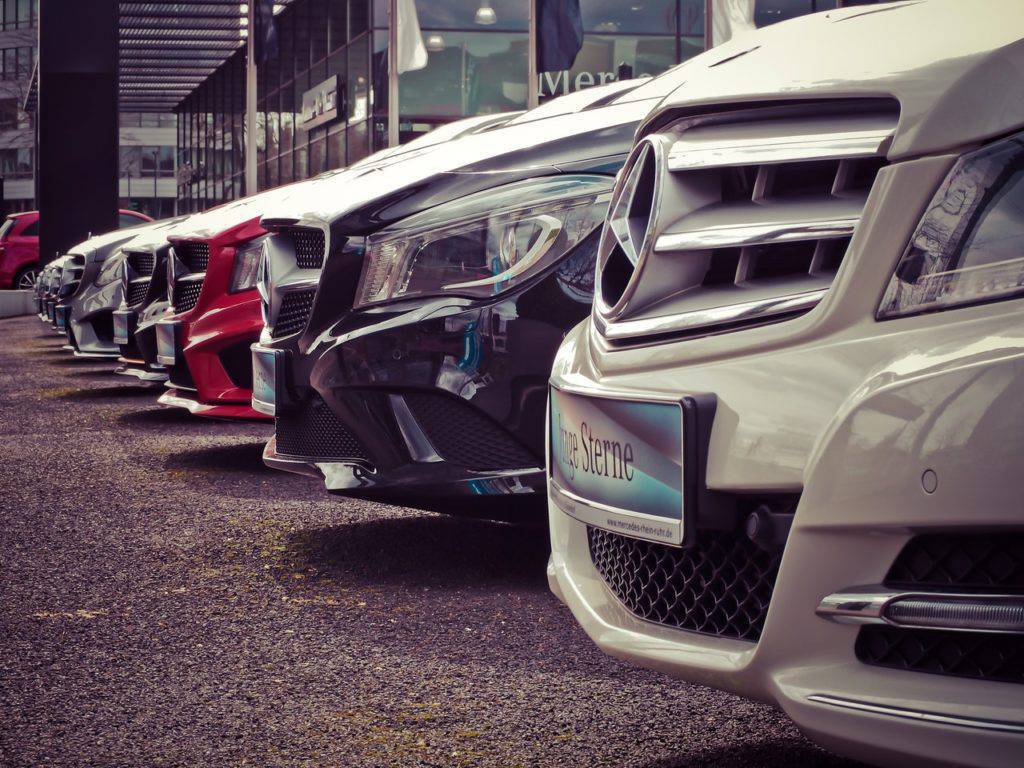 Millennials also have a demonstrated preference for foreign-made vehicles. Of the 10 most popular vehicle brands among millennial consumers, only 2 are American. Japanese automakers Honda, Nissan, and Toyota — routinely rated as among the most reliable vehicle brands in the world — typically top the list of the most popular vehicle brands among millennial consumers.
Another market that some analysts expected would see significant growth among the millennial cohort in coming years was that of the electric vehicle (EV) market. Given many millennial consumers' preferences for environmentally sustainable products, some industry experts predicted that sales of EVs would steadily increase as millennials gained greater purchasing power.
However, perhaps surprisingly, millennials are not as partial to EVs as expected. A survey conducted in 2017 indicated that as many as 70% of millennial respondents had little or no interest in purchasing an EV, especially among first-time buyers. Millennials' environmentally conscious purchasing decisions and awareness of climate change have not yet translated into purchases of EVs.
This may, however, be an economic decision rather than an environmental one. A majority of millennials (57%) and Gen Z consumers (56%) favor the gradual phasing-out of internal combustion engine vehicles by 2035, compared to just 38% of baby boomers and 45% of Gen X.
But with many millennials seeking reliable secondhand vehicles over new purchases, the perceived price point and reliability of EVs may be dissuading them from making the leap from gasoline to battery power. This trend appears to have been accelerated by the Covid-19 pandemic, with 71% of non-vehicle owners expressing an interest in traditional gasoline-driven vehicles compared to just 6% who expressed an interest in purchasing an EV as their first car.
While millennials are leading the surge in auto purchasing, whether they shift their attention to EVs will depend on whether they can afford them.
12 Industries That Will Thrive Thanks To Millennials
Millennials are one of the largest generations in history, and they're hitting their prime spending years. Get the full report to find out about the industries that stand to benefit the most.
---
11. Micromobility industry
FOR URBAN MILLENNIALS, MICROMOBILITY WILL BE THE KEY TRANSIT CHOICE OF THE FUTURE
In recent years, Gen Y has been pivotal in the trend of resurgence in America's urban areas. Not only do they have a significant preference for city living, they are also 21% more likely to buy their homes near city centers than Gen Xers. For the cohorts aged 25-34 and 35-44, the critical factor in that decision is access to transit, according to a Journal of Regional Science study.
While the coronavirus pandemic had a powerfully disruptive impact on where many Americans decided to make their homes — New York City saw a 487% year-over-year increase in people leaving the city during the height of the pandemic, for example — it seems likely that millennials' love of urban centers will endure, at least for the foreseeable future.
Given that millennials make up America's largest generation, that is positive news for the sector of the transportation industry most primed to capture the future urban market: micromobility.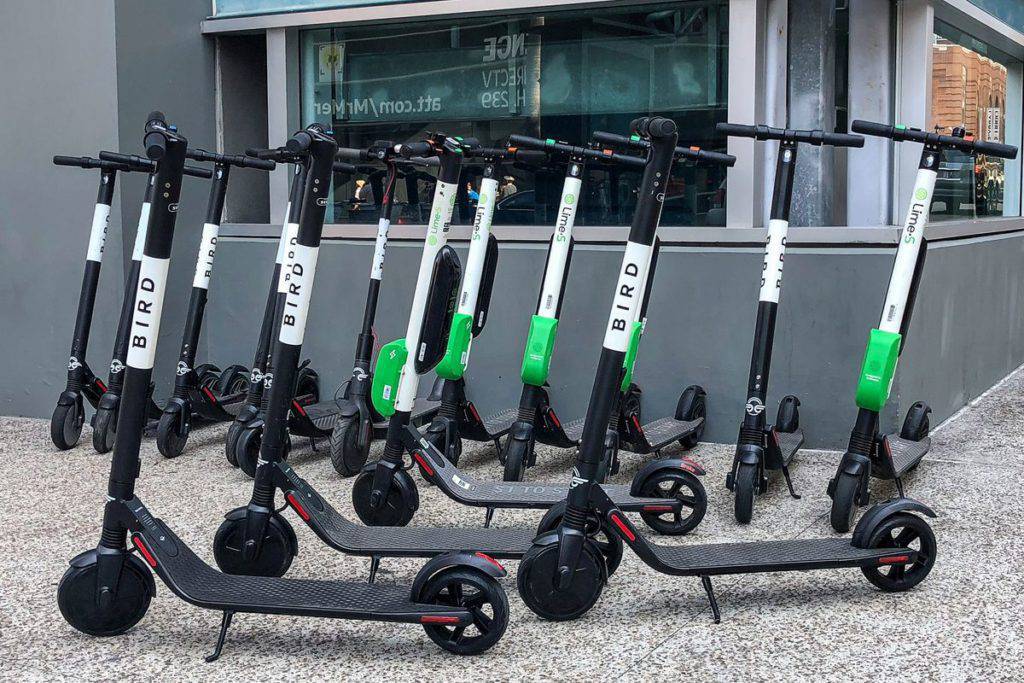 Pre-pandemic, micromobility services — including ride-hailing platforms like Uber and Lyft, bike-share programs like New York's Citi Bike, and electric scooter rental services like Bird and Lime — grew rapidly. In 2018, there were more than 85,000 e-scooters available for rent in 100 cities across the US, with more than 38.5M trips made in 2018 alone. As a whole, the micromobility sector was expected to be worth up to $300B by 2030.
The coronavirus pandemic changed all that.
The lockdown measures necessitated by Covid-19 stopped the micromobility market's upward trajectory practically overnight. With significant reductions in personal trips and general distances traveled — reductions of between 60-70% in passenger-kilometers traveled, according to some estimates — micromobility startups were hit hard.
However, as confidence in vaccine programs increases and people begin to resume their lives, micromobility startups could still achieve strong overall growth if they prioritize longer-term objectives and successfully navigate shorter-term challenges.
American cities in particular remain ideal environments for micromobility startups. Roughly 60% of all trips made in the US are 5 miles or less, and e-scooters and e-bikes can be much more efficient than driving for such distances.
In 2018, for instance, Uber noted that its shared e-bike platform Jump was cannibalizing its ride-share business during peak hours: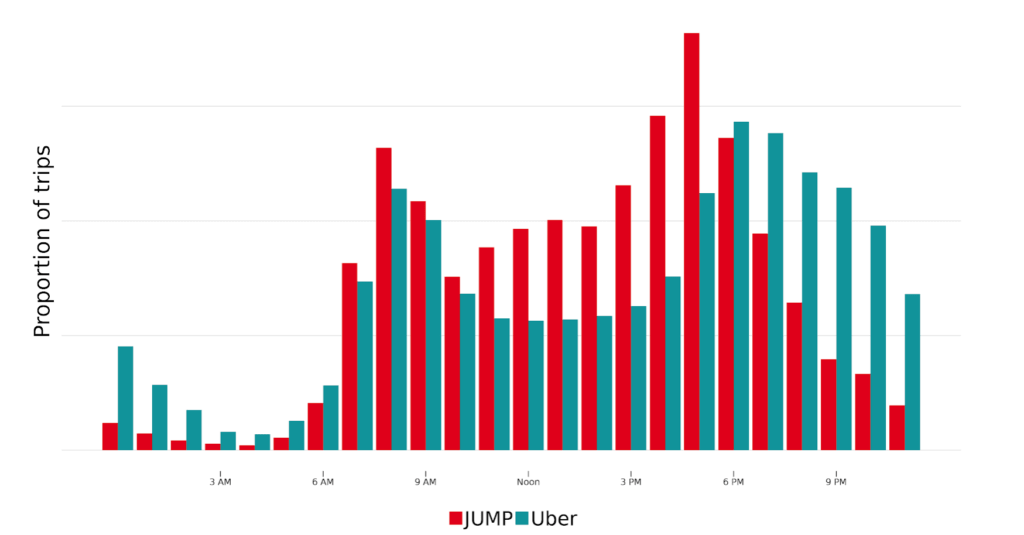 Top users of services like Jump and Uber are also significantly less likely than other respondents to buy a new car, according to the Shared-Use Mobility Center: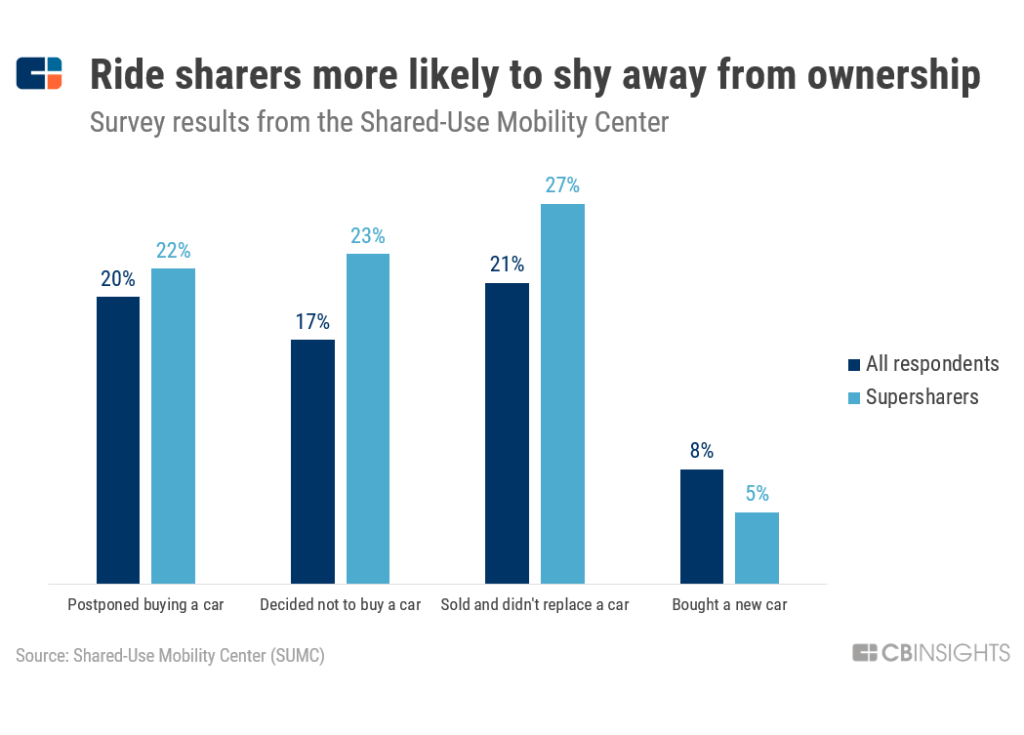 Many players in the micromobility space continue to develop new products to entice wary travelers back onto the roads, remaining confident in their future growth prospects. Lime recently unveiled its new e-mopeds in Washington, DC, and Paris, and the company hopes that consumers' growing preference for safe, affordable, socially distanced transportation will translate into increased usage and further growth.
Bird acquired Berlin-based micromobility company Circ for an undisclosed sum in early 2020, but laid off approximately 30% of its workforce later that year due to a decrease in annual revenue of 37%. Despite these setbacks, Bird announced its intentions to go public via SPAC in 2021, and the company predicts it will become profitable by 2023.
Top automakers in America and around the world have begun working on their own micromobility projects to capture the demand for a more affordable, efficient form of transport, especially inside America's urban cores.
In late 2018, Ford bought e-scooter company Spin for a reported $100M, and the company has been operating a docked bike-share program in San Francisco and the Bay Area since 2013. Spin originally planned to expand into the German, French, and UK markets in 2020, but these plans were put on hold by the coronavirus pandemic. The company has since appointed a new CEO and intends to launch a new range of e-bikes in select cities in the US and Europe, moves that the company hopes will close the gap between Spin and competitors like Bird and Lime.
Other legacy transportation companies trying to adapt to a micromobile world include BMW, which is building its own line of electric bikes and motorcycles; Harley-Davidson, whose Serial 1 electric bike went on sale in March 2021; and Audi, which is building electric mountain bikes.
Other manufacturers have reevaluated their plans to enter the micromobility market entirely. General Motors, whose Ariv e-bikes had been deployed in several European cities as part of a limited pilot in 2019, decided to terminate its line due to the impact of Covid-19.
One of the keys to success with micromobility will be the ability to work with municipalities to bring scooters and bikes to the road in a sustainable manner. Although some municipalities have welcomed micromobility startups with open arms, others have been resistant to allowing them to operate within city limits.
The city of Santa Monica, California filed a criminal complaint against Bird after the company deployed its fleet of e-scooters in 2017, and city attorneys in San Francisco issued cease-and-desist letters to Bird and Lime in 2018, claiming the scooters were a public nuisance.
Several other cities across the US, including Nashville, San Antonio, and Seattle, have introduced legislation in recent years either restricting or outright banning micromobility startups from operating in those cities following complaints, accidents, and fatalities.
For micromobility companies looking to capitalize on millennial consumers, a key challenge will simply be figuring out how to operate in the urban geographic locations that the generation prefers.
---
Finance
12. Personal finance industry
MILLENNIALS ARE INCREASINGLY TAKING CONTROL OF THEIR MONEY WITH APPS, NOT BANKS
Despite being saddled with the highest student loan debt of any generation and the fastest-rising cost of living in a decade, millennials are often characterized as being inept when it comes to their finances.
The reality, however, is that nearly half of millennial Americans are actively saving for emergencies, retirement, and even future homes. Despite lower earnings than Gen Xers or baby boomers had at their age, millennials are more likely to have savings goals, manage their debt better, and do a better job of sticking to their budgets.
Generation Y's secret weapon when it comes to navigating budgeting, saving, investing, and spending — even with depressed wages and a less-than-desirable job market — is technology.
Millennials make up the vast majority of users of web and mobile personal finance apps, which are year by year becoming increasingly popular tools to help users better understand, organize, and improve their finances.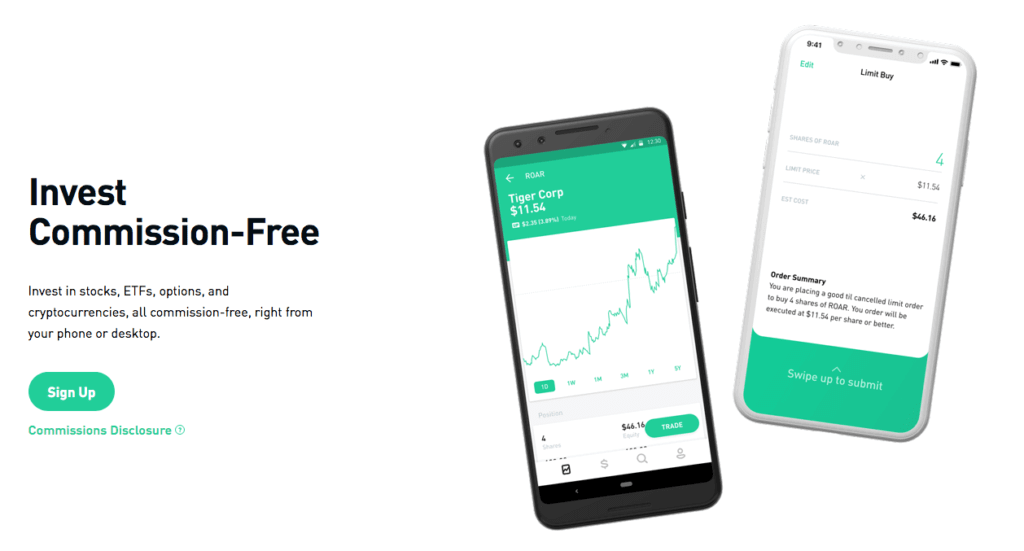 Source: Robinhood
With more than half of American smartphone users using at least one full-service banking app and almost one-fifth using a standalone budgeting app, consumers across demographics are embracing fintech products. Gen Y users, though, rely on mobile banking and standalone budgeting apps even more than their older counterparts. Personal budgeting apps are especially popular with millennials, with approximately 70% of the user base of these apps belonging to the millennial cohort.
One of the most popular verticals for personal finance tech is banking. In one survey, 71% of millennials said that they would rather go to the dentist than listen to what a bank has to tell them — a sentiment driven largely by poor customer service and poor technological integration. To this end, only 25% of millennial financial consumers would prefer to get their financial advice from a human being, with the vast majority preferring the self-service route via apps for mobile devices.
That distaste has created a huge opportunity for digital-first challenger banks like Revolut, Chime, Nubank, Qapital, Monzo, N26, and Uala. In 2018, CG42's retail banking study predicted that the 10 largest banks would lose more than $340B in deposits to this upstart brand of competition over the following year alone. The Covid-19 pandemic accelerated these trends even further: since the emergence of Covid-19, online banking has increased by 23%, and mobile banking has increased by 30%.
Many financial analysts see these trends as lasting changes rather than temporarily anomalies. In the coming years, Boston Consulting Group predicts an additional 19% increase in mobile banking use and a 26% reduction in the use of brick-and-mortar branches — and that's in addition to the 12% reduction in branch usage already observed during the pandemic.
Millennial adoption has also fueled the growth of robo-investment advisors like Betterment ($29B in assets under management, or AUM), Wealthfront ($15.8B AUM), and Personal Capital ($13B AUM).
Digital brokerage Robinhood was valued at $11.7B as of September 2020, and is expected to go public in 2021 at a valuation of up to $40B. In 2019, it reported that 80% of its assets under management come from millennials.
As the rapidly rising cost of living continues to squeeze already struggling millennials, it's inevitable that demand will remain high for personal finance apps that can help cash-strapped consumers make informed decisions.
To stay relevant, legacy financial institutions will need to offer mobile apps that are both technologically sophisticated and simple to use. These apps may utilize technologies like Face ID for quick login, offer integrations with the other financial products like Robinhood that millennials are using, and be built as consumer products first — not portals into a web interface from the 1990s.
If you aren't already a client, sign up for a free trial to learn more about our platform.