We dive into the strategies Microsoft is pursuing across cloud, enterprise IT, AI, gaming, and more to see how the company is positioning itself for the future.
As the world's most valuable company, and with a current market cap hovering around $780B, Microsoft may be the next company to reach the $1T threshold.
While it may not grab as many headlines as its buzzier tech giant counterparts, the company is quietly adapting across its core business areas, led by a future-focused Satya Nadella.
Since assuming the CEO role in 2014, Nadella has deprioritized the Windows offering that initially helped Microsoft become a household name, refocusing the company's efforts on implementing AI across all its products and services.
That's not the only change: in addition to an increased focus on AI, cloud and subscription services have become unifying themes across products. And to maintain its dominance in enterprise technology, Microsoft is expanding in new areas — like gaming and personal computing — that leverage the company's own cloud infrastructure. 
Below, we outline Microsoft's key priorities, initiatives, investments, and acquisitions across its various business segments.
TABLE OF CONTENTS
Microsoft's structure & history
Key segments
Microsoft, which has had several structural changes in recent years, currently buckets its products and services into three main segments:
Productivity & Business Processes
Intelligent Cloud
More Personal Computing
The majority of Microsoft's revenue comes from its enterprise technologies, which fall under its Intelligent Cloud and Productivity & Business Processes segments.
The Productivity & Business Processes segment includes software products like Office 365, Skype, LinkedIn, and Microsoft's ERP (enterprise resource planning) and CRM (customer relationship management) platform, Dynamic 365.
Microsoft's Intelligence Cloud segment includes cloud platform Azure, the Visual Studio developer platform, and Windows Server, a version of Microsoft's proprietary operating system optimized for running in the cloud.
Outside of enterprise technology, Microsoft generates revenue from products like Xbox and Microsoft Surface, among others areas. These products are bucketed into the company's More Personal Computing segment.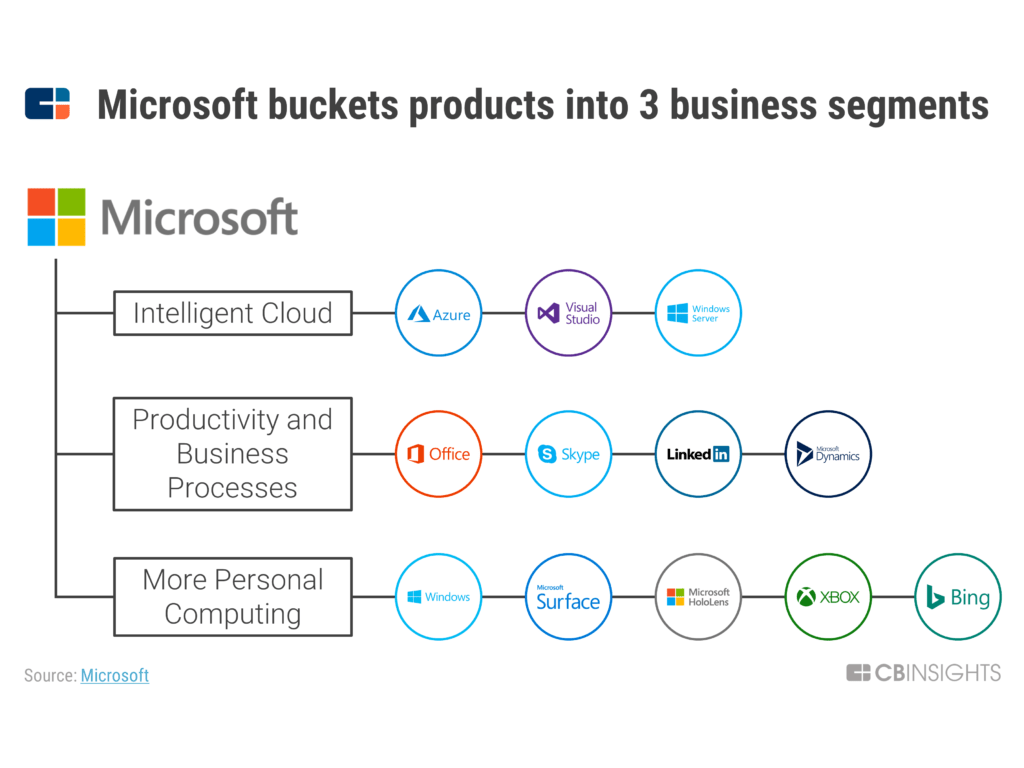 Investment arms
In addition to its in-house efforts, Microsoft has a number of initiatives that look to support promising young businesses. These include Microsoft's venture capital arm, M12, Microsoft's accelerator, ScaleUp, and other initiatives like Microsoft for Startups.
Microsoft Ventures was renamed to M12 in April 2018, while Microsoft Accelerator was renamed as Microsoft ScaleUp in February 2018.
Many of these investment initiatives report to the EVP of Business Development, Peggy Johnson. Johnson was responsible for most of these changes and has also introduced new initiatives to boost investment returns.
Leadership
Since Satya Nadella replaced Steve Ballmer as CEO in February 2014, Microsoft's value has grown by approximately 200%.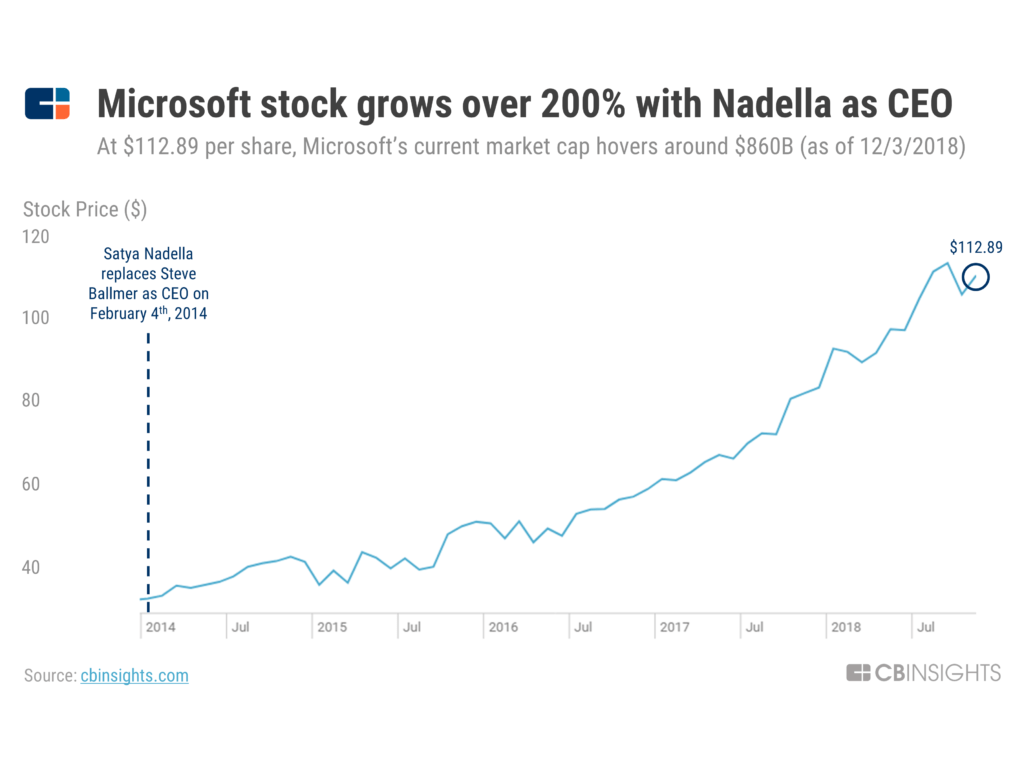 This growth is due in part to recent leadership changes that prioritize key areas like cloud, AI, and gaming. In March 2018, Nadella announced leadership changes that resulted in two major organizational developments: deprioritizing Windows, while prioritizing AI.
Once a core business for Microsoft, Windows now falls under the leadership of Rajesh Jha, EVP of Experiences & Devices, as one of the many products under Jha's purview. Meanwhile Microsoft's AI initiatives are now split between two executives, Scott Guthrie, EVP of Cloud & AI, and Harry Shum, EVP of AI & Research.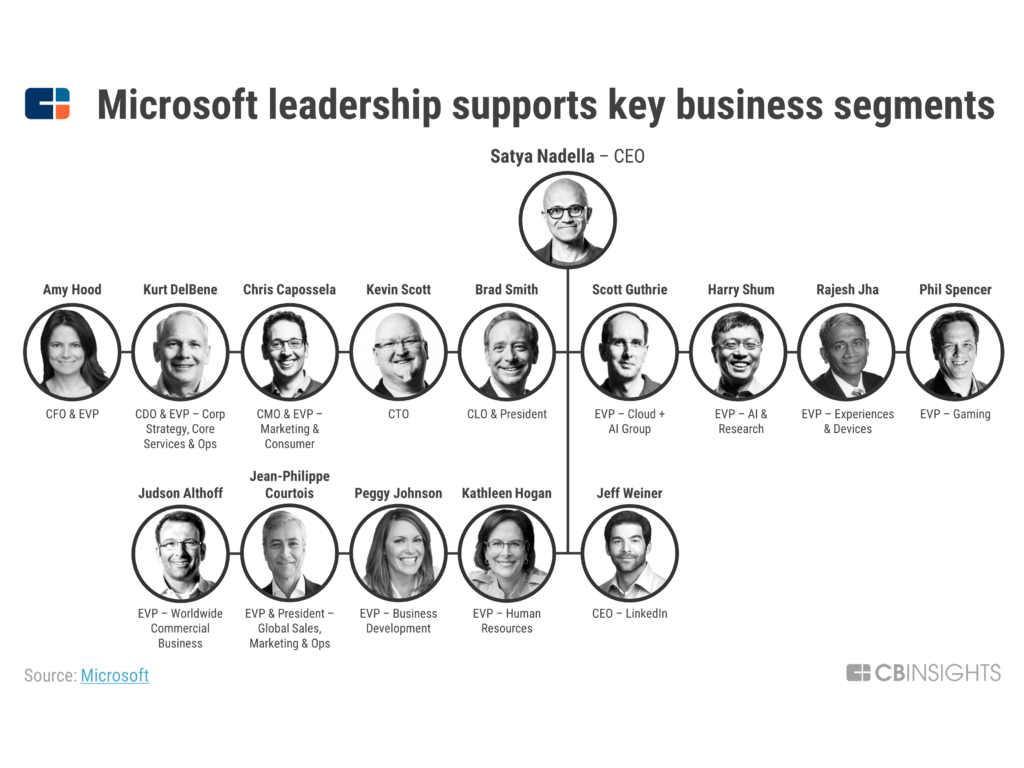 Based on these changes, it seems that Microsoft will pursue AI through three different strategies.
First, it will cater to customers looking to add AI functionality to their applications by offering AI developer tools and services in Azure.
Second, Microsoft will infuse AI in everything from its software to its laptops in an effort to improve the customer experience.
And third, the company will leverage AI to improve all aspects of its internal operations.
Given that Microsoft generates a majority of its revenue from its Productivity & Business Process and Intelligence Cloud segments, the company is prioritizing AI in these areas most.
So far, Microsoft's strategy seems to be yielding positive results: in its most recent quarter, the company reported higher than expected earnings, driven largely by the strong performance of its cloud products and business services. And in 2017, the company surpassed over $100B in annual revenue.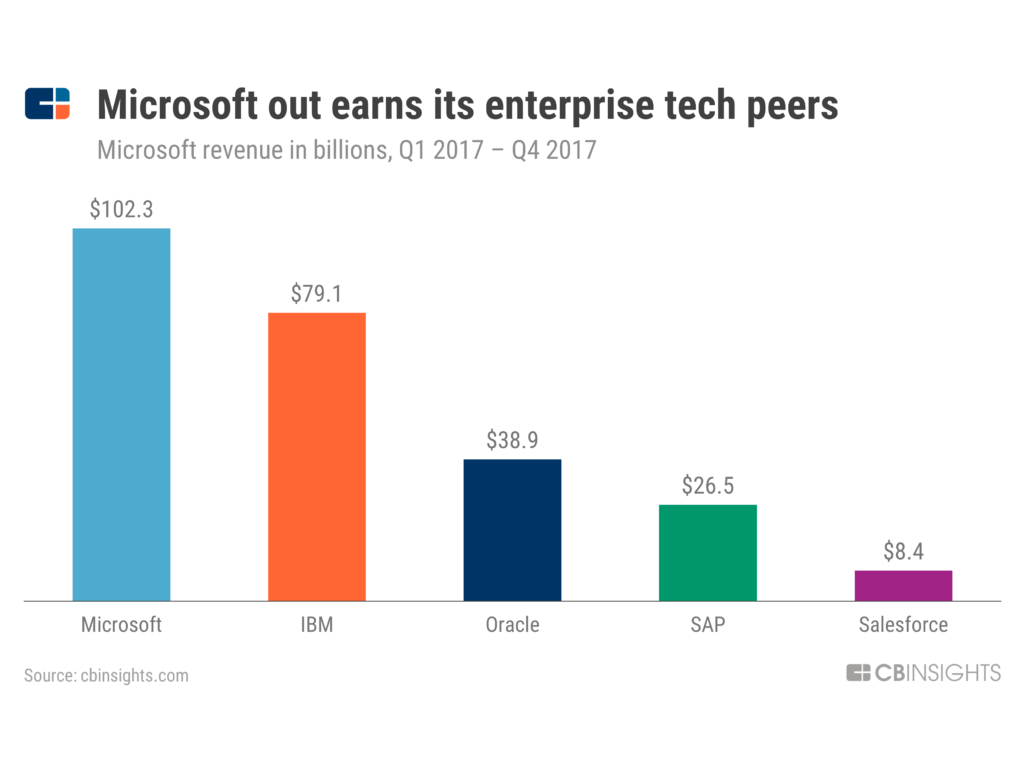 While Microsoft faces increasing competition from cloud providers like Amazon and Google, as well as from enterprise software providers like IBM, Oracle, SAP, and Salesforce, it regularly holds the title of world's most valuable company (if only temporarily).
Below, we take a closer look at Microsoft's strategy across its core business segments.
1. Cloud
Microsoft's Azure cloud plays a critical role in the company's long-term growth potential. Not only is Azure offered as a standalone service, but it also provides the foundation for Microsoft's software, gaming, and personal computing products.
WHAT IT'S DOING NOW
During Microsoft's most recent quarterly earnings call (Q1'19), CEO Satya Nadella highlighted the importance of the cloud, saying,
"Every one of our solutions is reinforcing our core intelligent cloud and intelligent edge platform. Not only are we optimistic about the opportunity for us and for our customers, we also recognize our responsibility."
Since Nadella became CEO in February 2014, the Azure cloud has become a primary focus for Microsoft across its investments, acquisitions, internal research, and internal development.
Investments
Microsoft has invested in cloud across a variety of entities, including its VC and accelerator arms as well as directly off Microsoft's corporate balance sheet.
Many of the companies backed by Microsoft look to support the Azure cloud directly, while other investments go towards potential well-capitalized cloud customers. (Microsoft typically offers free cloud credits to portfolio companies, hoping to facilitate early dependency on Azure's infrastructure, platforms, and services.)
Among its investment vehicles, Microsoft has backed companies ranging from container management platform Mesosphere, to private cloud infrastructure service CloudSimple, to container developer tool CodeFresh.
However, Microsoft biggest investments in the cloud have been made internally — the most obvious being the company's investment in data center locations around the world.
Azure data centers are currently available in 44 regions globally, with plans for 10 more in the coming months and years, much more than cloud services competitors AWS and Google Cloud Platform (GCP).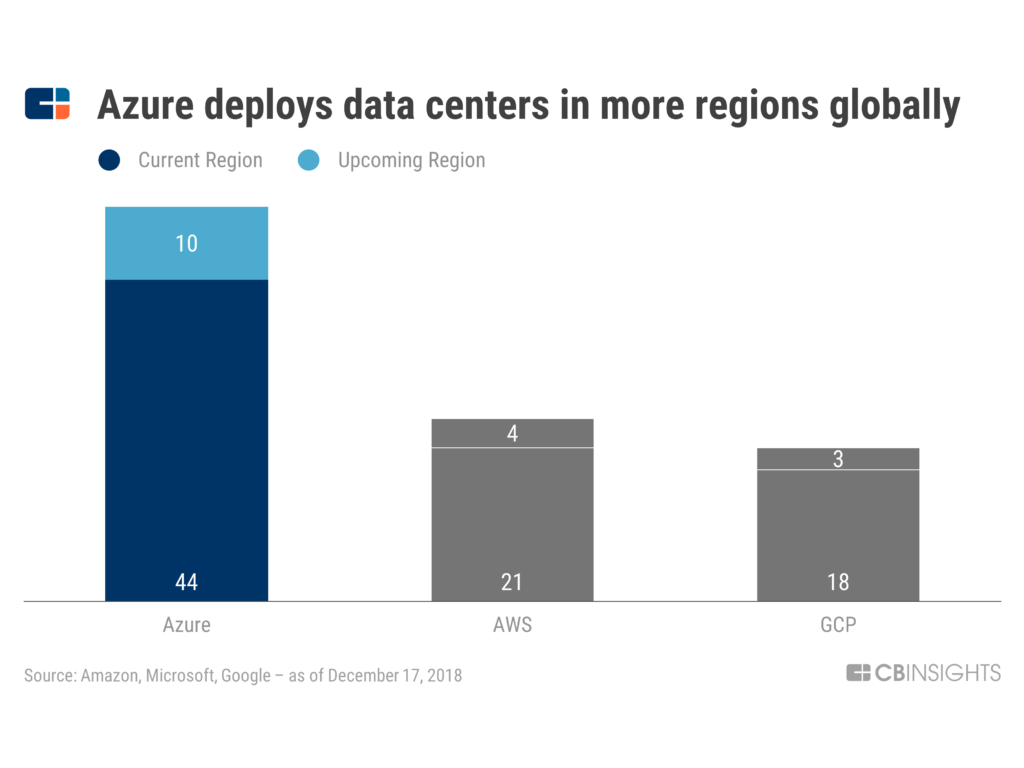 Microsoft claims to have spent over $15B on data center infrastructure since opening its first location in 1989. Comments from a former general manager at Microsoft suggested that annual spending on data centers exceed the company's annual research budget of $10B.
Microsoft's recent annual and quarterly filings state that the company expects capital expenditures to increase in coming years in order to support growth in cloud offerings.
Microsoft has been known to buy data center infrastructure from Fortune 500 companies to fuel growth of its cloud services. These organizations typically conclude that it is more cost effective to use third-party cloud services than maintain their own on-premise infrastructure.
Acquisitions
Microsoft has been one of the most active acquirers of cloud-related technologies since 2013.
The company has been just as (if not more) active as cloud competitors like Amazon Web Services and Google Cloud Platform. Since 2013, Microsoft has matched Google's cloud-related acquisition activity and more than doubled the activity of Amazon.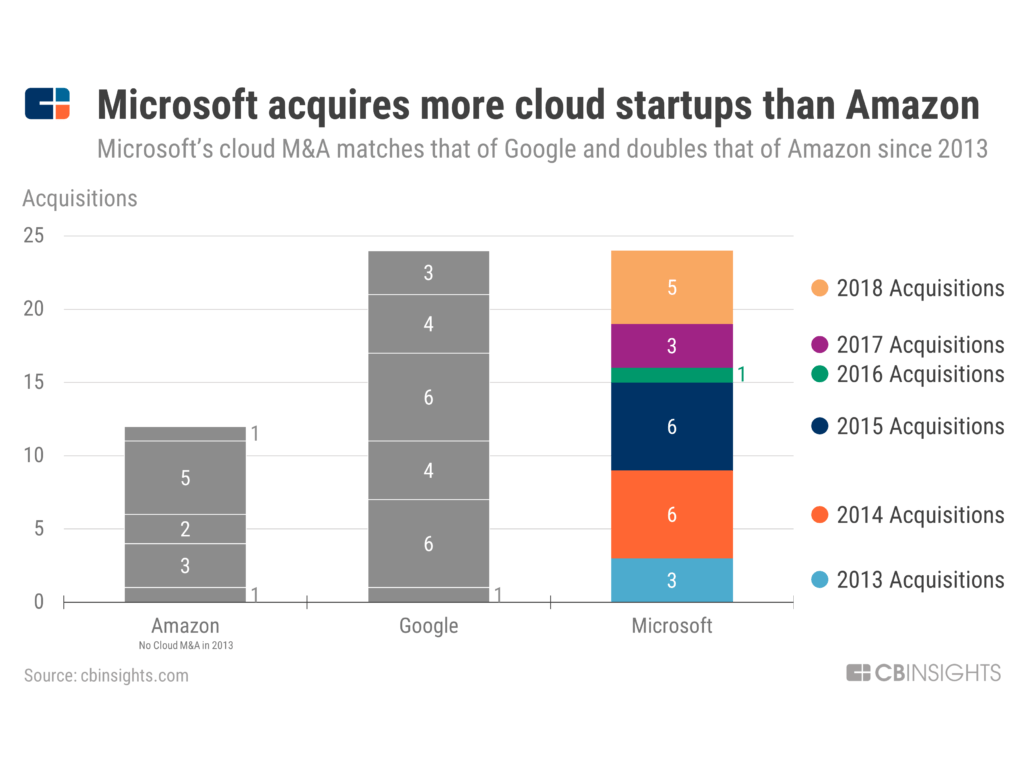 A few of Microsoft's recent notable acquisitions include cloud management platform Cloudyn, AI training platform Bonsai, and the $7.5B acquisition of source code management platform GitHub. According to CB Insights' Deal Search, the GitHub deal marked the largest enterprise software M&A exit in history.
CB Insights expert intelligence customers can learn more about Microsoft's cloud acquisition strategy in our brief, Microsoft & Google Use M&A To Make A Run At Amazon's Cloud Dominance.
Product developments
At Microsoft, the Azure business encompasses hundreds of products and services. According to Nadella,
"[Azure] introduced 100 new Azure capabilities [in Q1'19] alone, focused on both existing workloads like security and new workloads like IoT and edge AI."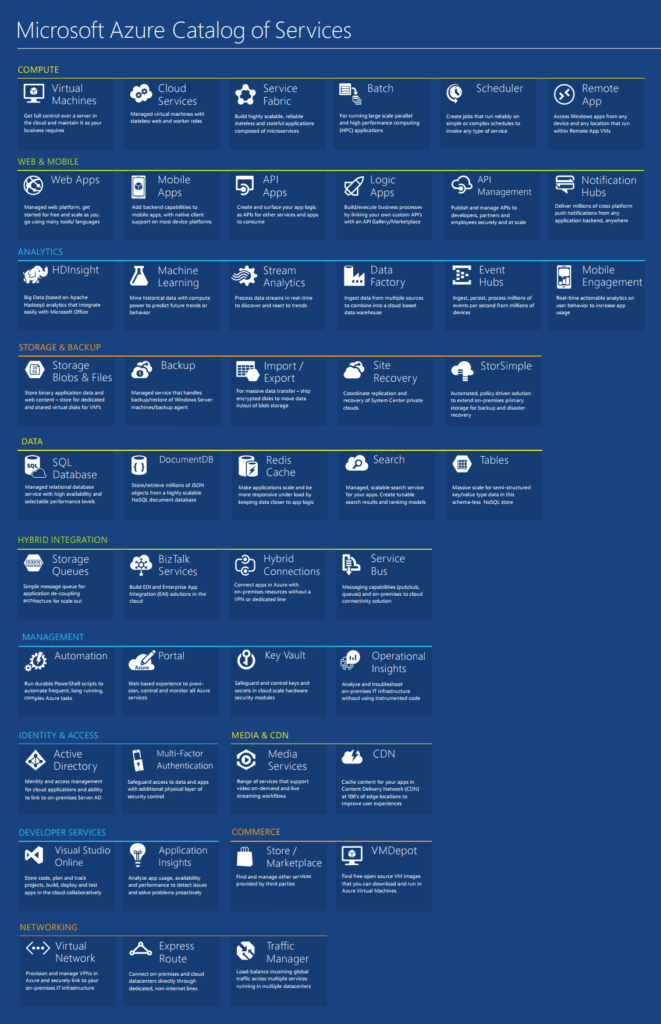 One of Azure's original offerings is its hybrid-cloud service, which acts as a primary growth driver and also gives the company one of its greatest competitive advantages.
Hybrid-cloud computing is an infrastructure architecture that connects public cloud services to private, local area, or on-premise cloud services.
Many of the world's largest organizations use hybrid-cloud as a way to benefit from the scalability and flexibility of the public cloud while maintaining the security and control of on-prem infrastructure.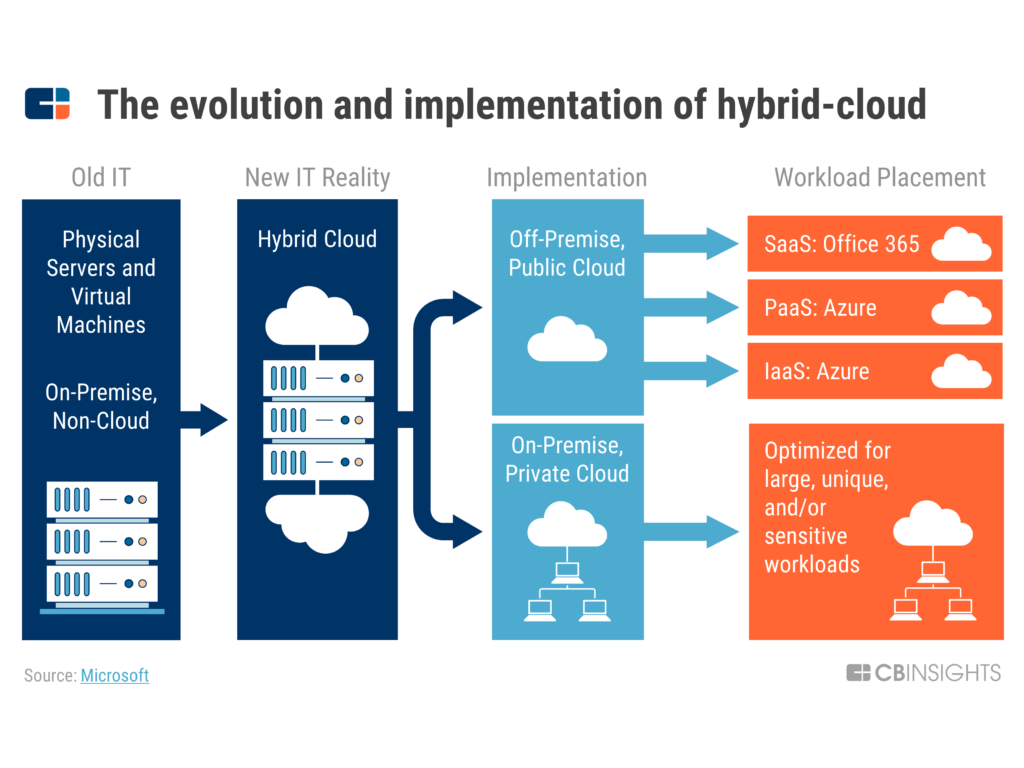 According to CFO Amy Hood, Microsoft's most recent quarterly revenue from Intelligent Cloud was "$8.6B, increasing 24%, better than anticipated, driven by demand for our hybrid offerings."
Some companies use hybrid-cloud computing as an initial foray into public cloud, moving first to a hybrid architecture before going all-in on public cloud. Azure supports all use cases for hybrid-cloud systems. One hybrid customer is InterContinental Hotels Group, which uses Azure's hybrid-storage, security, and management tools to support the IT needs of more than 5,200 properties in almost 100 countries.
Once there is demand for other peripheral cloud products and service, Azure already has a proven track record and a foot in the door.
On Microsoft's Q1'19 earnings call, Nadella said that he doesn't think of the hybrid-offering as a temporary solution for businesses:
"…we don't think of hybrid as some stopgap as a move to the cloud. We think about [it as] the coming together of distributed computing where the cloud and the edge work together for not just the old workloads, but most importantly for new workloads."
With Azure's IoT Hub, Microsoft has accomplished just that. Azure customers can now deploy their workloads to the edge just as they would deploy to the cloud.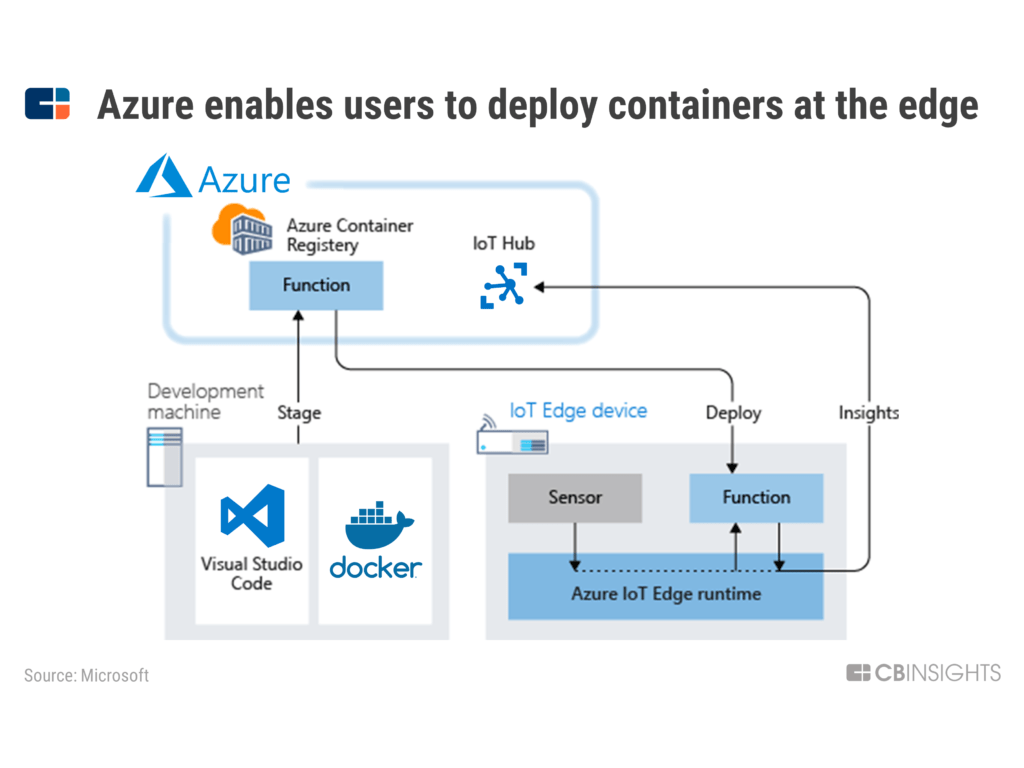 By simplifying the development, deployment, and management of applications across disparate types of infrastructure, Microsoft creates a seamless experience for its customers. In doing so, it encourages the adoption of new products and services.
In addition to IoT and edge, Microsoft is apparently moving into quantum computing, according to recent news.
Over the past few months, Microsoft has been hiring former employees from Qualcomm's quantum computing division. Apparently, Microsoft has been so aggressive in poaching talent that it now occupies a floor in the same building that Qualcomm's quantum division use to occupy.
Serverless computing is also a growing interest for cloud customers. Serverless is a new type of computing model that removes the need for developers or system admins to manage the infrastructure resources offered by cloud providers.
While serverless computing does use servers to run applications, it removes the server management and capacity planning aspect of cloud computing.
Azure offers Serverless Architecture, which became publicly available in October 2016. A few months later, in May 2017, CEO Satya Nadella acknowledged the potential of serverless and its ability to change the mechanics of cloud computing:
"…one of the things that I think is going to completely change how we think about logic is serverless … So serverless computation is going to fundamentally not only change the economics of what is back-end computing, but it's going to be the core of the future of distributed computing."
While Azure has made significant progress with its Serverless offering, Microsoft faces fierce competition in Amazon Web Services and Google Cloud Platform.
CB Insights expert intelligence clients can learn more about serverless computing by reading our report, Why Serverless Computing Is The Fastest-Growing Cloud Services Segment.
Patents
Microsoft often thrives on competition. When cloud competitors release similar products, Microsoft works to improve its own.
While acquisitions can help ward off competitors, intellectual property is also an effective way to re-establish competitive advantage.
While Amazon has historically applied for the most cloud-related patents between the three competitors, Microsoft has overtaken activity in recent years.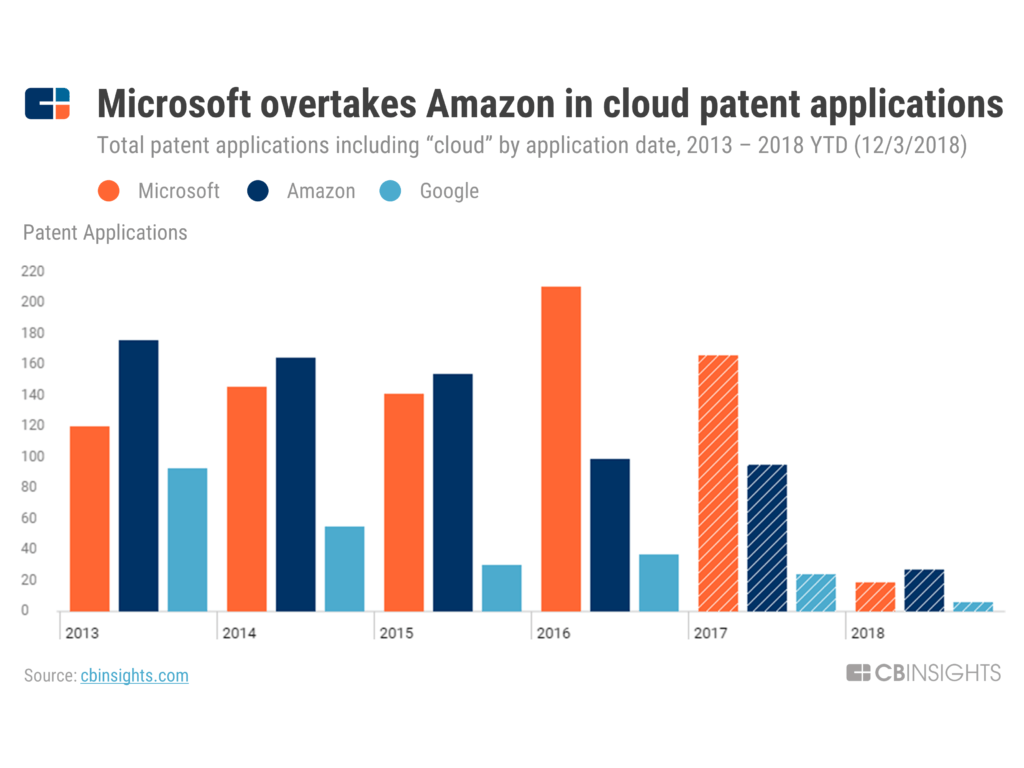 Note: Due to a lag in the patent application process, patent data for 2017 and 2018 may be incomplete. 
In 2016, Microsoft's cloud-related patent application activity was twice that of Amazon and nearly 6x more than Google.
One example is Microsoft's 2016 patent application for an Artificial Reef Datacenter. The patent is an iteration of a 2014 patent filed by Microsoft for a Submerged Datacenter.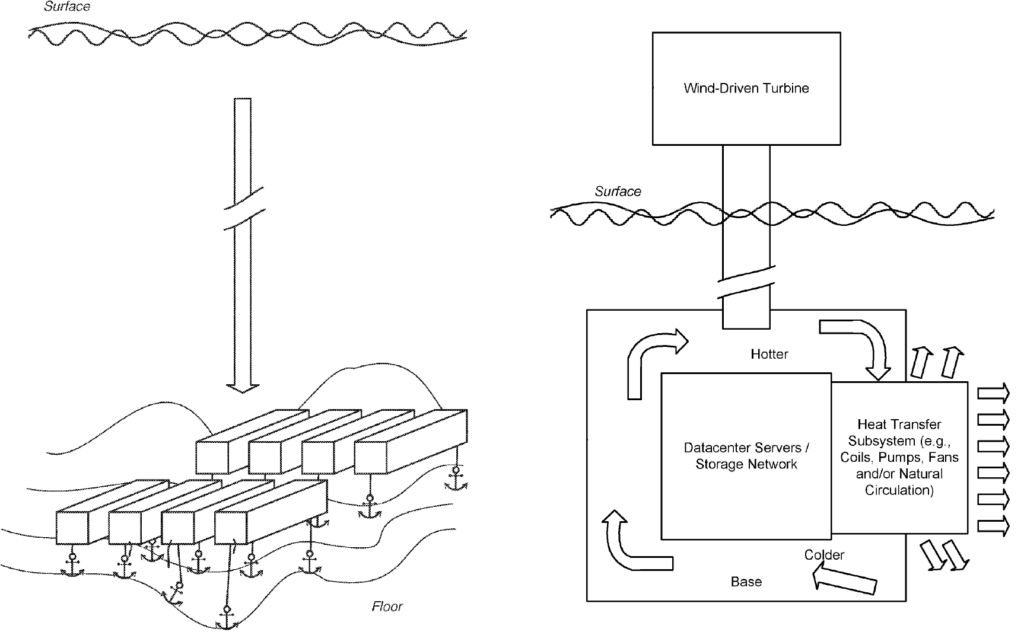 In both patents, Microsoft looks to submerge data centers at the bottom of the ocean, which will cool the infrastructure naturally. In the earlier patent, Microsoft also outlined the possibility of using oceanic wind turbines to power the underwater data centers.
Since these patents were originally filed, Microsoft has begun work on Project Natick, an underwater data center off the coast of Scotland. The submerged data center runs on 100% locally produced renewable electricity from on-shore wind and solar as well as off-shore tide and wave sources.
CB Insights clients can learn more about Microsoft's cloud-related IP activity in our client-only brief, As Cloud Services From Amazon, Google, And Microsoft Become Commoditized, Is IP The New Arms Race?
WHERE IT'S GOING NEXT
Microsoft's recent investments, acquisitions, product developments, and research activity suggests that the company will prioritize areas like edge computing and IoT as it relates to cloud computing.
News
Even the media has bought into Microsoft's cloud narrative. Using the CB Insights Trends tool, which aggregates news mentions across press sources, we can see that mentions of Azure paired with terms like "edge" and "IoT" have picked up substantially in recent months.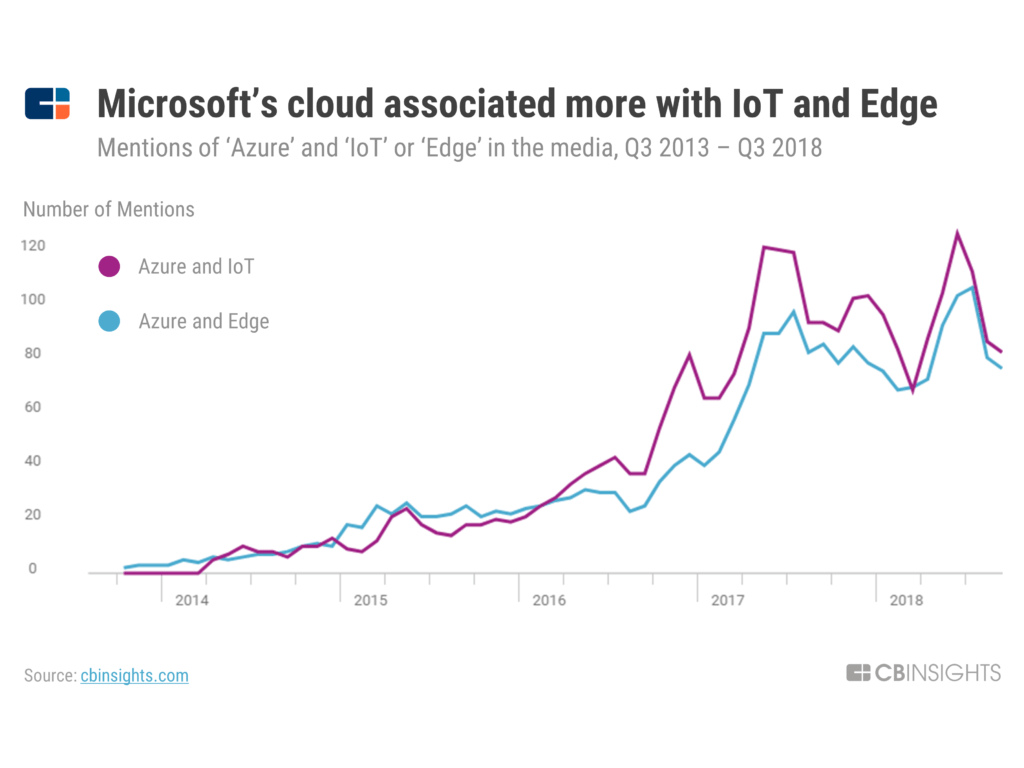 Some media outlets are discussing the initial release of Azure's IoT Edge platform (May 2018), or commenting on Microsoft's 2018 Ignite conference (September 2018), where IoT and edge were popular topics of discussion.
Earnings transcripts
Cloud computing is a major priority for Microsoft, as indicated by its earnings calls. While Windows once dominated Microsoft's calls, Azure is now the most discussed product.
Edge computing has been the dominant cloud-related topic on earnings calls. On Microsoft's Q2'18 call, Nadella said,
"Azure is the only hyper-scale cloud that extends to the edge across identity, data, application platform, security and management, and our differentiated architectural approach drove another strong quarter of growth. We are investing aggressively to build Azure as the world's computer."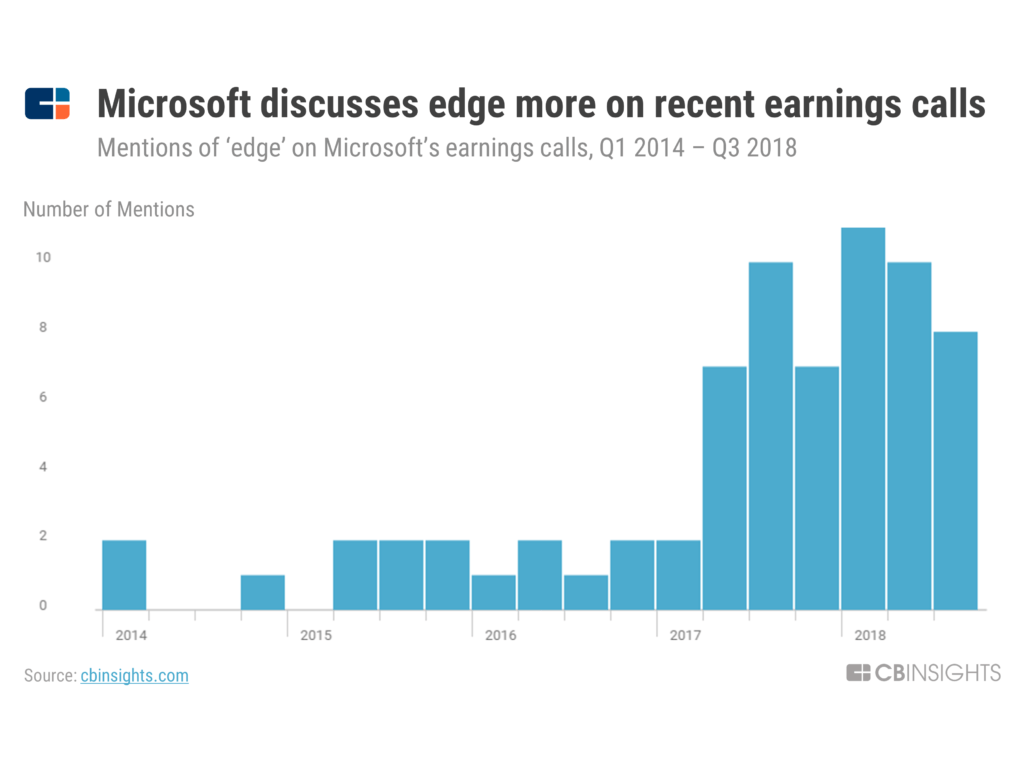 As Microsoft's ambitions to become the "world's computer" grow, edge will play a vital role in that outcome.
Learn more about edge computing in our explainer, What Is Edge Computing?
WHY IS THIS A PRIORITY?
Cloud substantially impacts just about all of Microsoft's businesses and stands to upend a number of large industries. By differentiating itself across its businesses with Azure, Microsoft can better solidify its dominance in areas like enterprise software and gaming.
Market sizing
The market for cloud is hard to size, given that the technology is ubiquitous and has the potential to improve operations across a wide variety of industries.
That said, the CB Insights Market Sizing tool estimates that the cloud industry may reach $513B by 2022. Additionally, Microsoft's foray into the internet of things industry could tap into an estimated $1T+ market by 2020.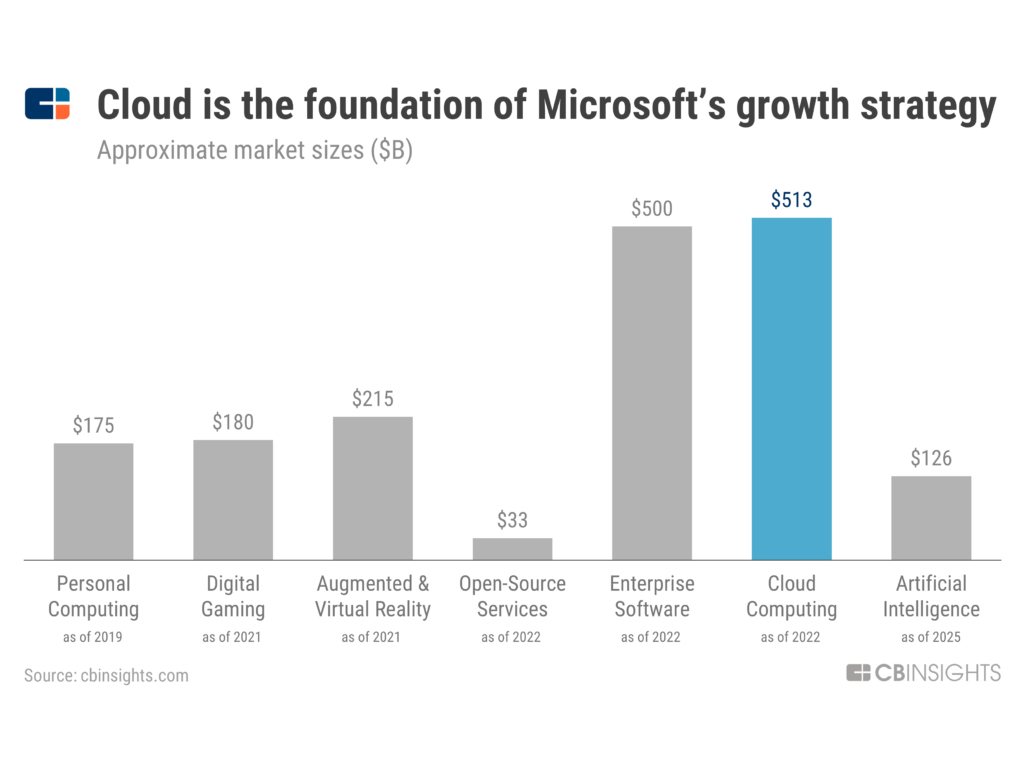 Building the most sophisticated cloud offering could also help Microsoft as a software-as-a-service provider. As a result, Azure is directly tied to Microsoft's future strategy and success.
Learn more about the competition between Microsoft, Amazon, and Google within the $513B global cloud industry in our brief, Here's Why Amazon Is No Shoo-In To Win The $513B Global Cloud Market.
2. Enterprise software & services
Microsoft is the world's largest enterprise software provider.
The company has grown its enterprise business through investments, acquisitions, and internal efforts. It has also iterated on a number of software products in recent years to avoid getting surpassed by enterprise software giants like Salesforce, Oracle, and SAP.
WHAT IT'S DOING NOW
While Microsoft continues to build and improve its Office products, which includes software like Word, Excel, Outlook, and PowerPoint, it has also released several new products and services to help boost revenue for the Productivity & Business Processes (P&BP) line. (This segment also includes products and services like Office 365, Dynamic 365, Skype, and LinkedIn, among others.)
In Microsoft's most recent quarter, the P&BP segment earned nearly $9.8B in revenue and $3.9B in operating income.
While the More Personal Computing segment earned more in total quarterly revenue, the P&BP segment earned more in total operating income. The nature of software and Microsoft's strength as a cloud provider allow for better margins compared to other areas of the business.
Investments
Microsoft has ramped up its external investments in enterprise software since Nadella became CEO in 2014.
For 3 consecutive years, the company has made over 15 investments in enterprise software startups — spanning industries from cybersecurity to marketing.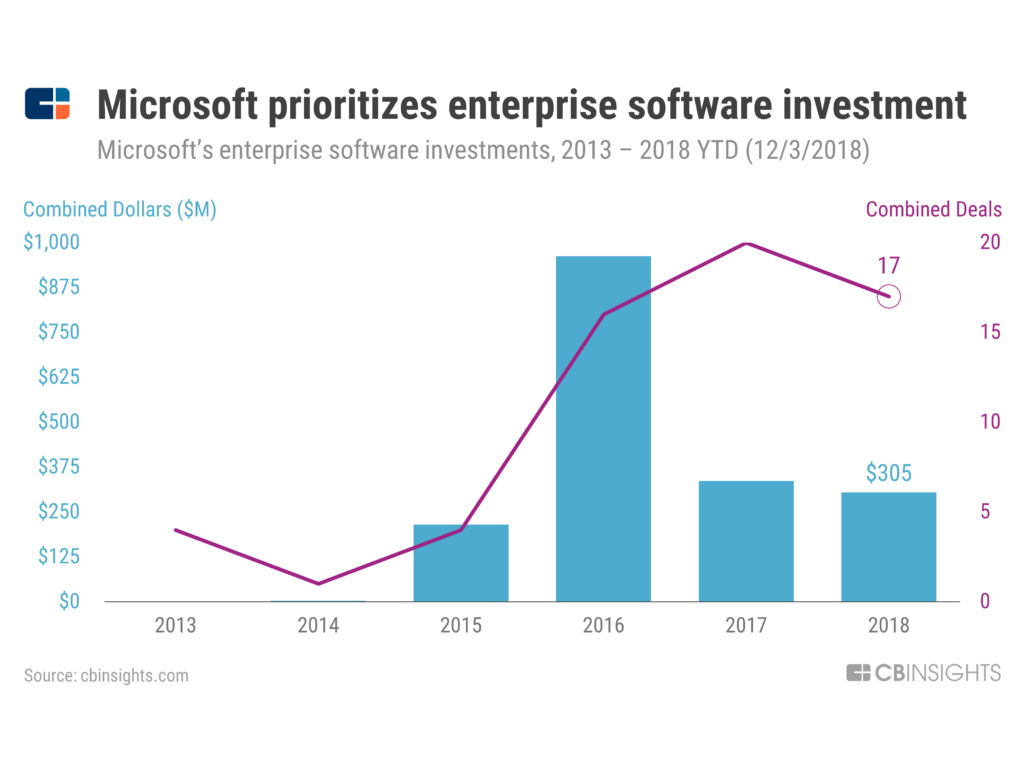 Of all the areas Microsoft has invested in, enterprise software has attracted the greatest number of deals. M12, formerly Microsoft Ventures, invested in 48 of Microsoft's 61 total enterprise deals since 2013, while Microsoft Corporate backed the other 13.
M12 has backed notable companies like CRM platform Outreach, authentication software Onfido, and augmented intelligence platform CognitiveScale.
And while Microsoft's accelerator, Microsoft ScaleUp, has been active in the enterprise technology space, these investments are often less focused and strategic than those made by M12 or Microsoft Corporate. ScaleUp typically invests across a variety of industries to establish early relationships with companies rather than drive Microsoft's primary investment returns.
Acquisitions
On the M&A front, enterprise software is another top priority for Microsoft. According to Nadella,
"[Microsoft's] pending acquisition of GitHub, which we expect to close shortly, recognizes the increasingly vital role developers play in value creation and growth across every industry. I'm excited about the opportunity to bring our tools and services to new audiences while enabling GitHub to grow and retain its developer-first ethos."
GitHub is one of Microsoft's 6 enterprise software acquisitions in 2018, which is on pace with recent years' activity.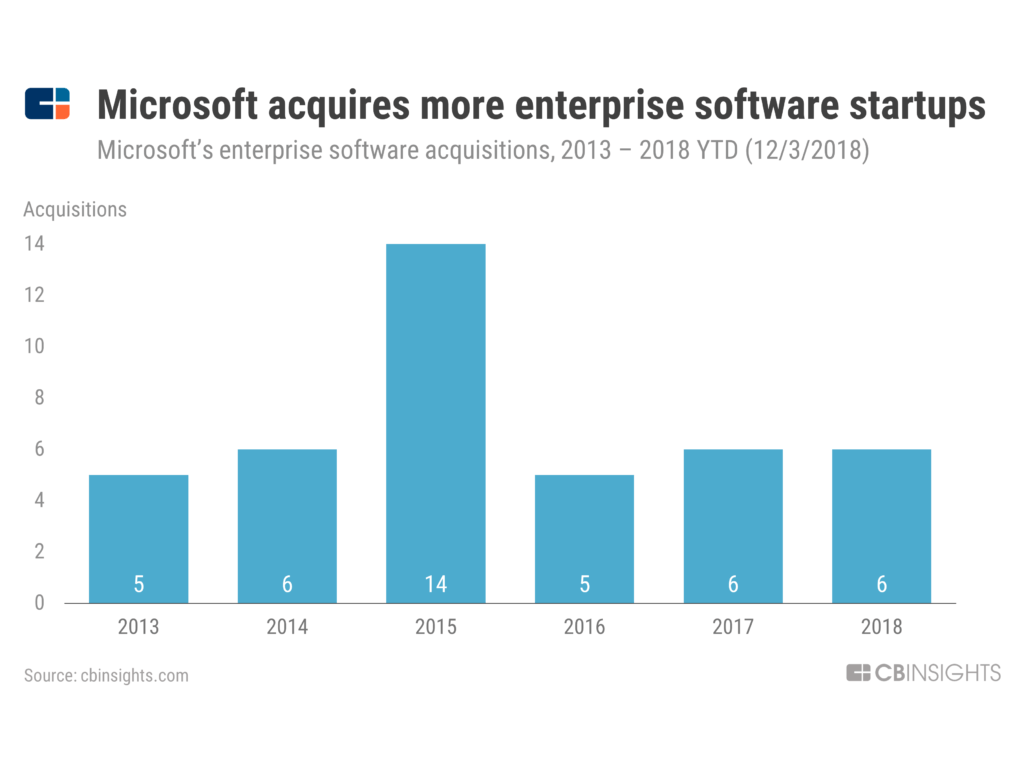 In 2015, Microsoft acquired a record 14 total companies, including public cloud data management company Informatica and startups like to-do scheduler Wunderlist and text analysis software Equivio.
These acquisitions have played a significant role in Microsoft's overall strategy. Certain acquisitions, such as LinkedIn in 2016, remain independent, while others, like calendar integration tool Genee, become integrated into Microsoft's own products and services.
Product developments
Microsoft has fully embraced the idea of SaaS and subscriptions. Today every Microsoft software product is delivered using these models, including many of the cloud services mentioned above.
In addition to improving on longstanding products like Office and Windows, Microsoft has also developed a number of other subscription services that have driven its business forward.
While Microsoft's software products were once delivered as one-off purchases, many are now delivered as software-as-a-service where enterprise customers pay for a monthly or annual subscription.
One example is Microsoft's Dynamic 365 service, which delivers a suite of enterprise resource planning (ERP) and customer relationship management (CRM) services to enterprise customers as a subscription.
These services compete directly with ERP offerings (from companies like Oracle and SAP) as well as with CRM offerings (Salesforce, Hubspot).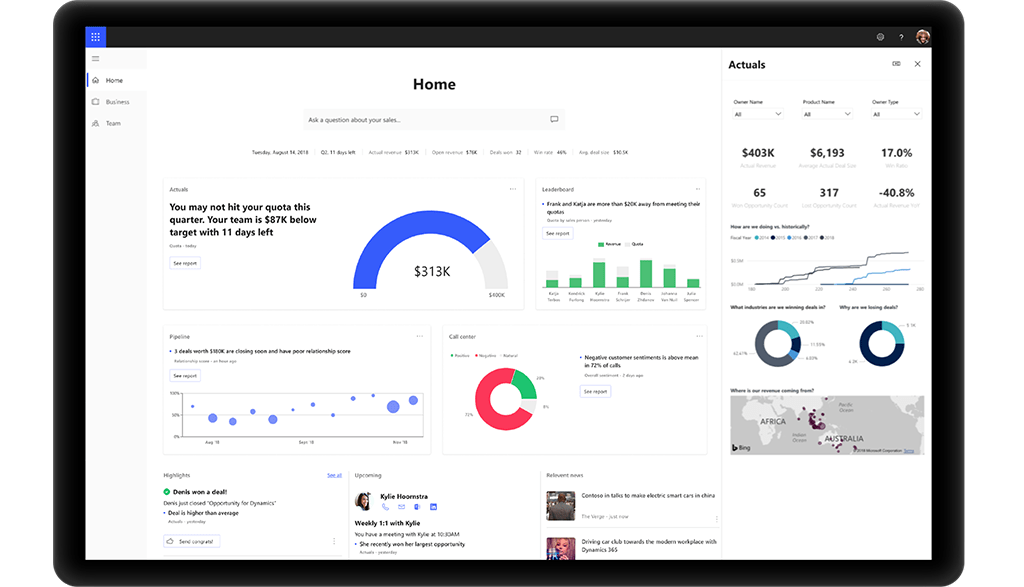 While Dynamics dates back to the turn of the century, when Microsoft acquired ERP provider Great Plains in 2000 and CRM platform iCommunicate.net in 2001, Dynamics 365 first became publicly available in November 2016.
The primary difference between Microsoft's former Dynamics software and Dynamics 365 is the way the product is delivered.
Like many of the world's enterprise technologies today, Dynamics 365 is offered as subscription-based software-as-a-service. While customers still utilize downloaded, on-premise desktop applications, Dynamics 365 is also accessible from a web browser. This removes the need to download the application and allows access from a variety of devices and locations.
This is made possible by Microsoft's cloud infrastructure. Dynamics 365 is one of many Microsoft products hosted on the same infrastructure used to deliver Azure's services.
Another example of Microsoft's cloud-hosted software is the Power BI platform. The big data analytics tool has become a growing focus for the company.
This product first became available in September 2013 as an extension for Office 365's Excel. However, in July 2015 Microsoft made the Power BI platform as a standalone SaaS product.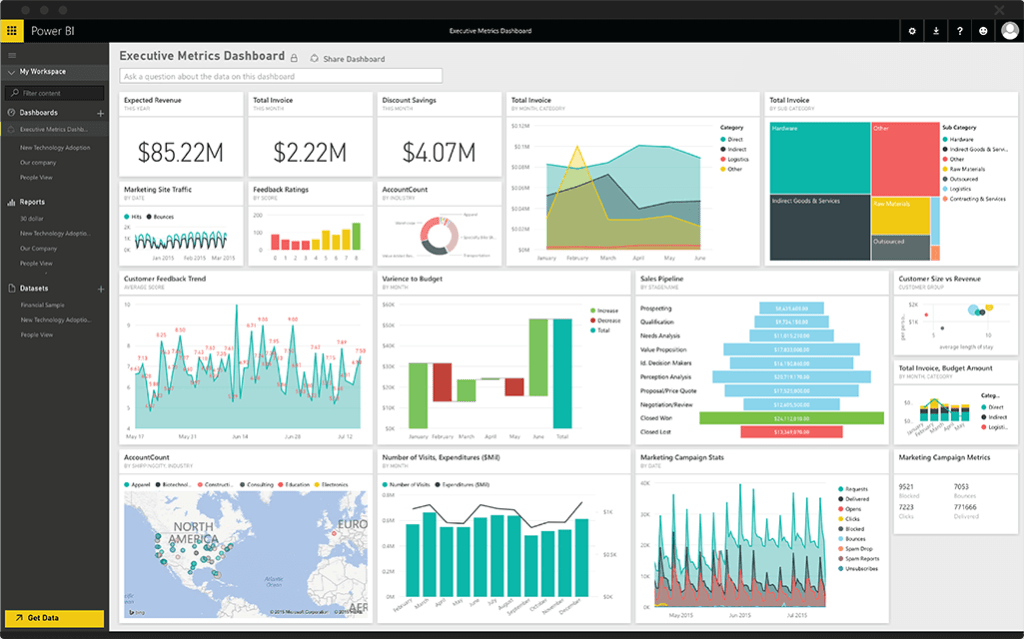 Since 2015, Power BI has added the ability to integrate data from a variety of sources, including Google Analytics, Salesforce, and MailChimp, in addition to all of Microsoft's own services (Azure, Dynamics 365, Sharepoint, etc).
Microsoft has also experimented with workflow automation (known more commonly as robotic process automation) with its own Microsoft Flow platform. Flow allows users to automate repetitive tasks and services that can provide notifications, sync files, collect data, and more.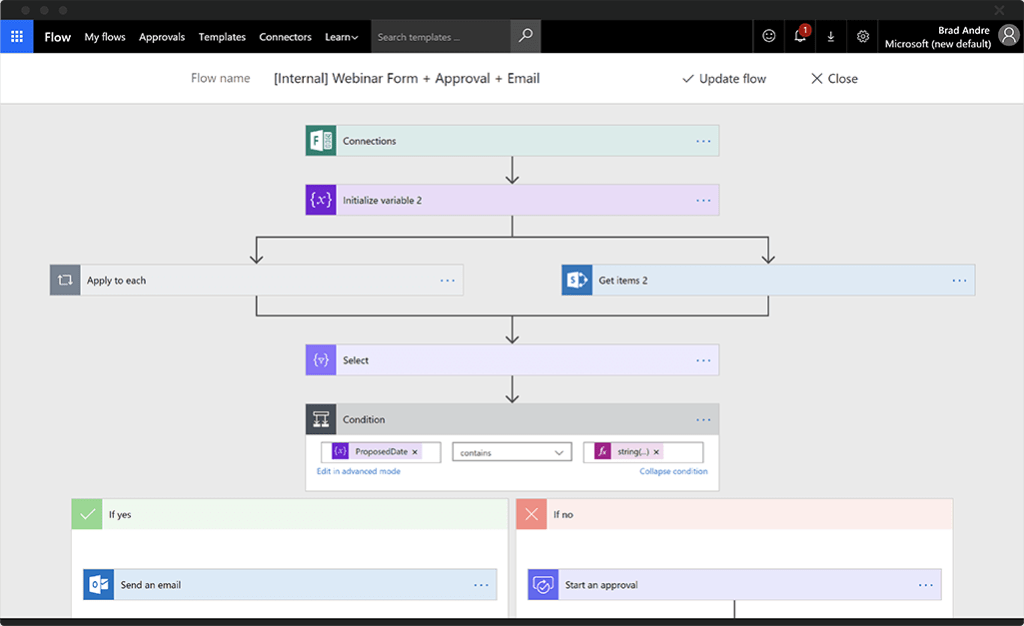 Similar to Microsoft's Power BI platform, Flow can integrate with both third-party apps like Dropbox and Slack as well as proprietary apps like Outlook and employee engagement platform Yammer.
Another one of Microsoft's software initiatives is Microsoft Teams. Teams is a recent addition to the Office 365 suite, and offers a chat and messaging service similar to that of Slack.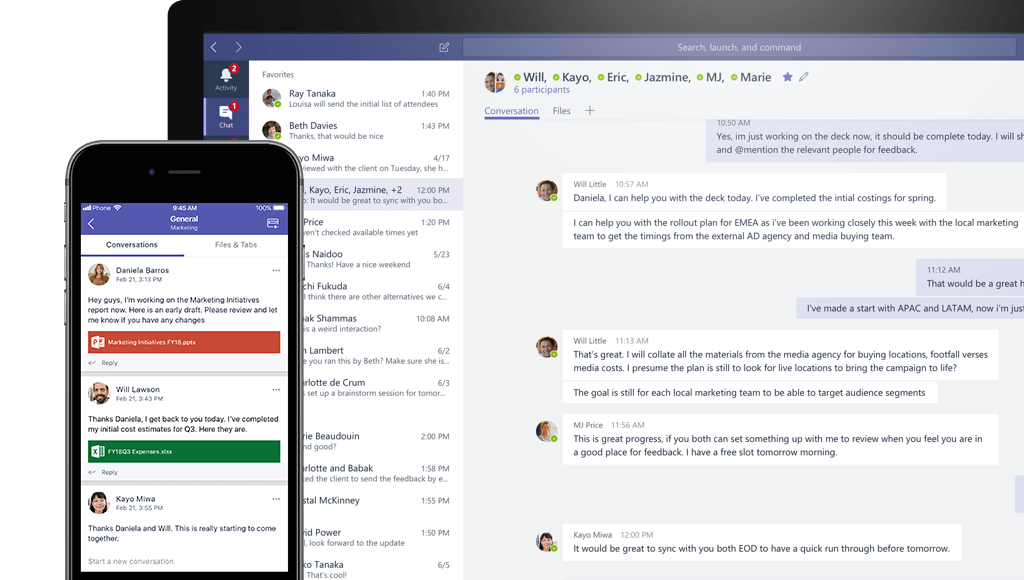 Like most of Microsoft's software products and services, Teams offers integrations with both proprietary and third-party applications.
As part of Office 365, Teams will also be part of Microsoft 365, a new subscription service. Instead of requiring subscriptions to Windows 10, Office 365, and Microsoft Drive, Microsoft 365 bundles everything into a single subscription.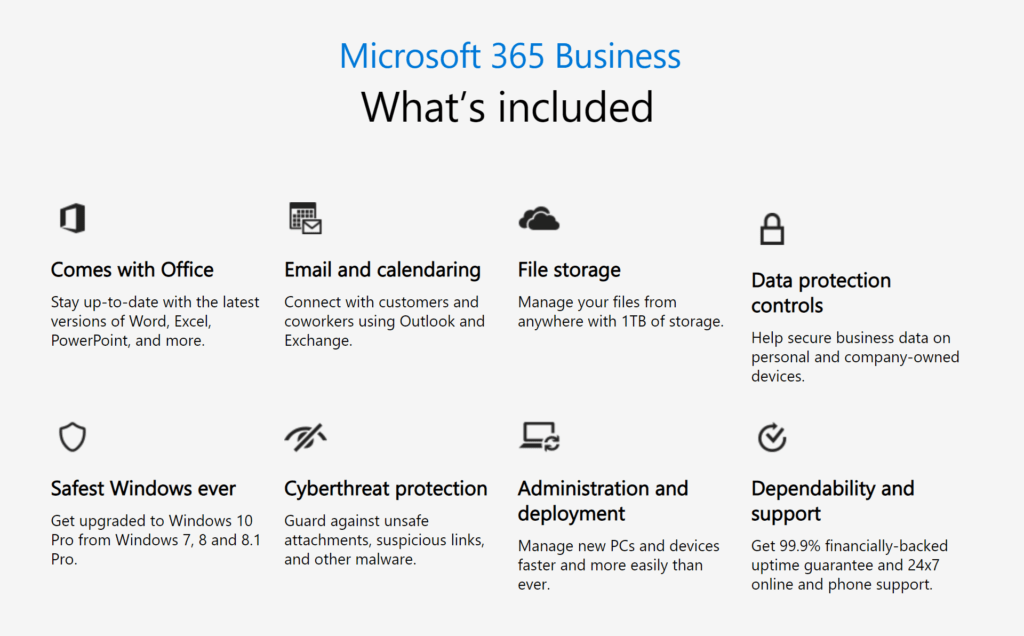 Offering subscriptions like this allows users to pay incrementally for products and services, eliminating the need for costly upfront expenditures. It also allows Microsoft to retain business through a recurring revenue stream, as with SaaS, customers don't actually own the software. These recurring revenue streams allow Microsoft to better predict future revenue and costs.
Many organizations subscribe to these services for years at a time, which provides Microsoft with a better understanding of what infrastructure will be needed to support these services, as well as how much revenue they will generate in future quarters.
Patents
Generally, Microsoft has prioritized enterprise R&D over consumer R&D. Patent data trends indicate rising interest, with interest in enterprise R&D hitting a peak in 2016. (2017 and 2018 data is incomplete.)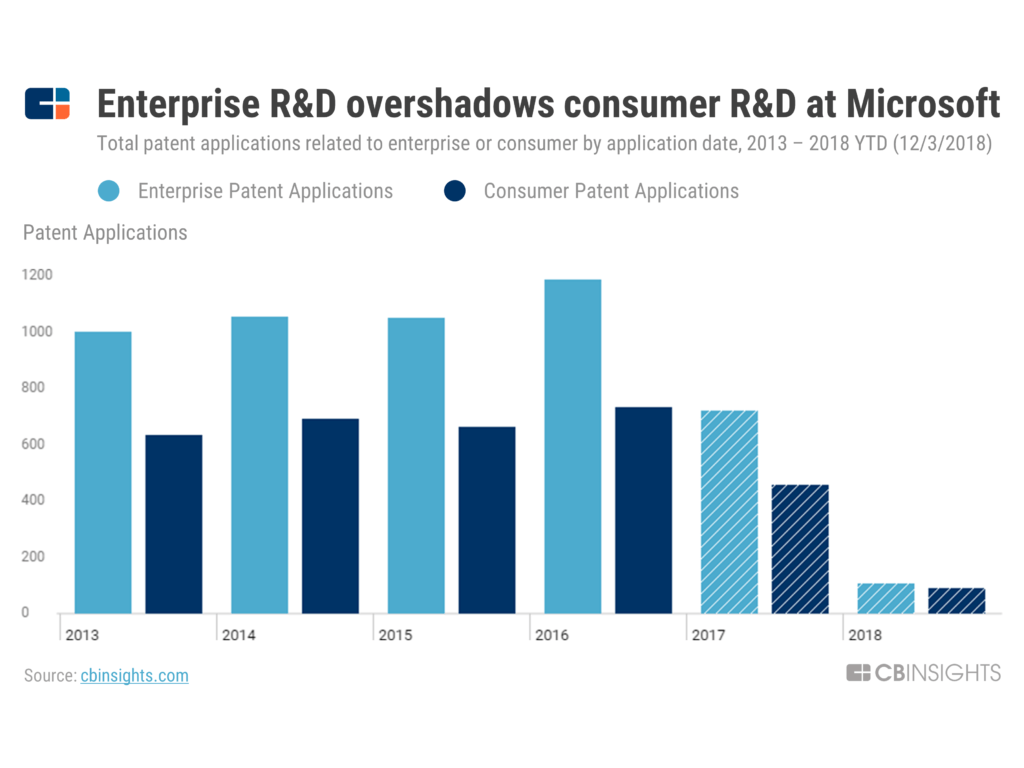 While many of these patents won't necessarily become products, Microsoft's interest alone suggests that enterprise software and services will be the primary focus for years to come.
Learn more about Microsoft's recent enterprise software initiatives by downloading our FAMGA Earnings Call Analysis report.
WHERE IT'S GOING NEXT
News
The media has also picked up on Microsoft's enterprise technology focus. While the terms "enterprise" and "consumer" encompass more than just software, it's clear that Microsoft's enterprise software and services are far more popular than its consumer offerings.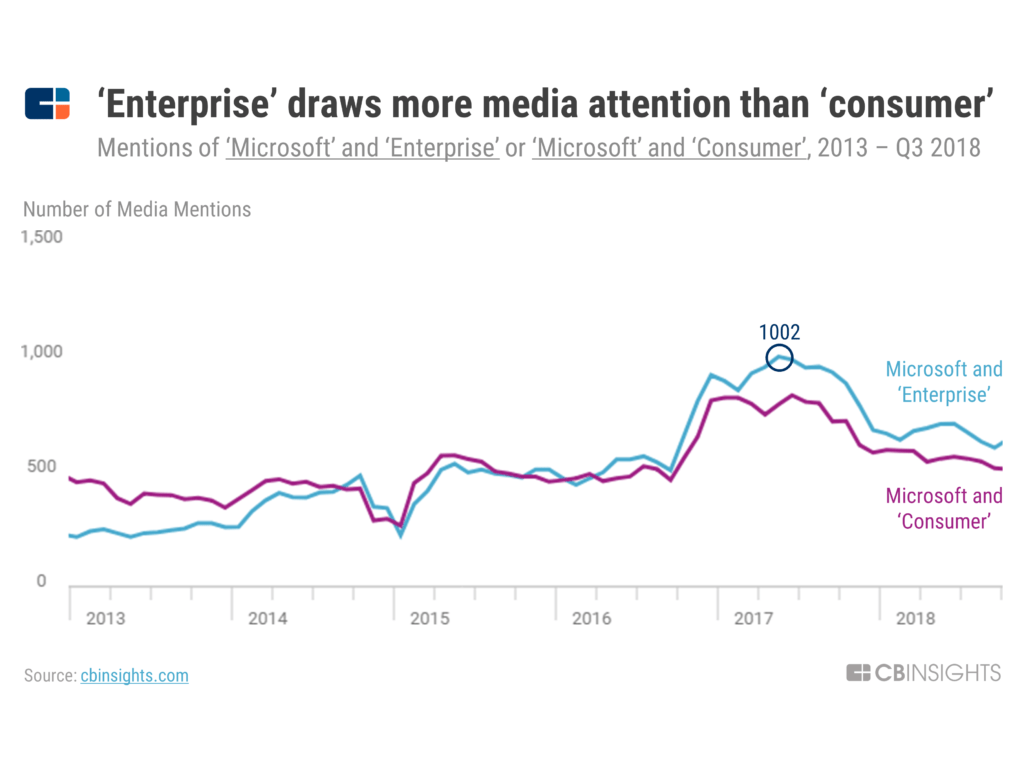 News mentions of "Microsoft" and "enterprise" peaked in Q2'17. The 1,002 mentions included topics related to Microsoft's data center expansion in South Africa, the availability of Visual Studio for Mac, and highlights from the company's Microsoft Build conference.
Earnings transcripts
Even though enterprise software and services have been top-of-mind for Microsoft for quite some time, mentions of enterprise and enterprise-related products reached a peak in Q2'17, suggesting that the company has become increasingly focused on this area.
This correlates with the total media mentions of enterprise and business in June 2017.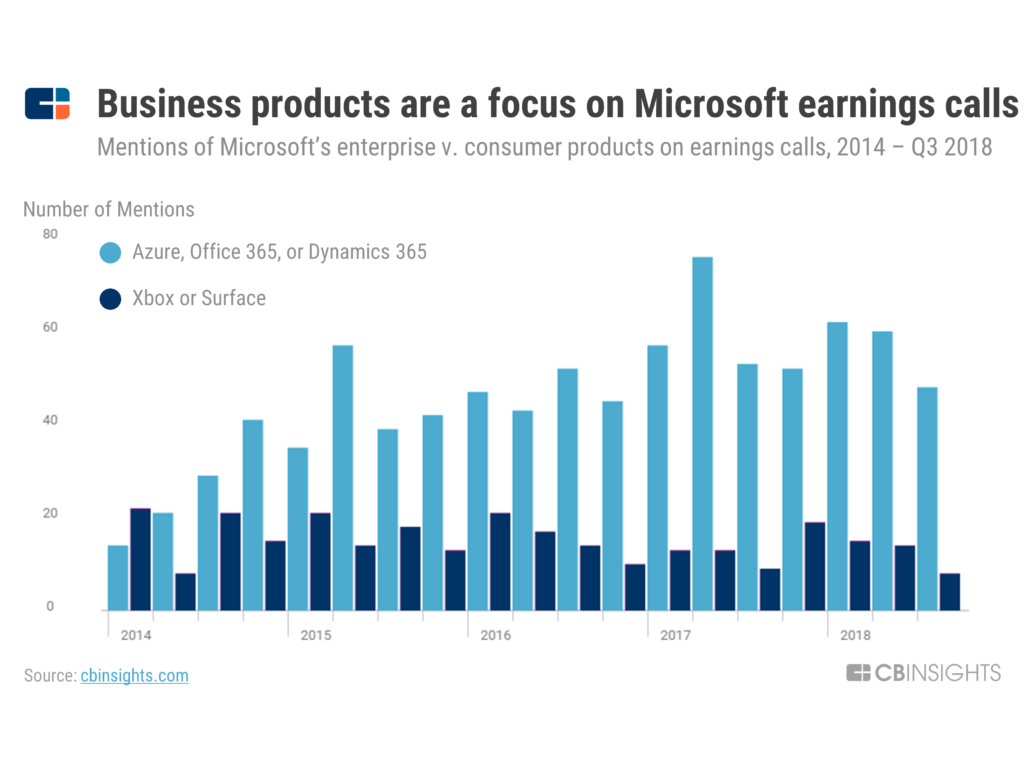 The majority of enterprise product mentions are related to services like Azure, Office 365, or Dynamics 365.
However, there have also been a growing number of mentions related to the company's new subscription, Microsoft 365. On the company's most recent earnings call, Nadella highlighted the progress and potential of the new offering:
"A little over a year ago, we introduced Microsoft 365 to help organizations of all sizes empower their employees in the modern workplace. Today it's a multi-billion dollar business that gives our customers a path to the cloud and broadens our reach with new and under-penetrated markets."
So while Microsoft continues to innovate with new software products and services, the packaging of these services also plays an important role in the growth of the company and how they can sell to businesses around the world of any size.
WHY IS THIS A PRIORITY?
Microsoft has been mentioning its "digital transformation" at recent industry conferences and earnings calls. The term describes the transition that organizations undergo when moving from legacy systems and methods to modern technologies and solutions.
Organizations that have not already made this transition present a great opportunity for Microsoft, and digital transformation is a natural place for the company to focus on based on its expertise in the enterprise technology space.
Market sizing
The enterprise software market itself is estimated to be $350B+ today, with the potential to exceed $500B by 2022, according to CB Insights' Market Sizing tool.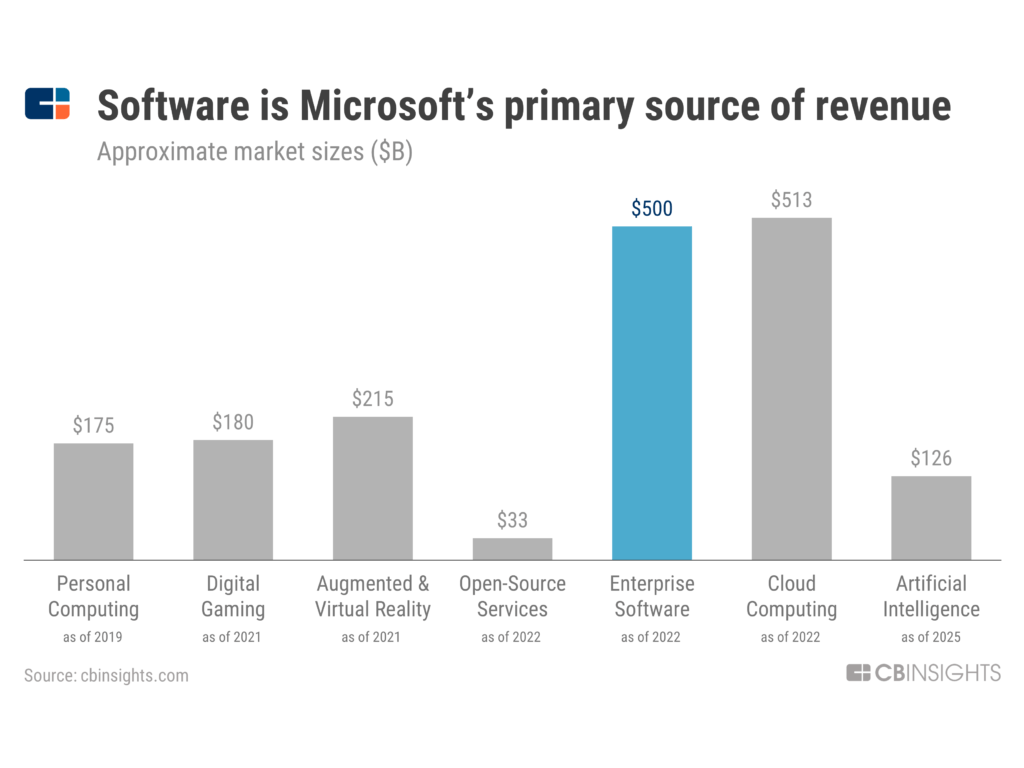 But Microsoft's positioning in the enterprise software industry lets it capitalize on a number of growing markets, including:
ERP software, which is expected to exceed $40B by 2020
CRM software, $50B by 2020
Workflow automation software, nearly $10B by 2020
3. Artificial intelligence
AI and machine learning are helping Microsoft clients extract, clean, and visualize relevant data, all without the need for technical expertise.
In addition, Microsoft is leveraging AI technology to improve areas like enterprise security, gaming, and advertising, among others.
WHAT IT'S DOING NOW
Investments
In a recent keynote address, Nadella said that the company plans to "infuse everything with AI." Based on the company's recent investment activity, it seems that Microsoft is backing up this claim.
Microsoft has heavily invested in artificial intelligence over the last few years. As of early December 2018, Microsoft had already made a record high number of artificial intelligence investments for the year.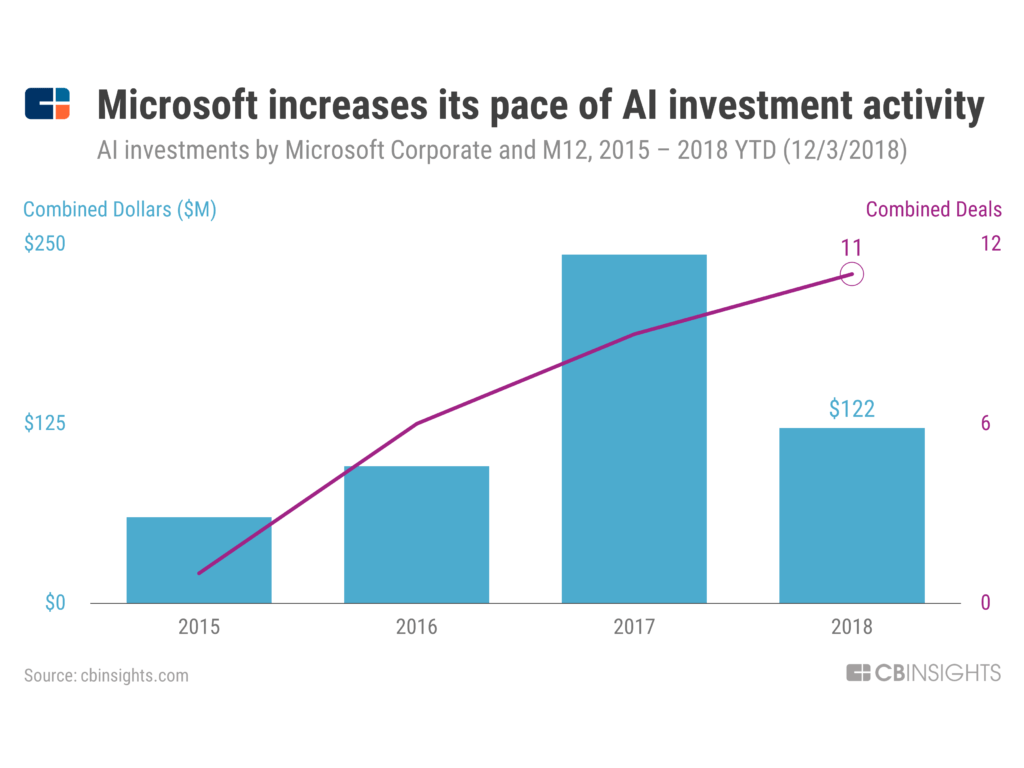 Recently Microsoft has backed AI-focused companies like data anonymization company Hazy and customer journey analytics provider Cerebri AI.
The majority of these investments were made by VC arm M12, which has made 24 of Microsoft's 27 total AI investments since 2015.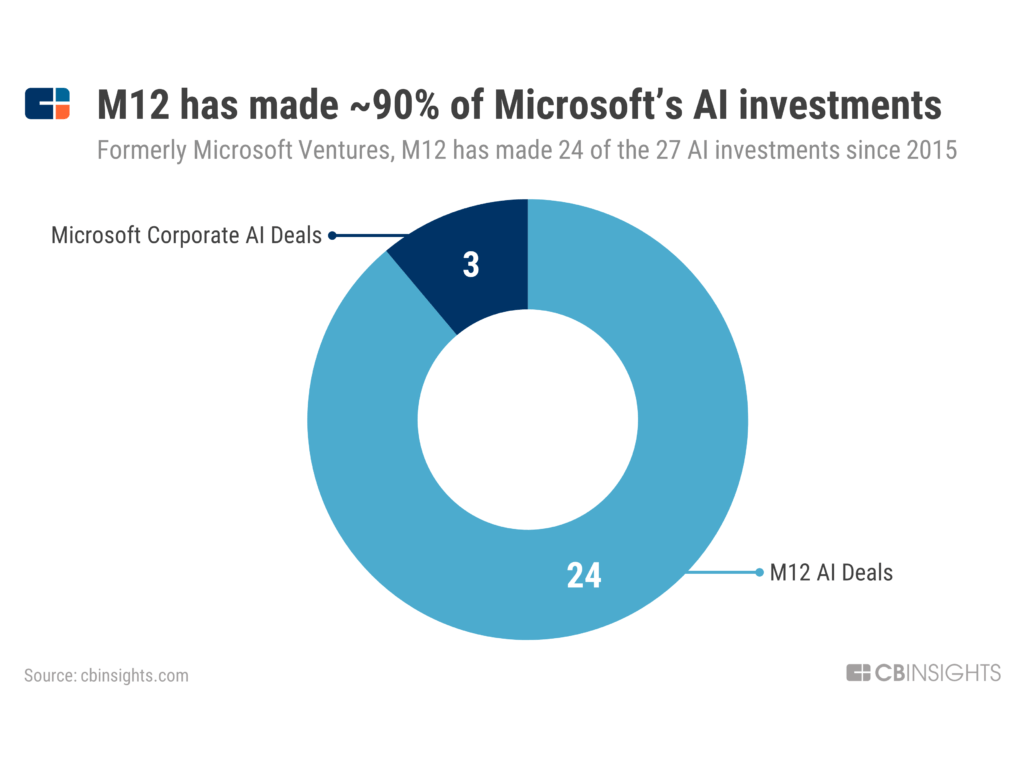 Notable deals by M12 include 2 investments in enterprise AI company Element AI, which raised $102M in June 2017 at a valuation of $680M.
M12 also invested in Bonsai AI, which raised funds in May 2017 before being acquired by Microsoft corporate in June 2018. Bonsai is one example of how M12 helps source acquisition opportunities for Microsoft corporate.
Acquisitions
Microsoft hasn't been shy about acquiring AI companies. Since 2013, Microsoft has acquired 7 companies that leverage artificial intelligence in some way.
In addition to the Bonsai acquisition this year, Microsoft acquired natural language processing company Semantic Machines in May.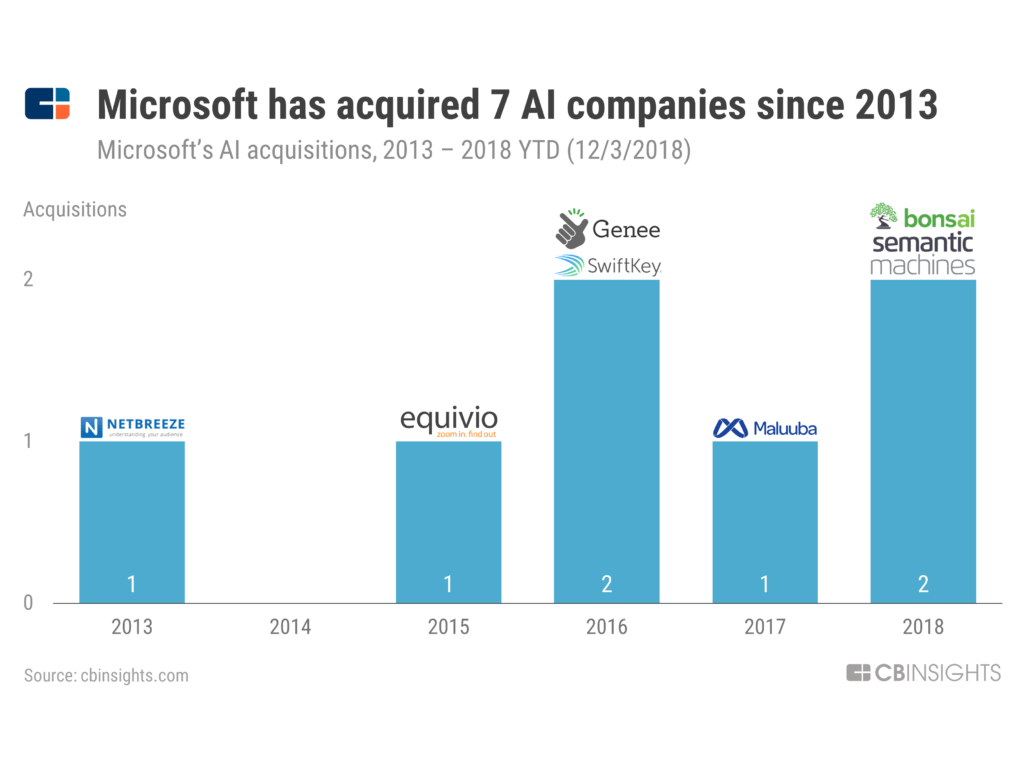 Prior to 2018, Microsoft purchased several notable AI companies that have been integrated into the company's software products, including its 2016 acquisitions of Genee, which enhances Outlook calendar features, as well as predictive text mobile keyboard company SwiftKey.
SwiftKey offers a popular iOS and Android app that can be used to make typing on mobile devices and tablets easier, but recent news suggests that Microsoft will soon integrate SwiftKey's technology into Windows 10 for its touchscreen-enabled Surface computers.
Learn more about which corporates are acquiring AI companies by reading our brief, The Race For AI: Google, Intel, Apple In A Rush To Grab Artificial Intelligence Startups.
Product developments
Artificial intelligence can analyze tens of millions of data points and detect anomalies much faster than human analysts. Models also improve over time as they learn from the continuous data ingestion.
While artificial intelligence typically isn't offered as a standalone product, Microsoft does generate revenue by selling its AI capabilities.
For example, many clients develop, train, and implement AI using Azure's tools and infrastructure.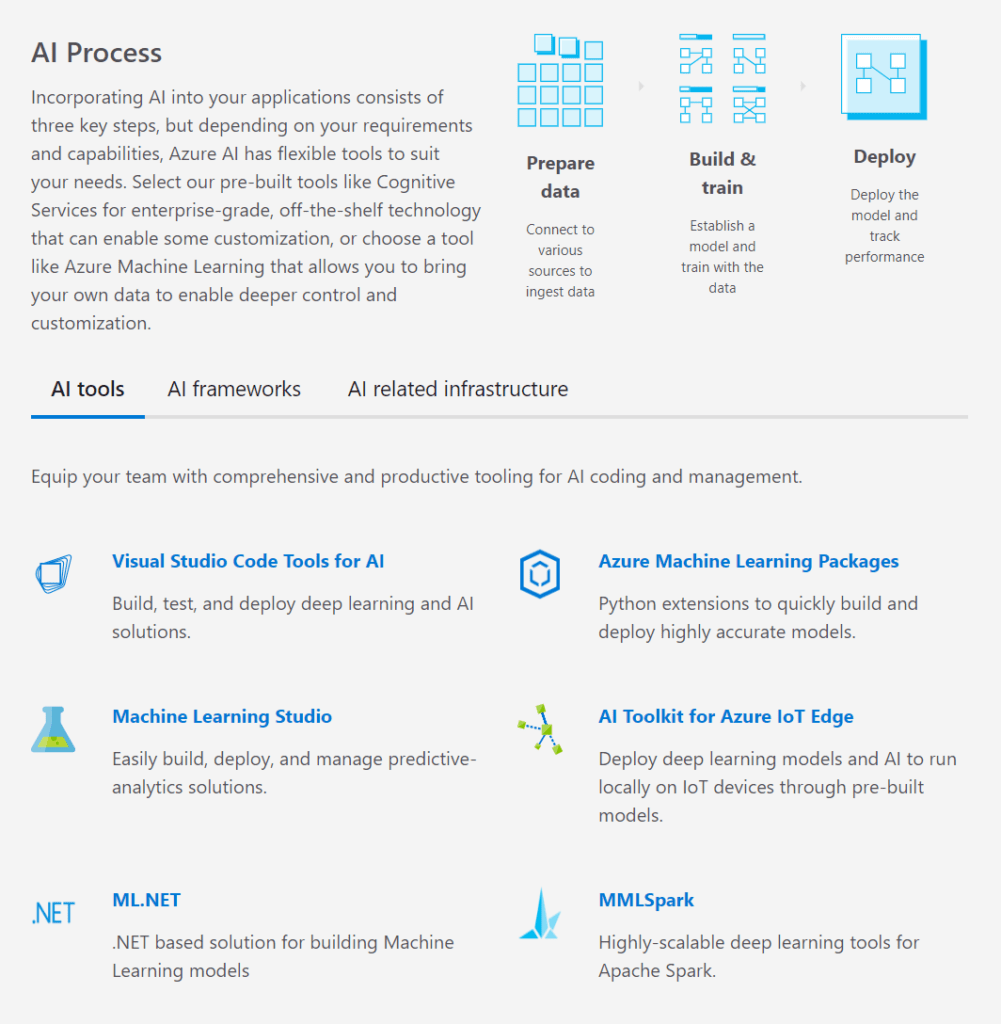 Developers use these tools to add AI functionality to their own applications, without having to develop models from scratch. As shown above, Microsoft also specializes in specific AI use cases like IoT.
In addition to providing tools for developers, Microsoft also uses AI to improve its own products and internal operations.
For example, Microsoft uses AI in its data centers to reduce energy consumption. Artificial intelligence has allowed Microsoft's data centers to remain 100% carbon neutral, according to a report published in May.
Microsoft is also using AI to gain deeper financial insight: the company plans to infuse Dynamics 365 with AI to help customers predict future business outcomes.

It has also used AI to improve security, which is a growing priority for both Microsoft and its customers.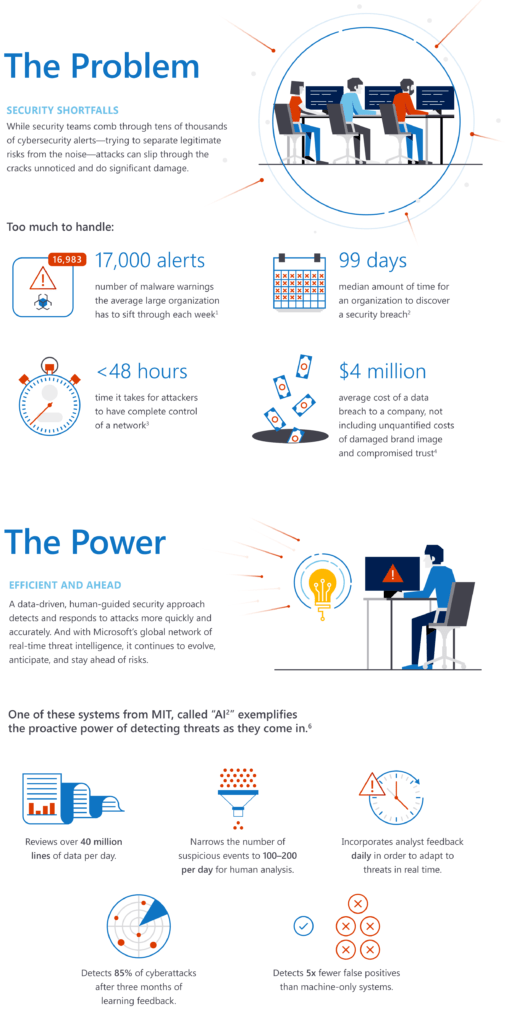 Patents
Microsoft has also been exploring the use of AI to detect cheating in video games. In its patent titled "Detecting Cheating In Games With Machine Learning," the company proposes the use of machine learning techniques to develop a behavioral analytics engine that detects anomalies in gaming.
When a user plays a game, the game logs behaviors like scores, rankings, and interactions with other players. These behaviors are then analyzed and deemed normal or outlying, based on collected data.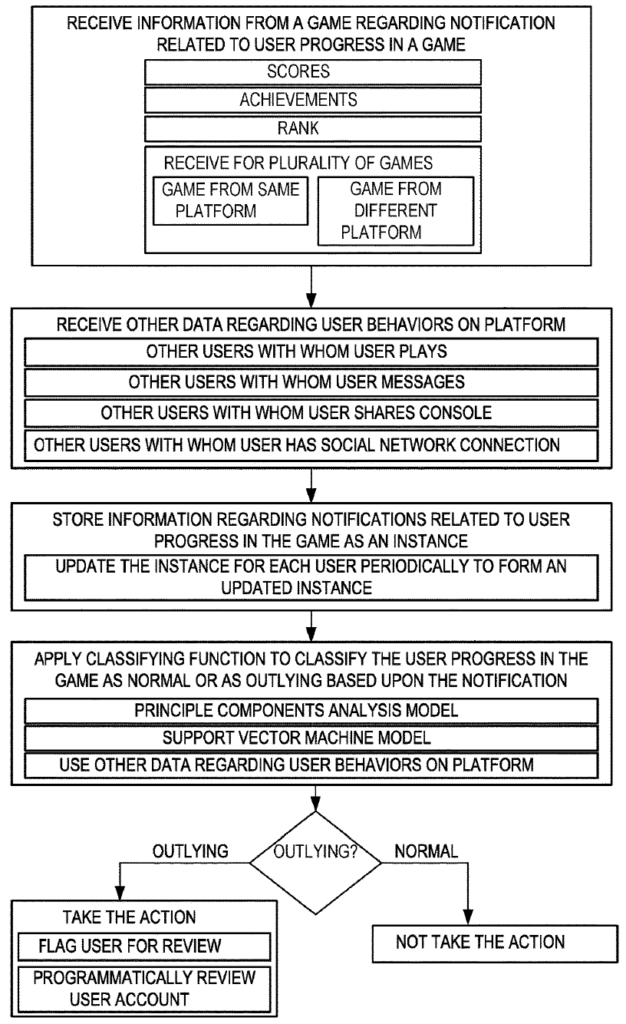 This patent is a move by Microsoft to integrate information across data silos — in this case, between a gaming platform like Xbox and a third-party game. Using machine learning, the company could analyze a large collection of unstructured data that otherwise might be inaccessible to determine whether a user is cheating.
Read more about Microsoft's anti-cheating initiative in our brief, Microsoft Looks To Patent AI For Detecting Video Game Cheaters.
More generally, Microsoft has been actively researching and developing new technologies that leverage artificial intelligence in some capacity.
Since 2012, Microsoft has applied for over 1,000 patents related to artificial intelligence or machine learning.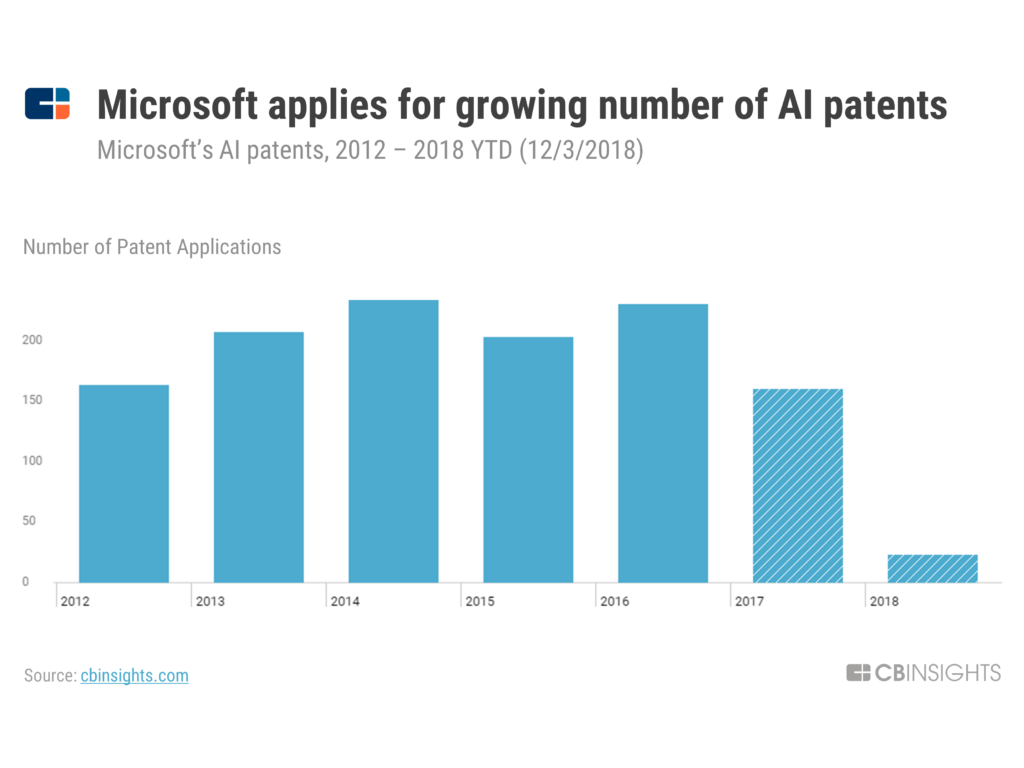 Microsoft's patent "Using Various Artificial Intelligence Entities as Advertising Mediums" shows how the company is using artificial intelligence for advertising (a growing business for Microsoft). The patent shows a digital assistant interacting with a customer and a dynamic pricing platform for digital advertisers.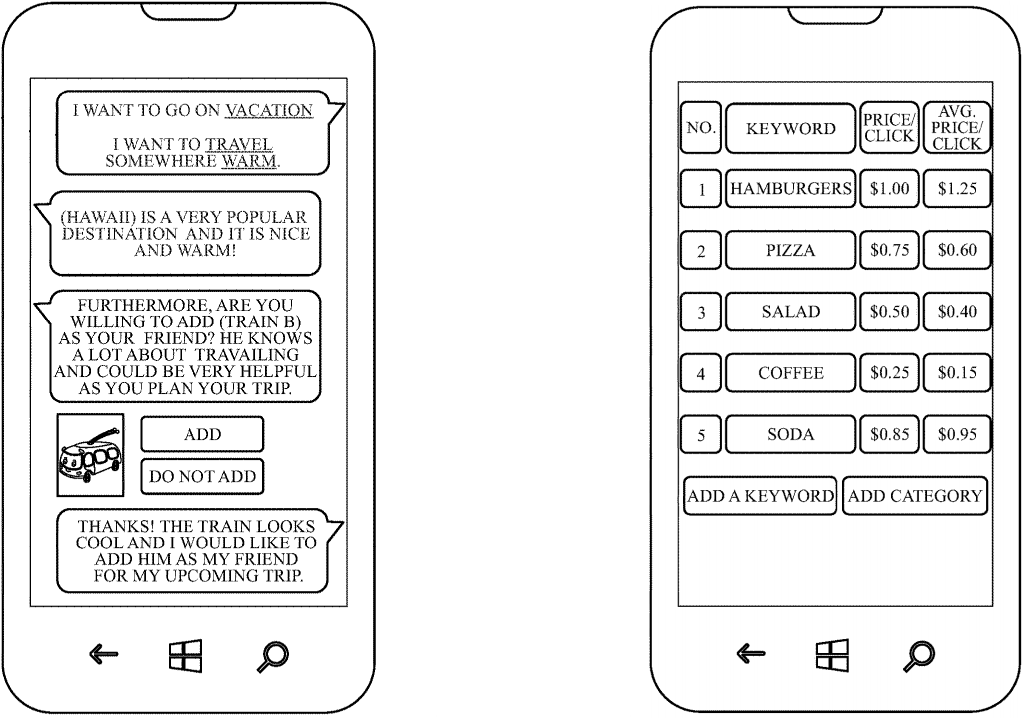 CB Insights expert intelligence clients can read more about Microsoft's AI research strategy in our brief, How Microsoft Is Applying Artificial Intelligence to All Areas of Its Business. 
WHERE IT'S GOING NEXT
Earnings transcripts
Not only has Microsoft been investing more in artificial intelligence technology, it's been talking about it more too.
For the second consecutive year, Microsoft has mentioned artificial intelligence 48+ times on earnings calls, far outranking AI mentions by rivals like Google and Amazon.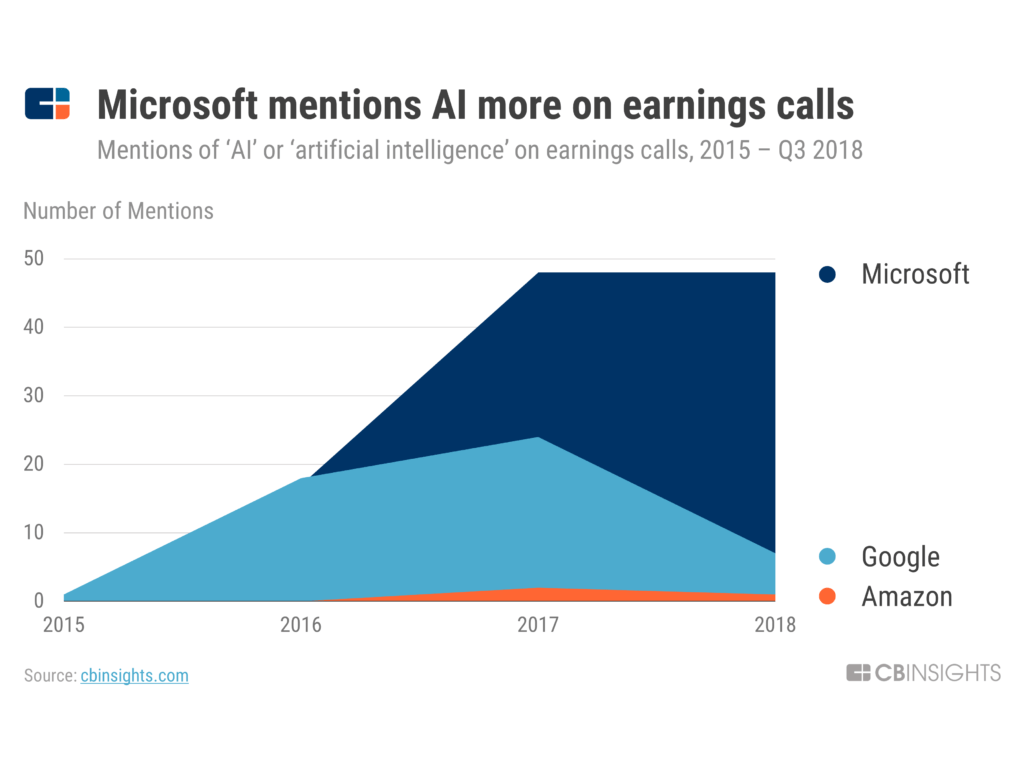 Nadella outlined the importance of AI on productivity and collaboration within the workplace on Microsoft's most recent earnings call:
"The future of productivity and collaboration will be defined by AI innovation and new AI-driven features."
AI is clearly a growing priority for the company. Whether in business analytics, security, gaming, or advertising, artificial intelligence is being baked into all of Microsoft's products and services.
WHY IS THIS A PRIORITY?
Microsoft benefits from AI in two key ways.
First, the company can monetize its AI technology by helping cloud customers implement AI into their products, as well as by implementing the technology into products of its own.
Second, Microsoft benefits from the increases in efficiency provided by AI. Reducing energy consumption in data centers with the power of artificial intelligence is a primary example.
Market sizing
The market for AI and machine learning is hard to size, given that the technology has the potential to tackle inefficiencies across a wide array of industries. That said, the market for artificial intelligence is expected to reach $126B by 2025, according to CB Insights' Market Sizing tool.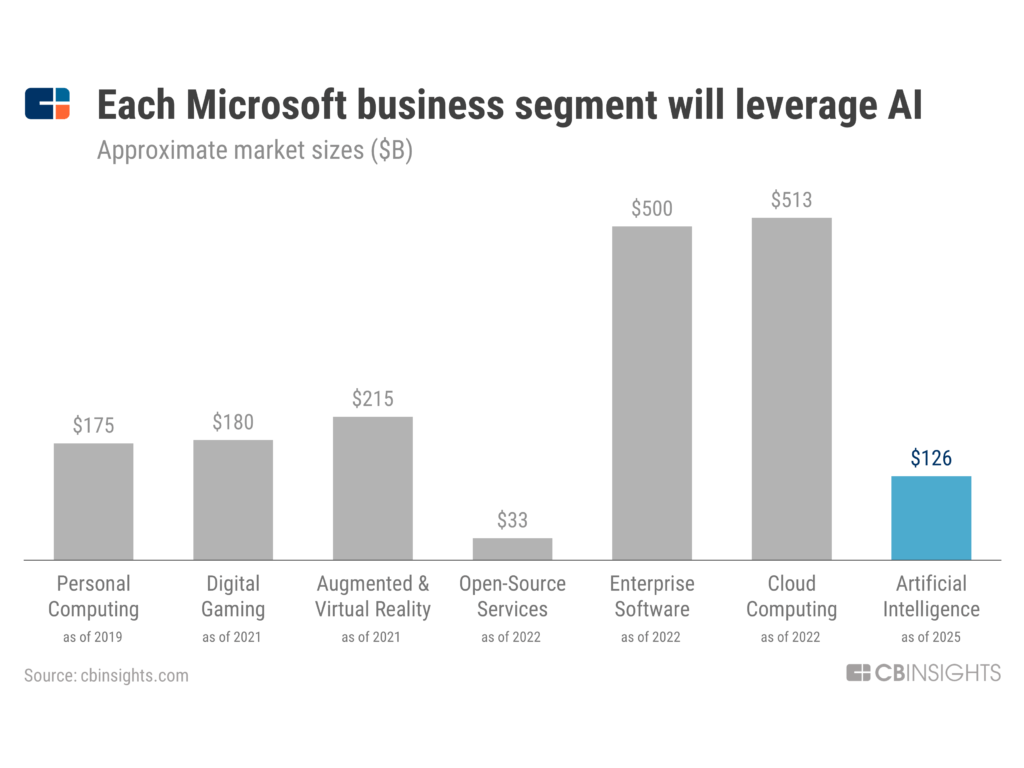 Building out more sophisticated artificial intelligence will strengthen Microsoft's dominance as an enterprise technology leader. Subsequently, using AI in its products and internal operations will be an important part of Microsoft's future success.
4. Gaming
One Microsoft business that drastically differs from the rest is the company's Xbox division. Xbox, which has been around for nearly 2 decades, played a central role in the proliferation of online, multiplayer gaming for consoles. Xbox Live now boasts approximately 57M active users.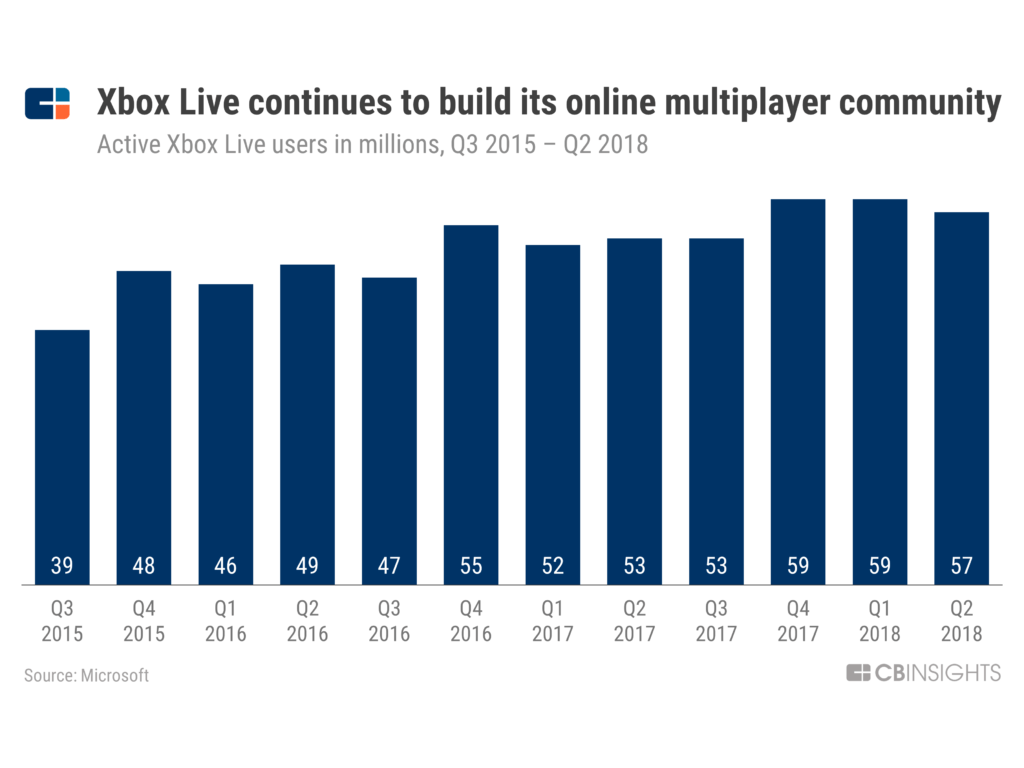 The Xbox division reached the milestone of $10B in annual revenue under Microsoft's VP of Gaming, Phil Spencer. This is one of the primary reasons that Microsoft continues to invest in Xbox.
WHAT IT'S DOING NOW
Investments
While Microsoft is actively investing in the gaming space, it doesn't typically participate in private market equity investments as it does in other strategic business areas. Instead, gaming investments are focused on increasing the content available to gamers and improving the overall Xbox experience.
For example, Microsoft seeks to partner with game developers to bring console exclusive titles to the Xbox platform. Games like PlayerUnknown's Battlegrounds attract new gamers while keeping current Xbox console owners happy.
According to its website, Microsoft currently counts 38 Xbox exclusive games, including titles like Halo, Forza Motorsports, Gears of War, and Minecraft, which Microsoft purchased in 2014 as part of its $2.5B Mojang acquisition.
Acquisitions
Mojang was just one of many gaming acquisitions made by Microsoft since 2014. In 2018, Microsoft has already made a record 7 gaming acquisitions.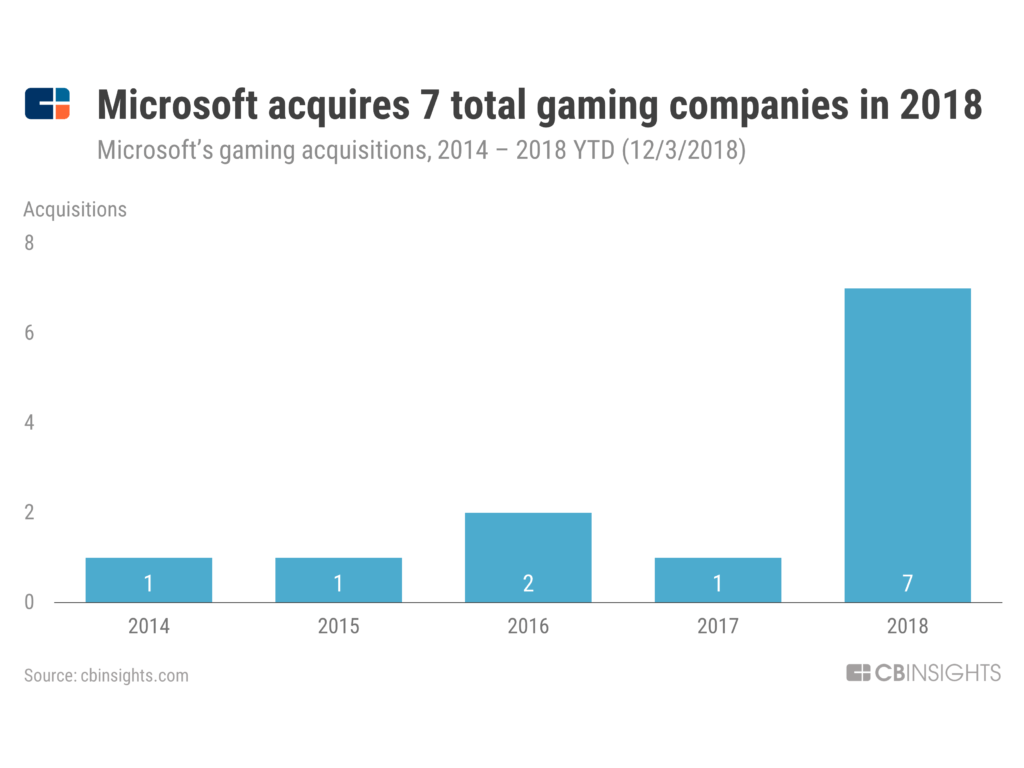 Recent acquisitions include gaming studios like Compulsion Games, Ninja Theory, Playground Games, and Undead Labs, as well as game development tools like PlayFab, which was acquired in January 2018.
The most recent acquisition by Microsoft was game development studio Obsidian Entertainment. Obsidian specializes in developing console role-playing games (RPGs) for established franchises like Fallout, Star Wars, and South Park.
Clients can learn more about Microsoft's gaming strategy in our client-only brief, Microsoft's Xbox Fortifies Gaming Empire With Recent Acquisitions And Product Developments.
Product developments
The acquisitions of PlayFab and Havok played an important role in helping Microsoft establish Azure as an ideal cloud platform for game developers.
Today, companies like Ubisoft and 343 Industries (developer of recent Halo games and established by Microsoft Studios) use Azure to accommodate large online multiplayer gameplay, while others develop entire games using Azure's infrastructure and development tools.
By attracting more developers to Azure, Microsoft may also incentivize those developers to create more Xbox exclusive games — a benefit to both sides of the business.

In addition to reliable infrastructure and advanced development tools, developers and publishers look for platform reach. While Xbox's distribution is strong, more consumers own Sony's PlayStation. This may have helped drive Microsoft's decision to develop a game streaming service, announced during the company's recent E3 keynote.
The service, called Project xCloud, will expand the company's reach by providing console-quality gaming on any device, including Xbox, PCs, or smartphones.
While Project xCloud is still in the works, Microsoft released its newest Xbox One console back in November 2017. The Xbox One X is Microsoft's most powerful console to date, and allows users to browse social media, stream live television, and even surf the internet with a built-in Microsoft Edge browser.
Microsoft is uniquely positioned to deliver a reliable and seamless service via its Azure cloud services. It has also used subscriptions to remove the burden of high upfront costs, while also keeping gamers engaged.
While Xbox Live remains the premiere Xbox subscription service, the company launched a new subscription service called Xbox Game Pass in June 2017. This recurring subscription offers unlimited access to ~200 digitally downloadable games.
According to interviews with the Xbox team, this curated catalog of games looks to provide something for everyone. And Microsoft regularly adds new titles to keep the catalog relevant. Many of the titles, such as State of Decay 2, are the types of Xbox exclusive games mentioned earlier.
In an effort to further grow membership for these services, Microsoft has bundled the Xbox Live and Game Pass services into a subscription called Xbox All Access. This offers gamers both services (Xbox Live and Game Pass) in addition to one of two Xbox consoles.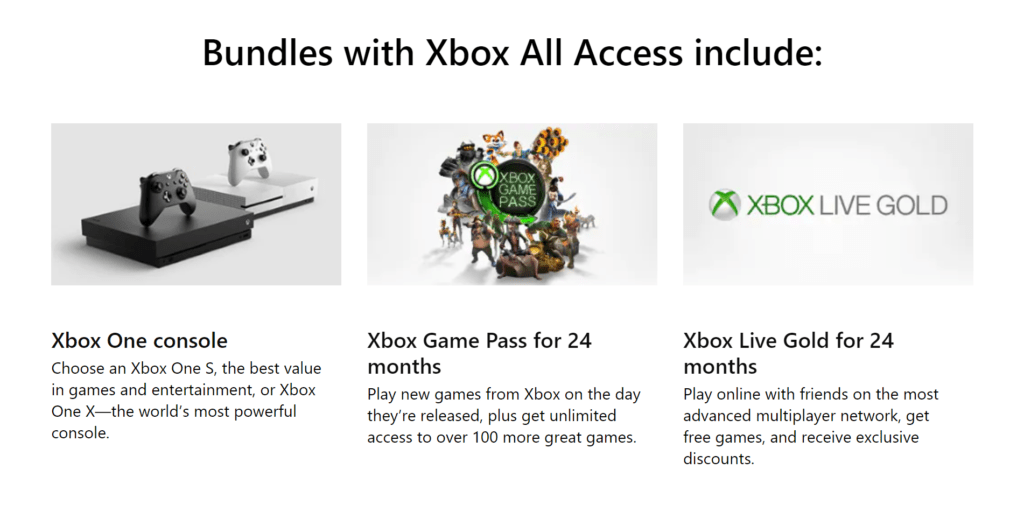 Not only does this service get users hooked on two different subscription services, it also eliminates the expensive upfront console costs that often "price out" customers. While this service is new, low monthly prices seem to be the primary draw.
This type of subscription may also serve as the foundation for Project xCloud's offering when it officially launches.
Patents
While Microsoft has had a busy 2018 acquiring gaming companies, developing new products, and structuring new business models, it has also continued with a steady pace of intellectual property research.
One of the company's more notable patents illustrates a cloud-based gaming platform. The patent, titled "Media Synchronization for Real-Time Streaming," was granted in July 2018 and provides an example where a user streaming a video game prompts an avatar to jump. The prompt is sent to a cloud server, which then returns the audio and video content associated with the specific in-game action.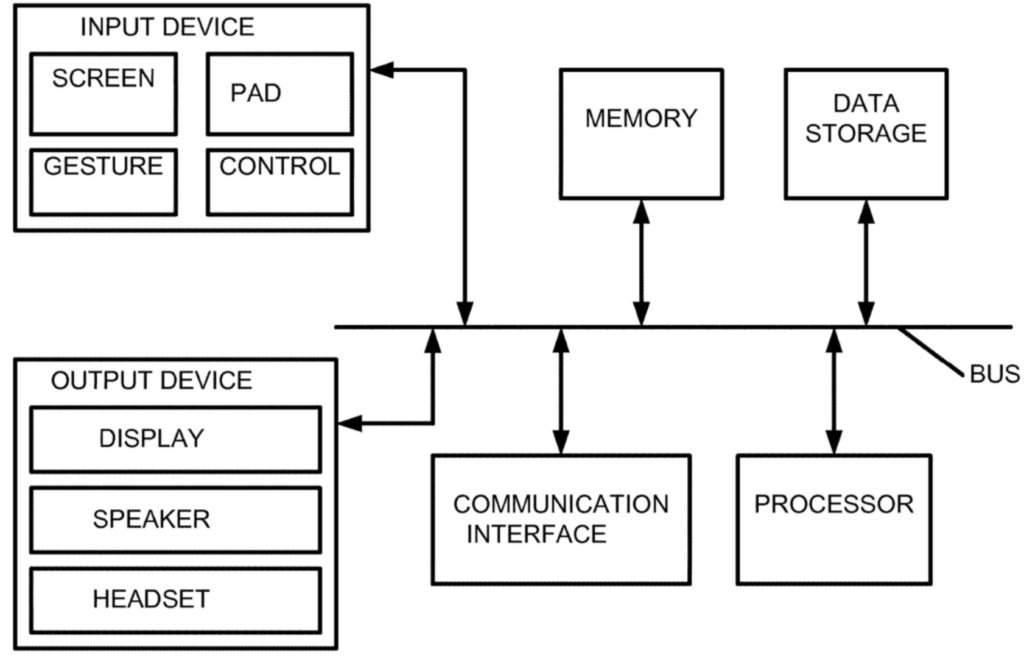 For streamed content, the time required to return audio vs. video information may differ. For this reason, Microsoft is looking to synchronize these two content types, so they are delivered to the user's device at the same time.
This patent is just one of many applications filed by Microsoft over the last few years. Since 2013, the company has filed over 500 patents related to gaming.
While its activity has fluctuated over time, gaming patent activity is another example of Microsoft's commitment to its Xbox division and the broader gaming landscape.
CB Insights expert intelligence customers can learn more about which companies are pursuing cloud-based gaming platforms in our brief, What Patents From Google, Microsoft, Nvidia, & More Tell Us About The Next Big Platform In Gaming. 
WHERE IT'S GOING NEXT
Earnings transcripts
Gaming has been a popular topic on recent Microsoft's earning calls. Mentions of "gaming" or "video games" have grown in recent quarters to hit a new peak in Q2'18, suggesting that gaming will continue to be a priority.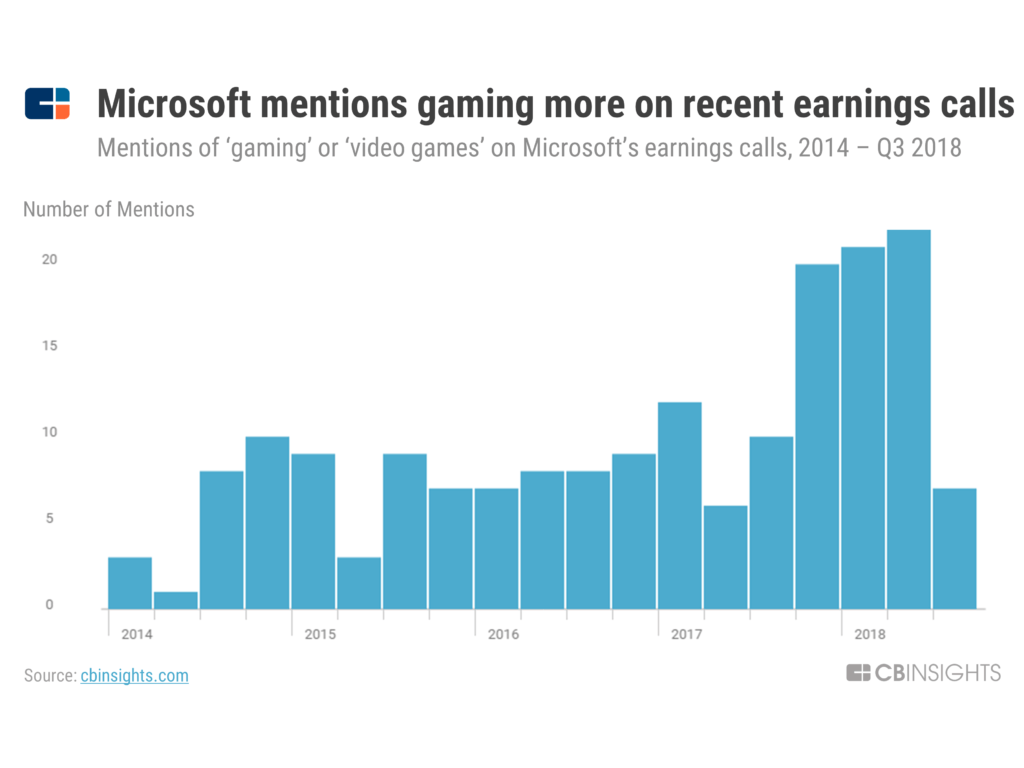 Notably, the Xbox division surpassed $10B in annual revenue at the close of Q2'18 (Microsoft's 2018 year end), a first for the company. During the Q4'18 earnings call, Nadella said that the company will continue to invest in all areas of gaming:
"In gaming, we're pursuing our expansive opportunity, from the way games are created and distributed, to how they're played and viewed, surpassing $10 billion revenue this year for the first time. We're investing aggressively in content, community, and cloud services across every end-point to expand usage and deepen engagement with gamers."
WHY IS THIS A PRIORITY?
While Microsoft's Xbox business differs greatly from the rest of the company's enterprise offerings, it is a tremendous asset to the company.
Although Microsoft reportedly doesn't generate a profit on the Xbox consoles, the company does profit from digital content and subscriptions. (Microsoft's cloud helps tremendously with the latter.)
With Project xCloud on the horizon, Microsoft may one day ditch the console altogether. While this wouldn't happen in the near future, we should expect to see cloud gaming and subscriptions play an increasingly important role in the future of the Xbox business.
Market sizing
According to CB Insights' Market Sizing tool, the gaming industry generated over $120B in revenue in 2017 and is expected to reach more than $180B in 2021.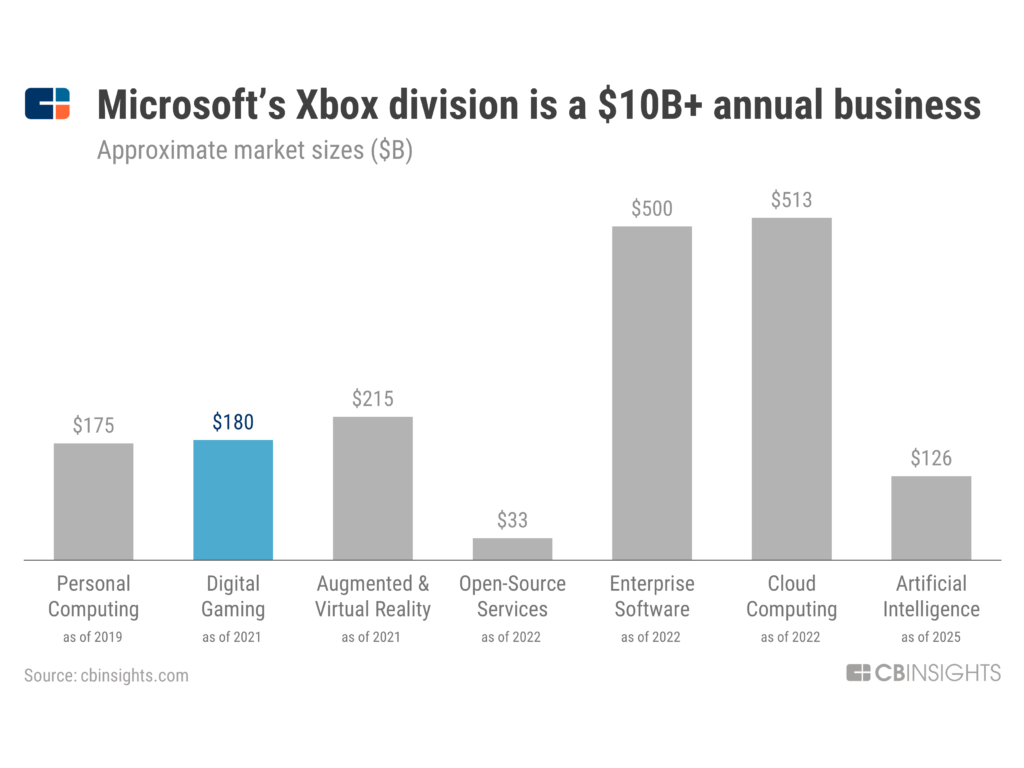 Microsoft is poised to lead the industry in cloud-based gaming. If the company is able to establish itself as a successful player in the space, it could reap the benefits of the industry's estimated value of over $4B by 2023.
5. Devices & hardware
Over the past 2 decades, Microsoft has made a number of costly hardware bets that have failed to pay off. The most notable is the Windows Phone, which cost Microsoft $7.2B in 2014 when it purchased Nokia's handset business. Microsoft officially dropped support for its Windows phones in July 2017.
However, while smartphones remain out of the picture, the company has gained PC and tablet market share in recent years. In addition, Microsoft continues to explore the augmented reality market as a hardware leader.
WHAT IT'S DOING NOW
Microsoft's Windows operating system was a primary revenue driver for the company for over two decades. However, Windows has recently taken a backseat to the other products and services offered by the company, and hardware has emerged as a new priority.
Instead of relying solely on third-party PC manufacturers to operate its current Windows systems, Microsoft now offers computers, laptops, and tablets of its own.
Product developments
Microsoft released its first Surface device in October 2012. The laptop promised to provide the best Windows experience, supported by hardware optimized for the job.
Since then, Microsoft has released nearly 20 variations of its Surface devices, including 5 new computing devices this year.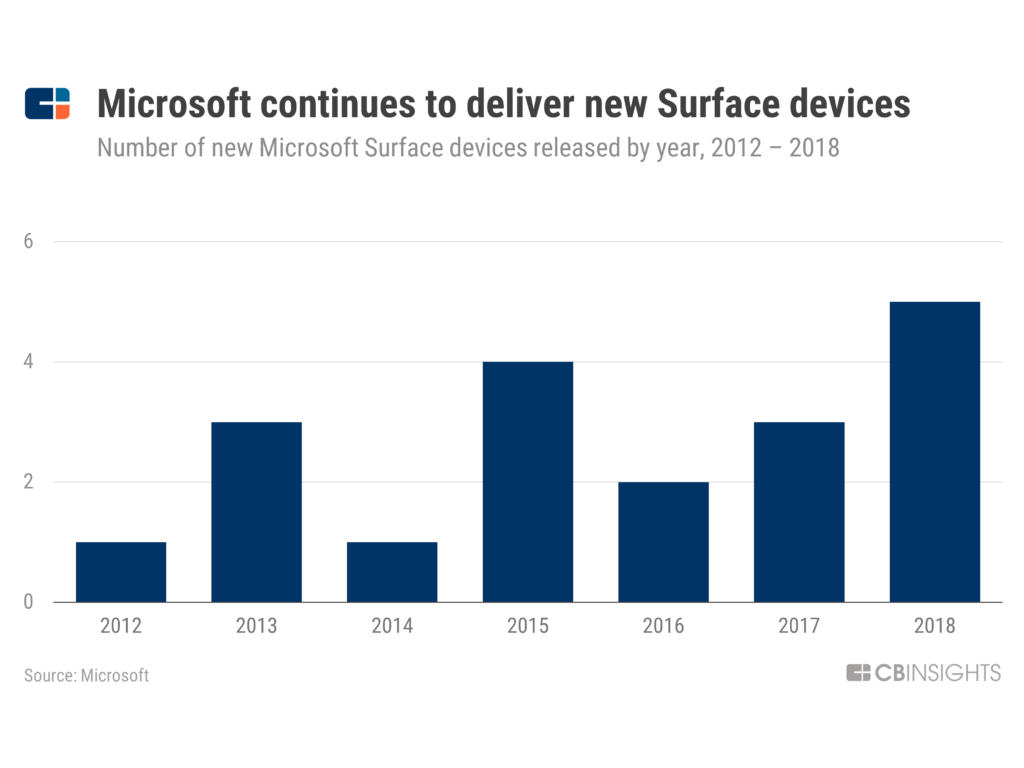 Some releases were iterations of former models like the Surface Pro and the Surface Studio, while the new Surface Go offers the portability of a tablet with the functionality of a laptop.
Microsoft allows customers to pay for Surface devices in monthly installments as part of its Surface All Access subscription service. This subscription is similar to the Xbox All Access subscription.
Microsoft counts 5 current generation models — significant, considering that only one device was available 5 years ago. These models include the Surface Pro 6, the Surface Book 2, the Surface Studio 2, the Surface Laptop 2, and the new Surface Go (pictured in this order below).

While Microsoft is still a small player in the PC market when compared to players like Dell, HP, and Apple, the company has made significant strides over its limited history.
In Q3'18, Gartner estimated that Microsoft shipped approximately 602K total PC units in the US. This was a record for Microsoft and the first time the company ranked as a top 5 vendor (overtaking ASUS).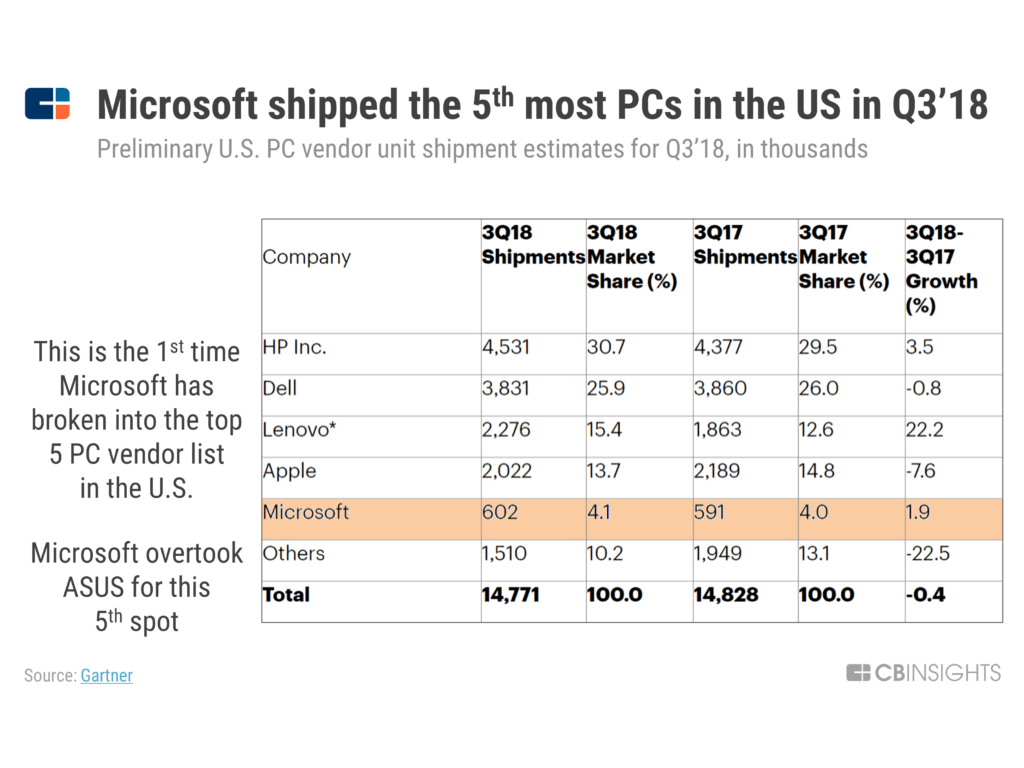 In addition to Microsoft's growing line of PCs and tablets, the company also manufactures an augmented reality headset called HoloLens. Since the March 2016 launch, Microsoft has sold an estimated 50,000 units.
Though this may not seem like much, HoloLens is one of the few augmented reality headsets on the market today, and has been very successful in building an ecosystem to support its hardware.

At a recent conference, Microsoft introduced new Dynamic 365 applications for the HoloLens. These applications will allow users to visualize prospective equipment installations or access remote assistance in a semi-virtual environment.

At the time of the announcement, Microsoft cited Chevron's use of the applications as a way to lower travel costs, saying,
"Previously it was required to fly in an inspector from Houston to a facility in Singapore once a month to inspect equipment. Now it has in-time inspection using Dynamics 365 Remote Assist and can identify issues or provide approvals immediately."
Though the implementation of this technology is in early stages, Microsoft is reimagining work for approximately 80% of the global workforce, according to General Manager Lorraine Bardeen.
Patents
While the HoloLens largely caters to the industrial workforce, Microsoft envisions a future where an average consumer could use the technology for turn-by-turn directions or locating nearby restaurants.
In a patent titled "Indirect-View Augmented Reality Display System" (granted October 2018), a headset displays virtual content atop real-world objects.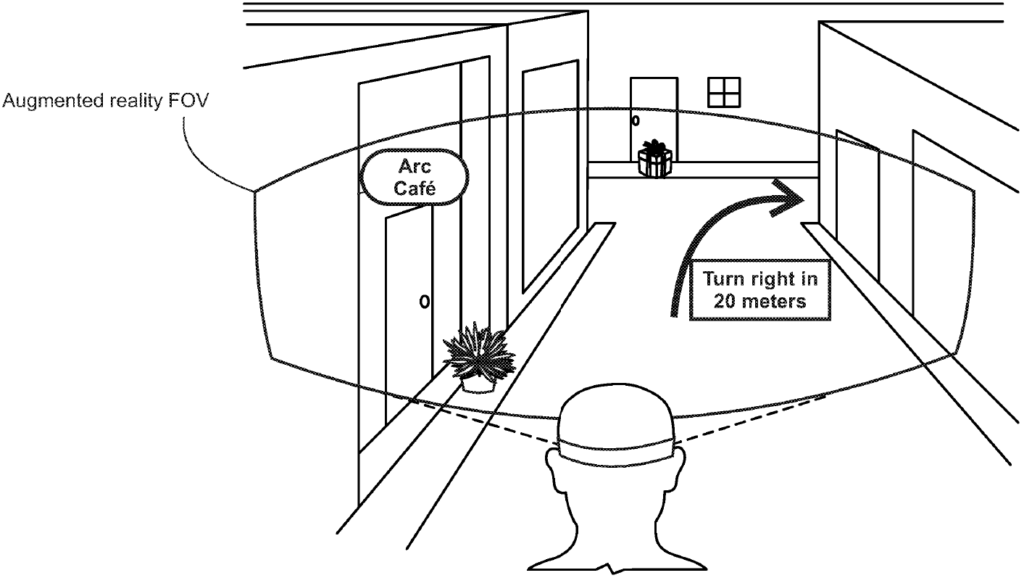 This is the same type of system that is currently available with Dynamics 365 on the HoloLens, but it is one of the few examples illustrating a consumer using the device in everyday situations.
Bing, Microsoft's search engine, currently offers a similar feature where users can use their mobile device to search for nearby locations in a 360 degree environment. This technology could be applied to the augmented reality environment available with the HoloLens ecosystem.
In addition to various augmented reality patents, Microsoft has filed several patent applications related to the development of new tablet and PCs.
A patent filed in July 2017, titled Hinged Device, illustrates a foldable device with a display flexible up to 180°.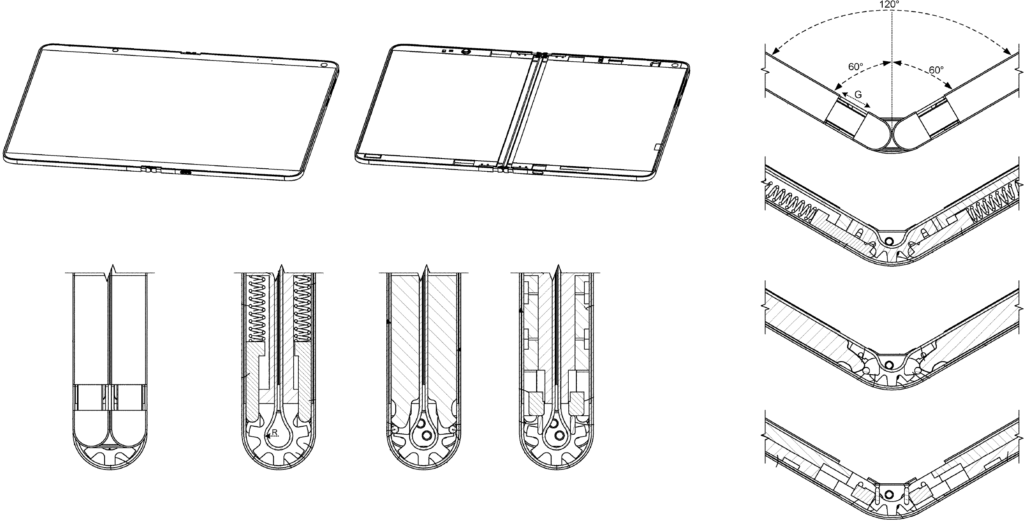 This could indicate that Microsoft plans to design a Surface device with a foldable screen in the future.
WHERE IT'S GOING NEXT
In October 2018, the FDA approved the Microsoft HoloLens for surgical use. The HoloLens may soon be used to provide step-by-step instructions with visual cues to surgeons in the operating room.
The second version of the device is expected to release sometime in 2019, though there has yet to be an official announcement.
As for the company's Surface strategy, it appears that Microsoft hopes to break back into the consumer electronics market. Alongside Surface tablets and PCs launched in recent months, Microsoft launched its Surface Headphones in November 2018. The new accessory looks to rival the premier offerings from audio companies like Bose and Apple's Beats.
With a strong foothold in enterprise technology, Surface may be the beginning of Microsoft's next attempt to attract everyday consumers.
WHY IS THIS A PRIORITY?
Microsoft's foray into computing hardware has a lot to do with control. By optimizing its hardware for its software and operating systems, the company can offer a better overall experience for customers, while encouraging them to be reliant on multiple Microsoft offerings.
While Microsoft continues to work with third-party hardware partners, its Surface devices are the best way to use its software.
Moreover, each Surface device offers document cloud storage with Microsoft's OneDrive. This directly links Microsoft's Surface devices to its broader cloud business.
And though HoloLens is still experimenting with its hardware, the strategy is likely the same. Microsoft systems work best on Microsoft hardware.
Market sizing
According to CB Insights' Market Sizing tool, the global market for personal computers (PCs) currently exceeds $175B. If Microsoft can capture just a fraction of this market, it would mean big business for the company.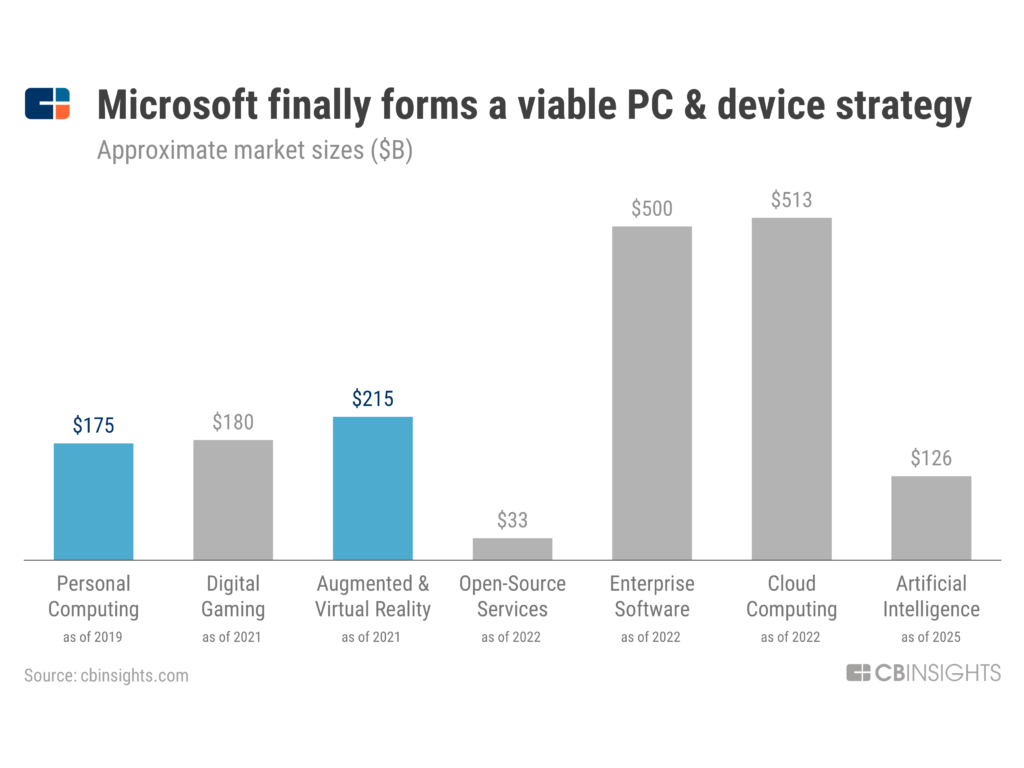 As for the augmented reality market, estimates suggest that the enterprise AR industry could be worth $48B by 2021, while the broader AR/VR market could top $215B by 2021.
6. Open-source
Back in 2001, Microsoft's then-CEO, Steve Ballmer, derided open-source operating system Linux, saying, "Linux is a cancer that attaches itself in an intellectual property sense to everything it touches."
Although he's since changed his opinion of the operating system, his former statements accurately depict Microsoft's past views on open-source.
Open-source software is the idea of sharing the source code with the public so it can be studied, changed, and redistributed. Often open-source software is developed in a collaborative manner with multiple, independent contributors. The intended result is better software for all.
Many of the world's largest tech companies — including Google, Facebook, Netflix, Airbnb, LinkedIn, and Microsoft — have adopted open-source as a way to build better software and engage with the global software development community.
WHAT IT'S DOING NOW
Almost immediately after Satya Nadella became CEO in February 2014, the company open-sourced parts of its .NET development framework and established the .NET Foundation to support the open-source initiatives. A year later, the company acknowledged that it runs its Azure Cloud Switches (ACS) on Linux.
Since then, Microsoft has embraced the Linux operating system, allowing cloud customers to use either Linux or Windows Server for their virtual machines instances.
Microsoft has gone so far as to build its own Linux operating system designed for IoT deployments: Azure Sphere combines the collaborative and ever-evolving nature of Linux OS with Windows-inspired security features, all optimized for distributed IoT devices.
Investments
Microsoft hasn't been a particularly active investor in open-source organizations. One of its few investments was M12's 2017 Series A investment in SnapRoute, an open-source software that enables network engineers to customize networking switches and routers.
Despite a lack of activity here, the company does support and contribute to hundreds of open-source projects. In this way, Microsoft is very invested in the open-source community.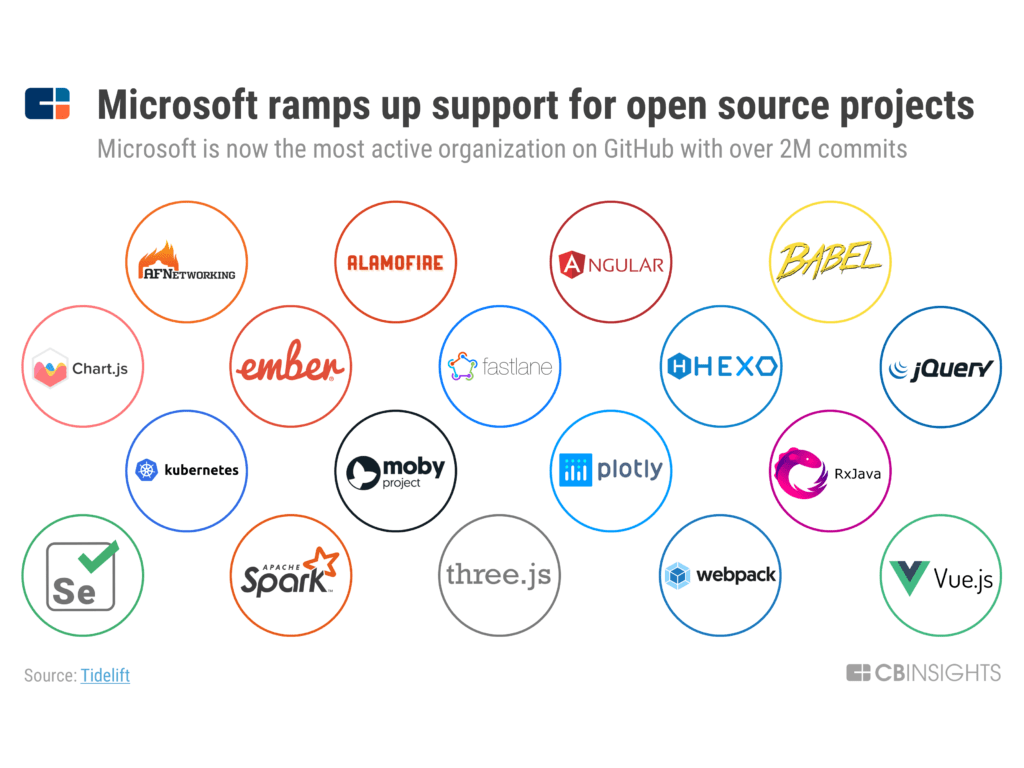 Often times, these contributions are focused on integrating the respective service with Windows. However, there are many others examples where Microsoft has supported specific open-source projects, despite a lack of compatibility with anything Microsoft.
Acquisitions
Despite its few equity investments, Microsoft has been active in acquiring open-source companies over the last few years.
Recent acquisitions include open-source statistical computing software Revolution Analytics in 2015 and container management platform Deis in 2017.
Though neither company disclosed their acquisition valuations, it's unlikely that either came anywhere close to Microsoft's $7.5B acquisition of GitHub in June 2018.
While GitHub was one of many enterprise software acquisitions by Microsoft in recent years, it was the largest enterprise software acquisition in the company's history (and its third-largest acquisition ever, behind only LinkedIn and Skype).
In fact, the GitHub acquisition is the largest VC-backed enterprise software acquisition in history (when considering only first-time acquisitions), according to a CB Insights' deal search. The company's exit valuation even beat out Workday's $4.5B IPO in 2012 and DocuSign's recent $4.4B IPO earlier in 2018.
GitHub fosters a unique community. The company provides version control and source code management tools for more than 28M developers worldwide, many of whom use the product to host open-source software projects.
While Microsoft's Azure cloud products will certainly benefit from GitHub's proprietary tools and 57M+ repositories, the community will likely provide ongoing lead generation for Microsoft's growing cloud business.
According to reports, GitHub generates approximately $100M in revenue from enterprise customers. Combining this business with Azure's suite of cloud services will likely lead to big business for Microsoft.
Open-source contributions
Both before and after the acquisition, Microsoft employees have been very active in the GitHub community. According to the company's annual State of the Octoverse report, Microsoft contributes to open-source projects on GitHub more than any other organization.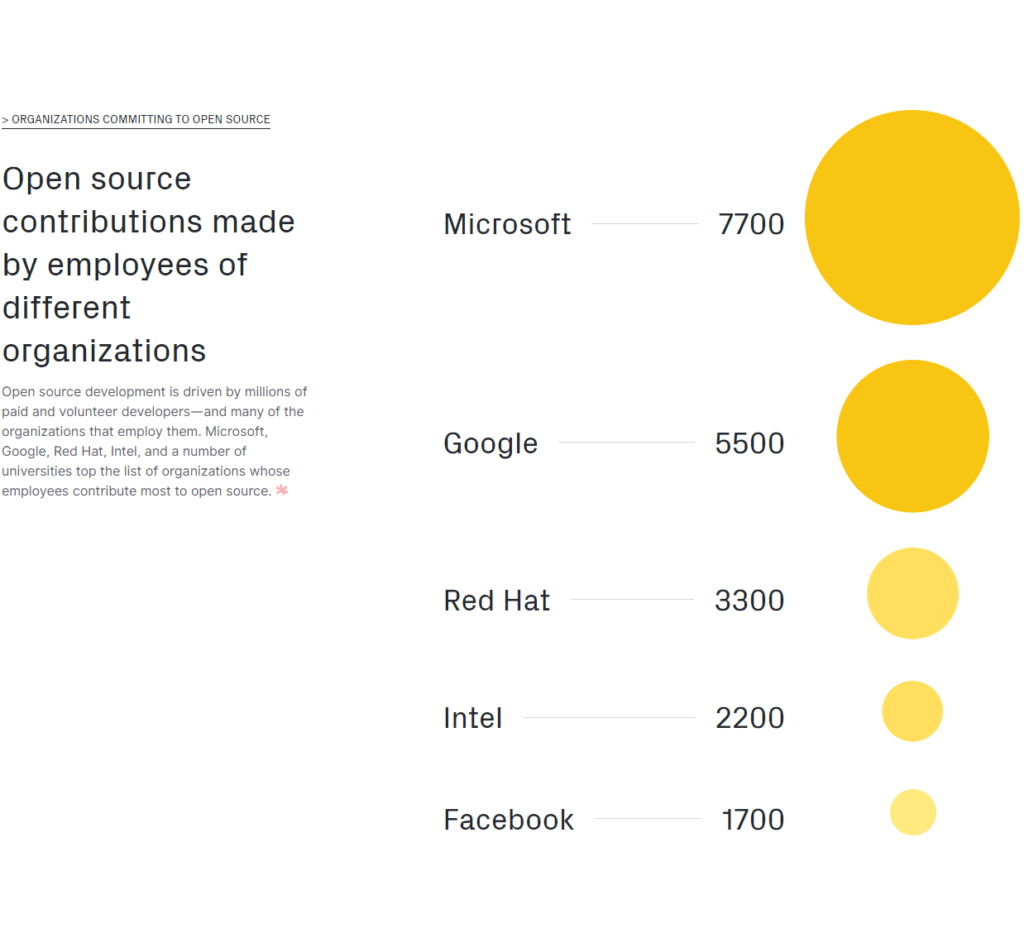 Microsoft had more than 2x contributions than Red Hat (acquired by IBM for $34B in October 2018), which is known as the leading provider of open-source enterprise solutions.
In addition to contributions made by Microsoft employees, many of GitHub's top and fastest growing projects have Microsoft origins.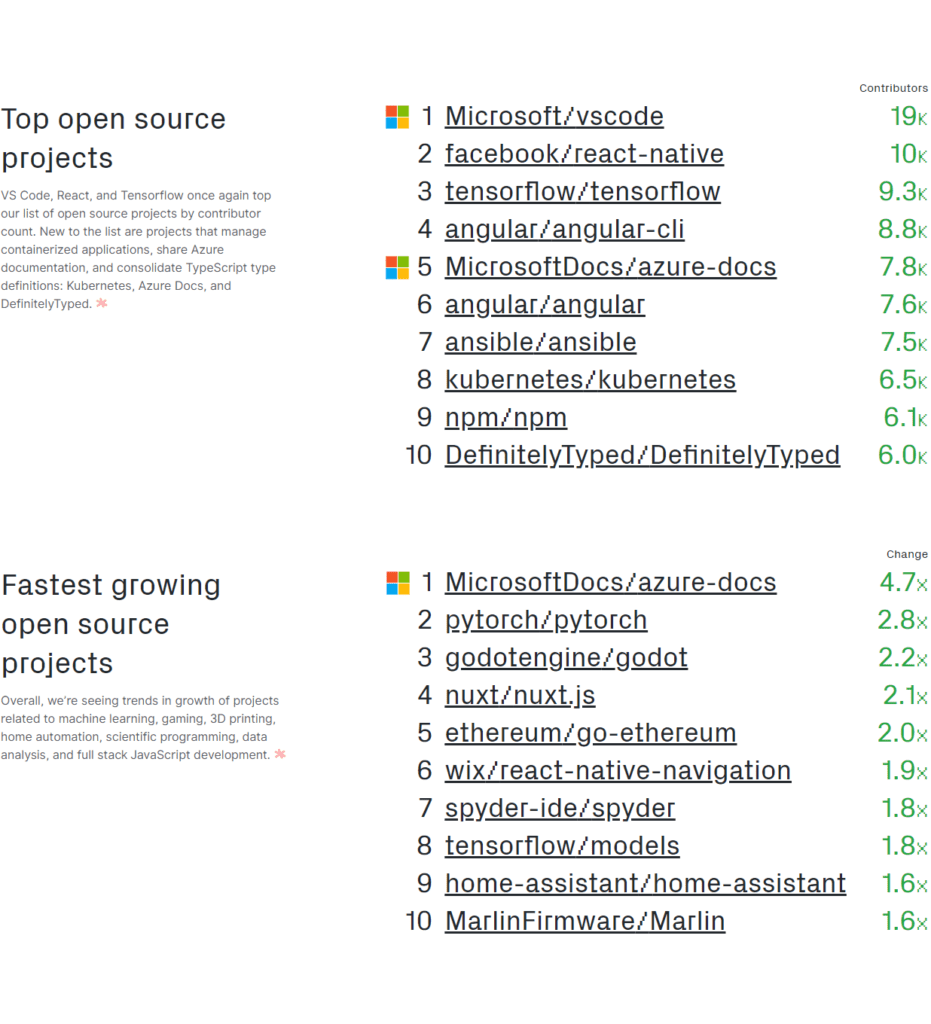 Recently appointed GitHub CEO Nat Friedman discussed the business's future strategy, saying,
"Three objectives will be top of mind for us as we build the future of GitHub: Ensuring GitHub is the best place to run productive communities and teams; Making GitHub accessible to more developers around the world; Reliability, security, and performance."
Based on former comments by the company, GitHub will remain independently operated and open-source for the foreseeable future. Microsoft's growing adoption of Linux and other open-source initiatives could signal a new trend in Microsoft's broader strategy.
In addition, Microsoft joined Open Invention Network (OIN) consortium in October 2018, which was created to protect open-source technologies from patent lawsuits. Microsoft also announced that it would contribute over 60,000 of its patents to OIN.
WHERE IT'S GOING NEXT
With a consistent track record of investing in, acquiring, and supporting open-source projects and organizations over the last few years, we should expect Microsoft to continue such behavior as long as Nadella remains CEO.
News
Over the last couple years, "Microsoft" and "open-source" have been mentioned together in the media a record number of times.
The majority of recent mentions are related to the GitHub acquisition, while most earlier mentions discuss Microsoft Azure's integration with various open-source projects.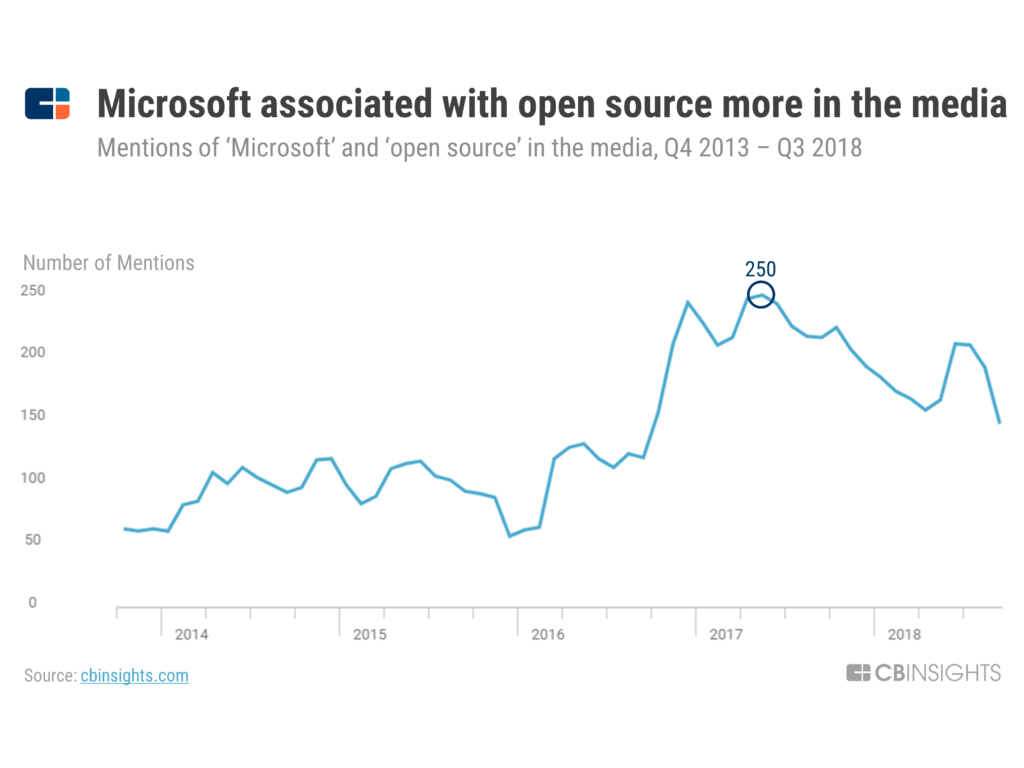 For Microsoft, a continued association with open-source will improve the company's image within the developer community. Despite calling Linux a cancer nearly 20 years ago, Microsoft is now a leading supporter of open-source initiatives.
WHY IS THIS A PRIORITY?
The developer community's perception of Microsoft has a direct impact on the company's bottom line. If developers trust and support Microsoft, they're more likely to trust and support Microsoft products (like the company's Azure cloud services).
Supporting open-source is arguably Microsoft's greatest branding and developer relations effort in the company's history.
Market sizing
Collective revenue from open-source services is set to exceed $14B in 2018, according to estimates. By 2022, this annual revenue could reach nearly $33B.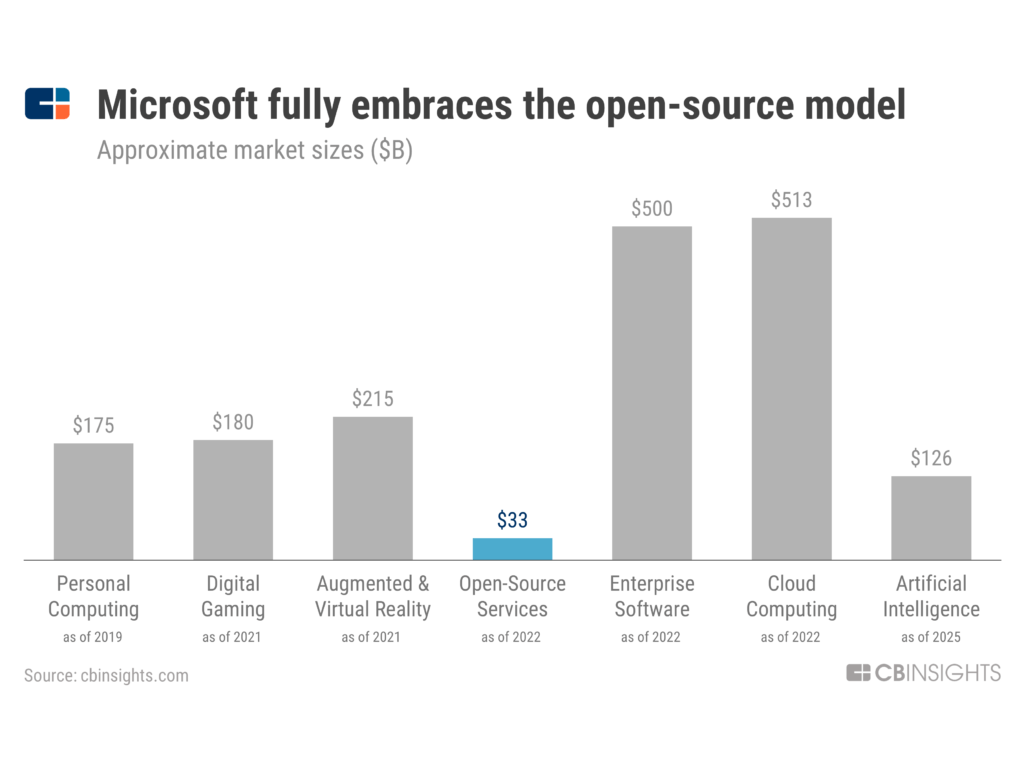 While the open-source market itself is difficult to size, much of the $354B enterprise software market is likely to be affected by open-source in some way. Whether or not Microsoft will be the greatest benefactor of this impact is yet to be determined.
Conclusion
Microsoft's efforts to defend its strength in enterprise software and services span several initiatives.
The company's investments in artificial intelligence and open-source software have been two of its more recent and lucrative plays to bolster Microsoft's dominance within the enterprise technology space.
Meanwhile, the company is also working to improve customer experiences (for both enterprises and consumers) from multiple angles, many of which have already shown themselves to be proven areas of growth. Its recent subscription strategies in gaming have increased accessibility for gamers, while recent initiatives in personal computing have shown progress from its hardware mistakes of the past.
The company's reorganization and pragmatic investment/acquisition philosophy has helped Microsoft more efficiently deploy capital to the most promising opportunities for growth across business segments like cloud computing.
Cloud has been a recurring theme throughout all areas of the Microsoft organization, in addition to artificial intelligence and subscriptions.
Microsoft is taking a comprehensive approach to applying these offerings to all areas of its business. However, the question remains whether or not these efforts will help the company to differentiate its products and services enough from its thriving competition.
If you aren't already a client, sign up for a free trial to learn more about our platform.