The mental health tech sector set new records in 2021 for global deals, exits, valuations, unicorns, and more.
Global deals and dollars to mental health tech startups reached new highs in 2021. Funding to the sector grew 139% YoY to reach a record $5.5B.
In our State of Mental Health Tech 2021 Report, we dig into global investment trends to spotlight takeaways like:
Global mental health tech investment activity, up 139% YoY

Which global region raised the most funding in 2021, and which emerging regions are heating up

The record unicorn count, unicorn birth trends, and the highest-valued unicorns to close out the year

How 2021's M&A, IPO, and SPAC exits compare to previous years

And much more
Below, check out just a few highlights from our 71-page, data-driven State of Mental Health Tech 2021 Report. For deeper insights, all the record figures, and a boatload of private market data, download the full report.
GLOBAL FUNDING REACHES NEW RECORD, 139% HIGHER THAN 2020
See who's leading the explosion in global mental health tech funding, from the startups seeing the biggest deals to the regions with the largest funding booms.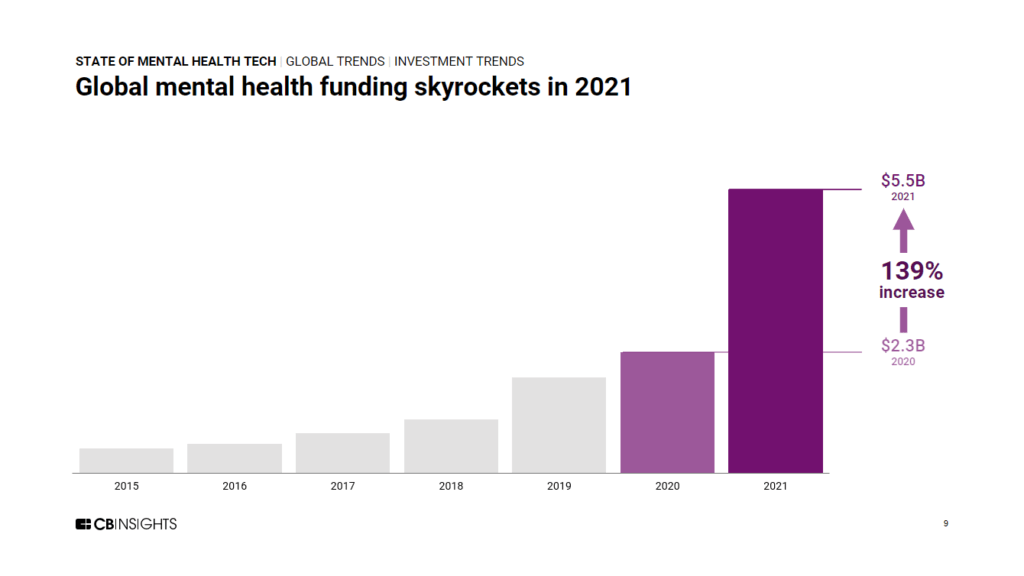 2021 MENTAL HEALTH TECH M&A ACTIVITY LEAPS AHEAD OF 2020 LEVELS
See how mental health tech exit activity looked in 2021, including M&As, IPOs, and SPACs.