An analysis of emerging luxury trends using the CB Insights NExTT framework.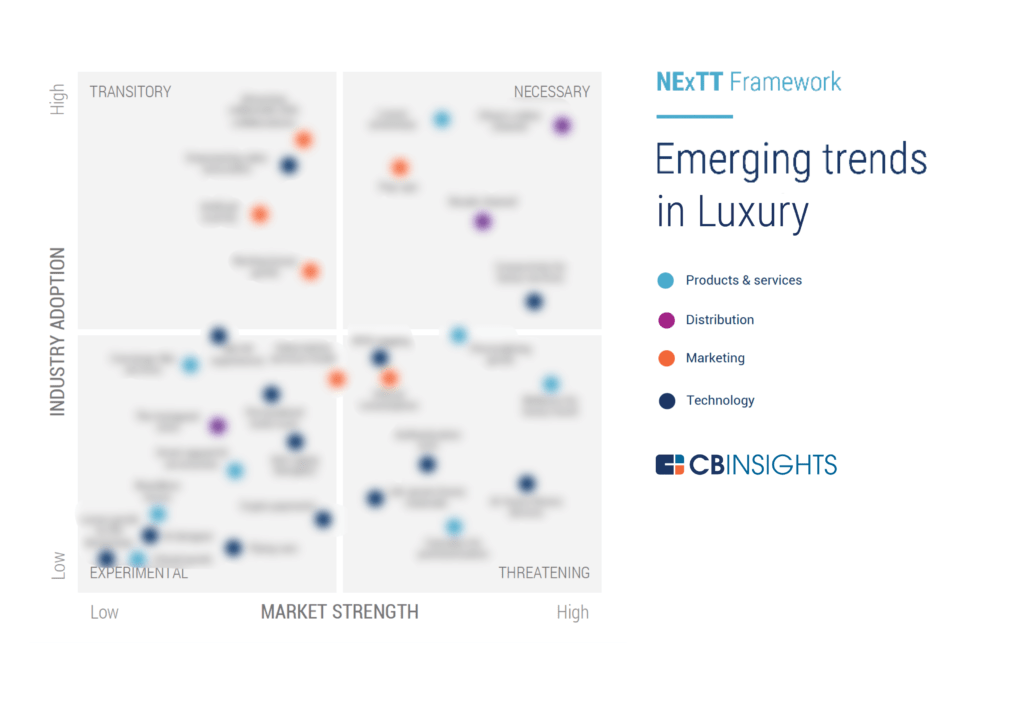 What's next for luxury?
CB Insights examined 18 of the biggest luxury trends, covering everything from connectivity for luxury services to flying cars.
Using the NExTT framework, we looked at the industry adoption and market strength of these trends, categorizing them as necessary, experimental, threatening, or transitory (NExTT). The framework educates businesses about emerging trends and guides their decisions in accordance with their comfort with risk.
In this report, we focus on 18 trends from the Necessary and Experimental quadrants of the framework.
Trends highlighted in the report include:
Luxury companies are increasingly looking at offering concierge-like services to lure and retain wealthy customers.

As the number of crypto-wealthy people increases, luxury companies are starting to consider cryptocurrencies as a legitimate form of payment.

While a certain logomania has invaded luxury fashion, brandless luxury could emerge to target luxury shoppers looking for a different experience.

The virtual goods market is gaining momentum and could represent 

a significant opportunity for luxury brands.
Download the entire luxury trends report to see the top 18 trends shaping the industry.
If you aren't already a client, sign up for a free trial to learn more about our platform.