Underwriting data platforms have seen high market momentum and widespread industry leader activity in the underwriting data space — making them a technology worth prioritizing.
Clients can download the full Underwriting Data Solutions for Life Insurers report at the top left sidebar. 
Life insurance leaders are shifting more of their R&D budgets toward transformational innovation, focusing on novel technologies that can improve the efficiency and efficacy of underwriting processes.
Using CB Insights data, we examined tech markets across underwriting data solutions for life insurers and ranked them across two metrics — market momentum and industry leader activity — to help companies decide whether to monitor, vet, or prioritize these technologies.
download The State of Digital Health Q2 2022 report
Underwriting data platforms earned a recommendation to prioritize based on the market's strong market momentum and industry leader activity.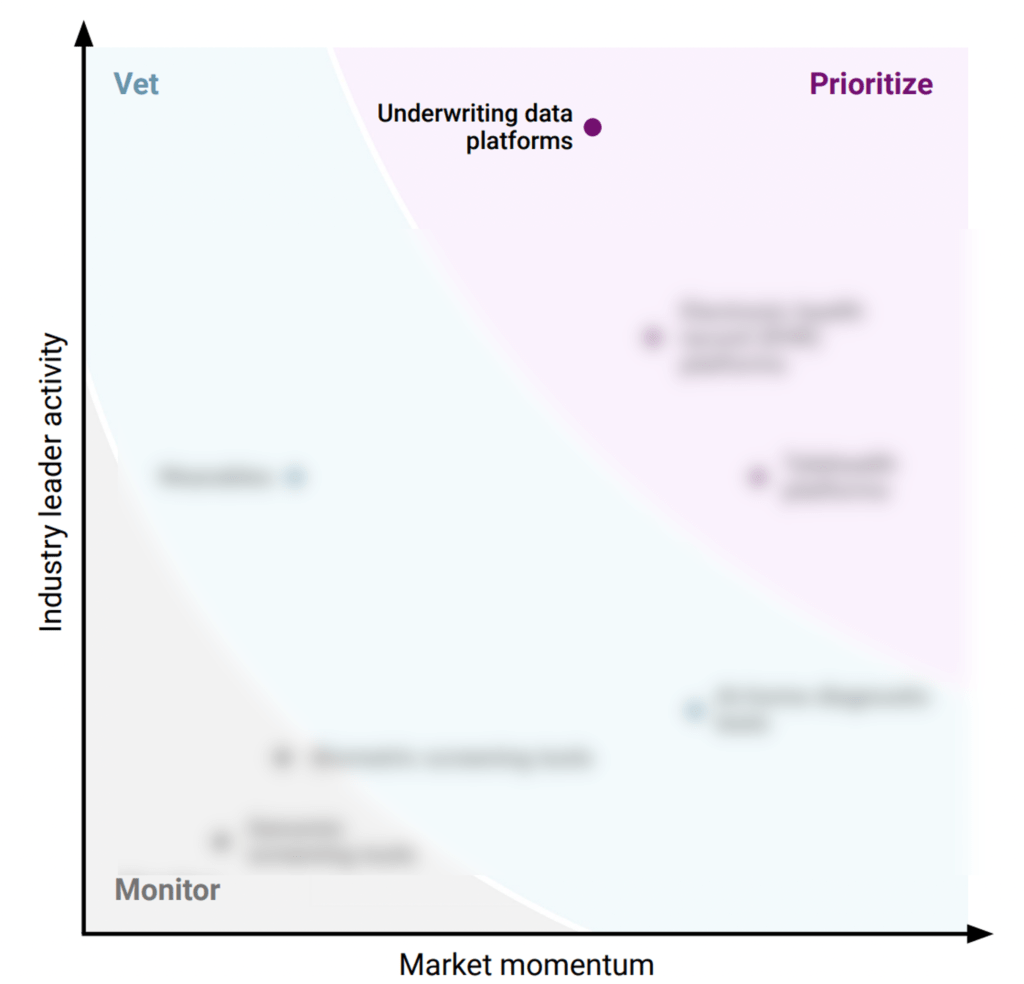 Underwriting data platforms collect and organize the applicant and third-party data required by life insurance underwriters. They often bring together third-party alternative datasets like pharmaceutical records, credit scores, and motor vehicle records.
Insurers can tap into these data sources to augment their own internal datasets and, ultimately, enhance the speed and quality of the underwriting process.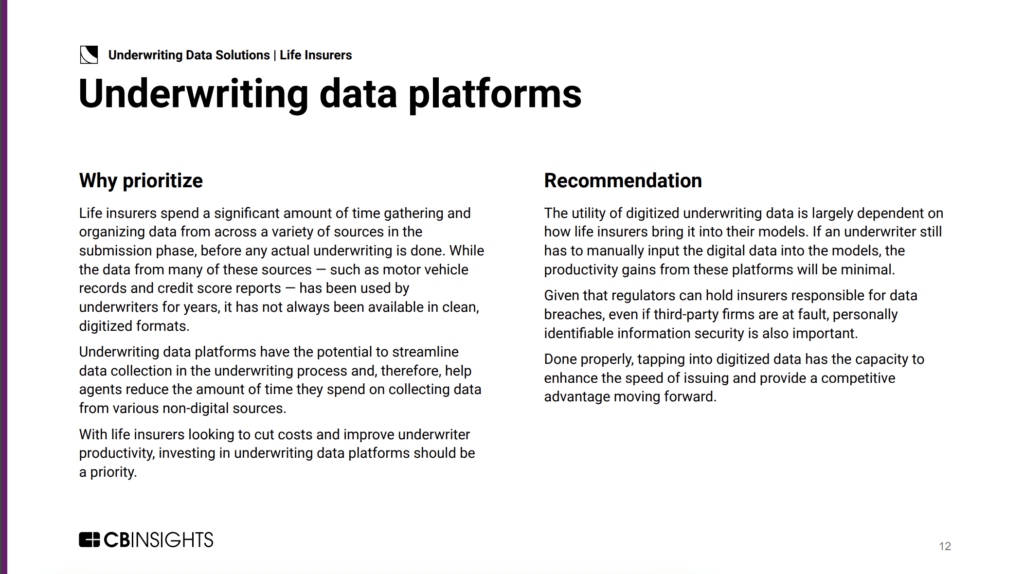 The utility of digitized underwriting data is largely dependent on how life insurers bring it into their models. If an underwriter still has to manually input the digital data into the models, the productivity gains from these platforms will be minimal.
However, done properly, tapping into digitized data has the capacity to enhance the speed of issuing and provide a competitive advantage moving forward.
Facts & figures: Underwriting data platforms
Funding: Underwriting data platform providers evaluated in this report have raised over $250M since 2017 (as of 6/8/2022).
Top-funded companies: Top-funded companies in the space include dacadoo ($75M in disclosed equity funding), EasySend ($72M), and Sentiance ($37M).
Geography: While the majority of deals in this space go to companies based in the US (57%), Israel (19%) and Belgium (14%) also attract a number of deals.
Clients can dive into underwriting data platforms and more in our complete MVP Technology Framework: Underwriting Data Solutions for Life Insurers report.