Robotic process automation has seen substantial market momentum and wide industry leader activity — making it a market worth prioritizing.
Clients can download the full Underwriting For Life Insurers Report at the top left sidebar. 
Life insurance leaders are shifting more of their R&D budgets toward transformational innovation, focusing on novel technologies that can improve the efficiency and efficacy of underwriting processes.
Using CB Insights data, we examined tech markets across underwriting for life insurers and ranked them across two metrics — market momentum and industry leader activity — to help companies decide where to monitor, vet, and prioritize these technologies.
Robotic process automation earned a recommendation to prioritize, based on the market's high market momentum and strong industry leader activity.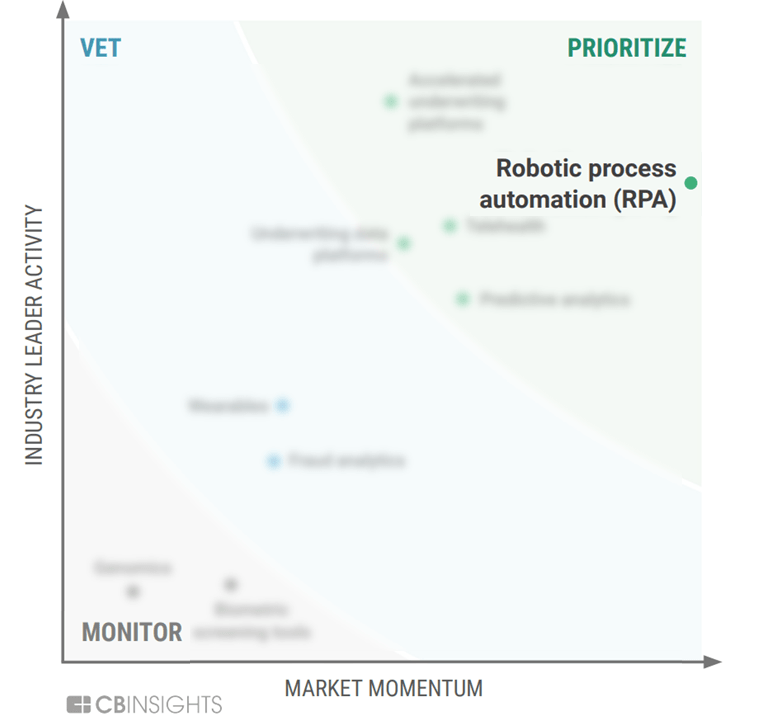 RPA solutions help make businesses more efficient by automating the completion of repetitive tasks and streamlining workflows. For life insurers, RPA technology can automate simple underwriting tasks, such as making policy amendments, organizing and collecting data, issuing policies, and creating regulatory reports.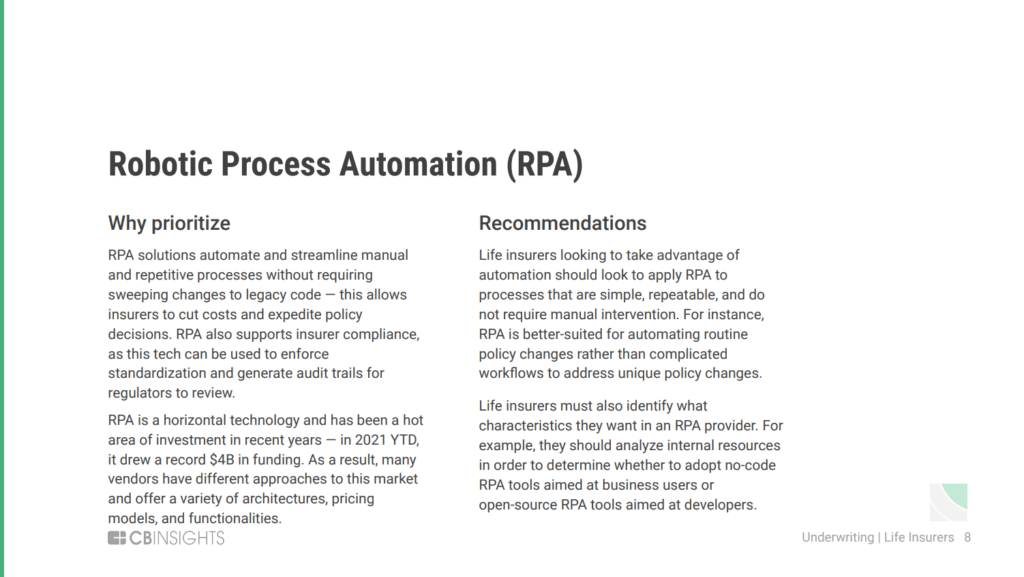 RPA solutions automate and streamline manual and repetitive processes without requiring sweeping changes to legacy code — this allows insurers to cut costs and expedite policy decisions. RPA also supports insurer compliance.
Life insurers looking to take advantage of automation should look to apply RPA to processes that are simple, repeatable, and do not require manual intervention. Life insurers must also identify what characteristics they want in an RPA provider.
facts & figures: robotic process automation
Market size: The global robotic process automation software & services market is estimated to be worth $16.2B, per CB Insights' Industry Analyst Consensus.
Funding: RPA companies analyzed for this report raised a record $3.5B in 2021 — a roughly 4x increase in funding year-over-year.
Deal size: Average median deal size for companies analyzed in this report jumped to $134M in 2021, while median deal size ticked up to $45M.
Top-funded companies: Top-funded companies in this space include UiPath ($1.9B in disclosed equity funding), Celonis ($1.4B), and Automation Anywhere ($840M).
Top investors: The most active investors backing this cohort of companies include Plug and Play Accelerator, Slow Ventures, Accel, Lightspeed Ventures, and Tiger Global Management.
Clients can dive into robotic process automation and more in our complete MVP Technology Framework — Underwriting For Life Insurers Report.