EHR platforms have seen strong market momentum and notable industry leader activity in the underwriting data space — making them a technology worth prioritizing.
Clients can download the full Underwriting Data Solutions for Life Insurers report at the top left sidebar. 
Life insurance leaders are shifting more of their R&D budgets toward transformational innovation, focusing on novel technologies that can improve the efficiency and efficacy of underwriting processes.
Using CB Insights data, we examined tech markets across underwriting data solutions for life insurers and ranked them across two metrics — market momentum and industry leader activity — to help companies decide whether to monitor, vet, or prioritize these technologies.
Free Download: the State of digital health
Global digital health funding reached $10.4B in Q1'22, a 36% decrease compared to Q4'21. Get our full report to find out all the trends.
Electronic health record (EHR) platforms earned a recommendation to prioritize based on the market's high market momentum and industry leader activity.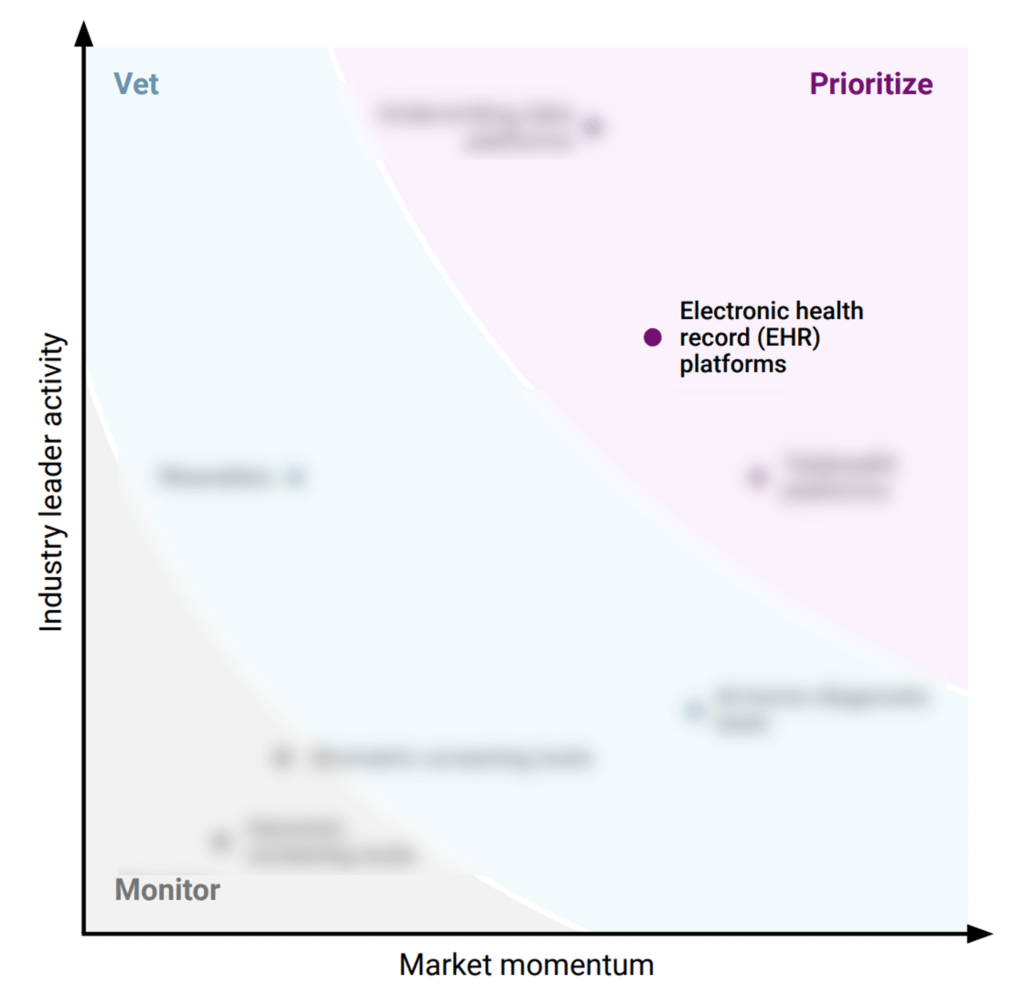 EHR platforms enable life insurers to access applicant health data instantly — with applicant permission — via API connections from healthcare providers. Insurers can use EHR data to augment their own internal datasets and, ultimately, enhance the speed and quality of the underwriting process.
Typical features in EHR platforms include: connections to a variety of third-party EHR systems; connections to patient portals; and automatic organization, deduplication, and standardization of applicant data.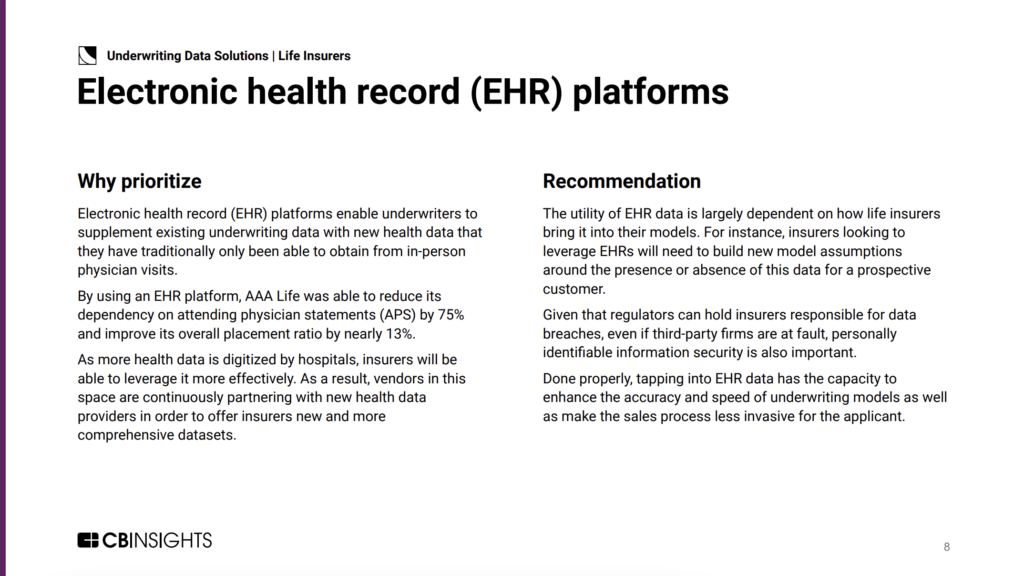 EHR platforms enable underwriters to supplement existing underwriting data with new health data that they have traditionally only been able to obtain from in-person physician visits.
The utility of EHR data is largely dependent on how life insurers bring it into their models. For instance, insurers looking to leverage EHRs will need to build new model assumptions around the presence or absence of this data for a prospective customer.
Facts & figures: EHR Platforms
Market size: The global EHR market is worth an estimated $31B.
Funding: EHR platform providers evaluated in this report have raised $2.8B since 2017 (as of 5/19/22).
Top-funded companies: Top-funded companies in the space include Verily Life Sciences ($2.5B in disclosed equity funding), Redox ($95M), and Health Gorilla ($75M).
Earnings transcripts: Recent earnings transcripts mentions of EHRs have been made by executives at Quest Diagnostics, HCA Healthcare, Cerner, and others.
Clients can dive into EHR platforms and more in our complete MVP Technology Framework: Underwriting Data Solutions for Life Insurers report.