Robotic process automation (RPA) solutions have seen dominant market momentum and strong industry leader activity in the pricing & risk assessment space — making it a technology worth prioritizing.
Clients can download the full Pricing & Risk Assessment for Life Insurance Underwriters report at the top left sidebar.
Life insurance leaders are shifting more of their R&D budgets toward improving their risk assessment and rating models, focusing on novel technologies that can improve the efficiency and efficacy of this key underwriting process.
Using CB Insights data, we examined tech markets across pricing & risk assessment for life insurance underwriters and ranked them across two metrics — market momentum and industry leader activity — to help companies decide whether to monitor, vet, or prioritize these technologies.
FREE DOWNLOAD: STATE OF FINTECH Q1 2022
q1 2022 brought a -18% decline in quarterly fintech funding. Download the report to learn more.
Robotic process automation (RPA) earned a recommendation to prioritize based on the market's high market momentum and industry leader activity.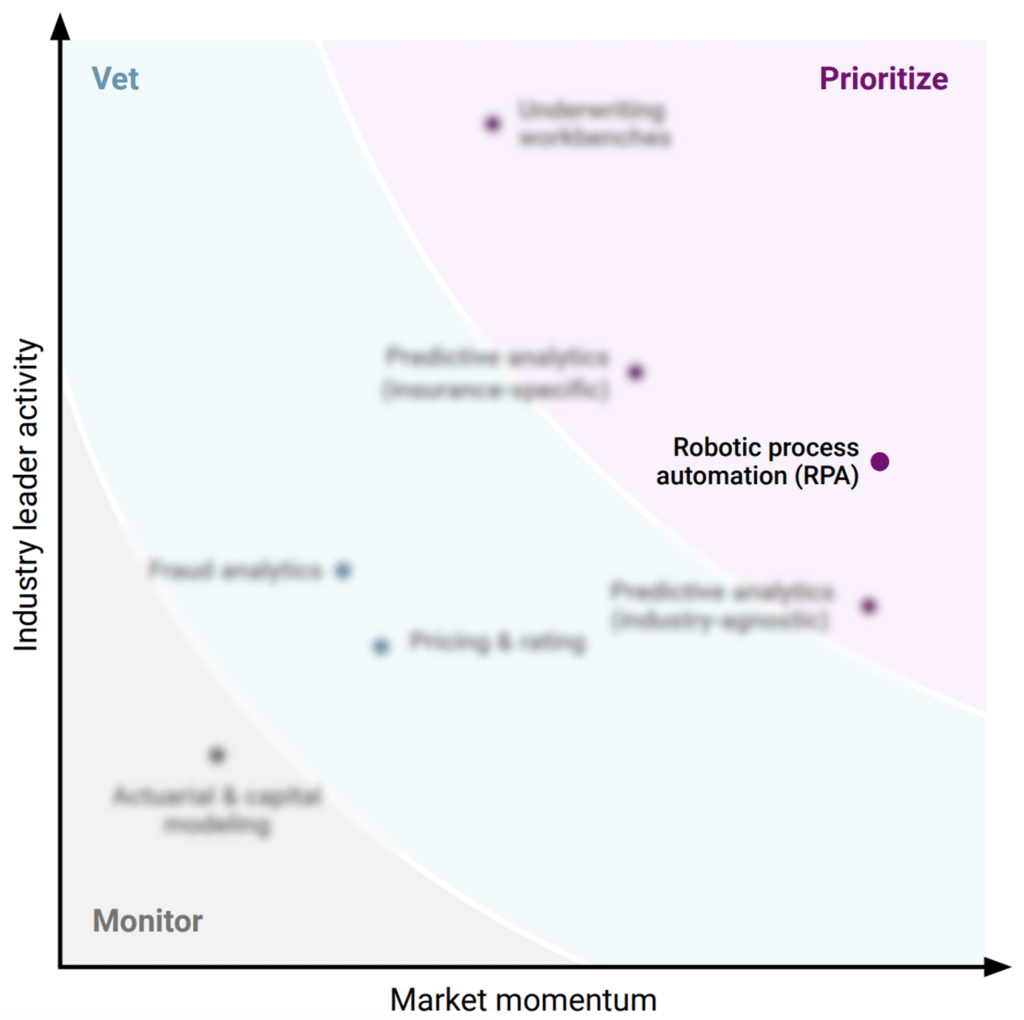 RPA products aim to make businesses more efficient by offering software that can be configured to automatically complete repetitive tasks and streamline workflows. For life insurers, RPA technology can automate simple underwriting tasks, such as making policy amendments, organizing and collecting data, issuing policies, and creating regulatory reports.
Typical functions offered within RPA include process discovery (recording and understanding repeated workflows), document capture and optical character recognition, process improvement suggestions (recommendations for how to improve or expedite repeated tasks and processes), and data logging and synchronization.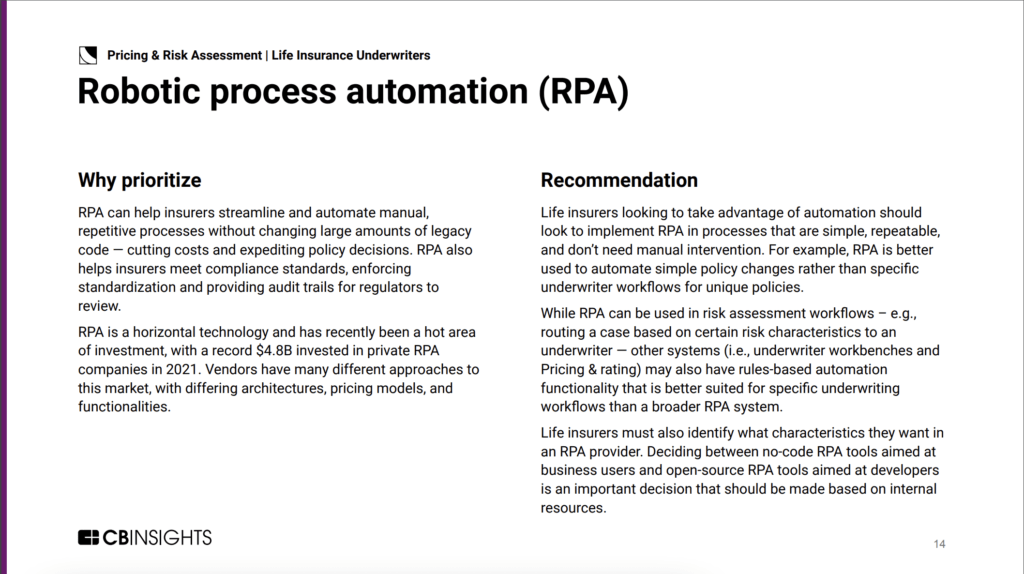 RPA can help insurers streamline and automate manual, repetitive processes without changing large amounts of legacy code — cutting costs and expediting policy decisions. RPA also helps insurers meet compliance standards, enforcing standardization and providing audit trails for regulators to review.
Life insurers must identify what characteristics they want in an RPA provider. Deciding between no-code RPA tools aimed at business users and open-source RPA tools aimed at developers is an important decision that should be made based on internal resources.
FACTS & FIGURES: Robotic process automation
Market size: The global RPA software and services market is expected to be worth more than $16B by 2023.
Funding: Across industries, RPA has been a hot area of investment recently, with $4.8B invested in private RPA companies in 2021.
Deal size: RPA companies' average and median deal sizes more than tripled YoY in 2021 to reach $184M and $56M, respectively.
Top-funded companies: Top-funded companies in the space include UiPath ($2B in disclosed equity funding), Automation Anywhere ($840M), and WorkFusion ($339M).
Geography: While the majority of deals in this space go to companies based in the US (68%), Israel (13%) and China (13%) also attract a number of deals.
Clients can dive into robotic process automation and more in our complete MVP Technology Framework: Pricing & Risk Assessment for Life Insurance Underwriters report.