This report analyzes emerging life insurance trends using the CB Insights NExTT framework.
The Covid-19 pandemic has underscored the need for the life insurance industry to digitize and automate core operations. 
CB Insights examined 13 of the biggest life insurance trends related to digital and task automation technologies, covering everything from wearables to genomics.
Using the NExTT framework, we looked at the industry adoption and market strength of these trends, categorizing them as necessary, experimental, transitory, or threatening (NExTT). The framework educates businesses about emerging trends and helps guide their decisions.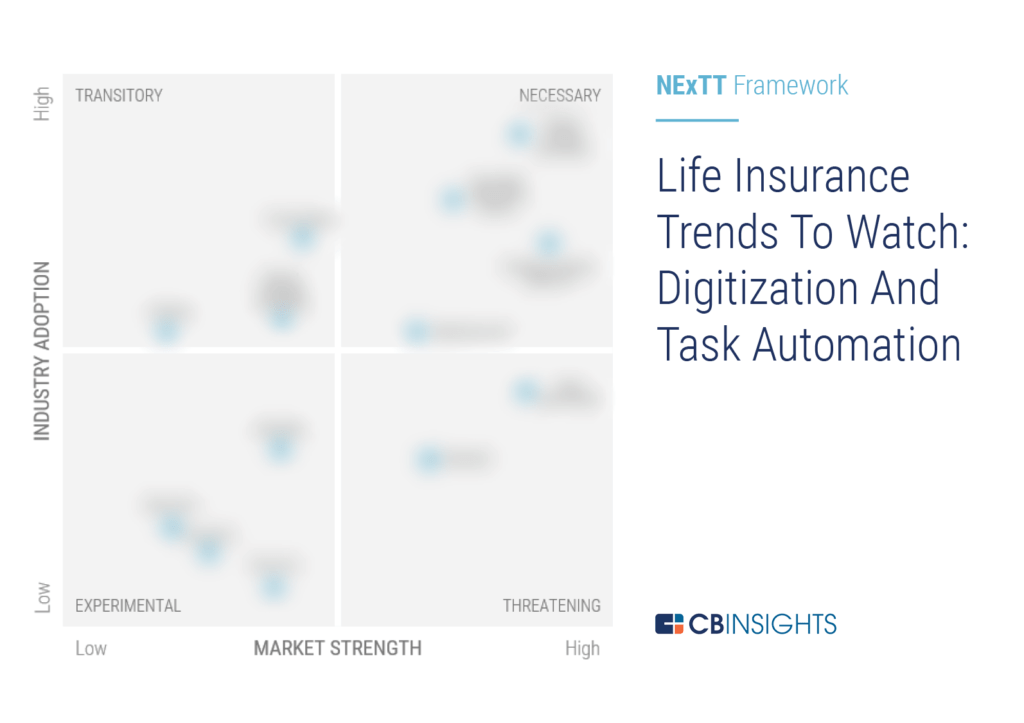 Trends highlighted in the report include:
Covid-19 has accelerated the digitization efforts of life insurers, with significant emphasis on speeding up the underwriting process.

Life insurers are implementing digital payment platforms to make premium payments and claim disbursements more efficient and easier for customers.

Insurers are using new data like electronic health records to provide instant underwriting decisions for prospective customers.

Insurance companies are beginning to experiment with employing genomics and biometrics, which offer new opportunities to assess morbidity and mortality probabilities. 
Download the entire life insurance trends report to see how all 13 trends will shape the industry in 2020 and beyond.