Accelerated underwriting platforms have garnered strong market momentum and widespread industry leader activity in the life insurance space — making it an industry worth prioritizing. 
Clients can download the full Underwriting For Life Insurers Report at the top left sidebar. 
Life insurance leaders are shifting more of their R&D budgets toward transformational innovation, focusing on novel technologies that can improve the efficiency and efficacy of underwriting processes.
Using CB Insights data, we examined tech markets across underwriting for life insurers and ranked them across two metrics — market momentum and industry leader activity — to help companies decide where to monitor, vet, and prioritize these technologies.
Accelerated underwriting platforms earned a recommendation to prioritize, based on the market's high market momentum and strong industry leader activity.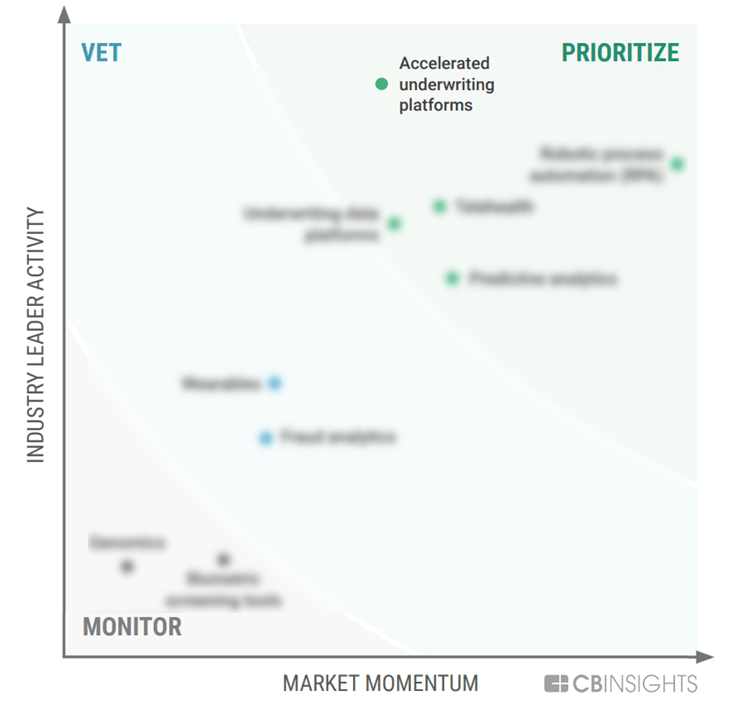 The primary functions of accelerated underwriting platforms are to collect and organize customer data from various sources, implement rules-based underwriting guidelines, and, if necessary, curate a risk report for the underwriter so that they can determine an appropriate quote for a prospective customer.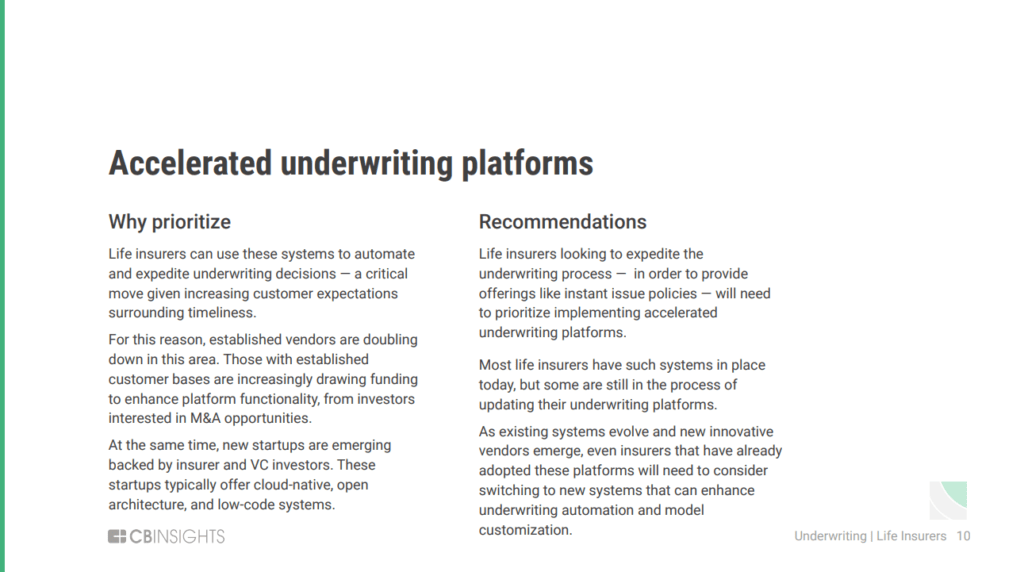 Life insurers can use accelerated underwriting platforms to automate and expedite underwriting decisions. Established vendors are doubling down in this area, while new startups are emerging, typically to offer cloud-native, open architecture, and low-code systems.
Life insurers looking to expedite the underwriting process will need to prioritize implementing these systems.
Facts & figures: accelerated underwriting systems
Top-funded companies: Top-funded companies in the space include Unqork ($367M in disclosed equity funding), EIS Group ($152M), and Flexible Architecture & Simplified Technology ($85M).
Deal size: The accelerated underwriting platforms analyzed in our report saw an average deal size of $43M in 2021, down slightly from a peak of $47M in 2020.
Top investors: The most active investors in this cohort of companies include 8VC, BlackRock, CapitalG, and MS&AD Ventures.
Clients can dive into accelerated underwriting and more in our complete MVP Technology Framework — Underwriting For Life Insurers Report.