Over the past 12 years, Bill and Melinda Gates have written an annual letter digging into how their foundation is taking on some of the world's biggest challenges. Here are the strategies that every industry should know.
The Bill & Melinda Gates Foundation has spent more than $50B over the last 20 years on big challenges like reducing global poverty and lessening the impact of infectious diseases.
The Gates Foundation's annual letters offer actionable insights for anyone interested in taking on mammoth tasks that can often seem intractable.
Though the foundation focuses on global development, the way Bill and Melinda Gates approach their work holds insights on everything from driving innovation to making the right type of risky investments to transforming entire markets.
Below, we look at 5 far-reaching lessons that can be gleaned from Bill and Melinda Gates' annual letters.
Table of contents
1. Fund innovations that others are afraid to

"Although innovation is unpredictable, there is a lot that governments, private companies, and foundations can do to accelerate it."
Bill Gates, who Forbes now estimates has a net worth of about $130B, has long been a champion of innovation. As the co-founder and CEO of Microsoft, he took his vision for "a computer on every desk and in every home" and helped grow the nascent PC space — which many didn't think had legs — into one of the biggest industries in the world.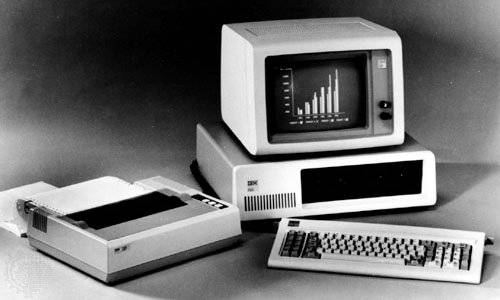 An early personal computer running Microsoft's software. Source: IBM
Today, he is applying that same approach of backing ideas that others are afraid to touch.
In a 2016 blog post, Gates said that innovation was responsible for the massive improvements in the lives of humans over the last century. "From electricity and cars to medicine and planes, innovation has made the world better," he wrote. However, putting money behind an innovation for innovation's sake is not enough, according to Gates — businesses and world leaders should fund "innovations that would not otherwise be funded," he wrote in the 2010 Gates Foundation letter.
This thinking drove the Gates Foundation's heavy investments in developing new vaccines. In 2000, the Foundation funded Gavi, a global vaccination alliance between public and private actors that is now playing a key role in distributing Covid-19 vaccines. At that time, rich countries and healthcare companies were not thinking as much about making vaccines accessible to poorer countries.
More broadly, the Gates' approach here demonstrates a common feature of innovative thinking: doing something truly new means going against the tide and being willing to be seen as an outlier. Young companies looking to be the next Microsoft should take note.
2. Invest in empowering people
"Poverty is not just about a lack of money. It's about the absence of the resources the poor need to realize their potential."
One of the most famous ideas attributed to Bill Gates is that the leaders of tomorrow will be those who will empower others.
The belief in lifting others up and helping them be self-sufficient forms the basis of much of the Gates Foundation's work. For example, it pledged $2B to support farming families working to boost productivity on their land. The funding often goes to improving farming practices and helping farmers with tasks like selling produce in markets.
Large organizations, from governments to corporations, can tackle huge challenges by empowering the people who are affected. This may mean investing in training, offering access to better equipment, or delegating more decision-making responsibilities.
Organizations are often tempted by the allure of control that top-down initiatives offer. However, leaders looking to achieve big, organization-wide goals may find better luck with a Gates-approved approach that starts from the bottom up.
3. Tackling big problems requires risky bets and a clear vision
"We see an opportunity and we want to make the most of it. We're putting our credibility, time, and money behind this bet."
The global problems that Bill and Melinda Gates aim to solve — like poverty, healthcare access, and a lack of educational resources — require them to place bets that may seem overly optimistic and even risky.
When Bill and Melinda Gates wrote in 2015 about their belief that "the lives of people in poor countries will improve faster in the next 15 years than at any other time in history," they also talked about how "some will say we're irrational to make this bet too. A skeptic would look at the world's problems and conclude that things are only getting worse."
But the Gateses aren't shooting in the dark. They couple their ambitious bets with a clear vision and, just as importantly, a simple way to measure success.
Bill Gates detailed some of this thinking in the foundation's 2009 letter. He wrote that one important criterion for taking a risk is the opportunity for a big breakthrough, "from discovering new vaccines that can save millions of lives to developing new seeds that will let a farming family have better productivity, improve their children's nutrition, and sell some of the extra output."
Gates likened his risk-taking approach to that of his friend and prominent investor Warren Buffett: picking an investment that would be "worth ten times as much down the road" and holding it for many years. "Our foundation isn't after financial gain, but we're aiming for similar ten-fold returns in social impact — in people living better-educated, more productive, longer and healthier lives," Gates wrote in a 2019 blog post.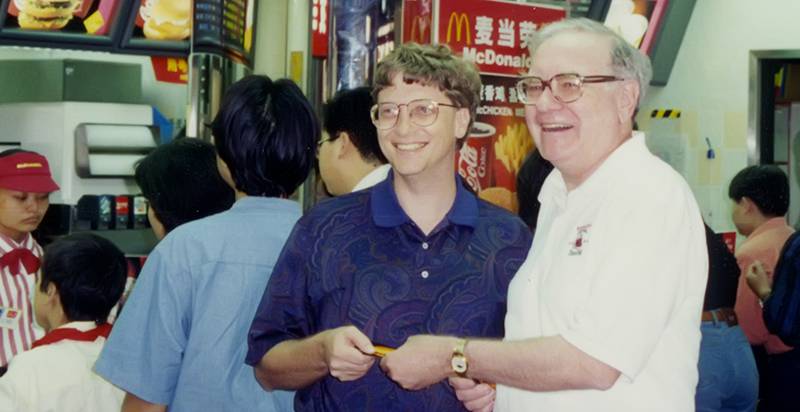 Warren Buffett, a friend of Bill Gates, pledged much of his fortune to the Gates Foundation in 2006. Source: Bill & Melinda Gates Foundation
Solving big challenges will always involve some level of uncertainty, but that doesn't mean that all risk is created equal. Bill and Melinda Gates' investment approach to global development can be applied to tackling any intractable challenge: be specific with what you want to achieve, have a way to measure if you've been successful, and place bets which have a big upside.
See lessons from Warren Buffett's annual letters to Berkshire Hathaway shareholders in this report. 
4. Untapped demand is an opportunity

"The market wasn't working for vaccines for poor kids because the families who needed them couldn't afford them. But this gave us an opening."
Though Bill Gates calls himself "a card-carrying member of the capitalism fan club," he acknowledged in a 2014 blog post that "entrepreneurs and investors generally don't sink their time, treasure, and talent into developing products for people who can't afford to pay for them."
For example, when the Gates Foundation wanted to improve access to vaccines for children across the world, it quickly ran into hurdles. In their 2017 annual letter, Bill and Melinda Gates wrote: "At the start, we just couldn't understand why vaccines weren't available to every child who needed them. We were naïve. There were no market incentives to serve people, and we had never seen that before."
To counter this lack of market incentives in producing vaccines for poorer nations, they began aggregating demand through the Foundation. This changed the calculus for drug companies. With volume guaranteed, expanding vaccine access in a sustainable way became much more viable.
One takeaway from this is that untapped demand presents an opportunity. Beyond development work, companies looking for areas of growth may find that trying a new, more accessible business model is more lucrative than launching a new product. Companies working on everything from videogames to SaaS platforms to stock-trading apps are already showing that lowering barriers to access can generate big customer bases that support sky-high valuations.
As the Gates Foundation's success with vaccines shows, sometimes the most impactful innovations come not from improving a product but rethinking how it reaches people.
5. Seek out diverse perspectives
"As much as we try to encourage feedback, we know that some of our critics don't speak up because they don't want to risk losing money. That means we need to hire well, consult experts, learn constantly, and seek out different viewpoints."
The value of diversity for organizations has been well documented. For instance, the proportion of revenue that's attributable to innovation is 19 percentage points higher for companies with diverse management teams than those with a low level of diversity, according to BCG.
Bill and Melinda Gates agree that diversity of voices, opinions, and people brings rewards. The Gates Foundation's 2009 shareholder letter focused on how they "work hard to get lots of feedback" for their projects and initiatives.
"Each of our three divisions has gotten great people to participate in an advisory panel that reviews their strategies. In addition, every significant grant is reviewed by a number of outside experts…Since we are in this for the long run, we need to develop credibility by the strength of our evidence, and by not claiming to know more than we do."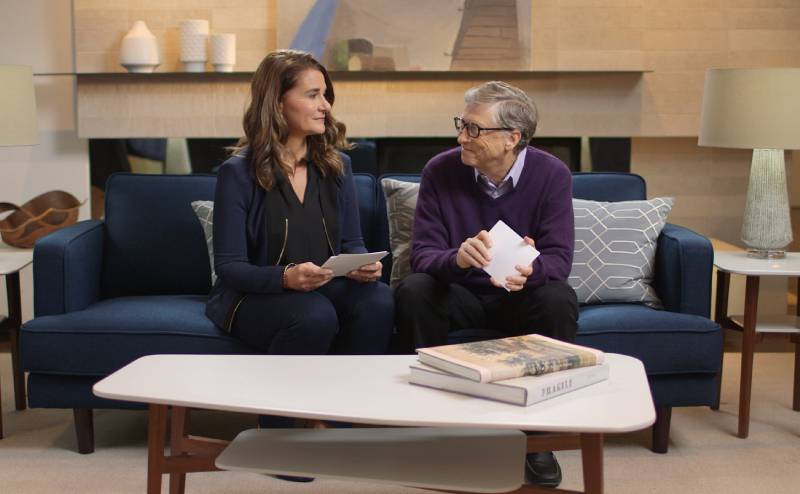 Bill and Melinda Gates view feedback as essential to making good investments. Source: Bill & Melinda Gates Foundation
Melinda Gates is also personally working to bring more diversity to US-based technology companies. In 2019, she said she would invest $1B over the next decade to promote gender equality in the US through her venture capital company, Pivotal Ventures. A year later, she expanded that investment to include another $50M to fund a number of initiatives aimed at increasing the number of women in technology companies.
She wrote about the benefits of diversity in companies in a 2017 LinkedIn post: "The data makes clear that diversity is good for business. Companies across industries are more innovative, more profitable, and less likely to take dangerous risks when women and minorities are more equally represented in their ranks."
All of this underscores how much one of the richest couples in the world value gaining access to other peoples' viewpoints. When taking on far-reaching challenges, organizations sometimes need to follow audacious visions — but succumbing to groupthink and failing to challenge assumptions is a surefire way to make difficult problems even tougher.
---
Directory of Gates Foundation annual letters
If you aren't already a client, sign up for a free trial to learn more about our platform.