The insurtech sector saw a steep decline following its record-high Q4'21, with funding dropping off by 58% in Q1'22.
Following 2021's record year, global insurtech funding in Q1'22 plummeted 58% QoQ to $2.8B. Meanwhile, deals remained perfectly flat QoQ.
In our State of Insurtech Q1'22 Report, we dive into global investment trends to spotlight takeaways including:
Global insurtech funding, down 58% QoQ

Flat deal activity, with 143 insurtech deals

Massive growth in Europe funding — up 3X QoQ

Asia's decreasing deal share across both P&C and life insurance

And much more
Below, check out a few highlights from our 92-page, data-driven State of Insurtech Q1'22 Report. For deeper insights, all the record figures, and a boatload of private market data, download the full report.
Q1'22 INSURTECH FUNDING FELL 58% QOQ TO $2.8B — A 7-QUARTER LOW
See who's receiving global insurtech funding, including which startups and regions are raking in the biggest deals.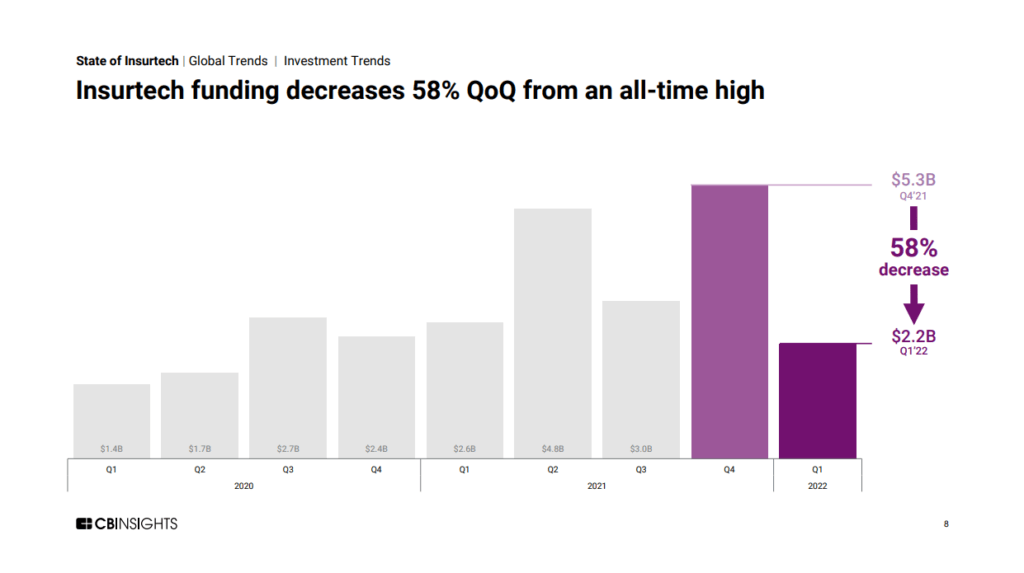 Europe funding grows 3X as other regions backslide
Europe-based insurtech companies raised $669M in Q1'22 — up 204% QoQ. See the top deals in the region.