This report takes a data-driven look at global insurance tech trends with a focus on the life, accident, and health insurance market.
In Q4'20, insurtechs raised $2.1B across 103 deals — falling short of the prior quarter's record levels of activity.
Despite the drop, the quarter's strong showing helped push annual insurtech funding in 2020 to an all-time high of $7.1B.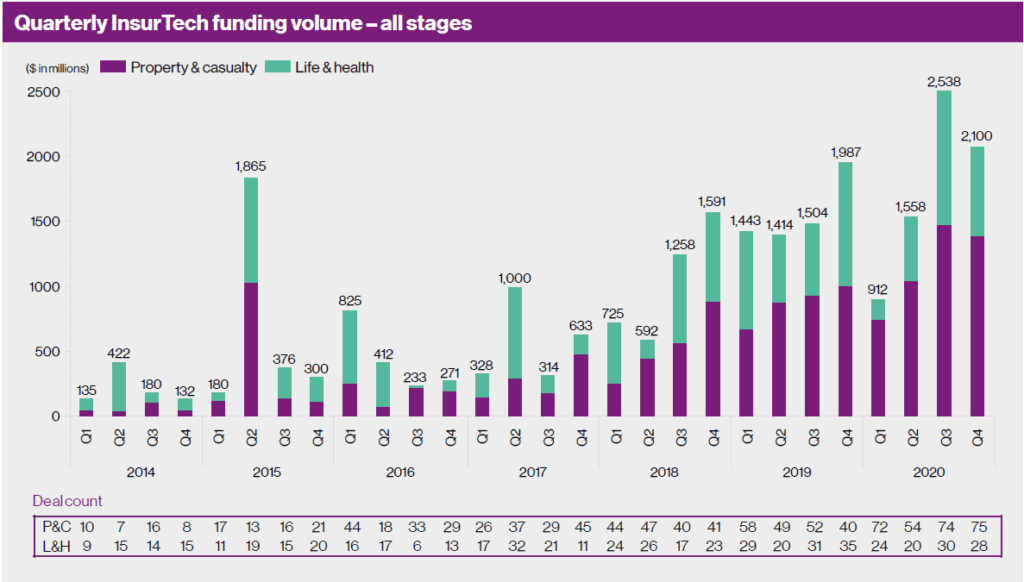 Q4'20 Insurtech Highlights:
Insurtech funding finishes 2020 at a record high: With a strong final quarter, annual insurtech funding in 2020 reached an all-time high of $7.1B across 377 deals — a 12% increase in funding and a 20% increase in deals compared to 2019.
Home insurtechs continued to attract investment: Direct-to-consumer (D2C) home insurance players raised funding, including Hippo, which raised the quarter's largest round — a $350M Series F. In addition, Paris-based Luko, which also provides sensor-based D2C home insurance, raised a sizable $60M Series B.
In the shadow of P&C insurtechs, L&H startups are quietly maturing: While the first wave of insurtech IPOs was P&C-focused, L&H insurtechs are readying themselves for public debuts. Though L&H insurtechs represented just 27% of total deals this quarter, over the last two quarters, L&H insurtechs represented 50% of later-stage mega-round ($100M+) deals.
Life- and health-focused insurtechs see geographic diversity: L&H insurtech in 13 countries raised funding in Q4'20, more than in any other quarter since 2016. Australia, Switzerland, Israel, and South Korea, which have historically had little activity in L&H insurtech, received funding as insurtech models gain application in new geographies.
---

Willis Towers Watson's Insurance Consulting and Technology provides a powerful combination of advisory services for insurance companies, integrated with leading-edge technology solutions and software that is underpinned by unparalleled analytical capabilities. We combine our deep insurance domain expertise with our technology capabilities to support clients with risk and capital management, strategy and growth, technology, and operational effectiveness and profitability.

Willis Re is one of the world's leading reinsurance advisors. Over our 180-year history, we have developed a deep insight into all aspects of the global insurance industry. In particular, we understand how individual insurance companies develop and drive their own unique strategies to achieve their goals. We offer you comprehensive service backed by stable, well-trained staff to help you reach and exceed your specific targets in the most cost-effective fashion. We have a deep understanding of risk – and all the ways it affects capital and your organization's financial performance. Our core focus is to provide you with a superior understanding of the risks you face, and then advise you on the best ways to manage extreme outcomes.
If you aren't already a client, sign up for a free trial to learn more about our platform.