This report takes a data-driven look at global insurance tech trends with a focus on the future of distribution and delivery.
Global insurtech funding is shattering previous records. In the first half of 2021, insurtechs raised $7.4B — surpassing the $7.1B raised for all of 2020 by more than $300M.
In Q2'21, we witnessed the largest quarter-on-quarter funding increase since Q3'18. Specifically, global insurtech funding ballooned to over $4.8B, representing a 89% increase from Q1'21 and a 210% increase compared to the same period last year.
Though there was an 11% uptick in deal activity, the funding surge was largely driven by mega-rounds ($100M+ fundings). Collectively, the 15 mega-rounds garnered nearly $3.3B — 67% of total funding — as late-stage players like Wefox and Bought By Many sought expansion.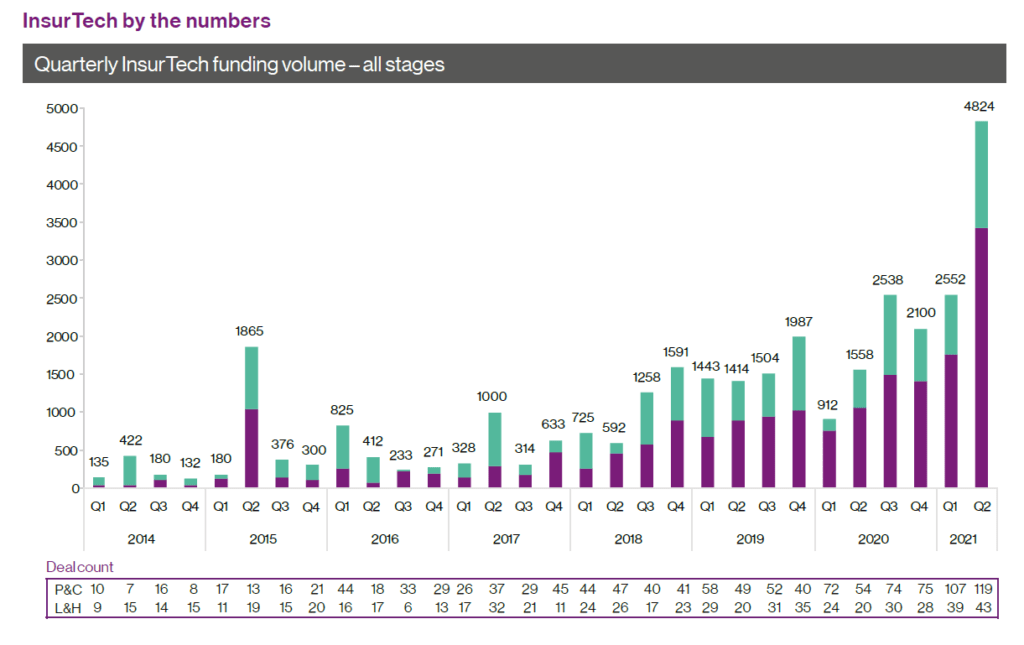 Q2'21 Insurtech Highlights:
Global insurtech funding smashed past previous records, thanks to mega-rounds: Insurtechs raked in $4.8B in Q2'21, a record 89% increase from Q1'21 and a 210% increase compared to the same period last year. In the first half of 2021, investors poured $7.4B into insurtechs — surpassing the $7.1B raised for all of 2020 by more than $300M. While overall deal activity grew by 11% quarter-over-quarter to 162 deals, mega-rounds drove the funding surge: collectively, the 15 mega-rounds collected nearly $3.3B, accounting for 67% of total funding. Notable deals went to Germany-based digital insurer Wefox, which raised $650M, one of the largest Series Cs on record, and UK-based pet insurance MGA Bought By Many, which raised a hefty $350M Series D. Other major funding rounds went to companies like Collective Health ($280M Series F), Extend ($260M Series C), Alan ($223M Series D), Shift Technologies ($220 Series D), and others.
Mid-stage insurtech deals grew, while other stages contracted modestly; early-stage pipeline remains healthy: Deal activity was driven by mid-stage (Series B and C) deals, which increased by 6% to 23%. The pipeline for early-stage insurtech continued to remain healthy, with early-stage deals growing by over 9% from the prior quarter and rebounding by 200% from the peak of the pandemic in Q2'20. As a percentage of overall deals, early-stage activity fell slightly to 57% of deals vs. 58% in Q1'21.
Insurtech geographic diversity continues to grow as opportunities to leverage technology in insurance transcend borders: Overall, insurtech value propositions are resonating with more countries as entrepreneurs chase opportunities to innovate insurance in new regions. Geographic diversity among global insurtechs continued to grow, with funding spanning 35 distinct countries compared to 26 countries in Q1'21. For the first time, there was activity from insurtechs based in countries like Botswana, Mali, Romania, Saudi Arabia, and Turkey. Additionally, there was recent activity from less active regions like Vietnam, the Philippines, Romania, and Greece.
Insurtechs focused on distribution accounted for nearly 55% of all deal activity, a 7% increase from the prior quarter: Driving efficiency in insurance distribution continues to be a major priority for investors. This quarter, 55% of deals involved startups focused on distribution (i.e., digital brokers, MGAs, and lead generation). In addition, 10 of the 15 insurtechs that raised mega-rounds this quarter focus on improving insurance distribution with varying approaches. The majority of companies focus on tech-enabled distribution in an attempt to minimize dependence on agent channels, including embedded product warranty platform Extend, price comparison site The Zebra, and commission-less life insurer Ethos Life. Wefox, however, takes a different approach: though it relies heavily on local agents for policy distribution, it drives efficiency by automating nearly 80% of administrative processes, according to the company. Though approaches may vary, technology will continue to play an essential role in driving better, cheaper, and more transparent insurance experiences.
---

Willis Towers Watson's Insurance Consulting and Technology provides a powerful combination of advisory services for insurance companies, integrated with leading-edge technology solutions and software that is underpinned by unparalleled analytical capabilities. We combine our deep insurance domain expertise with our technology capabilities to support clients with risk and capital management, strategy and growth, technology, and operational effectiveness and profitability.

Willis Re is one of the world's leading reinsurance advisors. Over our 180-year history, we have developed a deep insight into all aspects of the global insurance industry. In particular, we understand how individual insurance companies develop and drive their own unique strategies to achieve their goals. We offer you comprehensive service backed by stable, well-trained staff to help you reach and exceed your specific targets in the most cost-effective fashion. We have a deep understanding of risk – and all the ways it affects capital and your organization's financial performance. Our core focus is to provide you with a superior understanding of the risks you face, and then advise you on the best ways to manage extreme outcomes.
If you aren't already a client, sign up for a free trial to learn more about our platform.