This report takes a data-driven look at global insurance tech trends with a focus on the future of insurance products and services.
Q1'21 was a record quarter for insurtech investment activity. Startups raised over $2.5B across 146 deals.
This record level of funding reflects a 180% increase compared to the same period last year, when fears of Covid-19 swelled, and a 22% increase compared to Q4'20, as investment activity steadily bounced back. In addition to funding growth, the number of deals this quarter also grew significantly, including a 52% year-over-year increase and a 42% quarter-over-quarter increase.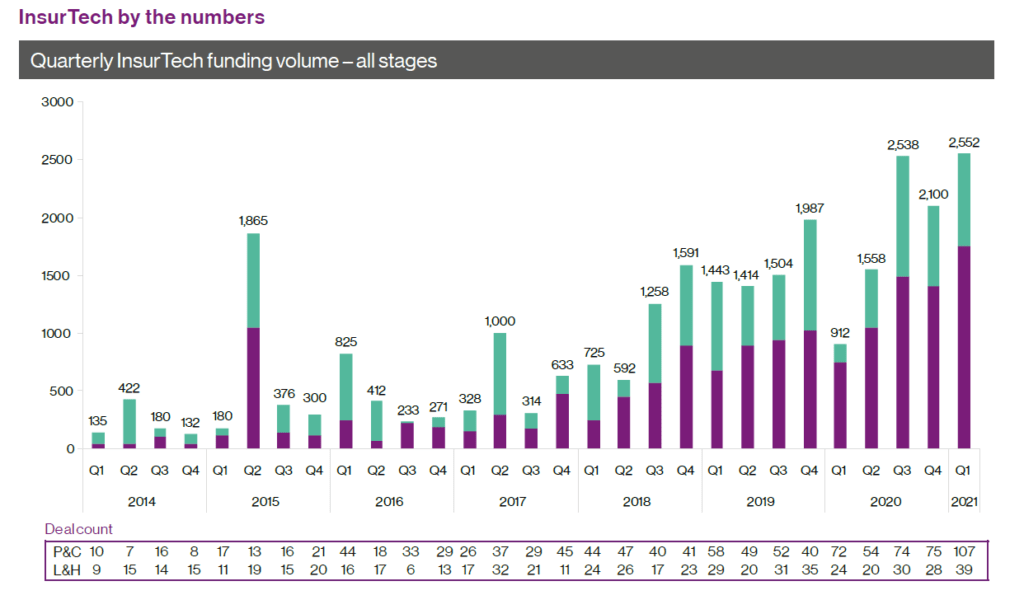 Q1'21 Insurtech Highlights:
Global insurtech activity reached an all-time high, with Q1'21 being the strongest on record: In Q1'21, insurtech funding hit an all-time high of $2.5B across 146 deals — increases of 22% and 42%, respectively, from the prior quarter.
Insurtech's reach becomes increasingly international: Q1'21 marked the most geographically diverse set of early-stage startups in a single quarter, representing 24 countries, including Bangladesh, Estonia, Brazil, Nigeria, and the UAE. For reference, in 2020, insurtechs from 38 different countries raised investment, compared to 29 in 2016.
There were a record number of mega-rounds, earlier on in the funding cycle: Notably, this quarter saw a record number of mega-rounds with 8 companies driving over $1.1B in funding, roughly 44% of total funding raised. While historically late-stage companies (Series D and later) typically land mega-round deals, this quarter, the majority of companies were raising Series C growth rounds, potentially an indication of expanding funding requirements earlier on in the cycle, froth in the markets, or both.
---

Willis Towers Watson's Insurance Consulting and Technology provides a powerful combination of advisory services for insurance companies, integrated with leading-edge technology solutions and software that is underpinned by unparalleled analytical capabilities. We combine our deep insurance domain expertise with our technology capabilities to support clients with risk and capital management, strategy and growth, technology, and operational effectiveness and profitability.

Willis Re is one of the world's leading reinsurance advisors. Over our 180-year history, we have developed a deep insight into all aspects of the global insurance industry. In particular, we understand how individual insurance companies develop and drive their own unique strategies to achieve their goals. We offer you comprehensive service backed by stable, well-trained staff to help you reach and exceed your specific targets in the most cost-effective fashion. We have a deep understanding of risk – and all the ways it affects capital and your organization's financial performance. Our core focus is to provide you with a superior understanding of the risks you face, and then advise you on the best ways to manage extreme outcomes.
If you aren't already a client, sign up for a free trial to learn more about our platform.