The Post-Covid World
In industries from healthcare to education to finance to manufacturing, quarantine and extended work-from-home forced companies to use technology to reimagine nearly every facet of their operations. As the world reopens in fits and starts, we analyze the industries poised to thrive in a post-Covid world.
As the Covid-19 pandemic has charted its unprecedented path around the world, it's carried with it the question: What will Covid-19's legacy be?
From healthcare to education to entertainment to manufacturing, technology innovators are stepping forward to help answer that question.
As NYU Stern School of Business professor and digital transformation researcher Arun Sundararajan notes:
"Crisis can be… a catalyst or can speed up changes that are on the way — it almost can serve as an accelerant."
In the wake of the outbreak, everything from doctors appointments to schooling to workouts went online. As more people have worked, learned, banked, exercised, relaxed, and even sought medical care from home during Covid-19, they have gotten a crash course in just how much can be accomplished at home.
Almost two years into the pandemic, some countries have resumed daily life, while some have seen resurging cases and renewed lockdowns. As vaccines are doled out, a complete return to normal still remains uncertain for many, but what's certain is the fact that the pandemic has fundamentally impacted several industries.
In some cases, the technological changes inspired by Covid-19 will come in the form of an acceleration of existing trends — for example, industrial automation and contactless payments. In other cases, like virtual reality, 3D printing, or telehealth, the crisis may change the course of the industry, enabling companies to demonstrate value that, until now, consumers have been unable or unwilling to see.
In this report, we'll explore some of the trends created or accelerated by the onset of Covid-19 that are likely to change the way we live, work, learn, and relax long after the pandemic is over — and how the future of those innovations is likely to unfold.
Table of Contents
Healthcare: Using data, wearables, and VR to make care more accessible
The Covid-19 pandemic has pushed health services online.
Patients and healthcare providers have had to rapidly adopt telehealth services and remote health monitoring to deal with strained hospital capacity and risk of infection. Mental health services and gyms have also been forced to go remote due to social distancing and lockdown orders.
While remote technology in healthcare and related spaces may have been met with resistance before, that seems to be changing in light of the coronavirus outbreak.
For example, in 2018, 18% of American doctors reported treating a patient via telemedicine. During the pandemic, almost half (48%) of all US physicians said they had treated patients virtually, according to a recent survey. On the patient side, 60% of American consumers said they were more willing to try telehealth services due to the Covid-19 pandemic.
In July 2021, McKinsey reported that the use of telehealth services had risen 38X from the pre-pandemic baseline. Venture capitalist (VC) firms were quick to seize on this trend, pouring 3X more money in digital health startups in 2020 than in 2017.
As infrastructure improves and these services become more familiar, telehealth tech, continuous and remote diagnostics, remote mental healthcare, virtual fitness, and aging-in-place technologies could continue to grow even after the pandemic subsides.
Telehealth technology
SOCIAL DISTANCING dramatically BOOSTs TELEHEALTH adoption
Industry proponents have been making the case for telehealth for years, pointing to its potential to lower costs, ease pressure on overextended healthcare systems, and make care more accessible in rural and underserved areas.
In fact, about 75% of doctor, urgent care, and ER visits "are either unnecessary or could be handled safely and effectively over the phone or video," according to the American Medical Association.
Still, consumer adoption of telehealth prior to Covid-19 was slow: in July 2019, a JD Power survey found that only about 10% of US residents had replaced a visit to the doctor, urgent care, or hospital with telemedicine services in the 12 months prior.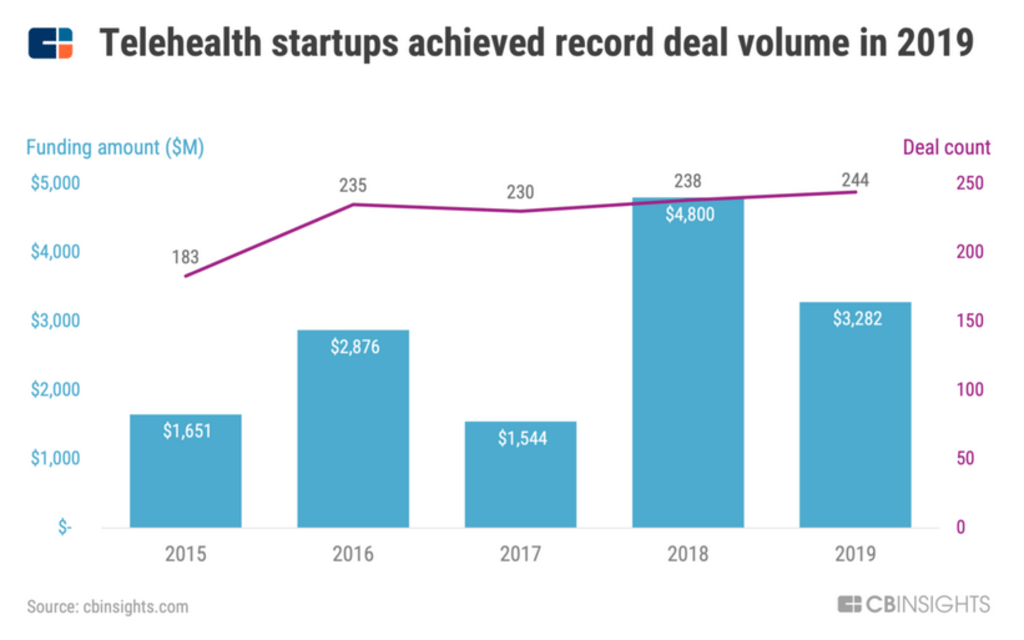 Investment in telehealth technologies was strong pre-COVID, despite sluggish patient adoption.
All of that has changed with the Covid-19 pandemic. With traditional healthcare capacities strained, patients have turned to telemedicine as a safe alternative to in-person visits.
Companies already working in telemedicine have seen a dramatic boost to their businesses. The largest stand-alone telemedicine provider, Teladoc, reported 50% week-over-week growth in services the week after stay-at-home orders were implemented across the US. The company continued reporting strong results in 2021 as well. In Q2'21, for instance, Teladoc software facilitated 4.5M sessions between care providers and patients, up from 2.7M in Q2'20.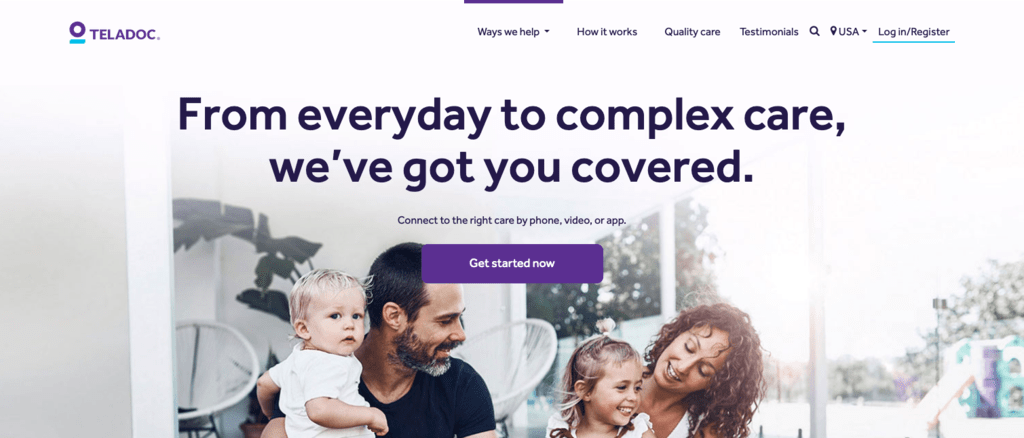 Source: Teladoc
Government entities have also taken steps to reduce friction for businesses to offer telehealth services. In March 2019, US government officials relaxed privacy restrictions under the Health Insurance Portability and Accountability Act (HIPAA) to allow Apple, Google, and Microsoft to facilitate virtual doctors' visits through their existing chat and video apps, including FaceTime and Skype.
The US Food and Drug Administration (FDA) also approved virtual clinical trials to allow for ongoing drug development while facilities are closed down.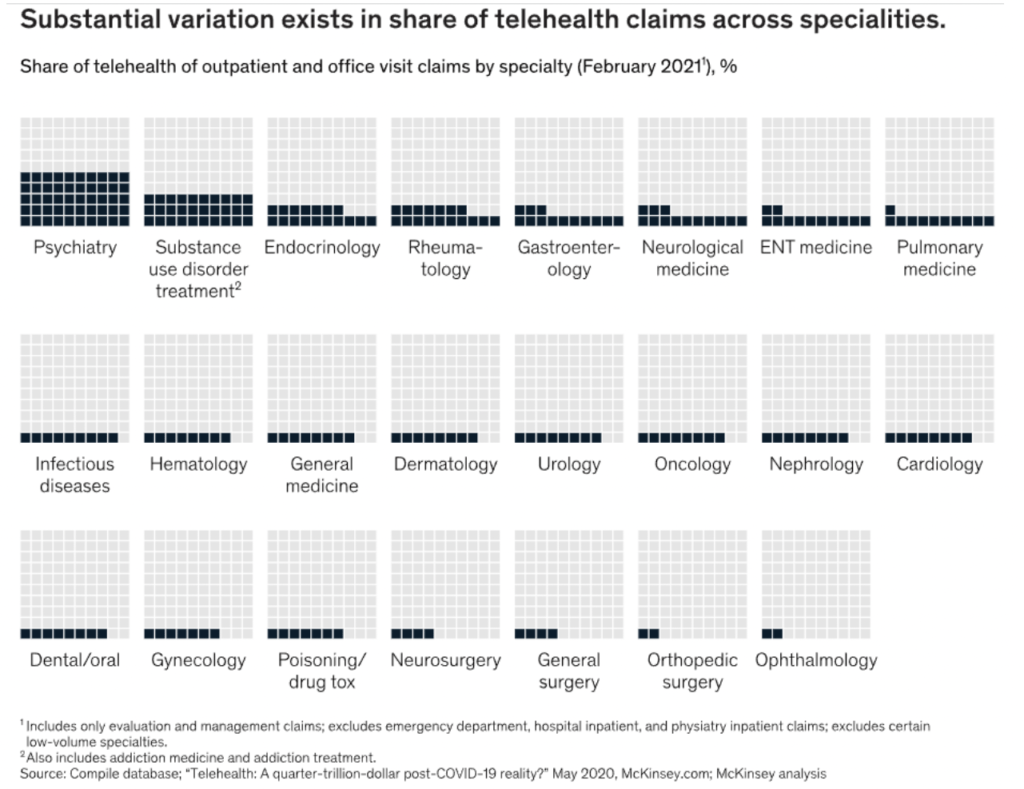 Source: McKinsey & Company
Telehealth providers like Teladoc are optimistic that increased demand under Covid-19 will translate to long-term growth in the space, as many of its first-time users become repeat visitors.
Telehealth technology is estimated to be a $64.6B market, according to CB Insights' Industry Analyst Consensus.
The steady migration to telehealth has triggered a wave of technological advances related to the use of artificial intelligence and chatbots in home healthcare. The goal is to help healthcare organizations engage more patients at scale.
Orbita, for example, is a vendor that provides secure chatbot services. It recently launched an improved version of its virtual assistant. Using omnichannel tech — or multiple voice and video chat platforms and chatbot technology — Orbita's Solution Center helps patients administer home tests, diagnose minor illnesses, submit insurance claims, and more.
Health services vendor Affinity Empowering dives even deeper into the home diagnostic space with its eHome and eCare offerings. Affinity's services can be integrated with a patient's existing treatment plan, help find the specialists to treat specific maladies, and provide updates to the patient when their treatment plan has been changed by a medical professional.
(For more on how telehealth could improve the healthcare system, check out our report here.)
Continuous & remote diagnostics
"TEST, TRACK, & TRACE" PROMISES TO ACCELERATE ADOPTION OF HEALTH MONITORING TECHNOLOGY
Fitness trackers and other "quantified self" technologies were already gaining traction in health and wellness prior to Covid-19.
For example, Google announced its acquisition of Fitbit in November 2019 as part of its broader initiative to establish a presence in the healthcare technology space on par with Apple and the Apple Watch product.
Now, with experts stressing the importance of rapid testing and tracking in managing the Covid-19 crisis, wearables and other health monitoring tech that enable diagnostics are taking center stage.
The pandemic has underscored the value of readily accessible health data — particularly as countries leveraging that information have had greater success managing the crisis. As "Test, Track, and Trace" has become a public health slogan around the world, government and public discourse has quickly turned to companies with the resources to make the requisite technologies a reality.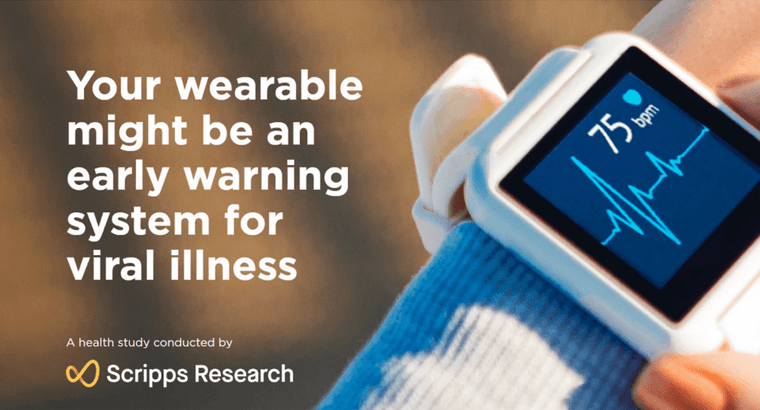 Source: DETECT
In the case of telemedicine, government entities eased privacy regulations to facilitate more comprehensive remote diagnostics. In March, the FDA eased restrictions related to marketing claims, allowing developers of remote patient monitoring devices to pitch their devices to hospitals. Big tech companies quickly jumped on the opportunity.
In April 2020, Apple and Google launched a contact tracing app together. After privacy advocates raised concerns about user data security, the companies announced changes, including using Bluetooth signals instead of geolocation data. Nevertheless, the UK government announced that it would not use the companies' technologies in its contact tracing app, citing ongoing privacy concerns.
Amazon, Google, and Microsoft also joined a consortium called The Covid-19 High Performance Computing (HPC) Consortium to provide bioinformatics, epidemiology, and molecular biology researchers with computing power to execute computational research programs. The consortium provided researchers around the world with 600 petaflops of computing capacity, over 50k of graphics-processing units, and millions of chips and storage components.
Tech giants aren't the only companies that have spotted the opportunity in remote diagnostics — some biotech companies have moved quickly to demonstrate value and capitalize on the eased regulations as well.
For example, LifeSignals announced that it is fast-tracking a single-use, wireless biosensor patch for use in Covid-19 patient monitoring. Meanwhile, Spry Health announced a clinician-led monitoring service using its FDA-approved Loop wearable, which tracks the wearer's heart rate, oxygen saturation, and respiration.

Source: Spry Health
Teletherapy
MOVE TO REMOTE SERVICES BY MENTAL HEALTHCARE PROVIDERS AND USERS HASN'T TAKEN OFF AS EXPECTED
The uptake of online therapy prior to Covid was low, mainly because healthcare practitioners were hesitant to take it on. But with social distancing and lockdown orders in place, and with more people dealing with anxiety and depression as a result, remote mental healthcare became a necessity.
Investors took notice of the opportunity. Funding for mental health startups hit nearly $800M by Q1'21.
Apps such as Wysa, Talkspace, and AbleTo — which were providing online therapy services before Covid-19 — saw a huge surge in demand. For example, Talkspace, a subscription-based service that matches users with therapists based on specific needs and goals, saw a 65% increase in users between March and April, and reported a 110% year-over-year increase in active users at the end of Q1 2021.
Meanwhile, a number of healthcare startups offered therapy for free or at reduced costs. For example, Hims & Hers rolled out free anonymized group therapy sessions — which will eventually cost $15 each — to help users cope with the stress of the pandemic.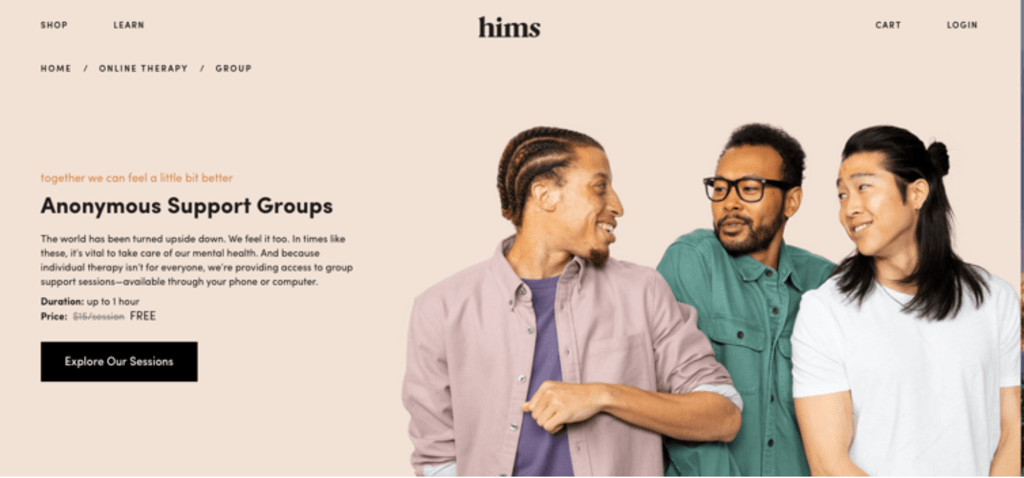 Talkspace has also launched a Covid-19 Anxiety Management Program, "which aims to provide its subscribers with a specific process for managing stress and anxiety related to the pandemic's impact."
However, even as 2020 lockdown protocols compelled patients and care providers to engage more via video, teletherapy turned out not to be the predicted panacea.
Newly diagnosed patients did not flock to video therapy. Virtual appointments were more attractive to those who already were receiving psychiatric treatment before the pandemic began: only 5% of people who chose to receive mental health care via virtual appointments during the pandemic were first-time telehealth users, according to a TIME/Harris Poll survey.
One contributing factor is a lack of access or tech literacy among some demographics, such as the elderly or patients not fluent in English. Low availability of therapists in rural areas is also an issue. Approximately 125M people in America live in areas with a shortage of mental health practitioners, according to the US Health Resources and Services Administration estimates.
Teletherapy also presents compliance issues. Therapists are required to use video platforms that are HIPAA compliant, which limits their options for online conversation, though recent regulation changes have relaxed some of these requirements.
Other issues include the limitations around therapists licensed in certain US states not being allowed to practice in others, as well as low insurance coverage for remote mental health practices.
Still, as more people make a regular practice of tending to their mental health over the course of the pandemic, teletherapy services will likely see continued demand after the coronavirus outbreak subsides. Additionally, the crisis could have lingering effects on mental health even once social distancing orders are lifted, ensuring that these services will still be needed.
Virtual fitness & gyms
$96.6B FITNESS INDUSTRY GOES digitaL AS BRICK-AND-MORTAR GYMS FOLLOW IN VIRTUAL COUNTERPARTS' FOOTSTEPS
The $96.6B fitness industry has not been immune to disruption from the Covid-19 outbreak.
Despite the rising popularity of virtual workout options — most prominently embodied by Peloton — boutique brick-and-mortar fitness was in a period of rapid growth prior to the crisis, with memberships growing over 120% from 2013 to 2017, according to Bloomberg. That growth, already slowing by late 2019, ground to a halt in the wake of the pandemic.
In the US alone, more than 350K fitness instructors and trainers were forced to shift to virtual classes. Many of them have adapted by using existing video-streaming apps that are not necessarily built for the purpose, such as Zoom, Instagram Live, FaceTime, and YouTube. Seventy-two percent of fitness club owners began to offer on-demand or livestreamed workouts, up from just 25% in 2019, per ClubIntel.
As the pandemic went on, fitness technology companies stepped in to help brick-and-mortar fitness companies navigate the transition to more closely resemble their digital-first competitors.
ClassPass, which has a business model that is highly dependent on brick-and-mortar fitness, launched its video platform through its website to support instructors through the transition. Aaptiv, a leading provider of audio fitness programs, announced a partnership with brick-and-mortar fitness curator Xponential to provide content to its members.
Meanwhile, brands that were already virtual-first have seen dramatic increases in adoption during the crisis. Sales of the interactive at-home fitness brand Mirror, which was acquired by Lululemon for $500M, doubled in the weeks following Covid-19's arrival in the US. The average number of daily sign-ups for workout streaming platform NEOU grew 600% in one week.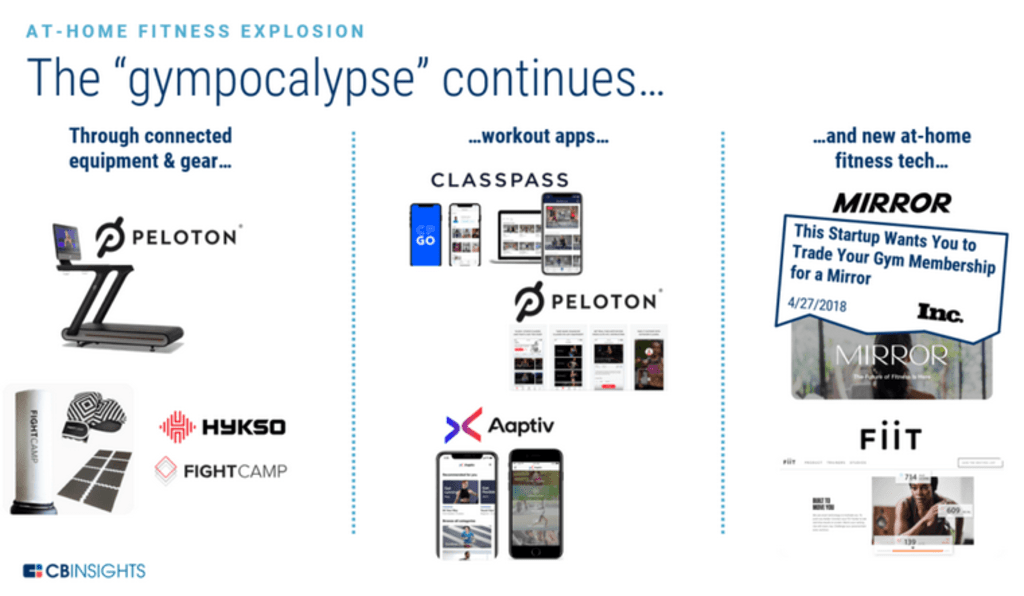 Yet even though many fitness buffs are happy with their new home gyms, in-person fitness may see a rebound as the Covid-19 crisis abates. The routine of going to the gym for a spin class or other workouts is one attractive aspect of in-person fitness, but it's more than that. Accountability, access to higher-level equipment, personalized instruction, and greater levels of personal achievement are additional incentives to return to the gym.
However, the added convenience of virtual fitness — and the lower prices of digital classes compared to those in studios — likely means that a hybrid model of at-home and in-person workouts is here to stay.
Nearly two-thirds of Americans plan to continue to combine home workouts with gym workouts moving forward from the pandemic, according to the Future of Fitness survey conducted by Wakefield Research in July 2020.
Senior care & aging in place
SENIORS AND CAREGIVERS EMBRACE TECHNOLOGY AT HOME AND IN CARE FACILITIES
Eldercare has long been a target for technological innovation, given the practical and infrastructural challenges presented by 73M baby boomers aging into their retirement years.
With Covid-19 proving particularly lethal among patients age 60 and older, the crisis has further illuminated the need for solutions that help seniors age at home in comfort, while also providing family and caregivers with peace of mind.

Source: Vela
Prior to Covid-19, some seniors and their families were already embracing technology as a solution that would allow them to stay in their homes longer. However, widespread adoption of aging-in-place technologies was slow to take hold, largely because of the need for greater patient education and technological literacy among the target population.
But with self-isolation and social distancing particularly important for seniors, the pandemic has presented a unique opportunity for a range of senior care technologies to demonstrate the importance of their products and services.
For example, Umbrella, a services marketplace aimed at providing aid to seniors, announced that it would coordinate contactless delivery of essentials to adults over 60. Telehealth provider VitalCare offered its platform to senior living and long-term care facilities free of charge for 90 days during the crisis.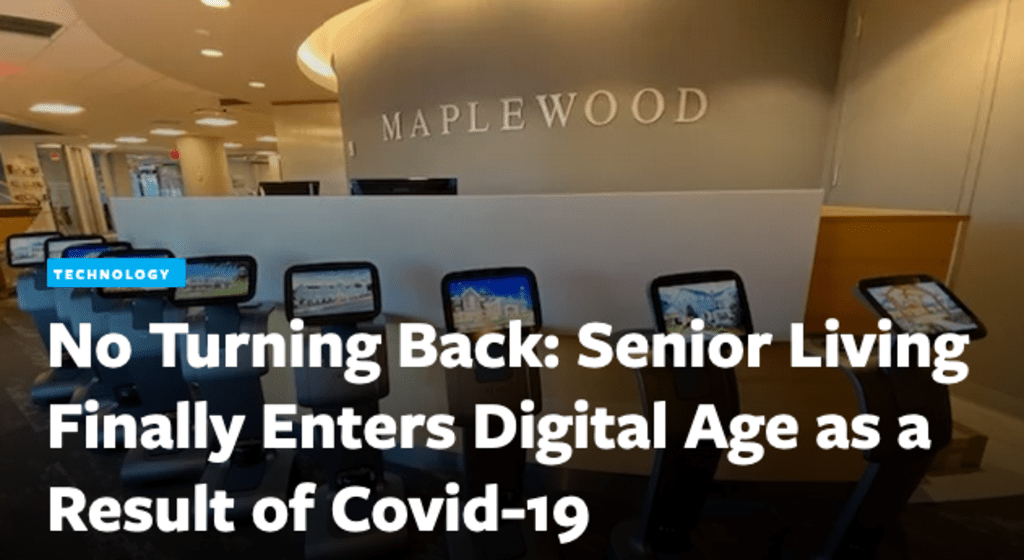 Source: Senior Housing News
Residential senior care facilities have also taken measures to upgrade their digital infrastructure. In addition to ensuring continuity of medical care for residents, communication and addressing loneliness have become equally critical. As the population density of these facilities and the vulnerability of residents have made social distancing imperative, care facility leaders have turned to digital communication platforms to connect residents with family and friends.
ConnectedLiving, a senior living communication app, has reportedly seen a large increase in interest amid the coronavirus pandemic. CEO Sarah Holt says:
"Now that separation and isolation [is essential to fighting Covid-19], the need to connect residents with their families went from 'nice to have' to 'an absolute must-have.' It's a sad consequence, but there is no other way [to communicate]."
Google has also made moves in the space with the release of a simpler Nest Hub Max interface for retirement home residents. The updated device can be preloaded with contacts for video calls, helping residents connect with friends and family members. Seniors can also quickly seek answers to frequently asked questions and activate useful functions, such as weather reports, setting an alarm, or playing music.
As technology proves its value to the senior community during the Covid-19 crisis, digital infrastructure is likely to become a permanent fixture of senior care, both in-home and in care facilities.
Going forward, on-site care facilities will likely bolster investments in digital technologies including teleconferencing, telemedicine, and remote diagnostics, creating opportunity for companies that can accommodate facility-sized demand.
Consumer adoption of digital communication and monitoring technologies for seniors will also continue to increase as comfort and technological fluency increase.
Work: Sudden surge in remote work accelerates digital infrastructure adoption
Workplace flexibility and remote work were major factors that employers were using to hire employees amid the historically low unemployment rates in the US in 2019.
As social distancing measures have confined people to their homes, these trends have become necessities.
Many companies have had to transition from working in offices to working from home. As employers and employees figure out how to balance productivity with well-being, they are exploring creative ways to use technology such as virtual reality and video conferencing apps.
Telecommuting tech
REMOTE WORK ACCELERATes TRENDS IN PRODUCTIVITY SOFTWARE DEVELOPMENT
While the adoption of popular productivity tools was strong and growing prior to the Covid-19 pandemic, teleconferencing tools such as Skype and Zoom were considered mere add-ons by most companies.
The introduction of remote work policies as part of sheltering in place dramatically accelerated the adoption of these tools. Video conferencing is expected to account for 50% of the remote work market over the next five years, up from 10% to 15% currently. Companies in every sector had to adapt to the challenges of a suddenly distributed workforce. Zoom's share price soared nearly 400% in 2020 due to skyrocketing demand for its service.
As a result, tech companies have experienced overwhelming demand for their services and unprecedented strain on their networks. For example, from March 13 to March 19, Microsoft Teams added approximately 12M new users.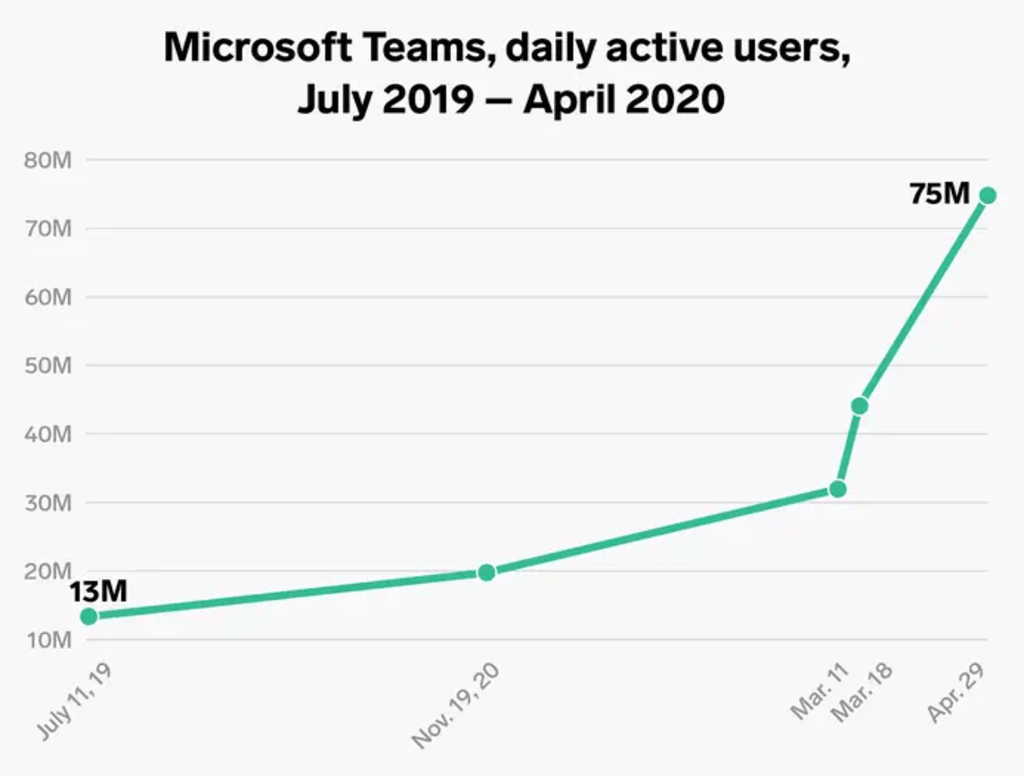 Source: Business Insider
Spotting an opportunity to grab market share, some teleconferencing players have either announced free services or have removed usage limits on free offers to accommodate the swell of remote workers during the pandemic.
As telecommuting tech companies grow, some are grappling with privacy issues. For example, Zoom has been criticized for critical vulnerabilities in its security protocols, including video calls being hacked, lack of end-to-end encryption, and in-app surveillance. The company has responded by halting development of new features and is reportedly working on fixing these issues. Going forward, end-to-end encryption, identity verification, and enhanced permissions controls are just some of the security features that tech companies are likely to prioritize in their conferencing tools.
Companies are also adapting their products to minimize disruptions in the remote working experience. For example, in response to user feedback gathered since the outbreak of Covid-19, Microsoft is developing an algorithmic noise-reduction feature for Teams that automatically mutes ambient sounds during meetings. The company has developed a number of additional features for Teams, including a "raise your hand" feature to indicate when a meeting participant wishes to speak; support for offline access; and an integration with RealWear industrial headsets.
While teleconferencing apps will almost certainly be part of the "new normal" once the pandemic subsides, the similarity between products may mean it is unlikely that one company will emerge the winner.
Enterprise virtual reality
SHIFT TO VIRTUAL TRAINING ACCELERATES $12.6B ENTERPRISE VR INDUSTRY
Enterprise VR hardware and software were already expected to become a $12.6B market by 2025 prior to the onset of Covid-19. Corporates have been finding ways to use the tech for several years.
Facebook provided the next iteration of this shift by releasing a beta version of its VR remote app, Horizon Workrooms, in early fall 2021. Users of Facebook's Oculus Quest 2 VR headset can use the app to present themselves in avatar form for virtual meetings.
These avatars, and the virtual settings they inhabit, are part of what Facebook founder Mark Zuckerberg calls the "metaverse." In fact, shortly after the release of Horizon Workrooms, Zuckerberg announced that Facebook would henceforth be known as Meta, signaling the company's commitment to the VR and augmented reality (AR) space.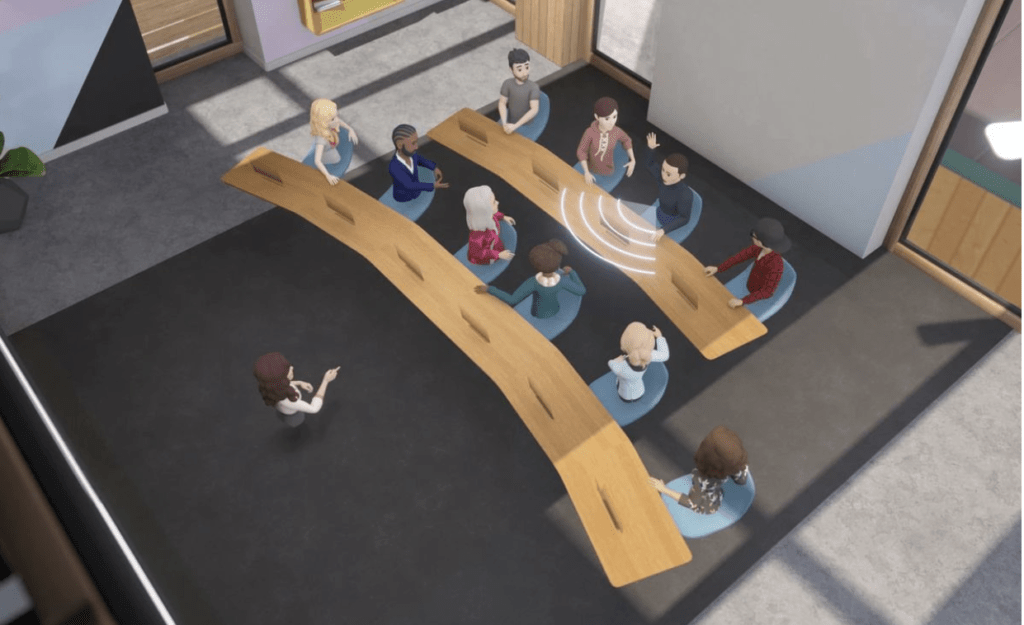 Source: Reuters
The release of Horizon Workrooms met with derision in some circles because it was not immediately evident that it would change how employees perceive the workplace experience. Use cases and practical implementation will take some time.
In reality, change has remained incremental since 2015, when automotive manufacturer Ford reduced its production line injury rate by 70% using virtual reality training. In 2017, Walmart used VR platform Strivr to prepare its associates for Black Friday, training employees within a lifelike simulation of the long lines and crowds. The company purchased over 30K VR headsets to provide more than 1M employees with virtual training.
With social distancing orders in place and many businesses switching to remote work, VR tech companies have had an opportunity to demonstrate their value to enterprises in unexpected circumstances.
In healthcare, VR is being used to facilitate safe training. For example, Oxford Medical Simulation offered its VR training system free of charge to hospitals and medical schools that needed to train large numbers of staff on treating coronavirus patients.

Source: Oxford Medical Simulation
VR has also helped businesses across industries keep operations running. Real estate agents have been relying on virtual tours to continue showing properties. In March 2020, VR headset maker HTC held its first fully virtual VIVE Ecosystem Conference, the first physical industry event that was fully replaced by virtual and augmented reality technologies.
The road to greater VR adoption will not be without hurdles. Industry experts have pointed to current VR/AR hardware's limitations in terms of battery life, storage capacity, and computational capacities as factors slowing the technology's adoption. Cost has also been a barrier.
But with social distancing suggesting that many in-person tasks can be performed safely, efficiently, and at scale in the virtual world, virtual reality could eventually become a permanent fixture of enterprise infrastructure.
Education: Technology and online content make the classroom optional
Schools and universities have been updating their infrastructure to incorporate digital alternatives to the classroom for years, leading analysts to predict a $350B market valuation for the edtech industry by 2025 prior to the pandemic.
The onset of Covid-19 forced a much faster expansion. In the US alone, over 91,000 public and private schools were closed as of March 25, impacting more than 50M students. Teachers, administrators, students, and parents around the world scrambled to find solutions that would enable learning to continue. But most K-8 schools in the US started offering in-person instruction by April 2021.
Education is commonly said to be countercyclical, with demand increasing in times of economic downturn. Remote learning technology and online courses filled the gap during the peak of the pandemic, but the widespread return to in-person learning in the US was an indication that remote learning is likely to remain a fallback option in most cases.
Remote learning technology
DIGITAL LEARNING INFRASTRUCTURE REMAINS A WORK IN PROGRESS
Digitizing educational infrastructure has been an ongoing project over decades, but adoption has been slow, hampered by limited budgets and concerns about insufficient access among some student groups.
As Covid-19 forced classrooms to go remote overnight, edtech companies have seen an unprecedented surge in users. For example, EdSights, a startup that connects college students with school resources, doubled its customer base to 30 paying universities in the three weeks following the virus outbreak in the US, after taking a year to secure its first 16 customers.
But the transition hasn't been seamless. Schools and teachers have continued to face issues from functionality to tech literacy to insufficient access for students. A suite of edtech companies has stepped forward to offer free support:
Chat and video messaging platform Pronto has made its communication platform free for university professors dealing with coronavirus-related challenges during the 2020 spring and summer terms
Top Hat, a "student engagement platform" with features including attendance tracking, Q&A capabilities, interactive presentations, and discussion-management tools, made its platform free to professors and students to complete the current term.
Verbit, a company that provides AI-generated transcription and captioning services, offered educators free access to its Zoom integration through April 9
Big Tech companies have also taken steps to demonstrate their products' value to customers in the education space. At the beginning of March, Google announced free access to advanced Hangouts features for customers of its G Suite for Education. Similarly, Microsoft made its Teams platform free to higher education customers.
Digital learning infrastructure still has much room for improvement, but as the tech evolves, K-12 schools and universities will likely continue to incorporate it into their education plans even after the virus recedes.
Meanwhile, tech giants like Microsoft and Google will continue to invest in their education projects, capitalizing on their existing relationships with parents as well as teachers and administrators who already use their products for other purposes.
Online courses & content
CODECADEMY, UDEMY, AND COURSERA MOVE TO TRANSLATE SHORT-TERM DEMAND INTO LONG-TERM GROWTH
Historically, market downturns have triggered a rise in demand for graduate-level programs as young professionals seek to avoid a harsh job market and look for ways to augment their skills while the economy stabilizes. But due to uncertainties about the duration of economic instability — as well as ongoing national conversations about student debt — an increasing number of people have been turning to online courses, bootcamps, and trainings instead.
Multiple e-learning startups specializing in online course content reported substantial growth in interest in their products in the wake of Covid-19. For example, Outlier, the brainchild of MasterClass co-founder Aaron Rasmussen, raised $30M in Series B funding in April 2021. Its main offering is affordable undergraduate courses for college credit that cost about $400 each.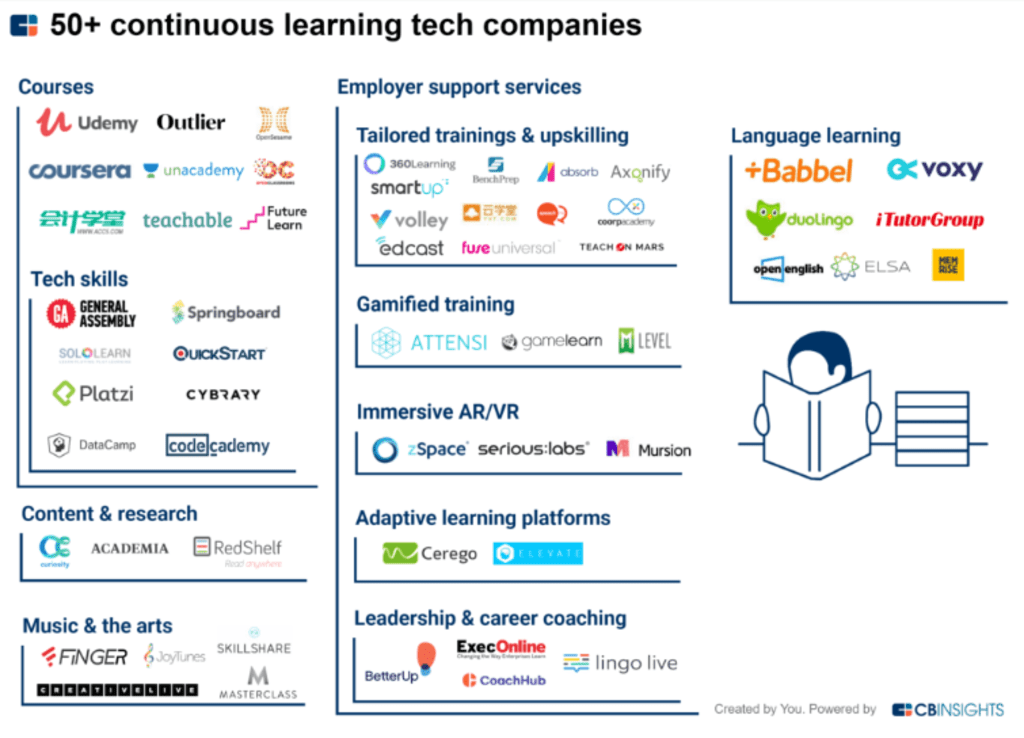 Massive open online course (MOOC) provider Udemy reported a 425% increase in enrollments from February to March 2020. The most in-demand courses on the platform have included professional skills (Adobe Illustrator, technical drawing) and child-oriented content, including art and coding.
Udemy boasts over 46M learners. The company also acquired the leadership development platform CorpU in August 2021. Coursera, the largest MOOC provider, reported that its users reached 189M in 2021.
Recreational topics, including guitar and Pilates, also saw a spike, highlighting how online learning's potential extends beyond traditional education and professional development.
But not all developments in online course content are happening outside of traditional educational contexts. Some companies are partnering directly with schools and universities to provide their content to students.

Source: Coursera
In April 2020, online learning startup Coursera introduced CourseMatch, which pairs university course catalogs with Coursera classes to identify which online curricula best matches existing on-campus offerings. Coursera also reported significant growth in enrollment in its Coursera for Campus, with more than 3,000 colleges and universities joining the program. Revenue at the company was up by 59% in 2020, reaching $293.5M.
Though the promise of edtech continues to be widely touted, the pandemic has illustrated the wide disparities in education, and how access to remote instruction is a luxury for many. Children from disadvantaged backgrounds are disproportionately affected: students of color are projected be 6 to 12 months behind in math, compared with 4 to 8 months for white students; in fall 2020, engagement in online math class dropped by 16% for low-income students (a decrease from 41% in the spring), compared to 2% for high-income kids, per McKinsey.
Going forward, edtech companies must be vigilant about the accessibility of courses to fulfill the promise of greater class selection and flexibility.
Manufacturing: 3D and automation technology boost industry's agility and flexibility
The coronavirus pandemic has exposed how vulnerable the manufacturing and logistics industries are when confronted with a sudden, widespread disruption in human labor.
Covid-19's effects on the manufacturing space are likely to to be far-reaching: nearly 80% of manufacturers expect the pandemic will have a financial impact on their business, while over 50% expect it to impact operations, according to the National Association of Manufacturers (NAM).
A similar survey from PwC highlights other prominent concerns, including the effects on workforce and productivity (41% of those surveyed), disruptions in supply chains (21%), and "not having enough information to make good decisions" (17%).
We can expect businesses to take steps to insulate themselves from similar disruptions in the future. This will likely include increased investment in flexible, scalable, automated solutions that reduce the industry's dependence on human labor and help manufacturers adapt to changing market conditions. 3D printing and automation are particularly primed to facilitate that evolution.
3D printing
MEDICAL EQUIPMENT SHORTAGE highlightS THE potential OF AN UNDERESTIMATED INDUSTRY
As far back as 2012, proponents were predicting that 3D printing would usher in a "third industrial revolution." But as of 2019, it had largely failed to gain traction outside of niche industries and hobbyists. The equipment was expensive and companies lacked the in-house expertise required to operate it.
The Covid-19 outbreak has shifted that perspective. 3D printing tech has had the opportunity to put its flexibility and adaptability to use in matching rapidly changing demand.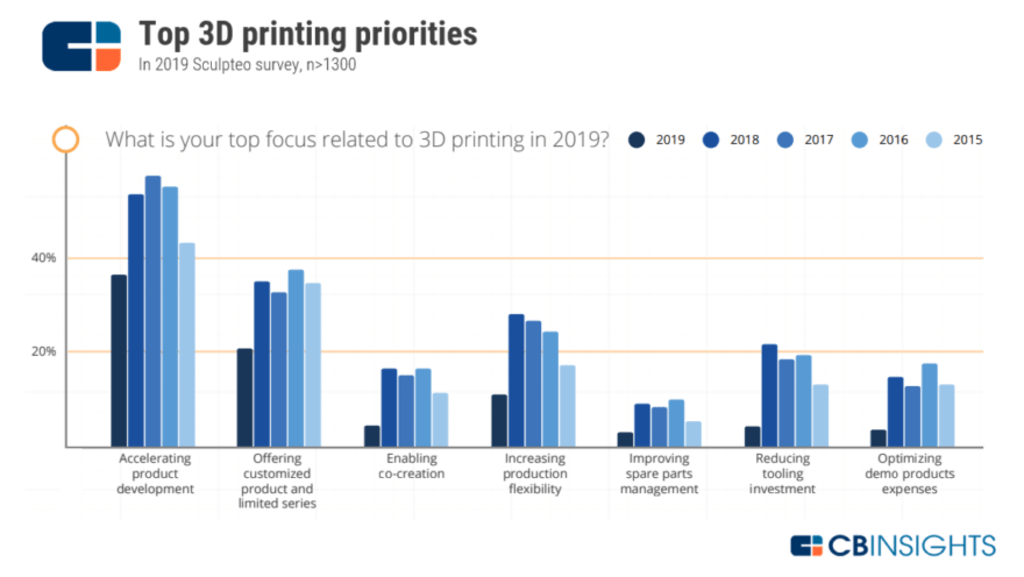 The most prominent example has been seen in healthcare equipment manufacturing, which has struggled to scale up production to meet the drastically increased demand for critical equipment including respirators, face masks, and testing swabs. 3D printing providers have stepped up to help fill in the gaps.
For example, Stratasys, owner of leading 3D printer brand MakerBot, co-sponsored an innovation challenge with Mass Gen to design printable ventilators.
UNYQ, which manufactures 3D-printed prostheses for amputees, also converted its facilities to support emergency medical supplies manufacturing.
Another company, Origin, was one of four 3D printing companies that received authorization to provide 3D-printed medical equipment directly to healthcare providers. "With 3D printing, we can bring new designs to the market very quickly, and [the quality of the printers] are good enough to print things that work in the field," noted Chris Prucha, founder and CEO of Origin.
These strengths are likely to continue to appeal to manufacturers after the immediate threat of Covid-19 has receded. Companies that can meet the specialized requirements of the healthcare industry could see a sustained boost in demand, as hospital networks and other providers look to augment the supply of essential equipment and materials in a cost-effective way.
3D printing — which constitutes a $63B global market, according to CB Insights' Industry Analyst Consensus — will also continue to see increased adoption in industries including manufacturing, automotive, and robotics, thanks to its value in rapid prototyping.
Industrial automation and robotics
CONTAGION RISK ADDS NEW URGENCY TO industrial AUTOMATION
Automation was already on the rise prior to Covid-19, thanks to declining costs, improved functionality, and a broadening range of contexts in which robotics can be safely deployed.
As the pandemic set in, corporations found themselves facing a lose-lose situation: shut down factories and warehouses and let business grind to a halt, or keep the factories open and put employees at risk. Companies including Tesla and Amazon have faced criticism for keeping factories and warehouses open and endangering employees' safety.
But automation has offered a solution. Companies specializing in industrial automation and robotics have seen a marked increase in demand as factories have scrambled to find ways to keep assembly lines moving.
For example, supply chain automation startup Fetch Robotics, which provides autonomous mobile robots to warehouses, saw a 63% increase in inbound requests from February to March 2020. The company was acquired in July 2021 by Zebra Technologies, an automatic identification and data capture products manufacturer.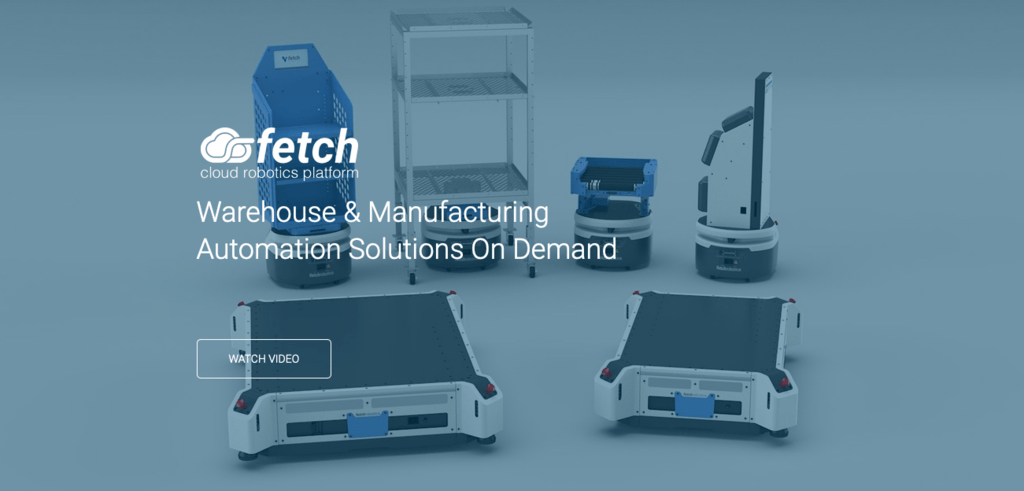 Source: Fetch Robotics
"The thing that we're hearing from customers is that many of their budgets have been frozen except for budgets for automation," says Fetch CEO Melonee Wise. "We've been fielding a lot of inbound from new customers around, 'How can robots enable us to continue manufacturing while keeping social distancing?'"
Automation is not a stopgap — it's a permanent shift in the way that companies do business. It represents an estimated $337B global market, according to CB Insights' Industry Analyst Consensus.
The organizations that move to further automate their operations during the crisis will most likely keep those automations in place after the crisis has passed, and adoption will spread beyond them as other companies automate to keep up.
Retail: Shopping goes even more online as grocery joins the e-commerce ranks
Between disruptions to the global supply chain, widespread store closures, lingering economic uncertainty, and rapidly declining consumer confidence, retailers are justifiably anxious about how their businesses will survive.
However, some believe that the pandemic has merely accelerated trends that were already well underway. For example, online grocery services had already been gaining steam, while lockdown and shelter-in-place orders made them a necessity for millions of people.
Covid-19 may have revealed the weaknesses inherent in the just-in-time logistics favored by many supermarket retailers, but it has also created new opportunities for companies to shore up those vulnerabilities.
Online grocery
surging DEMAND DRIVes TECHNOLOGICAL INNOVATIONS in the space and CREATes JOBS
Prior to Covid-19, the online grocery market was a high-growth sector dominated by major retailers, such as Amazon and Walmart.
But it only accounted for about 6% of the wider grocery retail market.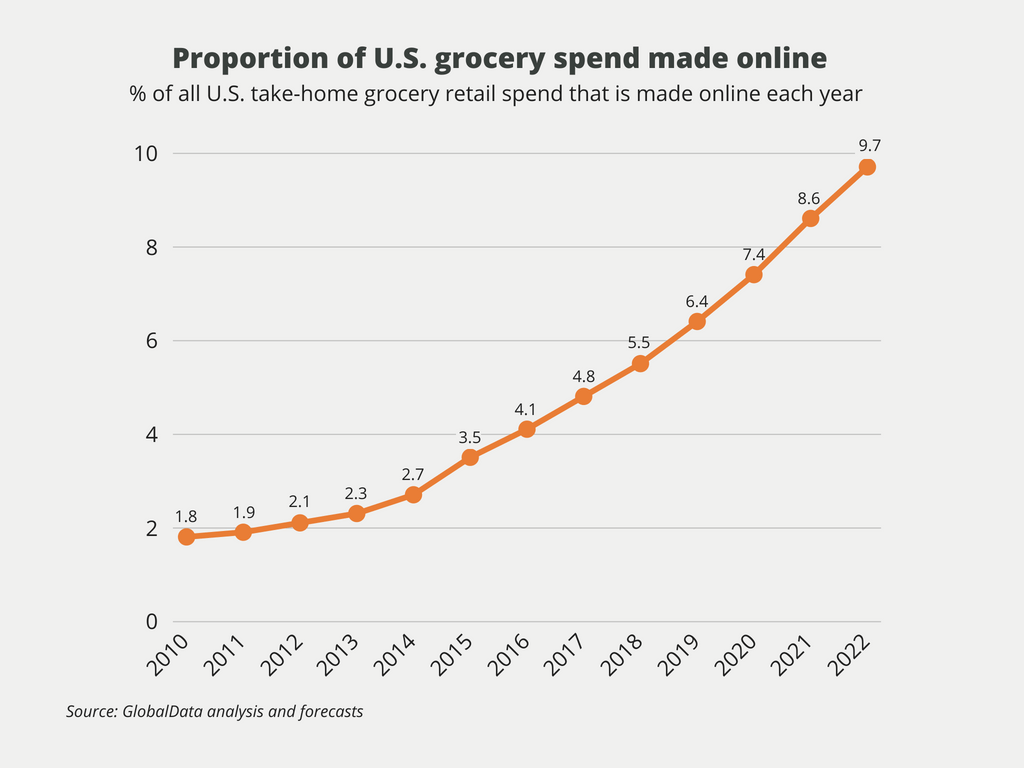 Source: OneSpace
The pandemic has driven unprecedented demand for online grocery services, including many consumers trying online grocery delivery for the first time. Independent retailers and nationwide chains alike have struggled to keep up. Orders that once took hours to fulfill are being delayed by weeks in areas hit particularly hard by Covid-19, such as New York City.
Larger players with significant spending power, like Amazon and Walmart, have invested in emerging technologies, such as automated fulfillment. Meanwhile, many smaller grocers that lack the resources to invest in automation have turned to third-party services like Instacart.
Instacart experienced a 150% increase in orders in March 2020. The company hired an additional 300,000 personal shoppers to accommodate the demand that year. As of March 2021, Instacart had 500,000 contractors. FreshDirect, an online grocer serving the New York City metropolitan area, saw a 60% increase in online activity in March 2020 compared to the same period in 2019. Target saw sales for its curbside pickup program grow by 734% year-over-year in Q2'20.
While some retailers have struggled to fulfill orders, the sudden increase in demand has created opportunities for others, such as UK-based e-grocer Ocado. The company has no retail stores, instead shipping groceries directly to customers from warehouses across Great Britain.
While Ocado's customer fulfillment centers do employ human workers, the facilities are extensively automated with sophisticated robotics. The company has licensed its technologies to other retailers such as Kroger in the US.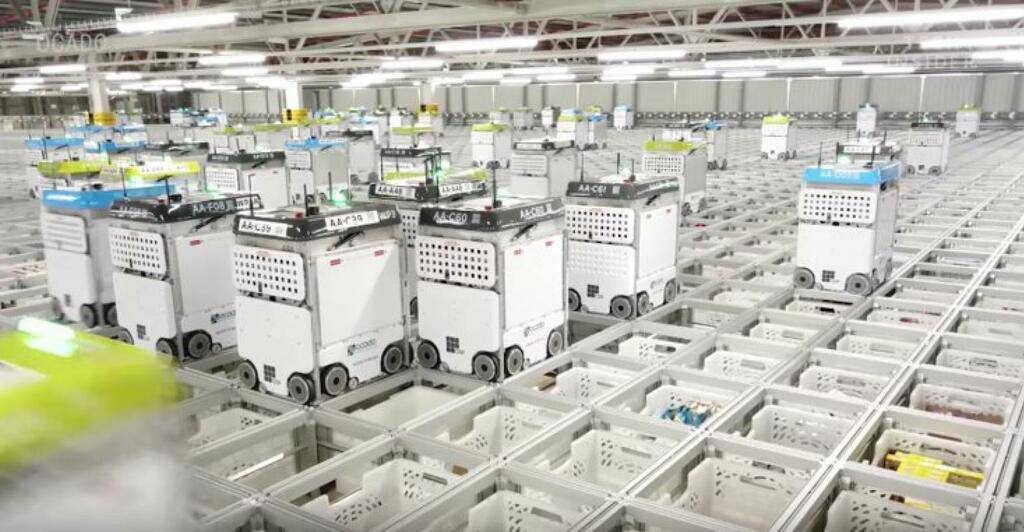 Source: Supermarket News
Prior to Covid-19, even larger retailers had little incentive to make significant investments in automation technologies. But the vulnerabilities revealed by the pandemic are likely to accelerate investment in this kind of tech, as grocery retailers seek to insulate themselves and protect their employees from future public health emergencies.
Takeoff Technologies, an automation specialist that works with grocers to build automated fulfillment centers, has seen a double-digit increase in orders, suggesting that current trends may continue in the long term.
Going forward, larger retailers such as Amazon and Walmart will likely increase their share of the online grocery market by augmenting their online grocery shopping experience with technological innovations, such as 3D renderings of items, as well as customer service improvements and faster delivery times.
Walmart, for instance, has rolled out a new universal search and checkout feature that allows online shoppers to buy items from different locations but have them delivered and counted as one basket.
Enhanced e-commerce
as physical stores have been forced to close, ar/vr tech helps customers try products before purchasing
While AR and VR technologies for e-commerce have gained traction in furniture, fashion, and beauty industries, they have largely been a fringe experience for the majority of customers and categories.
However, as brick-and-mortar stores have been forced to temporarily close during the pandemic, customers need ways to replicate the physical shopping experience at home in order to try and purchase products. Many retailers have turned to AR/VR tech to make this possible.
Ikea, Wayfair, Target, and Lowe's have been rolling out AR and VR features that let customers view pieces of furniture in their homes or in virtual showrooms. Beauty companies from L'Oreal to Sephora have also embraced the technology, using apps to help customers virtually try on makeup before purchasing.
Meanwhile, the fashion industry is adapting by turning to livestreams, virtual catwalks, and digitized collections. Joor, which helps high-end designers create virtual showrooms, said that activity on its platform during the Paris Fashion Week this year was 2.5x higher than average.
Eventually, viewers could be able to use an "exhibition mode" in livestream shows, allowing them to swipe through designer information, save items they like, and instantly access an order form. To further enhance the experience, technologies such as haptic gloves could help prospective customers get the feel of a garment.
The pandemic has forced retailers and brands to go all in on their online operations, and the momentum virtual commerce is gaining seems likely to carry over to a post-virus world.
Some experts, however, aren't so sure. Dan McCarthy, assistant professor of marketing at Emory University, has noted that, because only 14% of total furniture sales in the US were previously made online, it would make sense that this segment would grow tremendously during the pandemic. But "to the extent that the pandemic is a short-lived phenomenon, when those stores reopen, that will bring that 86% of the [brick-and-mortar furniture] supply back on the market."
After all, the shift to online furniture shopping hasn't been without its problems. Americans spent $11.3B on furniture and home furnishings in February 2021, a 12% rise compared to a year before. But clogged ports, overwhelmed factories, and other supply chain issues combined with high demand have left customers waiting for months to get their orders delivered.
Meanwhile, retail giants like Walmart and Target reported strong in-store sales as lockdown restrictions began to lift in Q1'21. Walmart brought in $138B in first-quarter sales, while Target saw a 22.9% year-over-year increase in in-store sales.
Target CEO Brian Cornell said during an earnings call, "With vaccinations rolling out across the country and consumers increasingly comfortable venturing out, we've seen an enthusiastic return to in-store shopping."
Customer Service: Customer experience goes virtual with conversational AI
Store closures and physical distancing measures have made customer service challenging. In addition to fulfilling orders and processing sales, many customer support teams have found themselves fielding a drastically higher number of calls from customers with questions about return and cancellation policies, store closures, and more.
Firms that leverage technology such as conversational artificial intelligence (AI) and cloud-based call centers may find themselves able to navigate the post-Covid-19 world more easily than those reliant on face-to-face interactions — a dichotomy that seems likely to divide the service economy even further in the coming years.
Conversational AI/chatbots
BANKING, HEALTHCARE, RETAIL SECTORS LIKELY TO EXPERIENCE SIGNIFICANT GROWTH IN CHATBOT USE
Prior to the Covid-19 outbreak, the banking, healthcare, and retail sectors relied heavily on conversational agents to bolster customer support functions. Chatbots were on pace to save these sectors more than $11B by 2023.
Now, with face-to-face customer service interactions severely limited, chatbots and virtual assistants are becoming more important than ever.
Understanding the need to meet consumers where they are, many retailers have embraced chatbots as part of broader social media engagement strategies. Brands including H&M and Sephora have launched conversational agents on messaging platform Kik, while Burberry and Tommy Hilfiger have deployed their own chatbots to Facebook Messenger.
Going forward, companies seeking to optimize their e-commerce capabilities may rely more heavily on conversational agents as the volume of online orders increases and consumers seek new ways to purchase goods and services online. Dom, a chatbot developed by Domino's Pizza, is just one example of how conversational agents may become a more central part of the online ordering experience across a range of verticals.
While the vast majority of retail and banking chatbots are customer-facing, JPMorgan has been pushing the boundaries of what bots can accomplish in its back-end operations. The company has used chatbots to automate routine tasks formerly handled by administrative employees since 2017. These include granting individual employees access to specific software systems and resetting user passwords.
Since the onset of the pandemic, many governments and local authorities have implemented chatbots to help address dramatic increases in demand for support services. For example, the Centers for Disease Control and Prevention (CDC) has deployed a conversational agent on its website to help people self-identify potential symptoms of Covid-19 and decide whether to self-isolate.
Health organizations are also making use of chatbots. Providence St. Joseph Health, which has a presence in 6 western states, is using an automated screening tool using technologies developed by Microsoft to determine whether patients should seek in-person medical treatment.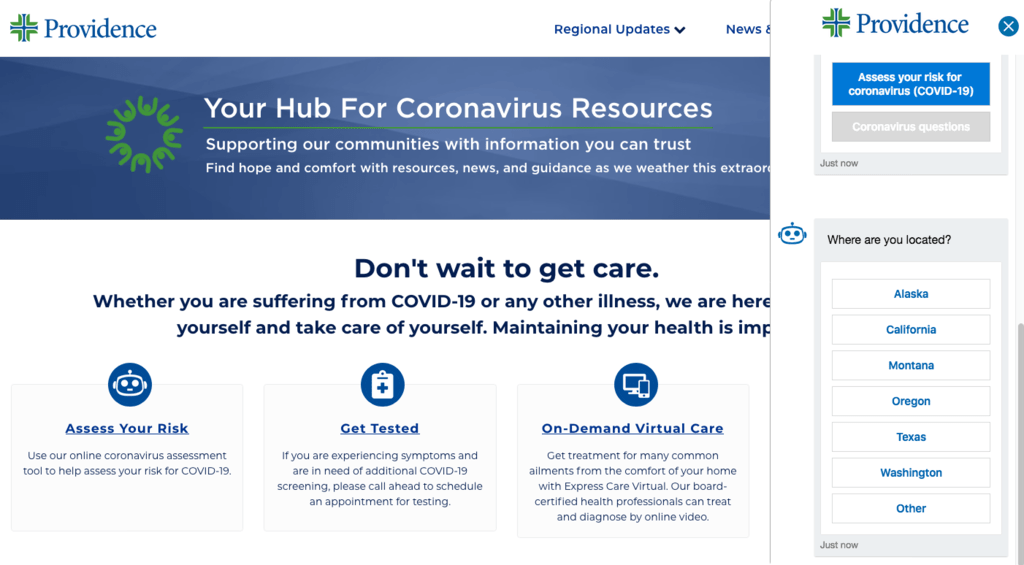 Source: Providence St. Joseph Health
Portea Medical, an in-home care provider in India, has partnered with automation developer Verloop to create Cobot-19, an automated engagement platform designed to curate and disseminate information from sources including the World Health Organization and the CDC.
Conversational agents also helped state governments handle an unprecedented increase in demand for municipal assistance. The state of Texas, which saw weekly unemployment claims peak in early April 2020 at more than 313,000, used chatbots to answer claimants' questions about the status of their applications. The chatbot, which was developed in partnership between the Texas Workforce Commission and Accenture, can now handle up to 20,000 concurrent users.
Meanwhile, Google's Cloud Services business is offering customers the option of developing and deploying customized "Rapid Response Virtual Agents" to alleviate pressures on call centers as part of its Contact Center AI service offering.
Chatbots and virtual assistants comprise a market worth an estimated $7.7B, according to CB Insights' Industry Analyst Consensus. In a post-Covid-19 world, the greatest competitive differentiators for developers of chatbots will be the quality of information available to consumers and the ease of interaction.
Cloud call centers
ai technology could drive FASTER RESPONSE TIMES and BETTER SUPPORT
Over the past decade or so, many companies have moved their call center operations from physical offices to cloud-based solutions.
Now, remaining on-premises call centers have largely been disrupted by the pandemic. In March 2020, Verizon was forced to suspend operations at its call centers in Elgin, South Carolina and Wilmington, North Carolina, after employees tested positive for Covid-19. Customer service representatives at call centers operated by Kohl's and Wells Fargo also tested positive for Covid-19, prompting the temporary closure of the affected facilities.
With physical distancing measures in place, cloud-based call centers have become a popular option for organizations seeking to maintain support operations.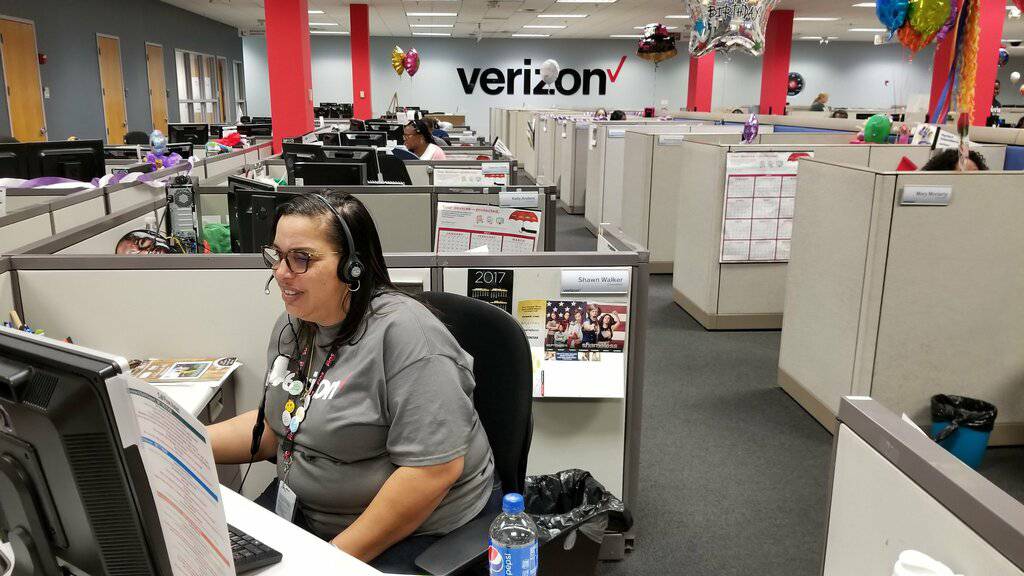 Source: Verizon via Twitter
Cloud contact center service provider Five9's Intelligent Cloud Contact Center product has been deployed in Detroit, New York City, and Orlando to assist in handling the substantial increase in call volume to those cities' Covid-19 informational hotlines. The company also recently launched its Five9 FastTrack program, which aims to help companies migrate on-premises call center operations to the cloud within 48 hours.
Contact center software developer Bright Pattern is offering "special virtual call center capability" as a business-continuity service for companies seeking to maintain support operations during the pandemic. Similarly, remote patient communications developer TriageLogic has introduced a virtual call-center product using its existing telehealth technologies to let healthcare organizations deploy virtualized support systems, including HIPAA-compliant cloud-based telephony services.
Website-creation platform Wix launched a virtualized cloud-based contact center just 7 days after being asked to develop such a system by the Israeli government. Volunteers staffing Wix's Volunteer Call System helped more than 11,000 Israeli citizens during the program's first 3 days of operation, and the system is expected to help more than 1M people affected by Covid-19 across Israel.
A recently announced partnership between Amazon Web Services (AWS) and ServiceNow to offer an AI-driven "contact center-as-a-service" product suggests these services could become commonplace even after the pandemic, as more companies seek to reduce their support costs while maintaining or improving current levels of customer care.
The growth of AI in cloud call centers has proven to be a boon for CX design leader Talkdesk, which raised $230M in Series D funding in August 2021. This came 6 months after healthcare staffing company Krucial Staffing implemented Talkdesk's solutions to handle more than 1M calls per day.
Finance: Demand for contactless options accelerates digital adoption
The transition to digital has been a long time coming in the finance industry. Fintech innovations, including contactless payments, mobile financial services, and loan and insurance tech have all been climbing steadily for years.
With social distancing being enforced across the world, fintech has had a chance to demonstrate its value to consumers still on the fence about entrusting an app with their finances.
Regulation will play a significant role in how opportunities in the fintech space take shape in a post-Covid world. In March 2020, South Korea announced plans to temporarily ease regulations on fintech as part of an effort to accelerate economic recovery as the virus receded in the country. If similar measures go into effect in other countries, it could greatly increase activity and innovation in the space.
The country's Financial Services Commission is also launching a digital sandbox program. The sandbox ecosystem enables fintechs to test new products and engage consumers in a monitored and controlled environment. New products are tested independently of other services companies offer.
In any event, given the mixture of convenience and peace of mind that digital financial services offer, it's likely that they'll sustain their growth after lockdowns end.
Contactless payments
Early signs point to strong, lasting SHIFT TOward CONTACTLESS PAYMENTS
Contactless payment options were already on the rise before Covid-19. Apple, Google, and Samsung began adding virtual wallets to their mobile products as early as 2014. Amazon has also been moving toward implementing contactless payment processes in its physical locations. The company deployed Amazon One, its palm-pay contactless tech, in an Amazon Go location in New York City in May 2021. The Amazon One tech is already used in several Amazon Go locations in Washington state.
Given heightened concern around physical contact as a result of the coronavirus, long-term adoption of contactless payment options seems more likely. Two-thirds of retailers accept some type of no-touch payment, according to a survey conducted by Forrester.
Public sentiment has shifted dramatically in favor of contactless payment options in the wake of Covid-19. Surveys have found that an increasing share of consumers consider contactless payments to be a basic, required feature of products.
Businesses are already taking steps to align with customer demand, with grocery stores, restaurants, and other essential businesses quickly adopting contactless payment options.
As Mastercard Acceptance Solutions VP Blake Rosenthal explains:
"Social distancing does not just concern people's interactions with each other; it includes contact with publicly shared devices like point of sale terminals and checkout counters. Contactless offers consumers a safer, cleaner way to pay, speed at checkout, and more control over physical proximity at this critical time."
Businesses that had not already incorporated contactless payment options into their point-of-sale (POS) systems prior to Covid-19 have moved to do so. For example, grocery chain Publix announced that it is now accepting Apple Pay and other contactless payment methods. 7-Eleven has also deployed contactless payment options to over 3,000 stores in the US.
Tech companies are also moving to augment their contactless options. Fitbit expanded support for contactless payments, announcing in April 2020 that a prepaid wallet feature will come standard in the Fitbit Charge 4 after previously being available only on premium models.
The small business sector has also seen an increase in adoption of contactless options. While 40% of small businesses remained nonoperational due to the pandemic, 27% of those that continued to accept on-premise payments reported an increase in contactless payments made through smartphones and contactless cards.
The proportion of SMBs deploying contactless payment tech jumped to 39% at the end of 2020 from 20% in June, per Visa. Further, 65% of consumers surveyed by Visa said they'd prefer to use contactless payments as much as, or more, than they are currently.
With the infrastructure already in place and consumers afforded ample opportunity to test-drive the new technology due to Covid-19, it seems likely that contactless payments will emerge as a societal norm.
Branchless banking
TRADITIONAL BANKS COULD LOSE MORE THAN 40% OF REVENUE TO DIGITAL COMPETITION
Branchless banking was already on the rise prior to Covid-19, with neobanks and fintech startups like Chime, Simple, and Revolut aiming to replace traditional brick-and-mortar financial institutions altogether.
The opportunity in branchless banking is substantial enough that fintechs in other areas are expanding to offer banking services as well. In October 2019, robo-advisor Betterment introduced a series of cash-management products, including high-yield savings and checking with ATM. In May 2020, micro-investing app Acorns followed suit, adding a Spend Account alongside its investment and retirement products.
JPMorgan also made a major move in the space with the launch of its UK-based digital bank, Chase, in September 2021. It was the first international expansion of JPMorgan in its 222-year history.
Shortly after, London-based Standard Chartered partnered with Starling Bank to join the digital space with its first UK-centered digital savings platform called Shoal.
Standard Chartered CEO Bill Winter said that Shoal's purpose is to allow Standard Chartered to funnel more money toward investments related to climate and sustainability. Shoal lets investors choose what climate-related projects they would like to support with their money, all on a user-friendly digital interface. It's the first branch-banking exercise for Standard Chartered in the UK since it shuttered its network of branches in the 1990s.
The rise of digital banks is also moving into developing markets. For example, Philippines-based Voyager Innovations raised $167M to support additional financial services for its payment and services app, PayMaya. Some of the new funding will be used to launch a digital bank. Meanwhile, Egypt got its first digital bank with the launch of Telda's new service.
Branchless banking is attractive to banks because it means less capital spent on people and physical locations, and more available for customer acquisition and engineering.
Now that consumers have gone through a lengthy pilot program in digital-first banking, demand for digital banking solutions is likely to continue. Digital-only banks were projected to manage 6.5 out of every 10 digitally opened accounts in 2021, according to Insider Intelligence. Incumbent banking players will have to take steps to meet that demand — or risk losing market share to their younger, smaller, more digitally savvy competition.
Parametric insurance
FORMERLY NICHE INSURANCE PRODUCTS COULD SOON BECOME MAINSTREAM
While some organizations routinely invest in specialized insurance policies to protect themselves from outlier events, these policies are not commonplace. The Covid-19 pandemic may change that.
As the severity of the pandemic and the costs of the response continue to intensify, parametric insurance policies may soon become more attractive to a wide range of businesses, particularly if the cost of parametric insurance premiums falls as more insurers enter the market.
Parametric insurance — also known as index-based coverage — is relatively new. Unlike traditional insurance policies, parametric insurance plans cover policyholders only when specific conditions are met.
For example, a policy might stipulate that an insurer is liable to pay policyholders only if an earthquake of a minimum magnitude were to strike in a specific geographic area within specific time constraints. If one or more of those criteria are not met, the insurer is not liable to policyholders.
Parametric insurance policies have historically been challenging to underwrite due to the difficulties inherent in accurately modeling financial risk during natural catastrophes. However, the pandemic has brought the value of and need for parametric insurance into sharp focus.
The 2020 Wimbledon event illustrates this point. After announcing the event would have to be canceled, reports emerged that the organizers of Wimbledon had paid approximately $1.9M every year since 2003 for pandemic insurance following the SARS outbreak. In exchange, Wimbledon was expected to receive a hefty payout of approximately $142M for the cancellation of the 2020 event. The claim was later settled for an undisclosed amount.
Demand for Covid-19 insurance coverage has intensified in recent weeks and months. However, underwriting these policies is difficult for insurers, as they do not currently have access to reliable data concerning rates of infection or death, making accurate risk calculations almost impossible.
The inaction of individual governments may also present a challenge, because not having detailed response plans in place complicates insurers' efforts to calculate the costs of providing pandemic insurance in specific regions. Even relatively comprehensive insurance policies often include language or clauses stipulating that damages or losses incurred as a result of viruses or "contamination" are not covered. This type of clause was introduced by many insurers following the SARS outbreak of 2003.
Still, the highly specific and often nuanced conditions under which payments are made often preclude policyholders from making claims. Several developing nations participating in a $320M "pandemic bond" program devised by the World Bank have not yet seen any payouts from bondholders, despite suffering heavy casualties from Covid-19. Risk modelers ruled that the total number of cases in countries that receive World Bank funding did not meet the exponential growth criteria to qualify countries like Ethiopia and South Africa for payments.
Going forward, insurers can expect to face litigation from policyholders seeking to recoup losses incurred by events such as pandemics. Several lawsuits have already been filed in federal court by plaintiffs whose business-interruption claims were denied by a Wisconsin-based insurer. Similar lawsuits are likely to become common as insurers adjust the terms of their policies to shield themselves from additional liability.
In addition to primary qualifying triggers, such as the emergence of a viral pathogen, it is almost inevitable that insurers will include other criteria for policyholders to be eligible for payouts, such as minimal casualty thresholds or industry-specific indices such as decreases in the value of individual commodities.
Interest in parametric insurance has sparked efforts to carry its principles into a wider variety of industries. Startups across a variety of industries are exploring this sector, including:
Arbol — This company takes on the inherent risk of the weather as it pertains to agriculture and other businesses.
Blink — CPP Group purchased Blink for its ability to provide real-time data to expedite claims and payouts. It focuses on travel, climate, and energy spaces.
Setoo — A $25M merger with Pattern Insurance Services strengthened its ability to offer travel companies wider varieties of travel insurance products.
Kover — This company uses a blockchain-based infrastructure to help gig economy workers avoid financial disaster through remediation of "high-frequency, low-severity" risks.
Security: Higher internet usage and data generation lead to increased investment
Even before the Covid-19 pandemic, an increasing amount of capital was being devoted to cybersecurity. As more people are now forced to go online to work, cybersecurity budgets are only going to increase.
Widespread remote work has revealed chinks in organizations' security systems. Separately, long-standing technologies related to data privacy and surveillance tech are once again coming into focus.
Personal surveillance technology
INVASIVE SURVEILLANCE TECHNOLOGY IN exchange FOR SAFETY MAY BECOME MORE ACCEPTABLE
Personal surveillance technology became an important tool to stem the spread of the novel coronavirus. The global video surveillance market alone is expected to be worth $75B by 2025, up from $50B in 2020.
However, there has been a long-standing movement against collection of private data in Europe and the US. The enactment of the GDPR in the EU in 2017 was a victory for privacy activists. But with the gravity of the threat posed by Covid-19, there has been a wider acceptance of surveillance technology becoming integrated into everyday life, as long as it helps track and mitigate transmission of the virus.
Governments from South Korea to Israel to India have used data collected from mobile carriers, mobile apps, and credit card companies to trace movements of potentially infected people. In China, a mobile application used for contact tracing also asked users to put in their national identification numbers and names.
Technology giants have also pooled resources to track people's movement. Google's Covid-19 tracker uses data from users' mobile phone locations to analyze how movements across communities have changed as a result of the pandemic. Google also partnered with Apple to introduce an update across Android and iOS, two dominant mobile operating systems, that will ensure seamless contact tracing through mobile devices.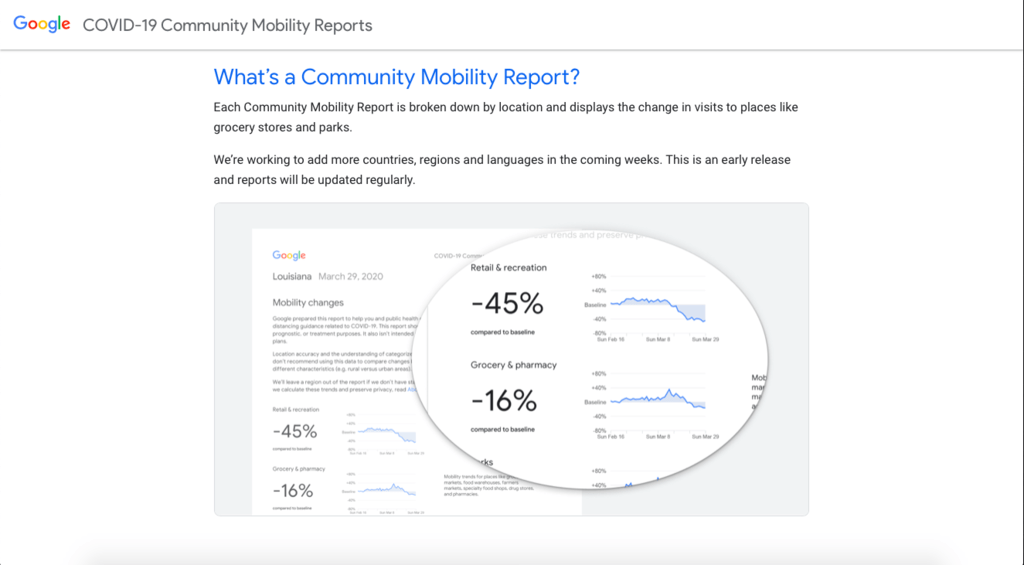 Source: Google
In the US, Facebook is leading a consortium of companies and researchers from numerous universities, called the Covid-19 Mobility Data Network. This collaboration aims to help local officials assess the effectiveness of social distancing interventions using data from mobile devices.
Meanwhile, several camera makers across the globe have claimed their infrared and thermal imaging cameras can detect fever, thus helping in screening sick people in a post-Covid 19 world.
Some experts believe that, even after the pandemic comes to an end, thermal imaging cameras will remain in use — including in non-health-related surveillance.
Distributed cybersecurity
remote work & education MAY TRANSFORM CYBERSECURITY INTO A $250B ENTERPRISE
While cyberattacks have always been a part of online life, they have spiked during the Covid-19 pandemic, in some cases increasing by more than 3x month-to-month.
Much of the world is now working remotely online; online shopping and delivery services are seeing greater demand; and online streaming services have become the go-to source for entertainment. These entry points give cyberoffenders more room to find susceptible targets.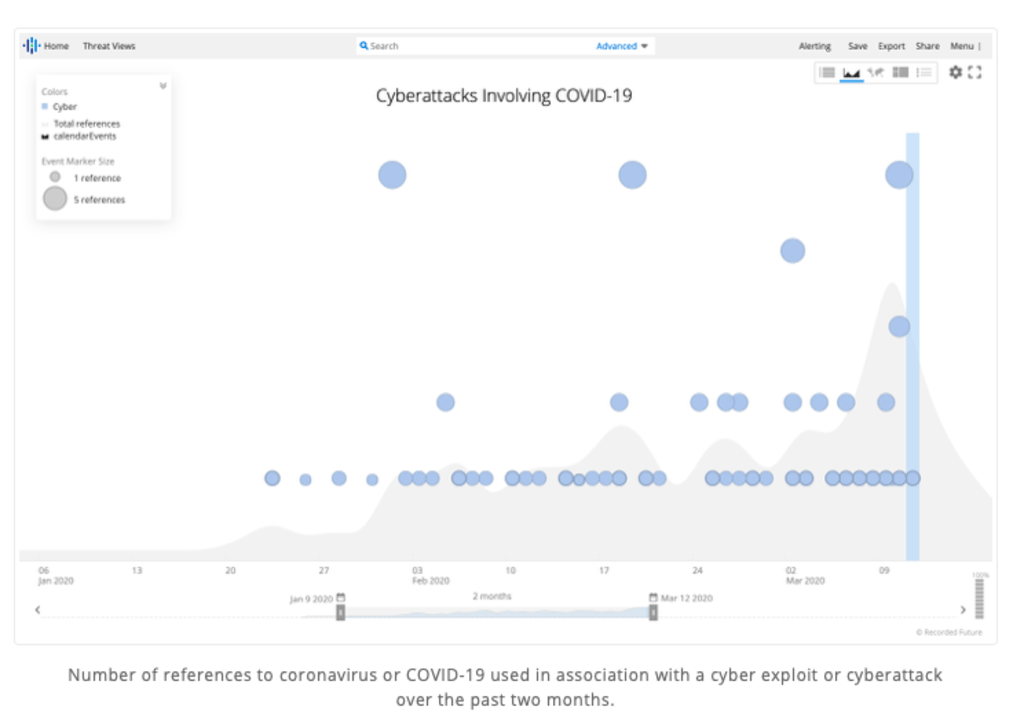 Source: Recorded Future
Reports of increased cybercrime amid the ongoing pandemic are rampant. In the US, enforcement officials have reported that criminals are selling fake cures for the coronavirus online, reaching out to people posing as intergovernmental organizations or the WHO. There are also reports of malware in online resources that are used for tracking Covid-19.
A shift to remote work and education has created new privacy issues on video platforms as well, with the security of the most popular teleconferencing app, Zoom, under heavy scrutiny. Disruptions and attacks on video calls from hackers and trolls came to be known as "zoom-bombing" in the early months of the pandemic.
Phishing scams where attackers assume the identities of healthcare and other aid organizations to extract sensitive information have increased. Public-sector organizations that are working on relief work have also been targets of cyberattacks: The National Institutes of Health and the World Health Organization, along with the Bill and Melinda Gates Foundation, were targeted in April 2020.
Cyber attacks rose by 29% in H1 2021, with ransomware attacks being particularly frequent.
As a result, organizations are expected to increase spending on cybersecurity measures, as well as train employees to deal with these situations.
Cybersecurity funding hit an all-time high in 2020, garnering a whopping $11.4B — a near 50% increase from 2018. Going forward, organizations are also expected to increase spending on cybersecurity measures, as well as train employees to deal with these situations. PWC's 2022 Digital Trust Insights Survey found that 69% of respondents expected to increase spending on cybersecurity in 2022 . 
As distributed work and education increasingly become a part of regular life after the Covid-19 crisis, security concerns around these applications will likely persist. Businesses are more likely to establish stringent corporate security and compliance structures to facilitate more remote workers. With this continued growth, the global cybersecurity market is estimated to be worth $245B in the coming years, according to CB Insights' Industry Analyst Consensus.
Entertainment: "Real world" goes online with virtual reality and virtual events
While on-demand and over-the-top (OTT) entertainment options such as Netflix, Disney Plus, and Amazon Prime were gaining ground before the Covid-19 pandemic, in-person live events such as concerts and events, gaming leagues, and food festivals remained popular. But with venues shut down and large gatherings prohibited temporarily, many consumers are now seeking out virtual simulations of these entertainment experiences.
For nascent spaces like e-sports and virtual reality, this prolonged quarantine period will bring a large number of new consumers into the fold, leading to an increase in demand that's unlikely to end even with lockdowns being lifted.
Event organizers are also thinking much more ambitiously about how to hold large-scale events online. Events that may have once seemed improbable or even impossible to hold online are becoming commonplace and will likely continue.
Social online gaming
GAMERS, ONCE ACQUIRED, ARE LIKELY TO STICK WITH E-GAMING
Gaming has been on the rise for several years, as faster internet connections and mobile gaming provide millions with the infrastructure to play online.
The video game industry as a whole is estimated to be worth $163B, per CB Insights' Industry Analyst Consensus.
E-gamer leagues and platforms that livestream e-gaming events have both increased. Twitch, an online gaming platform owned by Amazon, is the leader in e-sports streaming, with around 8.07M active streamers as of September 2021.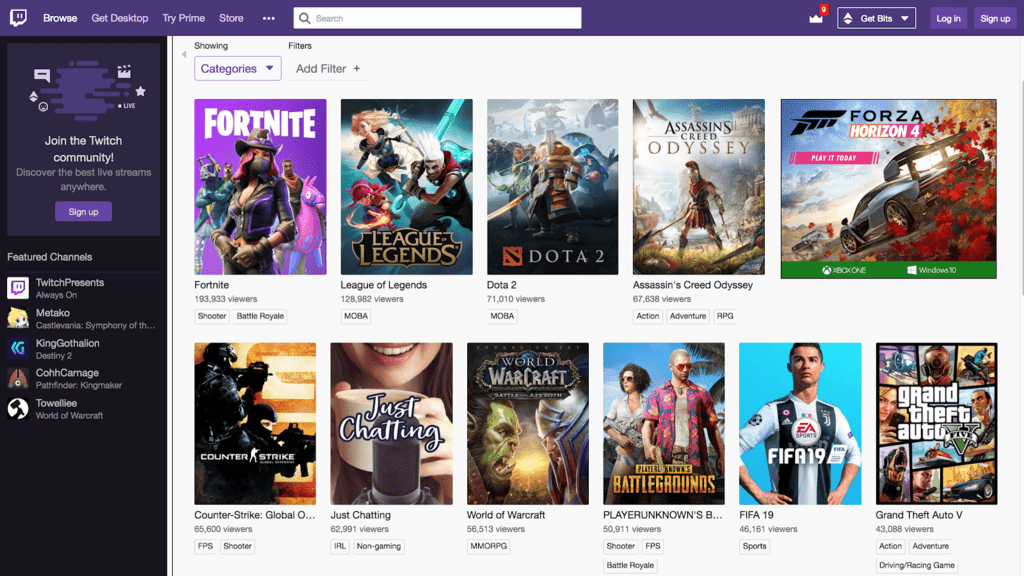 Source: Investopedia
As people across the globe shelter in place, gaming is one of the main activities keeping them engaged. Verizon's chief executive, Hans Vestberg, said in March 2020 that internet traffic from video games was up by 75% since movement was restricted across the US. This was much higher than overall video streaming, which went up by only 12%, and social media usage, which remained relatively flat.

Source: CNN Business
Since the popularity of gaming as a way to connect socially increased during the pandemic, it's likely that it will stick around as a social activity after the pandemic ends. Gaming is better equipped to gain lasting users when compared with other online mediums of entertainment, because it can foster unique forms of socialization.
An Australian online gamer, Burnie Brodie Weeding, told The Advocate:
"It's a really good way to socialise and keep in touch with people. We might take a break during a game and I head outside with my headset and a beer and we keep chatting, and then we go back to the game."
E-gaming's success is also gaining attention from traditional sports franchises. As major sporting events, such as FIFA, NASCAR, and Formula 1, are canceled to maintain social distancing norms, they are exploring e-games as a way to keep their audiences engaged.
Even the Olympics has moved toward embracing e-gaming. Five e-sports (baseball, rowing, sailing, car racing, and cycling) were exhibited as competitions ahead of the 2020 Tokyo Olympics (which were delayed until 2021).
Nothing is set in stone as of yet for the next Olympic Games, but the International Olympic Committee might have offered a clue about its intentions by sponsoring the Intel World Open and a potential Olympic event, Rocket League. This popular e-motorsports game is played on PlayStation and Xbox and features customized vehicles used as "players" for stylized, digital versions of soccer and basketball.
Virtual events
MORATORIUM ON LARGE GATHERINGS DRIVING INNOVATION IN SPORTS, ENTERTAINMENT, GOVERNMENT
Virtual events were nothing new before Covid-19. Many conferences have offered virtual tickets for years, particularly within the technology sector, and events from world-leading fashion shows to e-sports gaming tournaments routinely offered live webcasts to viewers unable to attend in person.
The emergence of Covid-19, however, has had a profound impact across the events industry. Many events that offer virtual tickets in addition to in-person passes have moved entirely online, and most in-person events have been canceled entirely.
To avoid losing additional revenue, some events have taken innovative approaches to hosting virtual events and expanding their online event programming. For example, in April 2020, organizers held a Virtual Grand National horse race in the UK using computer graphics and special algorithms to simulate the race.
The annual WWF CN Tower Climb for Nature fundraising event, scheduled to take place in Toronto, Ontario, instead challenged supporters to climb 1,776 steps — the number of steps required to reach the top of Toronto's iconic CN Tower — anywhere they could, using fitness trackers, and participants were encouraged to share their stories using a social media hashtag.
The Seattle Symphony Orchestra has begun hosting live broadcasts of virtual performances, special Q&A sessions with musicians, and programming for families with young children.
The USO recently transitioned from traditional tours to virtual programming to maintain morale among troops and military families, with celebrities embarking on virtual tours of individual bases and speaking with service members in Iraq via video call.
Virtual events are also becoming increasingly common in the legislative arena. Lawmakers in the UK recently convened the first-ever "Parliament via Zoom" — making it the first time in more than 700 years that Parliament had not sat in the House of Commons.
With lockdown restrictions likely to be in effect for some time in many parts of the world, virtual events are almost certain to become more commonplace in the future.
The necessity of virtual events may have a lasting impact, however, on event revenues — many organizers are unable to charge the same fees for virtual events.
Still, event planners expect to increase their budgets for online experiences by 58% moving forward, according to AnyRoad. Hybrid events that feature in-person and virtual elements could also be a solution — event planners expect them to account for 23% of events in the foreseeable future, according to a LinkedIn survey.
The Covid-19 pandemic may also have a significant impact on how event management companies hire. Crisis management, contractual expertise, and a different set of marketing and technology skills are all areas in which event planners hope to improve in the future.
Food services: Social distancing propels take-outs and deliveries to success
The sit-down restaurant industry was already unbundling before the coronavirus outbreak. Casual dining chains such as Applebee's and TGIFriday's were already in decline, as millennials and other consumers prioritized eating at chains offering healthier food options and chose to order in. Stay-at-home orders have now only accelerated this decline.
While a shift toward delivery-only restaurants likely would have happened over the next decade or so, this change could now happen "instantaneously," according to David Chang, founder of the Momofuku restaurant group.
As more food businesses embrace a made-for-delivery approach even as lockdowns are lifted in the months to come, delivery-first restaurants and industrial kitchens seem poised to emerge as winners on the other side of this pandemic.
Restaurant & grocery delivery
FOOD DELIVERY APPS SEE FLOCKS OF NEW RESTAURANTS; SOME PIVOT TO GROCERIES TO MAINTAIN RELEVANCE AMID LOCKDOWN
Food delivery has already seen a surge in popularity over the last few years, as funding and tech innovation have brought increased attention to the space. Media discussion of last-mile food delivery has also continued to build steadily.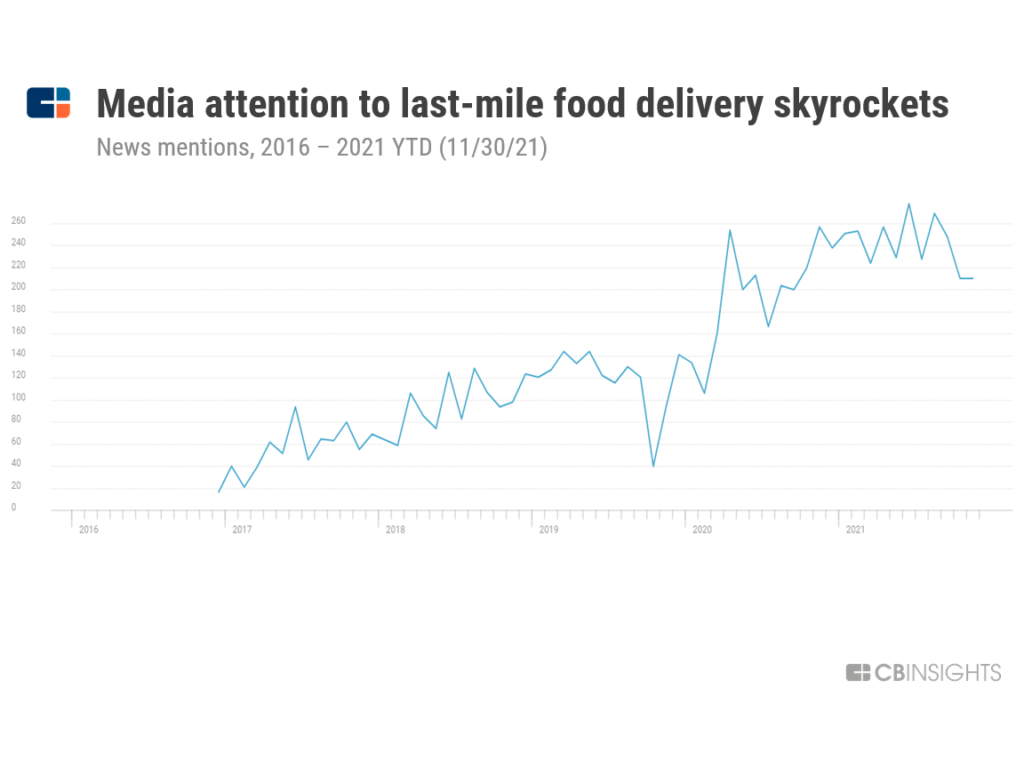 The Covid-19 crisis has only accelerated the rise of various delivery services into becoming an integral part of customers' lives. Delivery orders in the US increased by 142% and carry-out orders by 130% between March 2020 and March 2021.

Grubhub took on 20,000 new restaurants in March 2020, compared with its previous monthly high of 5,000. The company provided nearly $9B to takeout restaurants in 2020, up from $5.9B in 2019. Separately, food-delivery apps have been offering grocery delivery services in a bid to remain relevant amid the pandemic. Uber Eats partnered with Europe-based supermarket giant Carrefour in France to offer 30-minute home delivery of essentials. The US company inked similar partnerships in Spain and Brazil.

Source: TechCrunch
This move to grocery delivery for food-delivery apps is likely to continue in a post-Covid-19 world. Raj Beri, Uber Eats' head for Asia-Pacific, Europe, the Middle East, and Africa, believes "grocery will be a large part of what we're doing," with a focus on everyday top-up items rather than staples.
Amazon is trying its hand at food delivery once again, with plans to lead a $575M round in UK-based Deliveroo gaining approval from the UK competition authority. Amazon is reportedly also set to enter the Indian food delivery space this year.
Cloud kitchens
SOCIAL DISTANCING MEASURES PUSH NICHE "VIRTUAL" KITCHENS INTO THE MAINSTREAM
Cloud kitchens — also known as dark kitchens, virtual kitchens, or ghost kitchens — are food service outlets that take orders and deliver them without offering the option to dine in.
Virtual kitchens were already an ascendant trend in 2019. Dine-in restaurants faced battles related to automation and shifting millennial preferences, and this served to shift investment in favor of food delivery, particularly cloud kitchens.
Even as the overall online food delivery space saw funding fall by 21% in 2019, the popularity of virtual kitchens only increased. They received nearly $520M in funding, up 12.5x compared to a year earlier.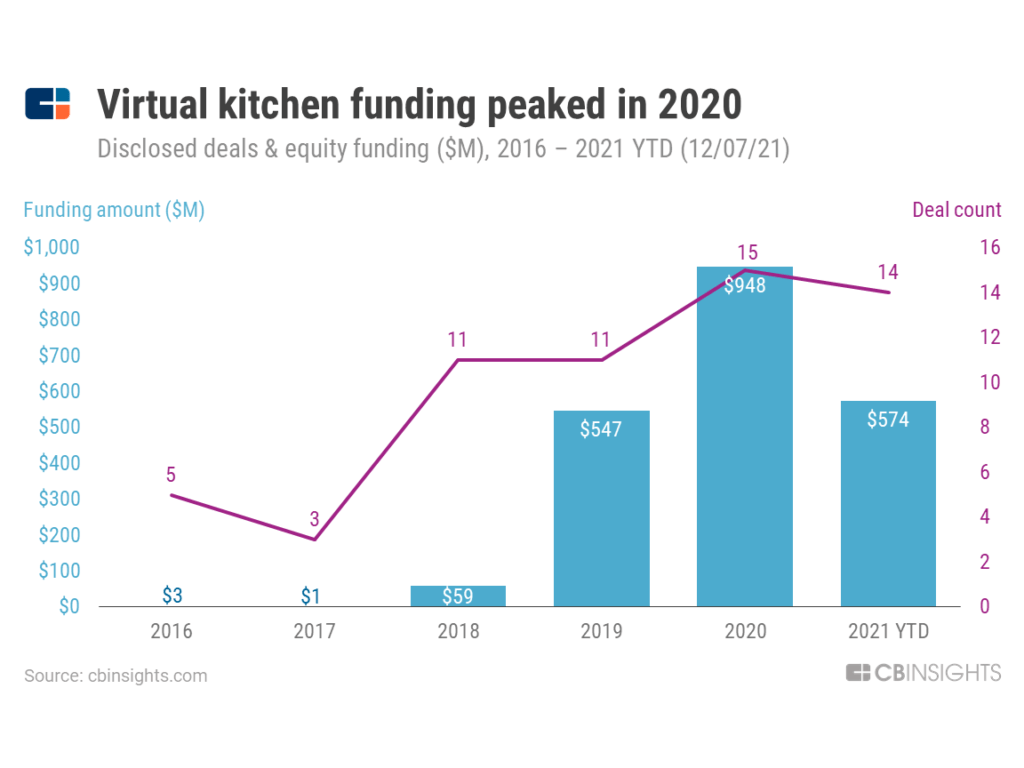 With Covid-19 forcing people to stay at home, demand for food delivery from these cloud kitchens has increased. Even as many restaurants have been unable to keep workers on payroll, cloud kitchens in the US are hiring staff to keep up with demand. C3, a ghost kitchen subsidiary of SBE Entertainment Group, announced plans in April 2020 to hire 1,000 workers to run nearly 138 of these virtual kitchens by the end of 2020.

Source: CNBC
While Travis Kalanick's CloudKitchens is the most well-funded startup in this space, with $400M in funding, companies such as Kitchen United and Panda Selected have also raised mid-stage deals.
Kitopi, a UAE-based delivery kitchen that sources, cooks, and delivers online orders on behalf of partner restaurants, raised a $60M Series B in February 2020 to fuel its US expansion. The company raised an additional $415M in a Series C round in July 2021.
Additionally, hotelier Accor and retail group Simon Property partnered with SBE Entertainment as well as Kalanick's CloudKitchens to open more than 100 virtual kitchens in the US by 2021.
Like Uber Eats, other ride-hailing companies are getting into the space. Singapore-based Grab has opened a number of GrabKitchens, while rival Gojek has partnered with Indian food-service giant Rebel Foods to open 100 cloud kitchens in Indonesia by the end of 2021.
As we continue wading through the economic downturn brought on by Covid-19, restaurants and food service providers are likely to keep costs minimal to ensure healthy operations. This is where cloud kitchens will come in, picking up increased demand from customers as well as servicing restaurants that want to keep overheads low.
Mobility
SHARED MICROMOBILITY AND D2C BIKES & SCOOTERS BOUNCE BACK AFTER INITIAL DISRUPTION
Lockdowns and social distancing orders initially reduced the demand for shared transportation. D2C scooter and bike rental companies like Lime and Bird laid off employees to cut expenses.
Yet, opportunity arose from adversity. Micromobility solutions took on new significance as they offered a socially distanced form of transportation, allowing urban dwellers to avoid crowded public transportation without the need for a personal car or shared ride services such as Uber or Lyft.
Once it became evident that lockdowns would create severe disruptions to everyday life in urban areas, a number of major cities, including Paris, Milan, Brussels, New York, Washington, D.C., Minneapolis, Oakland, Seattle, and others, closed down streets to cars. Montreal even went so far as to create 320 kilometers of pedestrian and bicycling pathways.
Demand for D2C scooter and bike rentals quickly bounced back as restrictions eased and cities reopened in the second half of 2020.
And the micromobility movement appears to be poised to resume the promising growth it enjoyed pre-pandemic.
McKinsey predicts a 5-10% increase in passenger-kilometers traveled on bikes and scooters by 2030. Bottom line: Shared micromobility is poised for growth after a period of pandemic-related uncertainty.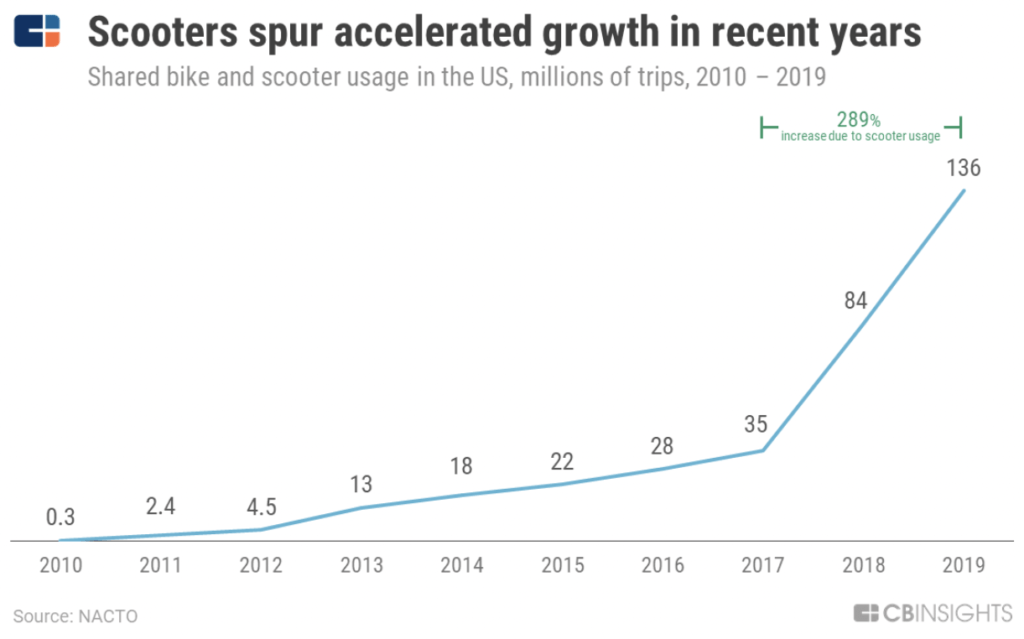 Diversification in the post-pandemic era
The Covid-19 pandemic compelled micromobility startups like Bird and Lime to expand beyond scooter sharing to incorporate a variety of personal vehicles in a bid to appeal to new customers and diversify revenue streams. These and other businesses now offer scooters as well as e-bikes, mopeds, pedal-less e-bikes, and other options.
While a return to the rapid growth of the pre-pandemic era is not necessarily in the cards, scooter and bike rental companies are making moves designed to adjust to increased licensing and insurance restrictions. Larger transport tech companies like Superpedestrian are acquiring smaller ride-sharing startups, like Boston-based Zagster, in an effort to consolidate and reduce costs — even as they open new markets for themselves.
Bird made one of the biggest post-pandemic leaps by merging with SPAC Switchback and going public. The move coincided with a shakeup to Bird's business model. Rather than managing scooter rentals from the centralized Bird HQ, Bird's local partner network now handles scooter distribution.
Meanwhile, the micromobility industry could be in for a further period of consolidation and mergers — including creative ways to leverage commuters heading back to offices after a year-plus of working at home during lockdowns. In January 2021, Lime entered an agreement with Edenred Benefits that will provide subsidies for scooter and bike trips to offices or shared work hubs for the Edenred network's 10M employees.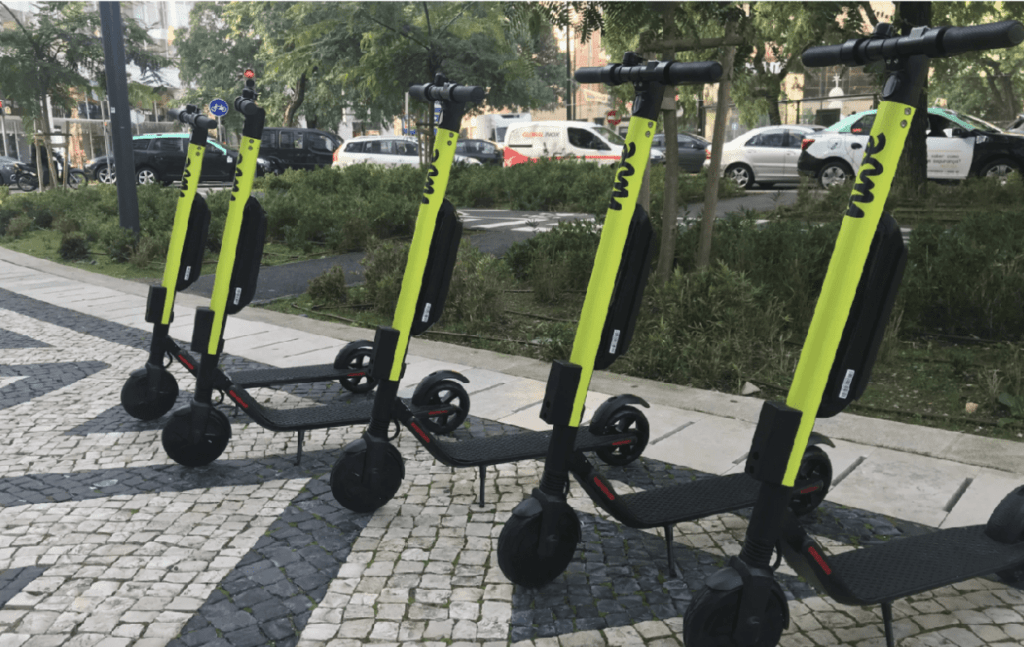 Source: Free Now
A move toward ownership of e-bikes
Many riders who were concerned with the risk of spreading infection switched to owning electric bikes and scooters instead of using shared mobility programs. Electric bike purchases in the United States increased 145% from 2019 to 2020, according to market research firm NPD Group and Cycling Industry News.
The New York Times reported in November 2021 that the trend toward purchasing motorized bikes is on the rise and rivals the push toward electric cars. About twice as many e-bikes (around 600,000) were purchased in 2020 as electric cars, and the numbers are expected to rise in the next few years.
Even before the pandemic, sales of e-bikes were expected to outpace sales of electric cars in the next decade. This includes shared bikes and owned e-bikes. One other telling statistic from Deloitte: A survey revealed that 28% of e-bike purchasers bought them as a replacement for a car, not as an upgrade on a pedal bike.
Ultimately, companies that have the resources and means to combine e-bike manufacturing and sales with e-bike rentals will position themselves to take advantage of both growth areas. For example, folding bicycle manufacturer Brompton operates several dozen rental locations throughout the United Kingdom, in addition to selling their traditional and electric bikes directly to consumers.
Another e-bike startup, Australia-based Zoomo, raised $30M in Series B funding in 2021. Zoomo's model primarily focuses on gig economy riders who deliver food and other products, but private consumers also can rent the bikes at locations in Australia, the UK, France and the US. Zoomo also offers a subscription service that provides a charger and other amenities.
It's not just for cities, either. In rural Deadwood, SD, e-bike provider Gold Rush launched in July 2021.
Life after Covid: Continuation or backlash?
While we anticipate the many trends we've highlighted will see continued strength as social distancing measures are relaxed, there is always the possibility of a stark shift in consumer preferences and a backlash against the norms that have been forced upon us amid quarantine.
For example, many employees are already bristling at the challenges of remote work and education, particularly when paired together in homes with working parents and young children.
Several industries could see a resurgence if public sentiment skews in the opposite direction:
Location-based events, such as concerts, conferences, and talks.
Restaurants (although they will need a substantial infusion of capital to recover losses).
Brick-and-mortar experiences, such as wine-and-paint shops, dancing, etc.
Even as some partial reopenings go into effect, "normal" daily life is still far off for many. It remains to be seen which new ways of working and living consumers wholeheartedly adapt to, and which ultimately become a vestige of the pandemic.
If you aren't already a client, sign up for a free trial to learn more about our platform.