Food delivery, work from home, air travel, healthcare — discover how autonomous vehicles will impact these areas and 29 others.
Once upon a time, industry experts predicted that driverless or autonomous vehicles (AVs) would be everywhere by 2021. While these vehicles have yet to become a common feature on the road, it's likely that the tech will go mainstream at some point over the next 2 decades, and preparations to face this shift have already begun. 
Already, 40+ major corporates including Google, Apple, and Mercedes Benz are hard at work building self-driving vehicles. Clearly, tech and auto companies stand to gain, but many other industries could face serious upheavals unless they are able to adapt to the many changes self-driving cars will bring to the market.
In this report, we dive into 33 industries, from the obvious (professional driving & trucking) to the more surprising (fitness?), that will be shaken up by the advent of AVs.
---
COWORKING SPACES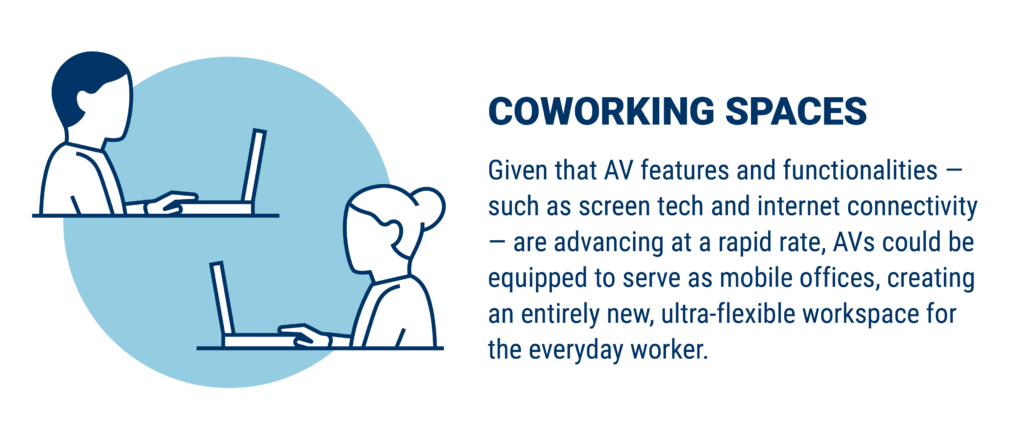 Work from home — chances are you've heard of it. While there was discussion around distributed workforces in the pre-Covid era, the practice was largely viewed as experimental, with few organizations embracing it. Pandemic-related lockdown restrictions accelerated this trend, making it a reality by necessity, forcing many to reimagine how and where work should take place.
People tend to use coworking spaces when they don't have a central office and their home space is not conducive to their work needs. So while time saved driving could be used for a number of tasks, it has the potential to be used productively by workers who want to leave home but also want to avoid a trip to an office space with other people and distractions aplenty. Given that AV features and functionalities — such as screen tech and internet connectivity — are advancing at a rapid rate, they could be equipped to serve as mobile offices, creating an entirely new, ultra-flexible workspace for the everyday worker.
---
HOTELS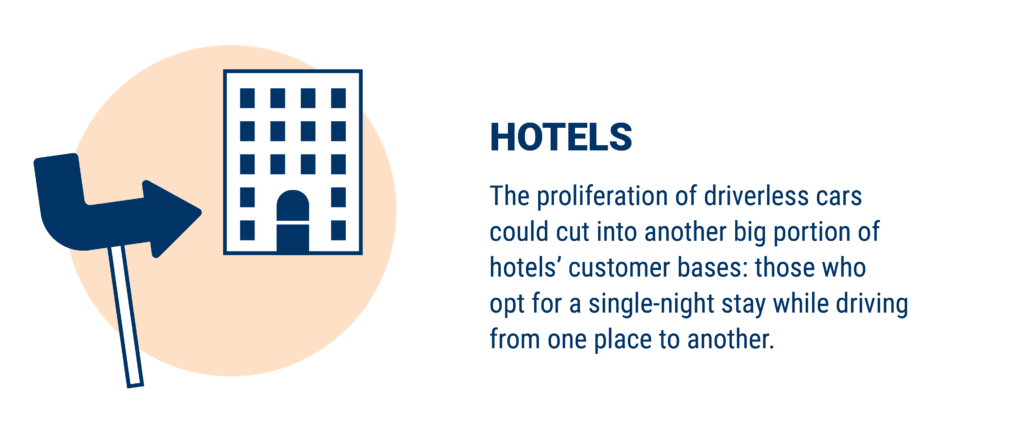 The hotel industry could look very different in the future. Major hotel chains, like Marriott, have already introduced home-sharing platforms in an attempt to adapt to the rise of lodging alternatives like Airbnb. The proliferation of driverless cars could cut into another big portion of hotels' customer bases: those who opt for a single-night stay while driving from one place to another. 
In fact, Aprilli Design Studio has already developed a conceptual design for a self-driving mobile hotel that could accommodate up to 5 guests. The studio's founder, Steve Lee, states that this crossover of artificial intelligence and big data with driverless vehicles has the potential to reshape the hospitality industry. Aprilli hopes to release these cars before 2030.
---
AIRLINES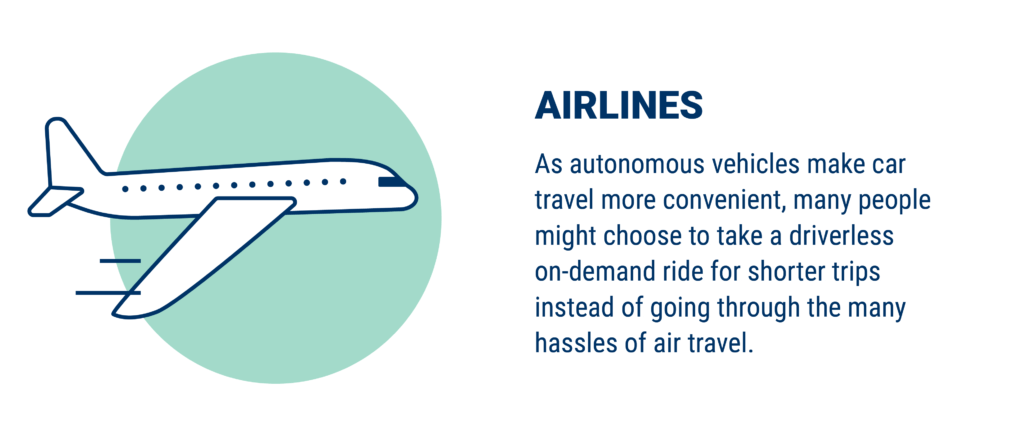 Cross-continental car trips don't appear to be on the horizon anytime soon, but domestic and short-haul flights could face a significant threat from self-driving cars — especially as post-Covid flight aversion lingers. In fact, it will take until at least 2023 for air travel to return to pre-pandemic levels, according to McKinsey. 
Once autonomous vehicles make car travel more convenient, many people might choose to take an on-demand car ride for shorter trips instead of going through the many hassles of air travel. A study in the International Journal of Aviation, Aeronautics, and Aerospace found that travelers were most likely to replace flying with autonomous driving for mid-range driving trips (7 to 11 hours). In these cases, the number of those who chose flying declined by nearly 30% when given the option of an AV.
---
Download the full report to see how AVs will transform 30 other industries — from healthcare to fast food to military operations.
If you aren't already a client, sign up for a free trial to learn more about our platform.