The H1'20 advanced manufacturing report provides a data-driven look at global industrial technology investment trends, top deals, active investors, and corporate activity.
Using the data and features of our emerging tech insights platform, our report features updates on VC funding, M&A deals, partnership activity, and emerging trends and technologies in the advanced manufacturing space. It also covers trends within specific areas of industrial manufacturing, including robotics, predictive analytics, 3D printing, and more.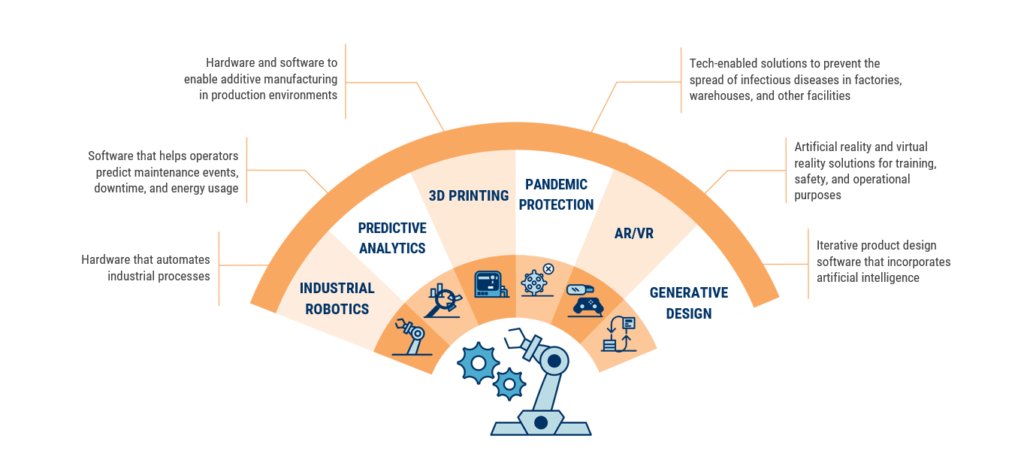 Report Highlights:
VC-backed deal activity to the global advanced manufacturing space fell for the fourth consecutive quarter in Q2'20 to 80 deals, reflecting a gradual decline from a high of 176 in Q1'17.

Funding levels bounced back in Q2'20 to $1.1B, after falling sharply in Q1'20 to $858M amid the Covid-19 crisis.

The advanced manufacturing space saw 21 VC-backed exits in H1'20, with IIoT infrastructure and security deals driving much of this M&A activity.

Industrial robotics investment was steady for the first half of 2020, with companies raising $114M in Q1'20 and $116M in Q2'20. 

Investment in factory-focused pandemic protection technologies, like automated disinfectant and air purification systems, shot up in H1'20. Companies in the space closed 17 deals in Q2'20, compared to 4 in Q2'19.