This report analyzes emerging trends across in-store retail using the CB Insights NExTT framework.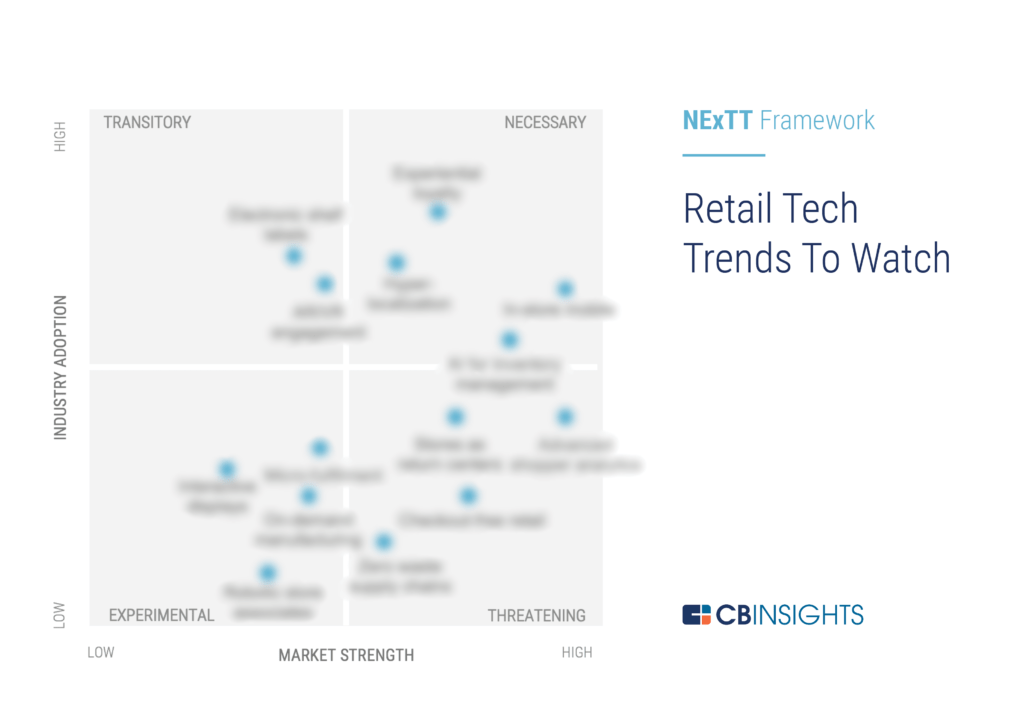 CB Insights analyzed 14 emerging trends across in-store retail, ranging from automated micro-fulfillment centers to hyper-localization.
As temporary shutdowns and focus on Covid-19 preventative measures intensify, retailers will need to find new ways to operate as efficiently and safely as possible
Using the NExTT framework, we looked at the industry adoption and market strength of these in-store retail trends, categorizing them as necessary, experimental, transitory, or threatening (NExTT). The framework educates businesses about emerging trends.
Report highlights include:
How different forms of artificial intelligence are helping retailers manage in-store inventory, from computer vision to software analytics

Examining the rise of micro-fulfillment startups, their relevance during the coronavirus pandemic, and how this emerging solution is automating fulfillment and bringing it in-store

How retailers are evolving their loyalty programs to offer increasingly experiential rewards

How brick-and-mortar retailers are leveraging advanced store analytics to track shoppers despite increasing government regulation
Download the report to see how all 14 trends will shape the industry in 2020.