In the era of online hangouts, Discord has evolved beyond its gaming world origins to become the go-to communication platform for a diverse array of online communities. As the platform grows, it remains loyal to its unconventional, ad-free business model.
Online chat platform Discord was initially built to give gamers a home online. But since launching in 2015, it has become so much more. 
Millions of people from gaming and non-gaming communities alike use Discord to connect, socialize, and work. As users flocked to online communities during the Covid-19 pandemic, Discord saw usage soar — reaching around 19M weekly active servers and 150M monthly active users (MAUs) as of July 2021, an impressive rise from 56M MAUs in 2019. (For reference, chat platform Slack has an estimated 32M MAUs.)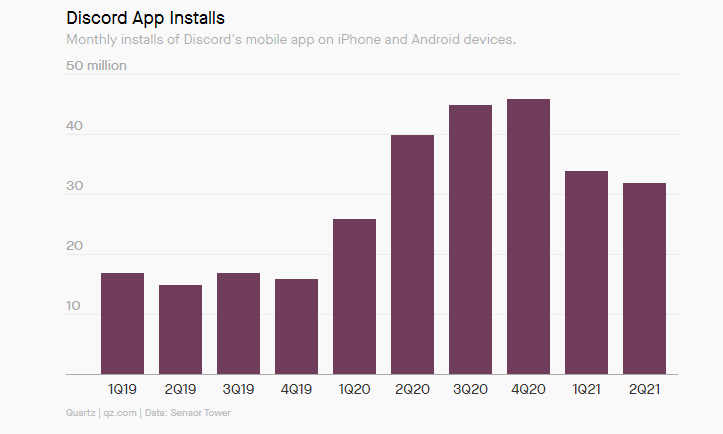 Source: Quartz
Discord users rely on this platform to organize study groups, run meetings, watch movies together, plan community events, and more. And this diversity of communities happened by design, beginning with rebranding efforts in recent years that have taken the app beyond its initial focus on gamers. 
This user growth has helped drive Discord's growing revenue, with the platform bringing in $130M in revenue in 2020 — nearly triple the $45M it made the year prior.
Notably, this revenue does not come from ads. Instead, the platform makes money through sources like premium subscriptions and game distribution. This makes Discord somewhat of an outlier, as other big social apps — such as Facebook, Instagram, or WeChat — rely heavily on ads. 
According to Discord CTO and co-founder Stanislav Vishnevskiy, "We have intentionally pursued a business model that does not rely on monetizing our users' data." To this end, Vishnevskiy and the rest of the executive team are sure enough of the company's ability to grow revenue that they turned down a $12B acquisition offer from Microsoft. But the question remains whether Discord's ad-free model will be able to support further growth and eventual profitability. 
Below, we dive into Discord's untraditional strategy for making money as it grows. We also examine various challenges the company faces, as well as what the future holds.
Table of contents 
How Discord works
Discord, launched in 2015, is a text, voice, and video chat platform. Initially built to help gamers chat and and livestream, the platform has been embraced by many kinds of communities over time.
Users can access Discord using a browser or by installing its desktop or mobile (Android and iOS) app. The desktop version offers more features, such as a screen overlay while playing games.

Main view of Discord app for new users. Source: Discord
Discord communities are called servers. Each server contains various text and voice channels where users can chat and share content, with each channel having its own specific focus and rules. Channels allow moderators to manage big communities, moving members into smaller groups instead of having everyone post in one giant thread. 
Most Discord servers are private and invite-only, and starting or joining a server is free. 
Discord communities come in all sizes and shapes. Location-based communities are one common theme. The San Francisco Bay Area server, for example, counts over 3,700 members living around the Bay Area. Moderators of this server host various activities from game nights to movie streaming using the Go Live feature.
Another popular group is the Fantasy Football Chat server, with nearly 10,000 members. Its moderators have developed specific bots to boost user experience — for instance, bots recognize when server members mention specific players, and will pull up the player's most recent stats or NFL contract details.
Discord also hosts some massive communities. The PUBG MOBILE server, which brings together players of popular online multiplayer game PUBG, counts more than 546,000 members. The server for the Minecraft video game is even larger, with almost 800,000 players.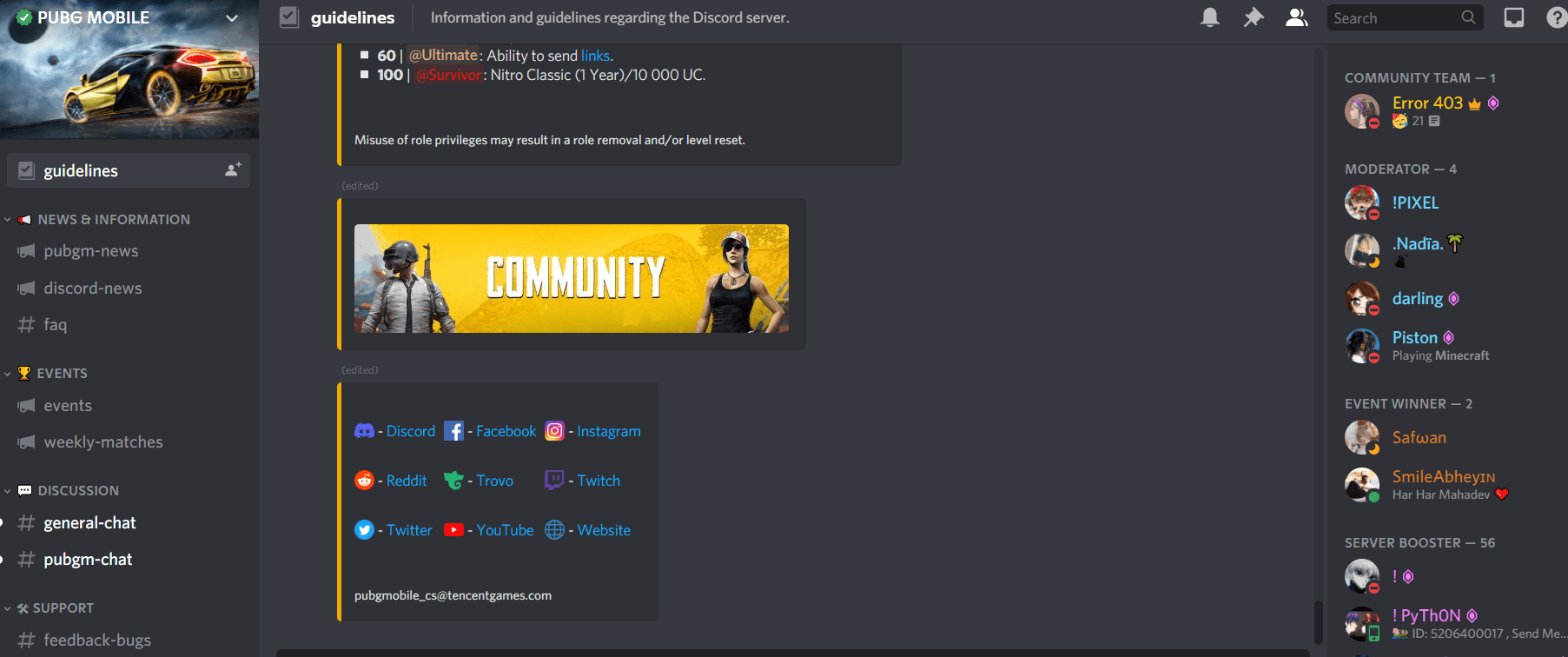 PUBG MOBILE server on Discord. Source: Discord
Discord integrates with various other apps — for example, users can connect their profiles to YouTube or Twitch accounts and bring their followers to dedicated Discord servers. Server members can also connect to Spotify to share music.
Discord can also integrate with some gaming consoles: Xbox One players can use Discord to see which games their friends are playing, while Sony is working on an integration with Discord after making a minority investment in the platform.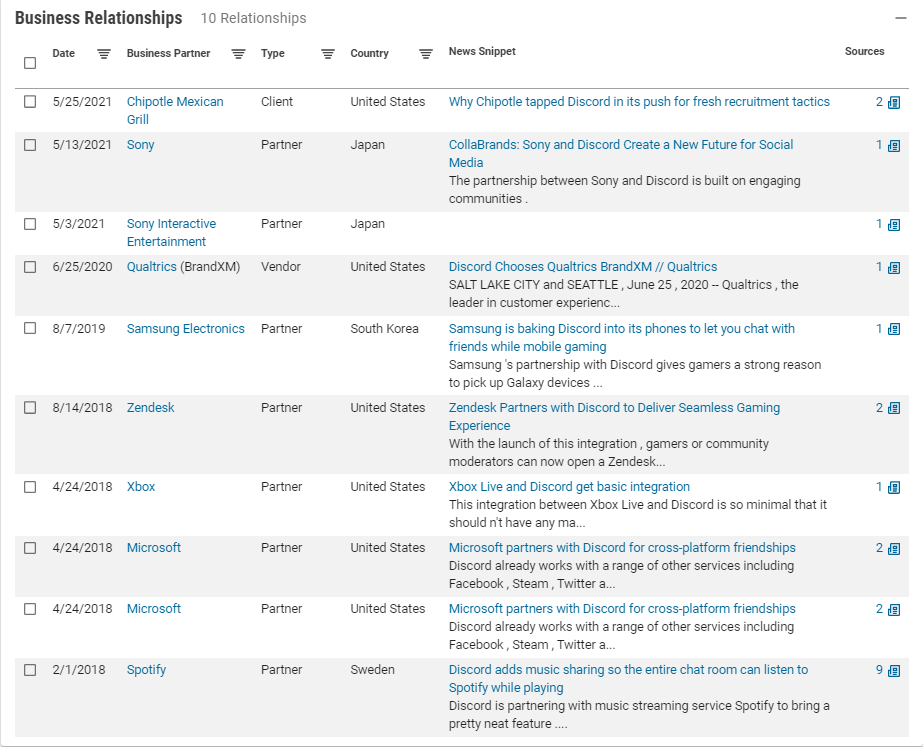 Discord integrates and partners with a number of other platforms, devices, and companies. Source: CB Insights
How Discord makes money
Discord generated $130M in revenue in 2020, up from $45M a year before. But notably, the company isn't selling ads, and it doesn't plan to. 
For some, Discord's no-ads policy makes sense. Mark Shmulik, a senior analyst at asset management company AB Bernstein, says that Discord would struggle to monetize through ads, as it would be running against "the big incumbents in Google, Facebook and the other social platforms for ad dollars, [which is] no easy task." 
Instead, Discord's 2020 revenue primarily came from its premium subscription package, Nitro, as well as a mix of various non-ad revenue sources, such as server boosting (offering premium perks for server members) and game distribution fees. 
This strategy is not without downsides. Doug Clinton, managing partner at venture firm Loup Ventures, points out, "It's risky to rely on keeping consumers paying over long periods of time, but beautiful if it works." Will premium users consistently like the platform enough to keep paying for it? Will alternative platforms come along and attract Discord users? 
It remains to be seen whether its non-ad revenue streams can provide enough money for Discord to keep growing and eventually turn a profit. Below, we dig into each one of these revenue drivers.
Subscription packages & server boosting 
Discord's premium subscription package, Nitro, is available at $9.99 per month or $99.99 per year. With Nitro, users get various perks, including:
custom and animated emojis

a custom tag and an animated avatar

two server Boosts and 30% off when buying extra Boosts

a special badge to show how long users have been supporting Discord

upload size of 100 MB per file

high-resolution screenshare and Go Live streaming
Nitro Classic is a cheaper subscription package. For $4.99 per month or $49.99 per year, users get all the Nitro perks except a server Boost.
Discord does not reveal how many paying users it has, but some estimates put that figure above 1M. 
Users can also pay $4.99 per month to boost a server of their choice and provide server members with various perks, such as higher upload limits and better audio quality. There are 3 boosting levels, with each providing specific perks to all server members.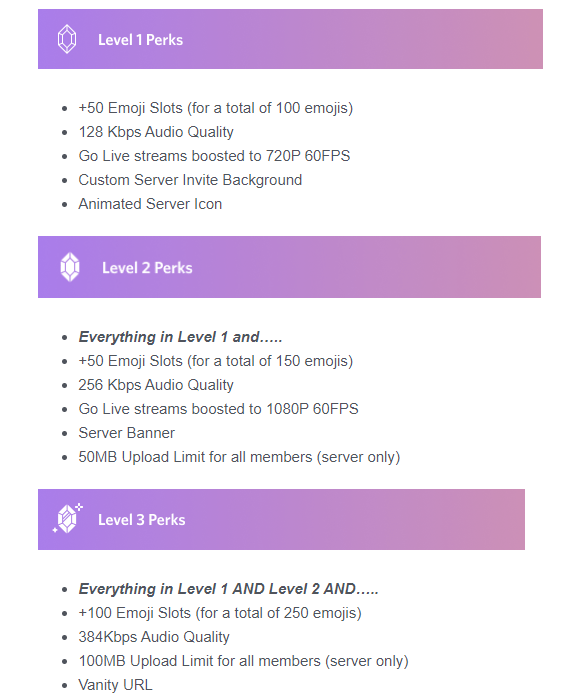 Three levels of Discord server boosting. Source: Discord
Distribution fees from game stores
Discord takes a 10% cut of titles that game developers sell through verified servers. The company pivoted to this business model in 2019 after it failed to get its Steam-like digital game store off the ground.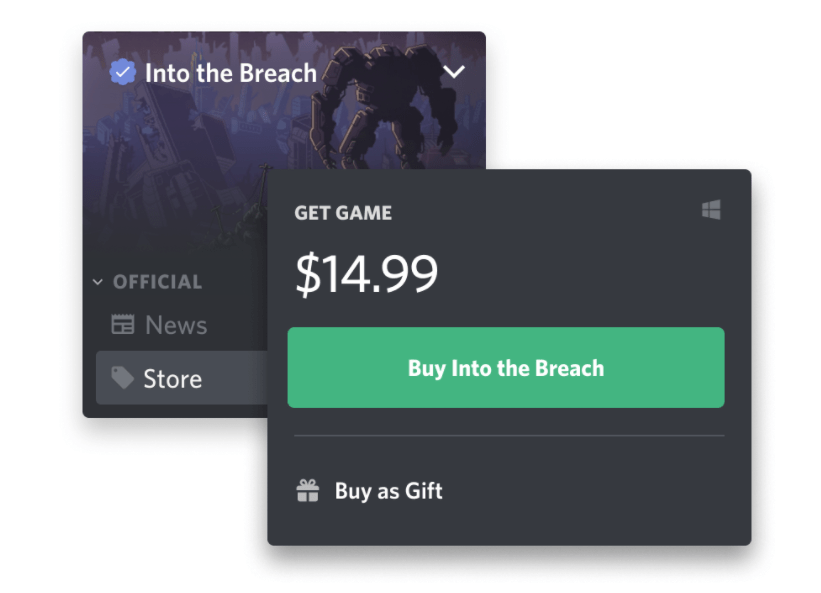 Fans can buy games on developers' Discord stores. Source: Discord
After discontinuing its store and Nitro Games catalog, the company opted to focus on developers' servers instead. In addition to creating store channels, developers can get access to analytics that show them where sales come from. 
Game studios also use Discord servers to engage with their fans and publish announcements. US video game company Bethesda, for instance, has closed its own forums and moved conversations with gamers to several Discord servers. Japanese game developer SNK also runs its own Discord server. Smaller indie game studios, such as Valko and Rocketeer, use Discord to talk with their fans as well. 
Tickets for virtual events
Discord is testing a new feature that will allow users to sell tickets for virtual events. The company has yet to decide how big its cut of the fees will be and is testing the ticketing feature with a small group of beta users.
The option is being developed in parallel with other product features. In March 2021, Discord launched a Clubhouse-like feature called Stage Channels, which lets specific users speak to a group of virtual listeners. The new feature is available both in-app and online. 
The company reports that Stage Channels have been used to "run AMAs, Fireside Chats, Townhalls, Reading Groups, and more." Stages could initially hold 1,000 audience members in a virtual room, but that limit was increased to 10,000 in June 2021.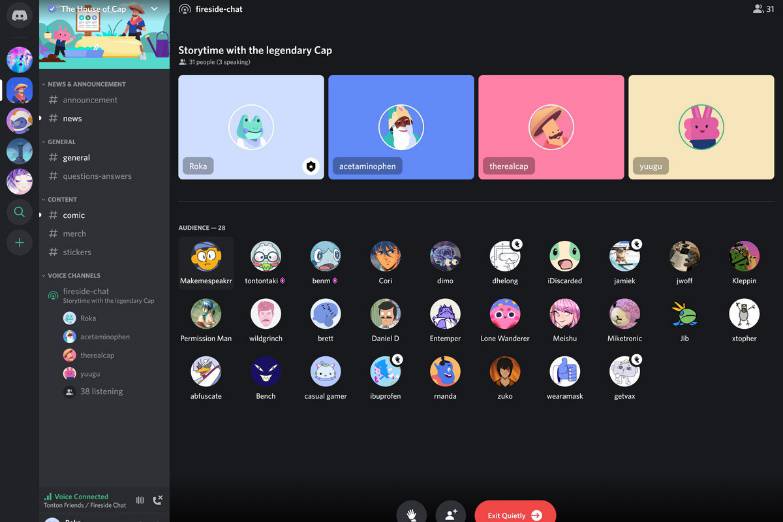 A Discord Stage Channel desktop interface. Source: Discord via The Verge
Discord is also rolling out a Stage Discovery feature that helps people discover audio events, purchase tickets to join as listeners, and share them with friends.
This model helps support creators, who may be able to more efficiently monetize their community instead of using third-party services, such as Patreon.
The Stage Channels feature is also a way for Discord to compete with social audio platforms like Clubhouse or Twitter Spaces. Twitter now offers users with 600 or more followers the ability to host live audio conversations and is developing additional features, including ticketed Spaces. LinkedIn, Slack, and Spotify are also developing live audio features.
All of these developments further reinforce the value Discord offers to creators. Facebook and Twitter may be great for building a following and distributing content, but interactions with fans often end once the content is consumed. 
Discord offers a unique advantage to creators as a place "where creators mold that following into a community," writes Derek Yang, product lead at Discord. Creators can use Discord to let their followers talk to each other on a daily basis, have fun, and create social bonds. There's also less pressure on creators to constantly produce new content and engage with fans to stay relevant. Fans can enjoy servers with uniquely tailored banners, emojis, and more.
Stickers & Discord merchandise 
In October 2020, Discord rolled out animated stickers that cost between $1.50 and $2.25. Nitro and Classic subscribers get free and permanent access to the "What's Up Wumpus" sticker pack and can use the "Wumpus Nitro Elite" pack as long as they have an active subscription. Paid members also get a 33% discount on all sticker purchases.
"What's Up Wumpus" sticker pack. Source: Android Police
The sticker rollout is currently limited to Canadian users on PCs and Apple devices. Discord will use initial feedback to further refine stickers before launching them to other countries.
Finally, while Discord used to run its own merchandise store, selling branded T-shirts, hoodies, caps, socks, and other items, the company took its merch store offline in January 2020. 
Discord's cost centers
Discord is a rapidly scaling company with multiple cost centers, including technology infrastructure, hiring, content moderation, and marketing. While there aren't exact figures on how much money the company spends across these categories, Discord reported $130M in revenue in 2020, but has yet to turn a profit.
Data centers, cloud tools, and other parts of technology infrastructure are typically some of the largest expenses for companies with growing traffic and network complexity. Facebook, for instance, used to spend $1 per monthly active user in 2012, when it had about 1B users. Discord has a rapidly growing user base of 150M users.
Building new features also creates infrastructure challenges the company has to solve, in turn driving up costs. According to Discord CEO and co-founder Jason Citron,
"There were 1.4 trillion minutes of people having conversation [in 2020] and 656 billion messages sent in chat. So the scale that we're operating at from starting with audio and text in 2015 to now is just massive."
Discord also has to hire more people to solve engineering challenges, build new products, and moderate communities. The company has 350 employees as of May 2021, with 15% of them working on trust and safety teams.
The company is investing in a number of content moderation efforts. For example, Discord has a team of machine learning experts that build algorithms for detecting suspected child predators and other types of harmful activity. Suspected predators and members of their groups are then banned from the platform and suspected servers are deleted.
Discord also purchased Sentropy, a software company that built an AI system for tracking and cleansing online platforms of harassment and abuse, in July 2021. This acquisition will provide Discord's content moderation team with another tool for keeping bad actors off the platform.
Server moderators can also deploy AI-powered moderation bots, powered by the Perspective API. This Google tool analyzes user messages on a server and detects toxic, insulting, and spammy content. Users with too many unwanted messages can be kicked off the channel. 
Finally, although Discord has mostly been growing through word of mouth, the company has started to invest in marketing initiatives. For example, Discord has funded promotional campaigns geared toward college students.
Risks: Content moderation & privacy concerns
Discord is not immune to problematic content, an issue widespread across social platforms. User anonymity and invite-only servers make it easy for bad actors to go undetected. For example, the 2017 attacks in Charlottesville, Virginia were discussed and planned on Discord before the event. Only after the attacks happened did Discord shut down several servers associated with Nazi ideology.
Removing bad actors from Discord will become ever more important as more users flock to the platform. Adam Pletter, a child psychologist, says that a fifth of his gamer patients have been harassed on Discord. He explains, "I have several patients who take the attacks on Discord very personally because they often go to school with the same kids. They may struggle socially at school during the day and the same kids are even meaner on Discord."
Discord must walk a fine line between moderation and privacy. The company doesn't scan general users' messages, and safety team members won't "go into a private server unless something is reported to us. We believe deeply that privacy is a right and something we should support as a company," says Eros Resmini, former marketing chief at Discord. However, the company will investigate users who break the rules: Discord doesn't have end-to-end encryption, which means that the safety team can look into user messages.
The chat platform also relies on volunteer server moderators, who can vet and kick users off of servers, enforcing community guidelines. The company offers a Discord Moderator Academy, providing moderators with educational resources and best practices on community moderation.
Discord also publishes transparency reports to highlight its moderation efforts. Per its H2'20 report, the company's trust and safety team received 355,633 user reports during that period. The team handled these reports in various ways, including:
Deleting 266,075 non-spam accounts

Removing 27,410 servers

Warning 28,170 users and 3,999 servers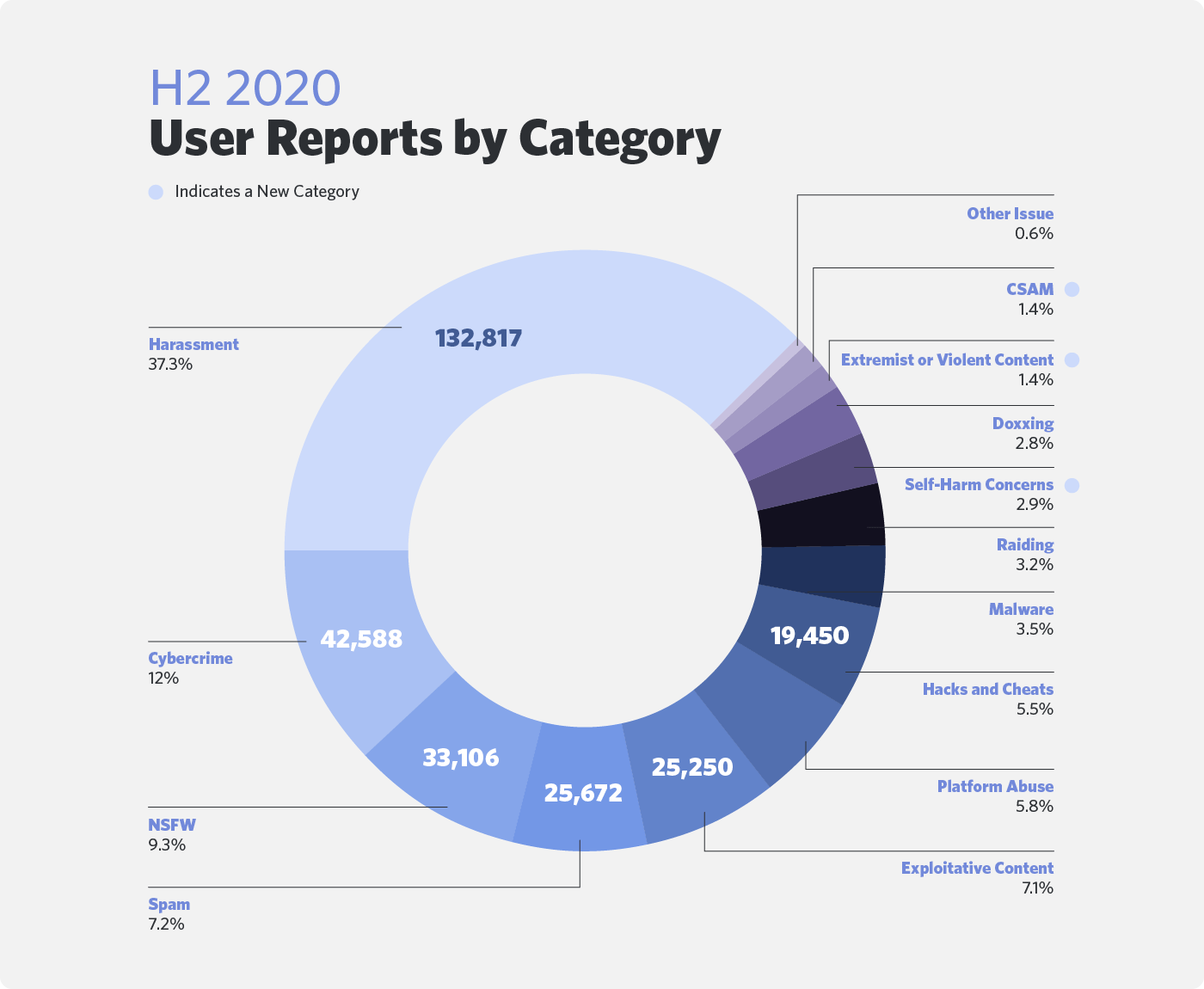 Discord users complain about various types of harmful and illegal content. Source: Discord
Discord's competitors
Discord's many offerings — which span chat, video, audio, and more — make defining its competition challenging. The company competes indirectly with a range of other tools that offer similar features. 
Steam Chat
Steam Chat is a text and voice messaging service created by video game developer Valve and geared toward gamers. The service is an integrated part of the 18-year-old game distribution platform Steam, which boasts 120M monthly active users and generated $4.3B in 2017. Revenue has been rising since then, with game sales up 21% year-over-year (YoY) in 2020.
Valve revamped Steam Chat in 2018 in an attempt to better compete with Discord. And a year later, the company also launched Steam Chat iOS and Android apps. 
Steam Chat users can create groups and share unique URLs to invite friends to chat. Group administrators can give other members various permissions, including the ability to remove other members, set chat rules, and update group information. 
Steam Chat can be accessed through both app and web browser.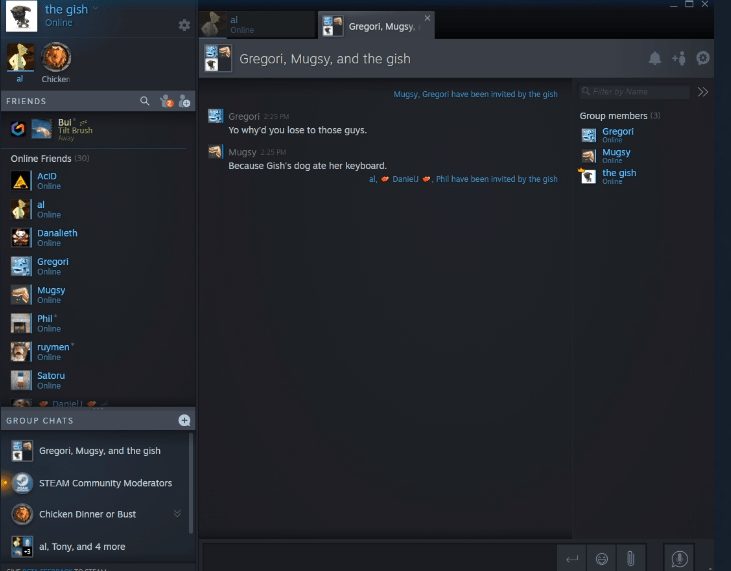 Steam Chat user interface. Source: Steam
TeamSpeak
TeamSpeak is a voice and text communication app that's been around since 2001. Gamers were using it for in-game communication even before Discord rose to popularity. In particular, it targets the e-sports space.
TeamSpeak lets users create and join servers for free. The app offers end-to-end AES encryption, but users must download the program on their device, as it can't be accessed via a web browser. TeamSpeak uses machine learning for background-noise cancellation on calls. Other audio improvements include advanced voice detection and pink noise filters.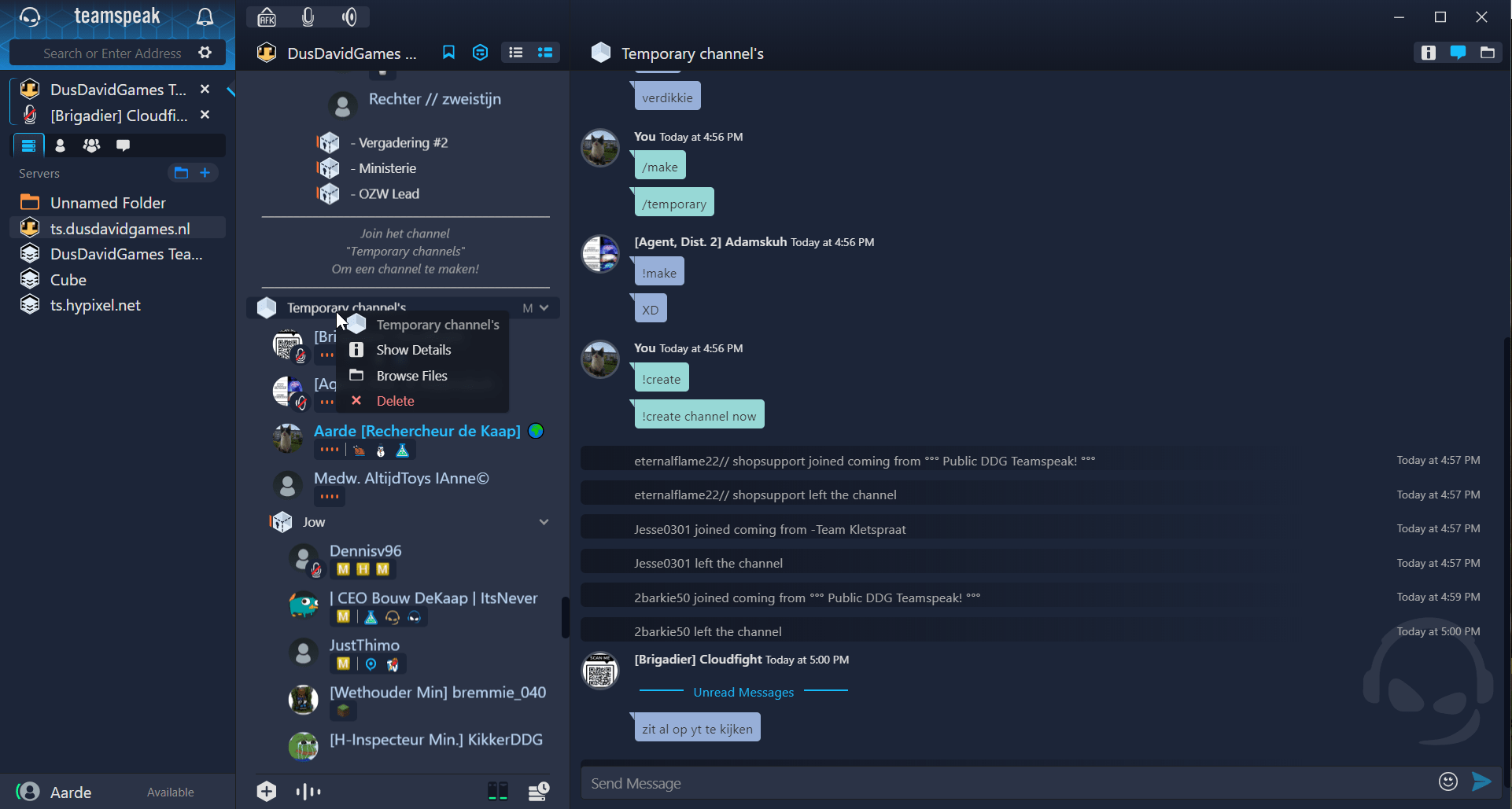 TeamSpeak user interface. Source: TeamSpeak Forum
Slack
Slack is a team messaging platform geared toward enterprise use. Launched in 2013, it comes with a clean interface that lacks the "gamer" feel found in platforms like Discord. It was acquired by Salesforce in July 2021.
The app integrates with over 800 third-party tools used by businesses of all sizes. Its file size limit for uploads is 1 GB, compared to 8 MB offered by Discord under the free plan and 50 MB under the Nitro subscription. As more and more companies flock to Slack, the app can replace email as a go-to form of communication.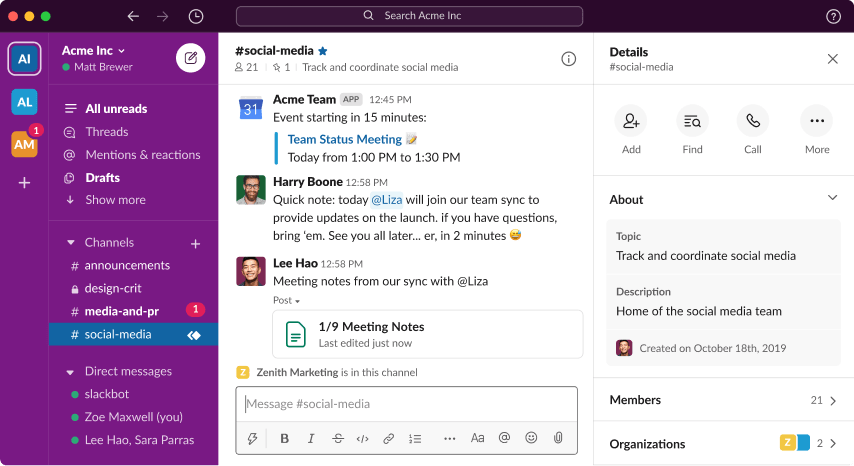 Slack user interface. Source: Slack
Slack has experienced rapid growth during the Covid-19 pandemic. In March 2020, for instance, the number of concurrent users rose from 10M to 12.5M in just 2 weeks. Total revenue in 2020 grew by 43% YoY to $902.6M. 
Telegram
Telegram is an instant messaging and video calling app launched in 2013. Often described as a WhatsApp rival, the free app offers a range of features, such as instant chatting, hosting private and public communities, various customizations, public channels, and more. Users can build group moderation bots, automate queries, and deploy scripts. Unlike Discord, Telegram offers end-to-end encryption of messages, making it an appealing option for users who prioritize privacy. 
Telegram boasts 550M active users as of March 2021. But the app has yet to generate revenue. The company raised $1.7B in 2017 by planning to launch a new cryptocurrency, only to return most of that money to investors after the SEC accused Telegram of illegally selling securities.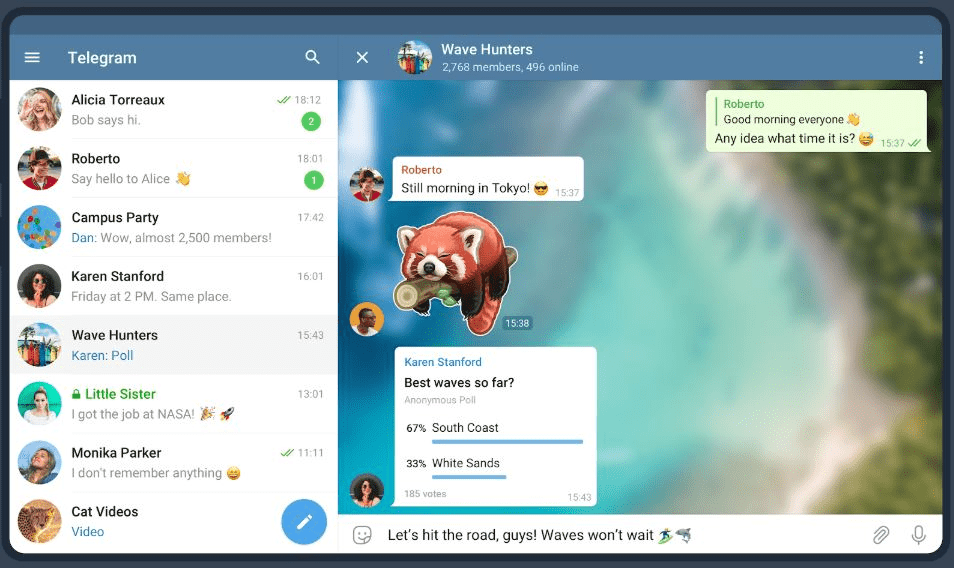 Telegram user interface. Source: Telegram via Mfcfeed
Going forward, CEO Pavel Durov has expressed a desire for Telegram to sell ads in public channels and offer premium services to companies and users. Like Discord, Telegram is also planning to sell premium stickers. Per Durov, "the artists who make stickers of this new type will also get a part of the profit. We want millions of Telegram-based creators and small businesses to thrive, enriching the experience of all our users."
Element
Element is a text, voice, and video chat app with a strong emphasis on end-to-end encryption and user privacy. It was initially launched in 2016 as Vector before being renamed Riot and eventually Element.
The app is built using the Matrix open-source communication protocol. The app thus allows users to easily communicate with other apps in the Matrix ecosystem and also to connect to other mainstream platforms, including Slack, Microsoft Teams, and Telegram. Users can share images, videos, messages, and files of various types in the groups they're part of. Element also offers group voice and video calls.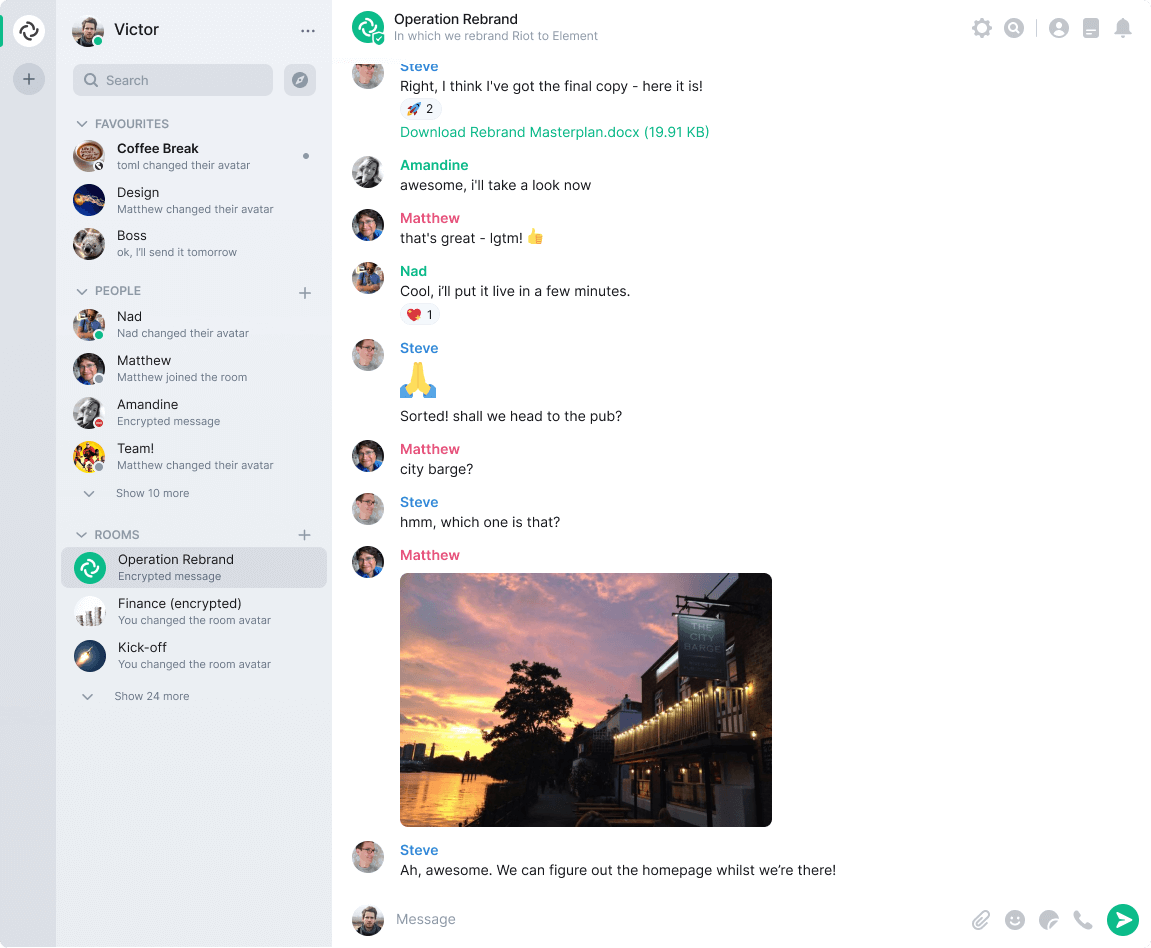 Element user interface. Source: Element
The app claims 28M+ users worldwide and is backed by investors such as Automattic, Notion Capital, Firstminute Capital, Dawn Capital, and Status. In July 2020, Element signed what was at the time the largest-ever deal for a collaborative software service. As part of this deal, the German states of Schleswig-Holstein and Hamburg will roll out Element to 500,000 users across various public offices and educational institutions.
Microsoft Teams
Microsoft Teams is a communication and collaboration platform launched in 2017 and geared toward professional use. Teams had around 32M daily active users at the beginning of the Covid-19 pandemic. By April 2021, that figure had soared to 145M daily active users. In July 2021, it reported nearly 250M MAUs.
Similar to Slack, Teams allows users to text, voice, and video chat with others, as well as share files and create dedicated channels. The file size limit for uploads is a massive 250 GB as of January 2021, up from 100 GB. Teams also integrates with various third-party apps, giving users even more features.
Microsoft doesn't reveal how much of its revenue comes from Teams. But according to estimates by the Cavell Group consultancy, Teams could bring in somewhere between $4B and $8B in revenue.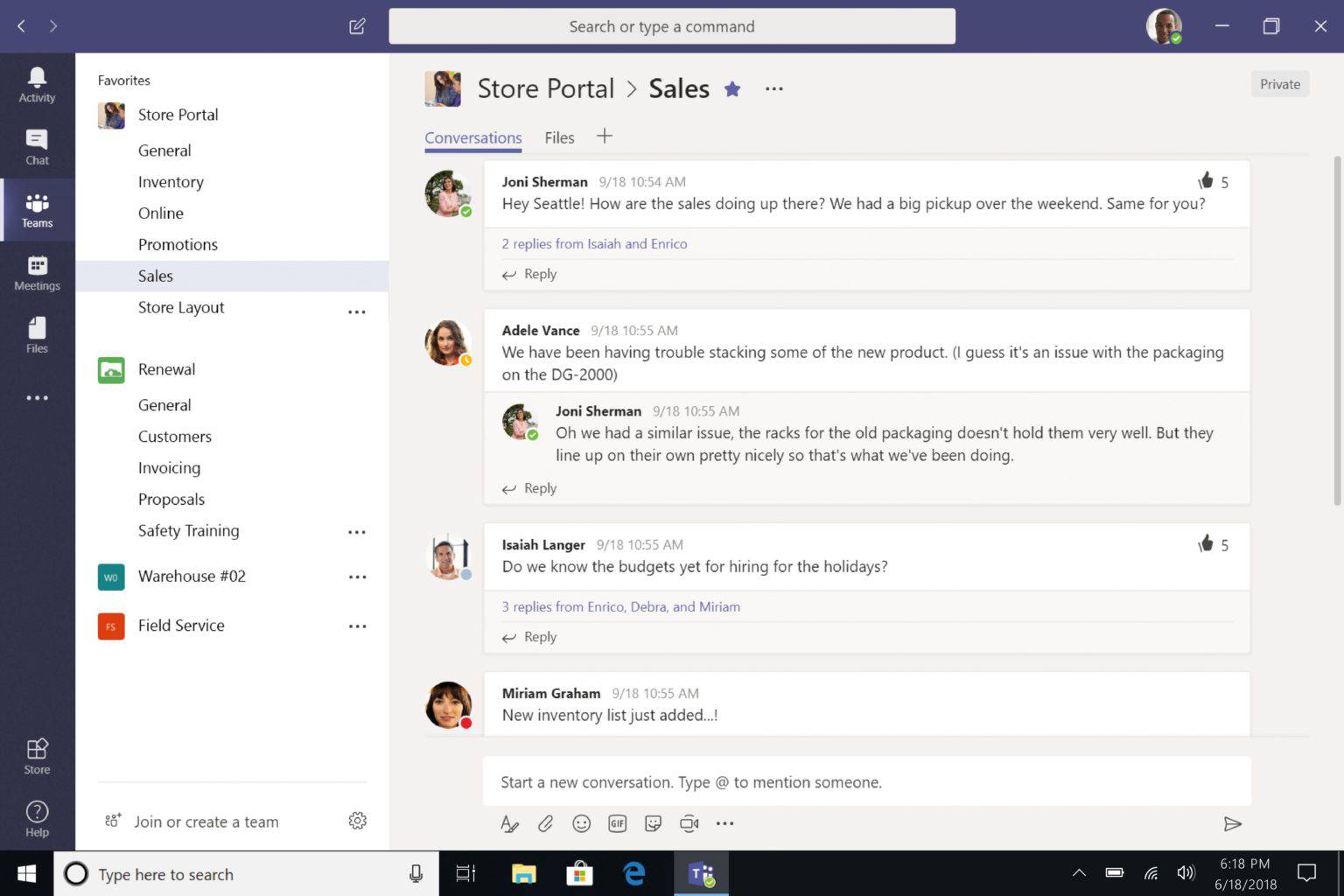 Microsoft Teams user interface. Source: Microsoft Teams
Clubhouse
Clubhouse is a social media app with an audio-based format that was launched in March 2020 on iOS as invite-only, although it has since opened up to all users. It wasn't available on Android until May 2021.
Users can enter various rooms and listen to and participate in group conversations hosted by moderators. Conversations cover a number of topics ranging from wellness to business to sports, and room discussions aren't recorded. Clubhouse boasts over 10M weekly active users as of May 2021. The app is also introducing monetization features, such as Clubhouse Payments, that let listeners pay creators directly on Clubhouse.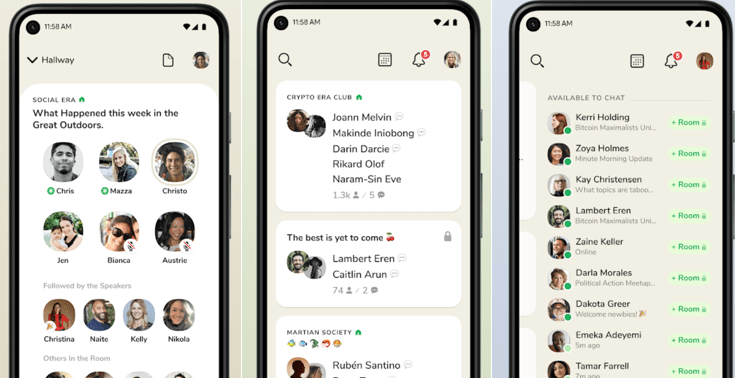 Clubhouse user interface. Source: Google Store
Clubhouse and the burgeoning social audio space have quickly drawn a number of competitors, including Discord's Stage Channels feature, launched in March 2021.
The future of Discord
Discord has big plans for the future. The Covid-19 pandemic pushed tens of millions of new users to the platform, allowing it to experiment with new revenue streams, grow non-gaming communities, and attract new investors. And the company is showing no signs of slowing down on any of these 3 fronts.
Opening new revenue streams
Running a 150M-user platform costs a lot of money. It's no surprise that Discord is building multiple revenue streams, from animated stickers to tickets for virtual events. But the platform's revenue potential may be much bigger than that, and we're likely to see Discord testing new sources of income in the future.
For example, many users are running paid servers for people interested in specific games or other hobbies. Payments are handled through PayPal and other payment services, with Discord not taking a cut, leaking potential revenue. Discord also integrates with Patreon, Twitch, and more without getting any revenue from these sources either. Going forward, Discord may be able to better leverage these partnerships to profit from payments and integrations made on its platform. 
Discord is also currently earning distribution fees from game stores. But with thousands of non-gaming communities thriving on the platform, Discord may consider letting non-gaming brands sell a variety of other products in its communities and taking a cut.
Growing non-gaming communities
Discord will continue expanding its presence beyond gaming communities. The company underwent a major redesign effort in 2020, removing gaming jargon from its homepage and changing its tagline to "Your place to talk and hang out." The platform is no longer just for gamers: it's also a home for artists, marketers, gardeners, and many other communities.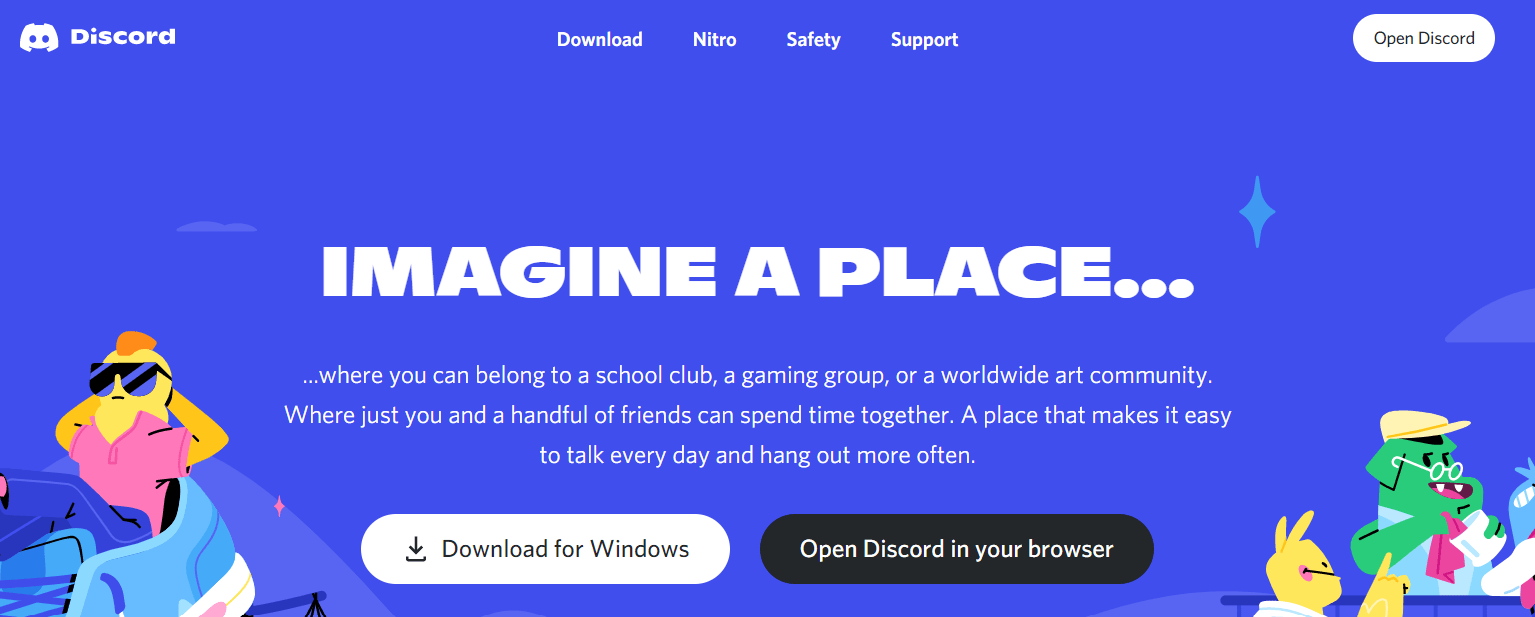 Discord's rebranded homepage. Source: Discord
What drove the company to rebrand was a survey it conducted in early 2020. When asked, "What's the biggest misconception about Discord?", the majority of surveyed users answered, "It's for gamers." People were having trouble growing non-gaming communities because the app's visual appearance and branding were primarily appealing to gamers.
Rebranding efforts were hugely successful. As of May 2021, nearly 80% of people now use Discord for non-gaming purposes, up from 30% in late 2019. The platform no longer depends on a single niche audience to thrive, but is serving a diverse user base. This makes Discord less vulnerable to competitors that appeal solely to gamers. The company is likely to continue expanding and attracting ever more diverse communities.
Considering a future exit
Discord's impressive growth has inevitably raised questions on whether the company will go public, get acquired by tech giants, or chart its own alternative path. Microsoft approached Discord in early 2021 to discuss a $12B acquisition offer. Discord previously held acquisition talks with Amazon and Epic Games as well. But all these talks failed, with the chat platform deciding to stay independent and potentially focus on an IPO.
Discord's first CFO, Tomasz Marcinkowski, hired in March 2021, was previously head of finance at Pinterest, an image-sharing company that went public in 2019 — making him well positioned to help Discord prepare for an IPO.
And the public market seems receptive to IPOs of companies with ties to the gaming industry. Game developers Roblox and Playtika, game hardware manufacturer Corsair, and game development platform Unity Software have all gone public since 2020.
Investors have poured $583M into Discord — and they may be angling for an exit as well.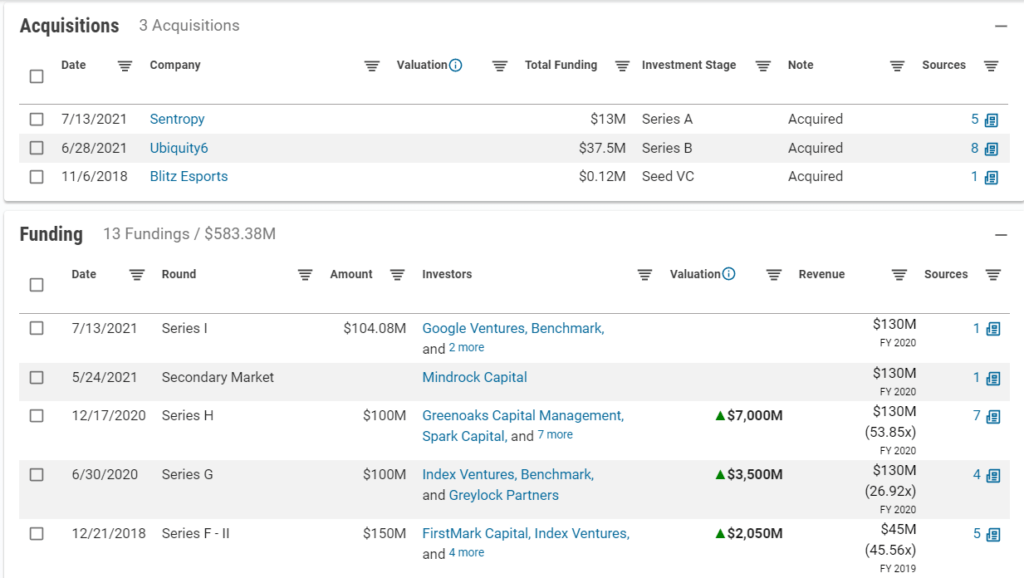 Discord has raised $583M from a wide group of investors. Source: CB Insights
Its challenges notwithstanding, the future of Discord may hold good things for the company. The platform successfully pivoted from a niche audience to a mainstream one, and has grown rapidly in the era of expanding online communities. Discord is also focused on growing revenues while ensuring it remains ad-free — a major attraction for millions of its loyal members. 
If you aren't already a client, sign up for a free trial to learn more about our platform.