Our healthcare report gives a data-driven look at global healthcare technology investment trends, top deals, active investors, and corporate activity.
The State of Healthcare: Investment & Sector Trends to Watch features updates on VC funding, M&A deals, partnership activity and IPOs. Using the data and features of our emerging tech insights platform, CB Insights' analysts report on several new insights and trends they've observed for healthcare startups and overall deal funding across the world.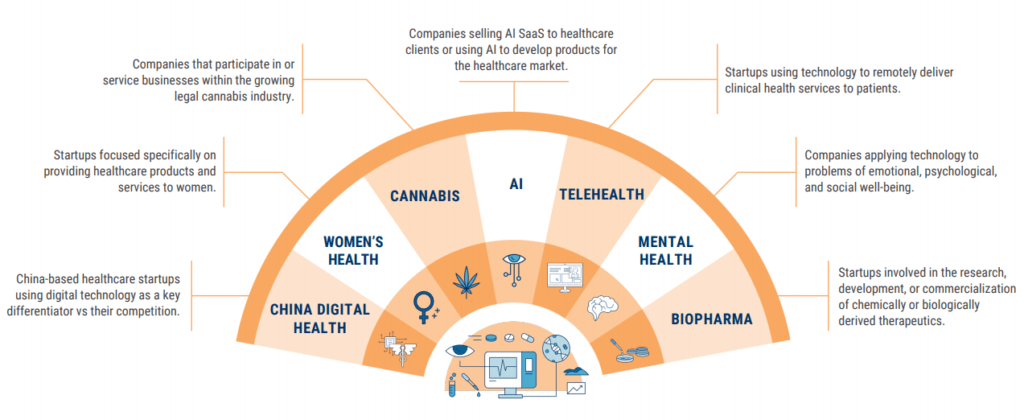 2019 set a new global deal record with over 4,900 rounds closed. Overall startups raised $54B in equity funding for the year, which was a 6% decline from the peak in 2018.
Our year-end report covers other tech trends such as digital devices for women's health, the hype around cannabis, healthcare AI, and telehealth.
REPORT HIGHLIGHTS:
Digital healthcare deals decline:

Digital health as a percent of global healthcare deals declined by 33% for the 3rd year in a row.

There are 39 digital health unicorns:

In 2019,  these 39 global unicorns reached a combined worth of $92.8B.

Telehealth M&A and partnership activity:

Behavioral health was a focal point of both M&A deals and partnerships for the last quarter.

IPOs for Biopharmaceuticals reached a new high:

29 biopharmaceutical startups IPO'd during Q4, 2019.
If you aren't already a client, sign up for a free trial to learn more about our platform.