Our healthcare report provides a data-driven look at global healthcare technology investment trends, top deals, active investors, and corporate activity.
The State Of Healthcare Report: Investment & Sector Trends To Watch features updates on VC funding, M&A deals, partnership activity, and IPOs. Using the data and features of our emerging tech insights platform, we look at healthcare startup investment and emerging industry trends.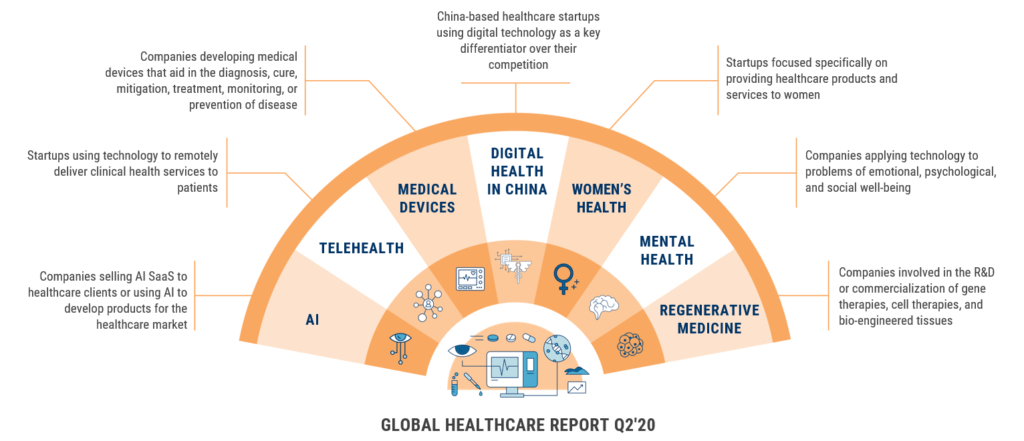 Our Q2'20 quarterly report provides updates on global healthcare funding and technology that's gaining traction. It also covers trends within specific areas of healthcare, including AI in healthcare, telehealth, medical devices, digital health in China, women's health, mental health, and regenerative medicine.  
REPORT HIGHLIGHTS:
Global healthcare funding saw significant growth in Q2'20, setting a new quarterly record. Deals climbed slightly quarter-over-quarter. 
Healthcare & digital health funding in Asia and Europe rebounded from the previous quarter, likely due to reopening efforts amid the pandemic. 
Telehealth deals skyrocketed during the quarter, while funding declined slightly. Q2'20 also saw a record number of exits in the telehealth space. 
The medical device sector reached new heights in both funding and exit volume during the quarter. 
Healthcare AI startups received more than $1B in funding across 84 deals. Though up compared to the previous quarter, financing activity was below the record-setting levels seen in Q3'19. 
If you aren't already a client, sign up for a free trial to learn more about our platform.